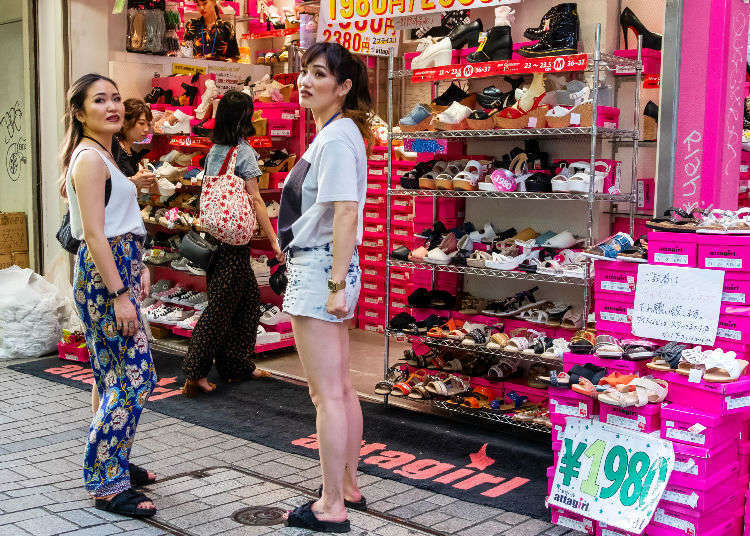 Tokyo is one of the world's biggest fashion hubs, with new trends emerging on the streets of Harajuku and Shibuya constantly. So, if you are a fashionista, you are in luck. Whether you like the frilly skirts of kawaii culture or are more into the Shibuya 109 style, you can find plenty of one-of-a-kind items in Japan. Before you hit the shops, you need to know that shopping for clothes is a bit different here in Japan. But don't worry—we're here to help! Here are 7 tips and insights to shop for clothing in Japan.
1. Don't be surprised the sizes are different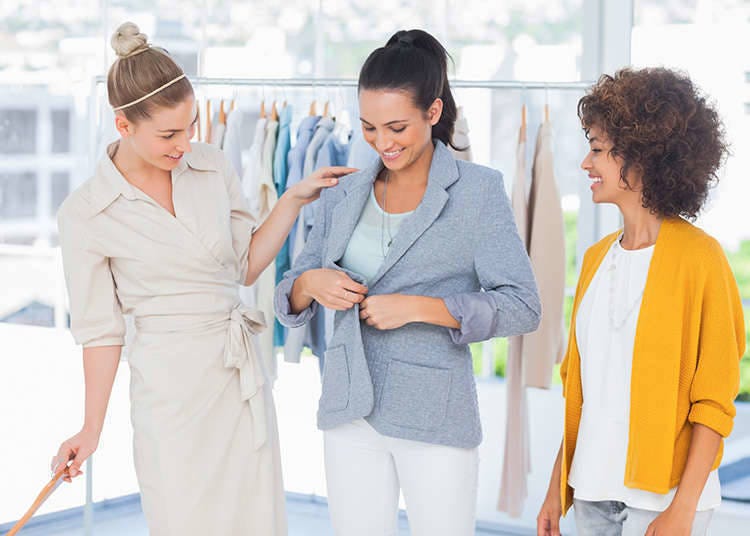 The first thing you will notice while shopping in Japan is that clothing is typically smaller, particularly if you're from the West. Don't be offended if you're a couple of sizes larger in Japan—the clothing is just made for a different body type. It's perfectly normal to be an M size in the West and an L or XL in Japan. Pay attention to sleeve lengths, which can be a bit shorter than what you're used to in other countries. If you're from another Asian country, the clothing here will probably fit you well. But don't assume anything, and remember to try things on for fit, length, and comfort.

Some shops sell 'free size', or one-size-fits-all clothing. Free size clothing differs from store to store, and you should try things on to see what works for you.
Shoe sizing is also a bit different. Shoe sizes are in centimeters in most shops. But some smaller stores in areas like Shibuya and Harajuku sell shoes that come in S,M, and L sizes. Know that many of the shoes sized this way are not the best quality.

Whether you're shopping for shoes or clothes, keep in mind the demand for certain sizes here. You'll find smaller sizes easier (say, a women's US5 shoes), while larger sizes will be more difficult. Larger sizing in Japan is typically an XL or larger in clothing and a women's US9 or men's US10 in shoes. If you're having trouble finding your size, check out specialty stores like Sakazen for plus-size clothing and ABC Mart for larger shoes.
Address

29-4, Udagawacho, Shibuya-ku, Tokyo, 150-0042
View Map

Nearest Station

Shibuya Station (JR Shonan Shinjuku Line / JR Yamanote Line / JR Saikyo Line / Tokyo Metro Ginza Line / Tokyo Metro Hanzomon Line / Tokyo Metro Fukutoshin Line / Tokyu Toyoko Line / Tokyu Den-en-toshi Line / Keio Inokashira Line)
5 minutes on foot


Phone Number

0800-888-1641
Address

5-9, Nihonbashiyokoyamacho, Chuo-ku, Tokyo, 103-0003
View Map

Nearest Station

Bakuro-Yokoyama Station (Toei Shinjuku Line)


Phone Number

0120-42-1641
Address

2-19-13, Shinjuku, Shinjuku-ku, Tokyo, 160-0022
View Map

Nearest Station

Shinjuku Station (JR Shonan Shinjuku Line / JR Yamanote Line / JR Chuo Main Line / JR Saikyo Line / Tokyo Metro Marunouchi Line / Toei Shinjuku Line / Toei Oedo Line / Keio Line / Keio New Line / Odakyu Odawara Line)
10 minutes on foot


Phone Number

0120-59-1641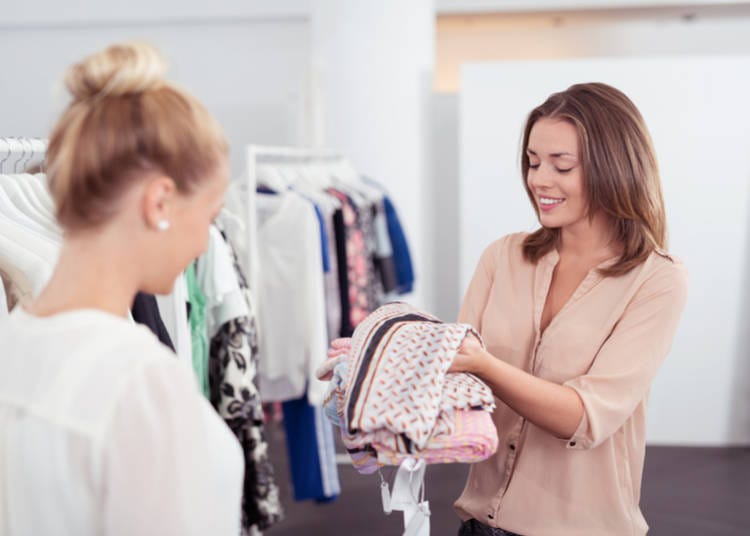 Another thing you might notice while shopping in Japan is that the staff follow you around. If this isn't normal where you come from, it can be a bit uncomfortable at first. But it does get better, and their attentiveness makes for a more pleasant experience! The staff are there to help. For example, some shops only display a sample, so make sure to ask the staff if they have your size. And when you want to try on something, just ask the staff. Someone will show you to the fitting rooms and help you if you need different sizes. And once you've made up your mind, let the staff know; some shops' staff will bring your items to the front register for you.

Helpful phrases:
Kore o kite mite mo ii desu ka?

May I try this on?
Kore wa chisasugimasu.

This is too small.
Kore wa okisugimasu.

This is too big.
Kore wa ikura desu ka?

How much is this?
Kore o kaitai desu.

I'd like to buy this one, please.
Kaado de haratte mo ii desu ka?

Can I pay with credit card?
3. Be careful with shoes, handbags, accessories, and SLGs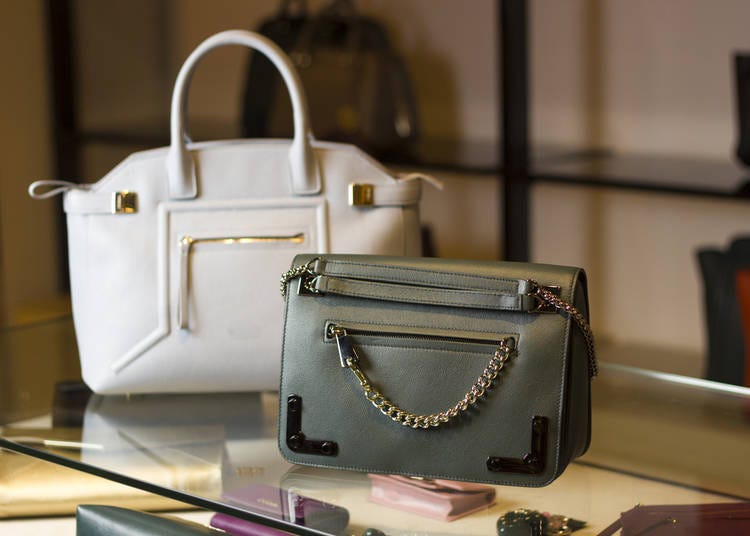 In Japan, shops and shoppers show more care for shoes, handbags, small leather goods (SLGs), and accessories on display. You won't find aisles with piles of mismatched shoes or messy bins of wallets when shopping for accessories. Most shops only have a sample out. If you are interested in something, ask for assistance.

When trying on shoes, keep in mind what you're wearing that day. Trying on shoes barefoot isn't very polite in Japan, so wear/bring socks or ask the staff—they'll usually have a sock or stocking for you to wear. Also, be mindful when putting on shoes. The staff will offer you a shoehorn to prevent damaging the shoe. You'll notice the staff are very gentle with the shoes to avoid any damage and you should be, too.
4. Take it all off in the dressing room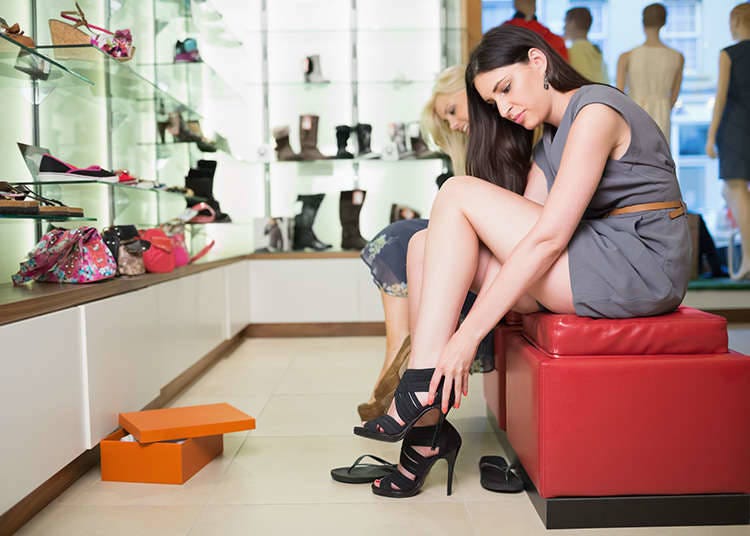 Even trying on clothes in Japan is different. Just like visiting a Japanese home, you need to take off your shoes when entering the dressing room. There's typically a small genkan (entrance) area by the fitting room door where you leave your shoes. Do not step onto the carpeted area with your shoes!

Women are also offered sheer white face covers to prevent makeup from getting on clothes. If you aren't offered one, look for one already in the dressing room or ask an attendant. When you're done, take everything with you. It's very rude to leave any clothing in the fitting room. You can hand returns back to the associate or put it on the returns rack by the fitting rooms.
5. Make it perfect with alteration services (onaoshi)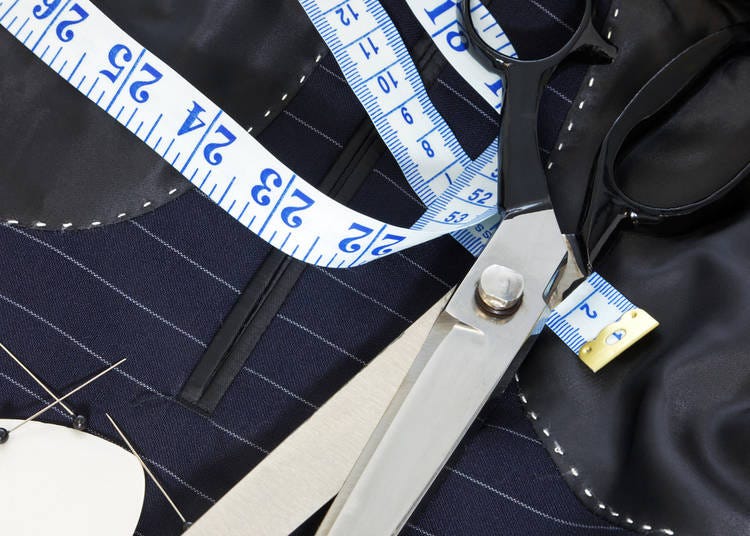 If something doesn't fit perfectly, you can ask about alteration services. Some shops (like Uniqlo!) offer alteration services when purchasing clothes. These services are not only convenient, but also affordable! Asking for alterations is easy. When trying on clothes, tell the fitting room associate what you'd like hemmed. They'll pin it, and when you check out you can pay for everything altogether. Return time varies, so make sure to confirm. Sometimes you can pick your things up later that day, other times it will take a week.
Address

ginzakomatsu east hall 1.2 floor, 6-9-5, Ginza, Chuo-ku, Tokyo, 104-0061
View Map

Nearest Station

Ginza Station (Tokyo Metro Ginza Line / Tokyo Metro Marunouchi Line / Tokyo Metro Hibiya Line)
4 minutes on foot


Phone Number

03-6252-5181
Address

Shinjuku palette B1 ... the fourth floor, 1-1-1, Nishishinjuku, Shinjuku-ku, Tokyo, 160-0023
View Map

Nearest Station

Shinjuku Station (JR Shonan Shinjuku Line / JR Yamanote Line / JR Chuo Main Line / JR Saikyo Line / Tokyo Metro Marunouchi Line / Toei Shinjuku Line / Toei Oedo Line / Keio Line / Keio New Line / Odakyu Odawara Line)


Phone Number

03-5909-3011
6. Check return and exchange policies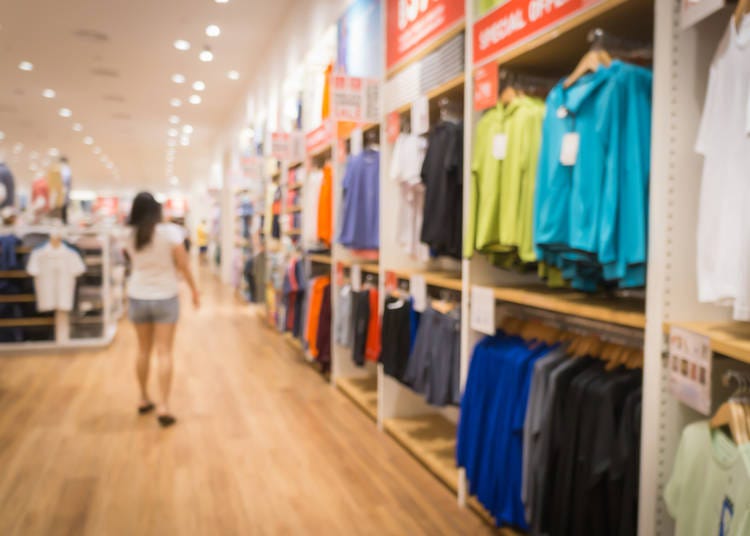 Similar to everywhere else, some shops (like second hand shops) don't allow returns and/or refunds. Check before purchasing. Sometimes you'll see a sign by the cash register, other times they tell you when checking out. Keep in mind that staff may not be able to communicate this to you in your native language.
7. Care for your new outfit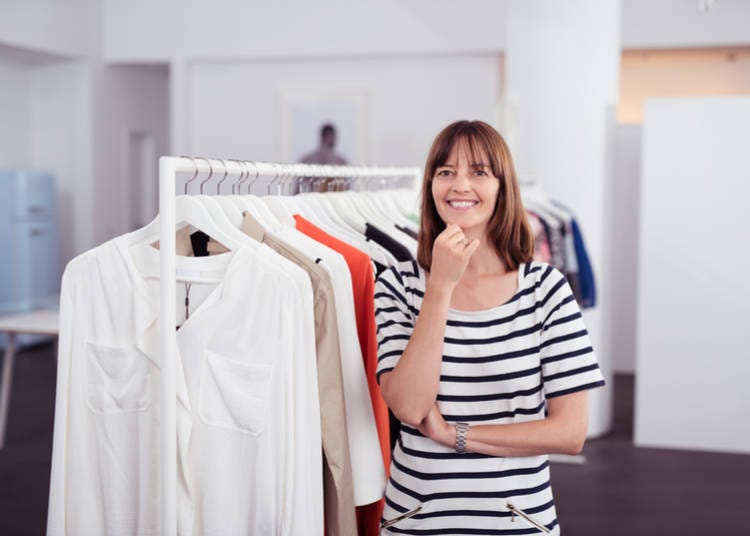 Once you're home, take care of all your Japan goodies! Make sure to check the care label for instructions before washing. Care labels will be written in Japanese, but you can follow the international care symbols. Most Japanese homes wash with cold water only and hang things to air dry, so your high-tech washing machine could wreak havoc on your new clothes. When in doubt, wash in cold water and air-dry clothes.
Shopping for clothes in Japan is a bit different, but is just as fun! Take your time and explore the department store shops, or look for like-new goods in second-hand stores. And remember to these tips on your next shopping spree in Japan!
*This information is from the time of this article's publication.
*Prices and options mentioned are subject to change.
*Unless stated otherwise, all prices include tax.