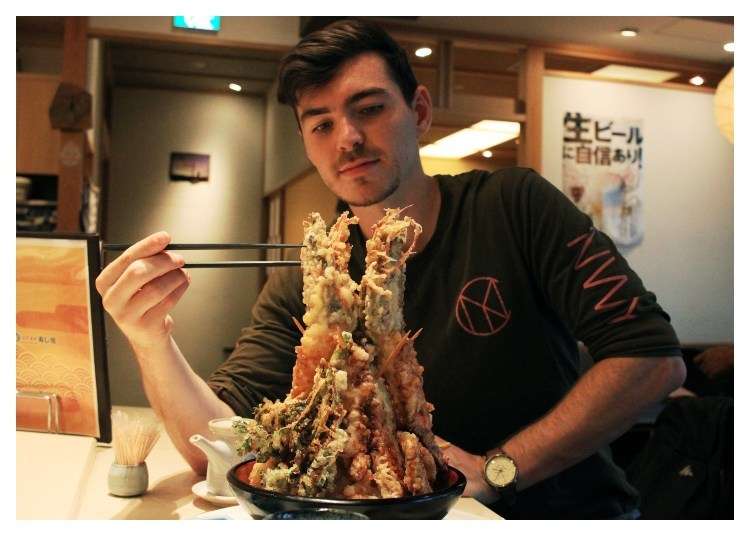 Everyone loves food. And what's even better than food? More food! And let's be honest, we can also get pretty competitive about it. Sound like you? Great. Welcome to the Tokyo Food Challenge!

Here we will zone-in on restaurants at the extreme end of the food scale; those who offer portion sizes that are huge, massive, whopping! Just ridiculously BIG.

We've selected 4 establishments in the greater Tokyo area that serve ungodly amounts of (delicious) food in 4 individual realms of cuisine: Meat, Ramen, Pizza and Seafood. Some customers are in it for the challenge, some just can't resist the novelty, and the rest just want to have some glutinous fun.
So without further ado, let's dig in!
1. Nekonez Vaca (Yokohama): The Meat Feast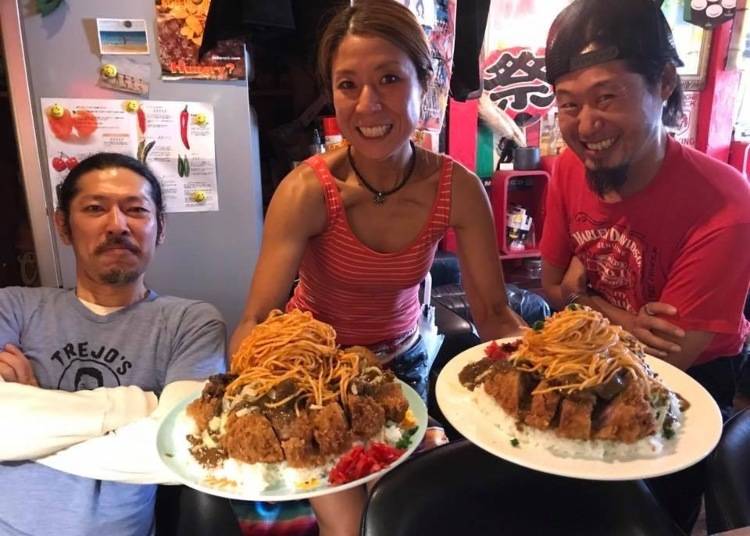 This one is not for the faint hearted… or for the vegetarians for that matter! Nekonez Vaca in Yokohama is often fitted into the "steak house" category, but that doesn't quite paint the entire picture. In reality the restaurant is a little slice (so to speak) of meat heaven, specializing in larger than life dishes.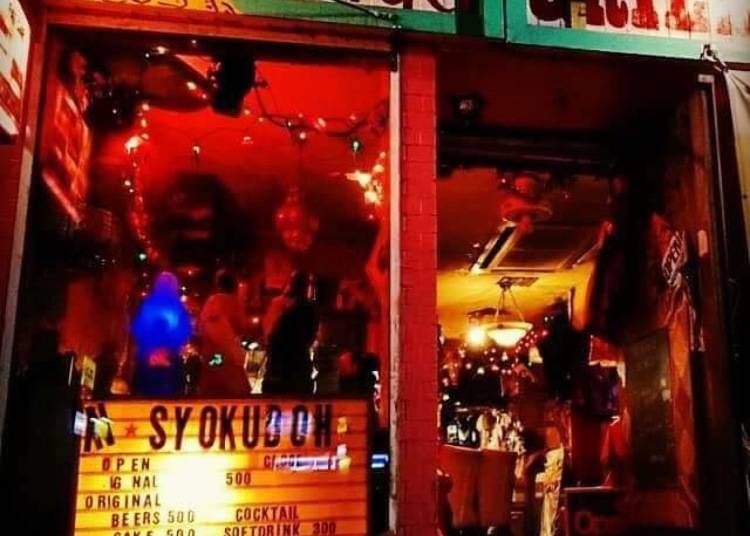 The family-run restaurant may sit on a quiet backstreet in south Yokohama, but inside it's bursting with energy and littered with character. It's lively; steamy; covered in an eclectic assortment of western trinkets, paraphernalia and neon signage; while mouth-watering umami aromas permeate the air. They cater to customers of all stripes and groups of all sizes. Solo foodies tend to sit at the counter, with larger groups squeezing onto tables with a ragtag selection of comfy sofas.
Shop owner, Takeshi Harawasa, is now in his 26th year as Nekonez Vaca's proprietor which is no doubt a testament to the restaurant's quality and popularity. "A lot of fighters and athletes come to our restaurant, because instead of taking artificial supplements they want to attain a natural source of protein. So they come and eat a lot of meat. A lot of women eat it too", he tells us with a clear sense of pride.
Nekonez Vaca's Food Challenge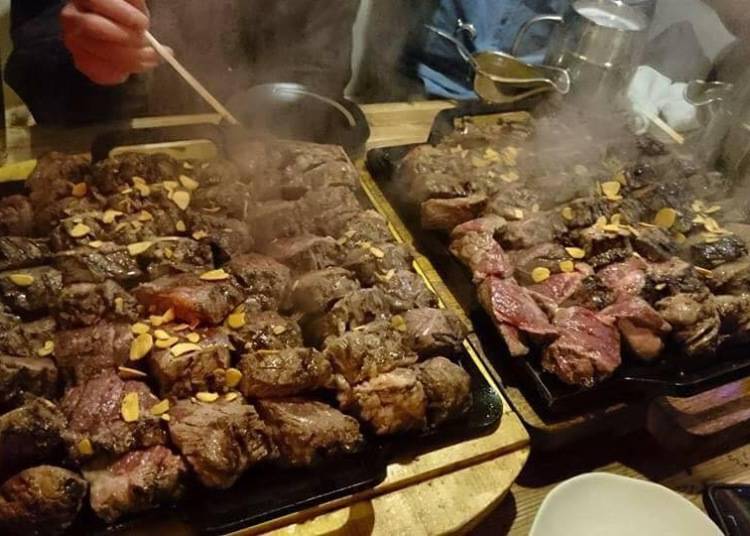 For a while, many of these repeat customers were taking down the 1kg and 2kg meat dishes on the menu by themselves. In response, Harawasa-san devised a more insurmountable culinary challenge. "Because of this we created our MAX size dish, which is 4kg of meat cooked in one go! I've checked, and it seems like at other restaurants in Japan, the biggest they'll serve is around 2kg. We're pretty sure ours is the biggest", he says.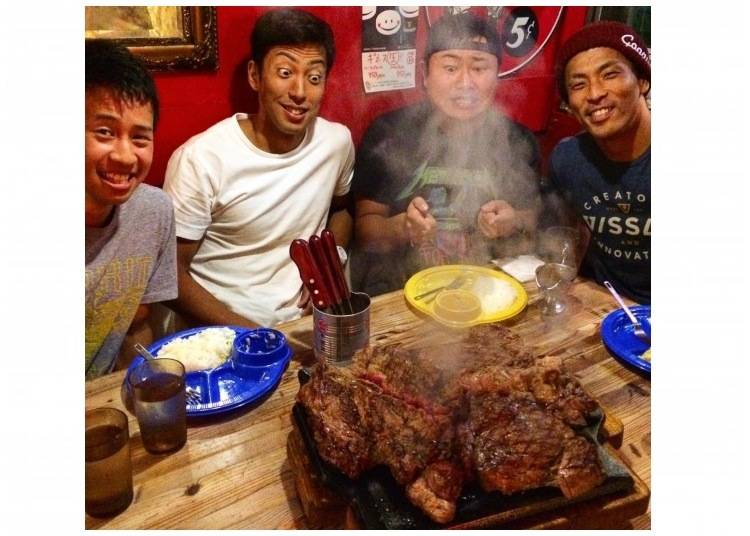 The 4kg steak dish can be shared by 10 people but usually they get somewhere between 4-10 ravenous customers taking it on, hacking at the meat themselves. There are also a lot of groups of 4 who get opt for the half size 2kg version, so there's a food challenge to suit customers of all shapes, sizes and culinary inclinations!
Not only are the dishes at Nekonez Vaca aesthetically titanic, but they're backed up with intensely rich and gratifying flavors. The menu has three dishes unique to the store which can't be found elsewhere:

・Samurai Steak 1-4kg
Cut with an impressive katana-esque knife right in front of you.
・Melt-in-the-mouth Kuroge Wagyu Beef Hamburg Steak (Kuroge Wagyu Kuchidoke Hamburg)
The buttery texture enables it to travel so smoothly down your gullet, they liken it to a "drinkable hamburger".
・Beef Tongue Mountain Range (Gyuutan Sanmyaku)
Super thick-cut beef tongue carefully arranged into a towering pile. "The Mount Everest of beef tongue!", or so they claim.

Price range: 1,300 - 3,500 yen
ねこ娘とねずみ男

Address

2 Chome-26-23 Ooka, Minami Ward, Yokohama-shi, Minami-ku, Kanagawa 232-0061

Phone Number

045-721-2591

Website: https://nekonezvaca.business.site/
2. Yaro Ramen (Multiple Stores): Noodle Mountain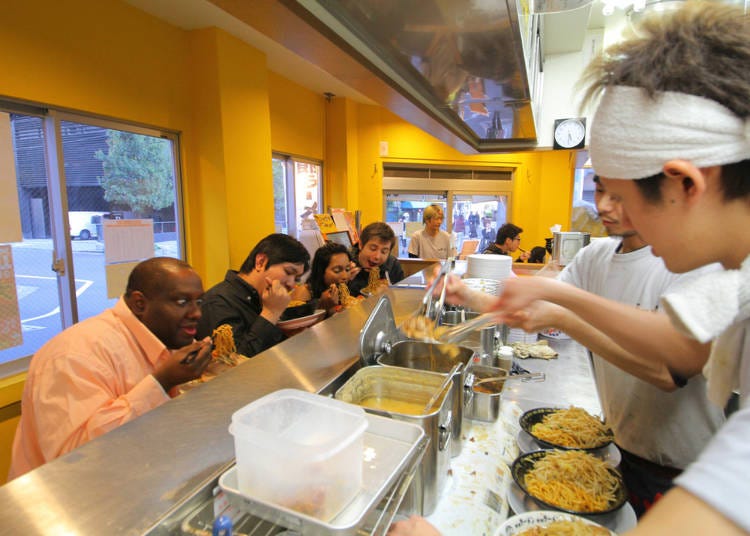 First appearing in the Kanda area of east Tokyo in 2010, Yaro Ramen now operate a multitude of stores around Tokyo (as well as in the dish's native homeland, China). They specialize in—you guessed it—big ol' bowls of ramen. In fact, they may just be the biggest you can find in the city. For those of you who are as yet uninitiated into the world of ramen, even a standard sized bowl in your average ramen shop is far from a paltry feast. Bearing that in mind, it sheds a little light on just how much food is packed into one of Yaro's signature offerings.

A Yaro Ramen company representative tells us, "At our restaurants, in essence, every item is large ("oomori"). We listened to the voices of our customers, and they wanted bigger than that! So we gave them what they wanted… the concept is to satisfy both the eyes and the stomach."
Yaro Ramen's Food Challenge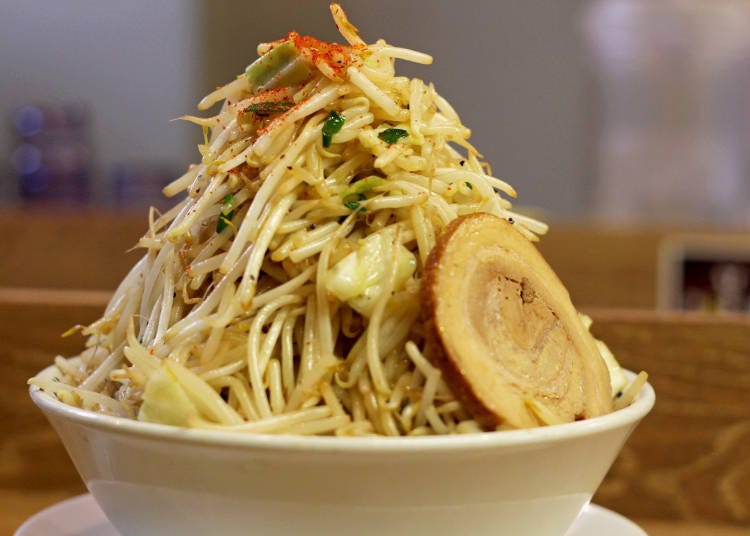 They achieve such visual and gastric customer satisfaction through gargantuan dishes, where a liberal helping of toppings is piled on top of a noodle mountain in a decidedly chaotic fashion. The key ingredients at Yaro include thick noodles, beansprouts, tofu, menma (bamboo shoots), tea-soaked eggs and the star of the show: char siu pork. They source their pork from a special breed of pig in the Iberian Peninsula region of Spain, which is said to have the largest muscle mass in the world. The specific diet and exercise habits of the pig imbue the meat with a distinct flavor and texture.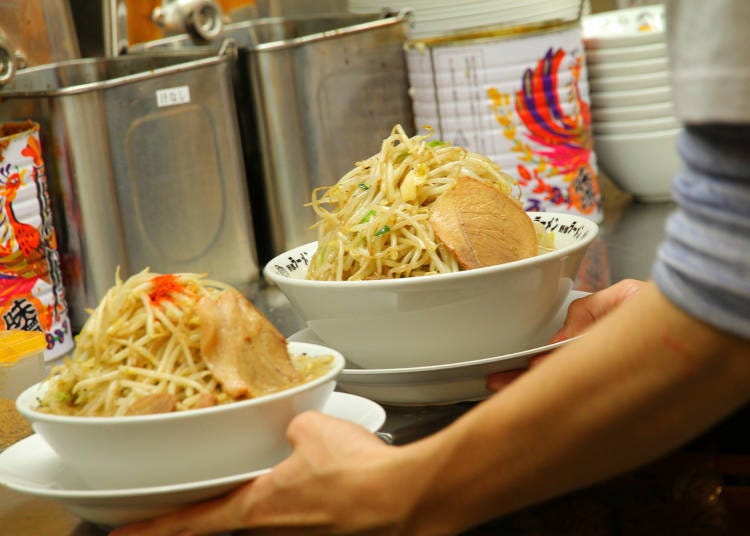 Though the menu at Yaro Ramen can change based on seasonal ingredients and customer preferences, the tonkotsu (pork bone) ramen is the current top seller, with a vintage recipe that has stood the test of time, remaining unchanged since the founder initially concocted it. Said tonkotsu broth is slow cooked on-site, every day, in every store for a minimum of 18 hours before it is deemed ready for the customers to eat. The result is a soup of umami-filled richness, with just a hint of sweetness, that wonderfully aligns with the toppings.
・Megaton Yaro
Signature, supersized tonkotsu ramen with chashu pork and toppings

Price: 830 - 1,500 yen
Yaro Ramen (Multiple stores)

野郎ラーメン

Address

3-chōme-2-11 Sotokanda, Chiyoda City, Tōkyō-to 101-0021

*This is the address for their Akihabara store, but you can find stores all over Tokyo.
Website: http://www.yaroramen.com/
3. Spontini (Harajuku): Pizza Paradiso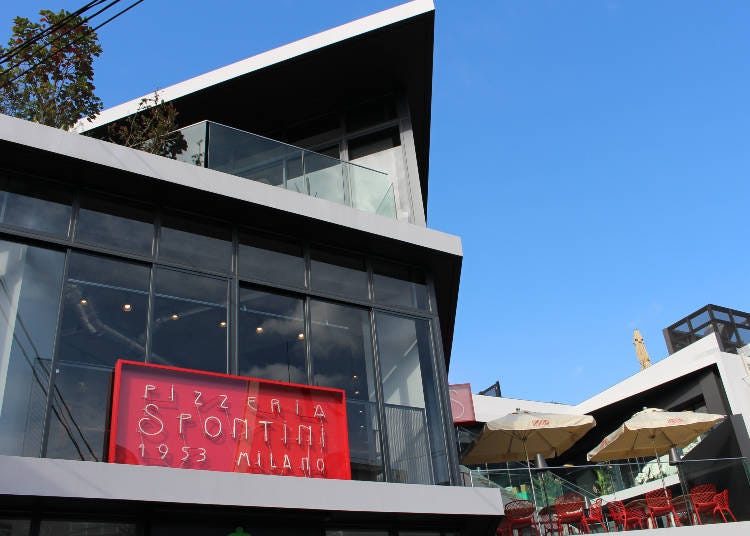 The Spontini pizza chain which originated in Milan has been delighting Italian taste buds in a number of establishments spread across the south European country for over 65 years. In October 2015 they opened up a store under the same name in Harajuku, Tokyo.

So what exactly makes Spontini tick? Frying ingredients in a "good amount" of soybean oil is a special feature of the restaurant. With their classic crispy base, the luxuriously soft and fluffy dough, and the stringy, melted mozzarella cheese, in each slice you can really get a sense of the care and effort that was put into crafting the recipe; which has remained unchanged since the founder's original.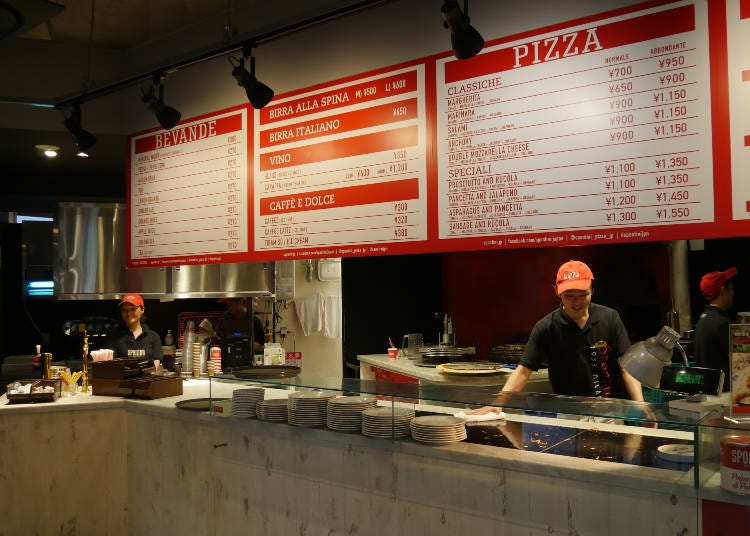 Spontini's Tokyo branch manager emphasizes this focus on maintaining their core baking principles: "The kiln and oven are imported from Italy, as well as the main ingredients, so that the environment and taste are reproduced in Japan exactly as they would be in Italy. As well as the main toppings, we also pay a huge amount of attention to the dough, and get only the highest quality salt".

The interior is thematically consistent with the concept: a classic Italian diner, where orders are placed at the in-store counter. This obviously lends itself more of a lunch-time vibe, though they do have plenty of frequent visitors in the evenings along with alcoholic beverages to wash down the pizza. The food menu however, and particularly the super-sized food menu is the real highlight at Spontini.
Spontini's Food Challenge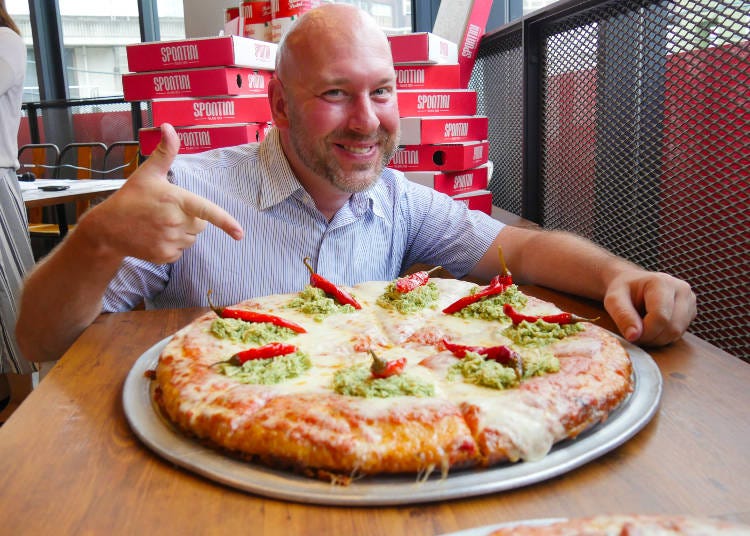 The Pizzas can be ordered as made, or by the slice if you're flying solo and just want a quick bite. Two of the best sellers are the 'huge-volume pizza', with a slice at 25cm in length and 3cm thick. Or the mega pizza in its entirety 50cm, 3cm-thick option if you're feeling particularly glutinous—though typically this pizza is shared among groups of 4-8 people; trying to take this one down all on your lonesome may result in a seriously distended stomach for the afternoon! According to Spontini's manager: "The founder wished to create something that would make everyone full for a reasonable price, so the 50cm diameter, 3-inch thick 'BIG-sized' pizza was born". Mission accomplished.
For toppings, the focus is more on quality ingredients, than dressing the pizzas up with extravagant frills. That's why Spontini's margherita is pretty hard to beat. Their flour, tomato sauce and mozzarella cheese are all directly imported from Italy, before being heated together in the firewood oven. It's both the quality of these ingredients and adherence to the age-old craft that propels Spontini's margherita into the higher echelons of Tokyo's increasingly bountiful pizza parlors. In saying that, they also have some pretty interesting seasonal specials. The summer options include: a Basil Chicken and Togarashi (spicy pepper) pizza, and a Broccoli and Pancetta Pepperoncini pizza.
・25cm Huge-Volume Pizza Slice (1/8 of a Whole Pizza)
3cm thick, 25cm-long pizza slice in a variety of toppings
・50cm Huge-Volume Pizza
3cm thick, 50cm diameter pizza in a variety of toppings

Price range: 700 (slice) - 4,000 yen (whole)
スポンティーニ カスケード原宿店

Address

〒150-0001 Tokyo, Shibuya City, Jingumae, 1 Chome−10−37 Cascade Harajuku 2F

Nearest Station

2 mins walk from JR Harajuku Station


Located on the second floor of Cascade Harajuku
Website: http://spontini.jp/harajuku.html
Sushitsune: (Solamachi, Tokyo Skytree): Seafood Tower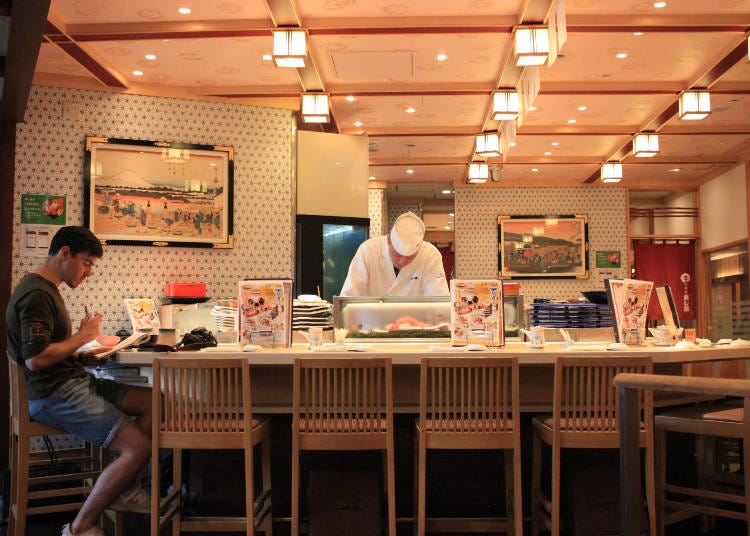 Sushitsune is a major seafood restaurant chain, celebrating their 68th anniversary on the Tokyo food scene this year. The Solamachi branch, located in Tokyo's tallest tower – Tokyo Skytree – has become particularly popular due to their supersized food options. Though sushi is their specialty, the BIG menu includes a tempura tower and a monumental pile of sashimi.

Solamachi ("sky town") is a multilevel shopping mall complex, taking its name from the skyscraping building under which it sits. On the mall's 7th floor, where Sushitsune is located, sits a procession of corridors designed to resemble the Edo Period of Japanese history (1603 – 1868). To that end, the corridors and adjoining restaurants are dressed in soft wooden furnishings, lights shaped like paper lanterns, period artwork depicting famous historical scenes, and shamisen music reverberating around the interiors.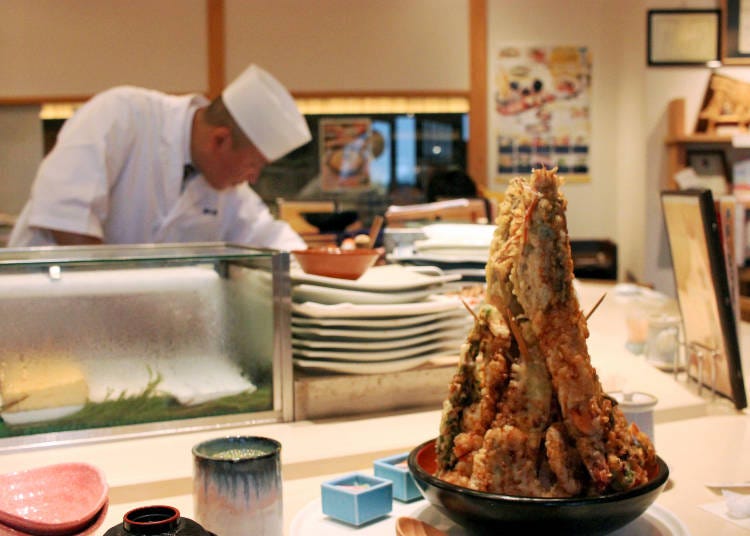 Sushitsune's entrance hides behind a set of kanji-covered noren curtains. Inside there are several booths with tables skirting the shop perimeter, but for the real action, take a seat at the counter where you can watch the chef's in action, carving up your lunch in front of two hulking fish tanks.
Sushitsune's Food Challenge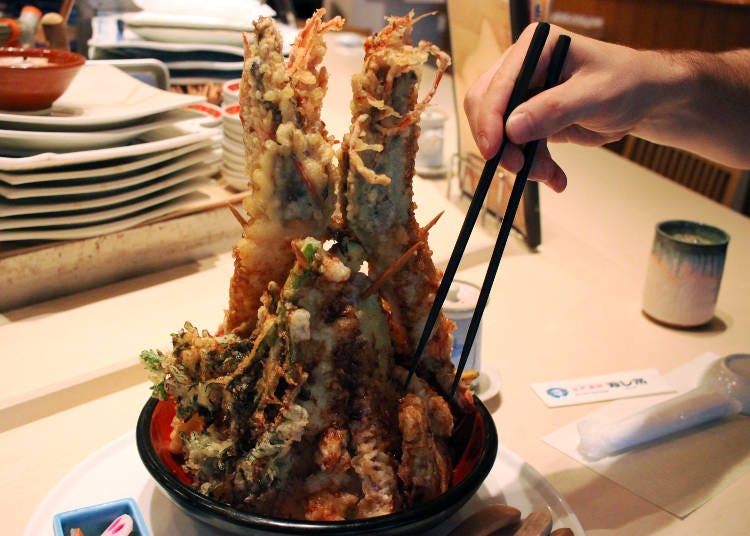 As soon as this branch opened, store manager and chef, Saito Yuji, came up with the concept of their towering food options. "We wanted to create something that looked like Skytree", he tells us. Before adding that they are "very popular menu items".

The first of these items is a tempura tower ("chotendon"), made with (truly humongous) jumbo king prawns, an assortment of white fish, and seasonal vegetables, all stacked together on top of a rather capacious bed of rice. The second is a sashimi tower ("chokaisendon") of fresh raw fish and tamago ("eggs") carefully placed around a stalagmite of rice. "Some customers order these for themselves, but usually they are shared between two or three people" Yuji san tells us.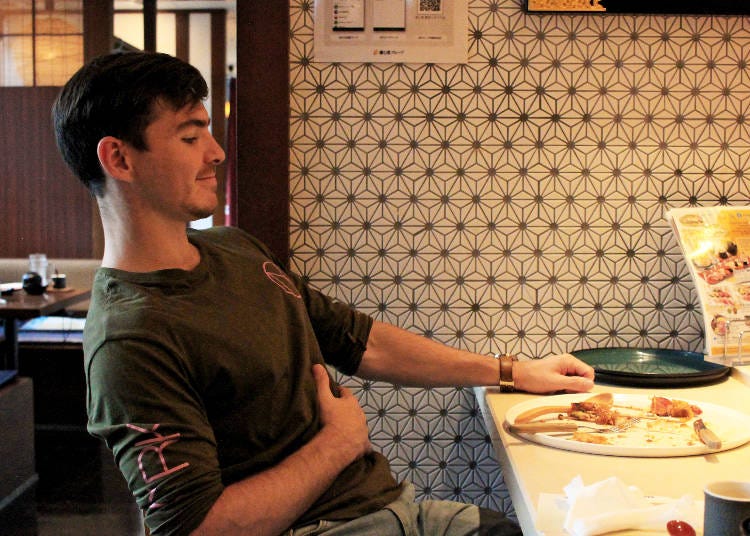 When we asked about the shop's defining characteristic, he maintains that it's not only about the huge food: "We only use the freshest and most natural fish on our menu which follows the seasons".

They also have a fine selection of nihonshu which change with the seasons and serve as fitting accompaniments to their seafood options. Ask in store for "osusume" ("recommendations"), as this will vary depending on your choice of food.
・Chotendon
Tempura Tower using seasonal fish and vegetables, served on rice
・Chokaisendon
Sashimi tower using seasonal raw fish, cooked eggs, served on rice

Price range: 740 - 2,800 yen
Special Chotendon: 3,900 yen
The Super-Size Food Scene
Tokyo's super-sized food scene is continuously growing, as is the number of shops dishing out gigantic portions. However, these four spots should be enough to satiate you in the meantime. Just be sure to bring your appetites!
江戸東京寿し常 東京ソラマチ店

Address

〒131-0045 Tōkyō-to, Sumida City, Oshiage, 1-chōme−1−2 Tokyo Skytree Town, Tokyo Solamachi East Side 7階

Phone Number

03-5809-7083

Located on floor 7 of Solamachi, Tokyo Skytree: http://www.tokyo-solamachi.jp/english/pdf/floorguide_english.pdf?20190830
*This information is from the time of this article's publication.
*Prices and options mentioned are subject to change.
*Unless stated otherwise, all prices include tax.