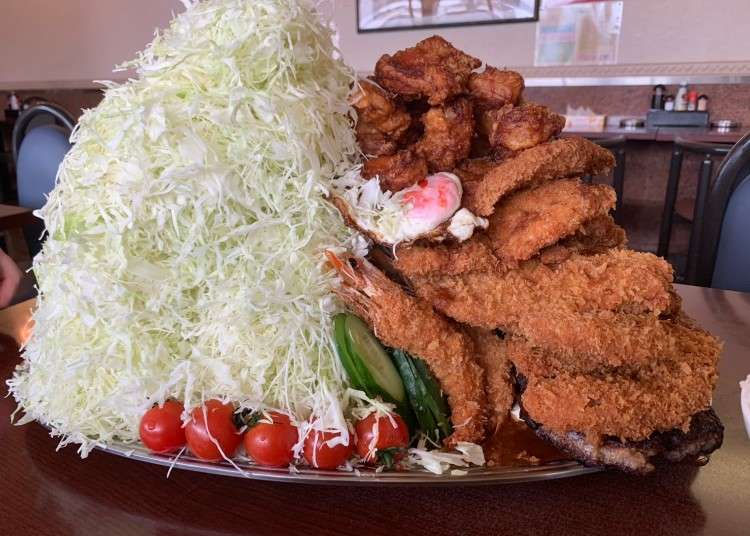 Japan has a food culture unlike that of any other country, and the nation's cuisine is certainly one of its major tourist draws.

Because Japanese food portion sizes are typically smaller than those found in Europe or North America, Western tourists often comment that Japanese portions are "too small."

But what you imagine what Japanese people eat might run contrary to reality. Japan does have a culinary subculture that offers "large servings" ("omori") and "extremely large portions" ("dekamori") and there are restaurants all across the country in which you can indulge in delicious "Dekamori Gourmet."

Here are a few restaurants that could make an excellent Osaka "Dekamori Gourmet Challenge" tour!
1. Takoyaki Sakaba Choice: 5kg of "Takoyaki Chazuke"!
Our first stop is Sumiyoshi-ku's Takoyaki-sakaba Choice, only a 3-minute walk from Abiko Station on the Osaka Metro. This tavern serves a standard of "Osaka soul food" – takoyaki (grilled octopus balls). This is a great example of what Japanese people eat when in Osaka.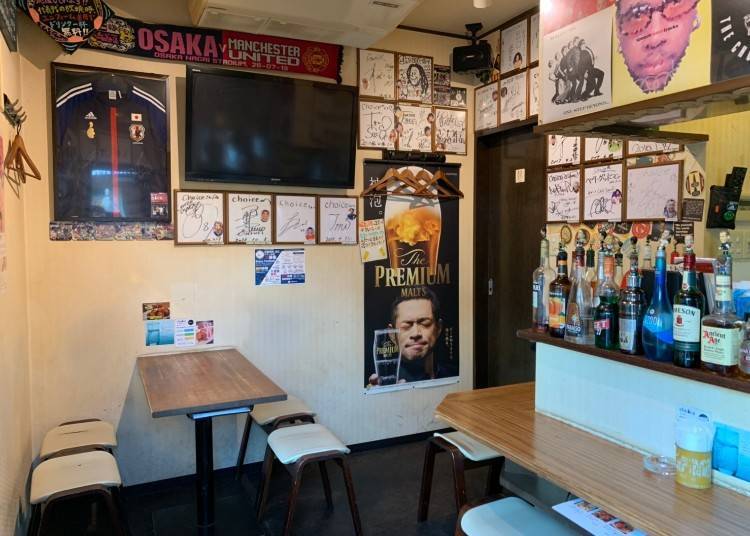 Choice is a small shop with a table for four and four counter seats inside, and seating for three outside.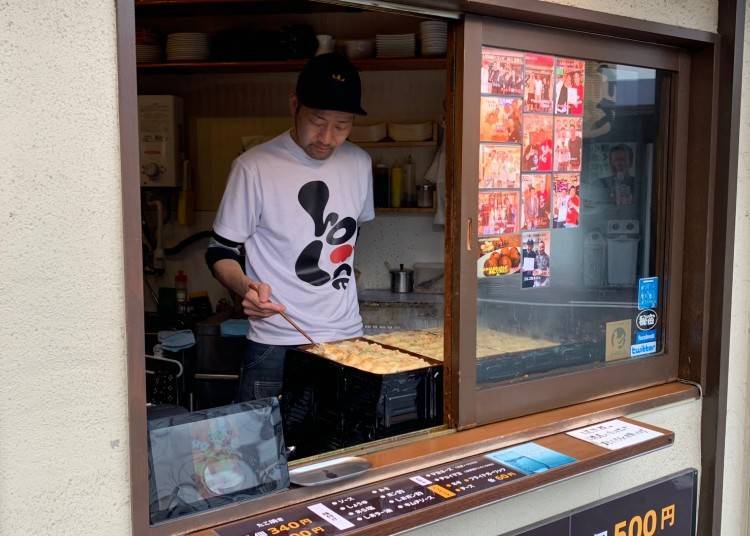 Having trained as a chef at the famous Wanaka takoyaki restaurant, the owner, Mr. Yoshino, and his wife opened Choice in 2011. Just seeing Mr. Yoshino grilling takoyaki from outside the shop is enough to draw you in.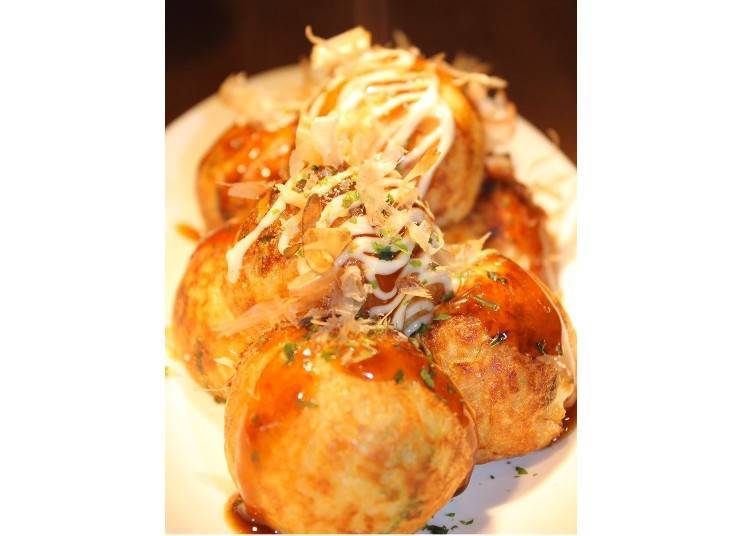 Takoyaki (6 pieces), 340 yen (including tax)
In addition to classic takoyaki sauce, many other varieties are available including soy sauce, ponzu, miso, and "pepperoncino".

The "shio rayu" flavor is highly recommended. This salty chili sauce is irresistible and doesn't overpower the taste of the soft takoyaki food that Japanese people love.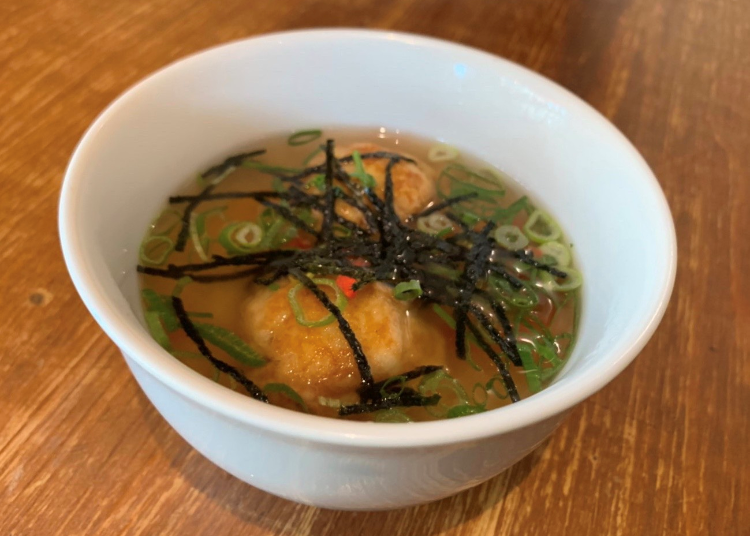 One of Choice's classic dishes is "Takoyaki Chazuke" 460 yen (tax included). This original creation featuring two takoyaki balls on rice in a special soup stock is a unique new way to enjoy takoyaki.

Choice also offers a huge version of the dish called "Dekamori Takoyaki Chazuke."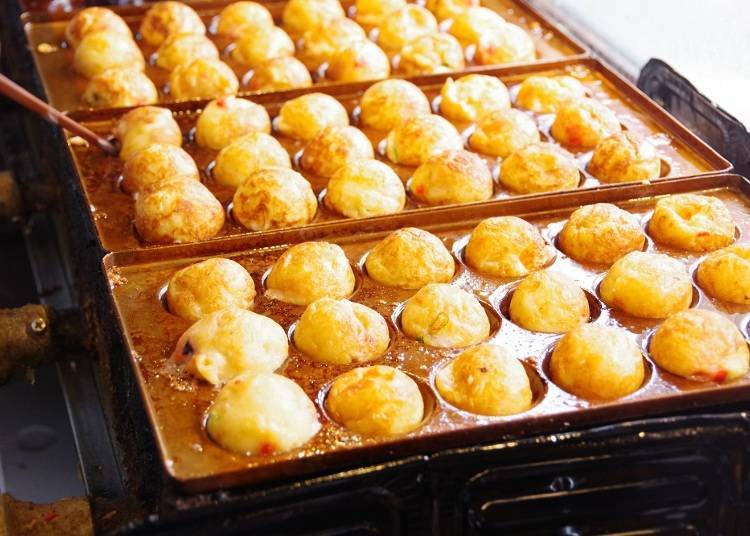 Dekamori Takoyaki Chazuke includes 50 huge octopus balls!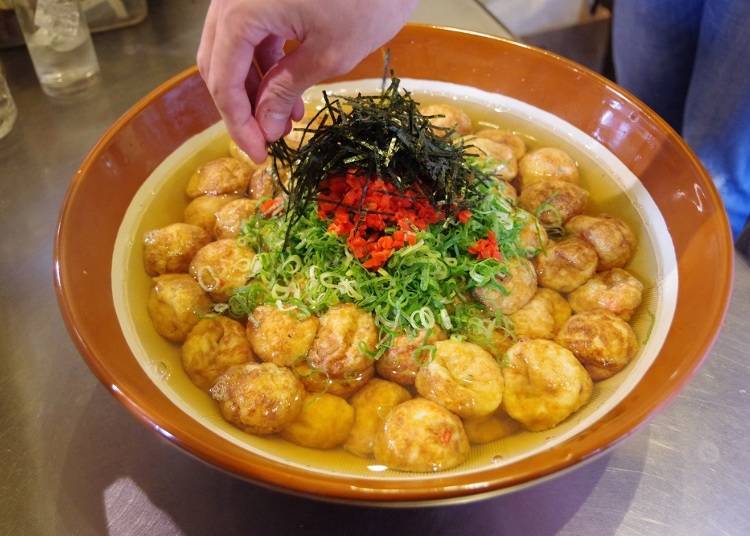 Heaped on top of five helpings of rice, the takoyaki is topped with a mountain of red ginger, green onions and seaweed. Add to that 3.5 liters of broth and the total weight is about 5.2kg!

If you finish your meal within 30 minutes, it's free of charge and you'll receive a 1,000 yen coupon for your next visit. If you fail, the dish is 5,940 yen (including tax).

Three of us shared this meal, but the 30-minute challenge only applies to solo diners.

The takoyaki, rice, and soup all complement each other and the taste is perfect for a meal after drinks.

Over time, the takoyaki and rice soak up the broth and expand, making them even harder to finish, but additional soup can be added to the dish.

We ate all the takoyaki, but couldn't handle the rice and gave up. Apparently, no one has ever completed the 30-minute challenge...
たこ焼き酒場 choice

Address

7-5-4 Karita, Sumiyoshi-ku, Osaka 558-0011

Phone Number

06-6699-5111

Hours: 15:00 - 24:00 (Monday – Saturday), 12:00 - 24:00 (Sundays & Holidays); closed Wednesdays
2. Kingsport's 10kg Triple King!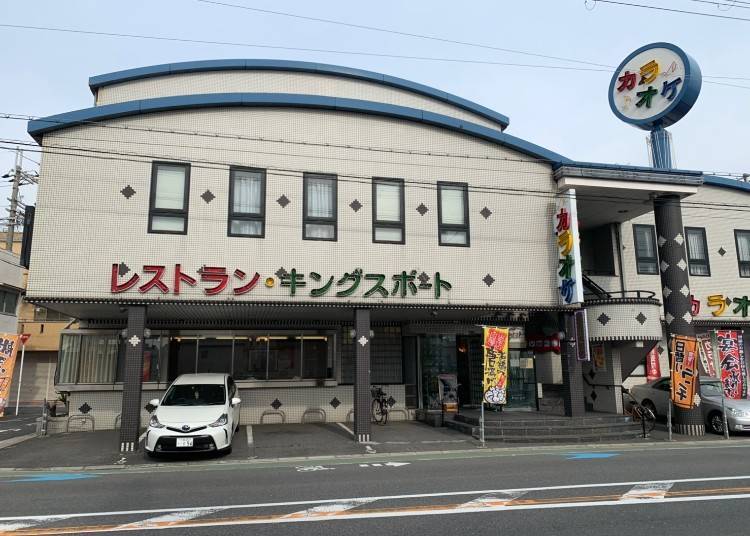 Next we head to Kingsport, a Western-style restaurant in Higashi-Osaka that's been in operation for 70 years. Located along Prefectural Road 702 connecting Osaka City and Nara Prefecture, parking is available if you're driving, otherwise it's about a 13-minute walk from Osaka Metro Nagata Station.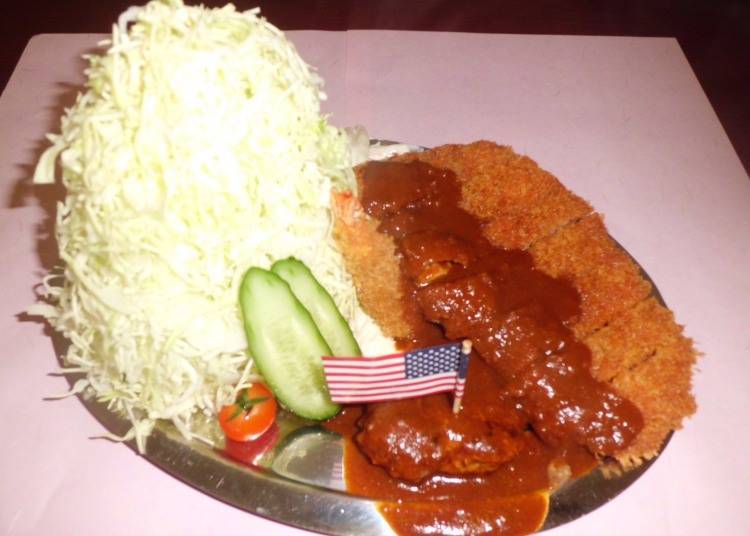 A Lunch, 1,200 yen; D Lunch, 1,800 yen (tax included) (A Lunch pictured)
Kingsport's most popular menu item is the "Adult Children's Lunch." It's another fun example of what Japanese people eat - but perhaps not every day.

This meal set is certainly too large for children to eat, but it's part of the restaurant's main menu.

Kingsport's Dekamori Gourmet entrée is called the "Triple King" and was devised by the current, second-generation shop owner to cause a stir.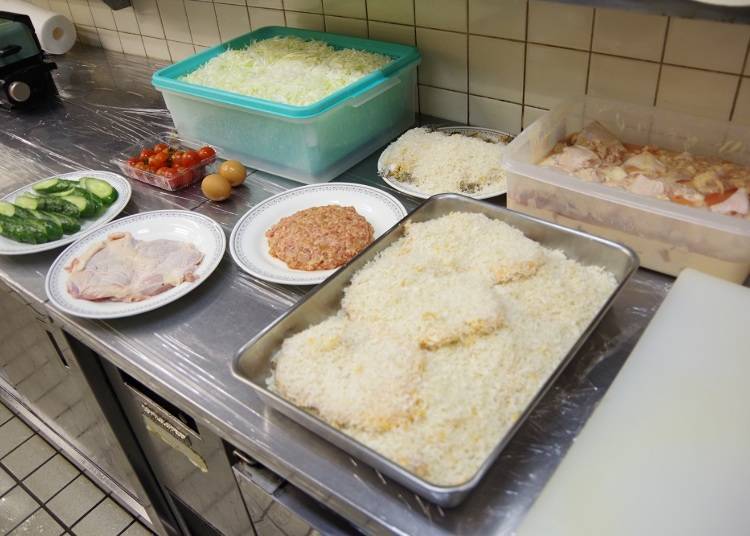 This set of eight pieces of tonkatsu (deep fried pork cutlets) also includes fried shrimp, fried chicken, hamburger, chicken steak, fried eggs, a super-large pile of cabbage, cucumbers, and mini tomatoes.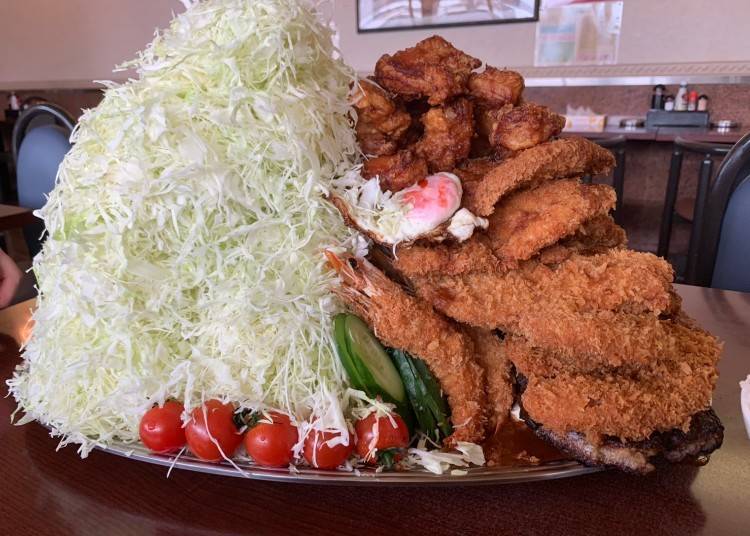 About 6kg of side dishes that threaten to fall off the plate!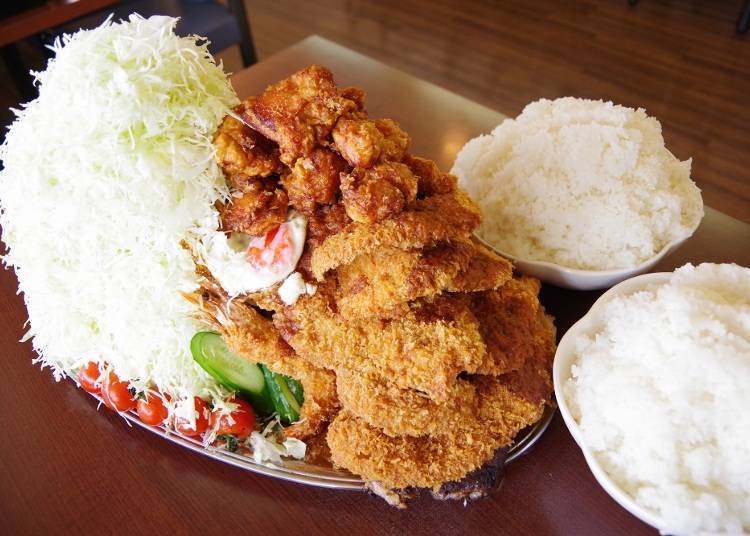 In addition, you'll get two Mt. Fuji-like bowls of rice (3,776g in total), which bring the Triple King to a total weight of about 10kg!

If you can finish your meal within 40 minutes, it's free and you'll also receive a prize of 15,000 yen. Failure comes at a cost of 3,850 yen (including tax) for the feast.

Again, three of us decided to scale this mountain of food together.
The demiglace sauce is slightly thinner and made with Worcester sauce so diners won't tire of it as they consume such large amounts, and all the food is well-prepared.

But, again, we lost – we ate half and gave up. We're told that over 100 people have attempted to conquer the Triple King, but, so far, only one has succeeded.

If you have a bottomless stomach, give it a shot!

By the way, Kingsport also has a slightly easier challenge called "Kongo-san Mori" (with 1,125g of rice). If you finish it within 30 minutes, the prize is 10,000 yen.
キングスポート

Address

2-1-41, Shinke, Higashiosaka, Osaka 577-0025

Phone Number

06-6782-3692

Hours: 10:00 - 15:00 (evenings only by reservation); closed Sundays and holidays
3. Honmachi Tonteki's 2.1kg Dynamite Donburi!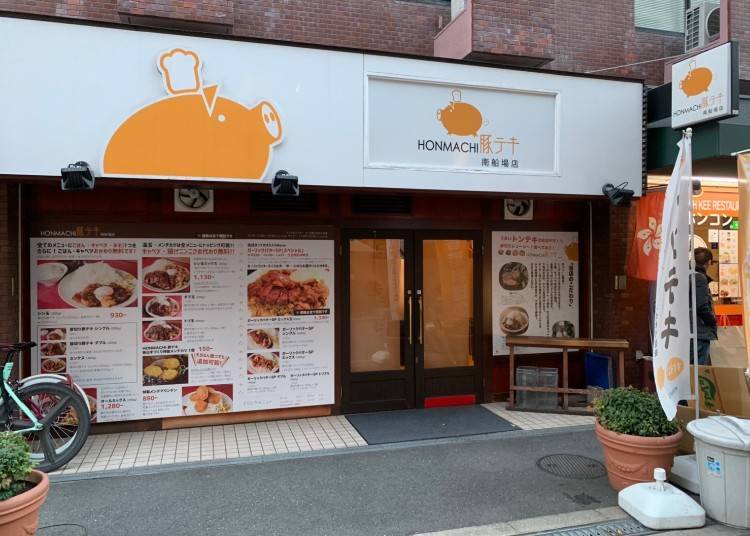 Lastly, we visited Honmachi Tonteki's Minamisenba store, located in Osaka's Minami Chuo-ku.

The second of Honmachi Tonteki's popular pork restaurants, the Minamisenba outlet has a cute, inviting storefront and is just a 3-minute walk from Nagahoribashi Station on the Osaka Metro. Situated in an office district, it's within walking distance of Shinsaibashi.

The top menu item is, of course, tonteki, starting with the basic "thick-sliced pork single" (200g) at 968 yen (tax included).

Rice comes in small, medium, and large servings, and is free of charge as are cabbage and fried garlic sides.
Garlic butter rice, which pairs perfectly with pork, is another popular side dish. While not what Japanese people eat every day, it's sure to satisfy your inner dragon!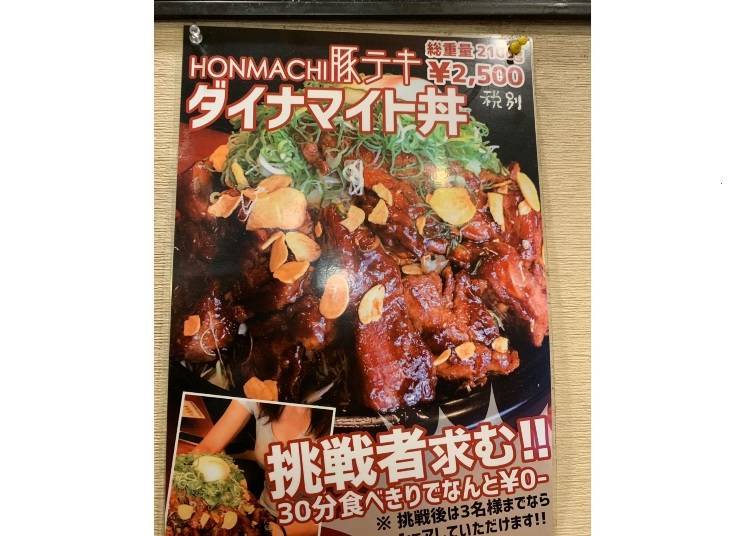 The Dekamori "Dynamite Donburi" is boldly advertised on a poster in the shop.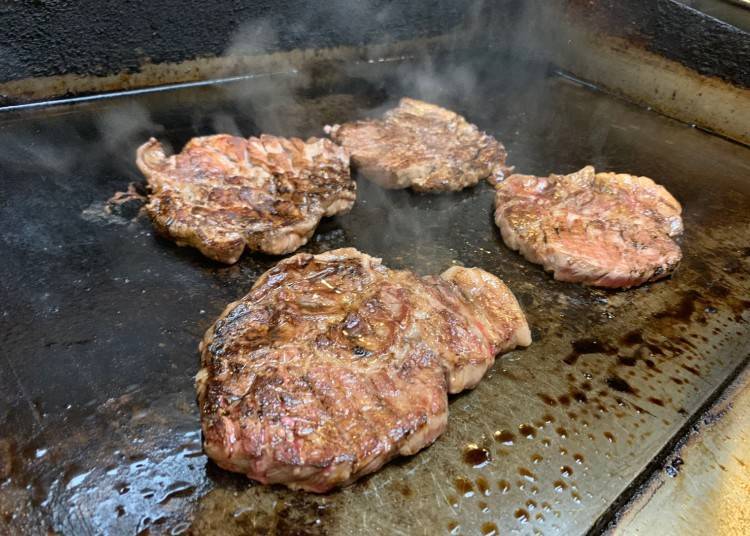 The pork steak is first grilled.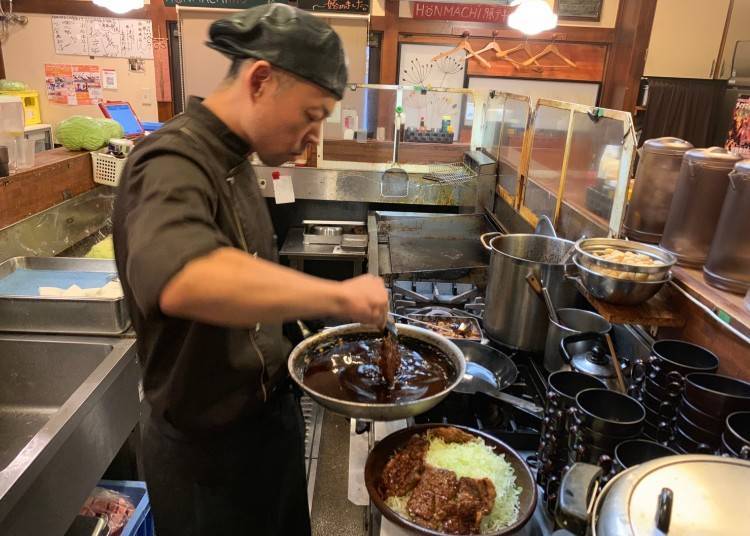 Then it's boiled in a special sauce. Once it's saturated, the meat is placed on top of the rice.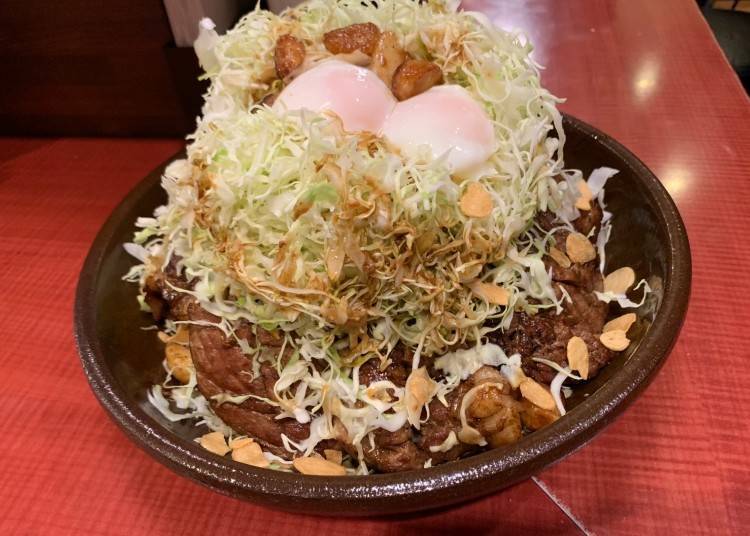 Finally, topped with cabbage, two soft boiled eggs, whole fried garlic cloves, and garlic chips and this 2.1kg meal is ready to serve!

If you can't finish the Dynamite Donburi it's 2,750 yen (including tax), but if you eat it all in under 30 minutes it's free.

Roughly one challenger per week walks into the store, and 50% of those who try are able to eat the whole bowl. Not long ago, one lady did it in 10 minutes!

We took on one last challenge...

The distinct sauce goes very well with rice and cabbage.
The volume of thickly-cut pork will tire out your jaw, but it's juicy and tender!

And... Finally! We did it!

Many hotels have been built in the area recently, so if you're staying nearby, Honmachi Tonteki Minamisenba is worth visiting.

The "Dynamite Donburi" is only available at Honmachi Tonteki's Minamisenba store and it's better to order it sometime other than peak lunch hours.
Honmachi Tonteki Minamisenba

HONMACHI 豚テキ 南船場店

Address

Chisan Mansion Shinsaibashi 1F, 2-11-9 Minamisenba, Chuo-ku, Osaka

Phone Number

06-6245-5770

Hours: 11:00 - 15:30 & 17:30 - 21:00
Holidays: New Year (Days vary)
All three of the "Dekamori Gourmet" we tried are exquisite dishes, even if you can't eat them by yourself.

When you visit Osaka, be sure to take up a Japanese food challenge for yourself! And prove to yourself that Japanese food portion sizes aren't wimpy by any means.
*This information is from the time of this article's publication.
*Prices and options mentioned are subject to change.
*Unless stated otherwise, all prices include tax.