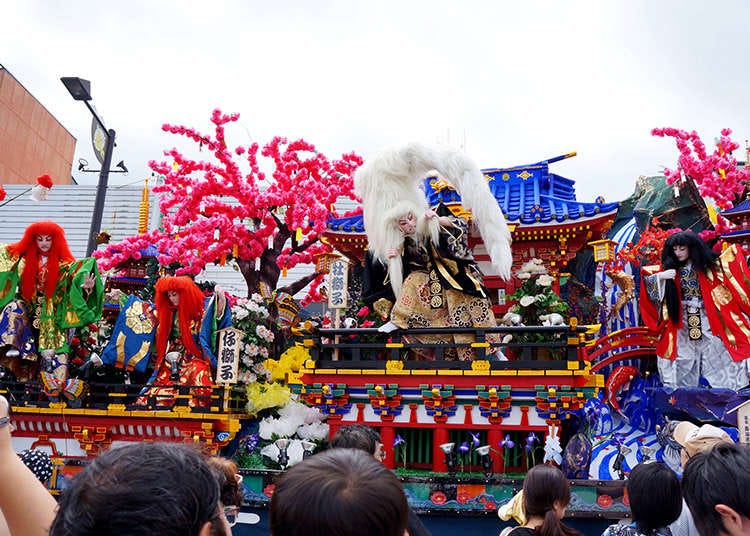 The vivid costumes and expressive, painted faces of the actors are the symbols of one of Japan's most famous forms of art: Kabuki, dance-drama theater. The characters with which the term is written also represent the three core elements of kabuki: song 歌, dance 舞, and skill 伎. These characters are a modern spelling, however, and the original term is believed to derive from the verb kabuku, which means "out of the ordinary."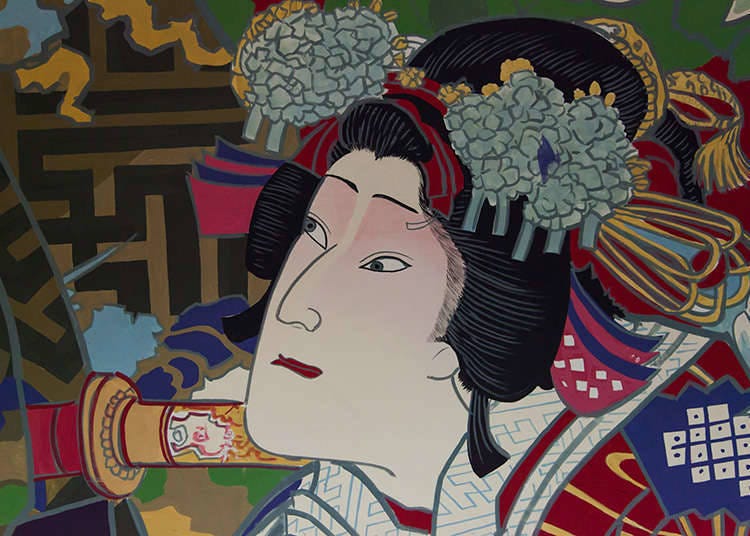 Why "out of the ordinary" when today, kabuki is one of the most representative things of traditional Japan? When the theater was first performed, it shook the world of performances and theater quite a bit. Today, it is famous for being performed exclusively by male actors but the one person attributed with inventing kabuki was actually a woman. Her name was Izumo no Okuni and she is believed to have been a shrine maiden of Izumo shrine. As such, one of her duties was to perform ancient and ritual dances to honor Buddhist deities but her own adaptions of these performances are what made her famous and gave birth to kabuki in the end. Breaking free from stiff traditions, Okuni did not only bring quite a bit of innuendo into her dancing but also themes of quarreling lovers and other stories concerning the day to day life of common people.
Her performances were so popular, it didn't take long for her to train other women in the way of her dancing, some copied her style of performing and soon enough, various all-female kabuki troupes had sprung up, spreading the style throughout Japan.

In 1603, Okuni performed her first kabuki performance with a group of women. Only around 30 years later, the controversy around this new art form was already so huge that the Shogunate took action, banning female actresses from performing the art altogether due to the general concerns about morale and indecency. They were replaced with young male actors but even they faced rather similar problems soon after, leading to kabuki being performed by older men exclusively, a standard that is mostly upheld even in today's theaters.
During the Edo period, Kabuki really started to thrive. In a culture that was shaped by Japan's common folk, kabuki actors basically were the popstars of Old Japan, celebrated and sought after. A lot of plays were written and many of the characteristics that we know today were shaped during that time.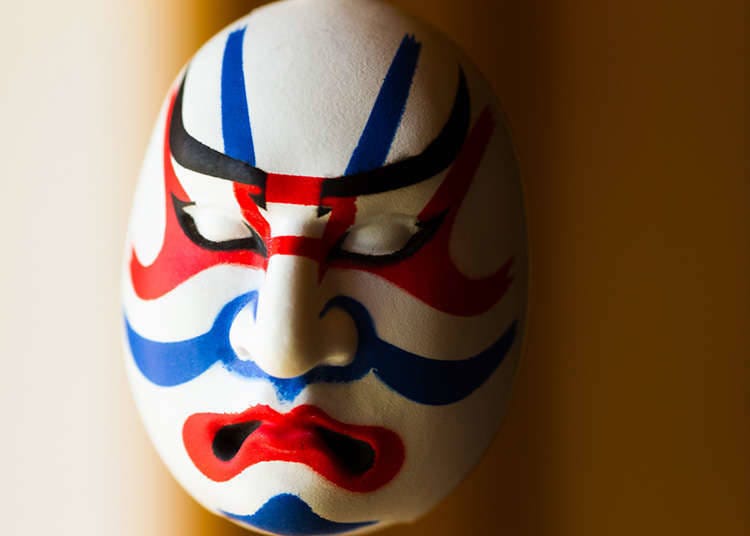 Kabuki actors wear characteristic makeup and face paint called kumadori, which represents blood vessels and muscles on the face in white, red, blue, and brown. Different colors are used for each role: the leading role might be clad in energetic red while the villain wears a cool shade of blue. Kabuki costumes are far more vivid and extravagant than ordinary kimono to stand out on stage. Especially the costumes for female roles are creatively made to reflect certain traits and roles, with a common example being a red kimono for a princess, while a concubine wears a flamboyant kimono with extravagant embroidery.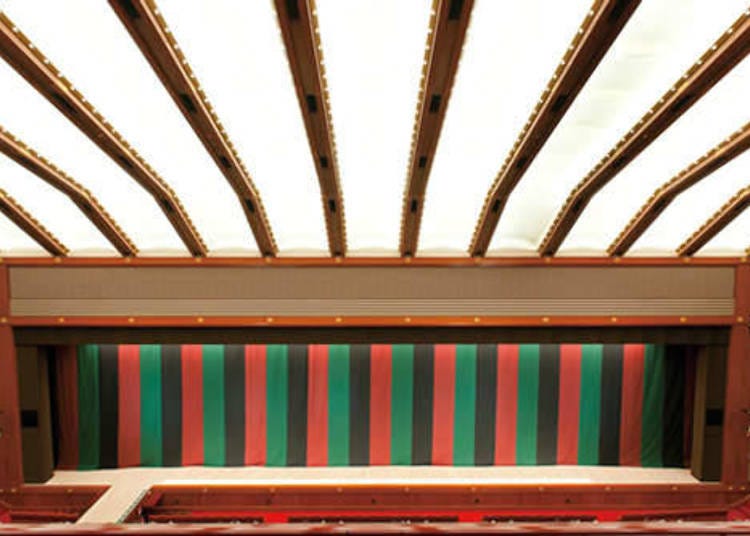 (C)Shochiku Studio Co., Ltd.
The general kabuki stage has a very different structure from the stages of other theaters. The most characteristic feature is the hanamichi, literally translating to way of flowers, which runs through the audience and connects the stage all the way up to the back of the theater. It is used for dynamic performances such as the actor running onto the stage to perform the mie, a pose that leaves the actor motionless and shifts the focus on the powerful facial expression instead, portraying the peak of a character's emotions. There is also an underground space called naraku (named after the hell of Buddhist cosmology) under the stage and hanamichi from which actors sometimes same a sudden appearance.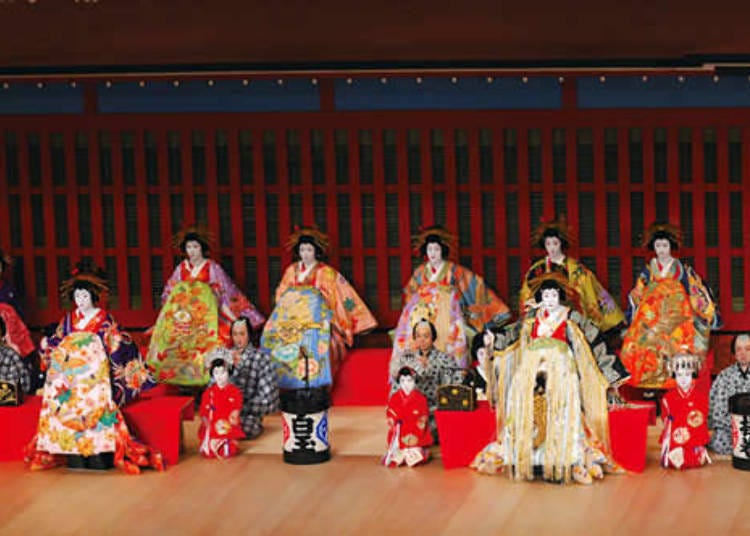 (C)Shochiku Studio Co., Ltd.
In general, Kabuki actors are either associated with a particular theater or with a kabuki school and the vast majority of actors comes from a family that has been in the kabuki acting tradition for various generations. The stage names of these kabuki actors are passed down from parent to child and a lot of these names are associated with specific character roles or styles of acting, thus carrying great significance. Some famous names are Ishikawa Danjuro, Onoe Kikugoro and Bando Hikosaburo. Furthermore, every line of actors has its own specialty stage act, which is called ie no gei (the repertoire of the family). Once an actor is deemed to have honed his skills enough, he is given a stage name in a naming ceremony called shumei – an enigmatic and interesting spectacle all in itself.
The Phenomenon of Kakegoe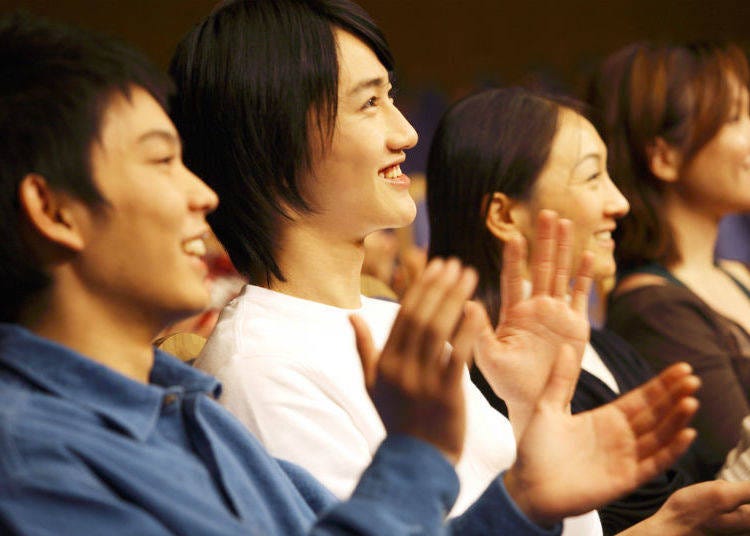 One might dramatic theater performances imagine to be rather solemn but there's one particular and traditional phenomenon that integrates the audience into the actual play. This is called kakegoe, or shout out, and while it is not exclusive to kabuki, it takes a prominent and interesting role in the art form. Kakegoe is when the audience shouts an actor's name in praise in particularly dramatic moments such as the mie. It doesn't always have to be one person's name, though, sometimes the shout out is also a phrase such as "We've been waiting!" when the curtain raises and the performance begins.
There are special guilds for kakegoe who focus on this very audience participation and while the large majority of members are older Japanese men, some do also accept women and Non-Japanese nationals as well.
Throughout Japan, there are several theaters where kabuki is performed, with the most famous one being the Kabuki-za in Tokyo's Ginza. Hosting performances for over a hundred years, the traditional theater was rebuilt and renewed as early as 2013, staying true to the traditional architecture of the original theater.
The modern building with the traditional aesthetic doesn't only feature a souvenir shops with a lot of kabuki-themed goods but also automatic ticket dispensers for both single acts as well as full programs. The Kabuki-za also features a small monitor that does not only provide a translation of the spoken lines and lyrics of performed songs but also offers various explanations concerning the story, the actors, and stylistic devices typical for Kabuki. Tickets can also be purchased online.
Kabuki, a Must-See Japanese Performance Art
With modern technology being able to bring the traditional and deep kabuki to each and every one, there really is no reason to miss out on what easily counts as Japan's most popular form of theater. Due to the common roots of kabuki, there is no particular dress code in place and the ticket prices are very affordable for both single acts and full programs. Why not discover the emotional expressions, the vivid costumes, and the traditional stories for yourself?
*Unauthorized reproduction is prohibited.
*This information is from the time of this article's publication.
*Prices and options mentioned are subject to change.
*Unless stated otherwise, all prices include tax.