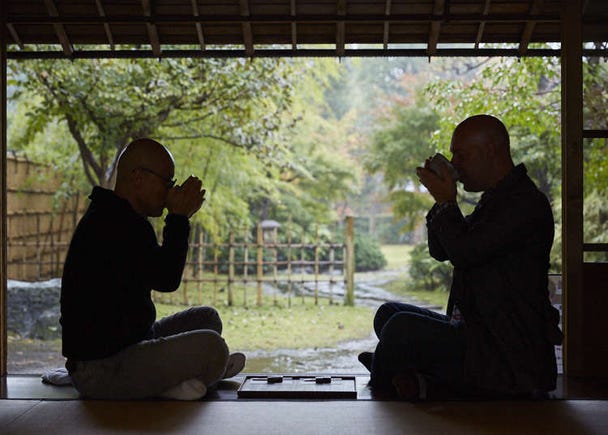 Tetsushi Morita was former head at the office of the president of French tire manufacturer Michelin. He was actively involved in the production of the Michelin Green Guide Japan.

Having spent a long time in France and made plenty of Western friends, he's able to shed light on the allures of Japan from a Western point of view that many native Japanese tend to overlook.

This is our sixth trip with Morita in our never-ending quest to unearth the quaint charms of Japan. This time, we'll be visiting Chōfu City in Tama, Tokyo as well as the neighboring Fuchū city, both about 15 kilometers west of Shinjuku.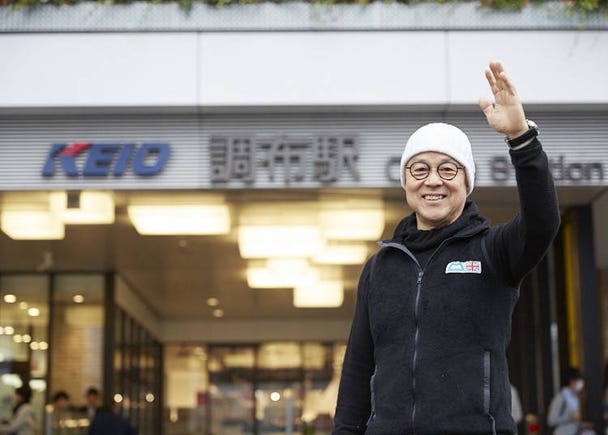 Our meeting point today is Chōfu Station (Keio Line). It's about a 14 minutes ride away from Shinjuku by limited express, or 17 minutes by semi-limited express.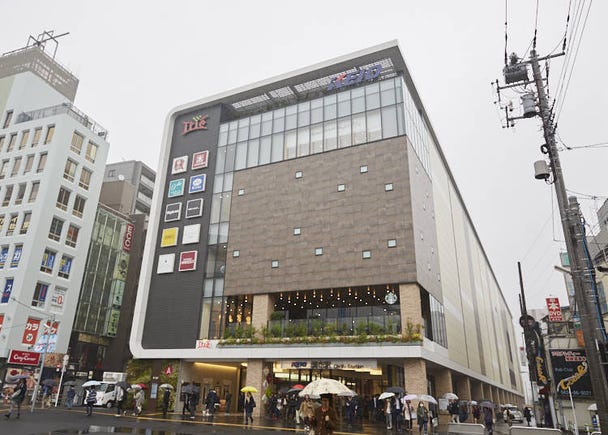 Joining Morita today is Timothy, who is from New York.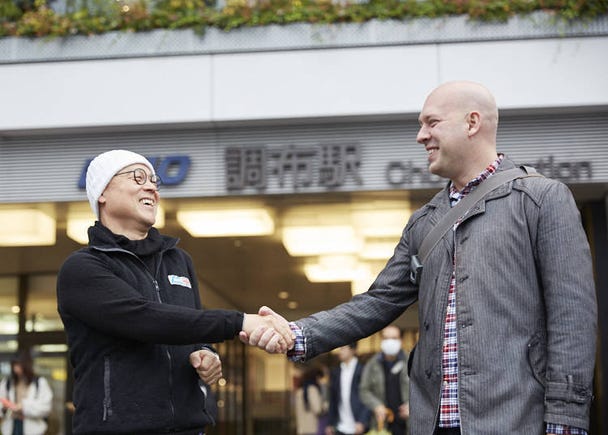 ■Popular Japanese manga (comic book) characters live on in Tenjin Shopping Street, located in the city where their creator had resided
Morita and Timothy decide to start the trip with a leisurely stroll around the vicinity of Chōfu Station. Along the way, they encounter artwork of characters from GeGeGe no Kitarō, a popular yokai supernatural monster manga created by Shigeru Mizuki.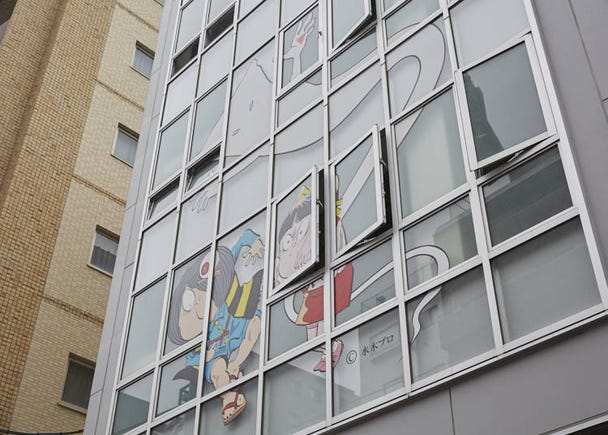 Morita: "Are you interested in Japan's yokai? Since ancient times in Japan, whenever something strange happened, it was usually considered to be the work of yokai tricksters. Shigeru Mizuki was a manga artist who popularized these creatures by portraying them as manga characters, and he lived for more than 50 years here in Chōfu. That's why you can see characters from his representative work 'GeGeGe no Kitarō' hiding everywhere in this town. There are plenty of other yokai monuments along Tenjin Shopping Street as well."
Morita: "See what I mean? This mailbox is in the shape of a yokai mailbox. If you ever need help for anything, send a letter through the yokai mailbox and Kitarō will come to your rescue!"

Timothy: "When I first came to Japan, I had no idea what yokai referred to. I think they're something like 'sprites' in Western terms?"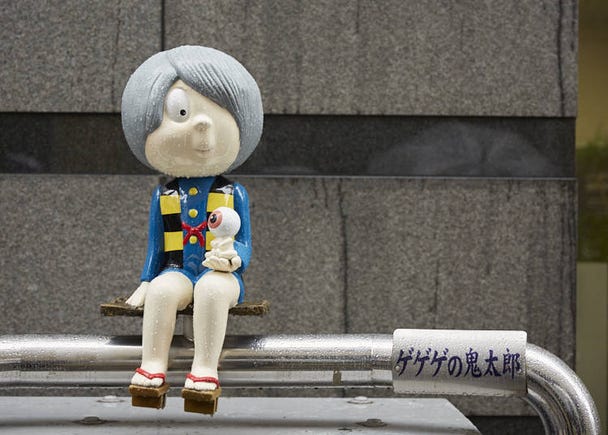 Morita: "Those creatures that appear prominently in Celtic culture, right? The concept of yokai is basically founded on animism. I actually believe the world view that developed during the era where animism was a prominent belief in Japan has become an important part of the Japanese identity today."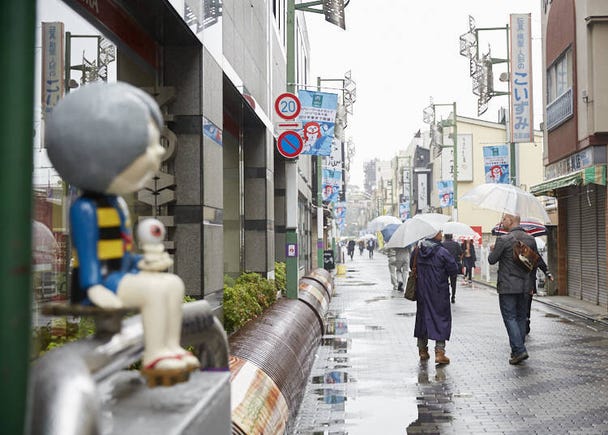 天神通り商店街

Address

1 Fuda, Chōfu-shi, 182-0024
■Learning about the achievements of the Venerable Father Cimatti, who was instrumental to the development of education in Japan as a missionary and educator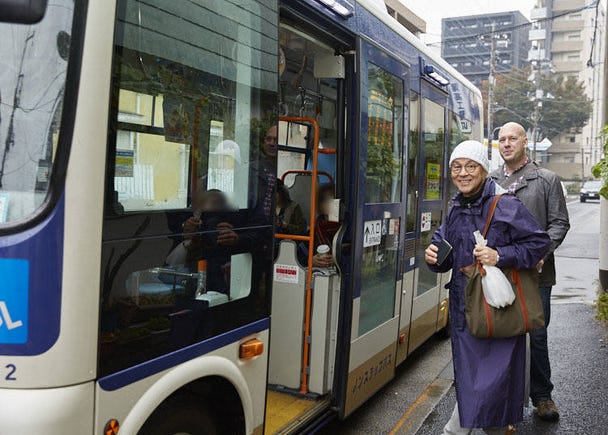 Exiting Tenjin Shopping Street, we arrive at the Chōfugaoka Kōsaten bus stop, where we hop on to a Chōfu city minibus.
The tourist-friendly bus display shows destination names in English as well. We will be getting off at Musashino Ichiba (Musashino Marketplace) and then continuing on foot to Cimatti Museum, located inside Salesio Seminary.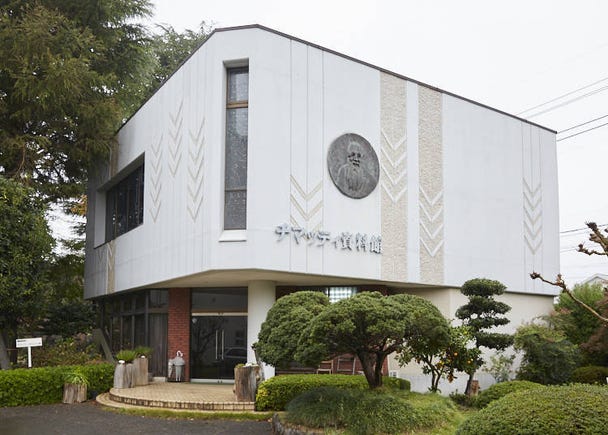 Morita: "Cimatti Museum is a resource center about Father Vincenzo Cimatti, a missionary belonging to the Catholic Salesians of Don Bosco who came to Japan from Italy in the year 1926. That's the first year in the Showa era, almost 100 years ago! He laid the foundation for the Salesians of Don Bosco in Japan. Father Gaetano Compri, who serves as the museum's curator, will be telling us more today."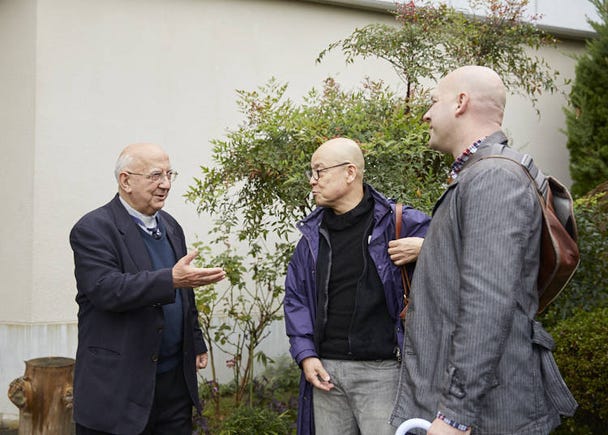 Our guide, Father Compri came to Japan in the year 1955. He spares no effort in sharing information about Father Cimatti's feats with as many people as possible, right from within the Salesio Seminary Father Cimatti had left behind.

Father Compri has been in Japan for 63 years - that's even before Morita was born! Needless to say, he speaks Japanese fluently and has an equally impeccable sense of humor.

He regals us with tales of Father Cimatti's achievements and memorable deeds in a room on the first floor of the museum. The tour is definitely off to a good start!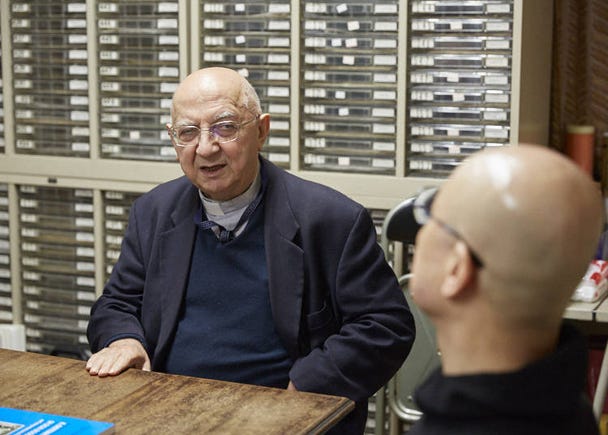 Morita: "Father Cimatti was a musician as well, wasn't he? The lyric opera he wrote, 'Hosokawa Gracia' was truly beautiful."

Father Compri: "Indeed. As a musician, he composed well over 950 musical pieces. In fact, these cabinets behind me contain the scores for those very pieces we're talking about."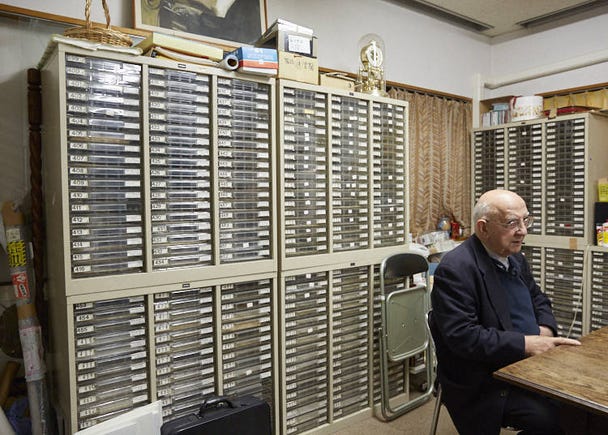 Morita: "He was also known as an educator, wasn't he? Was he already a teacher in Italy?"

Father Compri: "The Salesians that Don Bosco founded was some sort of an international educational institution as well. They had a hand in operating schools and publishing books in 132 countries worldwide. When the Showa era started in 1926, children of commoners were not yet being educated. The Salesians valued education that would help commoners make a living, so they built schools to teach students about industries and trade. In 1933, they established the Miyazaki Seminary, now known as Hyūga Gakuin (Hyūga Academy). Salesian Polytechnic, formerly known as Tōkyō Ikuei Kōgei Gakkō (Tōkyō Educational Industrial Arts School), was likewise founded in 1934. In their schools, they taught not just Christian children, but secular children of that country as well how they could improve their lives. In fact, Father Cimatti served as the dean of Salesio Seminary until the year 1962, when he was 83."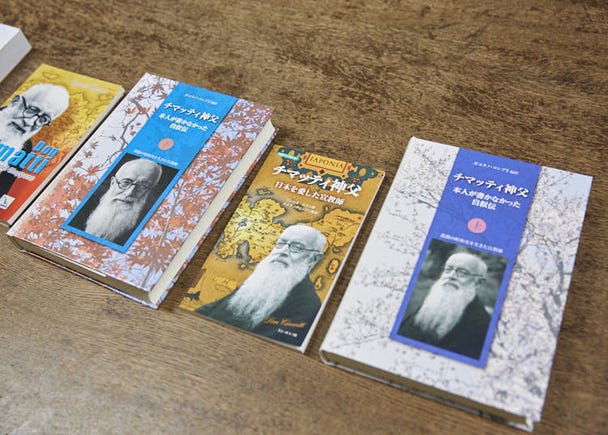 Morita: "Father Cimatti came to Japan in 1926 and passed away in 1965 at the age of 86, having spent 15 years living in Chōfu, right?"

Father Compri: "He moved into Chōfu's Salesio Seminary after it was built. Information about his way of life and educational activities are being exhibited on the second floor."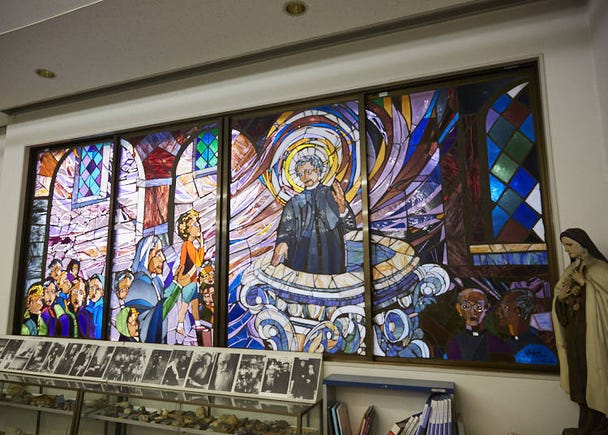 Father Compri: "This stained-glass window depicts a three-year-old Father Cimatti listening to Don Bosco's preaching while being held up by his mother."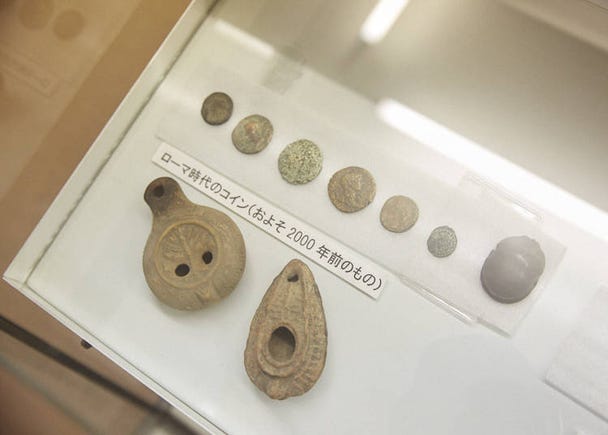 Father Compri: "In order to enhance education in Japan, he brought in countless natural science specimens from Italy, such as fossils and minerals. At the same time, he was also sending natural specimens found in Japan over to Italy."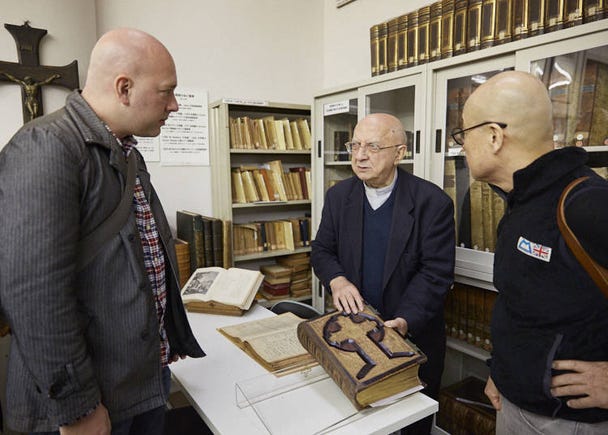 Father Compri: "Did you know that Father Cimatti studied in the same school as Mussolini? Mussolini was in his second year class and was a senior schoolmate to Father Cimatti. That's why we have documents donated by Mussolini himself preserved here as well."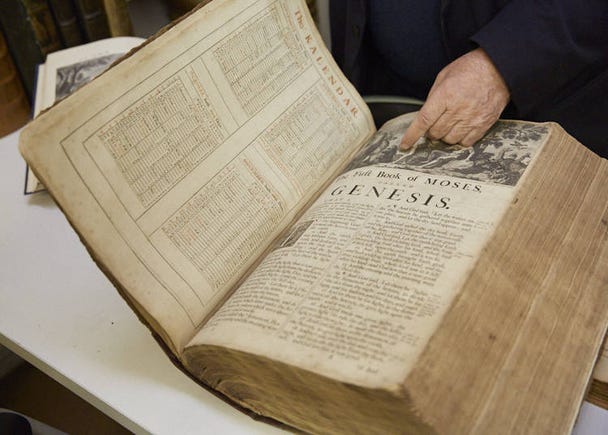 Father Compri: "These are ancient Bibles. We also have a Bible written in the 1500s, an English Bible published by Oxford in 1717, and a sheepskin-bound Bible made in Venice in 1734."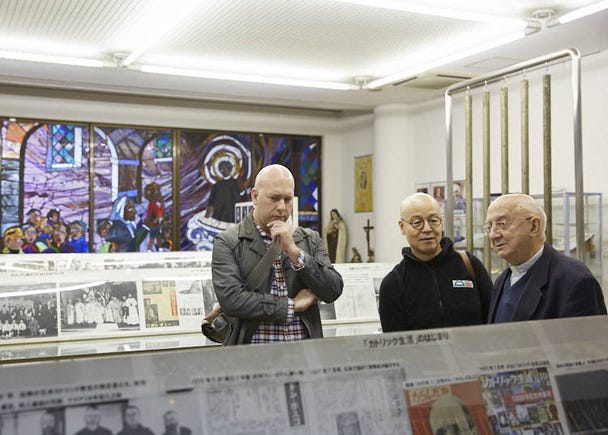 Morita: "It must've cost a lot to collect all these!"

Father Compri: "Father Cimatti was a teacher in Italy before coming to Japan, and his students of that time later became successful in life. A lot of these were donations from them."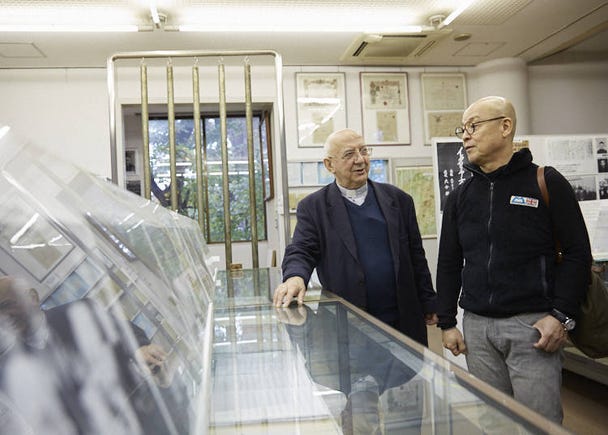 Morita: "So Italians donated toward the education of Japan? I'm sure that's how Japan managed to broaden its horizons and modernize itself so quickly. And I'm sure Father Cimatti must have continued to contribute to Japan's education until his very last breath."

Father Compri: "He passed away in 1965 at the age of 86, and was declared 'The Venerable' for devoting his life to the Salesians of Don Bosco and enhancing education in Japan. We are hopeful that he can be further canonized as a 'Saint' and are working towards that with the Vatican at the moment. Right now, his body rests in a marble coffin in a crypt beneath the Seminary."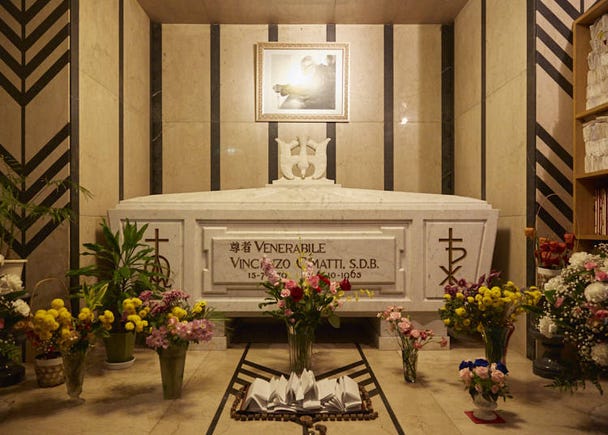 Morita: "Thank you for sharing so much valuable knowledge with us today."

Father Compri: "Please visit again soon!"
After taking a photograph together for memories' sake, Father Compri returns to his work.
As for Morita and Timothy, they are deeply impressed by Father Cimatti's pious way of life and the sheer amount of valuable information being preserved in the Seminary.

Morita: "We'll definitely need more time to carefully look through all the things they have here. In fact, I think Japanese people should absolutely learn more about the things the many missionaries to Japan have left behind in the country, as well as how the students of those missionaries contributed towards the advancement of Japan's industries."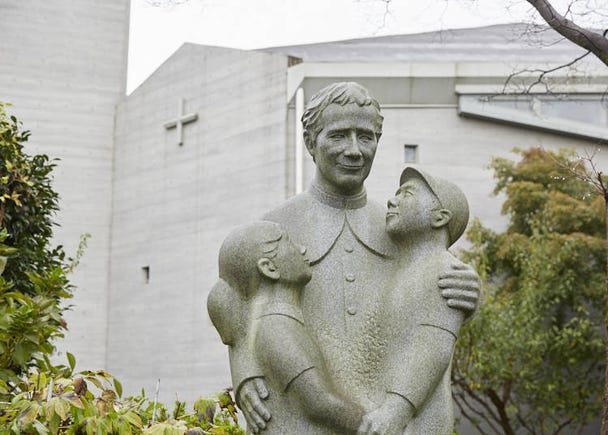 チマッティ資料館

Address

Salesio Seminary 3-21-12 Fujimi-cho, Chōfu-shi, Tōkyō-to 182-0033

Nearest Station

Chōfu Station (Keio Line), Musashino Ichiba / Fujimi-cho Jutaku (Bus Stop)


Phone Number

0424-82-3117
■Tracing Fuchu's history in Kyodo-no-Mori's museum, and learning more about the Darkness Festival, Jomon Era, and old provincial town scenes of Musashino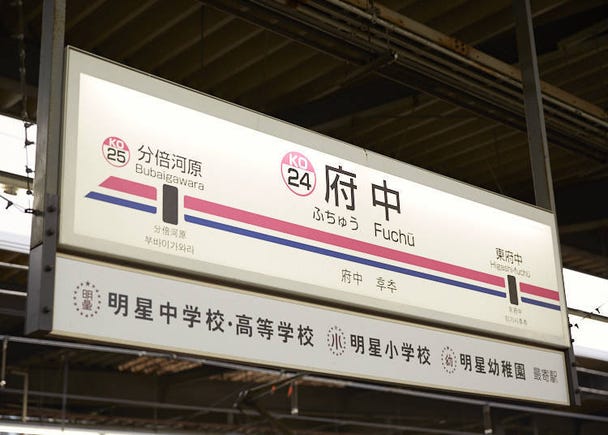 The next destination is Kyōdo-no-Mori Museum. The group leaves Cimatti Museum and returns to Chōfu Station (Keio Line). From there, they head toward Bubaigawara Station in order to take a Keio bus heading towards Kyōdo-no-Mori Sports Complex, stopping at the bus stop labeled Kyodo-no-mori-Seimon-Mae. This is where Kyōdo-no-Mori Museum is located.

Kyōdo-no-Mori takes up a sprawling area of about 140,000 square meters (1.5 million square feet). Its large premises houses a museum, planetarium, park, relocated and restored ancient buildings such as merchant houses, and plenty of other structures of interest.

Permanent exhibits in the museum contain actual historical artifacts about the people and natural environment of Fuchū. In this facility, you'll be able to familiarize yourself with Fuchū's history and local features through miniature models, films, and other media.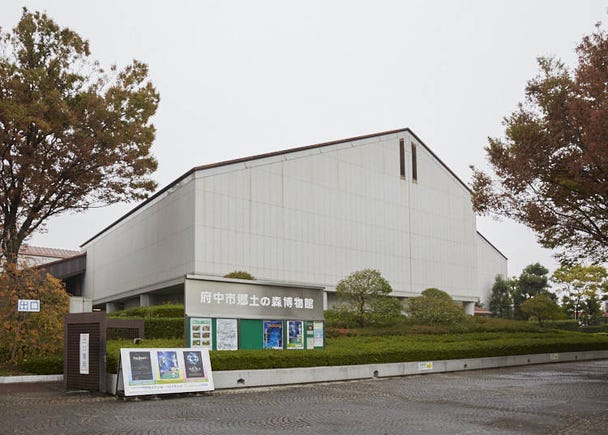 Morita: "Kyōdo-no-Mori documents the history of the Musashino region in Japan, where humans have existed since the Stone Age. The exhibits also introduce you to various local curiosities, like the Kurayami Matsuri festival that has been held by Fuchū's Ōkunitama Shrine since the Middle Ages, artifacts from the Stone Age, as well as installations related to the ancient kokufu - capitals of olden Japanese provinces during the Yamato Imperial Court era that existed around 700 CE. All exhibits are displayed in an easily-digestible way for the general public. As interesting as these artifacts are, don't forget to look around outside at the garden and other structures as well, especially the Baikyoan, a tea house that will certainly be an intriguing experience for most international visitors."

Timothy: "From the Stone Age, you say? That's really unthinkable. The history of the United States only goes back around 250 years, so something so much further back in history than that is absolutely mind-boggling."

Morita: "Japan was in the Jōmon period from the middle of the Stone Age, from about 15,000 until about 2,300 years ago, which means the Jōmon period lasted for about 13,000 years. People lived as hunter-gatherers during this long period of time, and I personally think having this historical background is one of the greatest charms of Japan. The people's view of the world formed during this period probably became the foundation of the Japanese belief in animism."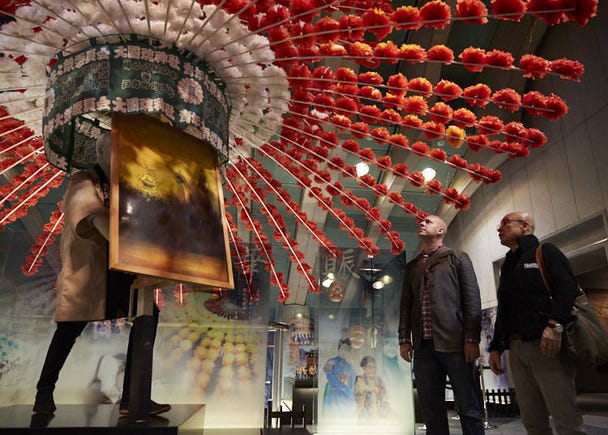 In Kyōdo-no-Mori's "Kurayami Matsuri" festival section, we finally learn more about this festival that has been celebrated in Fuchū since the Middle Ages. This major festival is held at Ōkunitama Shrine every year from 30th April to 6th May.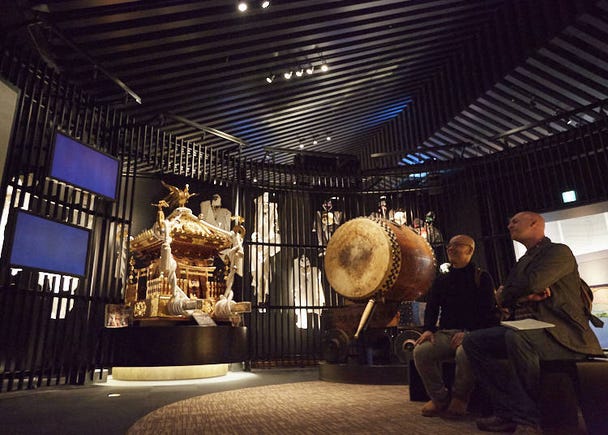 You'll get to admire a festival flower lantern right at the entrance of the section before proceeding to peer at the large taiko drums and festival floats inside. The huge multi-screen display in the exhibition area will broadcast a video detailing the history and background of the event, as well as the people who make it a reality by their support.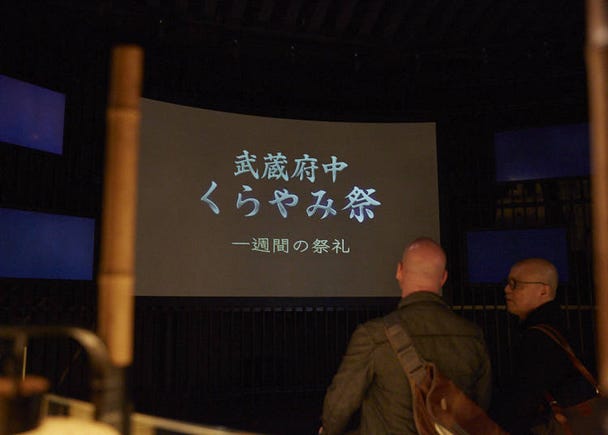 Timothy: "That part about the festival starting by participants cleansing themselves with the waters of Shingawa River was interesting."

Morita: "There's a ceremony where that seawater and rice straw are used to polish the goshintai - an object where the spirit of deities are said to reside - in this case, a mirror. It signifies the importance of salt and rice production, and I guess it also represents the harmony between the people who dwell near the sea and those on the mountains? Trying to make such connections through available information can be quite an enjoyable exercise as well."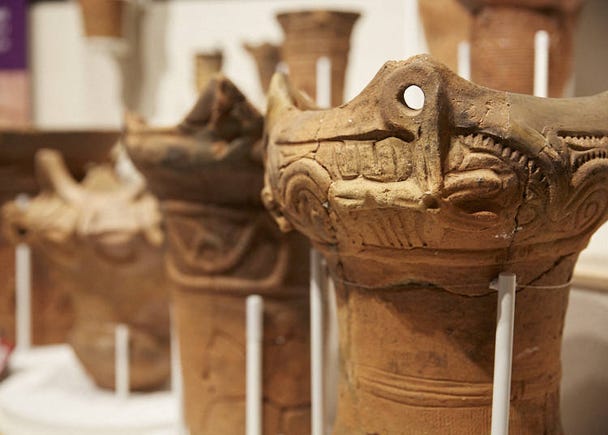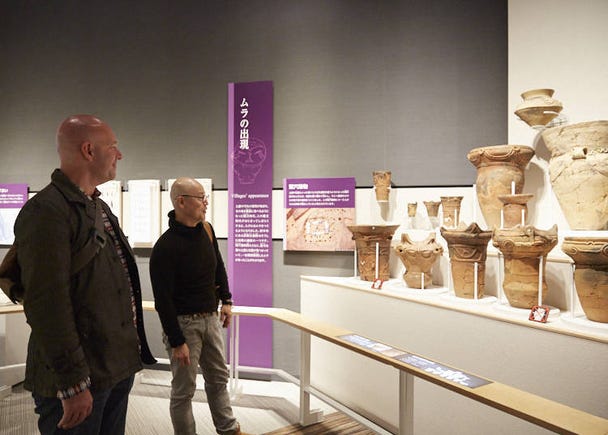 In the "Origin of Villages" section, Paleolithic stone implements and clay products from the Jōmon, Yayoi, and Kofun periods that were excavated from city areas are being put on display. The central exhibit is a model reproducing an initial Jōmon period village. This helps visitors to better understand how Jōmon people went about their activities and affairs.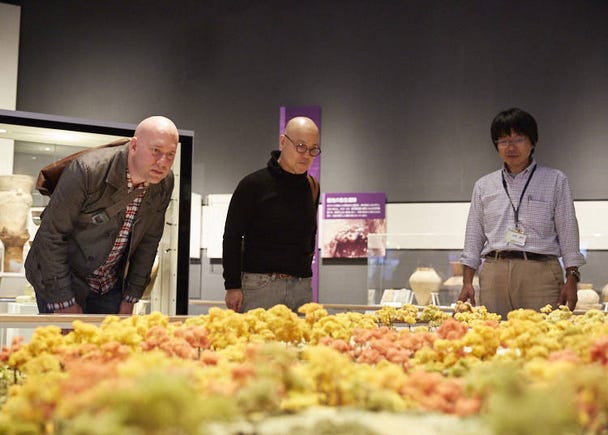 Morita: "They could fish in the nearby rivers and sea. The fertile land was also filled with lush greenery, and there were no end to the deer or boars they could hunt. That's why the early settlers took up the occupation of hunter-gatherers. After that, people from the mainland and Korean Peninsula came to Japan with new knowledge and technology about metal works and rice planting, broadening the scope of rice cultivation during the Yayoi period."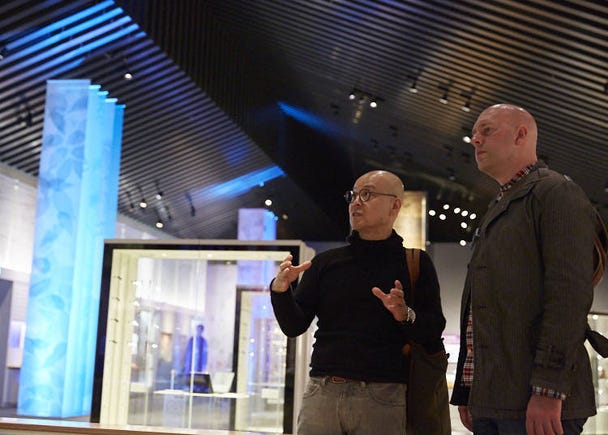 Timothy: "Water, forests, and open fields. They had it real good back then!"
Morita: "That's why people started gathering together here, turning this place into an important location. Eventually, this place became designated as a kokufu."

The miniature models and videos featured in the "Birth of Ancient Provincial Capitals" section teaches about the kokufu that was located right here in the Musashi region around 700 CE.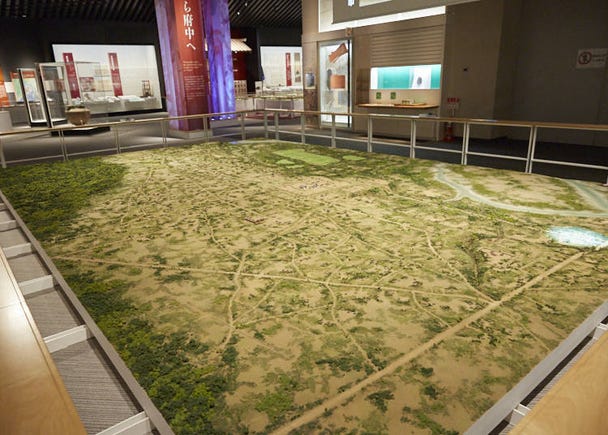 Morita: "Once agriculture took root in Japan, the disparity in wealth between various communities became more pronounced, and after some tussling, the local ruling class was born. Influential local rulers banded together to form an alliance called the Yamato Imperial Court that consolidated their power over the Nara Basin. This became the basis of a unified rule of Japan as a country centered around the Emperor. The Yamato dynasty expanded its influence over other regions within the Japanese archipelago and designated key localities as provincial capitals, or kokufu. In these kokufu, they would build a government office known as kokuga. The kokuga for Musashi Province was situated in Fuchū itself. The ruins of the building can still be found near the Ōkunitama Shrine in Fuchū City."

Timothy: "And this miniature model is a replication of that kokuga, right?"

Morita: "Yes, and I think you'd be hard pressed to find a miniature model depicting a place in 8th century Japan during the Nara period that's more intricate and accurate than this one here. In fact, I'd venture to say it's worth anyone's while to make a trip down just to see this model."

Timothy: "The short film portraying the lifestyle of commoners during this era is pretty interesting too."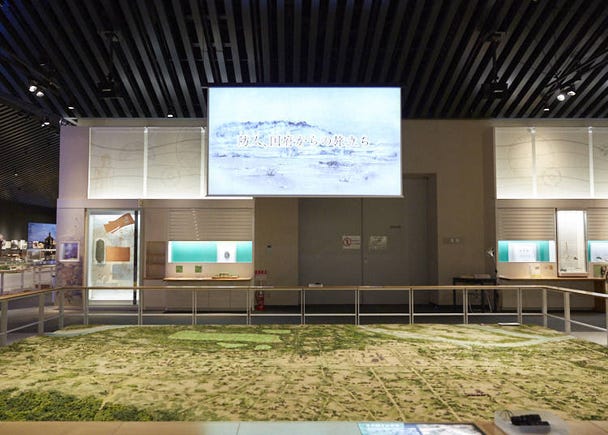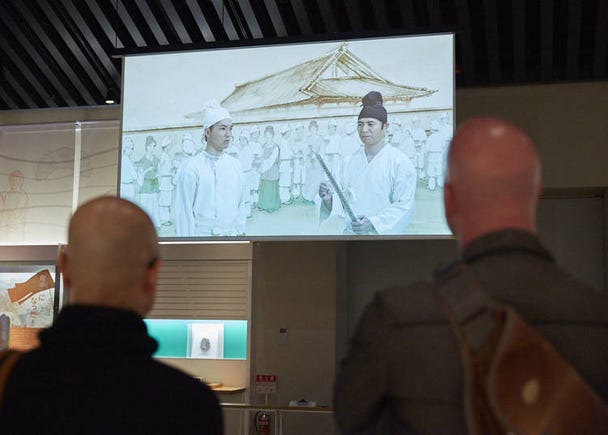 Morita: "In the 'Inn Town Festivities' section, there's another miniature model, this time replicating a late-Edo period Fuchū when it was a booming inn town located along the Kōshū Kaidō, a highway built to connect major provinces within Japan. Even the kōsatsuba - town message boards - are replicated, albeit scaled down 65% in size. One of the common messages during this time period is curiously about a ban on Christianity."
After browsing through the various sections, we exit the museum and start looking around the late-Edo period to Meiji period buildings in the premises that were relocated here. These relocated buildings were constructions from the late-Edo period through to Meiji, Taisei, and early-Showa periods. Prominent buildings include the Former Tanaka House and Former Shimada House of Fuchū-shuku that were large-scale retail stores during their heydays.
Inside the Former Tanaka House is a tea house called Baikyoan where teicha, the matcha tea used in tea ceremonies, is being served in an informal setting. For 400 yen, you'll get to enjoy some refreshing matcha and yōkan jelly dessert.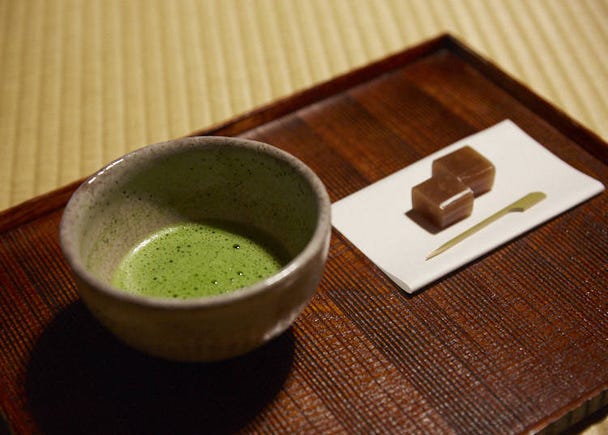 Timothy: "Having this in a historical Japanese-style building really adds to its flavor."

Morita: "Isn't it wonderful that the museum, garden, and ancient buildings were relocated and preserved like this? It's a shame we couldn't go for a leisure stroll around the garden due to the rain today, but you have to admit, the rainy scene certainly makes the whole place so much more atmospheric."

Timothy: "Absolutely. You can really feel as though you are 'in Japan' here."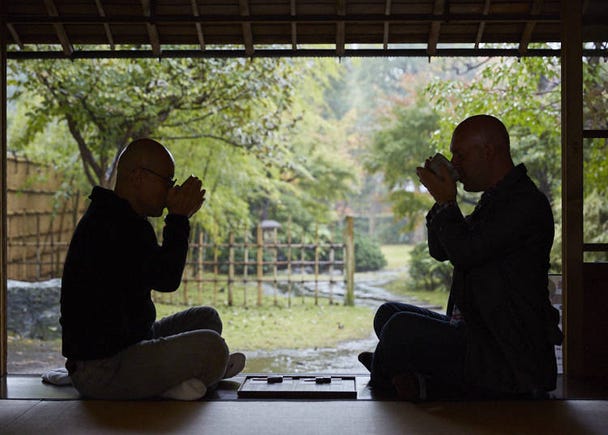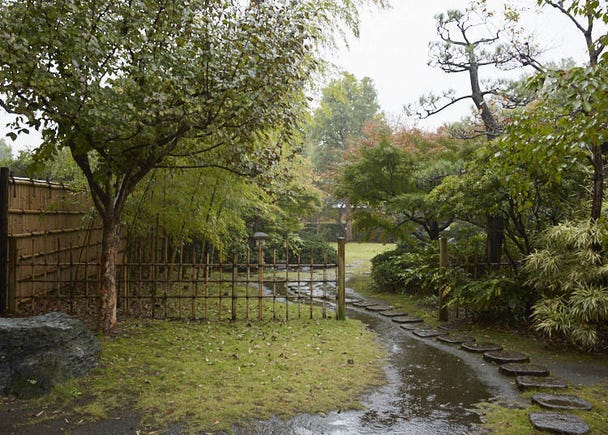 Kyōdo-no-Mori Fuchū City Museum

府中市郷土の森博物館

Address

6-32 Minamicho, Fuchū-shi, Tokyo-to 183-0026

Nearest Station

Bubaigawara Station (Keio Line), Kyodo-no-mori-Seimon-Mae (Bus Stop)


Phone Number

042-368-7921
■Ōkunitama Shrine - Long-time protector of Musashi Province
After being refreshed by the matcha and yōkan jelly, Morita and Timothy head toward Ōkunitama Shrine.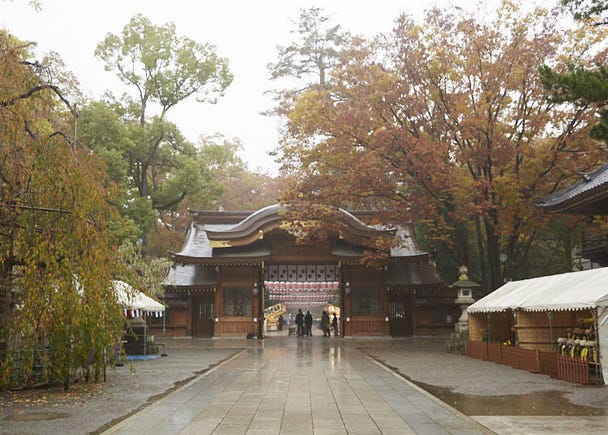 This is a consolidated shrine of the Musashi Province where Ōkunitama-no-Ōkami - the province's guardian god - is enshrined. It was built on the ruins of Musashi Province's kokufu that was featured in the "Birth of Ancient Provincial Capitals" section inside Kyōdo-no-Mori Museum. Even now in this modern age, the shrine is still popular among the residents around Fuchū looking for protection against bad luck, and for being the host of the well-known Kurayami Matsuri festival.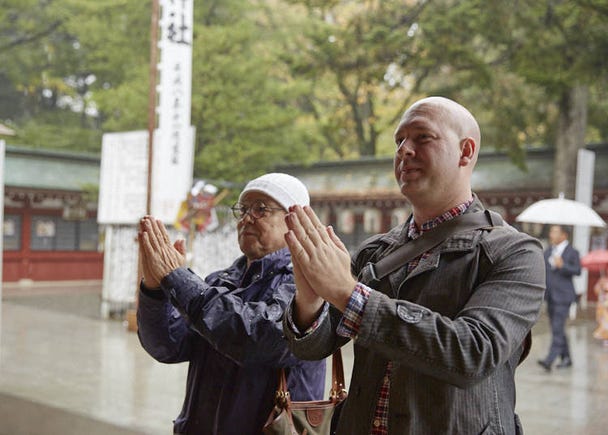 Morita: "Besides the main Ōkunitama-no-Ōkami shrine, there are shrines to other gods in the complex as well. They are the Tatsumi Shrine, where the goddess Benzaiten is being worshipped; Tōshōgū Shrine, a shrine for Tokugawa Ieyasu, founder and first shogun of the Tokugawa shogunate; Sumiyoshi Shrine, where the god of the sea Izanagi-no-Mikoto is enshrined; Ōwashi Shrine, for Ōtori-no-Ōkami, the god of battles; and Miyanome Shrine, for the goddess of safe labors and entertainment, Ame-no-Uzume-no-Mikoto, just to name a few."

Timothy: "That's a lot of gods."

Morita: "The more interesting shrines would have to be the Sui Shrine, where Mizuha-Nome-no-Mikoto, the goddess of water is enshrined. There's also the Matsuo Shrine, a shrine for Ōyamakui-no-Mikoto, the god credited with the development of alcoholic brews. Fuchū's pristine water is known to be good-tasting and suitable for making Japanese sake. In fact, that's why Suntory, a large beverage company in Japan, has a beer factory right here in Fuchū!"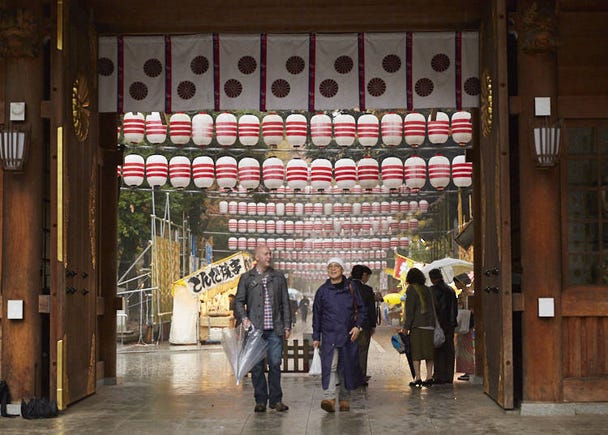 Morita: "Shall we go take a look at the kōsatsuba?"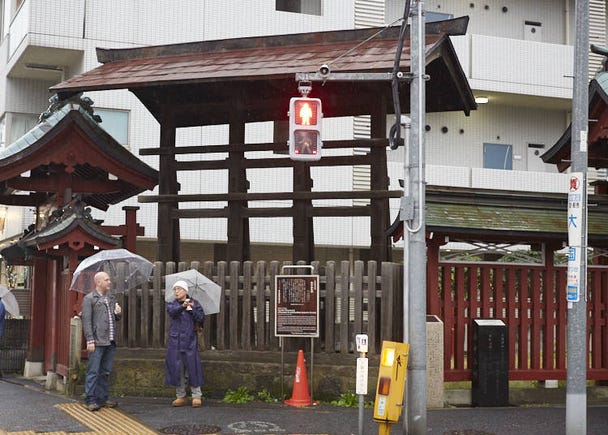 Timothy: "So this is what an actual kōsatsuba looks like, huh? The area around here must have been the center of activities for Fuchū a long time ago."

Morita: "The government of the Tokugawa Bakufu (1603 to 1867 CE) used to put up official notices here, and people would gather around to read them."
大國魂神社(おおくにたまじんじゃ)

Address

3-1 Miya-machi, Fuchū-shi, Tokyo-to 183-0023

Nearest Station

Fuchū Station (Keio Line)


Phone Number

042-362-2130
■Delight your senses with local Fuchū brew in "Nakakyu Honten" and "Kura Cafe"!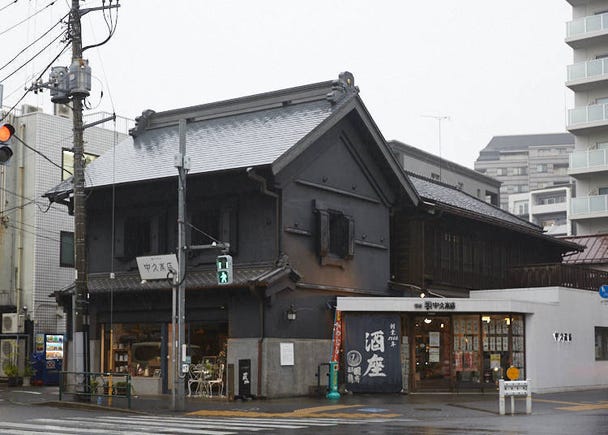 After leaving Ōkunitama Shrine, Morita and Timothy step into Nakakyū Honten, a Japanese sake shop located just opposite the kōsatsuba.

Nakakyū Honten is a well-established sake brewery that opened in the year 1860. One of the sake they brew, "Kouzuru", is a popular local Fuchū sake.

In the past, the sake-brewing would actually take place somewhere in the shop, but they've since moved the brewing to another site and converted this place into a full retail space.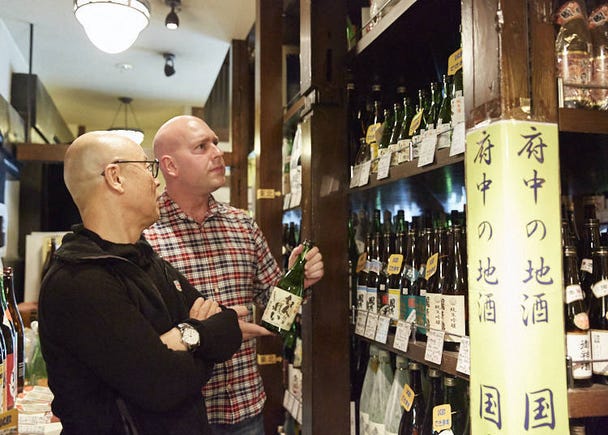 The historical decor of the shop is because it was originally built to be used as a private house. Its large and sturdy-looking pillars steadily support shelves upon shelves of tightly packed sake bottles.

Timothy: "I love Japanese sake, and the sight of all these local bottles is really exciting!"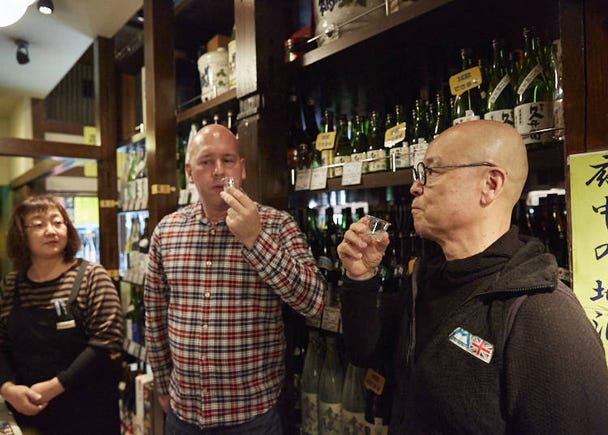 Seeing the sparkle in Timothy's eyes, the store clerk invites him to sample the products.
Timothy accepts with gusto and tries out sake after sake, until his face grows flushed...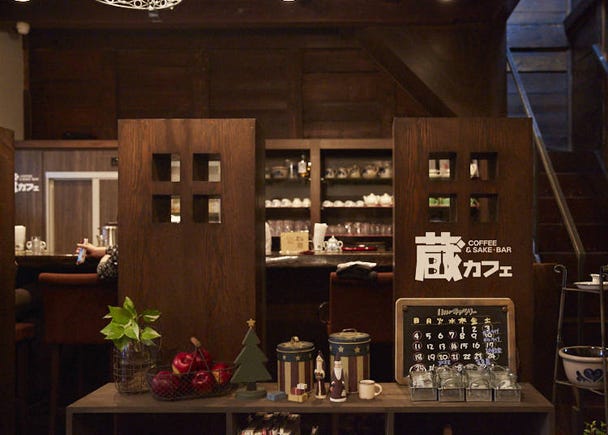 Next to Nakakyū Honten is Kura Cafe, where you can enjoy the usual cafe fare along with sake from Nakakyū Honten, if so desired. Having walked all around Chōfu and Fuchū for the entire day, Morita decides this would be a perfect place to rest our feet.

The shop offers a specialized menu that features Japanese sake and sake lees-derived beverages. There's also the regular menu with coffee and other cafe beverages as well.

The mild-flavored homemade cheesecake baked by the cafe owner goes well with both Japanese sake and sake lees latte. Brandy is used as a secret ingredient.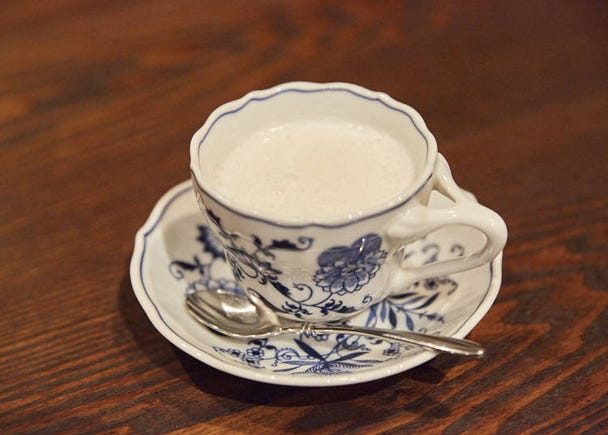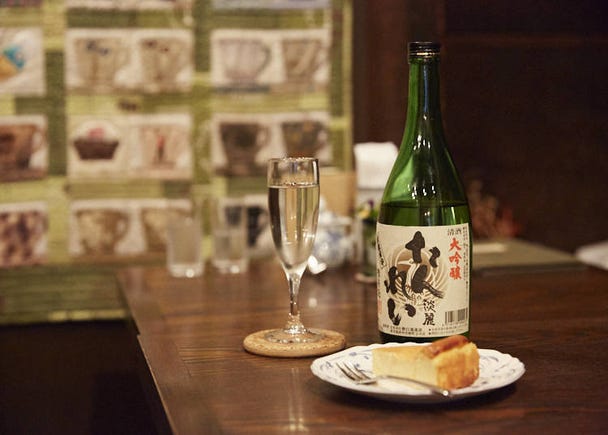 Morita: "Sake lees latte? Talk about originality, right? It's almost like a more milky version of amazake (sweet sake). What do you think? Do Japanese sake and cheesecake go well together?"

Timothy: "Very nicely! What could be better than enjoying Japanese sake in a lovely cafe like this?"

Morita: "Finishing the day with sake in Fuchū, a region that's deeply-connected with sake-brewing, is the perfect way to end our leisurely stroll indeed!"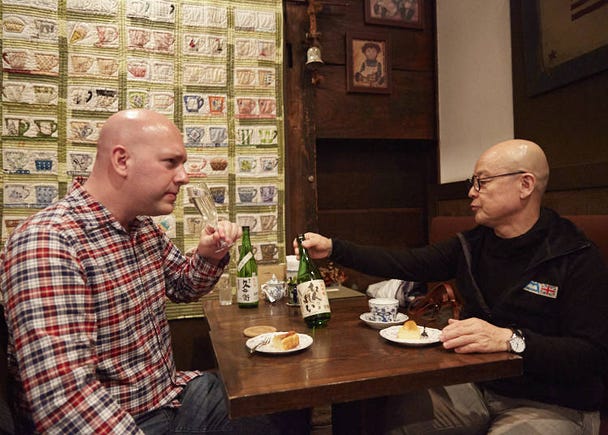 Before returning home, Timothy gladly buys a Kouzuru Tanrei (mellow and refreshing taste) as a souvenir.

Thus, we conclude our tour of Fuchū, prosperous former capital city of the ancient Musashi Province, as well as Chōfu here. It was certainly a meaningful tour, taking us back to the Stone Age through to the Meiji period and modern times, where we learned much about the transitions that took place within this land and saw for ourselves how foreign cultures had a definite influence on the development of this country.
中久本店

Address

4-2-1 Miyanishicho, Fuchū-shi, Tokyo-to, 183-0022

Nearest Station

Fuchū Station (Keio Line)


Phone Number

042-362-2117
Photos by 石川ヨシカズ
*This information is from the time of this article's publication.
*Prices and options mentioned are subject to change.
*Unless stated otherwise, all prices include tax.