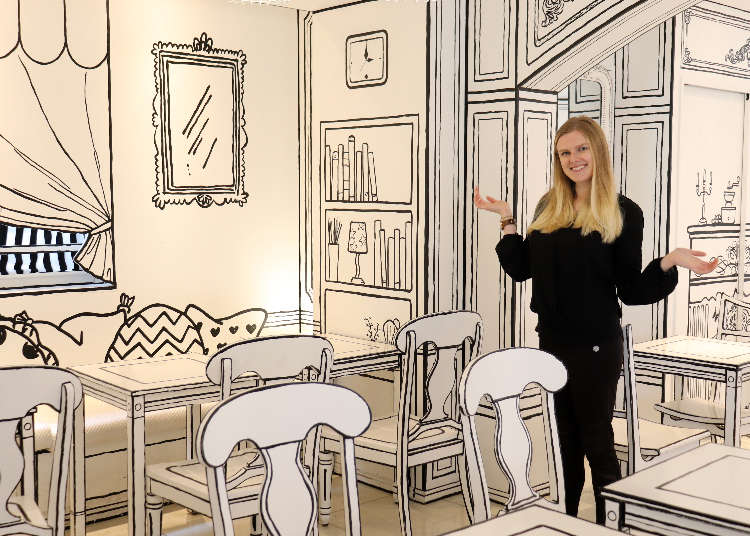 Tokyo's 2D café makes you feel like you're in a real-life manga!
2D Café First Impressions
We all know there are tons of themed cafes in Tokyo, so it's sometimes hard to know where to start. So, why not start in Shin-Okubo? Often referred to as the Korea town of Tokyo, Shin-Okubo has tons of Korean dishes like cheese dak kalbi and cheese dogs, but it wasn't until August 2019 that the new 2D café came to the area!

With branches in South Korea and Malaysia, Tokyo's 2D café quickly became a hot topic, so we headed there with Live Japan's editor, Cassie, to see what it was like!

The 2D Cafe is a 3-minute walk from JR Shin-Okubo Station. Follow the direction of the train tracks towards Shinjuku and you will see the entrance on your left.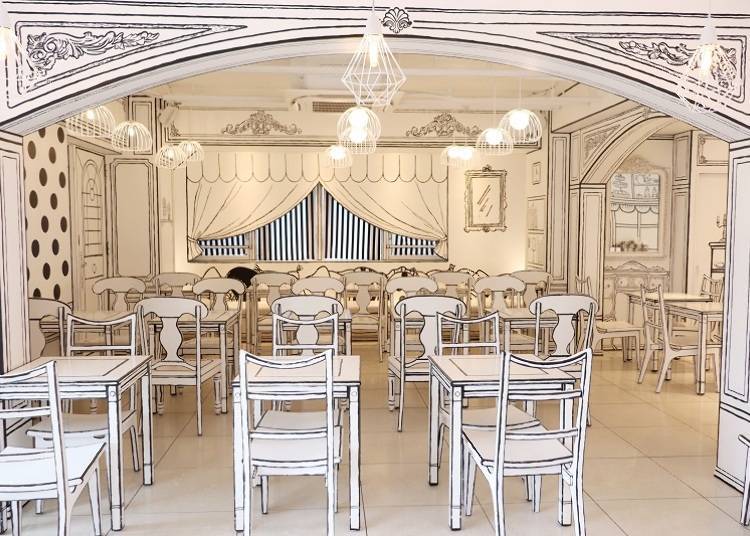 The shop's interior is decorated entirely in black and white, with the edges of the 3D furniture painted black to look like a flat image. You step in and feel like you're stepping into a cartoon!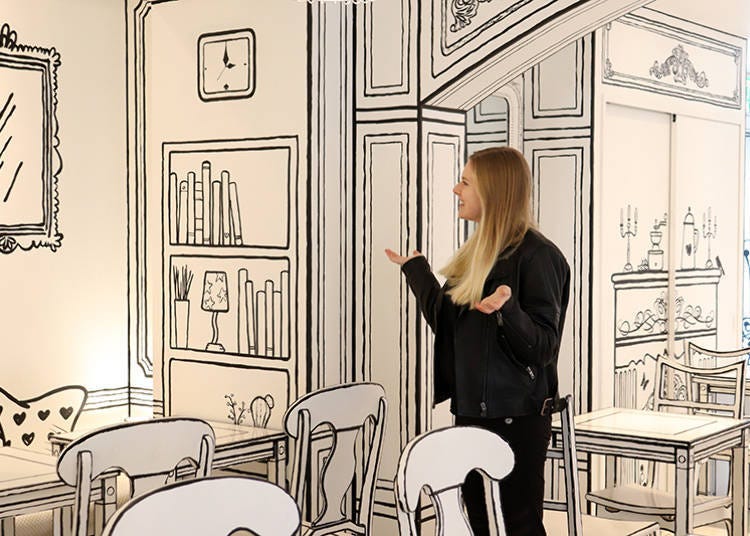 We were told that the concept of the 2D café came from a desire to create a unique space in the city center where you can escape from reality. Cassie said it feels like the world is standing still!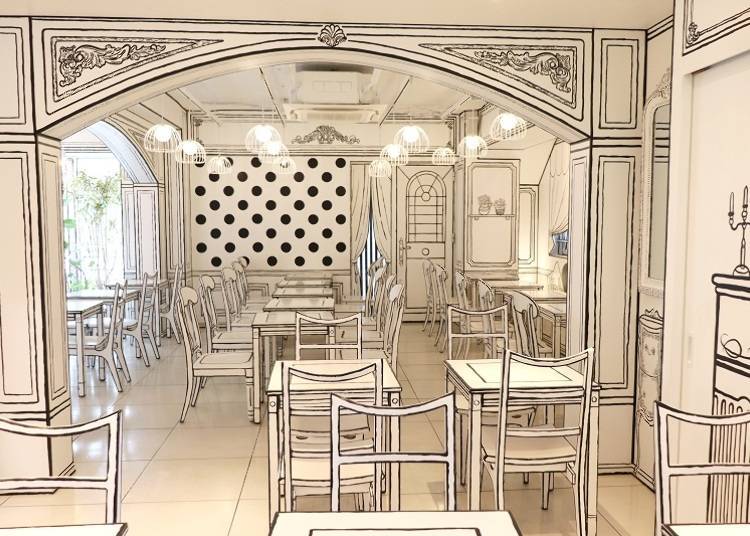 No matter where you look or where you sit, you feel like you're completely enveloped in a picture.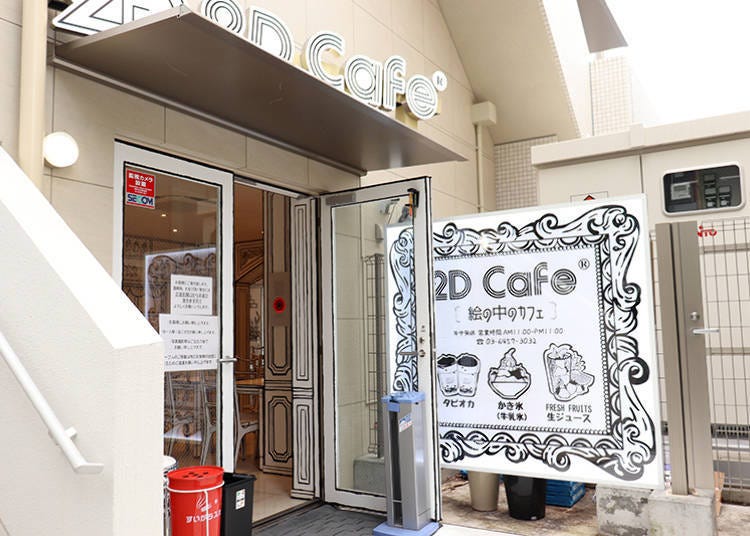 The shop actually has two entrances at the back and the front – this means that a lot of natural light comes in from both sides, creating a warm and bright atmosphere.
Like Stepping into a Manga! Everywhere You Look is Perfect for Photos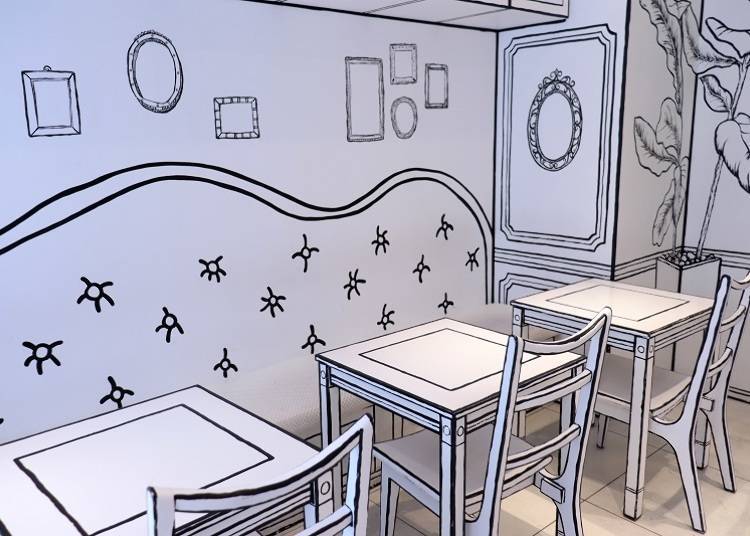 As you can see, not just the walls, but everything including the table legs and chairs are painted in black and white to produce the signature 2D effect.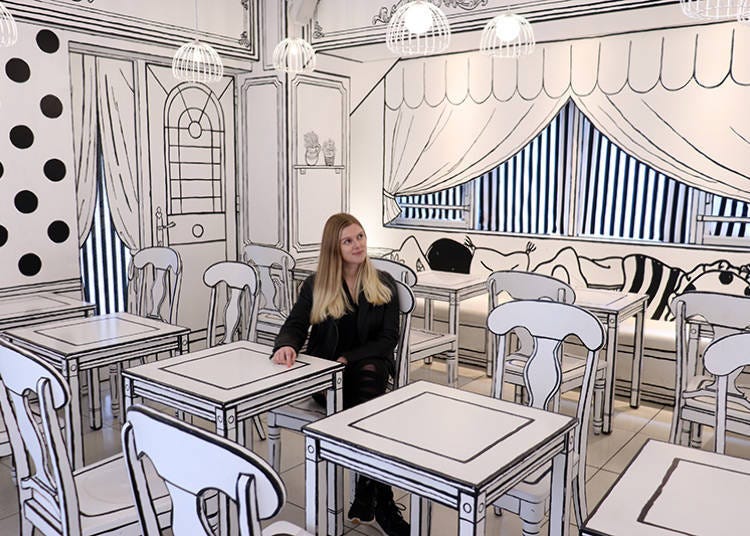 One great thing about the café is that you can get so many different photos depending on the area. Cute designs on the walls and different light reflections make for a different atmosphere in each shot! (Just make sure to get there early if you want to get a few different angles!)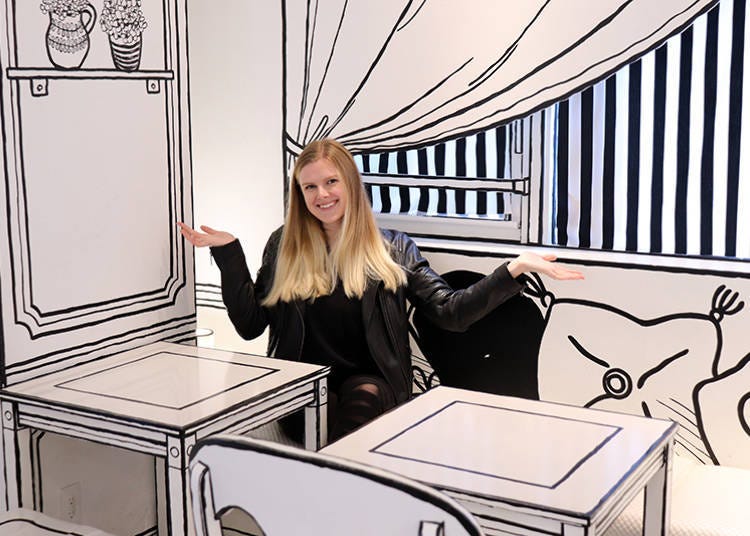 The cushions and curtains aren't real, but the chairs are – blurring the boundaries between 2D and 3D! No matter where you sit, you feel like you're in a drawing.
After taking in the 2D atmosphere, we tried out some very 3D sweets!
2D Café's Popular Sweets: Creamy Shaved Ice and Bubble Tea!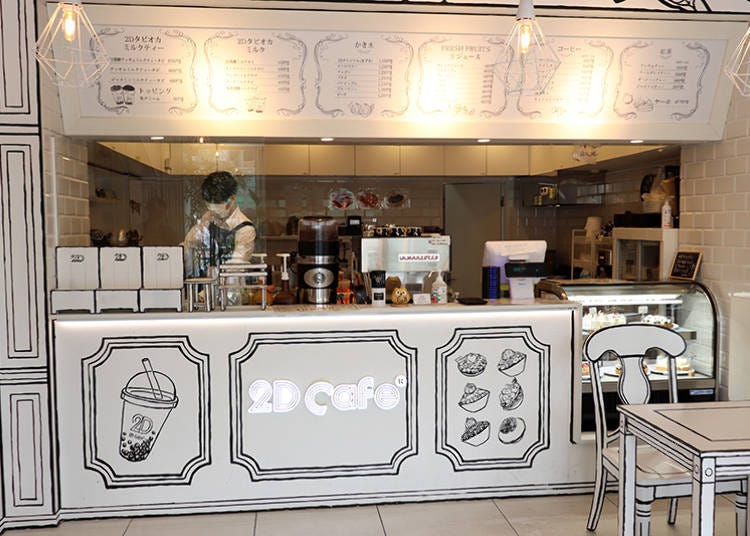 You might think that the 2D Café is just there to look cool and not do much else, but you're wrong! The menu itself is definitely a good reason to head to this spot – regardless of it being a themed café or not. With light drinks like tea, coffee and fruit juices alongside their special bubble teas, shaved ice and cakes, this is the perfect spot to head to after some shopping in Shin-Okubo or Shinjuku.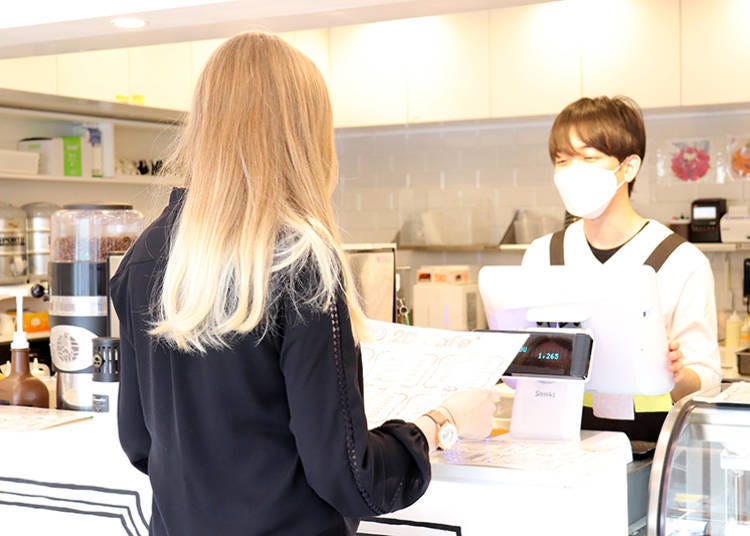 Cassie spent a little while looking at the menu. "Everything looks so good! What should I get...?" (Here we noted that this shop only accepts cash)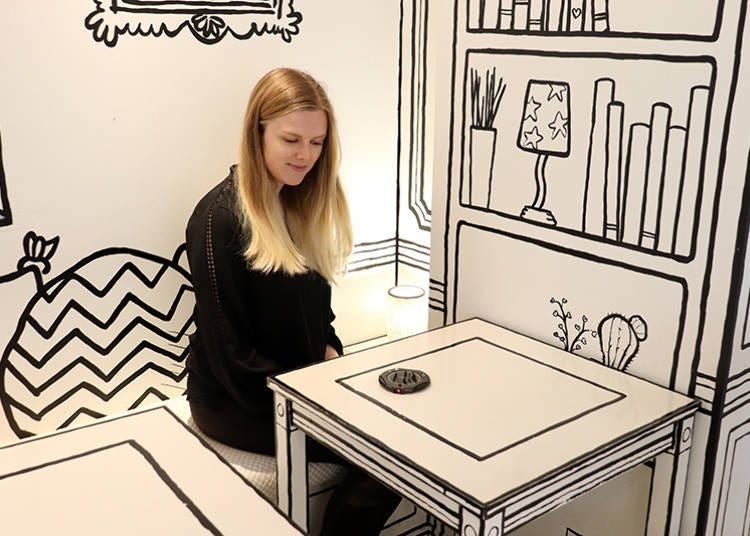 Cassie got a buzzer to let her know when her food was ready, and after a few minutes she just stared at it, waiting. She was so excited to get to try the desserts she'd seen all over the internet!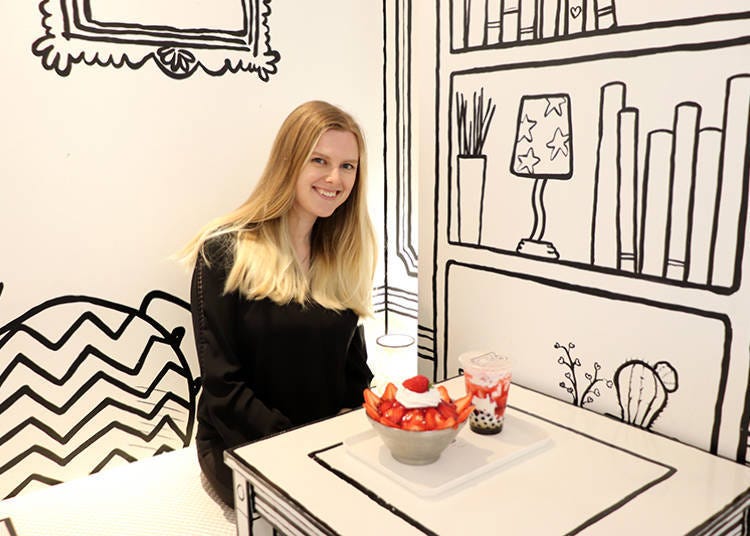 Finally, the buzzer buzzed, and it was time to head to the counter and get some food! The two items that she ended up ordering were some of the most popular at the store: shaved ice (kakigori) and bubble tea. It seems strawberry versions are very popular, and Cassie couldn't wait to try them.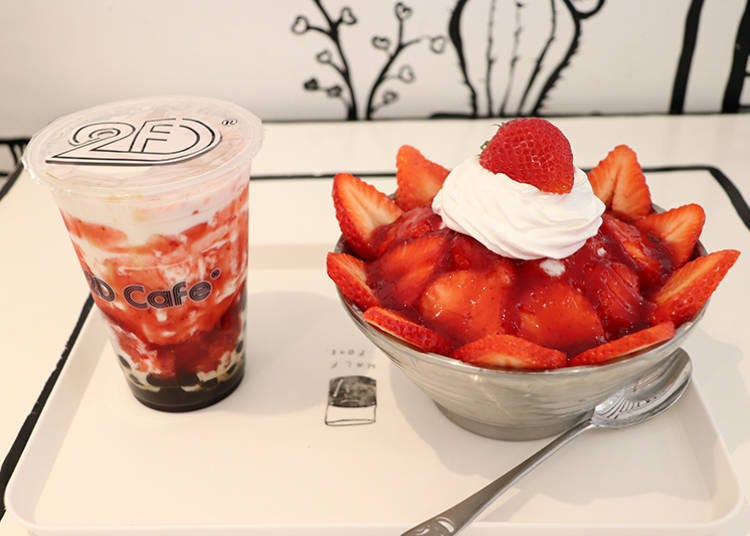 Looking at the photo above, on the left is the "Strawberry Milk Bubble Tea" at 650 yen, and on the right is the "Shaved Ice - Strawberry" at 1250 yen (excluding tax). The bright colors really make an impact against the monochrome interior!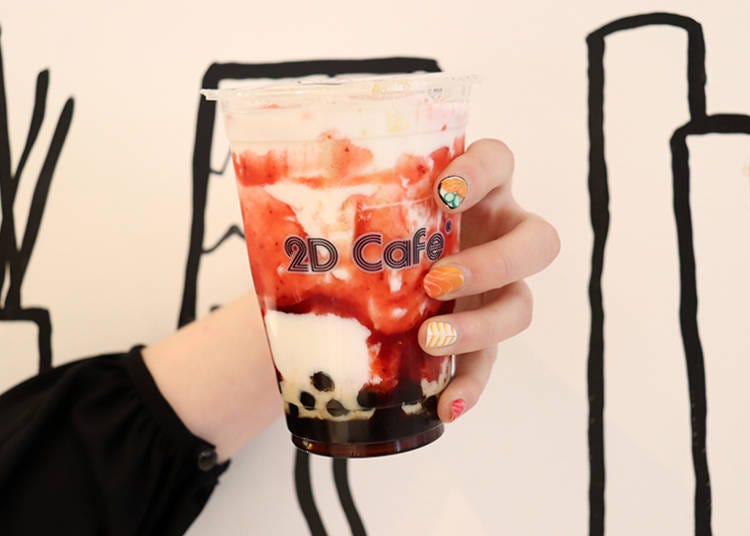 Holding the drink up to the camera with her crazy sushi nails from an article a few weeks ago, this seems like a perfect opportunity for Instagram! But what does it taste like? Cassie's first impression was that "The tapioca is so fresh that it's still warm!"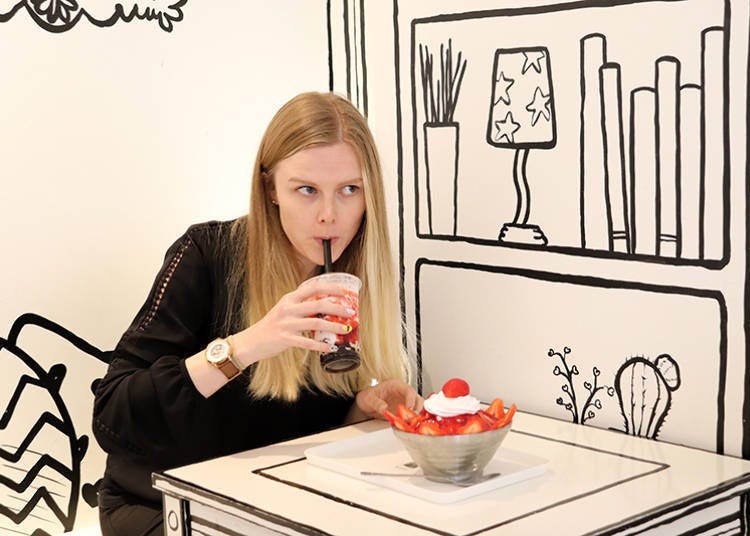 "This kind of reminds me of British strawberries and cream, but the tapioca syrup is almost like caramel. The red strawberry syrup looks incredibly sweet, but it's actually just right. There are even some bits of strawberry in there so you know it's fresh!"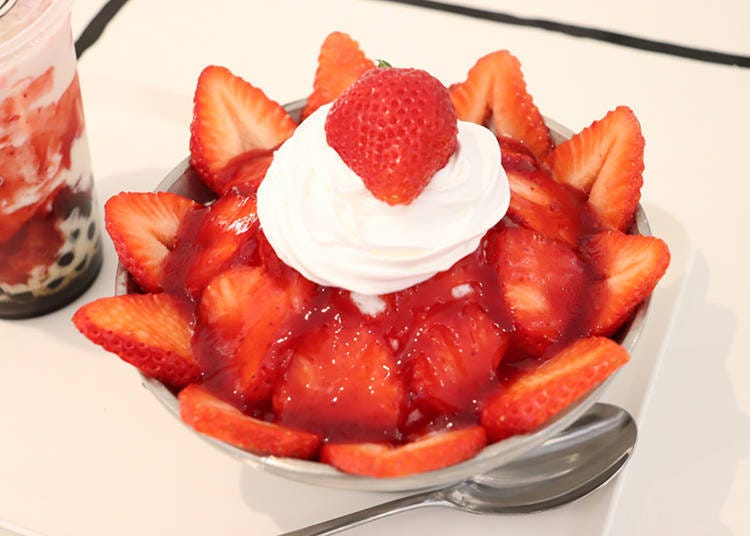 Now onto the Strawberry Shaved Ice! This is definitely not lacking in fresh strawberries...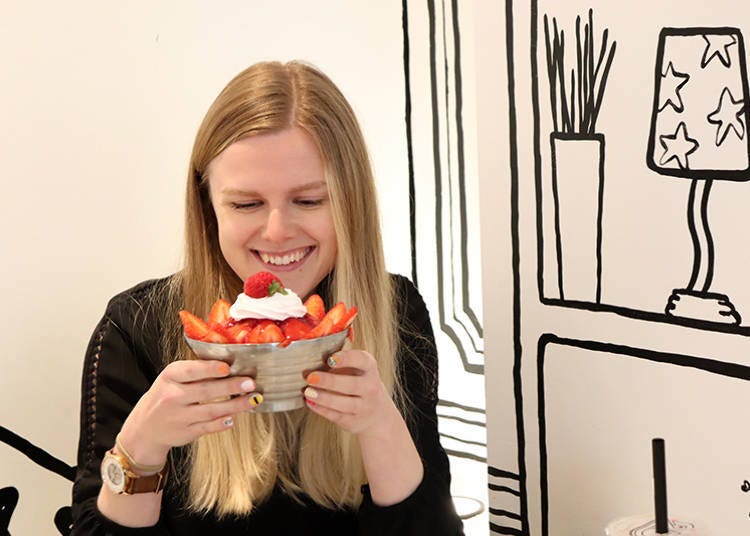 It's the same size as someone's face! "This tastes so good, it's halfway between ice cream and shaved ice. It's definitely creamy, but light."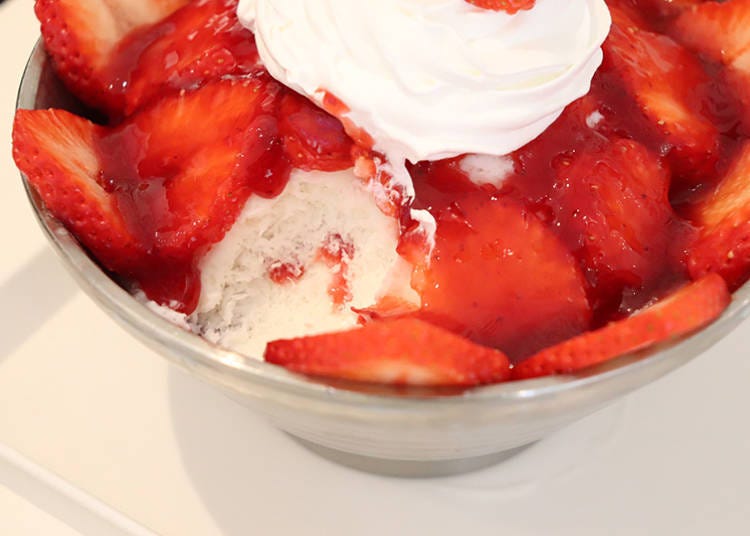 Let's have a peek at the texture after Cassie took a spoonful – Yep, looks like a light and fluffy ice cream!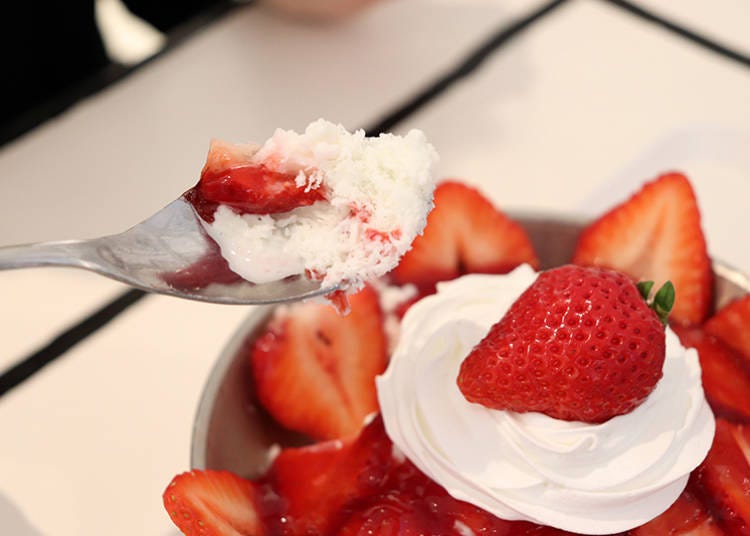 Different to normal ice cream, the shaved ice makes the texture very fluffy, making for a smooth and melt-in-the-mouth experience. You can see there is a layer of strawberry pulp and syrup in between, too. "The strawberries are fresh with a little sourness, which offsets the sweetness of the syrup nicely. I'll definitely finish this all by myself!" High praise from our food-loving editor!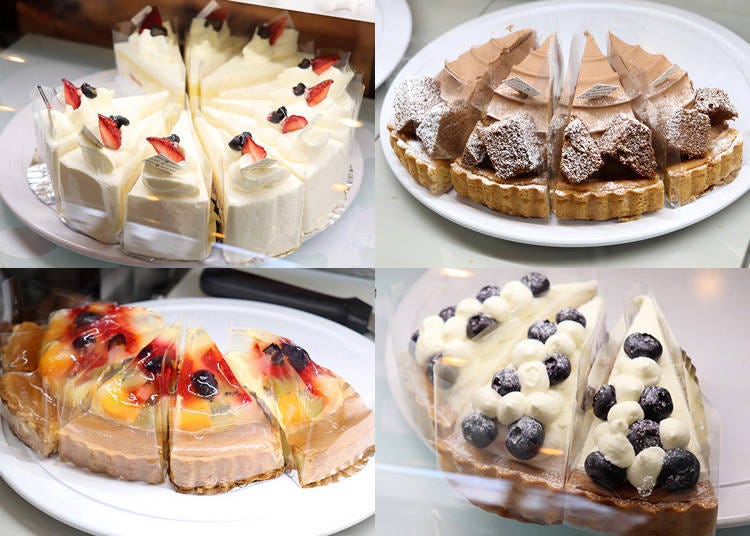 Although the shaved ice and bubble teas tend to take the spotlight, many people speak highly of their delicious cakes and drinks. Some of the classics that we saw were Japanese shortcake, a tart, a chocolate cake and even cheesecake.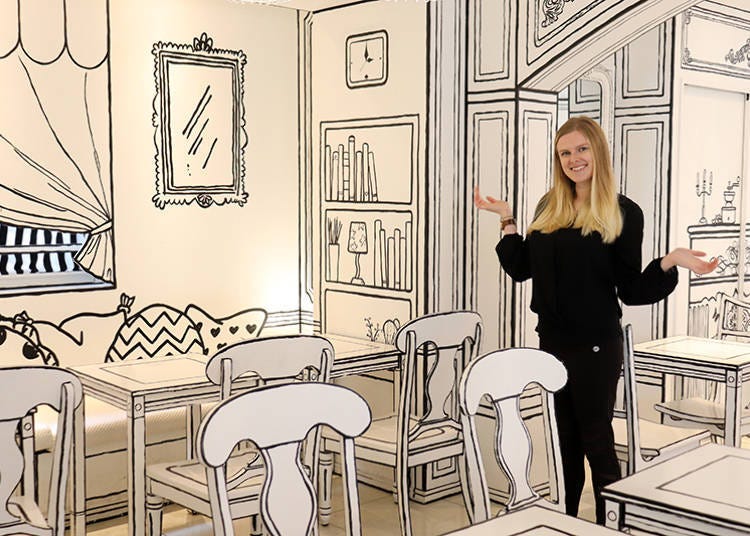 It seems like Tokyo's 2D Café is the perfect spot to enjoy some delicious sweets and drinks while escaping reality a little. Step into a manga world and relax!
2D Cafe

Address

169-0073 Tokyo, Shinjuku City, Hyakunincho, 1 Chome−7−5 Kura Biru 1

Nearest Station

3 minute walk from JR Shin-Okubo Station


Phone Number

03-6457-3032

Hours: 11:00 - 23:30
No set holidays
*This information is from the time of this article's publication.
*Prices and options mentioned are subject to change.
*Unless stated otherwise, all prices include tax.