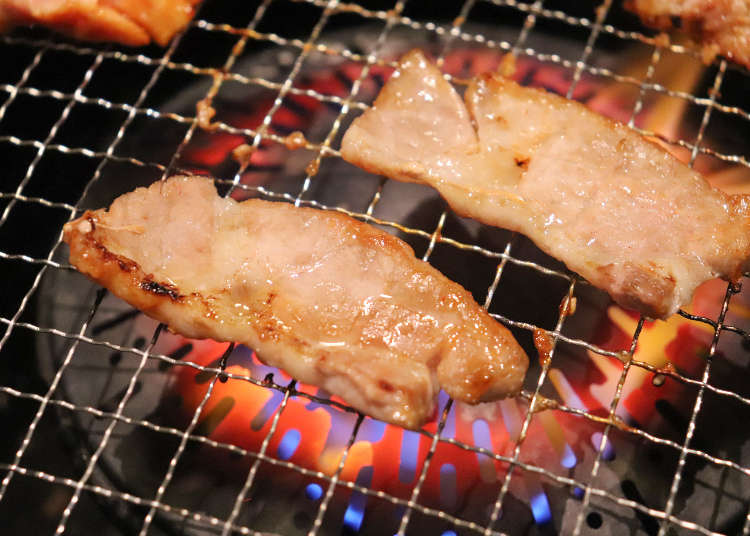 In Shinjuku, you can truly find amazing dishes from all over the world. Prices vary on the restaurant, but trendy choices among Japanese and foreigners alike, are the all-you-can-eat options, where you can eat as much as you want without strain on your wallet.

One of these restaurants is No.1 Yakiniku/Shabu-shabu All-you-can-eat Shinjuku. This is a great option to enjoy yakiniku in Shinjuku for low prices. Among many others, you can also choose courses, including Japanese famous quality beef. Let's dive in - although the name of the store already tells us everything!

Measures to prevent the spreading of Covid-19 were also introduced in the store for patrons to enjoy their meal safely.
Inside the cheap and delicious all-you-can-eat restaurant No.1 Yakiniku/Shabu-shabu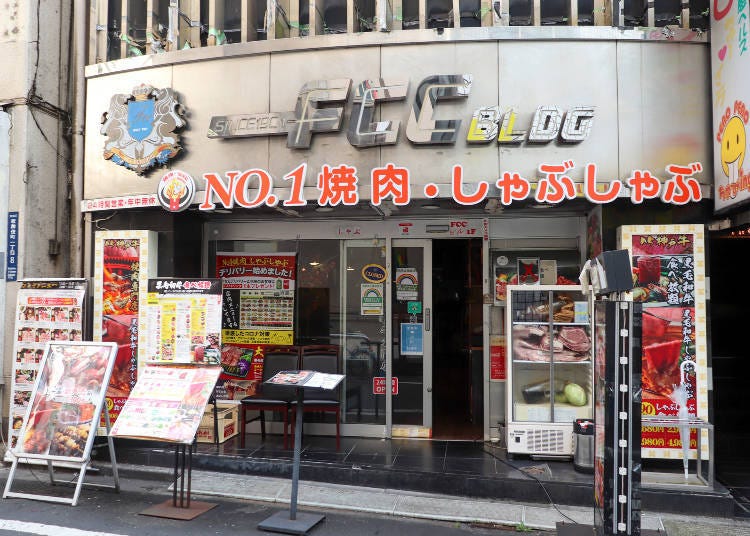 No. 1 Yakiniku/Shabu-shabu is a 5-minute walk from JR Shinjuku Station East Exit/Subway Marunouchi Line Shinjuku Station Exit B12. The store is located on the 1st floor of the building facing the back alley of the Shinjuku Ward Office.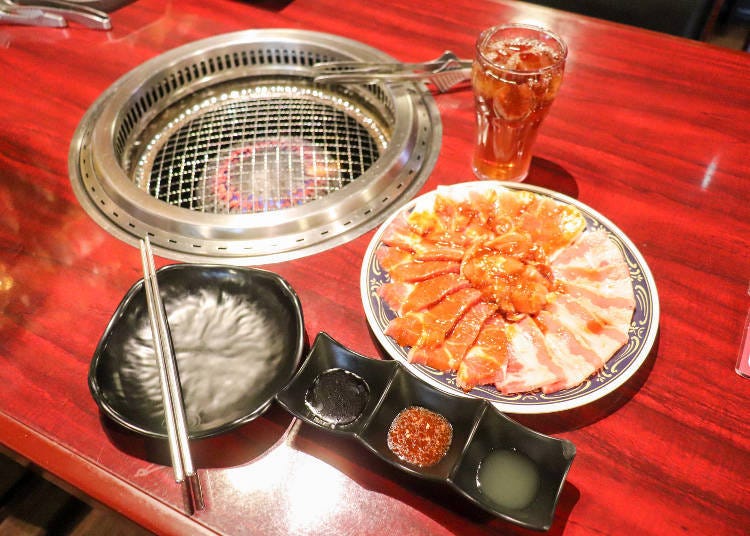 The main selling point of this Shinjuku yakiniku restaurant is the very high-quality all-you-can-eat available. This is possible because the restaurant handles A5-rank Japanese black beef from Kagoshima prefecture. The courses are divided depending on the types of meat included.

The cheapest one is 90 minutes for 1,980 yen (including tax), for all-you-can-eat yakiniku. You can also raise the time limit from 90 to 120 minutes, if you reserve online. We recommend visiting the website before going to the restaurant.
All-you-can-eat yakiniku in Shinjuku from 1,980 yen! You'll be amazed by the volume and flavor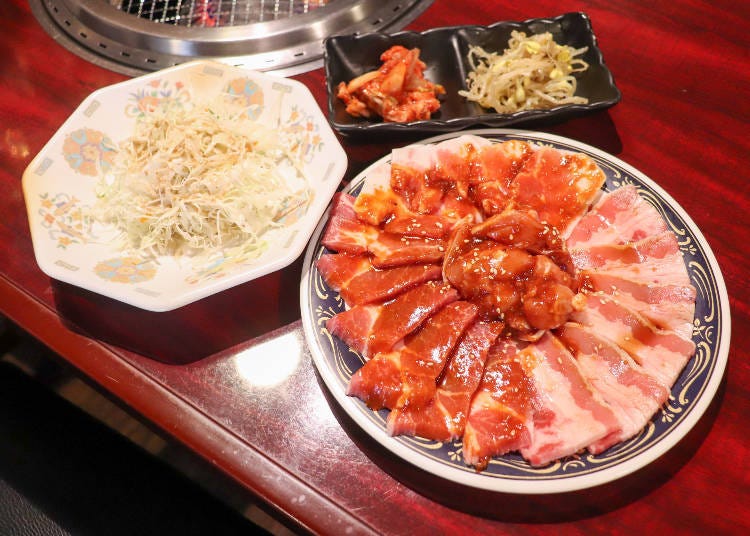 One of the appealing aspects of No.1 Yakiniku/Shabu-shabu, is in its volume. You can enjoy cheap, delicious meat to your heart's content. Your cheapest option will be on weekdays (Monday-Thursday), with the 1,980 yen limited course (price per person, not including tax). The price also includes all-you-can-drink soft drinks like oolong tea and coke.

You will be served four kinds of meat, cabbage, bean sprouts namul, and Chinese cabbage Kimchi when you order. Once you finish the first dish, you can order additional items individually.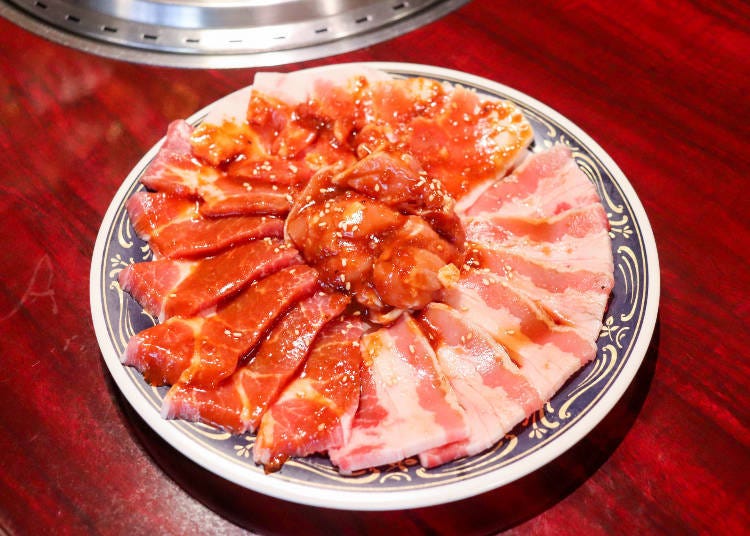 There are four types of meat in the first serving: beef ribs, pork ribs, pork loins, and chicken thighs. For 1,980 yen, you can also enjoy all-you-can-eat beef offal, beef liver and tongue, pork tongue and more.
Put the four kinds of meat on the grill!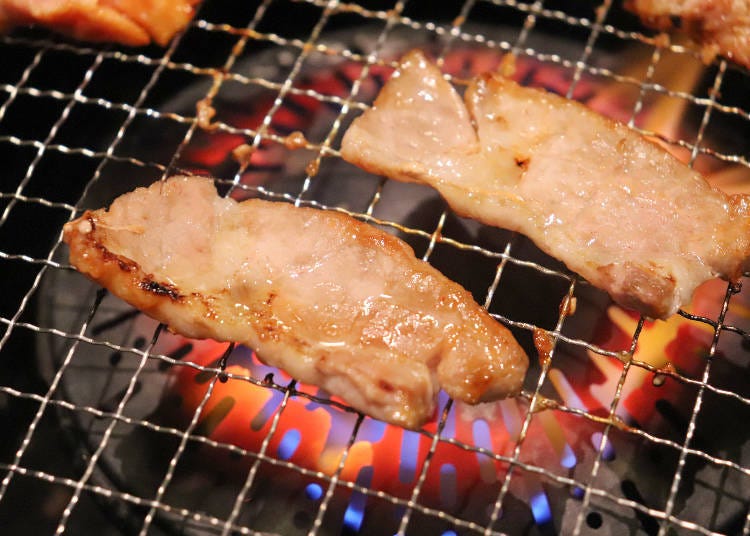 The fragrant scent of roasting meat rises.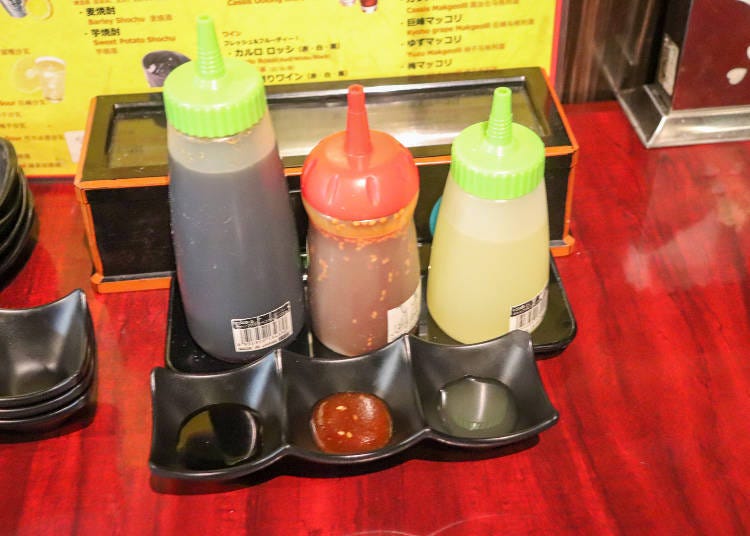 There are three types of yakiniku sauce at each table. In the picture above, from the left, are standard sauce with a refreshing soy flavor, a slightly spicy and rich miso sauce, and a lemon sauce with a refreshing tartness.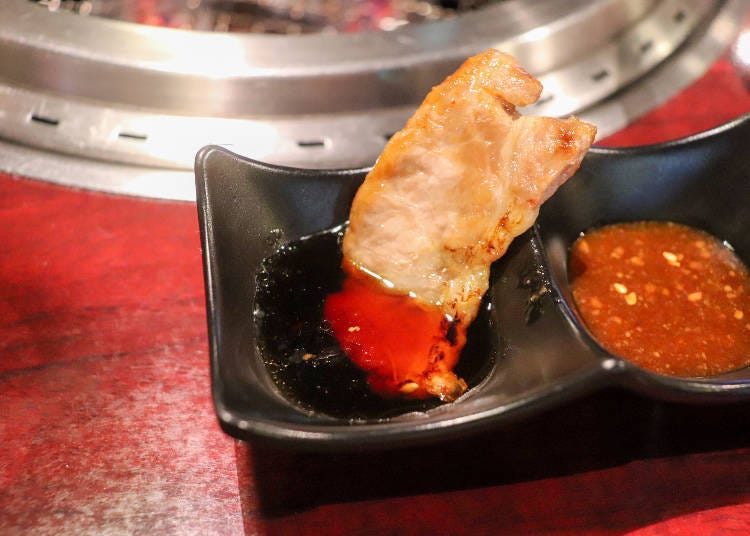 Find the sauce that best suits the meat to the best of your liking. You can enjoy all the yakiniku you want without getting bored, thanks to the many combinations of meats and sauces.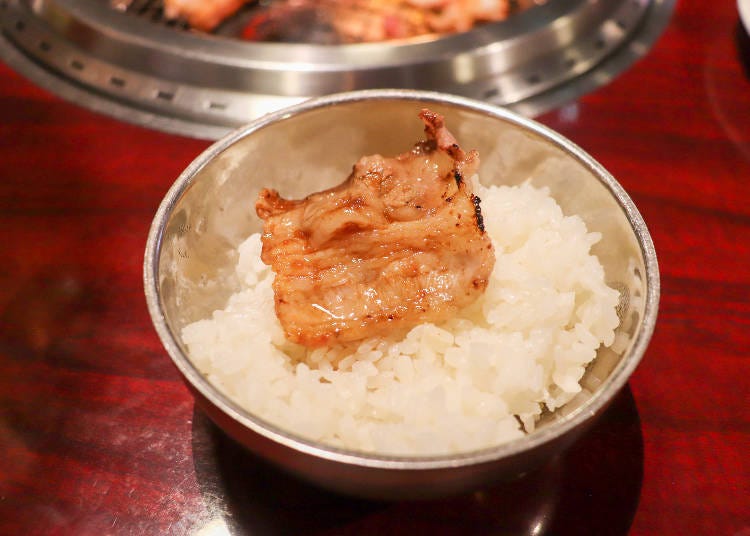 The all-you-can-eat also includes rice. Enjoy an excellent dish of meat over rice! You can make your own bowl with rice and meat, topped with salad and namul.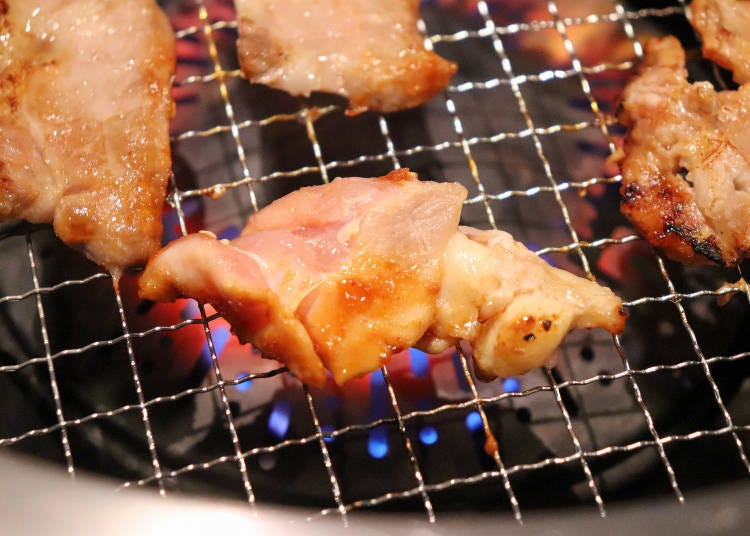 The all-you-can-eat menu also has a long lineup of chicken cuts, including thigh and cartilage, within its roster of over 40 kinds of meats and cuts.

Also, the 2,980 yen (per person, tax not included) offers squid and a variety of more than 70 other items! Everything that you could find in the cheaper course is also included in this one.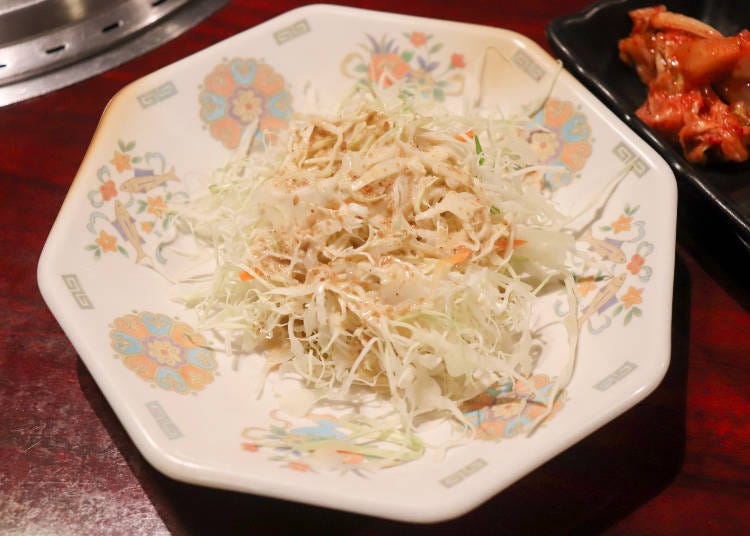 In addition to the cabbage salad served as an appetizer, you can also eat radish salad, choregi salad, and assorted vegetables (potatoes, onions, green onions, corn, pumpkin), and a variety of other veggie dishes.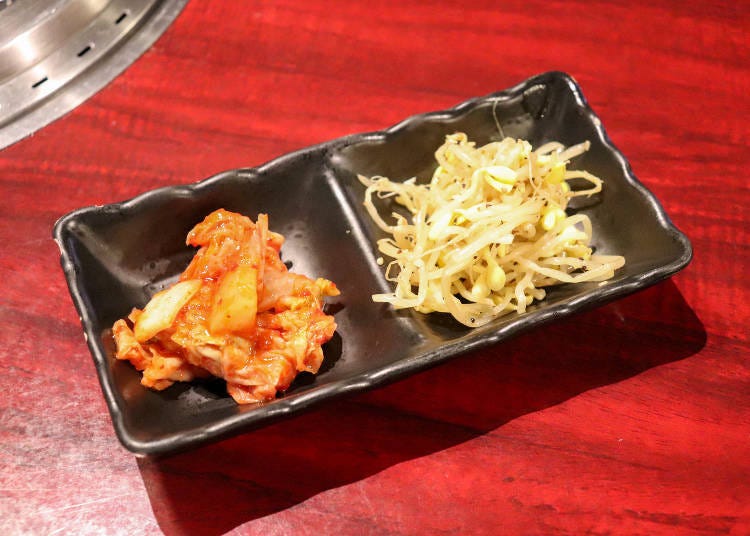 In addition to all-you-can-eat Chinese cabbage kimchi and bean sprouts namul, you can have bibimbap, wakame soup, edamame, and cold tofu included in the menu. The first dish of four kinds of meat is likely to fill you up, but you'll be excited to try the wide variety of all-you-can-eat dishes.

When it comes to yakiniku etiquette, remember that leftovers should be avoided. The amazing and cheap all-you-can-eat will certainly hype you, but enjoy it with moderation and manners.
All-you-can-eat Wagyu and Japanese black beef course starting at 3,980 yen!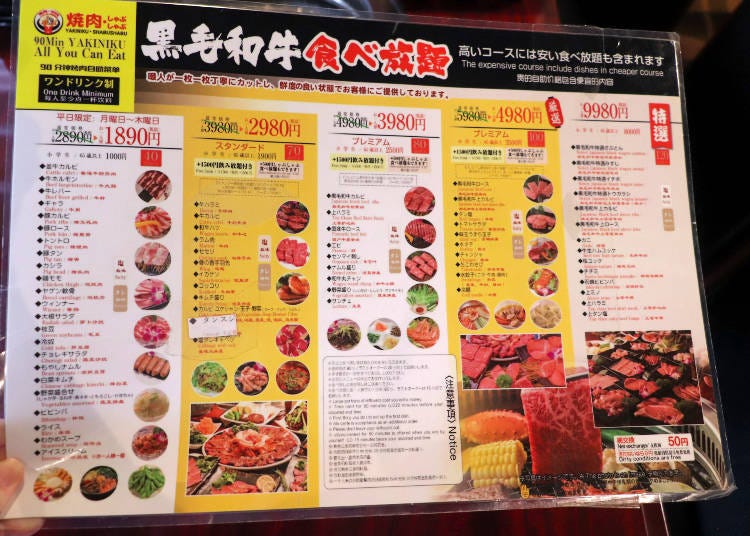 There is also an all-you-can-eat course that includes the renowned Japanese black beef and Wagyu beef.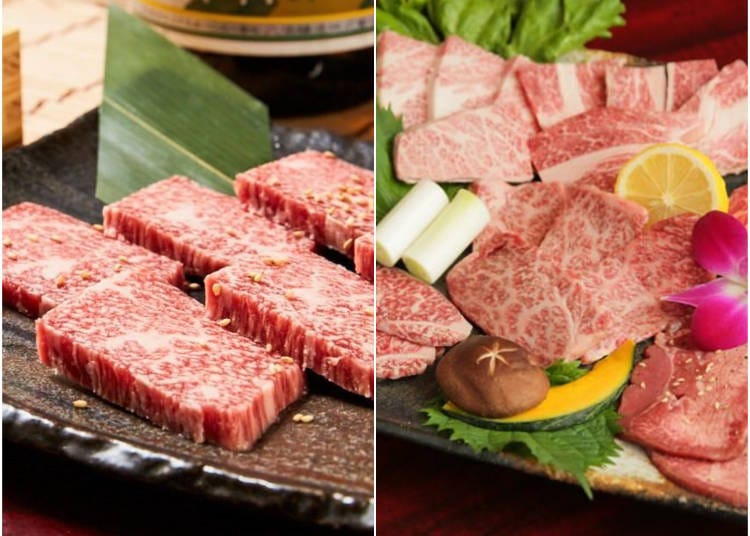 A course that includes Japanese black beef ribs and all-domestic ribs is available for 3,980 yen per person. Another course, including Japanese black beef ribs, is available for 4,980 yen (tax not included). With the courses from 2,890 yen to 4,980 yen, you can also enjoy shabu-shabu for an extra 500 yen.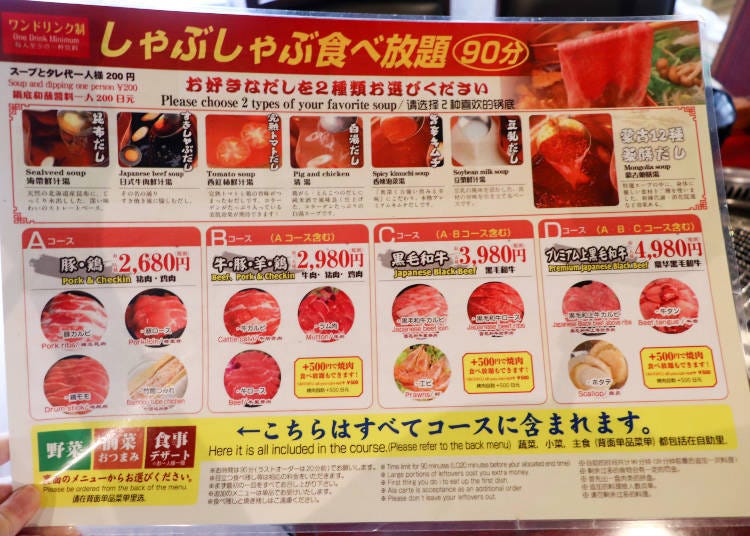 No.1 Yakiniku/Shabu-shabu also offers an all-you-can-eat shabu-shabu course. The chicken and pork course is 2,680 yen; the course with beef, chicken, pork, and lamb is 2,980 yen; and a third course includes Japanese black beef and shrimp for 3,980 yen. Enjoy great food at a cheap price.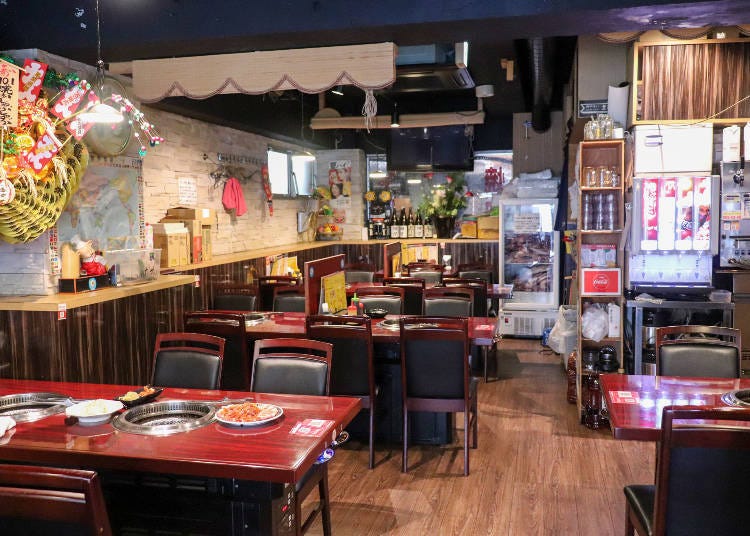 The store has one floor with only table seats. Menus are available in English and simplified Chinese.
Measures against Covid-19 in place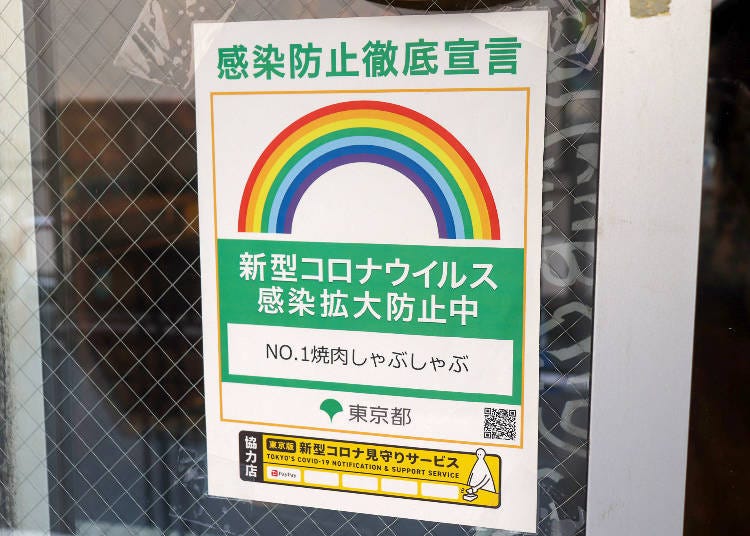 Disinfection; sterilization; cleaning of store-interiors and equipment; installation of sterilizers and disinfectant solutions; sterilization and disinfection after each customer leaves; implementation of ventilation within the store; use of coin trays; staff wearing masks, hand washing, gargling; temperature measurement; lowered number of people allowed in the store at the same time; larger space between seats; customers in poor physical condition are forbidden entry; customers are requested to wear masks.


No.1 Yakiniku/Shabu-shabu is where you can enjoy lots of outstanding yakiniku in Shinjuku at very reasonable prices. Please visit!
Address

FCC Building 1F,1-8-3, Kabukicho, Shinjuku-ku, Tokyo, 160-0021
View Map

Nearest Station

Seibu-Shinjuku Station (Seibu Shinjuku Line)


Phone Number

03-6886-8513
Written by: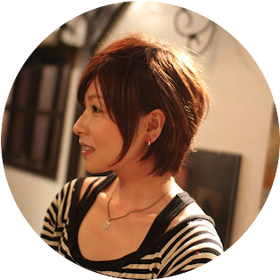 The information in this article is current as of September 2020
*This information is from the time of this article's publication.
*Prices and options mentioned are subject to change.
*Unless stated otherwise, all prices include tax.