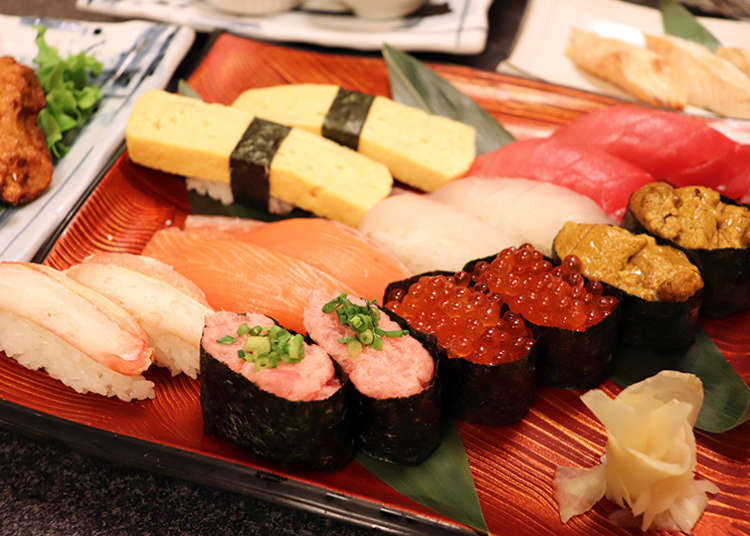 When you're looking for all you can eat sushi in Shinjuku, Kabukicho - Tokyo's largest entertainment district - is a surprisingly popular place to find it! At Kizuna Sushi Shinjuku Kabukicho you can enjoy all-you-can-eat fresh seafood dishes in addition to popular sushi.

Here we will tell you about what makes this 24-hour open shop so highly popular with foreign visitors to Japan.
Kizuna Sushi Shinjuku Kabukicho: All-you-can-eat sushi & seafood dishes
The Kizuna Sushi Shinjuku Kabukicho Shop is located about a five-minute walk from the East Exit of JR Shinjuku Station. It can be recognized by its long, horizontal sign.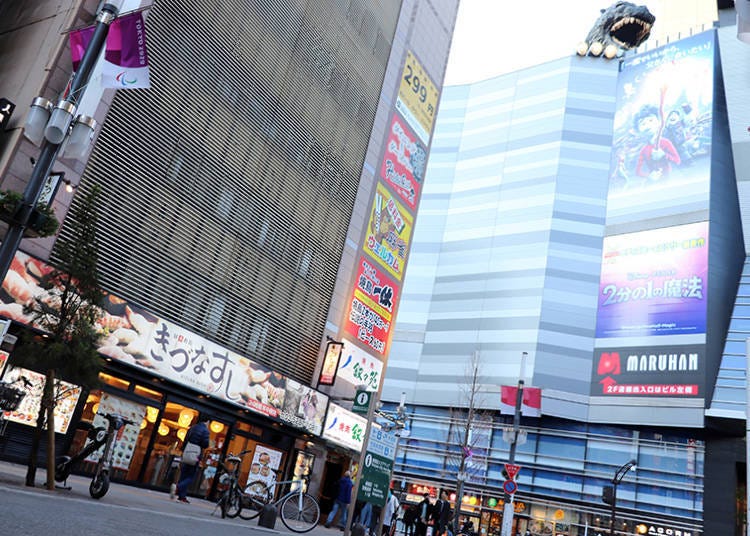 It is located on the first floor and basement of the building in front of the building with the large Godzilla head atop it, a new landmark in Shinjuku. It's the perfect place to enjoy delicious seafood when enjoying a visit to this area.
The well-lit interior gives it a warm atmosphere. The first floor has both counter and table seating while there is table seating on the basement floor.
When talking about sushi, two terms will often come up: neta, the sushi topping; and shari, the rice that's used.

Now Kizuna is a sushi restaurant operated by the same company that also operates Toriyoshi and Isomaru Suisan. Obtaining fresh neta from various regions, the shop also offers other seafood dishes in addition to sushi.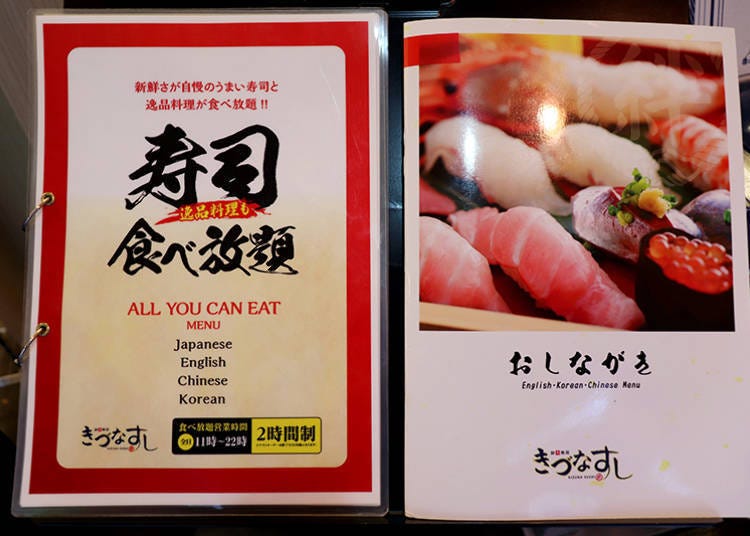 The sushi chefs can make about 80 different types of sushi plus about 20 different other dishes for a total of about 100 types of dishes offered in an all-you-can-eat 2-hour course that costs 3,980 yen for men and 3,480 yen for women (tax not included).

One reason for the Shinjuku sushi shop's popularity is the inclusion of expensive, high-quality neta, such as chutoro (medium-fatty tuna) and ikura (salmon roe), in the all-you-can-eat course, so you do not need to eat a lot to get your money's worth.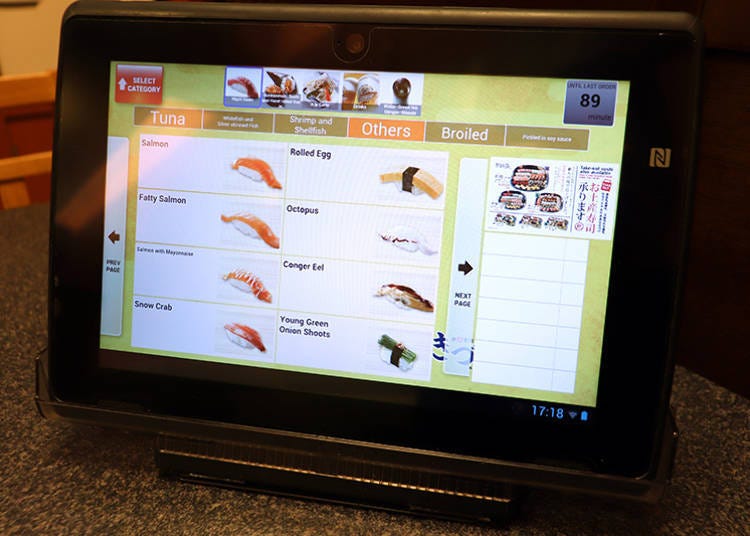 Orders are made through touch-panel displays. You can order up to 30 kan (sushi servings) consisting of up to 6 types of sushi at one time.

In addition to Japanese, the touch panel also is in English, Traditional Chinese, Simplified Chinese, and Korean. Wi-Fi is also available making it possible to conduct searches on your own smartphone.
Offering 80 kinds of all-you-can-eat sushi in Shinjuku!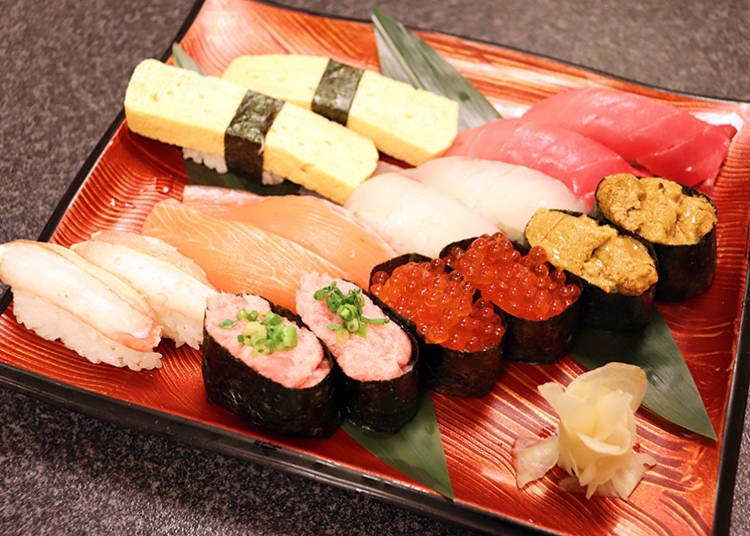 The main menu of the shop is the all-you-can-eat sushi made by the chefs using fresh sushi toppings, known as neta.

This includes a rich variety of about 80 types of sushi ranging from various types of tuna, such as medium-fatty, to pickles, white-meat fish like sea bream and kanpachi (amberjack); hikarimono (silver-skinned fish) like aji (Spanish mackerel) and kohada (gizzard shad); plus various types of shrimp, shellfish, gunkanmaki battleship rolls (sushi made by wrapping the rice with dried seaweed around its perimeter and placing neta on top), as well as other temaki (standard sushi rolls).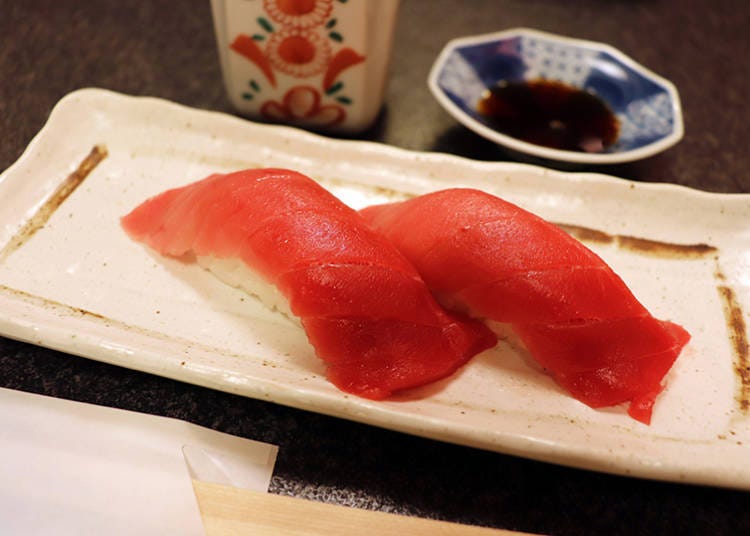 A single serving of the highly popular chutoro (medium-fatty tuna) normally costs 349 yen (excluding tax), and this high-quality neta is also included in the all-you-can-eat menu. The shop is not stingy with the neta, either, it generally being so large as to hide the rice beneath it.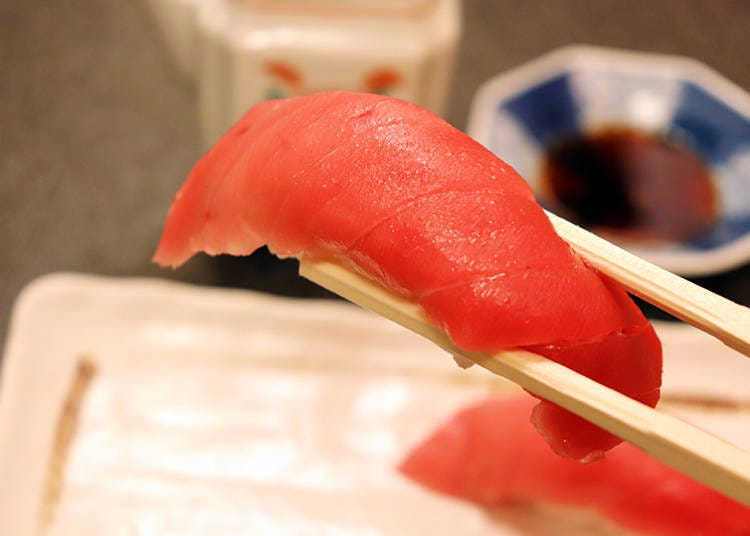 Unlike most bite-sized portions served at other sushi shops, you'll need to take more than one bite for these generous portions. The tender neta and delicious shari strike a perfect balance.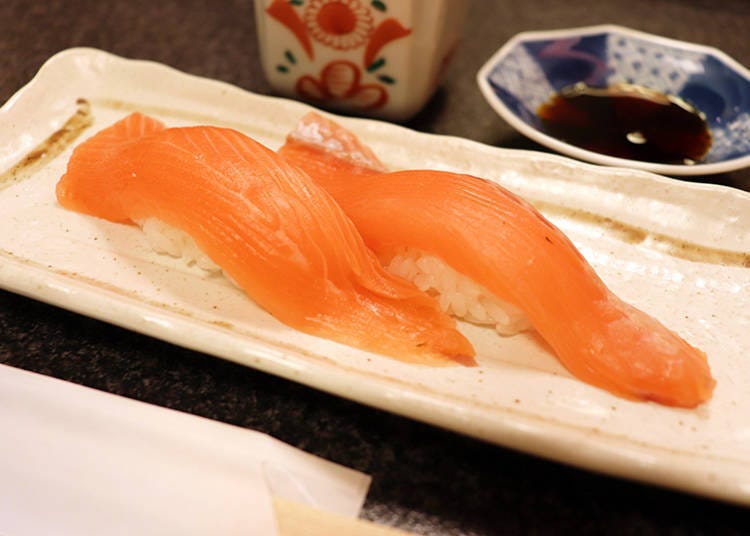 The salmon is especially popular with foreign guests. The size of the topping being extremely generous!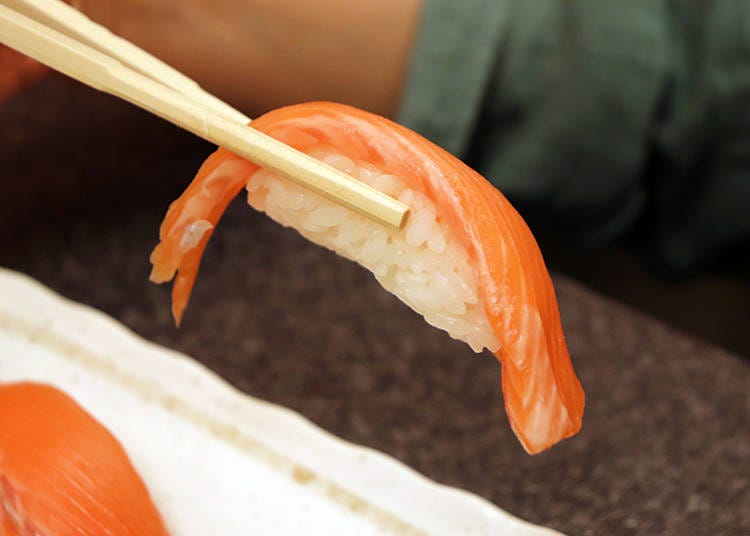 It is so large, in fact, it entirely hides the shari beneath it. The umami spreads throughout the mouth with each bite.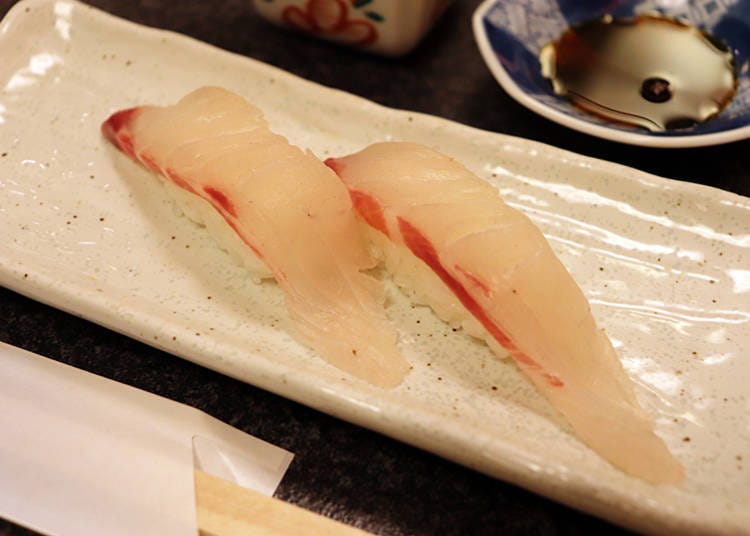 This is a sea bream nigiri. Nigiri literally means "squeeze" and refers to sushi that is formed in the hand of the chef when he squeezes the neta onto the top of the shari. Among the white-meat fish, this neta is especially superb.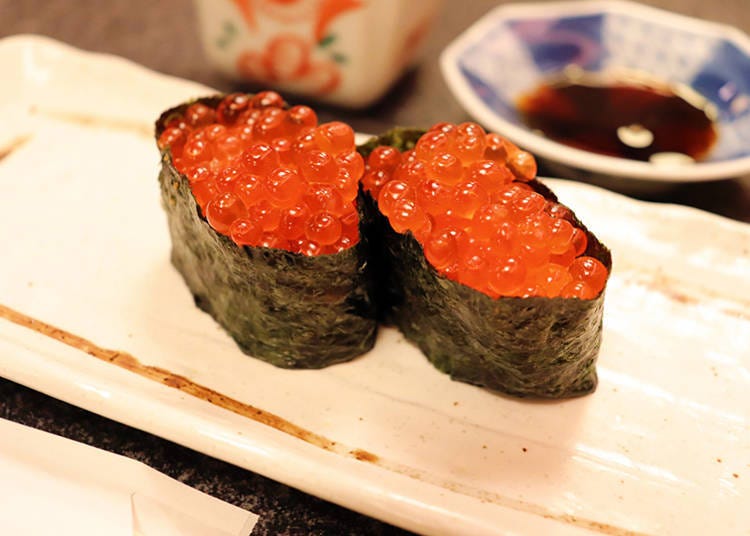 The salmon roe gunkanmaki (battleship roll) is always popular. The dazzling, glossy salmon roe has a delightful elasticity and when popped releases a deep rich flavor.
There is, in addition, a rich selection of other popular neta such as crab nigiri, egg nigiri, negitoro (minced tuna and onion) gunkanmaki, and sea urchin gunkanmaki. During the two-hour time limit, you can try a wide variety of types by ordering them one at a time.
Great lineup of other dishes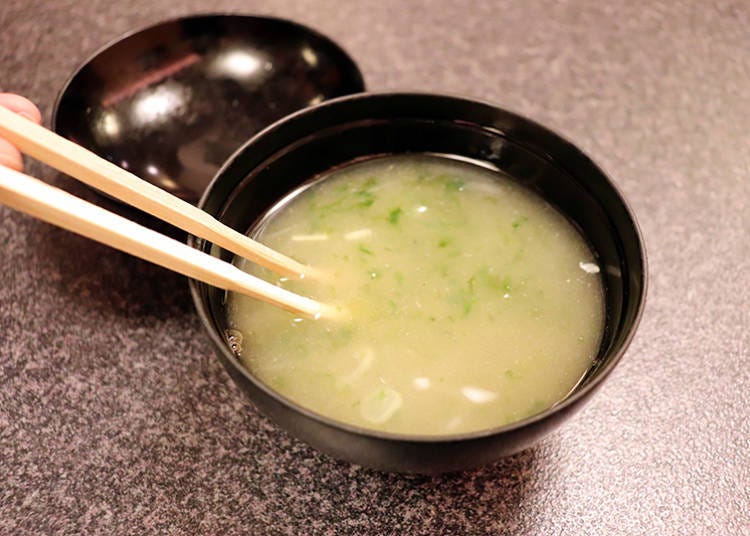 What also makes this Shinjuku sushi restaurant popular is the offering of many other types of dishes on its all-you-can-eat menu in addition to sushi. There is such a wide selection, from miso soup, a perennial favorite, to salads and grilled fish, you'll not get bored from lack of selection. The simple miso soup with sea lettuce and green onion goes perfectly with sushi.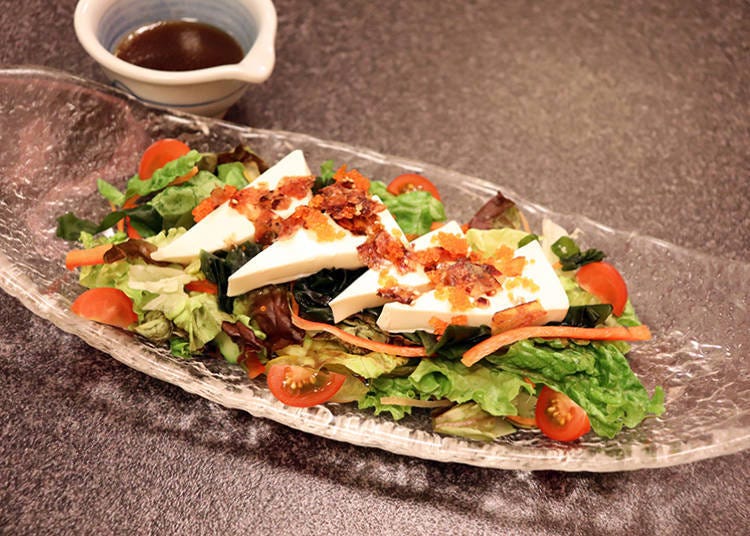 This tofu and vegetable salad is a dish popular with many customers. It comes with a delicious Japanese-style dressing.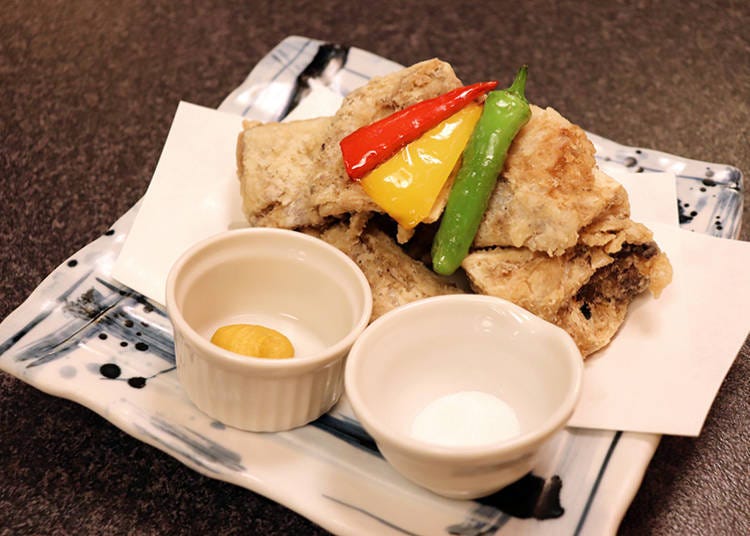 One dish we highly recommend is the deep-fried maguro no kama - the meat from the head and cheeks of tuna. We recommend eating it with mustard and salt. The deep-fried batter exterior has a delightful crispiness while the meat of the tuna is tender and juicy!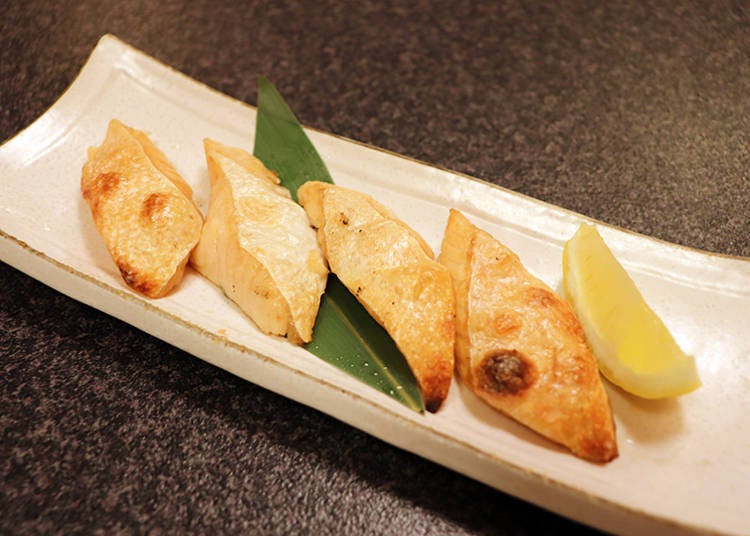 The sake harasu yaki (grilled fatty salmon belly) has a rich, savory flavor. Squeezing lemon over it adds to the flavor.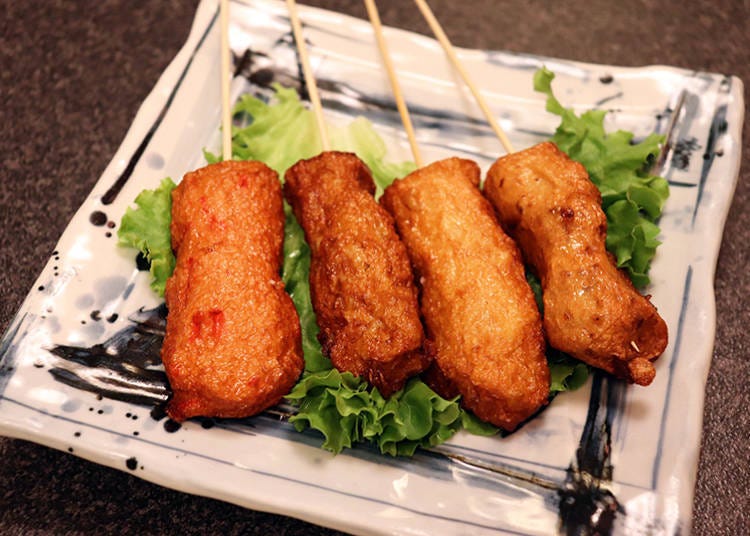 The dish of four different types of skewers is especially popular with foreign guests. These are beni shoga (red pickled ginger), gobo (burdock), cheese, and ika geso (squid tentacles). These go really well with sake.

Kizuna Sushi Shinjuku Kabukicho offers a wide selection of about 80 types of sushi and other unique all-you-can-eat dishes. You will definitely get good value for money! This is a shop you really must visit.
Kizuna Sushi Shinjuku Kabukicho

きづなすし新宿歌舞伎町店

Address

Daiichi Monami Building 1F & B1F, 1-18-8 Kabukicho, Shinjuku-ku, Tokyo

Nearest Station

5-minute walk from JR Shinjuku Station West Exit, 4-minute walk from Seibu Shinjuku Line Seibu Shinjuku Station, 5-minute walk from Toei Oedo Line Shinjuku West Exit Station, 7-minute walk from Tokyo Metro Marunouchi Line Shinjuku Sanchome Station


Phone Number

050-5595-3788

Open: 24 hours a day
Closed: always open
Written by Naho Jishikyu
*This information is from the time of this article's publication.
*Prices and options mentioned are subject to change.
*Unless stated otherwise, all prices include tax.