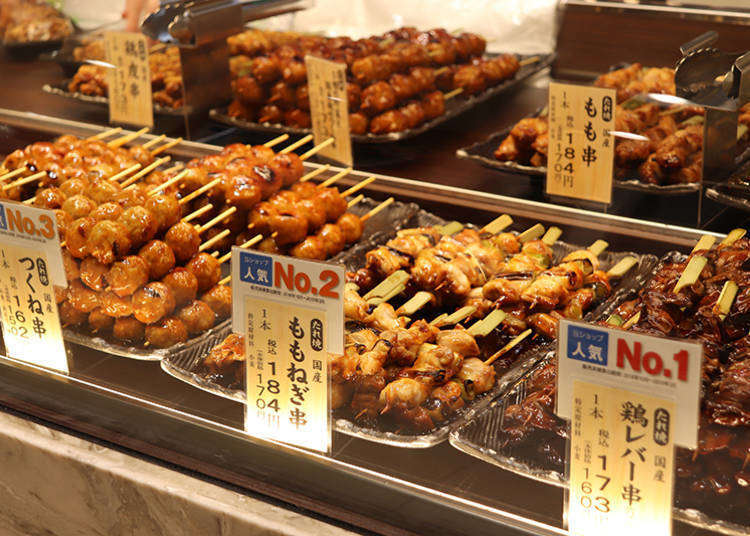 If you're sightseeing in Tokyo, there's a high chance Shinjuku is somewhere on your itinerary, since it has a great number of tourist hotspots and hotels. But be sure to add depachika to your bucket list as well. A portmanteau for the Japanese words of "department store" and "underground," depachika offer an incredible variety of tasty takeout options at bargain prices.

Takeout isn't just about convenience store food, either. We're going to introduce you to a few depachika deli dishes that can be bought from department stores directly connected to Shinjuku Station, each with a budget of about 1,000 yen or less. Our list includes a wide variety of dishes for all occasions, such as food that will go well with alcoholic beverages or rice bowls that are perfect for when you're feeling peckish. Let's take a look!
1. Keio Department Store Shinjuku Depachika: Azabu Asahi's Yakitori (Chicken Skewers)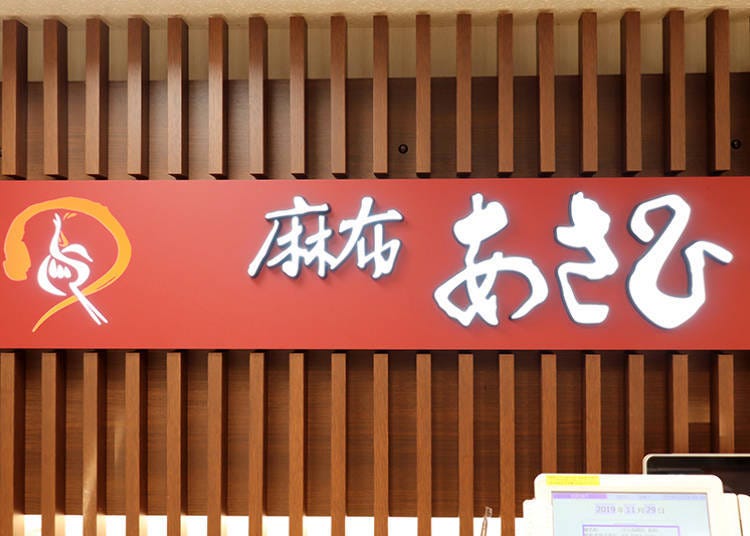 We'll start with the underground section of Keio Department Store, which stands tall at the Shinjuku Station's West Exit. This is where you'll find a takeout specialty store by the name of Azabu Asahi - our first recommendation for this article. There are 42 stores all over Japan bearing this same name, which people have come to associate with high-quality chicken delicatessen.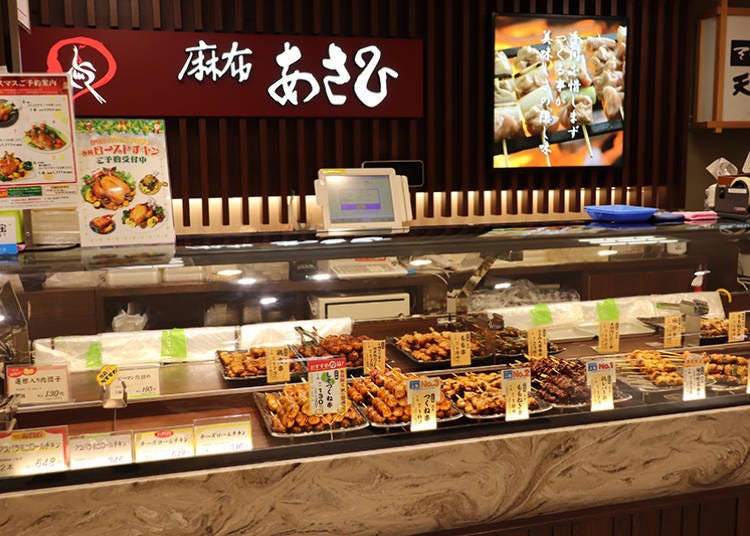 The freshly prepared chicken skewers are ready to go at the storefront, and their aroma mixes with the sweet smell of the sauce they're usually eaten with to form a mouth-watering fragrance that you can't help but be drawn to. The lineup here is an impressive array of cooked and fried chicken of all sorts.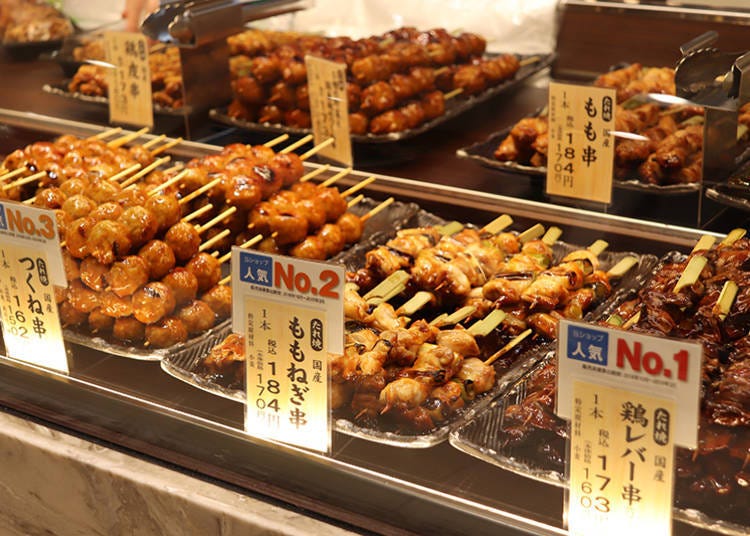 Our top recommendations are the "Chicken Liver Skewer (160 yen, tax excluded)", "Momonegi Skewer (170 yen, tax excluded)", and "Tsukune Skewer (150 yen, tax excluded)" - signature skewers that are the most popular items of the store. Tsukune is a type of minced chicken ball, and it's a definite go-to!
The irresistible teriyaki sauce is an absolute favorite among foreign visitors as well. Sprinkle some shichimi (seven spices) flakes for additional seasoning if you prefer something zestier! Each meat piece can be removed from the skewer for sharing among friends as well, making them very suitable as a moderate late-night snack.

Another companion item to consider is the "Takumi Soy Sauce Fried Chicken", which is available for 300 yen per 100 grams (tax excluded). The soy sauce used for the seasoning has been processed in a traditional wooden pail (kioke) to draw out that exquisite umami flavor, which blends in with the fragrant aroma of ginger to add more depth to a tried and tested recipe.
2. Keio Department Store Shinjuku Depachika: Shinjuku Tsunahachi Keio's Tempura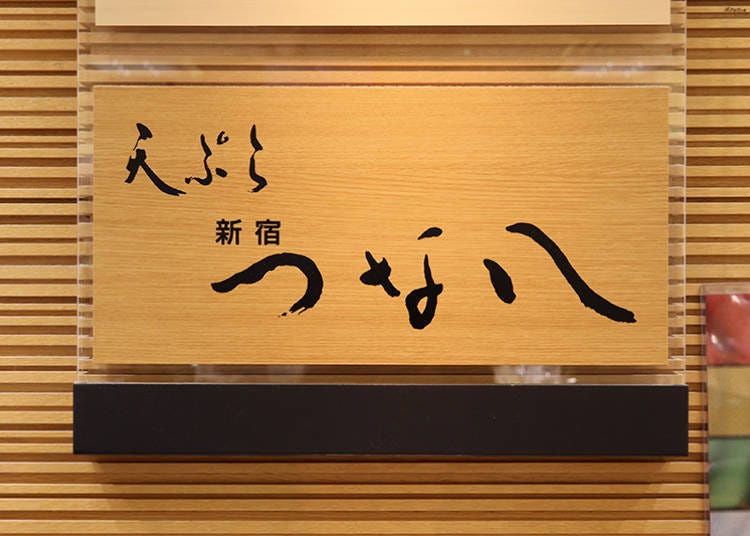 We're not done with the Keio Department Store yet! The second takeout shop on our list from this mall is the tempura from Shinjuku Tsunahachi.

This tempura specialty chain store first opened its doors for business in 1924 and has grown to include 28 restaurants and 7 delicatessens all over Japan since. They also have a restaurant area on the 8th floor of the same building that comes equipped with tables and counters for eating in as well, if that is your preference.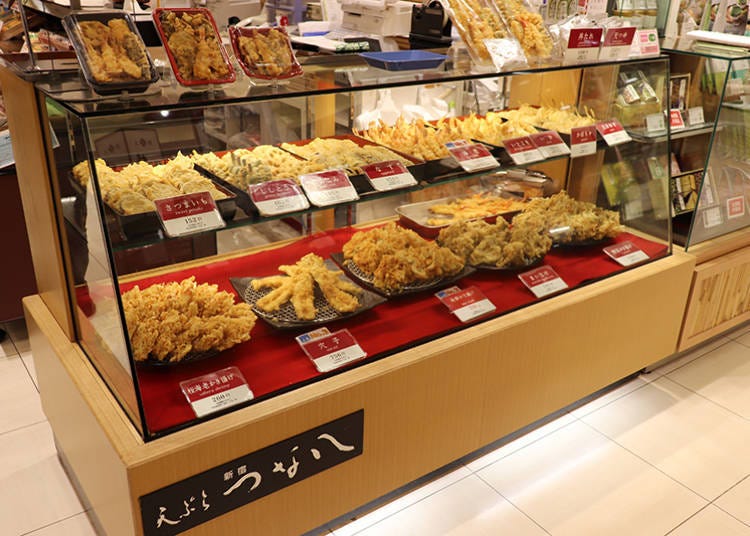 At their underground deli store, the brightly lit showcase proudly displays the wide variety of tempura options they have available, making it temptingly difficult for customers to choose what to buy! If this is your dilemma, consider getting the "Assorted Tempura Set (1,000 yen, tax excluded)", as it will allow you to pick a few of the shop's choicest tempura food items.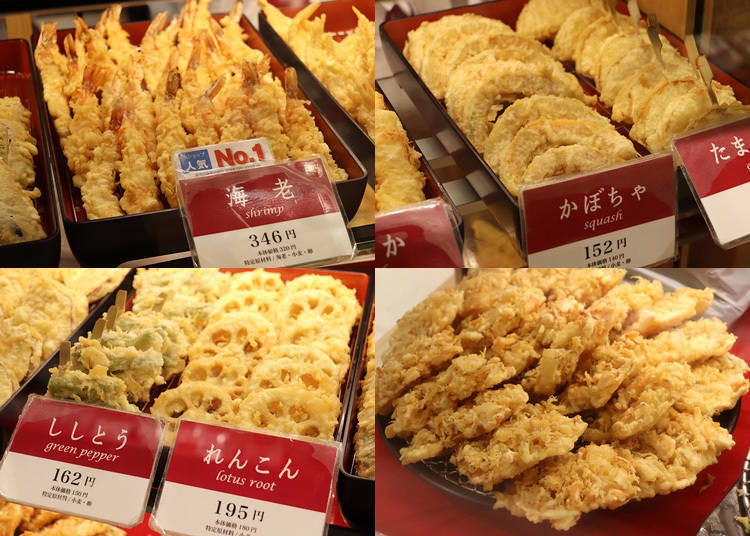 Popular items include hot favorites like "Prawn (320 yen, tax excluded)", "Pumpkin (140 yen, tax excluded)", "Green Pepper (150 yen, tax excluded)", and "Sakura Shrimp Mixed with Vegetables (240 yen, tax excluded)". Throw in a packet of "Donburi Sauce (100 yen, tax excluded)" for good measure, and the total price will still only be around a sweet, sweet 1,000 yen. Their slightly sweet donburi sauce is perfect if you put the tempura on rice!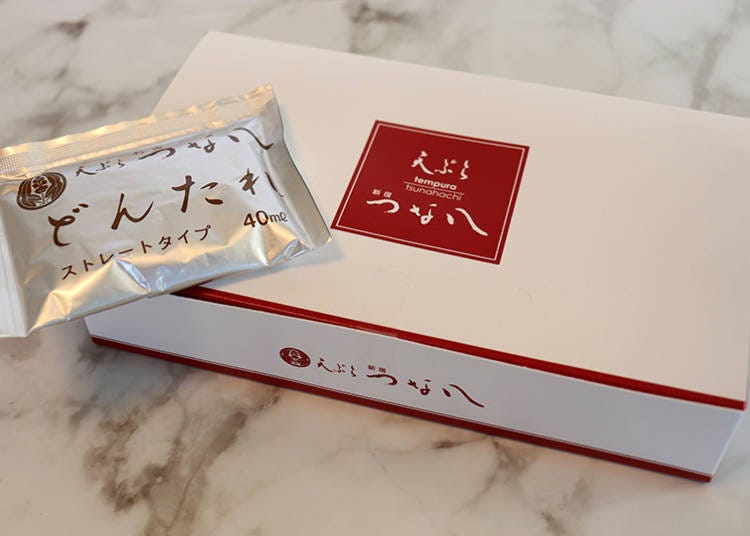 All tempura items are deep-fried in the shop's very own kitchen using traditional methods and specially made fresh sesame oil to maintain the authenticity of its flavor. The food items here are at the perfect size for buying as takeout to eat on the go or in the comfort of your own hotel room.
3. Keio Department Store Shinjuku Depachika: Sozai En's Deli Set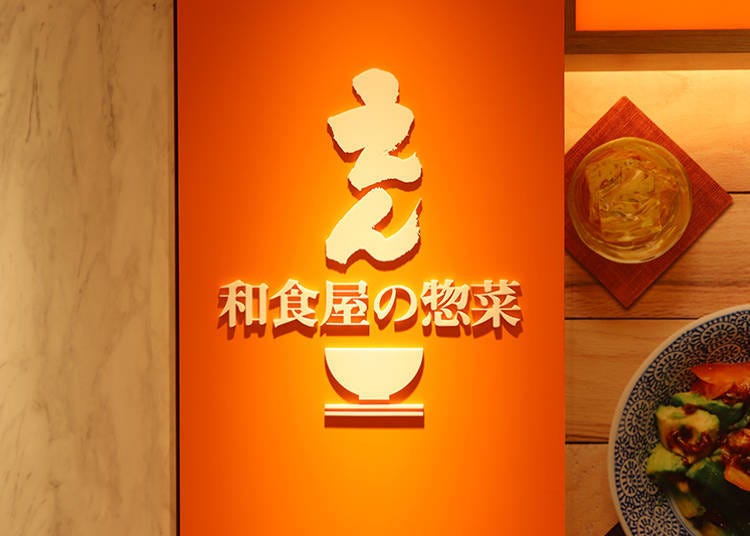 Our third recommendation at Keio Department Store is Sozai En. 'Sozai' in Japanese actually means deli food or side dishes! Their food is carefully prepared in the shop's kitchen by hand and makes use of seasonal ingredients, resulting in a constantly rotating menu of delicious Japanese deli food. It has a sister shop in Narita Airport within the terminal's paid area by the name of Chazuke En, so you may already be familiar with the good food behind the shop's reputable brand!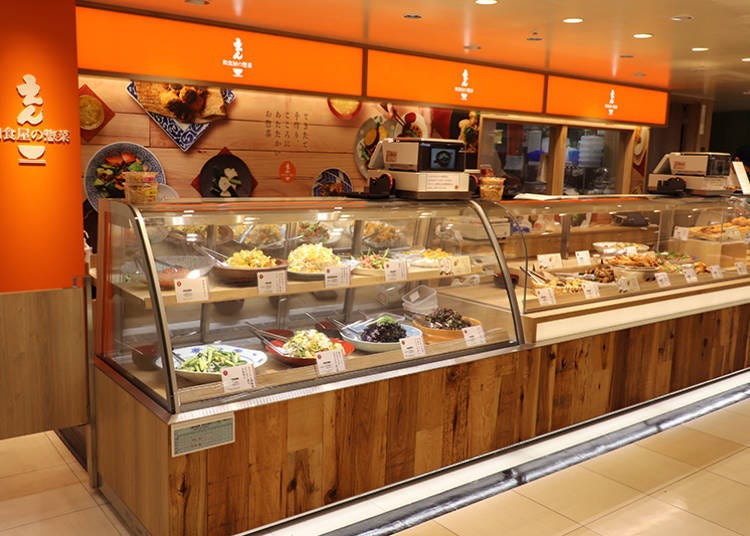 Plenty of colorful and tasty-looking deli foods are carefully arranged in the shop's display cases. The deli dishes here are just right for buying back to the hotel to slowly savor.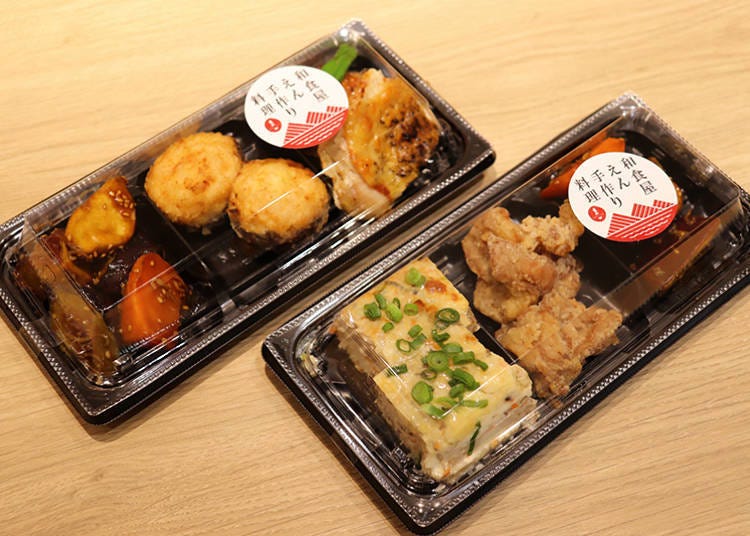 What we would really recommend, however, is the "Deli Set" (Sozai Setto), which contains three prepared food items in one convenient package. The sets are available in A and B variants, each set going for 500 yen excluding tax.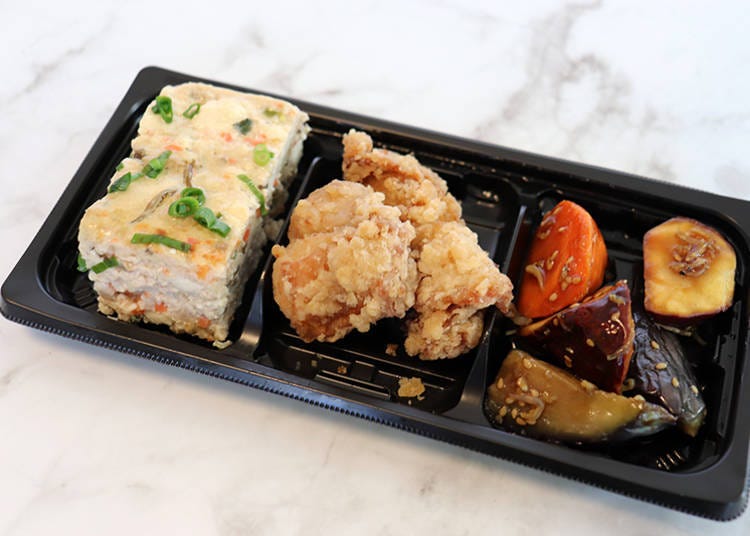 Let's take a closer look at "Deli Set A". The deli dishes selected for this set are: Fluffy hamburg made with tofu and yam in ginger sauce, with a side of deep-fried chicken, and crunchy sauteed and simmered small fish. With a good mix of meat and vegetables, this well-balanced selection can be eaten either as snacks or side dishes.

Tofu, yam, chicken, plenty of cooked vegetables, and a light hamburg patty to boot! The rich and aromatic ginger sauce is just icing on the cake. Healthy icing, that is!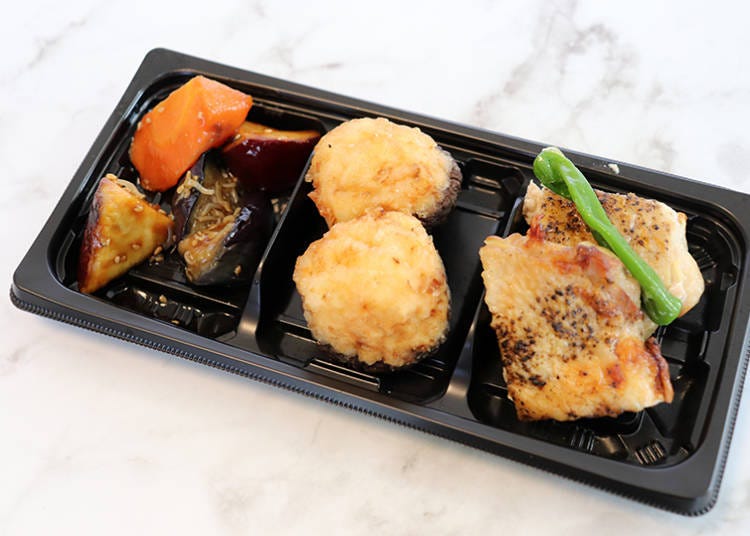 As for "Deli Set B", this package contains a couple of deep-fried shiitake mushrooms with prawn fritters, and the ball-shaped fritters are made of crushed prawns carefully prepared and cooked right in the shop itself! Then there's also a portion of chicken meat with black pepper shichimi seasoning and green onions and some crunchy sauteed and simmered small fish. This set is sure to make for a nutritionally balanced meal as well.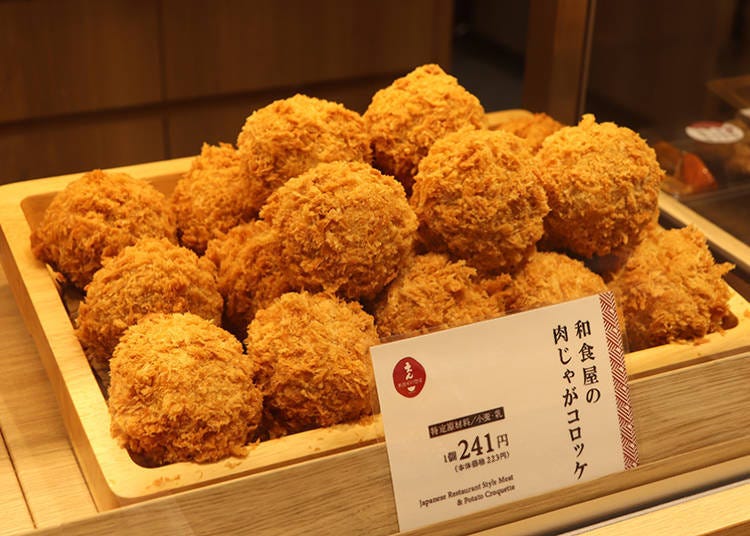 Grab a "Meat and Potatoes Croquette (223 yen, tax excluded)" snack to go along with your hearty "Deli Set" for ultimate satisfaction. The meat and potatoes used for the croquette have been slowly simmered to lock in their juices and flavors. The generous amount of filling sure doesn't hurt either!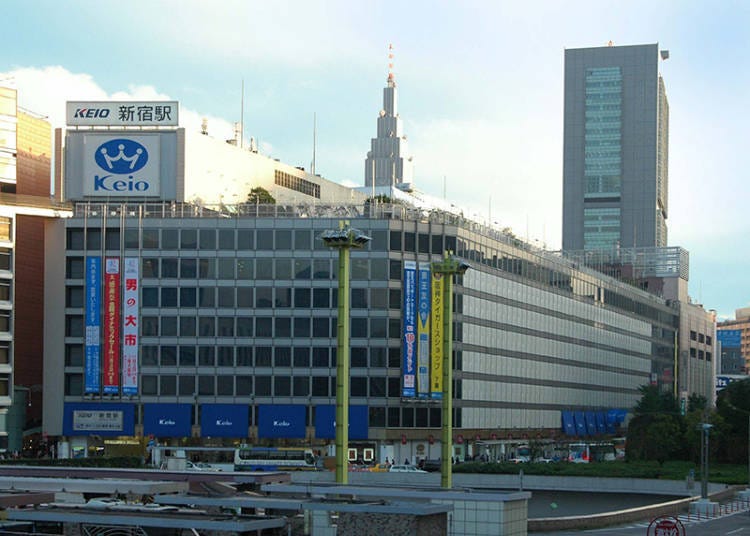 Azabu Asahi, Tsunahachi, and Sozai En can all be found in the deli area of Keio Department Store Shinjuku's central basement zone.
Keio Department Store Shinjuku

京王百貨店 新宿店

Address

1-1-4 Nishi Shinjuku, Shinjuku-ku, Tokyo-to

Phone Number

03-3342-2111

Hours: 10:00 a.m. – 8:30 p.m.
4. Odakyu Department Store Shinjuku Depachika B2F: Gangnam Gimbap's Korean Seaweed Rolls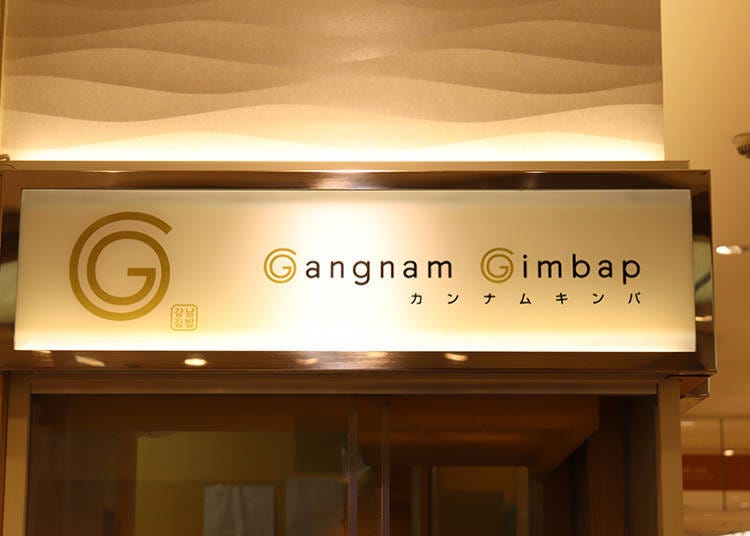 Now let's make our way over to Odakyu Department Store, which is directly connected to the West Exit of Shinjuku Station. There are three delicatessen shops here with fabulous food available as well. The first one on our list of recommendations is Gangnam Gimbap, a specialty store serving a colorful array of Korean-style maki sushi.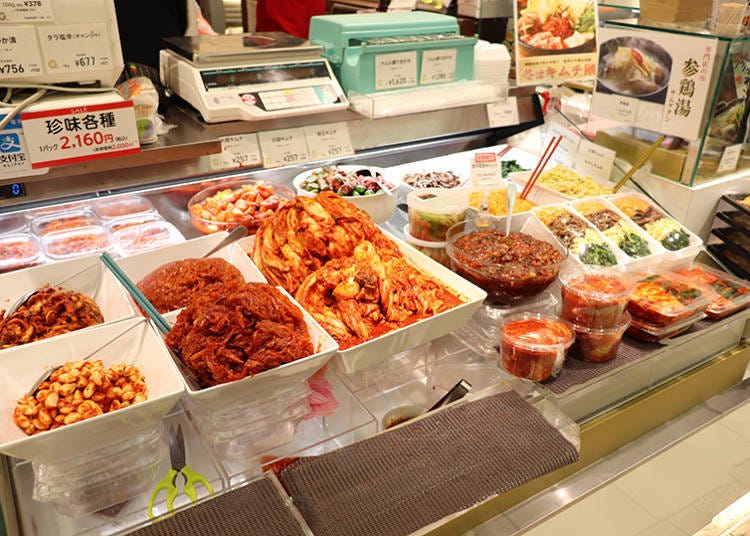 The first thing to catch your eye when you get there is most absolutely going to be the huge heap of kimchi on display. The shop sells deli food such as vegetable gimbap with plenty of ingredients, beef bulgogi gimbap, and yam nyom chicken.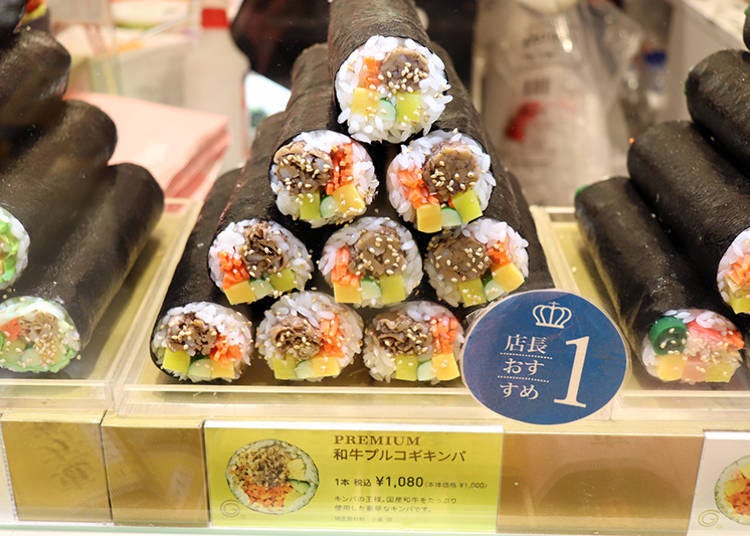 The best-selling item here is "Beef Bulgogi Gimbap (1,000 yen, tax excluded)", with a generous helping of premium Yamagata beef to go along! This means you'll get to enjoy your Korean deli with Japanese flavors through the meat of locally raised cows. Talk about having the best of both worlds!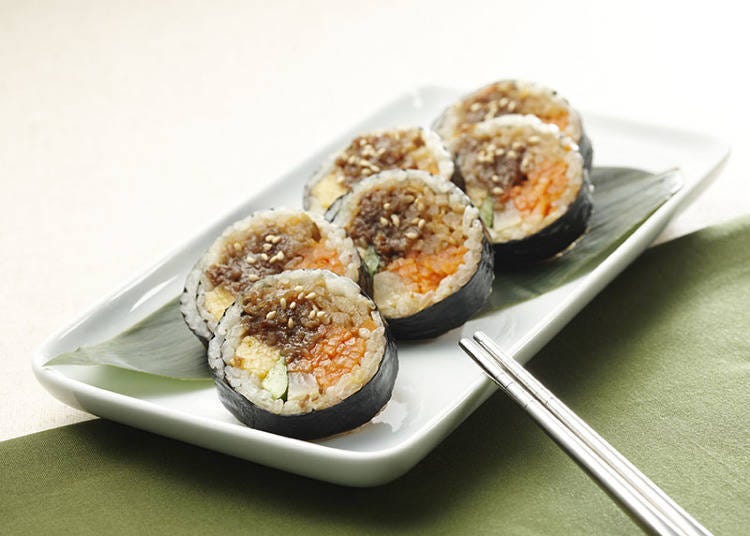 Being able to savor the umami of local beef enhanced by the other vegetable ingredients makes the dish really satisfying. Since the items have been cut down to convenient bite-sized portions, we especially recommend it for the ladies! Pair it with some good alcohol or buy some back for a night-time snack whenever you're feeling peckish.
5. Odakyu Department Store Shinjuku Depachika B2F: Koshizuka's Japanese Black Wagyu Beef Deli Set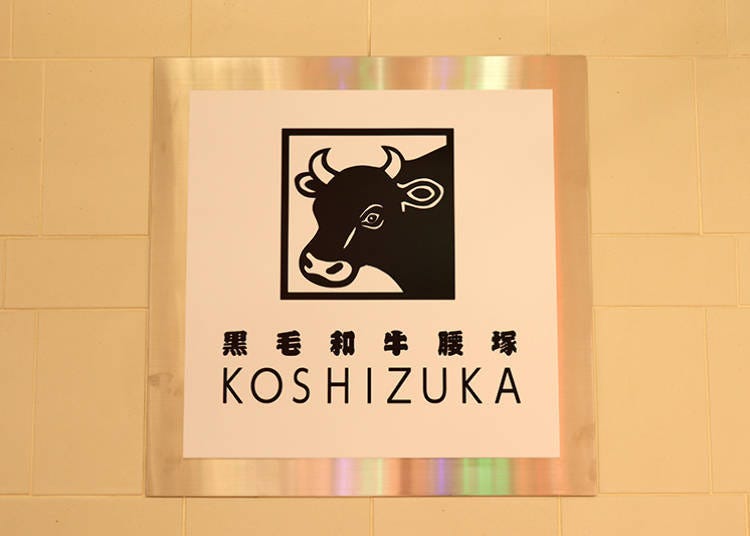 The second delicatessen shop to look out for in Odakyu Department Store is Koshizuka, a specialty store that prepares its deli dishes with Japanese Black wagyu beef. Other shops under the same name in other parts of Japan have interesting concepts as well, such as a wagyu bar or butcher shop. The best authentic beef from all over Japan are selected for use, so you can always be sure of good quality food.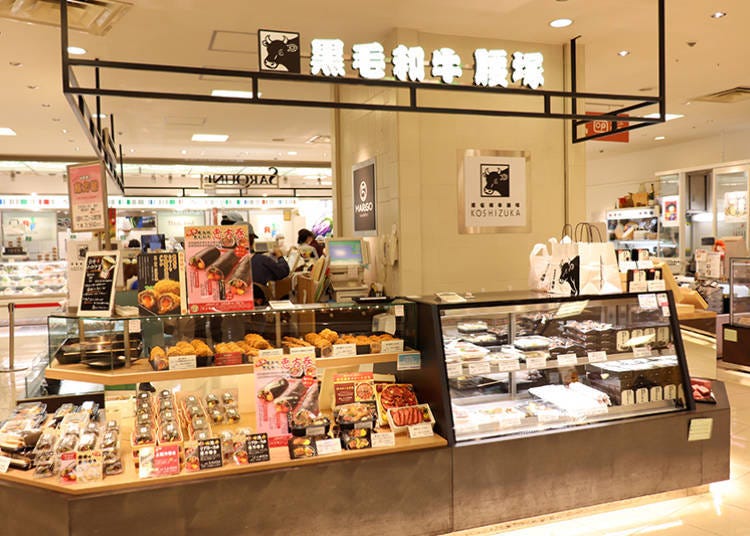 The shop front display is packed with all sorts of delicatessen meals featuring their signature Japanese Black wagyu beef, Japanese Black wagyu beef "menchi katsu" (deep-fried mince meat), and many other tasty tidbits.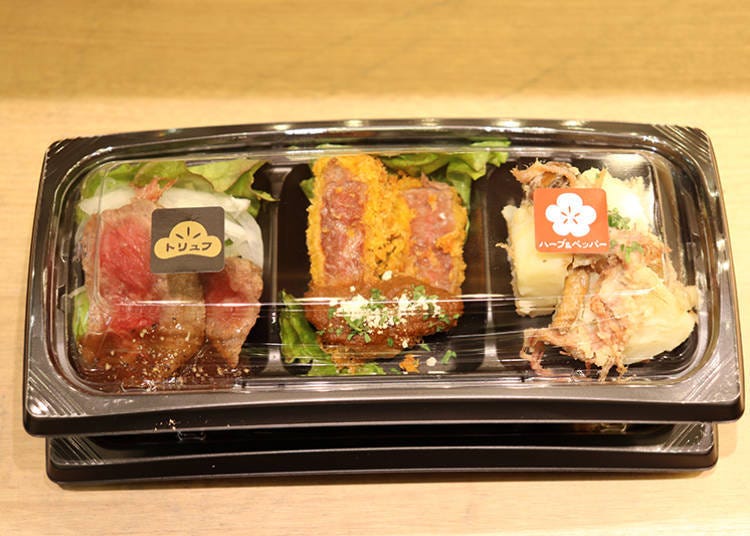 Our top recommendation is also one of their bestsellers - the "Koshizuka Corned Beef and Japanese Black Wagyu Yokubari Set (908 yen, tax excluded)"*. It contains roasted Japanese Black wagyu beef, corned beef mixed with truffles, a thick slice of beef steak cutlet, and corned beef German fried potatoes. This varied menu ensures that you get to taste Japanese Black beef in different kinds of flavor settings and decide which one you enjoy the most!

*Japanese: 腰塚コンビーフと黒毛和牛のよくばりセット Koshizuka Corn Beef to Kuroge Wagyu no Yokubari Setto
6. Odakyu Department Store Shinjuku Depachika B2F: Tonkatsu Maisen's Pocket-Size Sandwiches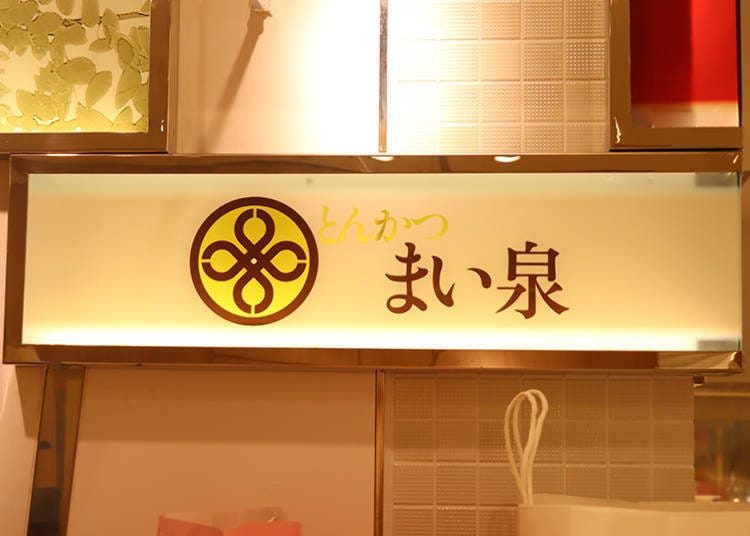 Next on our Odakyu list is Tonkatsu Maisen, a well-established shop that's been around for enough time to be readily on Japanese people's minds whenever they think of buying premium gifts for friends or visitors! One of the most popular items for this purpose is the shop's "Maisen Tonkatsu Sando" (Breaded pork cutlet sandwich).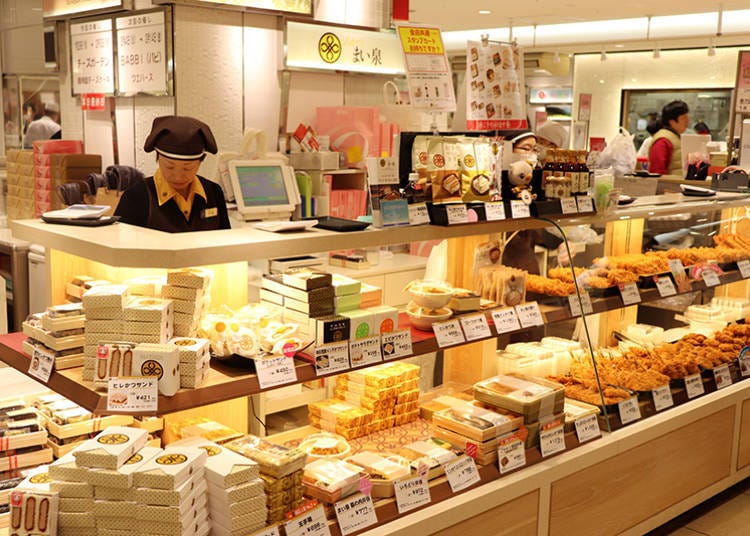 You'll definitely be able to see that cutlet sandwich on display at the shop front, along with other pork cutlet goodies and bento lunch boxes. The sandwiches have been sliced into convenient sizes that make them perfect for a small little midnight snack, but there's something even better we want to bring your attention to...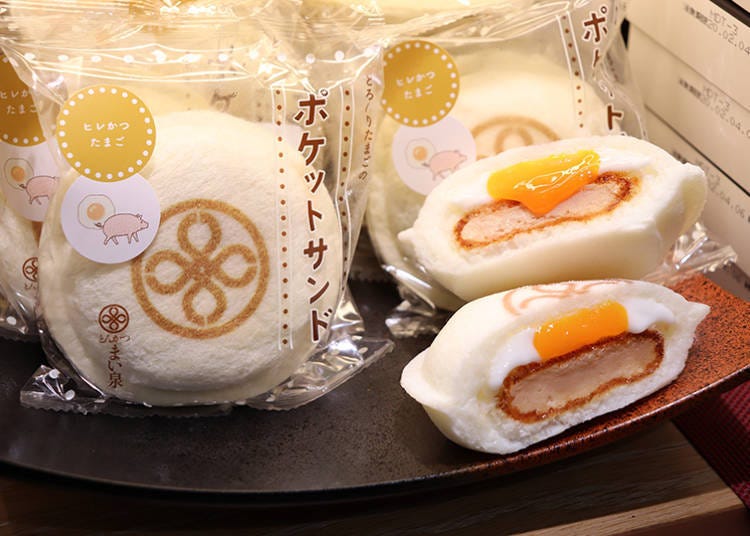 Check out the shop's "Pocket-Size Sandwich (tenderloin cutlet/egg)", going for 417 yen each, excluding tax. Maisen's signature tenderloin cutlet is slathered with a sweet tonkatsu sauce made from their own original recipe and stuffed into a round-shaped sandwich bread along with a thick slab of half-boiled egg. The bread is then stamped with the Maisen logo of quality assurance, designed after a square wooden well.

Holding just one of these surprisingly heavy sandwiches in hand is enough to give you a preview of the quality it must pack within! It helps that they come in convenient sizes that are easy to consume with a single bite. That means they're not just suitable for a late-night snack, but as light refreshments to bring along with during outings and excursions as well!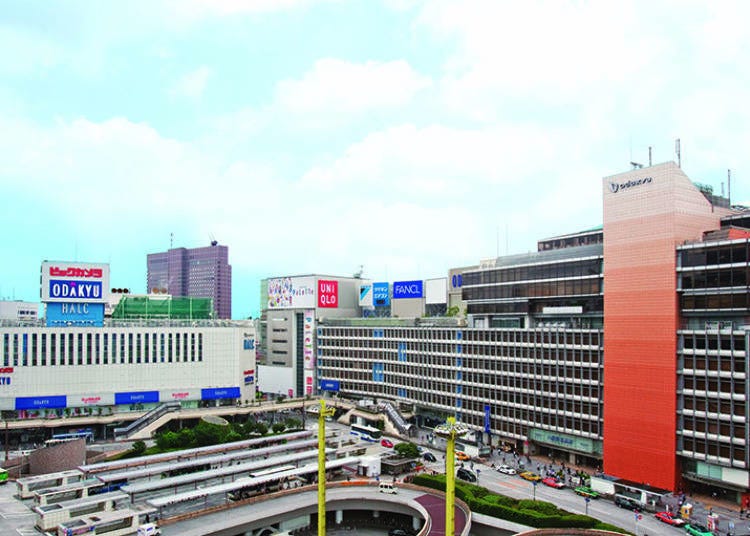 Gangnam Gimbap, Koshizuka, and Maisen can all be found in the main building of Odakyu Department Store Shinjuku, at the second basement-level depachika food area.
Odakyu Department Store Shinjuku

小田急百貨店 新宿店

Address

1-1-3 Nishi Shinjuku, Shinjuku-ku, Tokyo-to

Phone Number

03-3342-1111

Hours: 10:00 a.m. – 8:30 p.m.
7. NEWoMan (Inside Shinjuku Station on the JR Lines) EKINAKA: Pao2 Station's Shumai and Sui Gyoza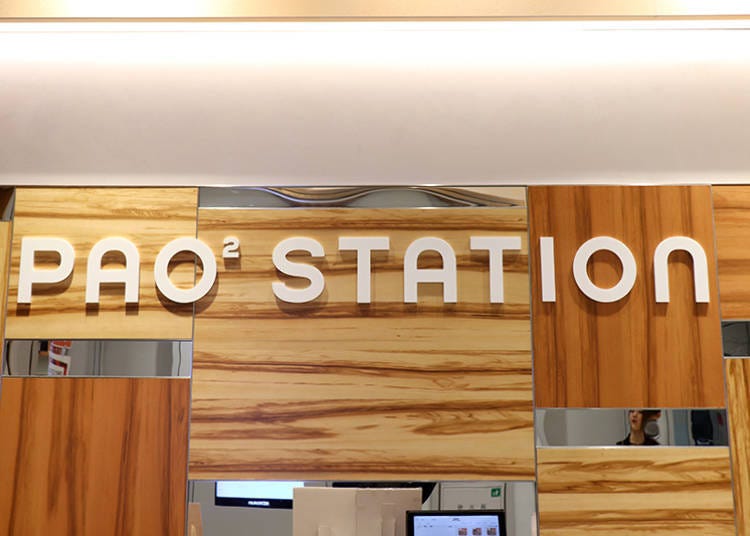 Last but not least, there's much deli food to be had in NEWoMan as well, located on the second floor of Shinjuku Station on the JR Lines, within the ticket gates in the paid area called EKINAKA. Here are our top three recommendations!

To begin with, there's Pao2 Station, a new genre of "handmade Chinese dessert" specialty store that has 45 outlets around Japan. The Chinese desserts here are made via steaming, a cooking technique that took decades to perfect. Besides the shop's popular dessert and snacks, you'll also find plenty of steamed vegetables and packed lunches as well.
The stylish and simple decor of the shop display is fully stocked with shumai (ground meat dumplings), meat buns, and Chinese deli foods!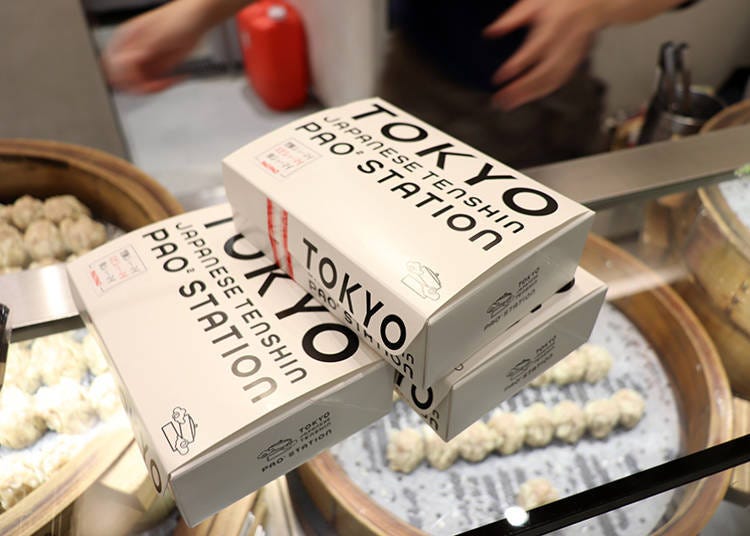 Unsurprisingly, shumai is a very popular item, and the shop packs them in trendy-looking paper boxes for takeout. Fusion food that mixes Eastern and Western elements like this is one of the great things about Tokyo food that so many look forward to. The shop also sells Japanese-style desserts as well!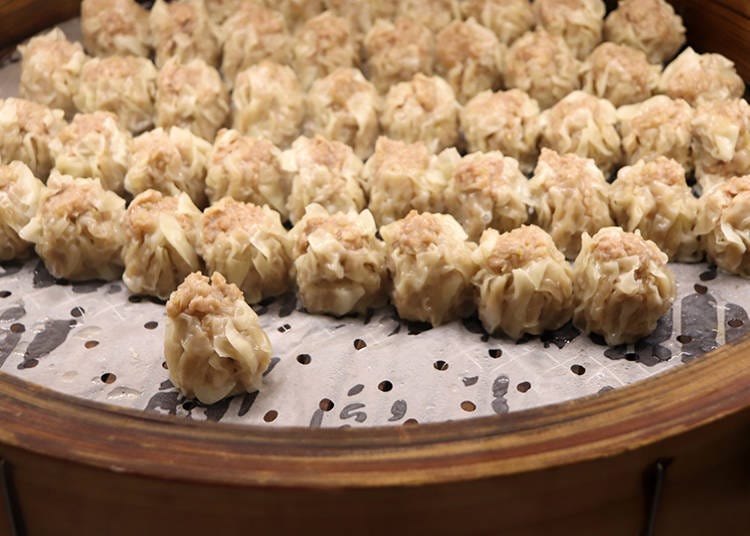 You're looking at the "Berkshire Shumai (820 yen for 8 pieces, tax included)" here, which uses pork from locally reared Berkshire pigs mixed with locally grown onions for the freshest flavors Japan has to offer! Let the heavenly mix of savory pork juices and sweet onion heal your senses from any travel fatigue you may have acquired!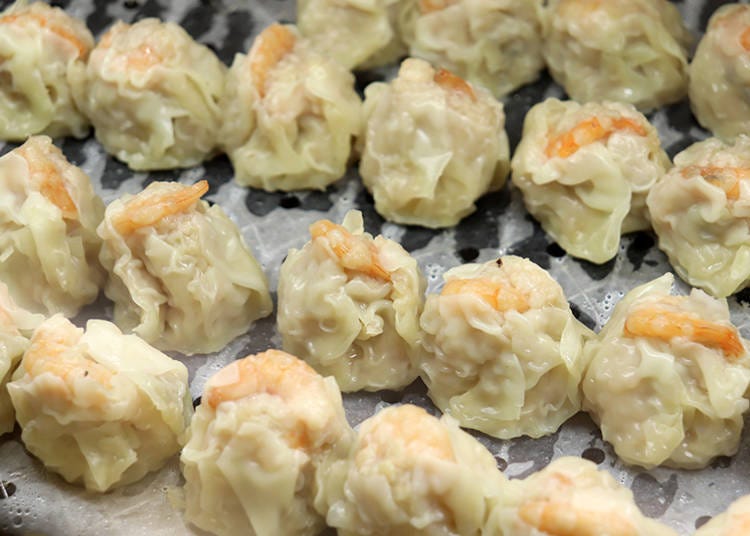 Another popular flavor on our mind is the "Prawn Shumai (820 yen for 8 pieces, tax included)" (Ebi Shumai). The crunchy prawn texture adds to the flavor and is the secret behind its massive popularity among the ladies! Each piece of shumai is small and easy to eat, so buy some to stash away until your mouth starts itching for a wholesome midnight snack.
Don't forget the "Veggie-Full Sui Gyoza (615 yen for 10 pieces, tax included)" (Yasai Tappuri Sui Gyoza) as well! As its name suggests, the boiled dumplings are stuffed full of healthy vegetables. Just pour some ponzu and grated daikon sauce over the gyoza and they're ready for enjoyment.
8. NEWoMan (Inside Shinjuku Station on the JR Lines) EKINAKA: Wa's Sandwich's Egg Sandwiches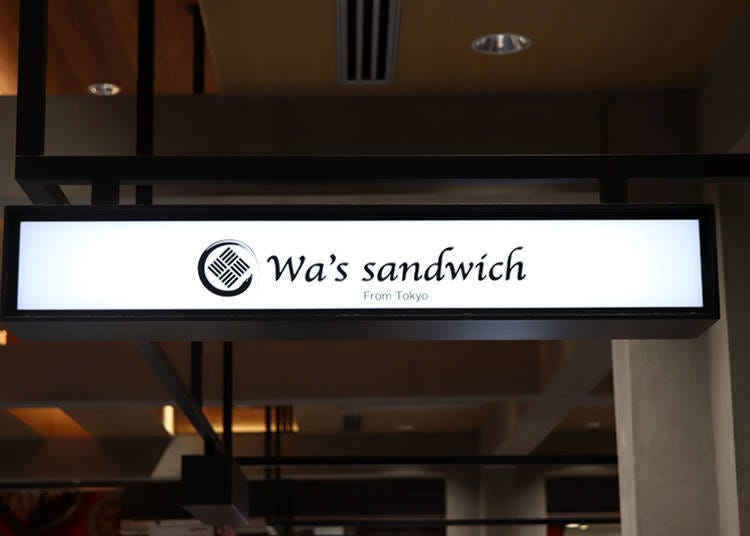 Still in NEWoMan, Wa's Sandwich is our next restaurant recommendation. The shop pairs remarkably tasty bread with ingredients that are enhanced by broth, miso, soy sauce, and other local seasonings for the ultimate Japanese-made sandwich. Other items on the shop's menu are things like sweets and dessert.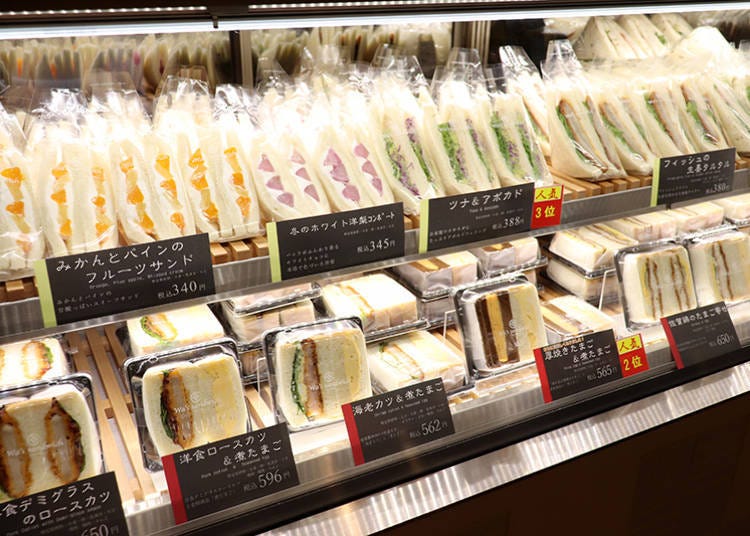 There are plenty of sandwiches making use of colorful fruit ingredients as well, and the neatly lined up rows of such sandwiches would absolutely make for an interesting picture to share with your social network! Unfortunately, the wide selection also means it becomes very difficult to choose the one that's just right for you...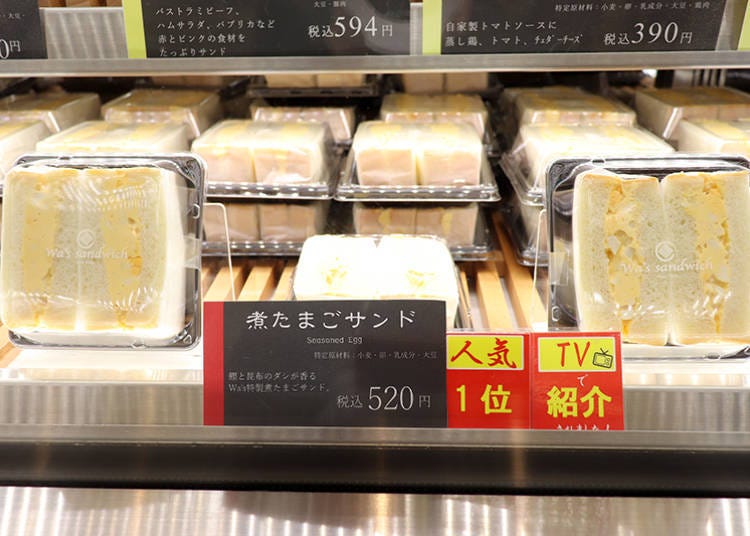 But that's where we come in! We recommend trying the shop's bestseller, the all-time favorite, "Boiled Egg Sandwich (520 yen, tax included)" (Nitamago Sando). These aren't just normal boiled eggs, too. Wa's Sandwich has prepared the eggs using a special broth of bonito flakes and kombu kelp and then stuffed them into the sandwiches with some irresistible mayonnaise. No wonder these sandwiches have become the shop's signature food item!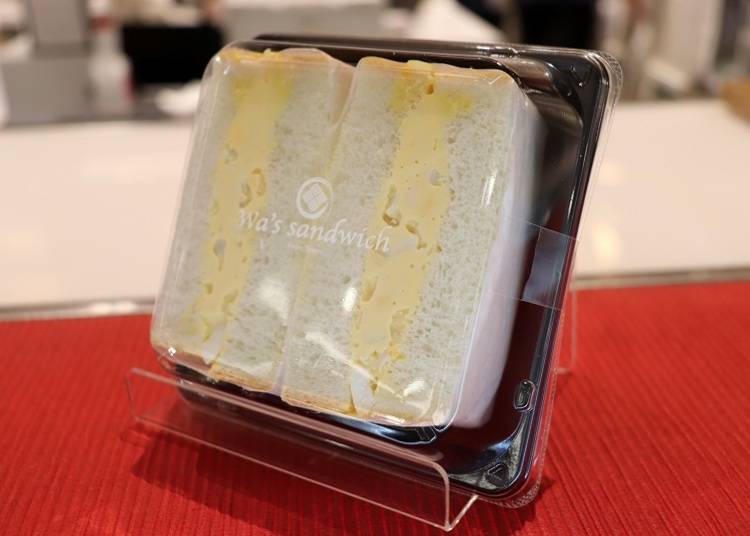 These sumptuous sandwiches have been featured by many popular TV celebrities, Instagrammers, and bloggers. You simply must try it to believe it!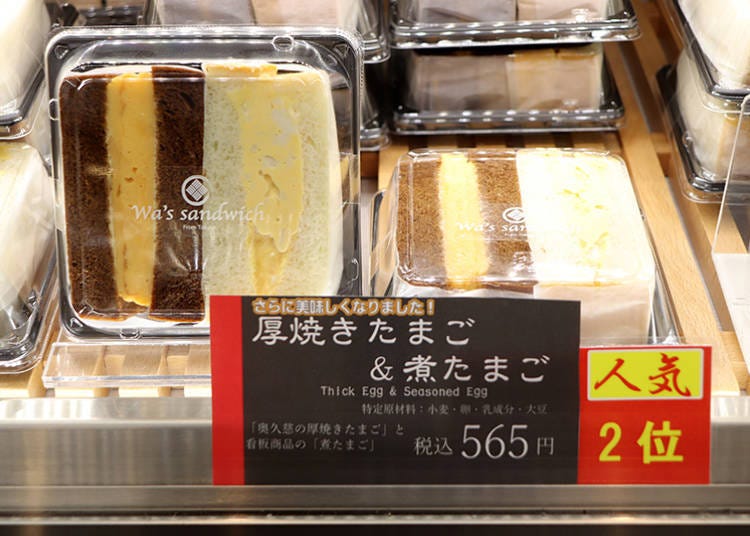 The second best-selling item in the shop is something else we think you should check out. This "Thick Omelet & Boiled Egg (565 yen, tax included)" (Atsuyaki tamago & Nitamago) set is a pack of the shop's signature "Boiled Egg Sandwich" and "Okukuji Thick Omelet". Two signature dishes in one to help you to maximize your yen!
9. NEWoMan (Inside Shinjuku Station on the JR Lines) EKINAKA: Sushiya no Hanare's Seafood Rice Bowl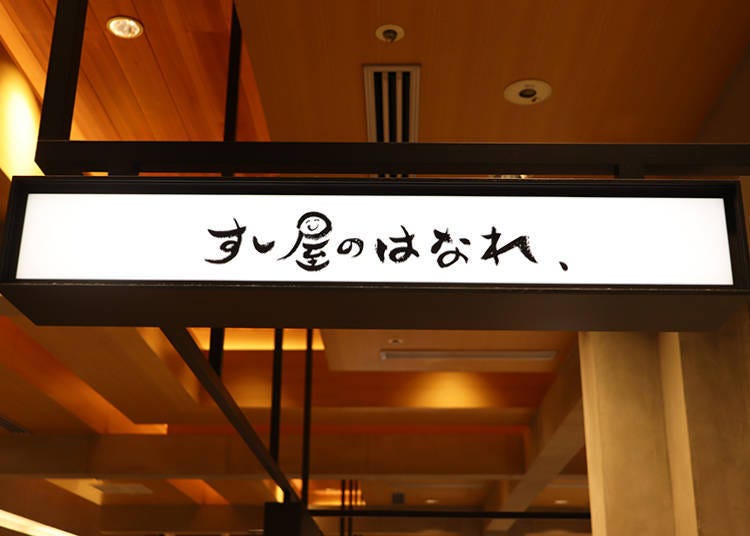 Our final deli recommendation at NEWoMan is Sushiya no Hanare, a store that offers fresh seafood that has been carefully prepared by craftsmen who excel in their profession. You'll find fresh sushi, sushi rolls, rice bowls, and other such filling foods on their menu that will ensure that you can eat to satisfaction.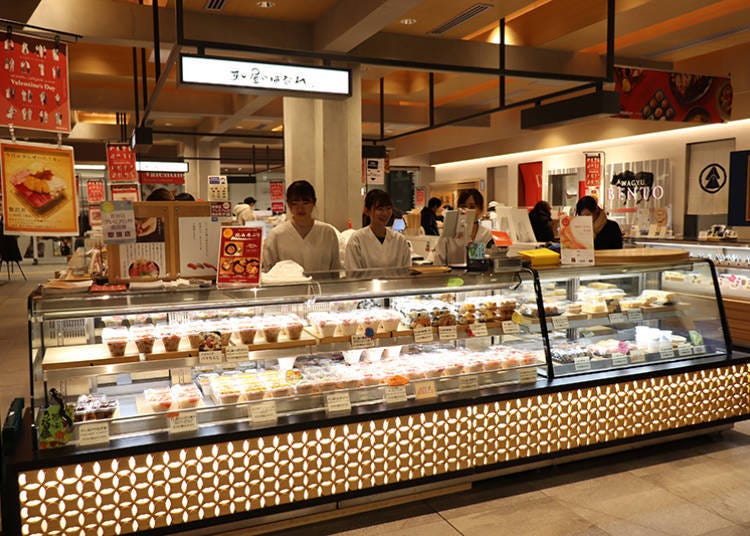 The shop's showcase is packed with a variety of seafood deli dishes that have been put inside in translucent packaging designed to attract the attention of anyone passing by with their colorful appearances. This makes the display section look more like a display of glittery jewel boxes than lunch boxes!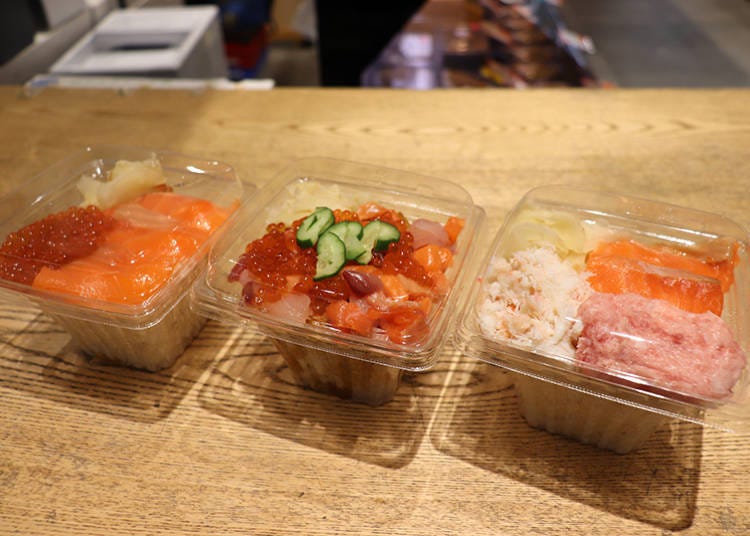 Some popular gems being offered here that are also on our list of recommendations are: "Salmon Ikura Donburi", "Sushiya no Barajirashi", and "4 Seafood Donburi".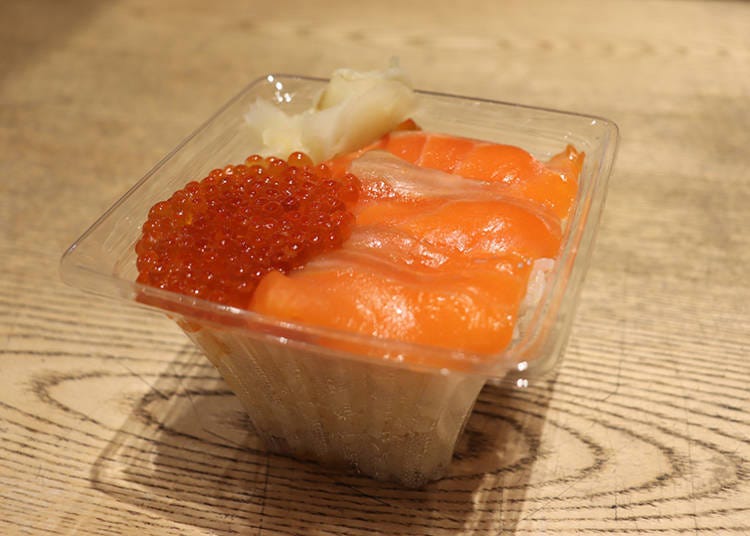 Let's take a closer look at the "Salmon Ikura Donburi (780 yen, tax excluded)". This is a rice dish topped with plenty of sushi-grade salmon and ikura (cod roe) that people of all ages love and enjoy. No wonder it's perpetually the shop's number one best seller!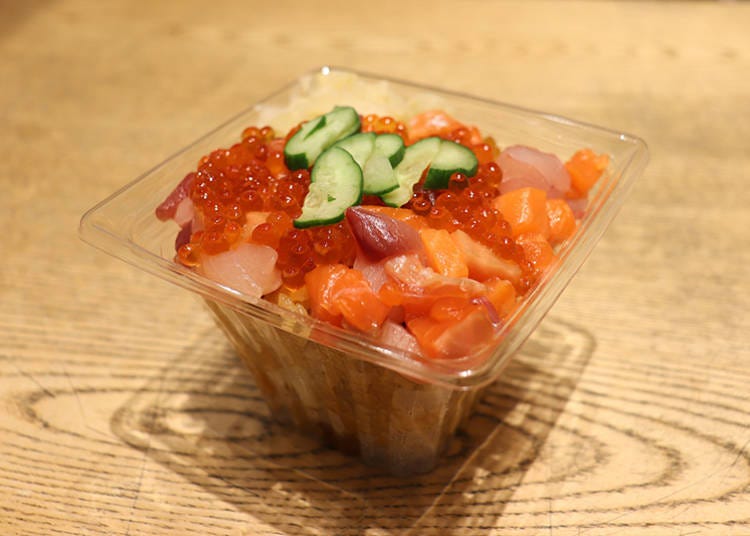 Next, the "Sushiya no Barajirashi (1,000 yen, tax excluded)" is a regular item of the shop that comes with generous helpings of fresh-cut fish. The vinegared sushi rice in this dish has been cooked with a sweet and sour sauce that goes very well with the seafood and is bound to delight your taste buds.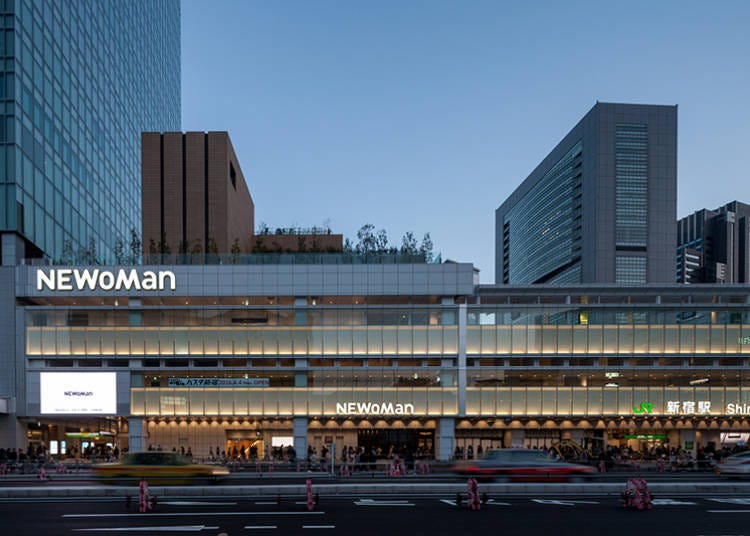 Pao2 Station, Wa's Sandwich, and Sushiya no Hanare can be found in the EKINAKA area on the second floor of NEWoMan. This shopping zone is located within the paid area of Shinjuku Station on the JR Lines, giving you unparalleled convenience and accessibility. As you're making your way back to your Shinjuku accommodations after a fulfilling day of sightseeing, it's easy to simply drop by and pick up a dish or two for snacks or even dinner.
NEWoMan EKINAKA

Address

Paid area of Shinjuku Station on the JR lines, NEWoMan 2F, 4-16 Shinjuku, Shinjuku-ku, Tokyo-to

TEL:
[Representative] 03-3352-1120 (10:00 a.m. – 9:30 p.m.)
[Customer Service] 0120-972-006 (10:00 a.m. – 6:30 p.m.)
Hours: [Weekdays] 8:00 a.m. – 9:30 p.m.; [Weekends and holidays] 8:30 a.m. – 9:00 p.m.
We hope you've enjoyed our list of delicious delicatessen dishes conveniently located in department stores 'depachika' areas or train stations! Whether you choose to enjoy them in the comfort of your hotel room or share them with family and friends as side dishes, including these local favorites into your food itinerary will make your trip to Shinjuku even more special and memorable than it already is.

Written by Naho Jishikyu. English translation by Huimin Pan.

*The above article is based on information from June 2020
*This information is from the time of this article's publication.
*Prices and options mentioned are subject to change.
*Unless stated otherwise, all prices include tax.