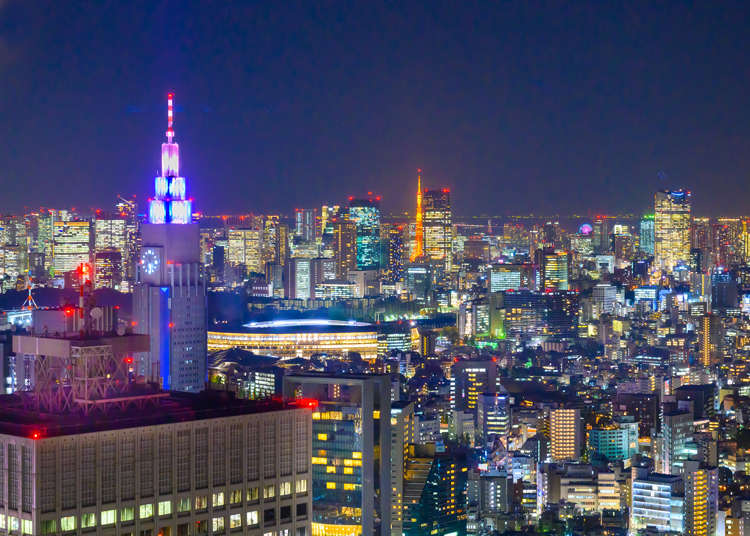 Did you know you can stay in one of Tokyo's best locations, without paying 'full price'? There are several cheap hotels in Shinjuku offering solid value without anything sketchy. Here we share how to score 'secret' rates at three major hotels in one of Tokyo's most happening areas.
1. Toyoko Inn Shinjuku Kabukicho: Friendly late-night plan that comes with a home-style breakfast!
Located near the famous Shinjuku Kabukicho district, one thing that makes the Toyoko Inn Shinjuku Kabukicho so attractive is its great accessibility. It is a 5-minute walk from Higashi-Shinjuku Station on the Toei Oedo Line and Tokyo Metro Fukutoshin Line, and a 15-minute walk from JR Shinjuku Station.

Toyoko Inn, with 311 hotels worldwide, is the largest business hotel chain in Japan. It has long been a favorite of Japanese not only because of its reasonable prices but also its at-home service. It's also a favorite among the cheap hotels in Shinjuku.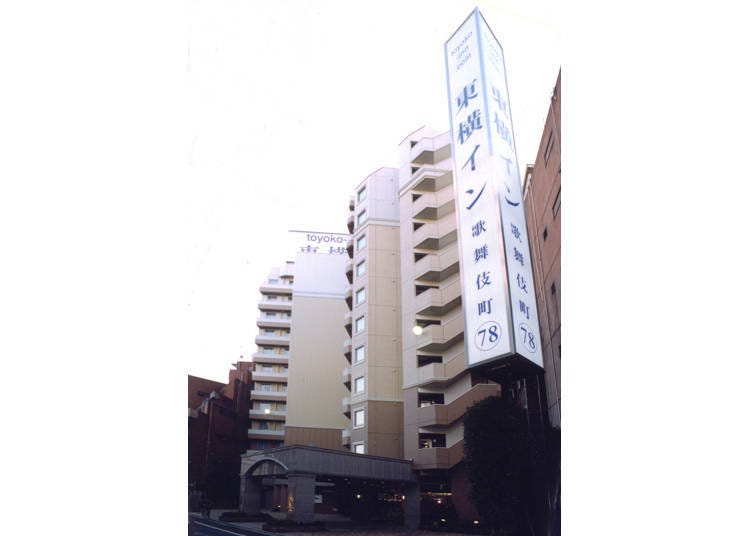 A good thing to remember when you are planning to spend a night out in Shinjuku is the special rates offered on the Cinderella Liberty Plan offered after midnight when there are vacancies.

It is not possible to make a reservation for this because you must directly go to the hotel after midnight, but if there is a vacancy, you can stay in a business hotel in the heart of the city. And that time, rates at this cheap hotel in Shinjuku are then just 4,800 yen for a single and 5,800 yen for a double or twin room (including tax).

Toyoko Inn Shinjuku Kabukicho is definitely a good bargain if you miss the last train because you are having such much fun that you lose track of time.

Communication is not a problem because the staff speak English and Chinese. Don't miss out on the Midnight Time Service which you can reserve online. You can save up to 54% by making an online reservation with credit card payment between 11:00 p.m. on the same day until 5:00 a.m. the following morning.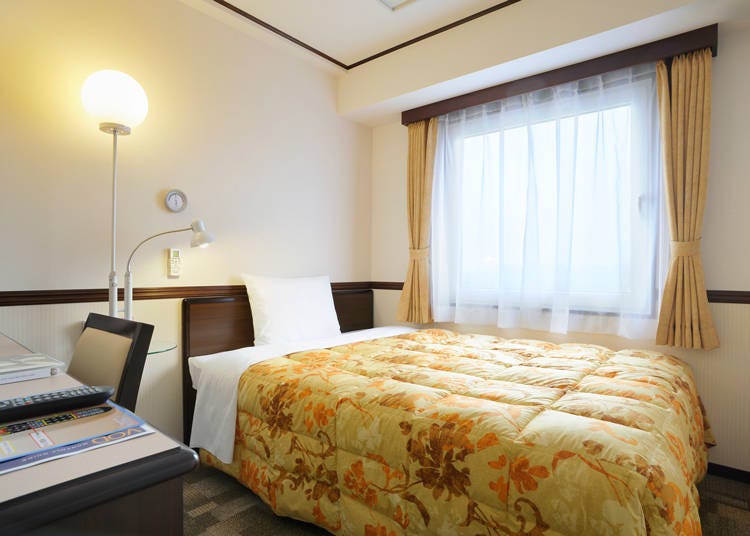 Japanese prefer spacious bathtubs in which they can leisurely stretch out and relax and these are what you will find in Toyoko Inn. The single rooms have double-size beds in which you can get a good relaxing sleep. Of course, there are amenities such as towels, nightwear, a toothpaste set, comb, razor and so on, so deciding to stay on the spur of the moment is not a problem.

We also should point out that the Toyoko Inn includes a breakfast service at no charge. The hotel provides a breakfast like one you would find in a Japanese home offering bread, rice balls, miso soup, and coffee in the spirit of enabling guests to leave feeling refreshed and revitalized after their stay. This service is designed to help you get the new day off to a good start.
Address

Shinjuku-ku Kabuki-cho 2-20-15, Tokyo-to, 160-0021
View Map

Nearest Station

Higashi-Shinjuku Station (Tokyo Metro Fukutoshin Line / Toei Oedo Line)
6 minutes on foot


Vacancy search, reservation

from

9,100JPY

1room, 2adults

Check with our partner site as the latest rates, rate details, and guest room requirements may vary.
2. Tokyo Business Hotel: Cheap hotel in Shinjuku with large communal bath!
For those who want to have a confirmed reservation, that is possible when making a reservation at a hotel that has a late check-in time.

As another of the cheap hotels in Shinjuku, we recommend the Tokyo Business Hotel, where checking in is possible between 4:00 p.m. and midnight. Prices for a single room with a unit bath start at 5,200 yen while for a single room having a shared bath and toilet prices start at 4,100 yen.

These are reasonable prices considering its convenient location. It's only an 8-minute walk from either the Shinjuku Gyoenmae Station or Shinjuku Sanchome Station and about a 15-minute walk from Shinjuku Station.

Note, however, that there is a 1:00 a.m. curfew. After that, it is not possible to enter the hotel. This hotel is perfect for individuals seeking a late check-in.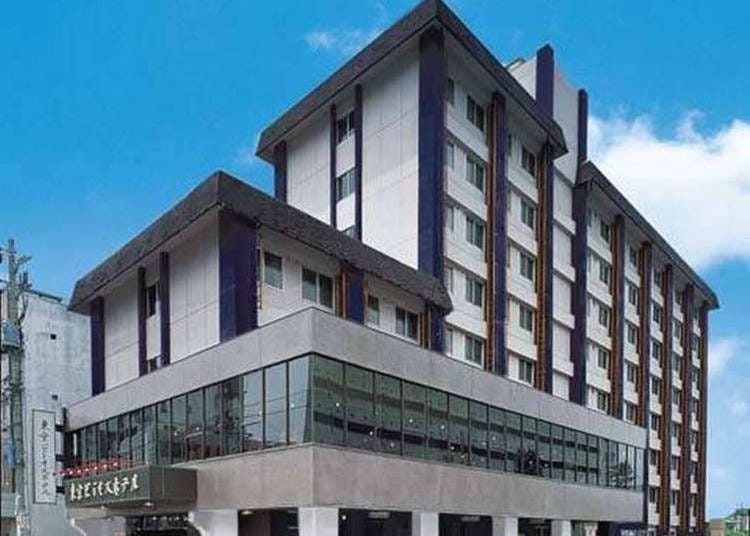 We should especially point out that a unique feature of Tokyo Business Hotel is its sizeable communal bath. The bath is so large and spacious that it is hard to believe that it is in a business hotel. It is perfect for stretching out and relaxing tired muscles after a night out on the town.

In this bath, you can also have the rare experience of viewing a painting of Mt. Fuji done by one of the few painters in Japan capable of this artwork while relaxing in the bath. (The bath closes at 1:00 a.m., so you should check in early if you wish to use it.)
The guest rooms are equipped with Wi-Fi. However, there is also a coin-operated PC in the quiet, relaxing lobby that can be used for a charge of 100 yen per 10 minutes. There are vending machines on the second floor that sell frozen food and ice cream in addition to drinks. The dining room can seat 80, and a buffet-style breakfast is offered there at a reasonable price.

Although not permanently on duty, there are staff members who, in addition to English and Chinese, can speak French, Nepali, and Korean (from April 2020), which makes this an attractive accommodation for foreign visitors. This hotel often appears in movies and TV dramas, so it is especially recommended for fans of Japanese shows.
東京ビジネスホテル

Address

Shinjuku-ku, Shinjuku 6-3-2, Tokyo-to, 160-0022


Nearest Station

Shinjuku-Gyoemmae Station (Tokyo Metro Marunouchi Line)
10 minutes on foot

3. Shinjuku Kuyakusho-mae Capsule Hotel: Comfortable private spaces - just like being in a spaceship!
Capsule hotels are recommended for their reasonable rates. In the past, this capsule hotel was often used by office workers who missed the last train, but in recent years it has been very popular with foreign tourists.

Being only a 5-minute walk away from Shinjuku Station, the Shinjuku Kuyakusho-mae Capsule Hotel is also recommended for its convenient location. Reservations are not necessary. However, there is a low-cost plan available when making a reservation online that is only 2,800 yen (including tax), making it shine among the cheap hotels in Shinjuku. All the necessary amenities are provided, so you do not need to worry about bringing anything.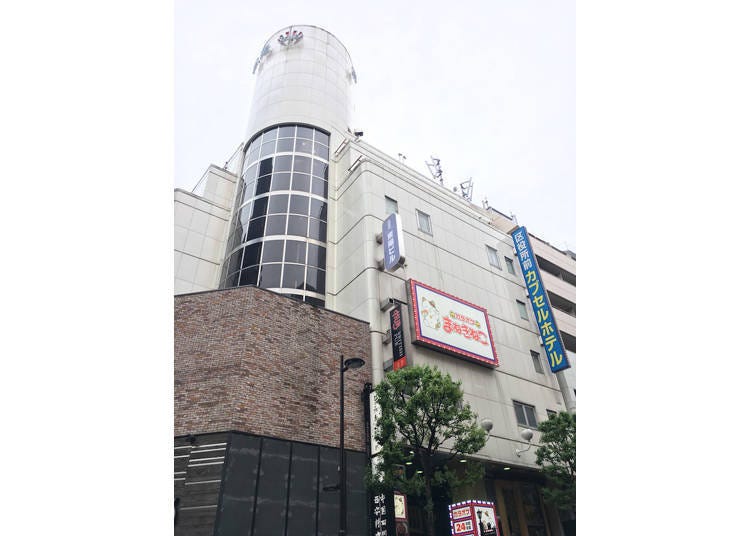 Shinjuku Kuyakusho-mae Capsule Hotel has about 430 capsules for both men and women, and you can store your luggage in a locker and relax within your own capsule after changing into your pajamas.

Inside the capsule, which is about 1-meter high, 1-meter wide and 2-meters long, a whole new experience is awaiting you. Each capsule is equipped with a TV, Wi-Fi, and electrical outlets. Pulling down the blinds, you might imagine yourself being inside your own private space inside a spaceship.

There is also a women-only floor, where amenities such as makeup remover, face wash, lotion, and milky lotion are also provided.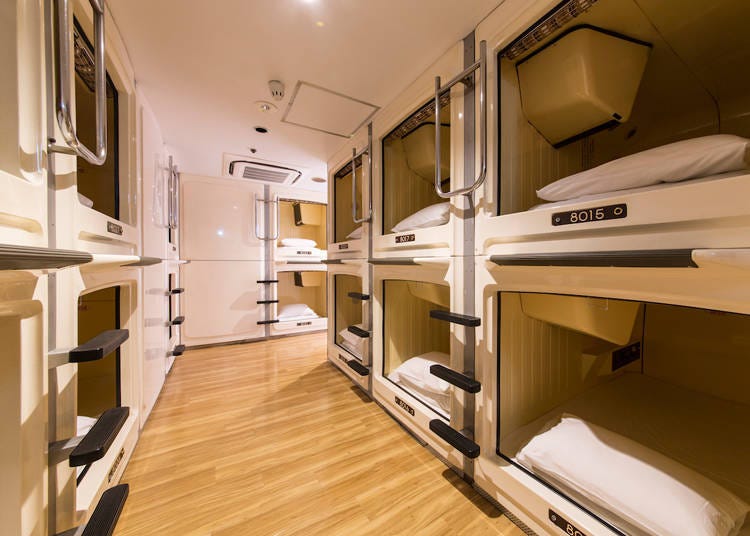 If you want to relax in a more spacious area, you can do that in the business lounge. There you can relax on sofas while watching the 100-inch TV. Vending machines for drinks and food are also available, and from 6:00 p.m. to midnight, the restaurant offers a menu of standard Japanese set dishes such as tonkatsu, fried chicken, both with rice and miso soup, and curry rice. There is a large communal bath and sauna available for men, while for women, there are individual shower rooms.

Foreign tourists can also enjoy this capsule hotel as the reception is staffed with members who can speak English, Chinese, and Korean.
Shinjuku Kuyakusho-mae Capsule Hotel

新宿区役所前カプセルホテル

Address

3F Toyo Building, 1-2-5 Kabukicho, Shinjuku-ku, Tokyo

Phone Number

03-3232-1110

Vacancy search, reservation

from

5,145JPY

1room, 2adults

Check with our partner site as the latest rates, rate details, and guest room requirements may vary.
Written by Yoko
Looking for cheap eats in Shinjuku? Book a table now!
We also recommend these restaurants in Shinjuku. Save time and hassle - book your table online today!
*This information is from the time of this article's publication.
*Prices and options mentioned are subject to change.
*Unless stated otherwise, all prices include tax.