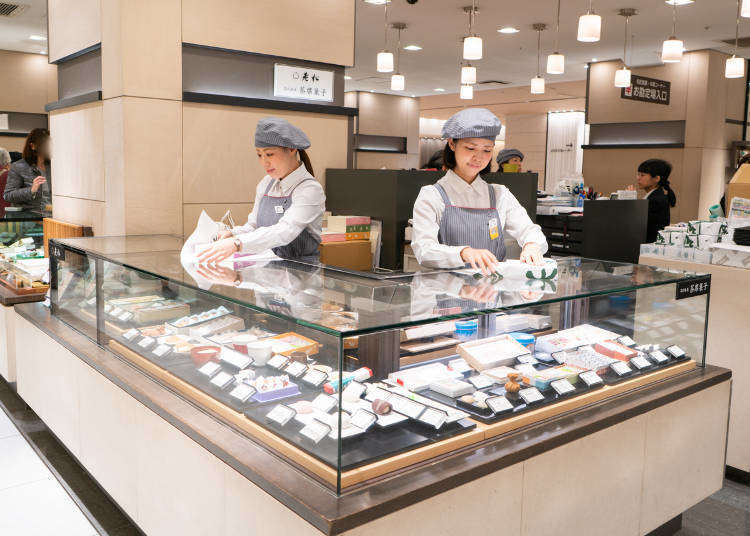 Isetan Shinjuku Department Store has an unusually large presence in Tokyo's famous Shinjuku district.

In addition to having a large selection of apparel and cosmetics, the long-established Isetan Shinjuku has plenty of other attractions, too. Here, we will tell you about the departments and restaurants inside and how to best enjoy them.
History of Isetan Shinjuku and how to get there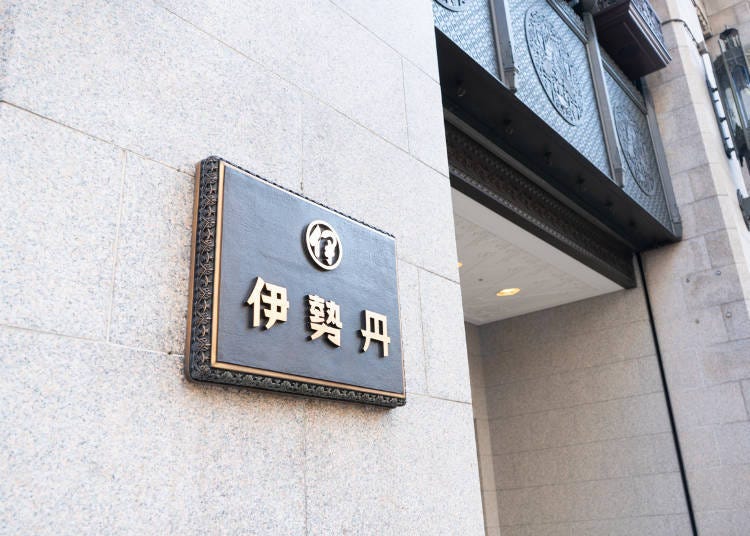 Isetan Shinjuku opened in 1933. Isetan Shinjuku, which has been renowned as a driving force in urban culture in Japan since that time, is still number one in the annual sales of department stores nationwide.

Today the main store, located at Shinjuku 3-chome, is joined by several other facilities such as the Men's Annex and Isetan Kaikan. Noted for its art deco facade, it was designated as one of the historical landmarks of Tokyo.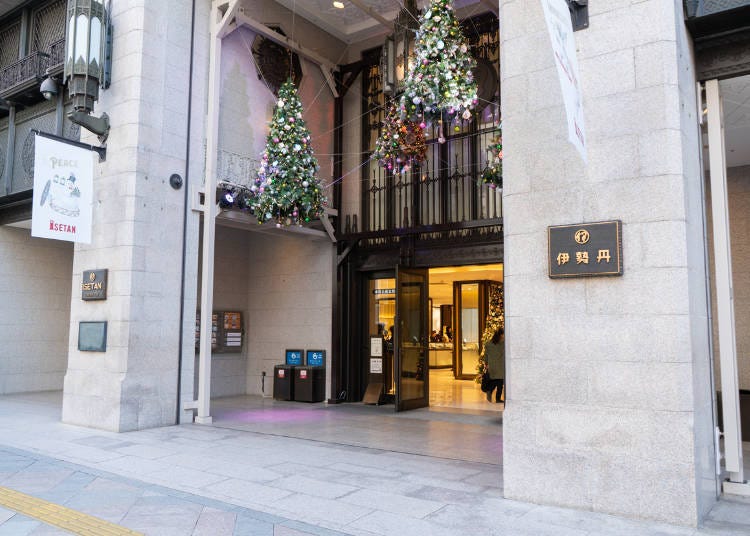 Entrance to the main building. Sophisticated architectural design makes it one of the symbols of Shinjuku.
The main building, which has floors from the second basement floor to the seventh floor above the ground, offers a wide variety of products, including fashion, cosmetics, food, and miscellaneous goods, as well as representative Japanese brands.

Four stations serviced by eight lines, such as JR, Tokyo Metro, and Toei Shinjuku, provide for easy access; the shortest distance is a one-minute walk and the longest being a ten-minute walk away from one of these access points.
Let's begin by explaining the tax exemption procedure and guest card!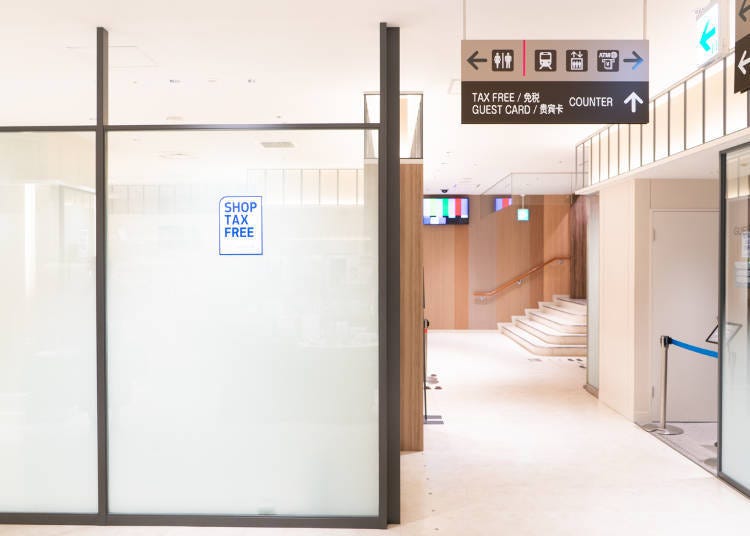 Before setting off on your shopping, you should first check the information regarding tax-exempt and discount purchases.

In addition to the duty-free counters on the 6th floor of the main building and the 2nd basement floor, there are counters for tax exemption registration and currency exchange machines (supporting six currencies of US dollars, euros, Chinese yuan, Taiwan dollars, Korean won, and Singapore dollars, only on the 6th floor of the main building). You can also arrange to have your purchases delivered to partner hotels.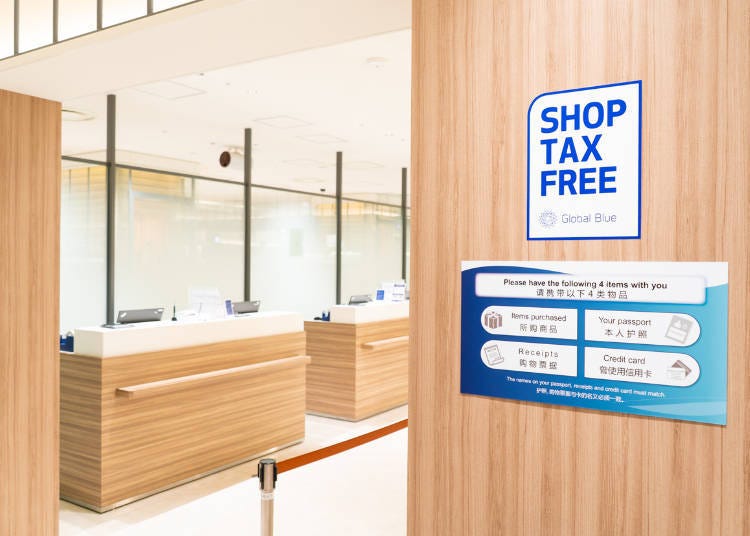 Duty-free counters are located in the second basement and on the sixth floor of the main building.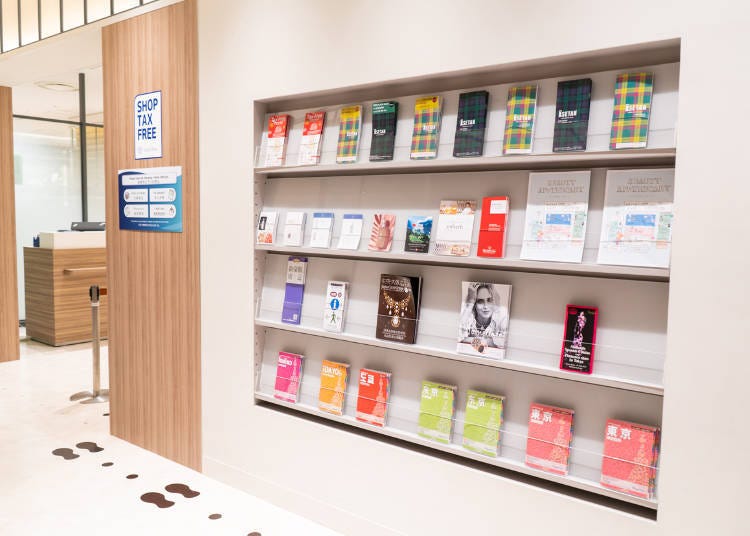 Pamphlets containing store information and maps of the area are available in several languages.
Don't forget to register for a Guest Card before you begin shopping.

Presenting your foreign passport and filling out the required information will get you a 5% discount on products in the store. Except for food, items on sale, and some high-brand products, most things with a value of at least 3,000 yen per item are eligible, so it is a good idea to complete the registration. The cards can be issued at tax exemption counters and on some sales floors.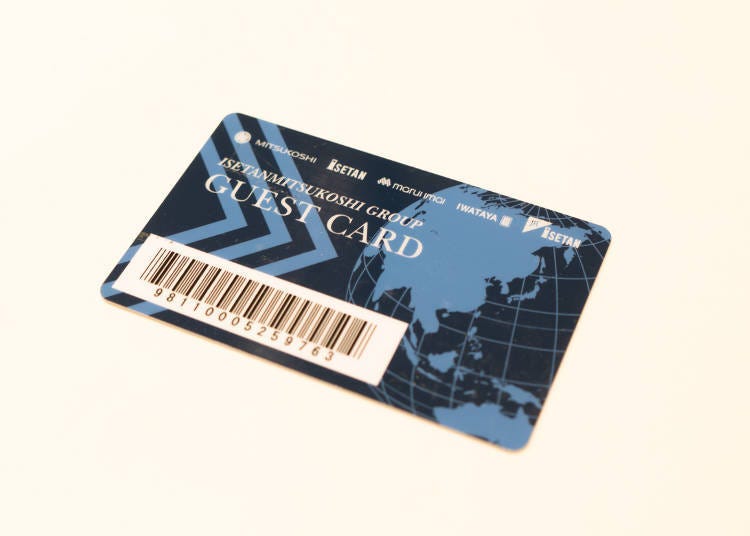 Guest cards can be used at all Isetan Mitsukoshi Group department stores in Japan.
Remember to stop by the duty-free counter after you have finished shopping. Let's explain how you can apply for tax exemption at the counter or an automatic tax exemption machine.

To obtain the tax exemption, you need to present the purchased items, their receipts, your passport, and a credit card. Electronic signatures and non-cash refunds are also possible, so this procedure should go very smoothly.

In addition to credit cards, you can also use the Chinese smartphone payment apps Alipay and WeChat for refunds, so, by all means, feel free to use them, too.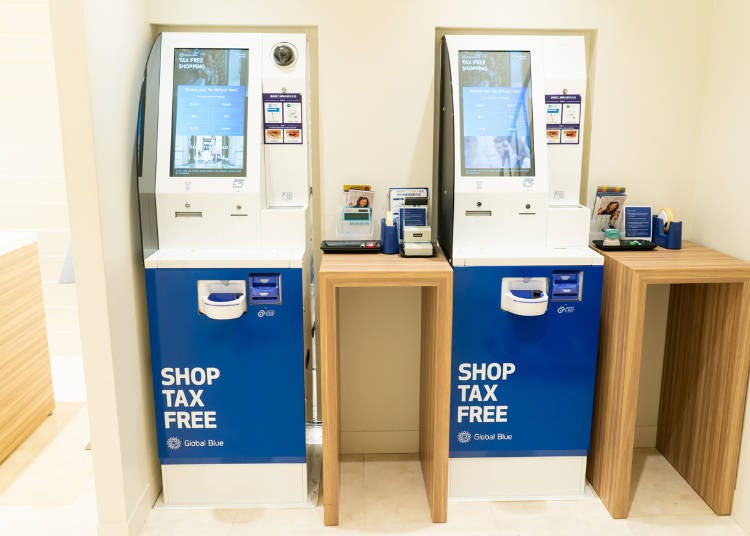 The automatic tax-exempt machines are easy to use!
They support 10 languages including English, Chinese (traditional and simplified), and Korean.
Japan's largest cosmetics and fragrance floor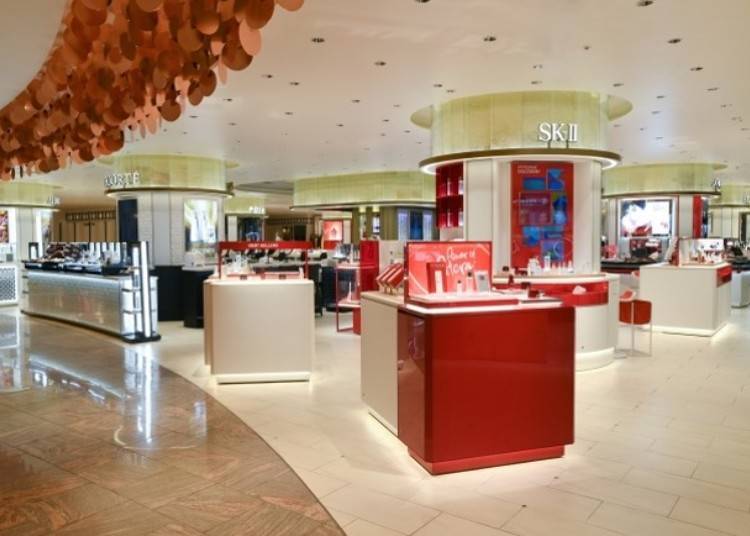 Let's turn now to information about shopping. First of all, one of the outstanding features of Isetan Shinjuku is the cosmetics floors.

After a significant renovation, the cosmetics floor, which was newly refurbished and opened in November 2019, has been expanded to include three levels, including the first floor and the second floor of the main building, and the beauty floor on the second basement floor. As a result, both products and services have significantly evolved.

The makeup floor on the first floor of the main building with the concept of "self-produce" has over 30 makeup brands. Above all, in the artist makeup zone, you can receive lessons, advice, and makeup video take-out services from 11 brands of makeup artists.

There are also many Japanese brands, such as the long-established brand SHISEIDO, which was founded in 1872, and SHIRO, a manufacturer of environmentally friendly cosmetics. Some brands have also enhanced customization services such as engraving on products and special gift wrapping, making the floor perfect for finding something as a souvenir of Japan.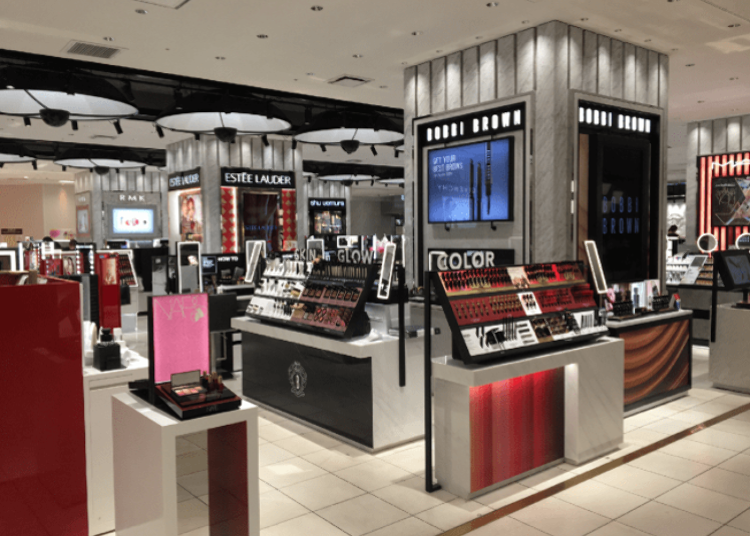 The motto of this cosmetics floor is that "all women become beautiful regardless of age."
Also, on the fragrance floor on the first floor of the main building, where about 40 brands, including those from Japan and abroad, are displayed, there is the boutique-style fragrance shop Guerlain Perfumer; there is also a staffed consultation corner. A machine that reads brain waves and suggests a scent that suits you has also been introduced. This is something you should try as it will help you find a scent perfect for you.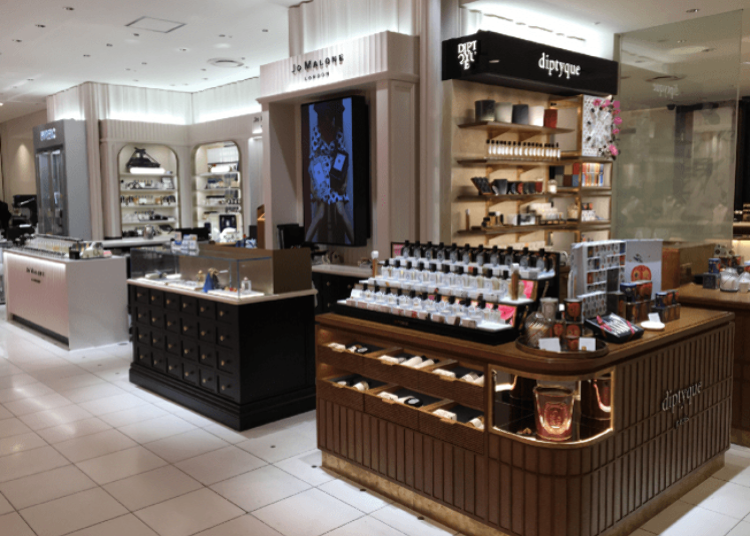 The fragrance floor where you can discover and try out new scents.
The watches floor is perfect for leisurely shopping
Next, we will introduce the watches floor on the 5th floor of the main building, which was refurbished and opened in June 2019.

The bright and gorgeous atmosphere of the floor is designed to create an environment where can readily touch and more closely examine world-famous brand watches. In this comfortable and relaxed atmosphere, you will find watches ranging in price from 20,000 yen to 100 million yen.

There are about 70 brands of watches displayed here. In addition to the direct-sales boutiques A. Lange & Söhne, Jaeger-LeCoultre, and Omega, other brands such as Breguet, Hublot, Officine Panerai, and Vacheron Constantin used this opportunity to open their first direct-sales boutiques in Japan.

Among Japanese brands offered and noted for their outstanding functionality is Minase, which got its start as a cutting tool maker; Shellman, a pioneer in the handling of antique watches in Japan; and Credor, which celebrated its 45th anniversary.
Japanese food, liquor and sweets all in one place!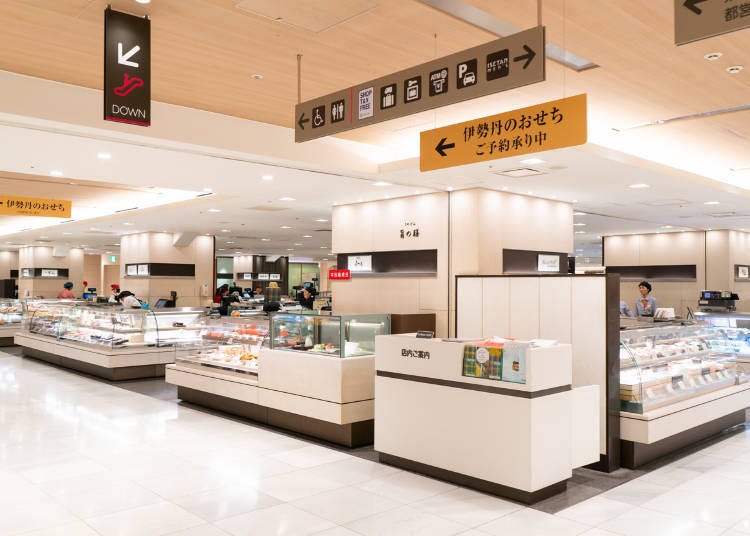 One of the attractions of Isetan Shinjuku is that it has all kinds of food.

The food floor located on the first basement floor of the main building is full of fresh food products, boxed lunches, side dishes, breads, Japanese sweets, sake, and many other items from all over Japan and the world. This gives it the appearance that "there is nothing that it doesn't have," an image of which it is particularly proud.

For example, the Chef's Selection (grocery) corner includes eight specialty stores offering such items as cheese, miso, rice, olive oil, and coffee. It also carries dry foods, bottled and canned goods, seasonings, and Mitsukoshi Isetan original products developed by regional producers making this the ideal place for anyone looking for items that can only be found here.

If you have a kitchen at your accommodation, we recommend purchasing ingredients here that you can cook and enjoy by yourself.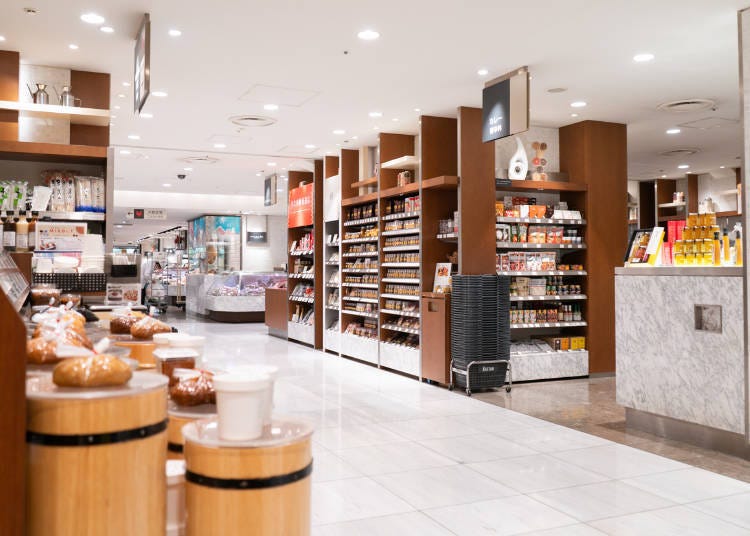 Chef's Selection (Grocery) Corner is truly a cornucopia.
There are about 30 Japanese confectionery shops in the Japanese confectionery corner, where you can find traditional Japanese sweets as well as those that can only be found here in line with seasonal events.

Here are two shops in the Japanese confectionery corner we would like to tell you about.
● Oimatsu: A long-established Japanese confectionery shop in Kyoto
Oimatsu is a long-established Japanese confectionery store founded in 1908 that conveys the history and culture of Kyoto through sweets. It creates new sweets focusing on wedding and tea ceremony confections made for rituals and ceremonies.

Togetsukyo, refreshing Wazanbon cream sandwiched between Sablé, is a popular souvenir that tastes like white chocolate though with a subdued sweetness.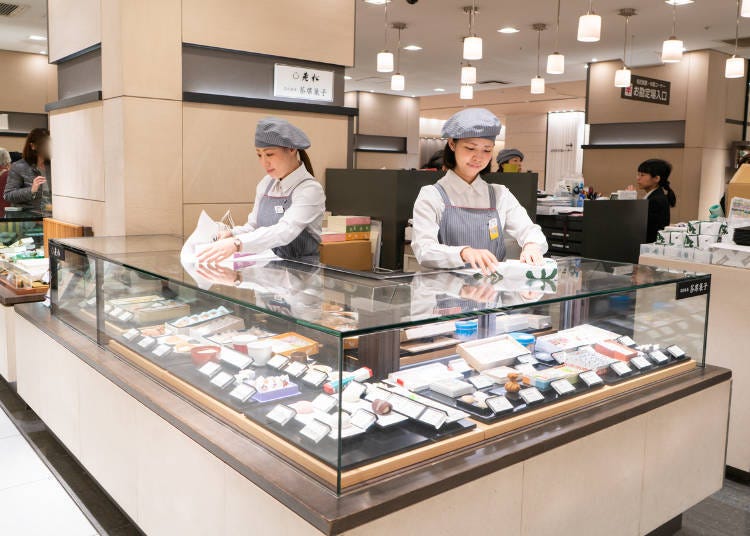 Japanese paper is attractive and perfect for wrapping paper.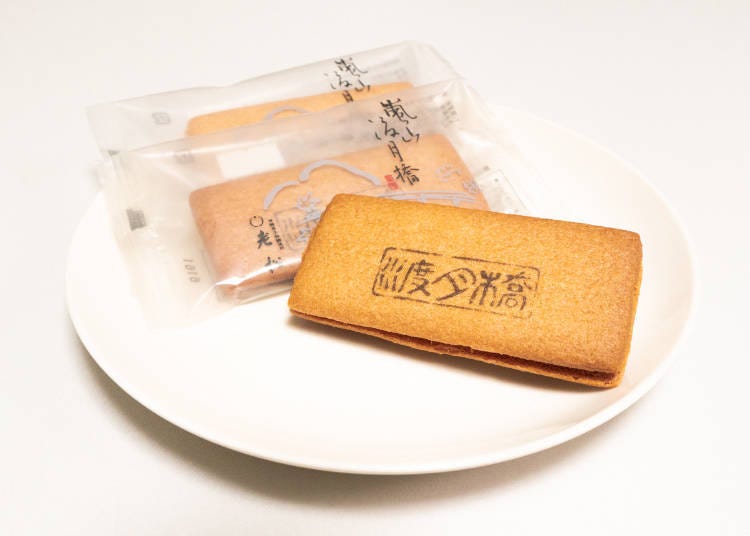 Togetsukyo (1,512 yen, tax included, for a box of 8)
● Suzukake: A long-established Japanese confectionery shop in Fukuoka
Founded in 1923, Suzukake is a Japanese confectionery shop that features freshly-made delicious Japanese sweets made with natural ingredients.

These individually and carefully made confections are sold directly by the shop. Tatamize, a high-quality Awa Wazanbon sugar that melts in your mouth, is a popular product of square and round dried sweets having two flavors, soy flour and black sesame, that come in stylish small boxes.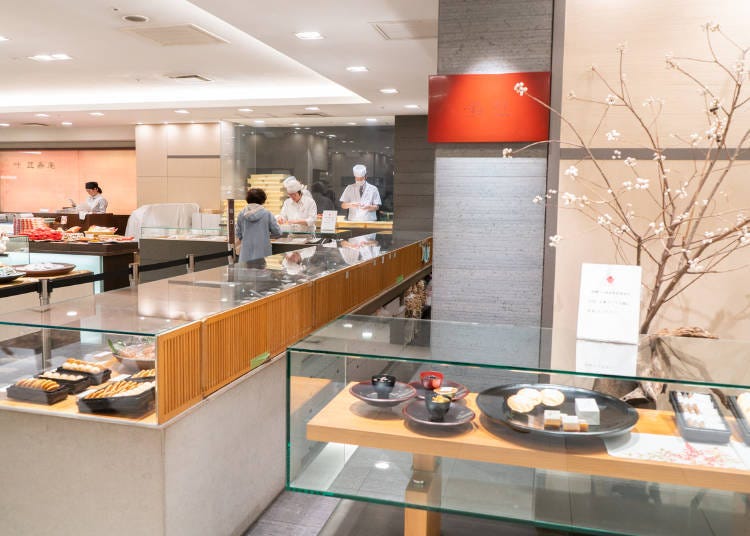 You can see the craftsmen making Japanese sweets up close.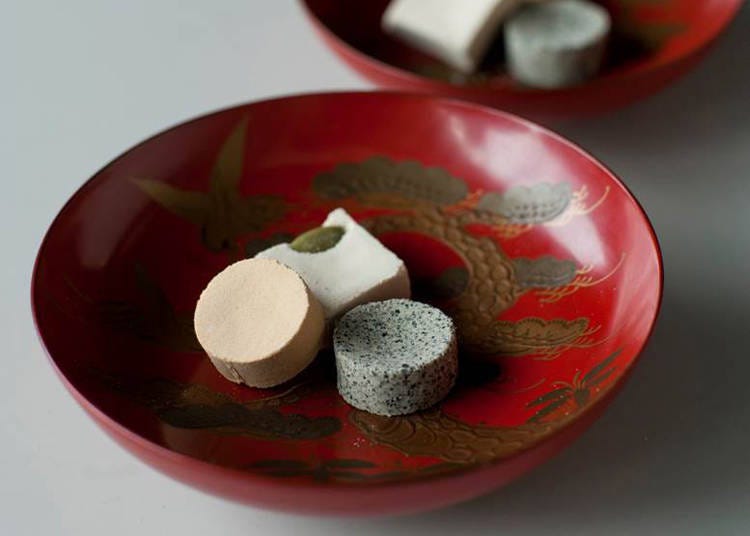 Tatamize means "Japanese taste" in French (photo image).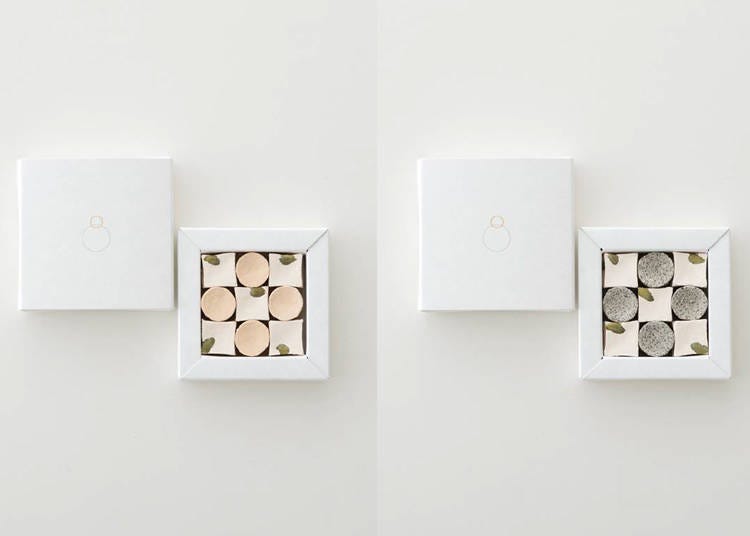 Tatamize Soy Flour and Black Sesame (1,080 yen each, including tax)
Enjoy Japanese food at the Eat Paradise restaurant area!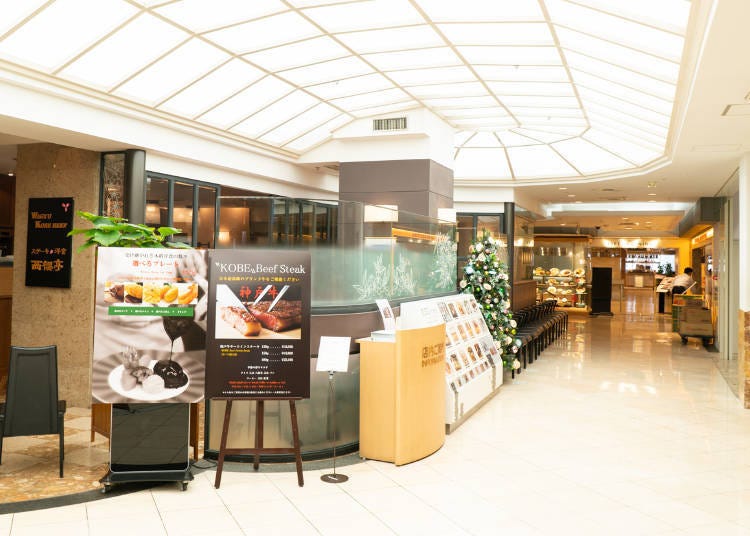 If you get hungry go to Eat Paradise on the 7th floor of the main building.

Here you will find 16 shops offering a wide range of cuisines in addition to Japanese such as Western, Chinese, and Korean, where you can sit down and enjoy a meal.

Here are four establishments that we recommend.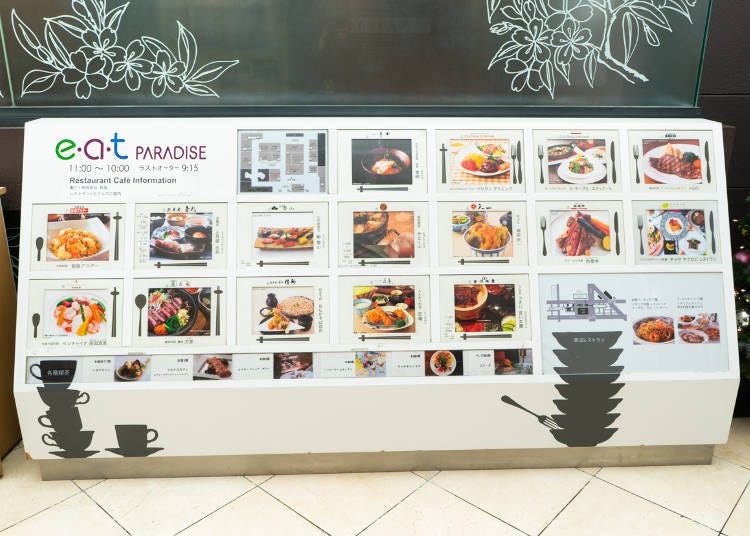 Shops in the restaurant area are open from 11:00 a.m. to 10:00 p.m.
● Shogatsu Kitcho: Offering Kaiseki cuisine
Established in 1930 this is a shop where you can enjoy mainstream kaiseki cuisine, including dishes that make use of seasonal ingredients, served on carefully selected tableware and with attention to hospitable service.

Two popular menu items are the Kifune and Yasaka made with a rich variety of ingredients, such as fish, meat, and stewed dishes, that truly impart the authentic flavor of Japanese cuisine.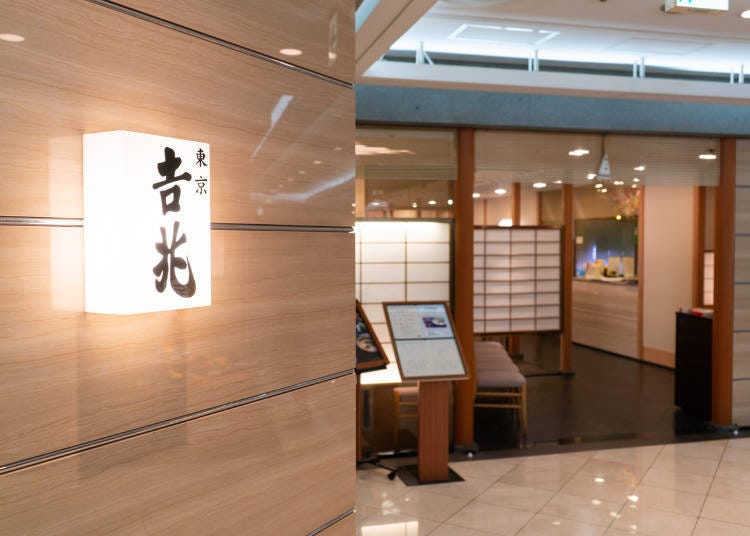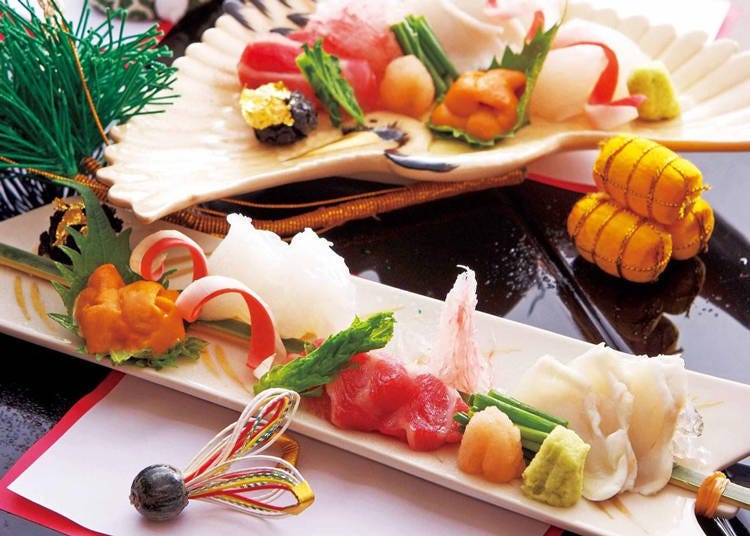 Yasaka (14,300 yen including tax) *there is also an additional 10% service charge. Depending on the availability of ingredients there are times when the dish contains different items than those shown.
● Oraga Soba Shinshu: Serving Japanese buckwheat noodle dishes
A Japanese soba restaurant featuring firm homemade noodles, it is a shop where even unaccompanied women feel comfortable. The tasty Tenseiro, made with firm, freshly handmade noodles, is a popular menu item. Another reason for its popularity is its freshly fried crisp tempura.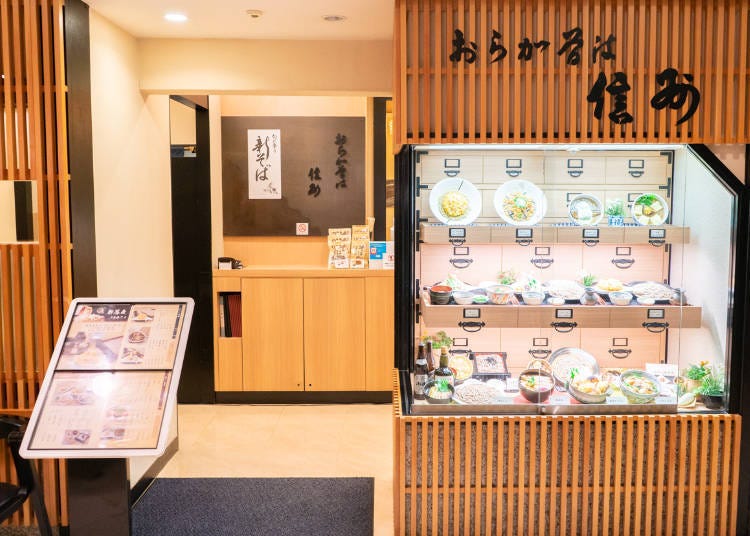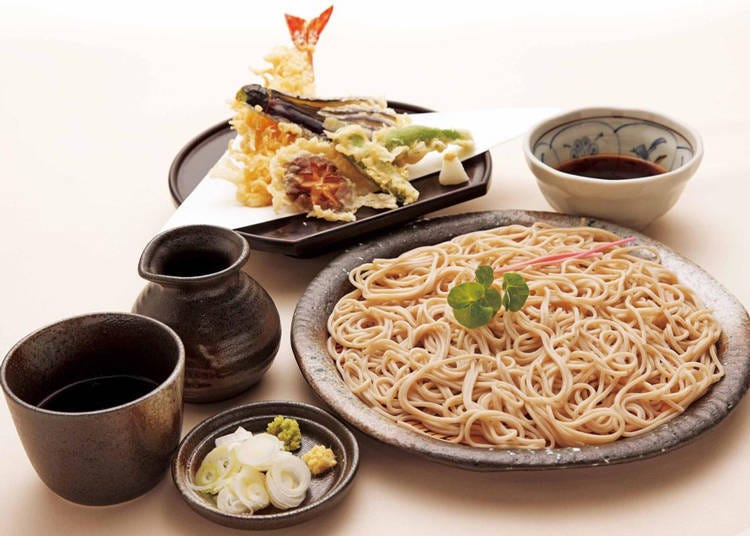 Tenseiro (1,683 yen including tax)
● Sushi Rosan: Serving Edo-style sushi
Sushi Rosan is a sushi restaurant where you can eat carefully selected seasonal ingredients in a relaxed atmosphere. You can enjoy a rich selection of seasonal sushi ingredients in the popular Ise menu item. We recommend sitting at the counter for an authentic dining experience.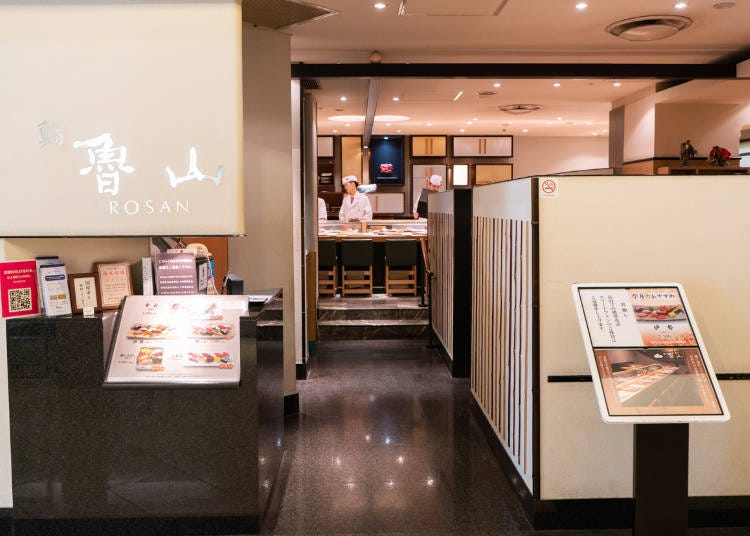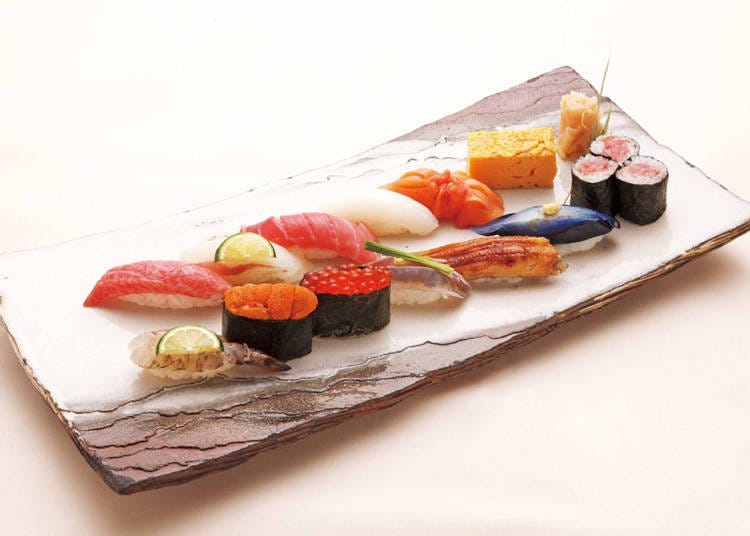 Ise (5,600 yen including tax) *Depending on the availability of ingredients there are times when the dish contains different items than those shown.
● Tsukiji Miyagawa Honten: Serving traditional eel dishes
This old eel restaurant was established in 1893. It is characterized by its lightly charred plump eel served in a "pure" Edo style. The Unaju is a popular menu item noted for the soft texture of the eel and the not-too-sweet flavor of the sauce which goes perfectly with the eel!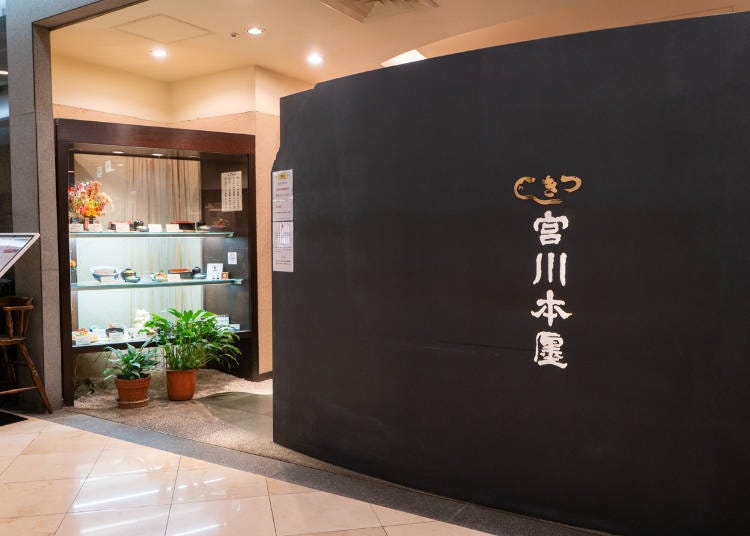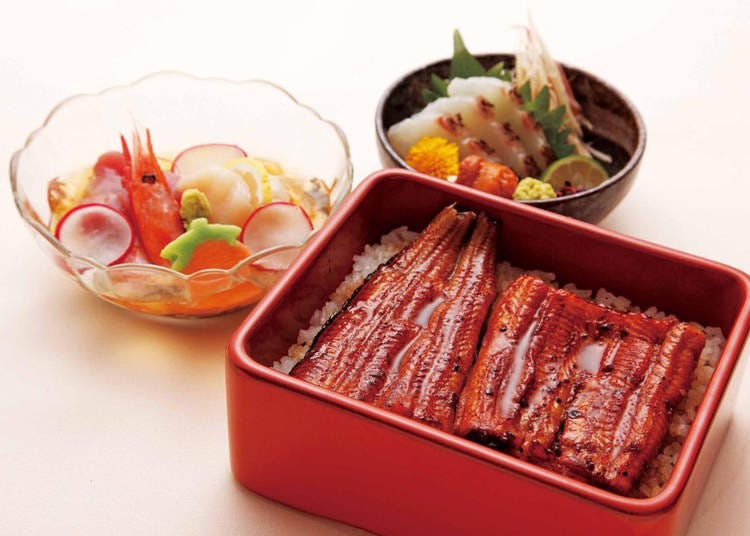 Tsuki-gawari Gozen (3,762 including tax) *Unaju (Ume), also comes with other small dishes the contents of which are changed each month.
The rooftop is the perfect place to rest and enjoy the four seasons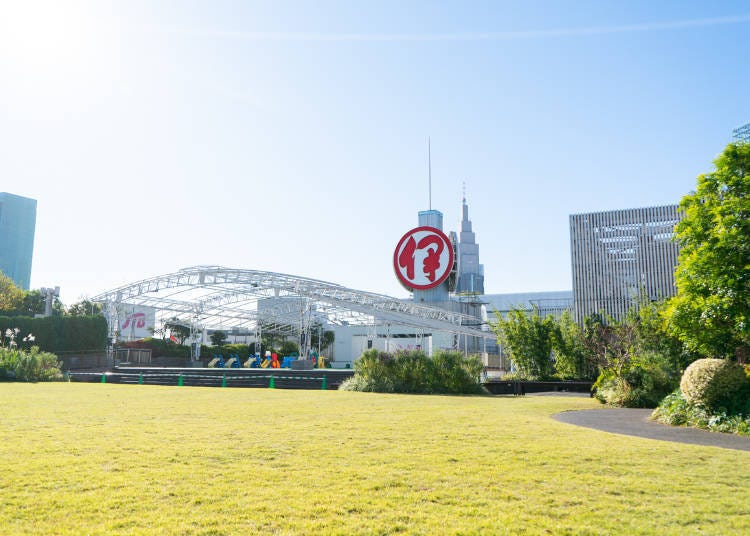 After a delicious meal in one of the restaurants, go up one floor to the roof and relax at I-Garden. This garden has a large patch of lawn where on beautiful days, you can relax sitting in the sunshine. This is also an excellent place to eat pastries or boxed lunches you may have purchased (access to the lawn is restricted at certain times).

A variety of plants and flowers are planted next to the lawn, according to the four seasons of Japan. Thus you can feel the changing seasons, through the cherry blossoms in spring and autumn leaves in the fall. This is a beautiful place to take a break from shopping to relax and refresh yourself.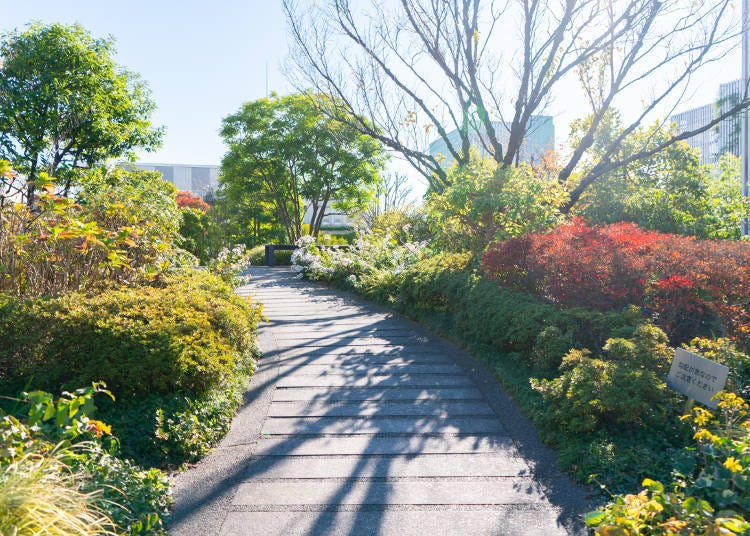 I-Garden hours of operation: 10:00 a.m. ~ 7:00 p.m. (May ~ October); 10:00 a.m. ~ 6:00 p.m. (November ~ April)
Isetan Shinjuku, where new ideas and the uniqueness of Japan are to be found throughout, will continue to convey Japanese culture.

When you come to the area, be sure to visit Isetan Shinjuku, where you will be able to find items just for you among the many popular ones on sale.

Written by: Guyichiro Yoneyama
伊勢丹新宿店

Address

3-14-1 Shinjuku, Shinjuku City, Tokyo 160-0022

Nearest Station

Access:
1-minute walk from the of Shinjuku 3-chome Station on the Tokyo Metro Marunouchi Line
2-minute walk from the Shinjuku 3-chome Station on the Tokyo Metro Fukutoshin Line.
3-Minute walk from the Shinjuku 3-chome Station on the Toei Shinjuku Line
5-minute walk from the Seibu Shinjuku Station serviced by the Seibu Shinjuku Line
5-minute walk from the East Exit of JR Shinjuku Station
7-minute walk from the Shinjuku Station on the Odakyu Line and Keio Line.
10-minute walk from the Shinjuku Nishiguchi Station on the Toei Oedo Line


Phone Number

03-3352-1111

Hours: 10:00 a.m. ~ 8:00 p.m. (11:00 a.m. ~ 10:00 p.m. For the restaurant area on the 7th floor of the main building)
Closed: unscheduled
*This information is from the time of this article's publication.
*Prices and options mentioned are subject to change.
*Unless stated otherwise, all prices include tax.