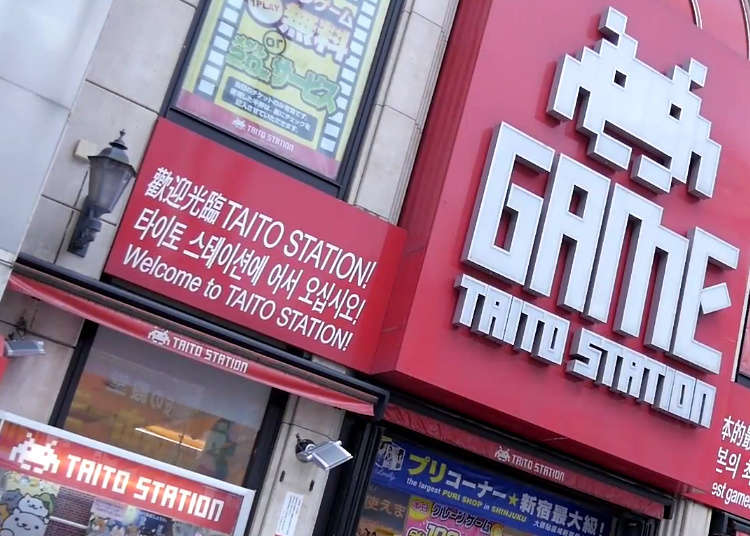 If you visit a few of the major areas of Tokyo, you will no doubt come across a Taito Station, one of Japan's leading game center chains. Easily recognizable by their multi-storied buildings, with a bold red and white logo featuring their famous Space Invaders character.

Even if you aren't familiar with the Taito Corporation name, you have probably come across one of its many creations at some point. The Japanese company, which was founded, surprisingly, by Russian Jewish businessman Michael Kogan in 1953, was responsible for the creation of some of the world's earliest arcade games, including classics such as Space Invaders in 1978, and Bubble Bobble in 1986.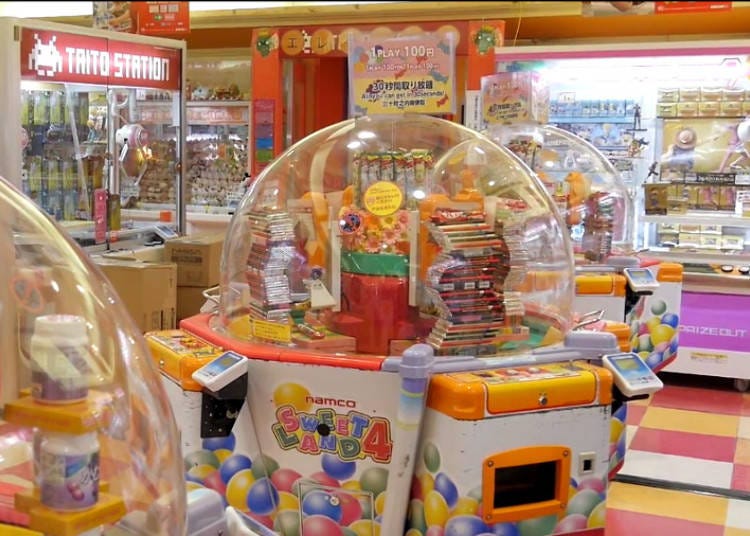 You can actually find Taito Stations in just about any major city in Japan, featuring an incredible selection of the latest arcade games, prize games, and purikura (photo sticker booths). The games are very reasonably priced, you can pay not only using Japanese yen, but also with Japanese electronic money cards.

Some Taito Stations accept credit cards for medal games and also even equipped with foreign currency exchange machines, as well as ATMs. I visited the Shinjuku East Exit Taito Station, located just a two minute walk from Shinjuku Station, in the Kabukicho district.

During my visit, I played with some of Japan's hottest games, and even reconnected with a couples of old favorites.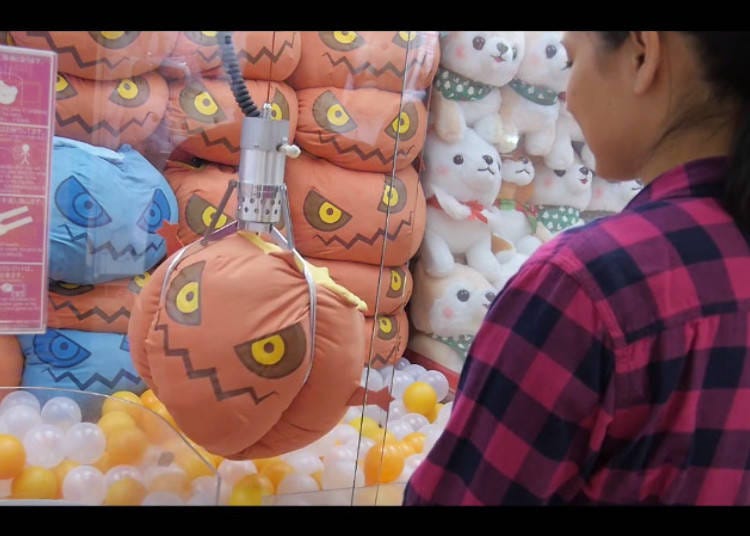 For many in Japan, no trip to the arcade would be complete without attempting Japan's most popular game center machine, the UFO catcher, more commonly known as a crane game in English. Most people are already familiar with this arcade classic, where you must maneuver a mechanical claw controlled by a joystick in order to catch a prize. It seems so simple, but I have to admit, I'm typically pretty bad at this one.

While crane games may have fallen out of favor overseas, their popularity has endured the test of time in Japan, where you may easily find dozens of them in any given game center. These games are usually located right at a game center's entrance, the adorable plush prizes alluring people of all ages to try their hand at catching their favorite.

[UFO Catcher: 100 yen per try.】
NOTE: Price varies depending on each individual machine.
DON! Become a Taiko Drummer.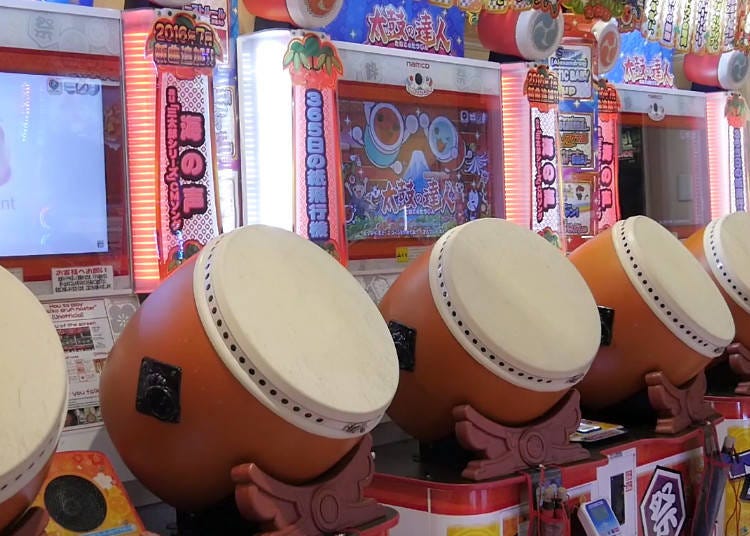 The next game I played on this particular day is one of my all-time favorite Japanese arcade games. Taiko no Tatsujin, which translates to "master of taiko," is a game that lets you have the experience of playing a traditional Japanese taiko drum to the song of your choosing. There are a variety of music genres from which to choose: J-pop, anime, and classical are just a few of the styles.

The rules of the game are straightforward. When a note passes by the designated area, hit that drum! Most of the notes will look like red circles, which indicates that you should strike the center of the drum for a 'don' sound. A blue circle means that you should hit the rim, making a 'kat' sound. A yellow note stands for a drum roll. An orange note stands for a drum roll, and you should try to hit the taiko as many times as you can, wherever you like. If you see a red note with a balloon attached, hit the center in rapid succession to blow up the balloon.

There are several difficulty levels, from beginner through advanced. I was able to play the beginner course without much trouble, but intermediate did provide some challenge. If you don't mind breaking a sweat, I suggest you try the advanced course at least once–it's especially fun to challenge a friend! Taiko no Tatsujin can be played solo or as a "versus" mode, and if you are in a group, you might even consider playing tournament-style!

[Taiko no Tatsujin: 200 yen per play]

©BANDAI NAMCO Entertainment Inc.
Step into the P.O.D. with Gundam!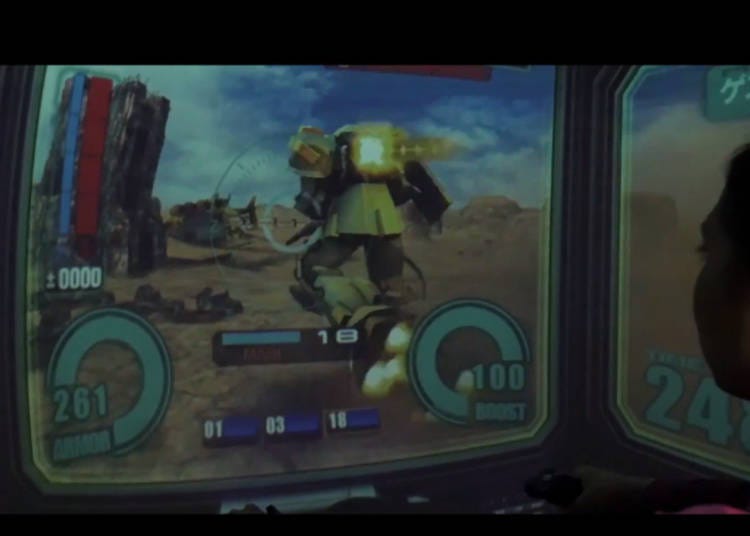 Next it was time to play a game that was new completely new to me: "Kido Senshi Gundam: Senjo no Kizuna" (Mobile Suit Gundam: Bonds of the Battlefield). This game, based on one of Japan's most well-known giant robot anime series, involves taking a seat inside a P.O.D. (Panoramic Optical Display), otherwise known as a pod, to simulate the experience of being a Gundam pilot! Although I lack extensive knowledge of the Gundam series, I was definitely excited to take control of a mobile suit and fight my way through a battle! Really, who would say no to the chance of riding inside a giant robot? After a basic tutorial instructing me how to control my gundam, I played two battles back to back. I did better than expected, although I wasn't entirely sure what I was doing. Being in the pod, you really get the feeling of being right there in the action!

[Kido Senshi Gundam: Senjo no Kizuna: 300 yen per play]

©SOTSU・SUNRISE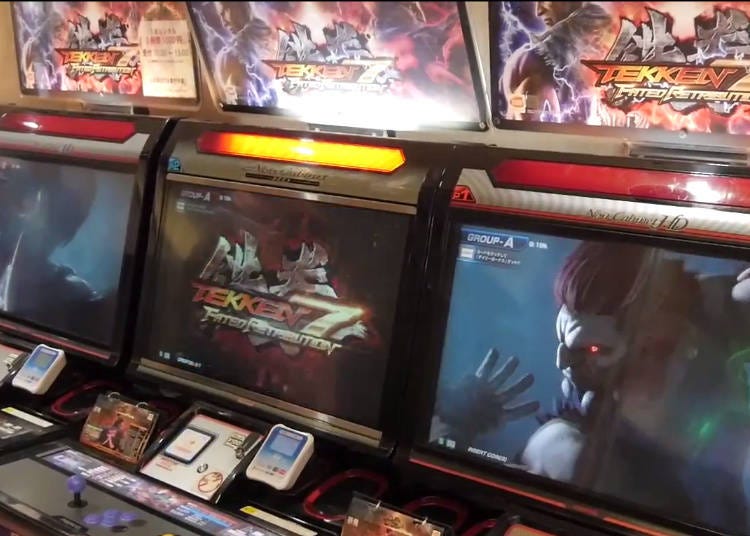 Sometimes you need to get your aggression out, and the game center is the perfect place to do so! I played two fun, but very different fighting games at the arcade. The first was one of my longtime favorites, Tekken. My first introduction to the Tekken series goes back to the late 90s, when I'd battle my older brother for bragging rights on the original PlayStation (R).

Throughout the years I've played a few different versions of the game. It had been a few years since I had played the game, but I decided to take my best shot at Tekken 7 Fated Retribution, the newest of the series. I am happy to report that the game hit that sweet nostalgia spot, with the basic premise and controls remaining true to Tekken's roots, while also adding new characters and updated graphics.

[Tekken 7 Fated Retribution: 100 yen per play]

TEKKEN™7 FATED RETRIBUTION & ©BANDAI NAMCO Entertainment Inc.
©CAPCOM U.S.A., INC. ALL RIGHTS RESERVED.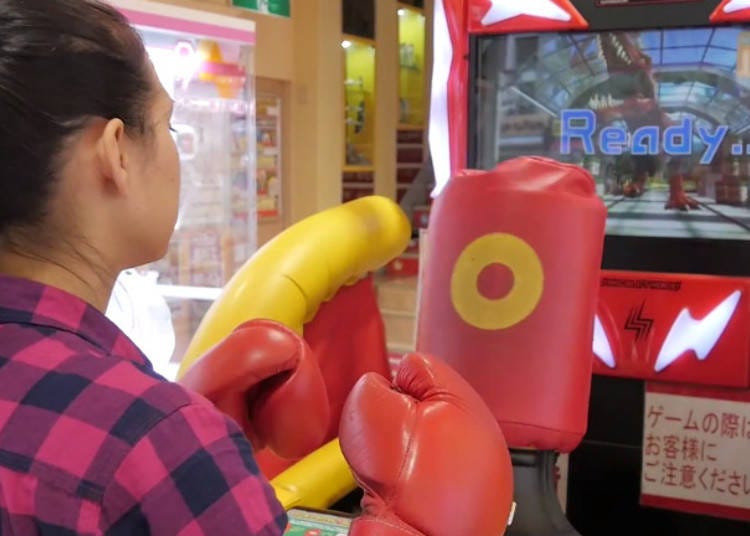 The next game, Sonic Blast Heroes, was also related to fighting, albeit in an entirely different way. If ever you were looking for an excuse to punch something as hard as you can, this is your chance. For this game, instead manipulating a joystick and buttons, you put on boxing gloves and literally punch a giant punching bag. Your success depends on how hard you strike during a single hit, so make sure to put your all into it!

What makes this game even better is that you can choose what you would like to punch the most! You can knock out a burglar, a tractor trailer truck, or a kraken, to name a few. There were some good choices, but I just couldn't resist the chance to fight a dinosaur! I eagerly put both gloves on and gave a double-fisted punch to the oncoming T-Rex.

The nearby staff member kindly informed me that I only needed to use one hand. "But I want to wear both." He allowed it, but insisted I try my next punch using just one hand. I put all my power into it and–POW!–I landed what I thought to be an excellent blow. Imagine my surprise when I saw that I did not make it to the next round. It was alright though, because in my heart I beat the daylights out of that dinosaur.

[Sonic Blast Heroes: 200 yen per play]
Catch the Rhythm and Show Them What You've Got!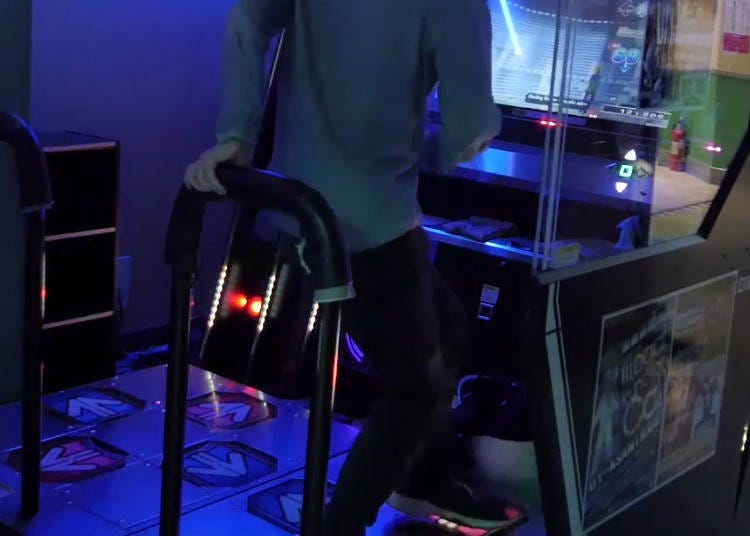 If dancing your cares away to music is more up your alley, there are is a whole area of the game center dedicated to rhythm and dance games. One of the most well-known games of the genre, Dance Dance Revolution (DDR), is featured prominently in this area. It's a classic for a reason; the combination of dance and gaming is a double dose of fun!

The gameplay is to follow the beat presented on the screen. You tap the appropriate tiles on the dance platform with your feet. There is a large selection of songs, each with its own beats to follow, so it's nearly impossible to get bored with this one. You don't necessarily have to be the best dancer to play DDR, but if you want to step your game up a notch you can add your own flair and style to the movements. You won't gain extra points in the game, but you could earn some applause from nearby observers. You can choose the difficulty setting that's right for you.

Even if you have two left feet, the beginner level is easy enough so that you should be able to enjoy yourself. DDR also allows for two players at a time, so you can have a dance-off with a friend!

[Dance Dance Revolution: 100 yen per play]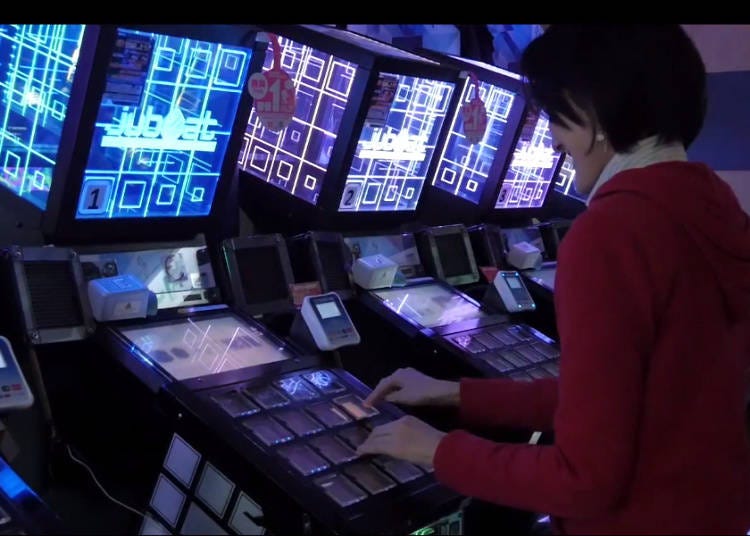 You can also enjoy rhythm games without having to move your feet an inch. Jubeat (pronounced 'yubito' in Japanese) is one such game. The players tap squares (arranged in a 4x4 grid) as they light up, along to the music of their choice.

[Jubeat: 100 yen per play]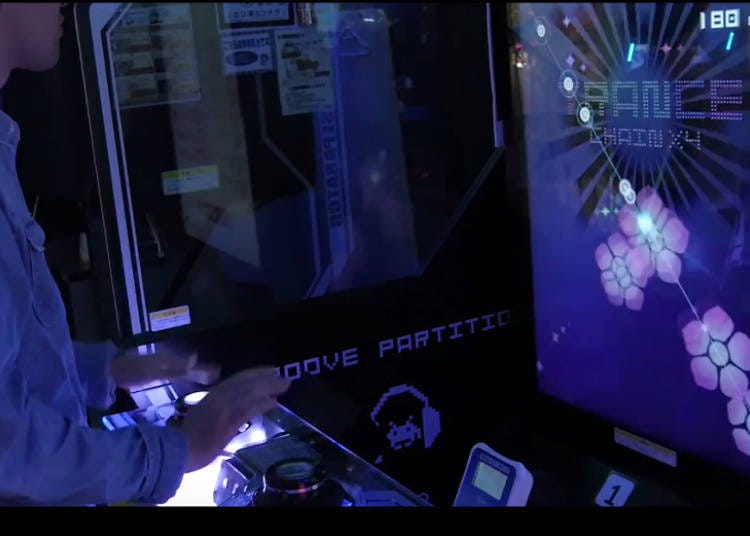 Groove Coaster is yet another rhythm game. This one is a bit more challenging, requiring players to touch the controls in multiple ways, while a virtual and visual rollercoaster of music, colors, lights, and sound rolls by before your eyes. It can be tricky to get the hang of, but if you do you'll be in for a wild ride!

[Groove Coaster: 100 yen per play]
Whether you consider yourself a game fanatic, casual gamer, or someone who has never stepped foot in an arcade, a trip to Taito Station is an easy and fun addition to anyone's Japan travel plan!
TAITO STATION Shinjuku East Exit

タイトーステーション 新宿東口店

Address

3-22-7 Shinjuku, Shinjuku-ku, Tokyo 160-0022

Open 7 Days a Week.
10:00 a.m. - 1:00 a.m.
Written by: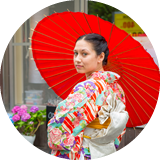 *This information is from the time of this article's publication.
*Prices and options mentioned are subject to change.
*Unless stated otherwise, all prices include tax.