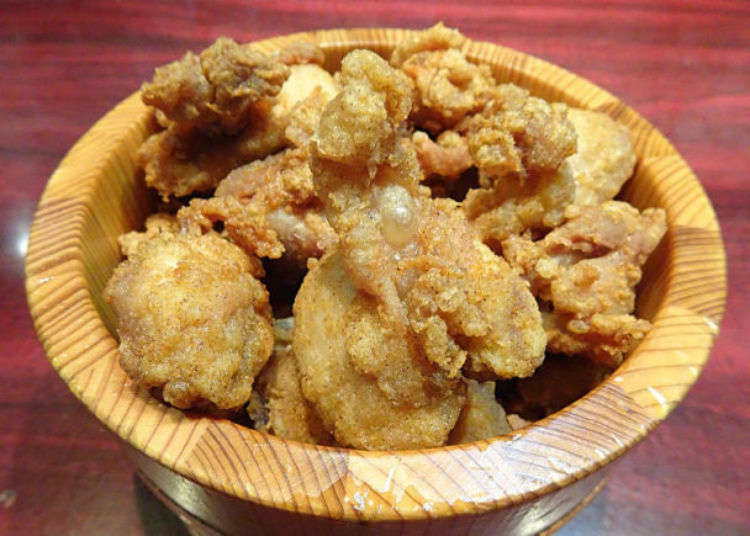 Shibuya is a popular place of interest frequented by many foreign visitors. The secret behind its popularity is its convenience - visitors can shop, eat, drink, and entertain themselves all day in just one area if they so choose. And the perfect place for a Shibuya food tour!

Speaking of eating, while there are plenty of inviting shops in Shibuya serving familiar international fare, why not consider going for the full Japanese cultural immersion and walking into one of these izakayas (Japanese-style pubs) or hotpot restaurants instead?

From shops offering sukiyaki and shabu-shabu Japanese hotpot to good old traditional restaurants and pubs with hearty helpings of meat to help you recharge after a productive day of sightseeing, our list of recommendations is varied and full of enticing food stops that has wide appeal. Go on and have a closer look!
1. Nabezo Shibuya Center-Gai: Hotpot specialist with a focus on flavor and freshness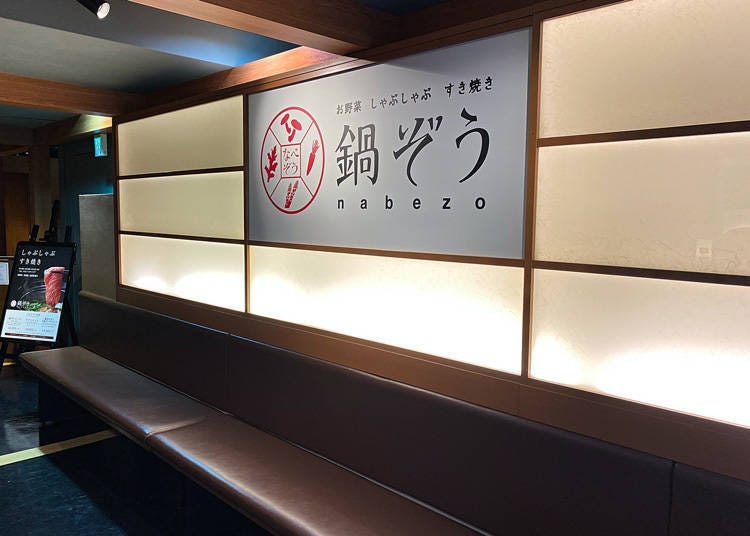 Hotpot cuisine like sukiyaki and shabu-shabu are Japanese cuisine most foreign visitors would love to try on a trip to Japan, and Nabezo Shibuya Center-Gai, being a hotpot all-you-can-eat specialty restaurant, is the perfect place to do just that. Located on the 6th floor of a building in Shibuya Center-Gai, the shop is a short a 3-minute walk from Shibuya Station.
Jazz music plays in the background of the restaurant, adding to its calm and soothing aura. Seats are plenty - from booth seats for groups of four to six all the way to large areas that can cater to up to 50 in a group.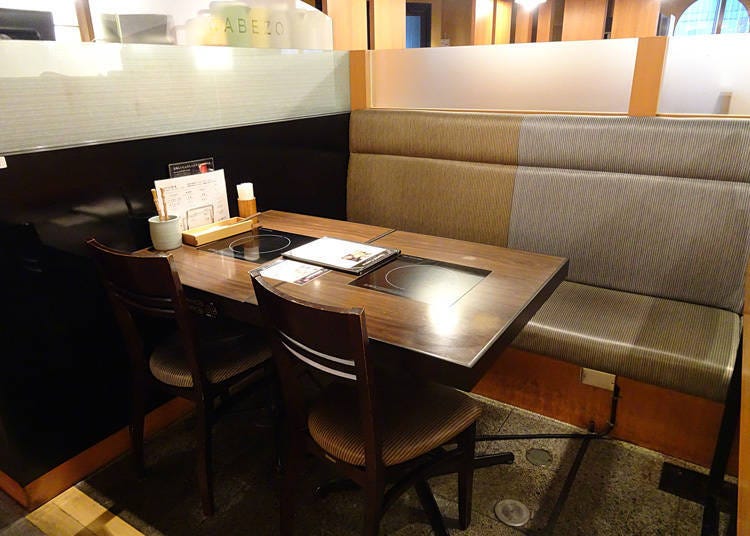 Although Nabezo offers both sukiyaki and shabu-shabu all-you-can-eat options, according to assistant shop manager, Mr. Waragai, sukiyaki is the more popular choice among international visitors. Well then, let's see what's making this meal click with so many of our foreign friends!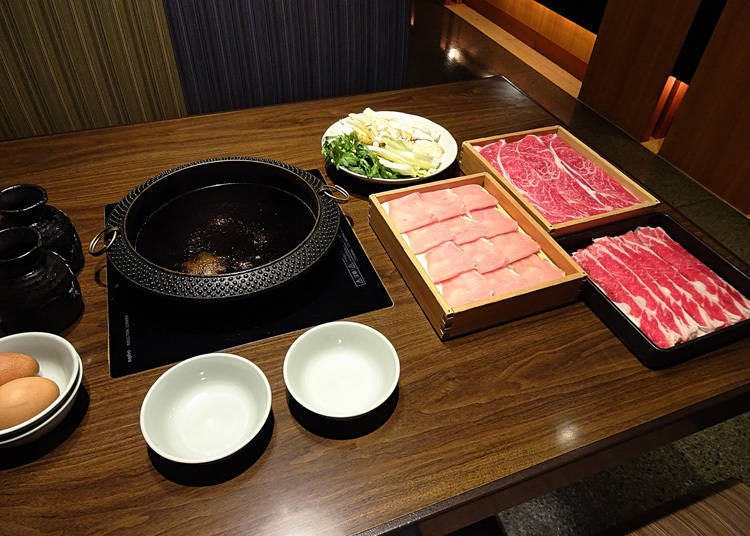 Mr. Waragai's recommended meal is the "Japanese Black Beef and Tsukuba Biton Pork All-You-Can-Eat-and-Drink (6,930 yen, tax included)". For the food section, you'll have access to Japanese Black chuck eye, Tsukuba Biton pork, regular chuck eye, beef flank, Boston butt, pork back ribs, hotpot vegetables, hotpot ingredients, rice, noodles, and dessert. For drinks, help yourself to beer, sours, high balls, Japanese shochu (distilled spirits), nihonshu (sake - rice wine), and non-alcoholic drinks - about 60 different types in all. Eat and drink all you can for 100 enjoyable minutes!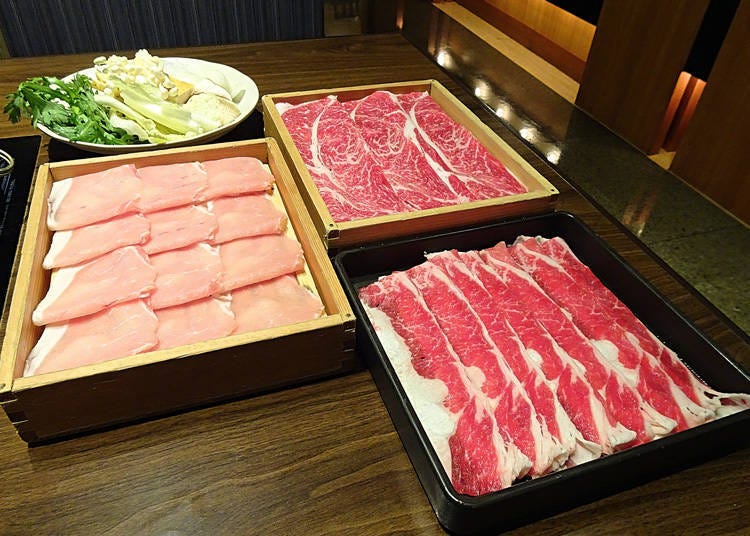 The meat you're seeing here is the Tsukuba Biton Boston butt, a SPF (specific pathogen-free) brand of pork that is sweet and non-greasy. The beef is Japanese Black chuck eye, which is well-known for its well-balanced mix of lean meat and marbling. The other tray contains slices of the perennially popular sukiyaki ingredient, beef flank. All the meat has been expertly sliced into the perfect thickness for easy cooking in the hotpot.
Meat isn't the only ingredient available, of course. Vegetables and salad that can be put into the sukiyaki hotpot are part of the all-you-can-eat menu as well. You'll also find other standard fare like rice, tofu, udon dishes to finish your meal with, and more. Talk about a full course meal!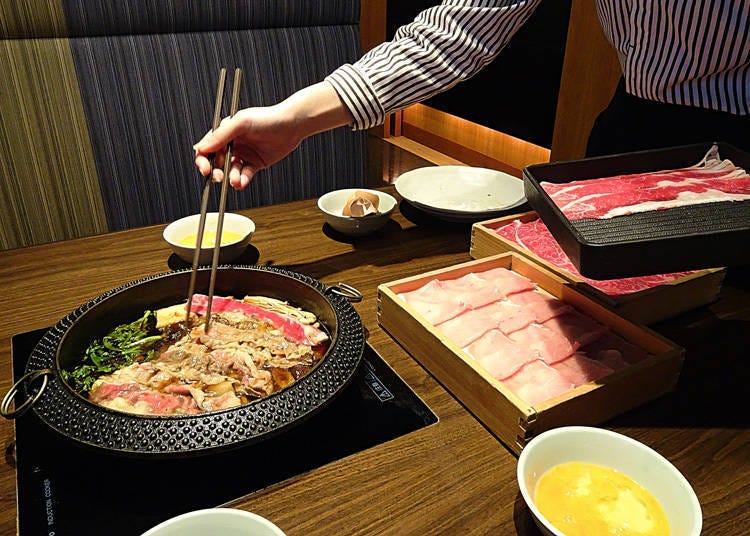 Don't worry if you're not sure how to cook your food, or what sort of ingredients to put in your broth. Staff members are happy to help customers enjoy their meals by helping them to cook the food for them just the way they want it. The staff will also pick out a well-balanced assortment of healthy vegetables as well, so all you have to do is sit back, relax, and relish the sukiyaki food items after they're done!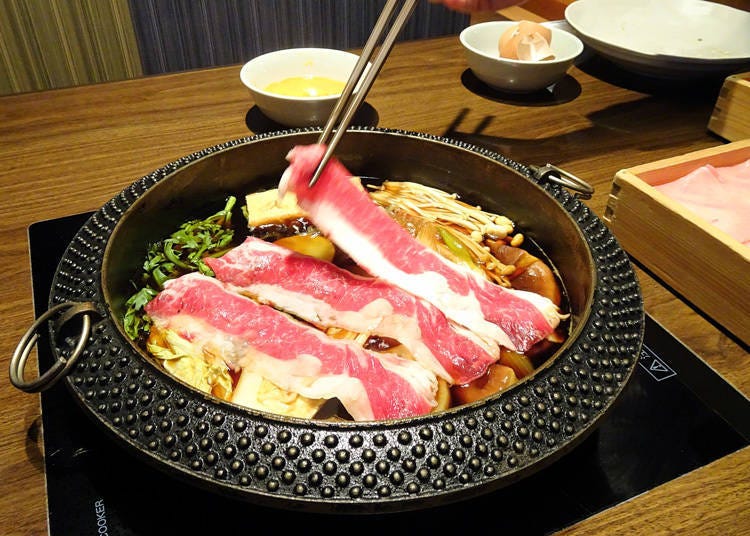 For the full sukiyaki experience, wrap the stewed vegetables and meat with a soft layer of raw egg mixture before eating them. Take your time to savor the Japanese Black beef and let the flavorful fats in the marbling slowly melt in your mouth. Compare it with the sukiyaki favorite, beef flank, and see how they both hold up against each other!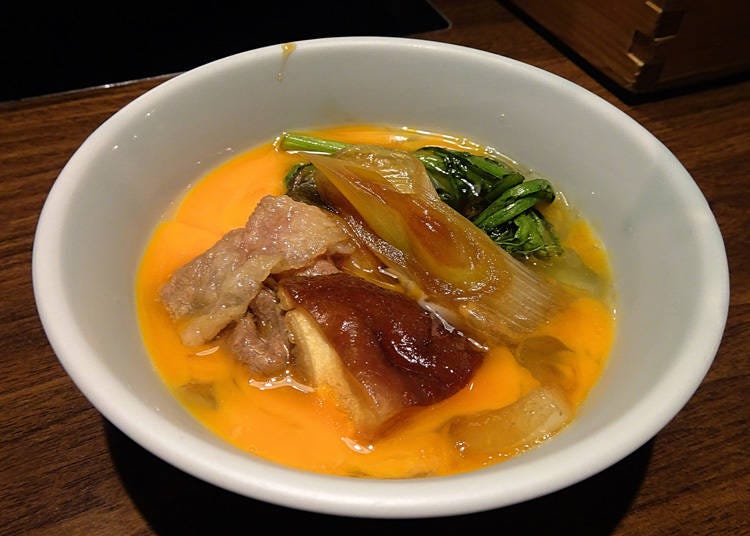 The recommended way to mix the raw egg is to use chopsticks to stir the egg white three times, the egg yolk three times, and then all together for seven times. Dip Nabezo's special Japanese Black beef or Tsukuba Biton pork into this mixture before eating for a taste of this unique style of Japanese cuisine.

The shop's menu comes with English labels. Chinese and Korean menus can be requested if needed, and free Wi-Fi is available within the shop.
Nabezo Shibuya Center-Gai

鍋ぞう 渋谷センター街店

Address

6F BEAM, 31-2 Udagawa-cho, Shibuya-ku, Tokyo-to

Nearest Station

3-minute walk from Hachiko Exit of Shibuya Station on the JR Lines
3-minute walk from Hachiko Exit of Shibuya Station on the Tokyo Metro Hanzomon Line
3-minute walk from Shibuya Station on the Tokyu Den-en-toshi Line
6-minute walk from Shibuya Station on the Keio Inokashira Line
7-minute walk from Shibuya Station on the Tokyu Toyoko Line


Phone Number

050-3468-5103

Hours: Weekdays
Lunch 11:30 a.m. – 3:00 p.m. (last order 2:30 p.m.)
Dinner 5:00 p.m. – 11:00 p.m. (last order 10:30 p.m.)
Weekends and holidays 11:30 a.m. – 11:00 p.m. (last order 10:30 p.m.)
Closed: Open daily
2. Hakuritabai Hanbey Shibuya Dogenzaka: Time travel back to 1960s Japan!
The Reiwa era of the Japanese calendar has only just begun, following the peaceful Heisei era (1989 to 2019) and turbulent Showa era (1926 to 1989). Hakuritabai Hanbey still views the world from the lenses of the Showa era, seemingly frozen at a certain period some 60 years ago. That means you'd be forgiven for thinking you've gone back in time after stepping through the doors of this retro-looking shop, decorated with historical artifacts like red public payphones and vintage movie posters.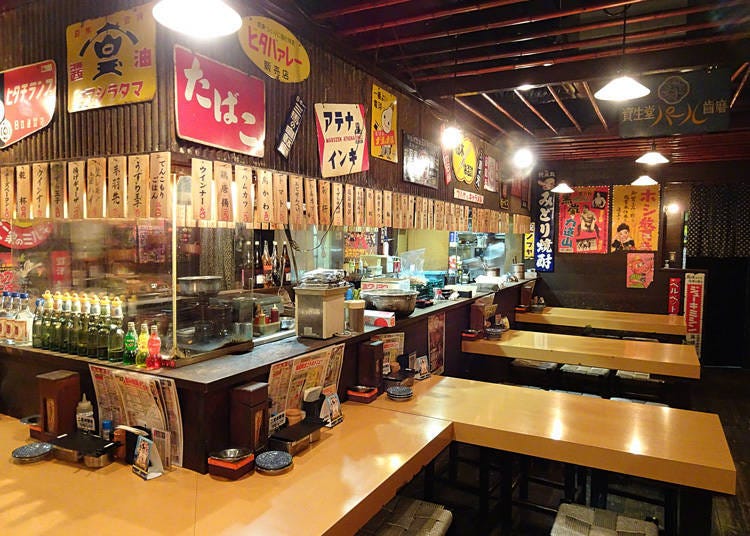 The restaurant is a short 3-minute walk from Shibuya Station's Hachiko Exit, and it is frequented by a people of a wide range of ages, from students to office workers and lady groups, because of their reasonable prices and unique decor.
Antique-looking public payphones and radios are placed around the store as ornaments, against a wall-to-wall backdrop of countless vintage movie posters. This means every corner of this shop is an ideal background for commemorative photographs - another reason why it's so popular among not just local residents, but non-Japanese tourists as well.

We asked shop manager Mr. Kobayashi about the most popular dish of the restaurant, and he answered that foreigners order the "Nagoya Fried Chicken Wings (99 yen per piece, tax included)" most frequently of all.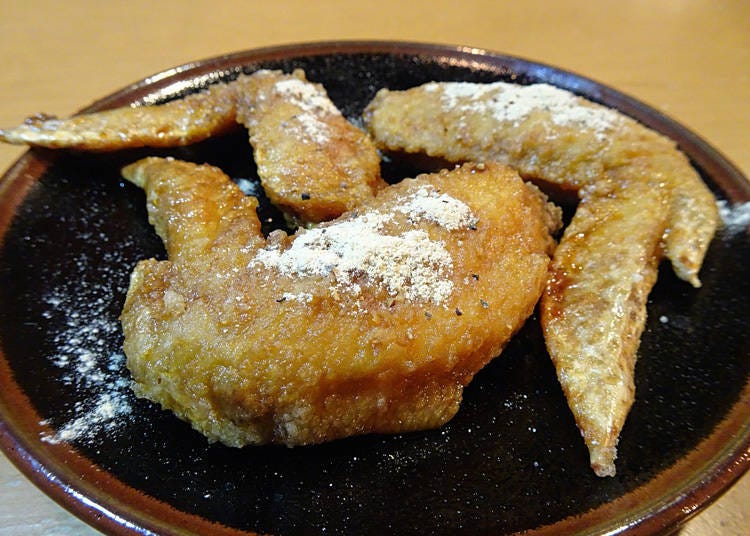 Coated with a layer of salty-sweet sauce after being fried, then sprinkled with a secret mix of aromatic spices, it's easy to tell why this food item has such international appeal. The sauces and seasoning come together to hit eaters with a spicy sting halfway into the bite, and how this is achieved is a trade secret of the shop! You certainly can't find this unique and addictive flavor anywhere else.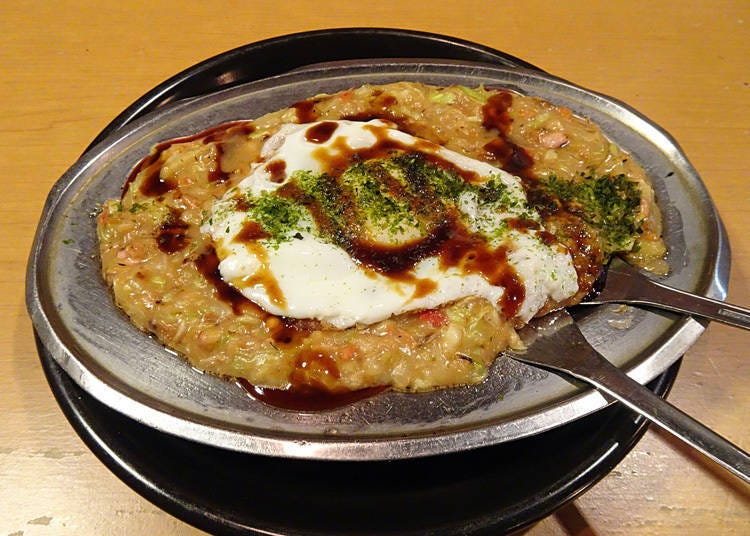 Another popular item on the shop's menu is the "Fried Hanbey Tsukishima Monja! (429 yen, tax included)". You might think it's just the usual soy sauce flavored monjayaki (pan-fried batter), until you see the a sunny-side up egg topping, drizzled with sumptuous sauce that's exquisite and slightly Western. The dish comes with two spatulas for cutting and scooping, making it a suitable order for couples.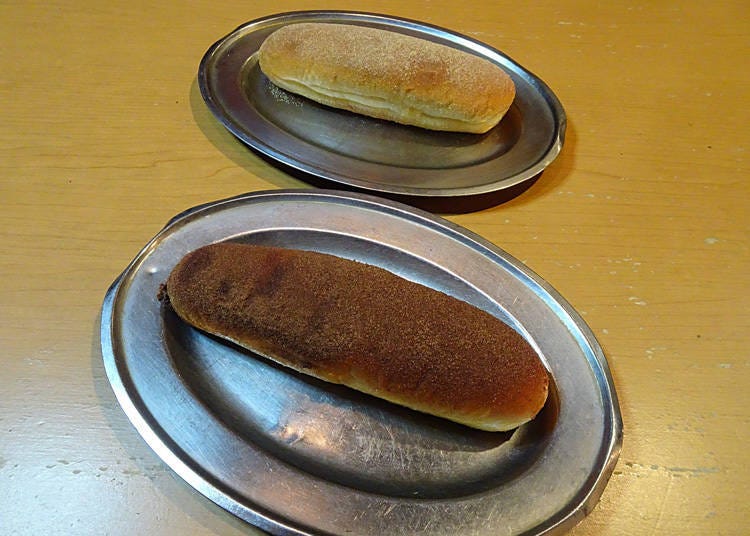 And then there's "Fried Bread (209 per piece, tax included)", something most foreign visitors would probably not be familiar with. For local Japanese born in the Showa era, however, this food item would be something memorable for them, having been served something like this during their time in elementary school. There are two flavors available: "Kinako (toasted soybean flour)" and "Cocoa". The bread is fried only after an order has been received, ensuring its freshness. It's hard to believe fried bread rolls can taste so good!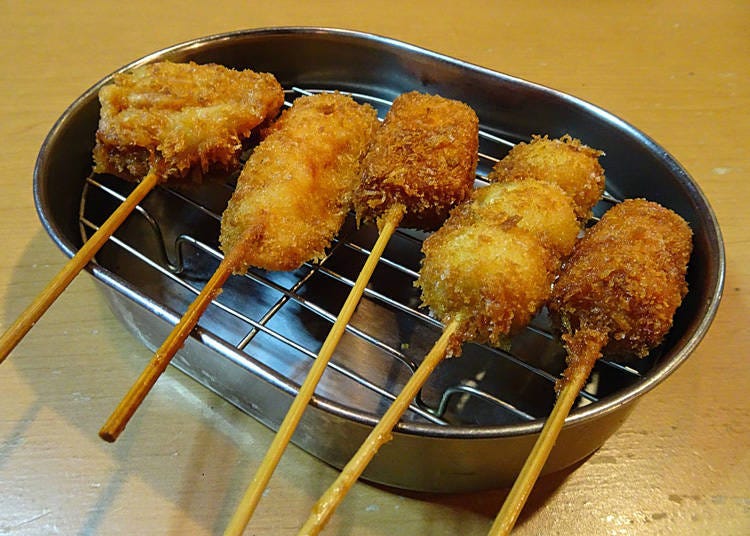 The last recommendation is "Chef's Pick of 5 Kushikatsu (605 yen, tax included)". Kushikatsu refers to deep-fried skewered meat and vegetables, and on the day we went, the chef's pick was chicken, pork, cheese, quail, and fish sausage. The ingredients chosen will change depending on the day you go, but you can be sure that everything will be fresh and crispy! Note that double dipping is NOT allowed for the sauces that come with it.

While the decor of Hakuritabai Hanbey may be the first thing to catch your attention after entering, you're likely to leave with great memories of the wide and varied menu here as well - especially their extremely reasonable prices! The shop is open until 3 a.m. on weekends. Just nice for an after-party! Free Wi-Fi and English menus are available on request.
Hakuritabai Hanbey Shibuya Dogenzaka

薄利多賣半兵ヱ 渋谷道玄坂店

Address

B1F Kusumoto Daini Bldg., 1-6-8 Dogenzaka, Shibuya-ku, Tokyo-to

Nearest Station

3-minute walk from Hachiko Exit of Shibuya Station on the JR Lines


Phone Number

050-5571-4465

Hours: Sundays to Thursdays 5:00 p.m. – 1:00 a.m. the next day
Fridays, Saturdays, eve of holidays 5:00 p.m. – 3:00 a.m. the next day
Closed: Open daily
3. Aburiya Toribe Shibuya Station: Popular all-you-can-eat deep-fried delicacies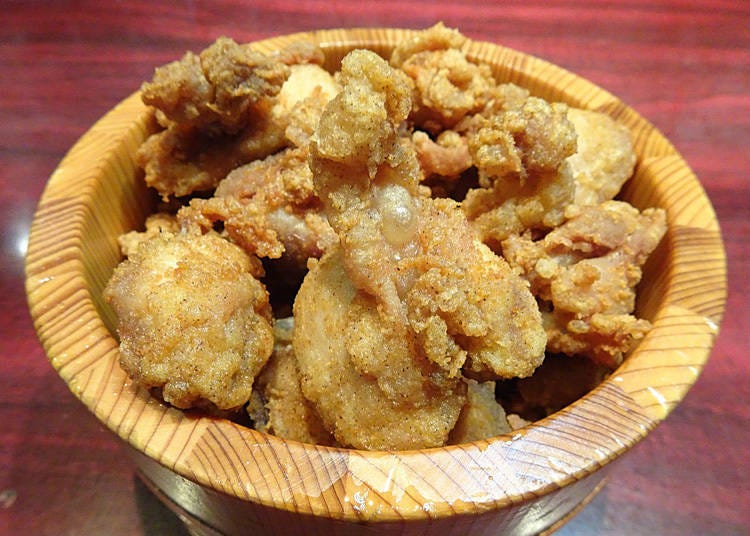 If you're on a long-awaited trip to Japan, trying out the island nation's healthy low-calorie offerings may be one of the top things to do on your list, but there will be times when you'll need that extra protein power to get you through the rest of your intensive sightseeing itinerary, and this next shop on our list is fully equipped to do just that!

Aburiya Toribe Shibuya Station is a mere 1-minute walk from Hachiko Exit of Shibuya Station on the JR Lines, and this popular izakaya has been featured on countless TV shows for their "100 Yen Fried Chicken All-You-Can-Eat" menu. Yes, that's right. For just 100 yen (tax excluded), the first three groups to visit the restaurant get to eat all the fried chicken they can devour for 60 whole minutes!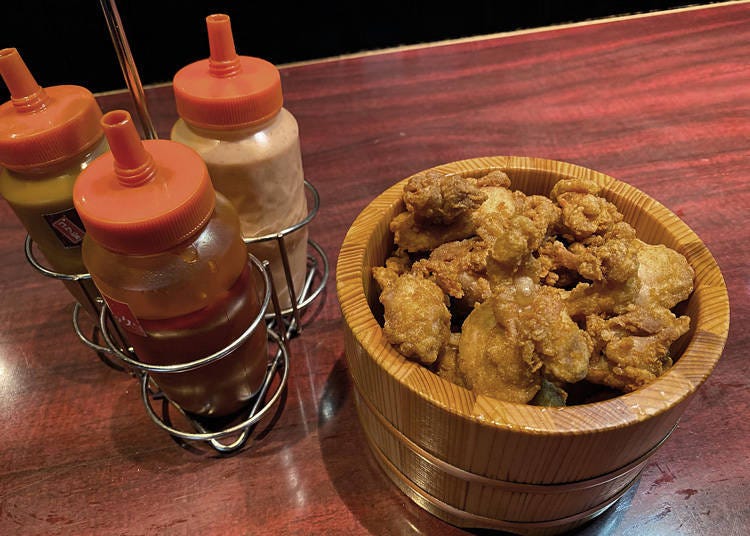 Fried food is a Japanese favorite with no age barrier, and the truth is, it's an international favorite as well! Here at Aburiya Toribe, you can change out the flavor of the seasoning as often as you like, with tasty and original sauces such as "Rich Savory Teriyaki Mayonnaise", "Ripe Tomato Garlic", or "Spicy Mentaiko Mayonnaise". The shop just wants you to enjoy your food just the way you like it!

According to Mr. Ito, the shop manager, the uncured ham platter "GABURICO Meat Platter (2,199 yen, tax included)" is popular among non-Japanese visitors of the shop as well.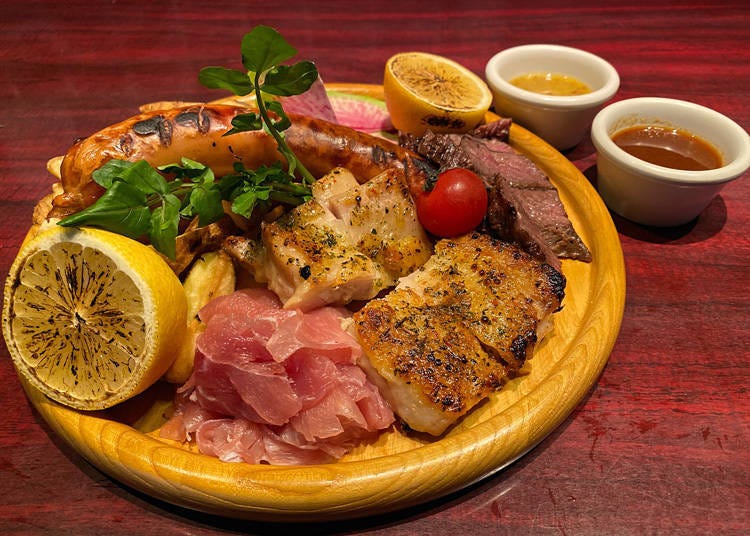 The voluminous platter is packed with moist and fragrant uncured ham, grilled chicken, sausage with bone, beef skirt steak, and french fries. Slather some barbeque sauce or whole-grain mustard sauce on the mains to make the meal even more satisfying, and don't forget to add some zest with the half-cut fried lemon! Chewing on the sourish lemon with a bit of sweetness in between meat portions will reset your palate and allow you to savor the next bite more fully.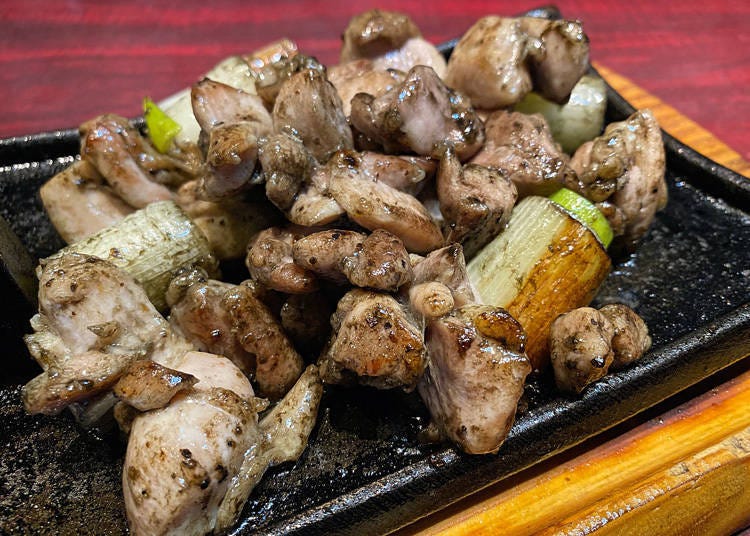 Another one of the restaurant's highly recommended menu items is "Charbroiled Daisen Chicken and Tasty Onion (1,429 yen, tax included)". Served atop a traditional Japanese agricultural hoe while still sizzling hot, the aromatic Daisen chicken is a perfect match with the cooked onions that emit a sweeter flavor than usual.

Another thing that goes well with juicy meat is good alcohol, and the restaurant has an impressive lineup ready to go. There's even an add-on craft beer all-you-can-drink option (+1,650 yen, tax included, 120 minutes) if that's your kind of supper. If you need an English menu, call for staff and they'll have you sorted in a jiffy.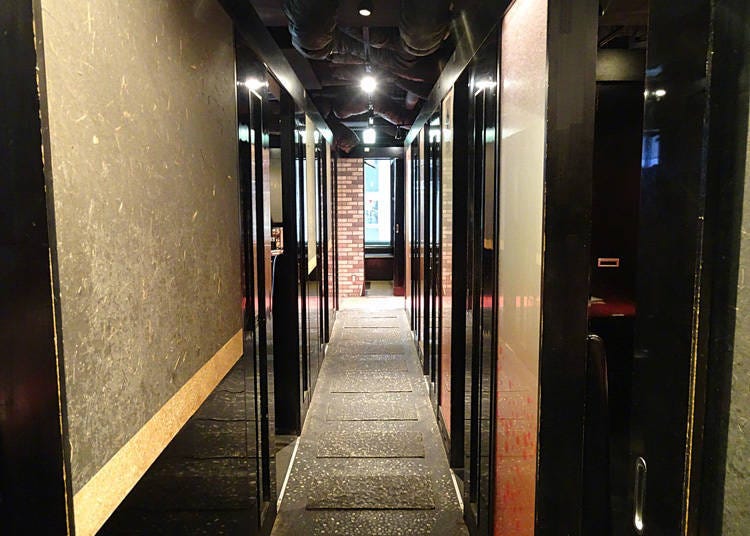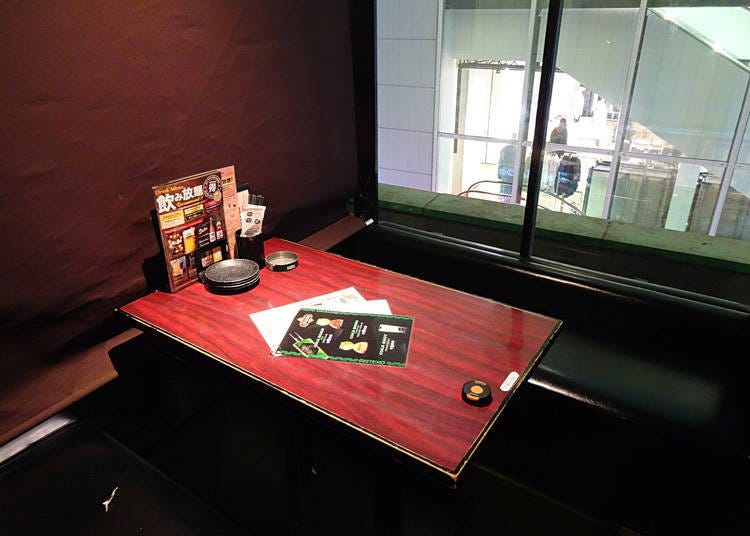 All tables are in private rooms, so that diners can chat up a storm with their friends while eating and drinking without having to worry about disturbing the neighbors. This also makes the izakaya an attractive option for lady groups looking for a private space to relax in.
Aburiya Toribe Shibuya Station

炙りや鶏兵衛 渋谷駅前店

Address

3F Shoan Bldg., 13-7 Udagawa-cho, Shibuya-ku, Tokyo-to

Nearest Station

1-minute walk from Hachiko Exit of Shibuya Station on the JR Lines


Phone Number

050-5571-4465

Hours: 5:00 p.m. – 12 midnight (last order for food 11:00 p.m., drinks 11:30 p.m.)
Closed: Open daily
Shibuya is one of the areas in Tokyo undergoing rapid redevelopment, and access to the town is unparalleled. Every day, new shops and popular cultures are being started. This is likely to keep going on for a long while at an incredible pace, so you can be sure there are always new things to discover here no matter how many times you visit!

Written by Shomo Nagata, Dali Corporation
*This information is from the time of this article's publication.
*Prices and options mentioned are subject to change.
*Unless stated otherwise, all prices include tax.