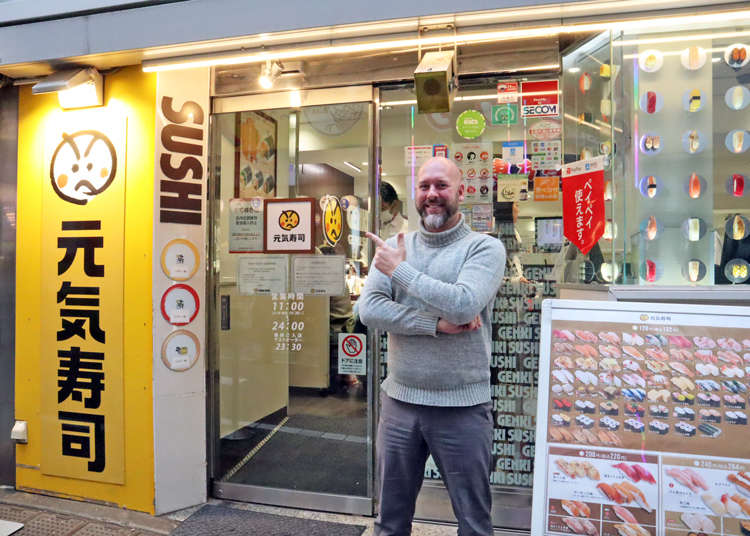 Naturally, sushi is usually top on the list of foods people want to eat when visiting Japan! Genki Sushi has 156 restaurants nationwide, 200 more overseas, and has drawn tremendous attention from tourists looking for authentic Japanese sushi.

Timothy, our editor from the US, recently visited Genki Sushi in Shibuya to try some of the menu items popular with international customers, including a few that can only be found at Genki Sushi!

(*This article was originally produced prior to the outbreak of Covid-19.)
Timothy's Genki Sushi experience!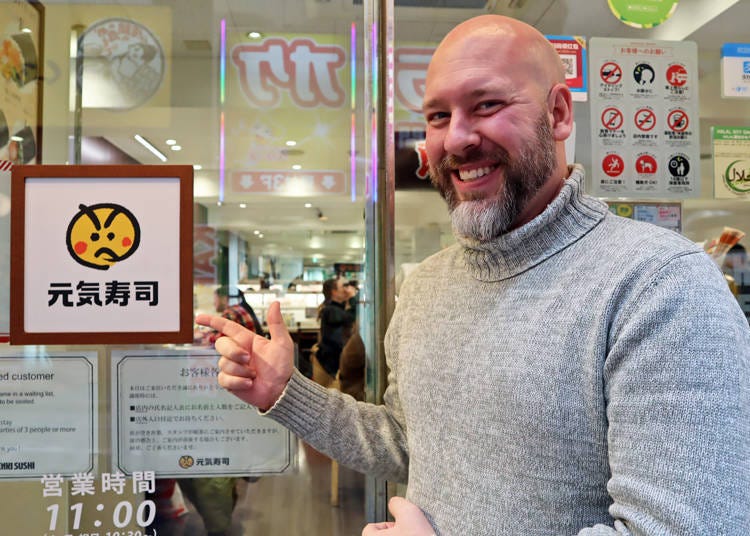 "I've been to various conveyor belt sushi chain stores, but Genki Sushi is rumored to be visited by many foreign tourists, so I'm looking forward to exploring the secret of its popularity!"

Timothy, visiting Genki Sushi for the first time, tried the chain's top-ranked dishes as well as a few other items that caught his attention. Let's find out what he thought!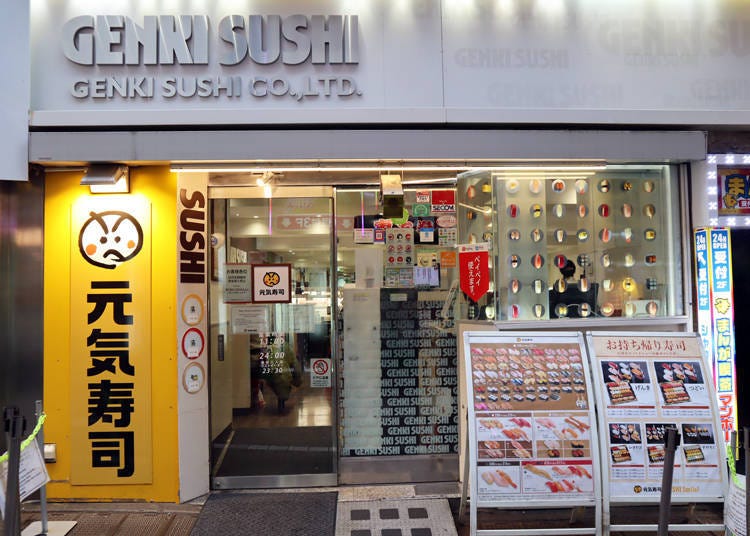 Timothy went to Genki Sushi's Shibuya location next to Shibuya Center-gai. It's a popular tourist destination, so nearly 90% of the shop's customers are from overseas.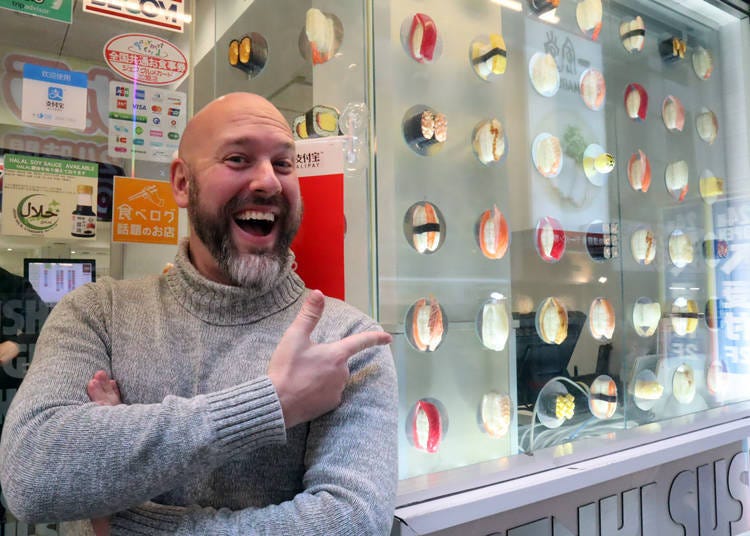 There's often a line to get in, but diners come and go quickly, so don't give up even if you have to line up. Check out the fun window display, and your wait will be over in no time!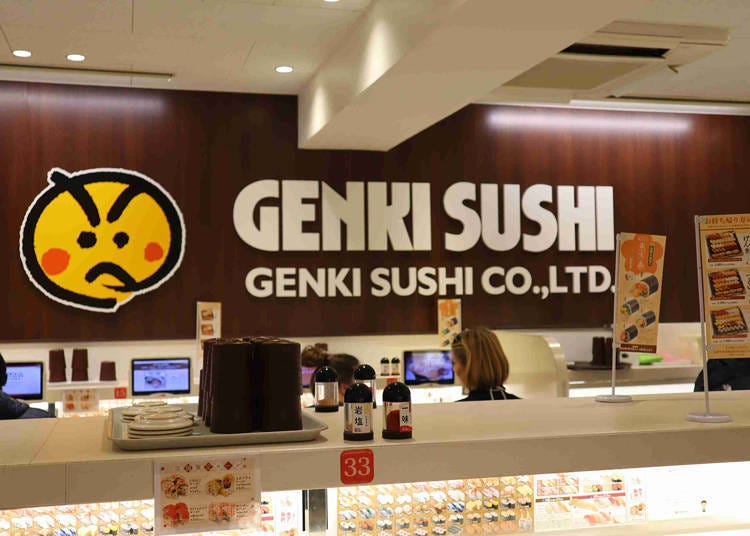 Not all dishes are available on the conveyor belt at all times, but you can place orders for desired items to be delivered.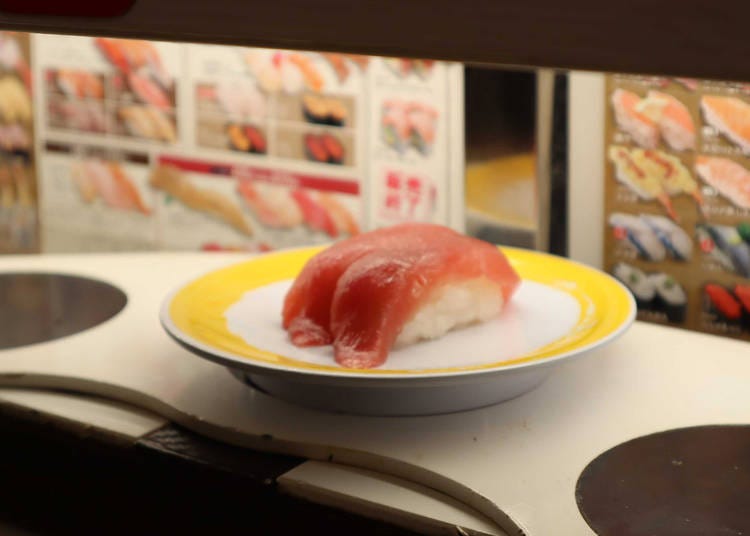 Genki Sushi is a great chain for eating freshly made sushi and taking part in the fun of the conveyor belt sushi experience.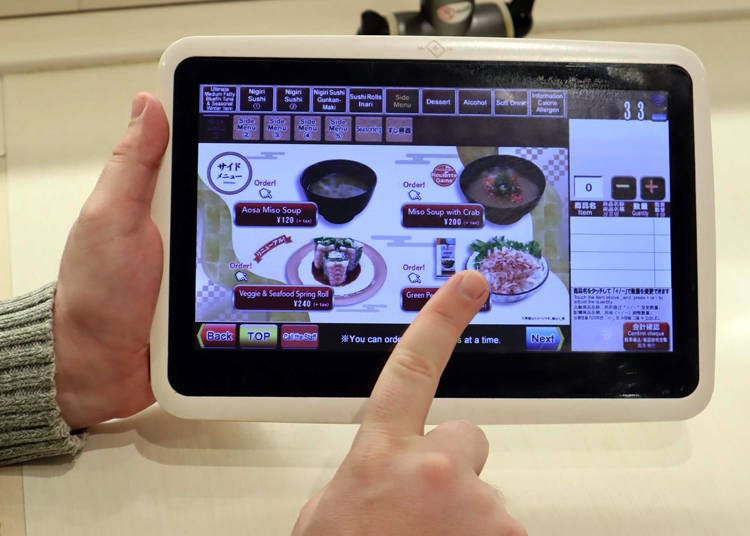 Orders are placed on a touch screen menu with multilingual support in English, Chinese (traditional), and Korean. The photos are clear and ordering is easy.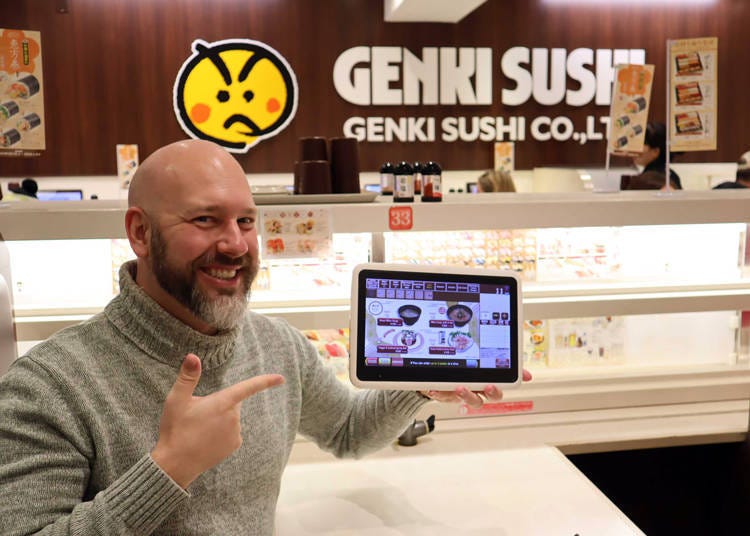 We started with the most popular dishes!
Tuna, the king of sushi, is No. 1!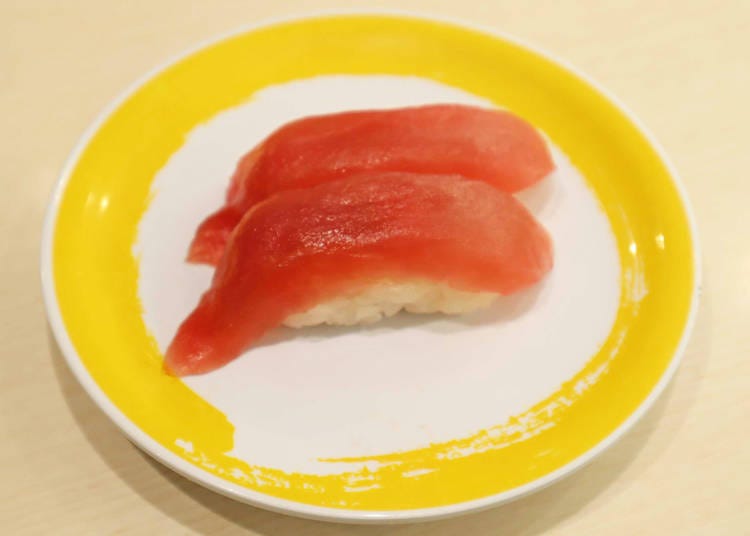 (2 pieces 120 yen, tax not included)
First up, the most popular sushi – tuna!

"The tuna is thick and very delicious! I'm eating it without soy sauce!"

As it should be, the portion size is plentiful and is the largest among Japan's top five conveyor belt sushi chains. Paying particular attention to taste, Genki Sushi uses bigeye tuna, which is better quality fish than the yellowfin tuna typically served at conveyor belt sushi restaurants.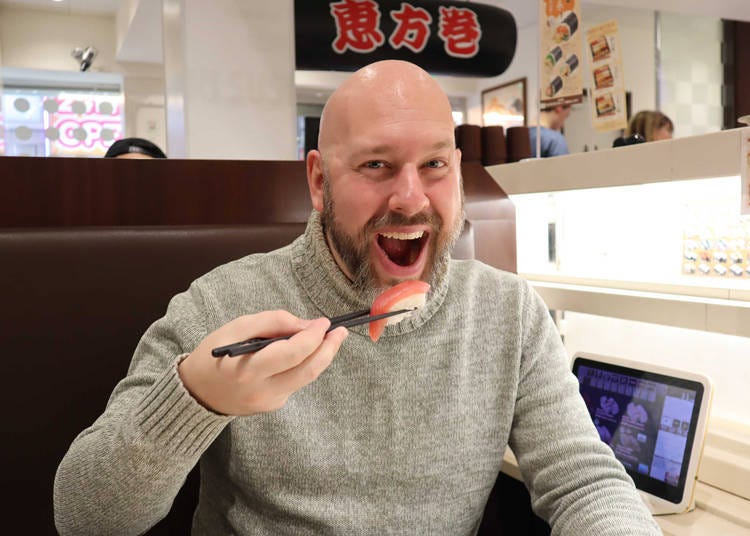 "The sushi rice is delicious too. The texture unique to Japanese rice is firm but not sticky, each grain stands out, and you can taste its natural sweetness. It's very well-balanced!"

Not only does the quality of the rice stand out, but the serving temperature plays a role in its flavor. Genki Sushi's parent company is a rice wholesaler so the restaurant is very particular about the taste of the rice and the result is apparent!
Salmon is especially popular with foreigners!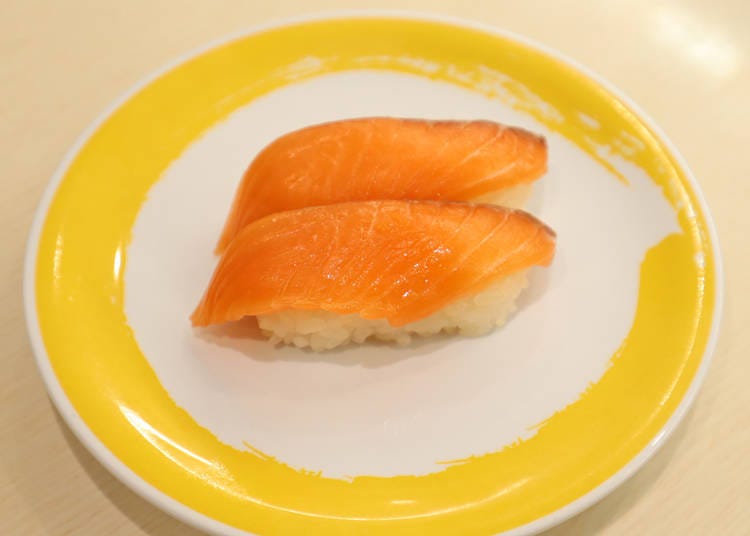 Salmon (120 yen, tax not included)
Salmon is very popular with foreigners, and while many conveyor belt sushi restaurants meet this demand by purchasing sushi in pre-prepared fillets, Genki Sushi carefully prepares its dishes one by one for better taste!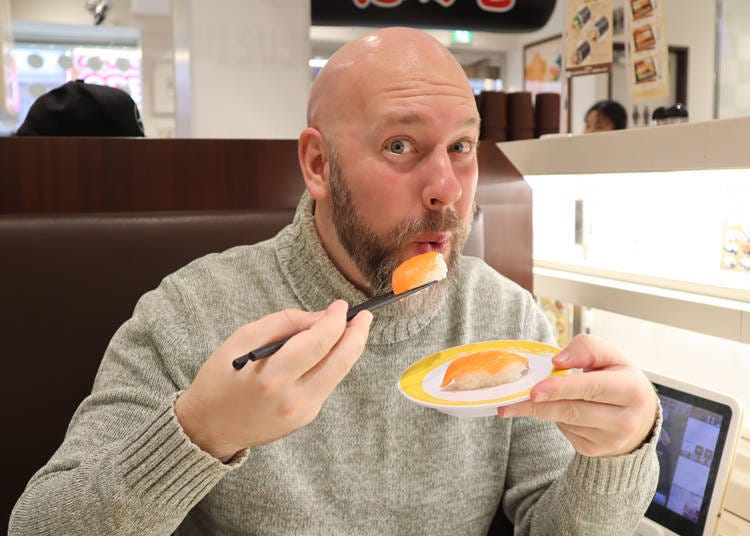 "It's thick and delicious!" and eaten in the blink of an eye!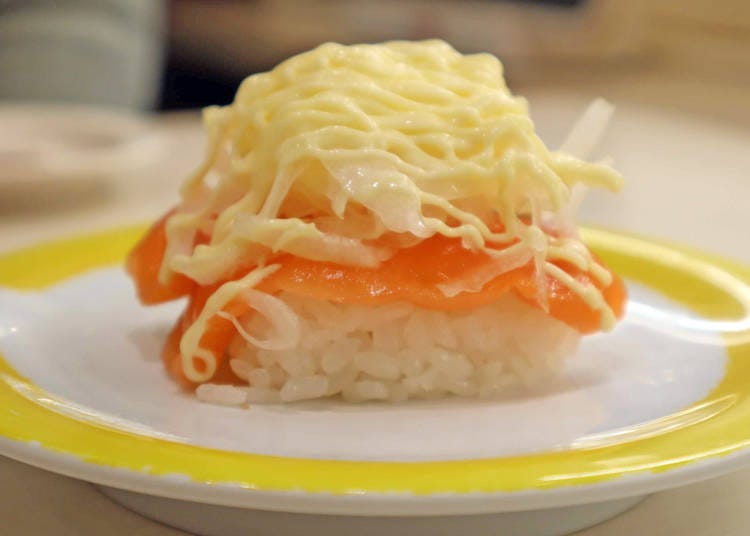 Onion Mayo Salmon (120 yen, tax not included)
On to Onion Mayo Salmon!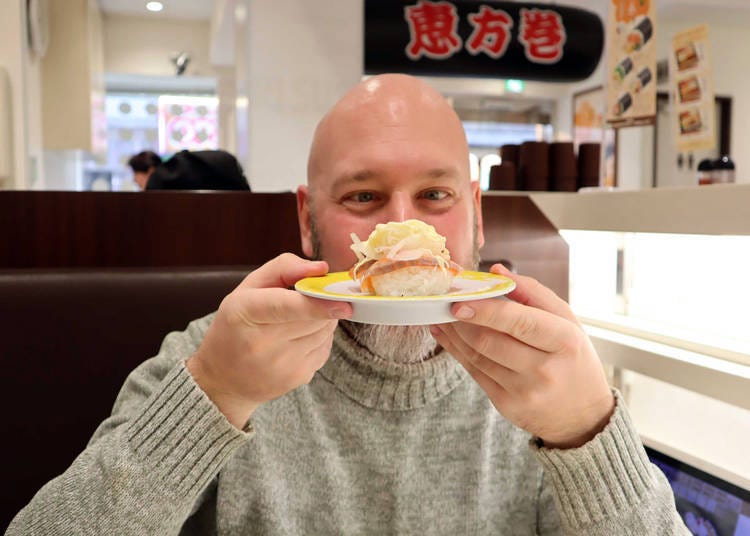 Just look at how tall the serving of sliced onion and mayonnaise is! Timothy loved the Onion Mayo, exclaiming, "The onion is sweet and goes well with the sweetness of the mayo! The onion provides a crispy accent too! I can see why it's so popular!"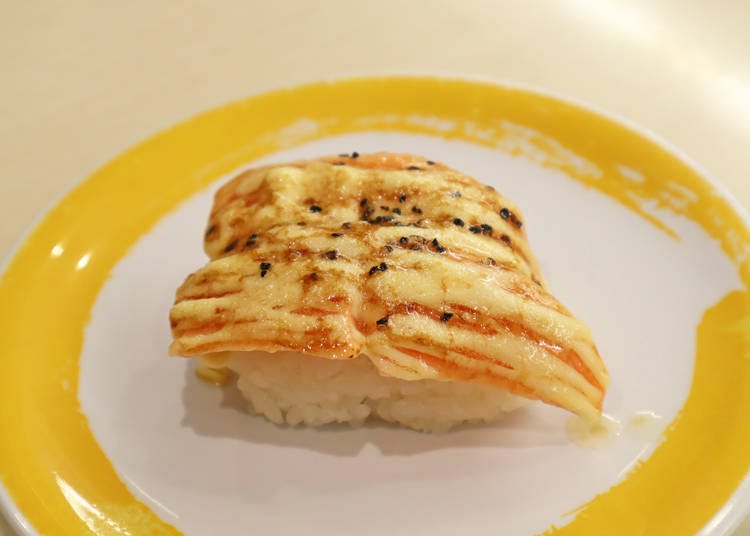 Seared Salmon with Pepper Mayo (200 yen, tax not included)
Another item that can't be overlooked is the seared salmon, which is also popular with tourists.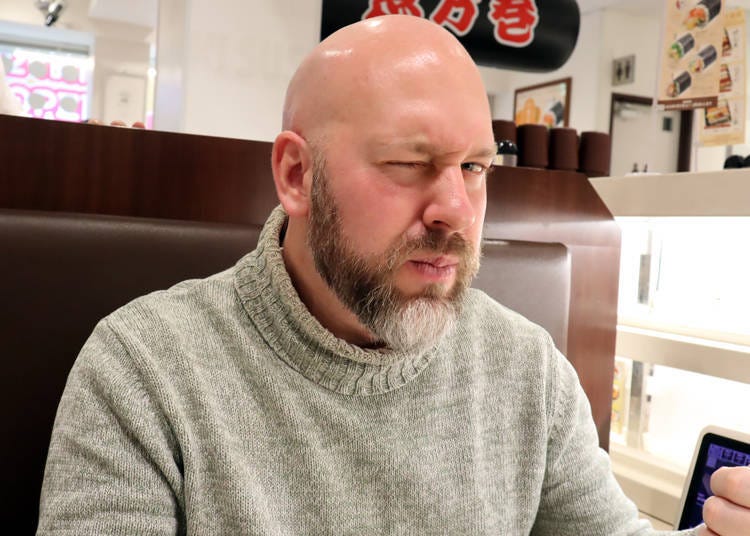 "Mmm, it's delicious! It all changes when it's seared. The fat has a bold umami taste and the black pepper is a nice enhancing accent. The scent of seared salmon is light and this is delicious!" It certainly looks delicious and is highly recommended.
Fresh, crispy, and cost-effective! Shrimp Tempura Roll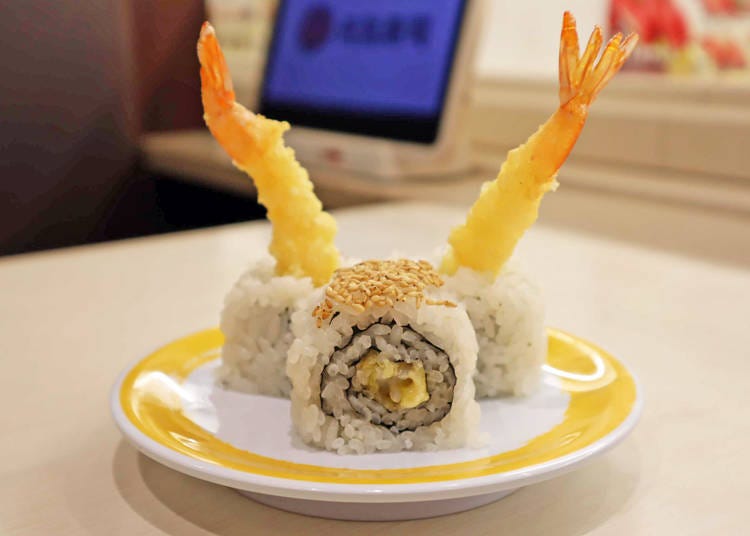 (120 yen, tax not included)
Just the sight of the Shrimp Tempura Roll makes an impact. Be sure to try it with the specially made amadare sauce and wasabi!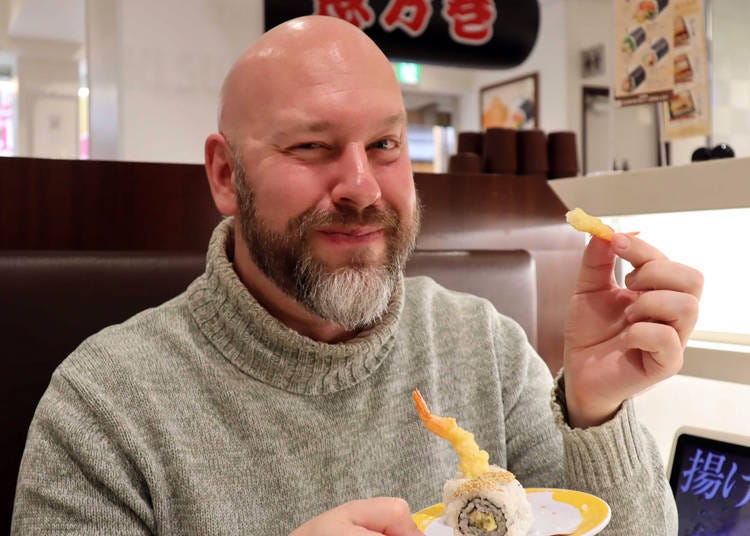 "This is delicious! The tempura is crispy and the shrimp is really good! The mayonnaise goes well with it and the sesame is fragrant. The taste and texture are good. I can find many types of roll sushi in the United States, but not this one of them."

Since it is fried when your order is placed, you'll be able to eat it while it's fresh and crispy. It's worth every yen!
Thick and outstandingly fresh! Hamachi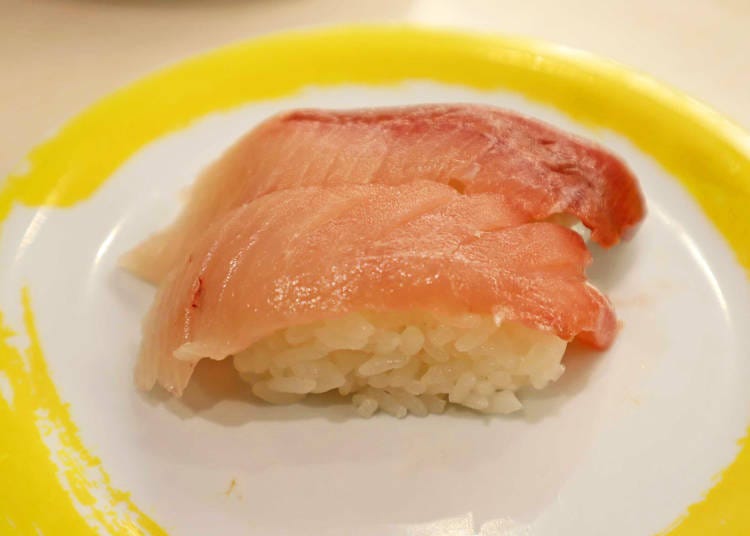 (120 yen, tax not included)
Thick, fresh hamachi was delivered the morning of Timothy's visit. Procured exclusively for Genki's Sushi and prepared at the restaurant, it will challenge your perception of what conveyor belt sushi should be.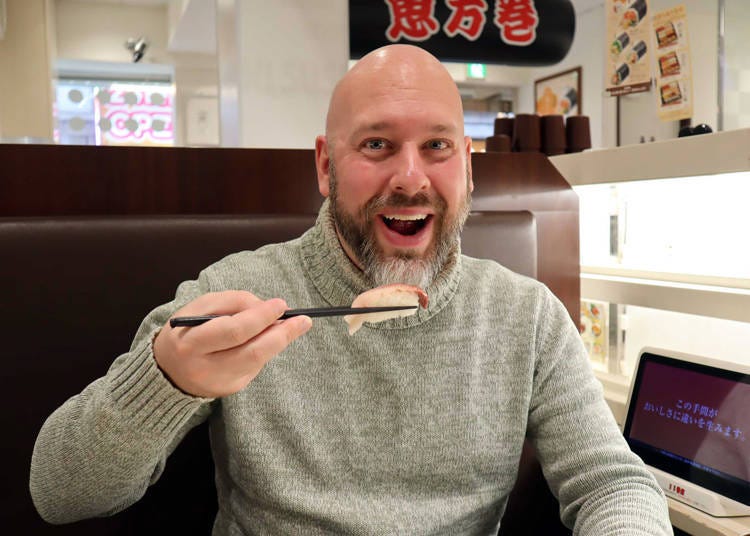 "Hamachi is thick and juicy. It doesn't smell like fish and has a crisp, soft texture that's easy to eat. I think even foreigners who don't usually eat fish will find it very easy to eat."
A standout that should not be left off a sushi menu! Horse Mackerel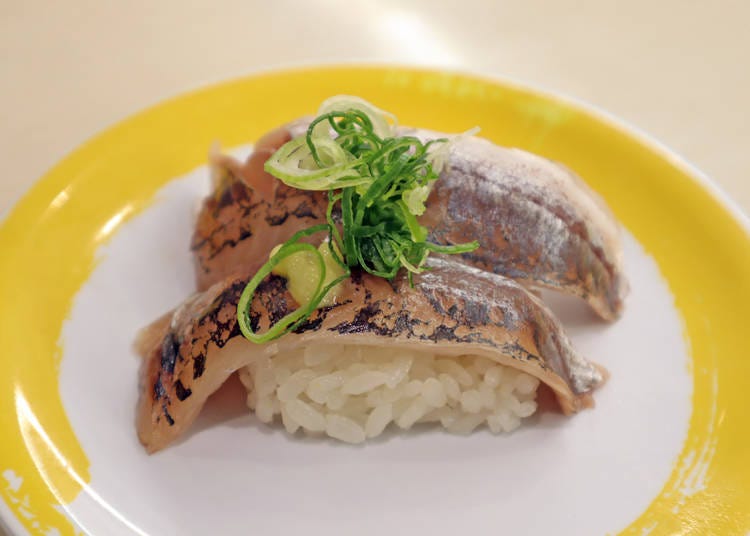 (120 yen, tax not included)
With cuts that extend well beyond the rice, horse mackerel is another top choice!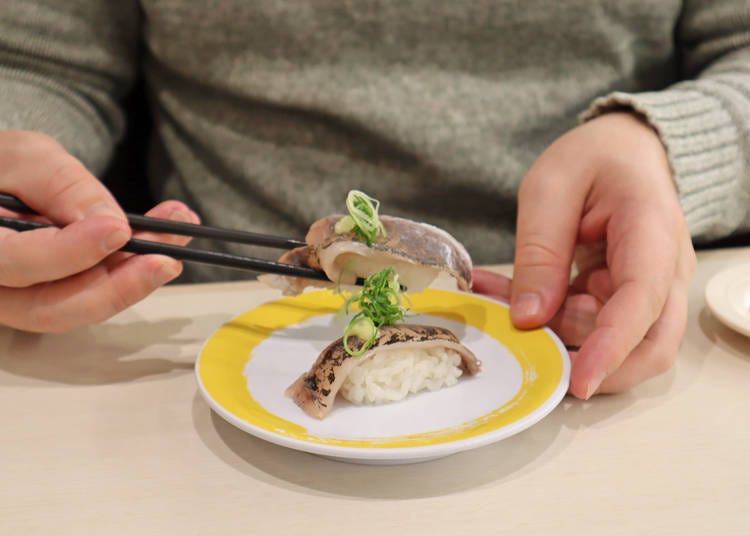 "It's so delicious and the fish is thick! I generally like bluefish, but this is particularly juicy and delicious. The balance between the taste of the condiments and the horse mackerel is excellent."

Even with such a large serving, there is no fishy odor as a result of true freshness and the timing and method of preparation.
Only available at the Shibuya store! Unagi Roll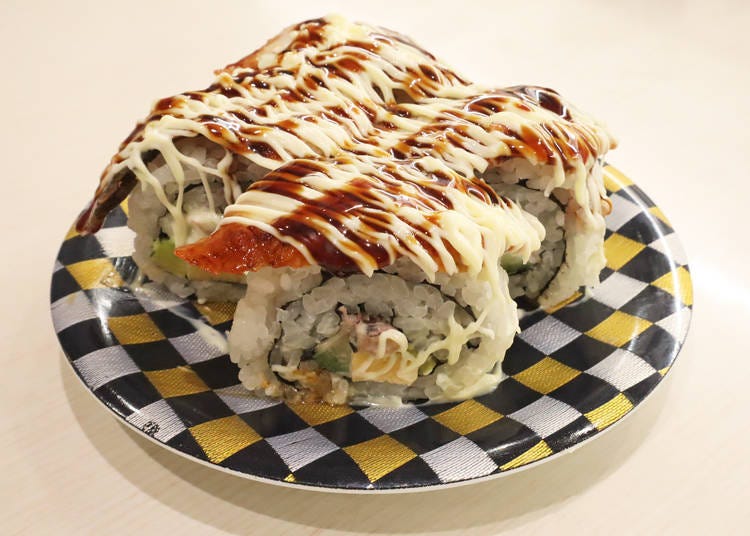 (340 yen, tax not included)
Roll sushi is a limited menu item unique to the Shibuya restaurant. There are four types: salmon, California, fried shrimp, and unagi (eel) rolls. Timothy tried the unagi roll, which was recently added to the menu.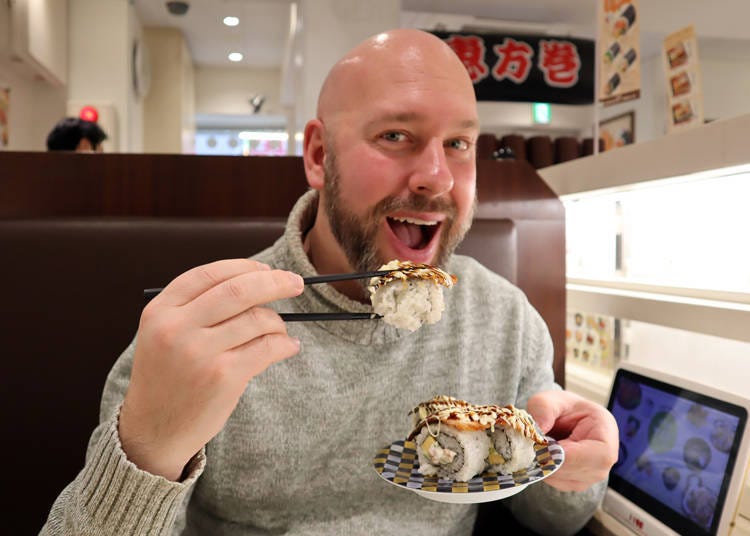 "It's luxurious! The avocado gives it an interesting texture. Yeah, this is delicious!"

We have a feeling it will be one of Timothy's favorites.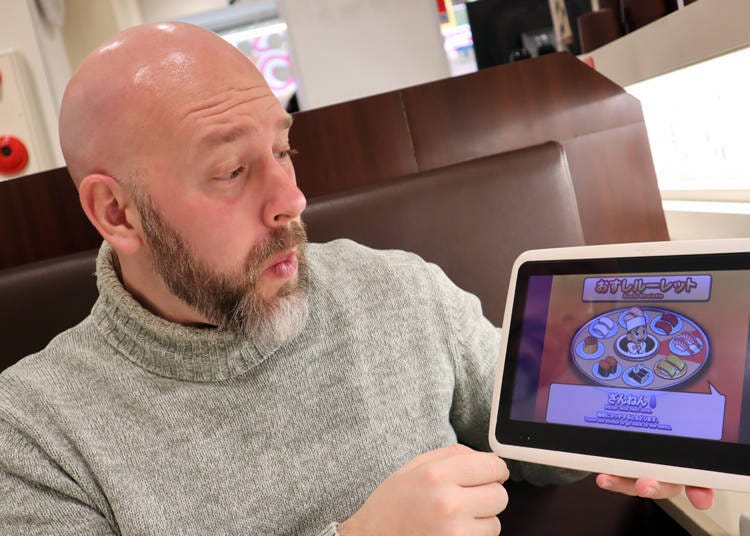 As a fun bonus, if you order an item with a "roulette" notation, you can play "sushi roulette" on the menu pad. Unfortunately, Timothy didn't win, but give it a try and you might win some additional happiness!
Side dishes that caught Timothy's interest #1: Fresh Spring Rolls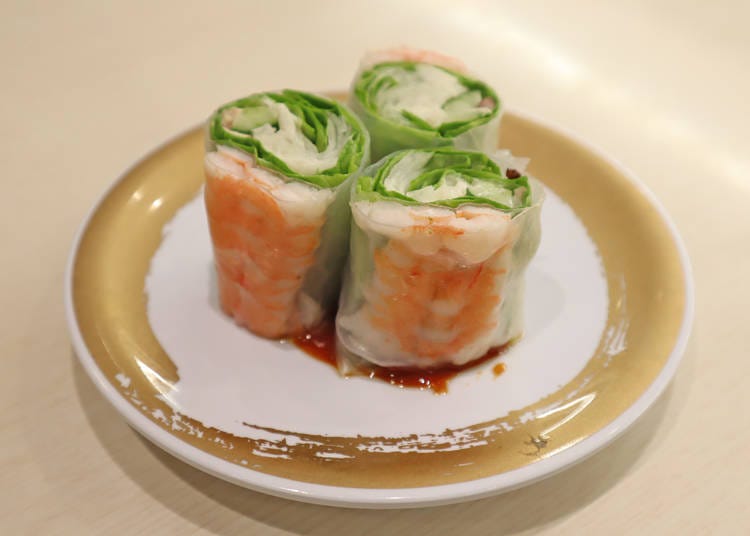 Here are four side dishes that earned Timothy's attention.

"The sesame oil gives it a nice taste!" Fresh spring rolls are a popular side item, accented with a delicious Korean-style sauce.
Side dishes that caught Timothy's interest #2: Large Cheesy Fries (240 yen, tax not included)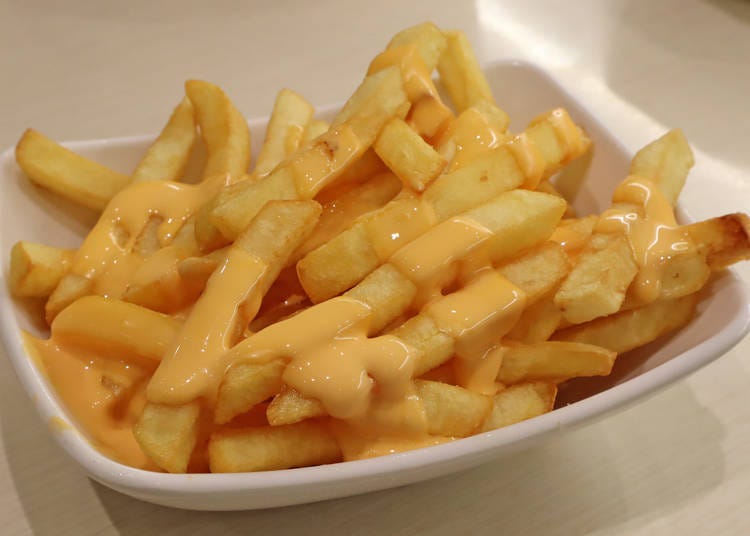 A heap of fries drenched with rich cheddar cheese.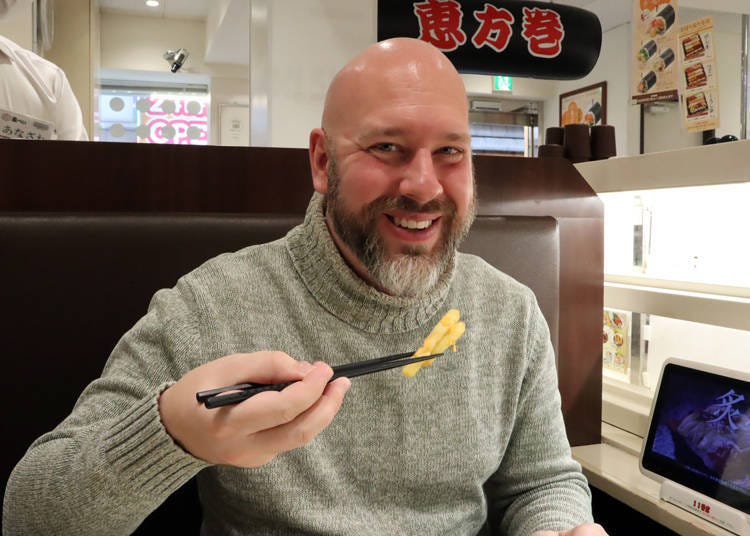 "There is no doubt! (laughs) I love macaroni and cheese and the taste is quite similar. It's deliciously fried!"

Available on Saturdays and Sundays, it's a popular side dish.
Side dishes that caught Timothy's interest #3: Blue Crab Miso Soup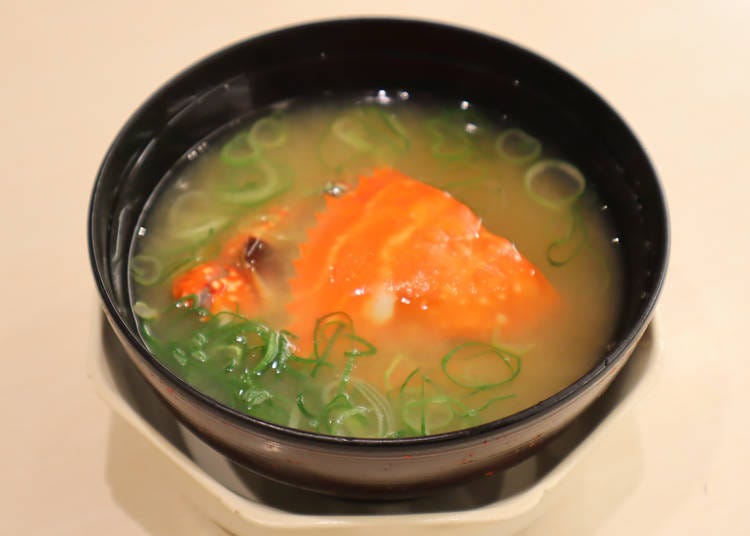 (200 yen, tax not included)
Miso soup with plenty of crab meat.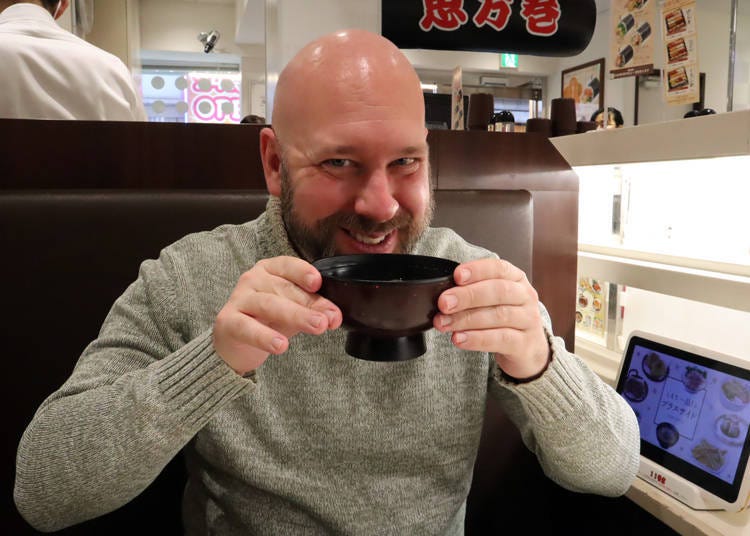 "The crab soup stock is hardy and very delicious. It's a nice addition to eating a lot of sushi."
Side dishes that caught Timothy's interest #4: Brule Style Pudding Mousse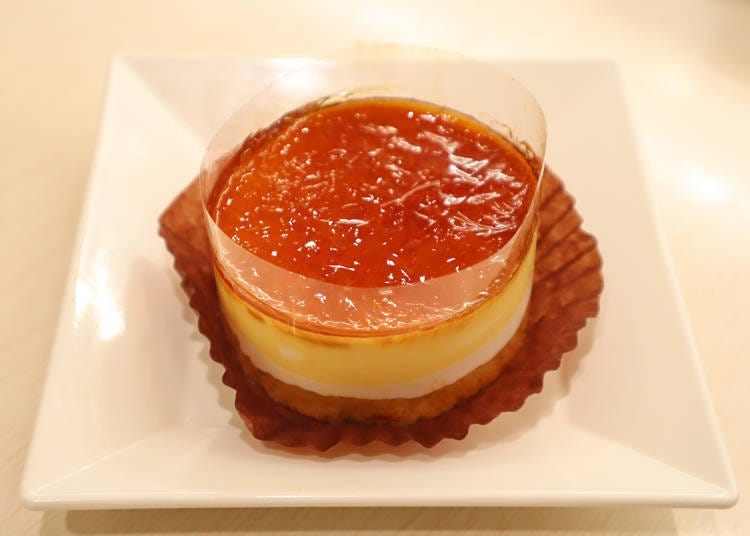 (240 yen, tax not included)
The pudding cake is very popular and has become the best-selling cake in recent years.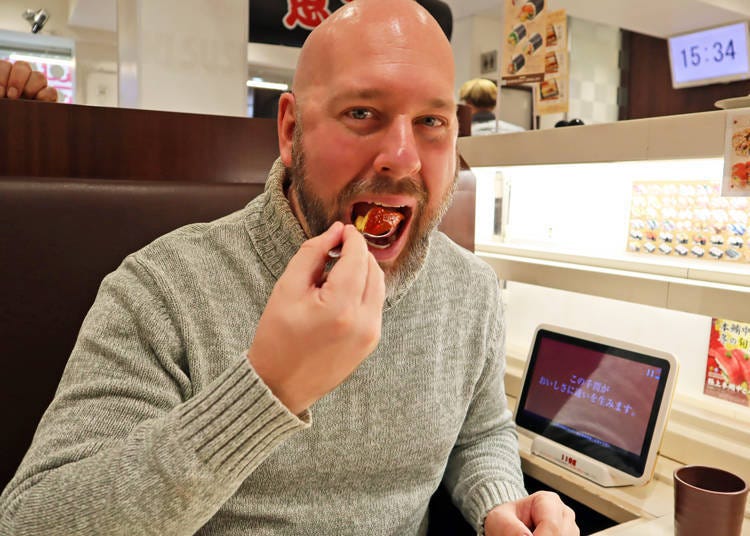 "The caramel on top is jelly-like and the pudding is light and delicious. It tastes like maple syrup!"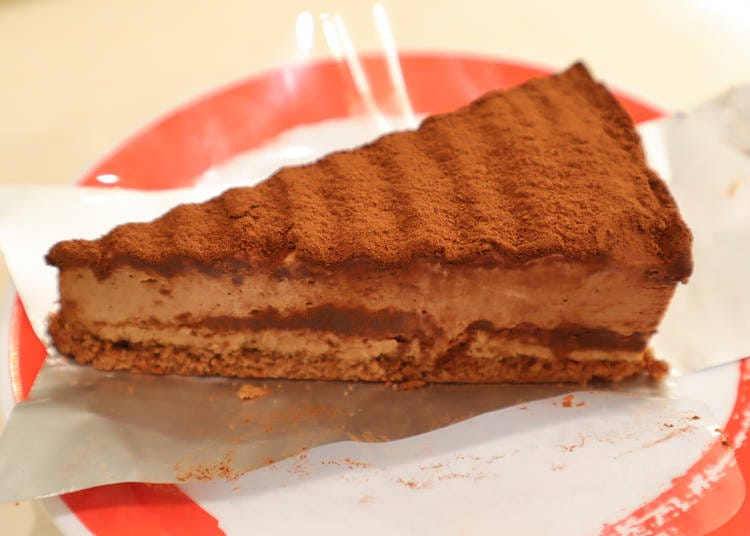 This classic chocolate cake uses high-quality couverture chocolate to create a delicious combination of rich chocolate and cacao powder in a light mousse.
"The texture and sweetness are light and restrained, so even after eating sushi it's easy to eat."

Both sweets have a light texture and a gentle sweetness, so even after getting your fill of sushi you'll have room for dessert.
You have to try this! Ippon Anago
(470 yen, tax not included)
One of Genki Sushi's best recommendations is conger eel. This luxurious dish is comprised of a whole conger eel.
"Wow! The look and taste are impressive!"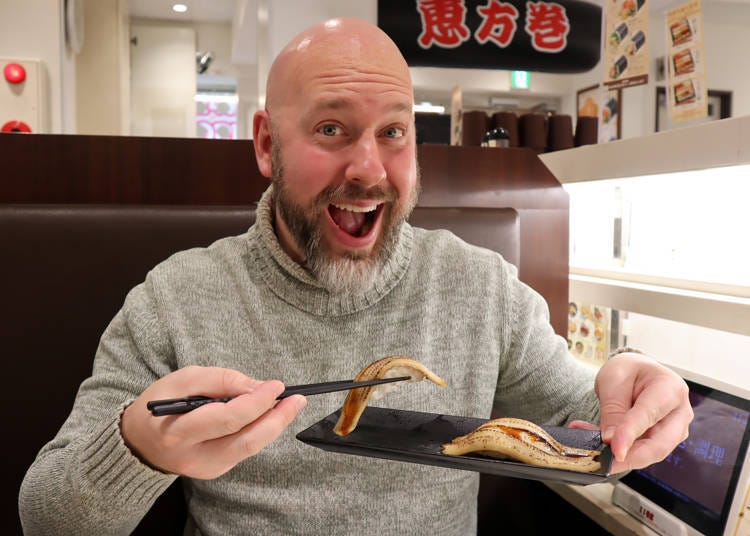 "It's light, tender, and delicious. In English, "eel" and "conger eel" aren't really distinguished and people aren't very familiar with them, but I think it's very easy for anyone to eat!"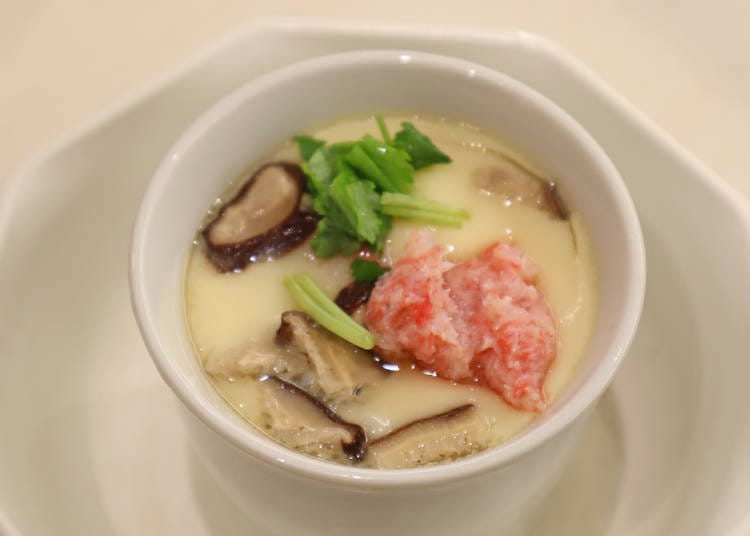 Steamed seafood chawanmushi is the most popular side dish. You won't be able to get enough of this umami Japanese soup stock full of scallops, shrimp, and more!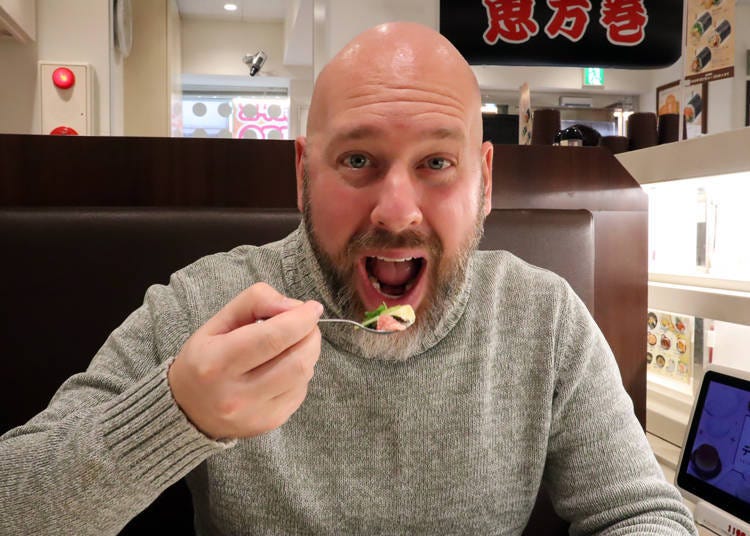 "This is delicious! It tastes like it contains different soup stocks. This might be my favorite!" It's so full of seafood, as you eat, you might not consider it a side dish.
You have to try this! Coconut Ice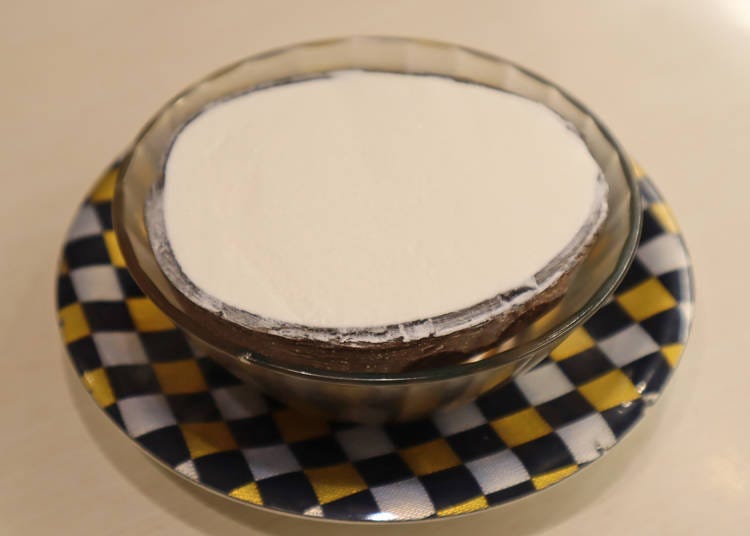 (340 yen, tax not included)
Coconut ice cream is only available at the Shibuya branch. Non-Japanese customers requested a menu item featuring coconut and since there was no ice cream on the menu, this response quickly gained popularity.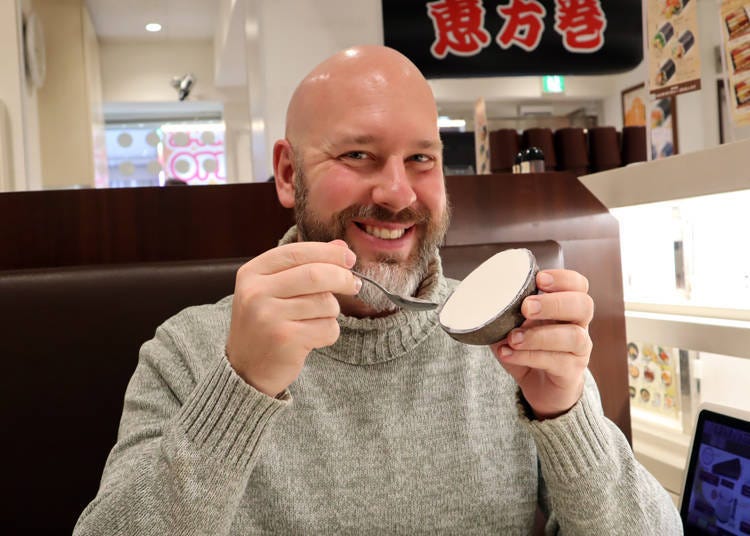 "It tastes like coconut milk turned into ice cream. I want to combine it with the chocolate cake!"
And Timothy's favorite is...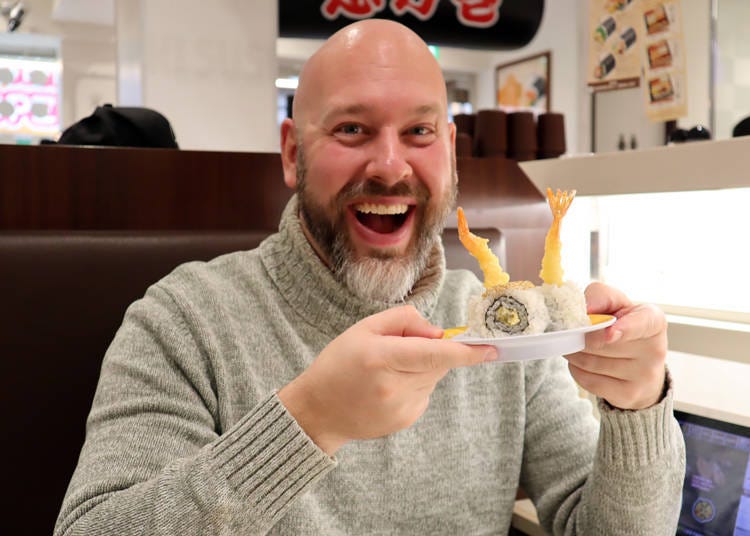 The shrimp tempura roll! "I love the look and the freshly fried tempura is the best!"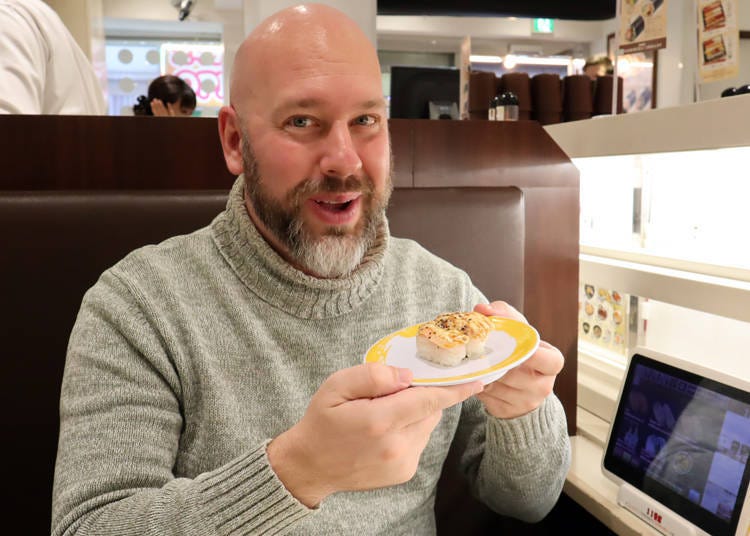 Second place goes to the seared pepper mayo salmon! "The combination of salmon fat and mayo was really delicious!"
If you want a taste of authentic Japanese sushi head to Genki Sushi in Shibuya!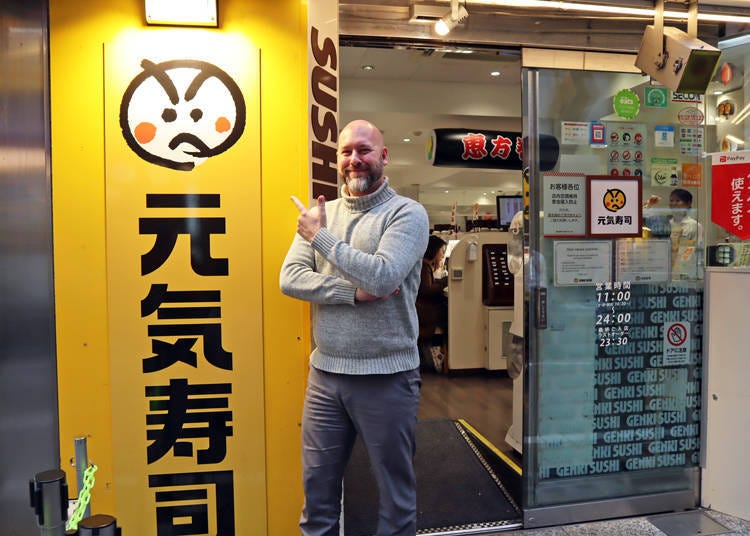 Sushi has many variations ranging from the traditional to the creative and new. But above all, fresh, quality ingredients are what make the taste truly genuine. It's no wonder so many tourists who visit Japan "to eat authentic sushi" come to Genki Sushi.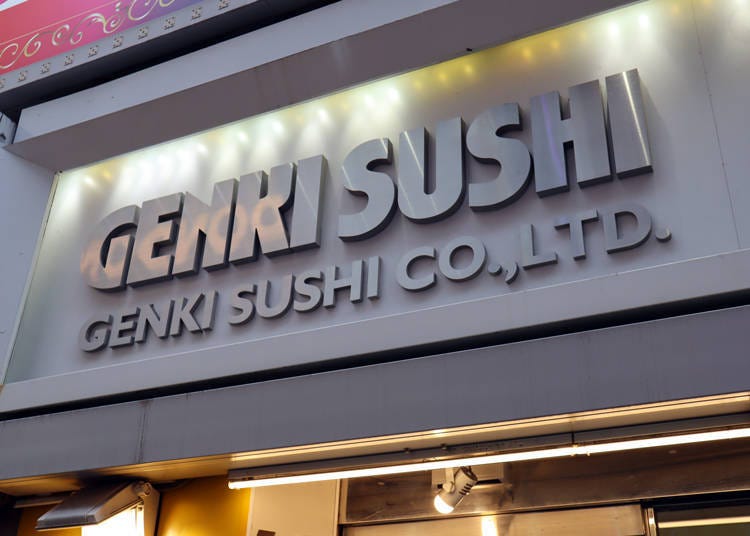 The Shibuya restaurant has English-speaking staff, and other locations have many unique services like exclusive menu items and mega-sized drinks. It's easy to drop by Genki Sushi while sightseeing, so be sure to check it out!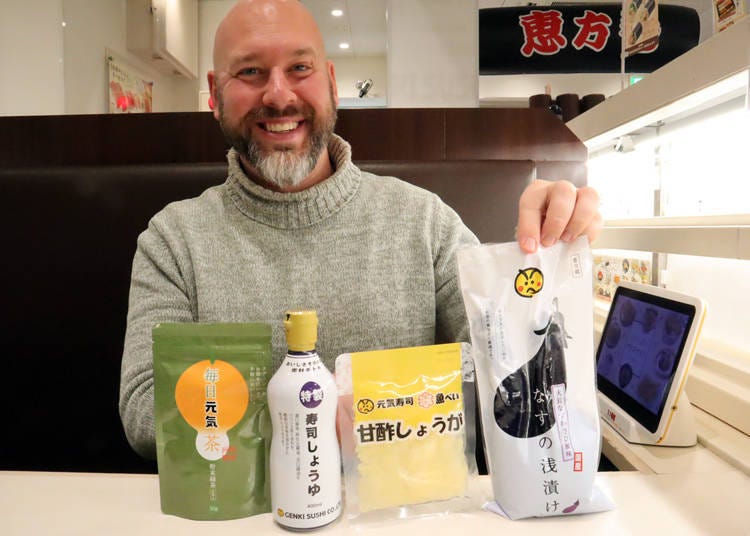 Bonus: Why not buy some exclusive Genki Sushi souvenirs! L to R: Genki tea (450 yen), Genki special sushi soy sauce (350 yen), sweet and sour ginger (56 yen), lightly pickled eggplant (400 yen) (all prices exclude tax)
元気寿司 渋谷店

Address

Leisure Plaza Building 1F, 24-8 Udagawa-cho, Shibuya-ku, Tokyo

Phone Number

03-3461-1281

Hours: Weekdays 11:00 - 24:00 (last order 23:30), Saturdays, Sundays, and holidays 10:30 - 24:00 (last order 23:30)

*Note: Permanently closed as of the end of August 2020.
Written by:
*This information is from the time of this article's publication.
*Prices and options mentioned are subject to change.
*Unless stated otherwise, all prices include tax.