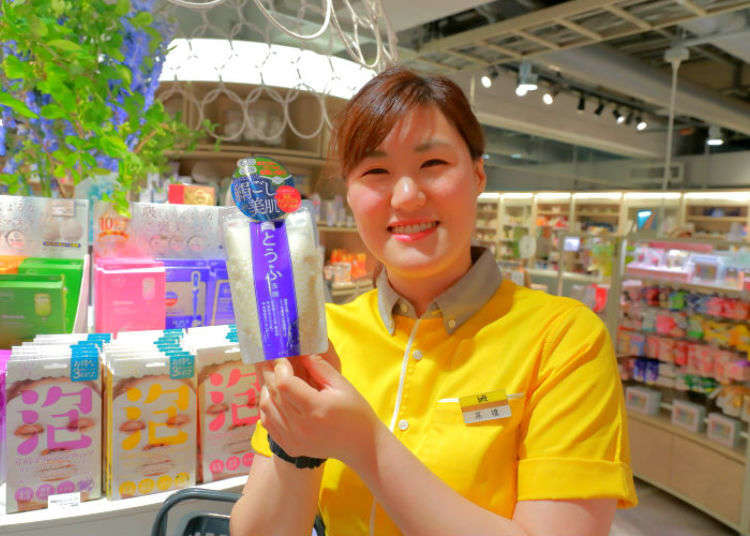 What are some of the Japanese cosmetics, beauty products, and must-haves? Shibuya Loft is known as a colorful and fun treasure trove of souvenirs and miscellaneous goods, but it also boasts a rich variety of Japanese cosmetics!

We combed this massive selection for the 10 absolute must-buy Japanese cosmetic and make-up products, from sheet masks to so-called puchipura (little price) highlights!
1. Keana Men's Mask: Minimizes Your Pores!
"Keana Men's Mask" Minimizes Your Pores! (10 masks, 650 yen)
No matter how diligently you wash and care for your face, your pores remain wide open? This sheet mask is designed explicitly for this beauty issue faced by plenty of men.

It features collagen for extra firmness, hyaluronic acid for proper moisture, as well as loofah and chamomile extract to pamper your skin. Simply leave it on for about 5 minutes after washing your face and let it work on your pores.

"This mask is made in Japan and firmly sticks to the skin, so that's why it's especially popular with international shoppers. It's specifically made for men, so those guys who want to try it don't hesitate," explains Public Relations.

In fact, the Keana Men's Mask had become so popular that it often is out of stock – even when we visited Loft. If you spot it, get it in your cart immediately!
2. Toumei Shirohada White Mask N: Your New Skincare BFF!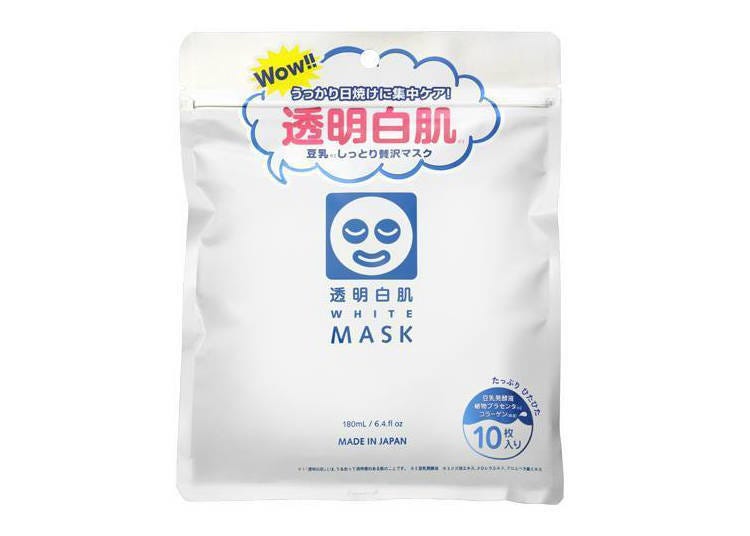 "Toumei Shirohada White Mask N" is Your New Skincare BFF! (10 masks, 600 yen)
This gentle mask is like a soft kiss on skin that got a little bit too much sun, providing moisture and translucency. It makes use of fermented soy milk, plant placenta, and collagen to moisturize and pamper your skin for a translucent glow!

The thick "Made in Japan" mask sticks firmly to the face, and even though it is soaked with plenty of liquid, it doesn't drip or dry out. It's wonderfully moisturizing up to the very last second!

Using it every day for 5 minutes promises soft and glowing skin, and people like this mask so much, it's in short supply! Not even we could get our hands on it when we visited Loft – as soon as the mask is in, it is sold out, so keep your eyes open!
3. Canmake Marshmallow Finish Powder Matte Ochre: Makes Your Skin Glow for Little Money!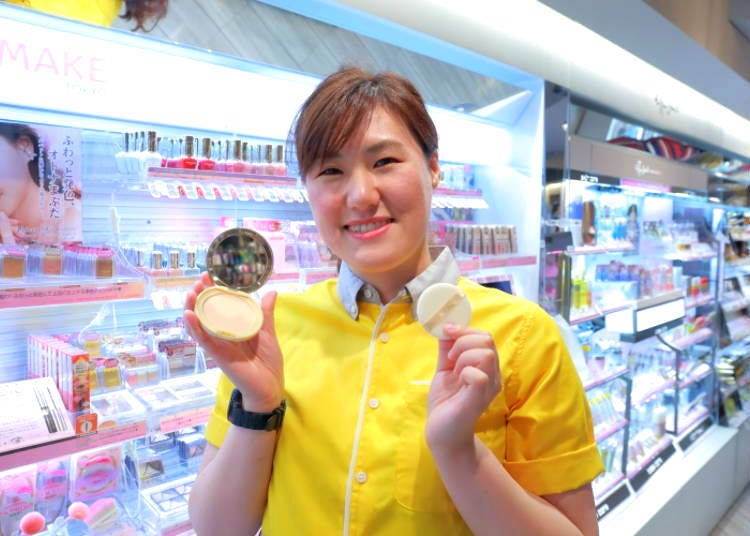 "Canmake Marshmallow Finish Powder Matte Ochre" Makes Your Skin Glow for Little Money! (940 yen)
Canmake is a famous representative of the aforementioned puchipura cosmetics, meaning cosmetic goods that cost little money but to wonderful things.

This finish powder can simply be used after the foundation and is neither sticky nor shiny – it makes your skin all soft like a marshmallow! If you're opting for a natural look, just skip the foundation and use this powder instead.

It's gentle to the skin because it contains beauty essence and can be washed off with only facial cleanser. In any case, it does a lot for its small price, which is precisely why it is so popular. It comes in three shades, with matte ochre being the most popular.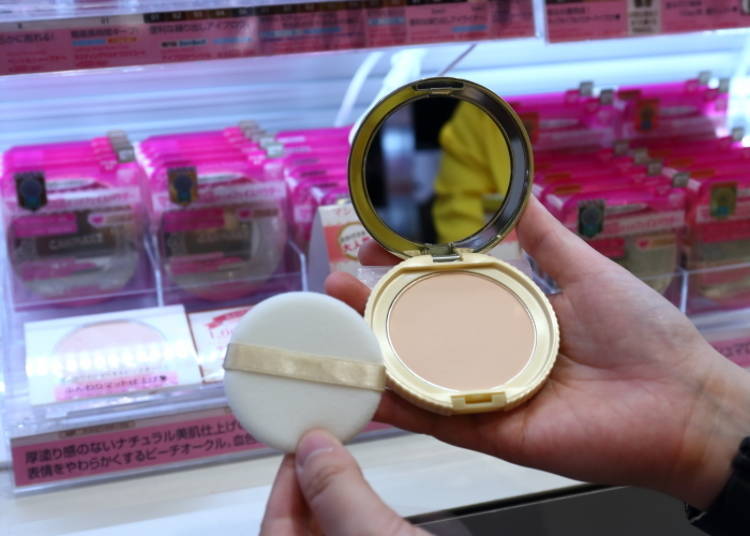 The cotton puff is easy to use.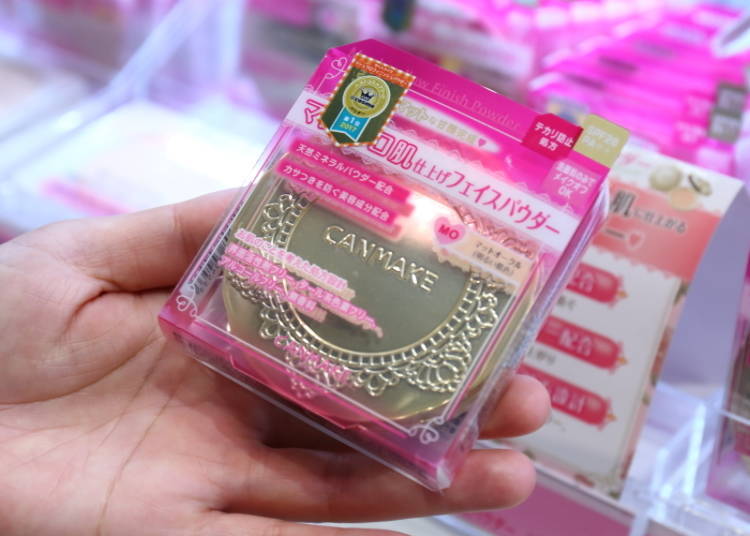 It comes in a soft pink packaging.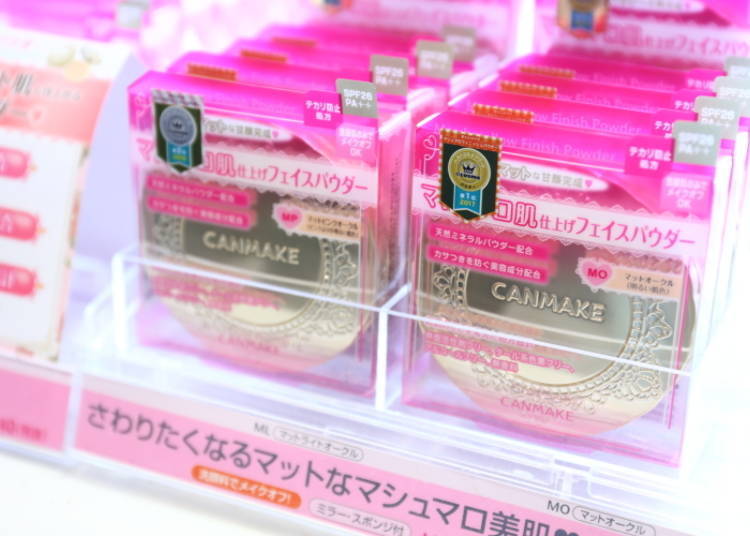 A staple Japanese cosmetic item for many women and girls.
4. Takami Skin Peel: Dermatological Magic for Your Skin!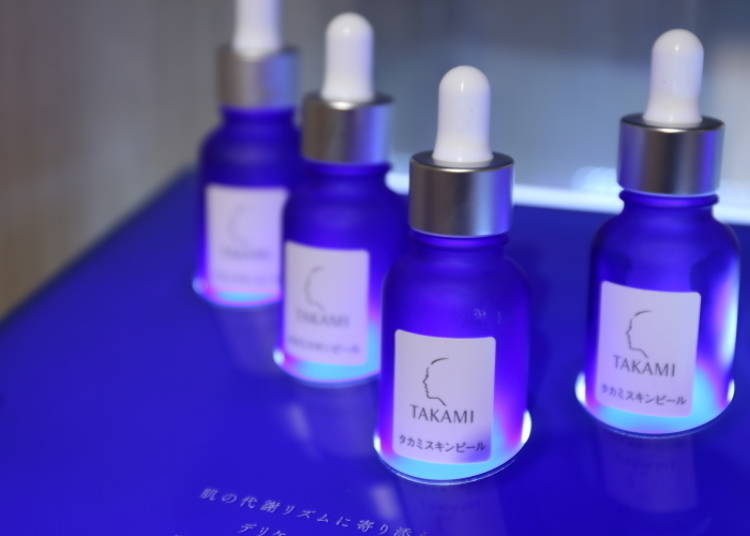 "Takami Skin Peel" is Dermatological Magic for Your Skin! (4,584 yen)
This serum has been created to work on the stratum corneum, which is the outermost layer of the skin that consists of keratinized cells.

It was developed by a Japanese cosmetics dermatologist in Tokyo's Omotesando, using long-term experience with keeping skin both beautiful and healthy by adjusting the skin's rhythm of metabolism.

It feels like water on your fingers, and you simply have to apply it after washing your face. The package even includes a dropper that marks the appropriate amount, making the Takami Skin Peel even easier to use.

"This item is popular because it does not damage the skin, unlike a peeling or scrub." Not even alcohol is part of this little wonder.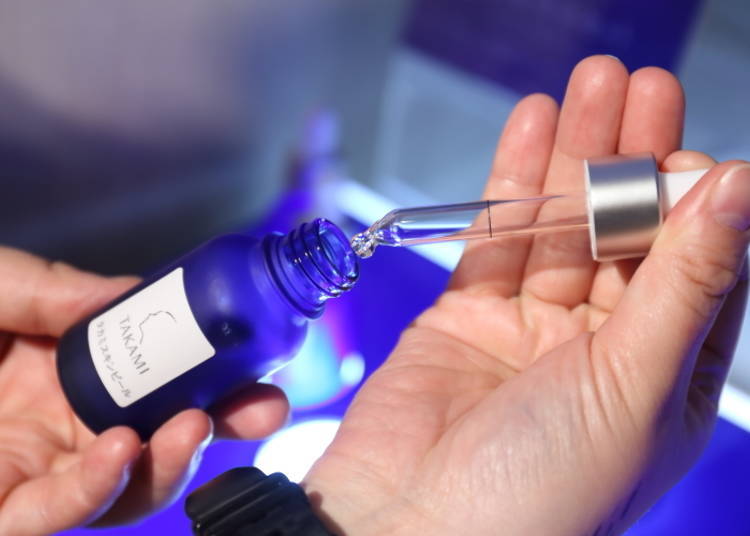 The dropper helps to determine the proper amount at a single glance.
5. Opera Lip Tint 05 Coral Pink: Brings Natural Color to Your Lips!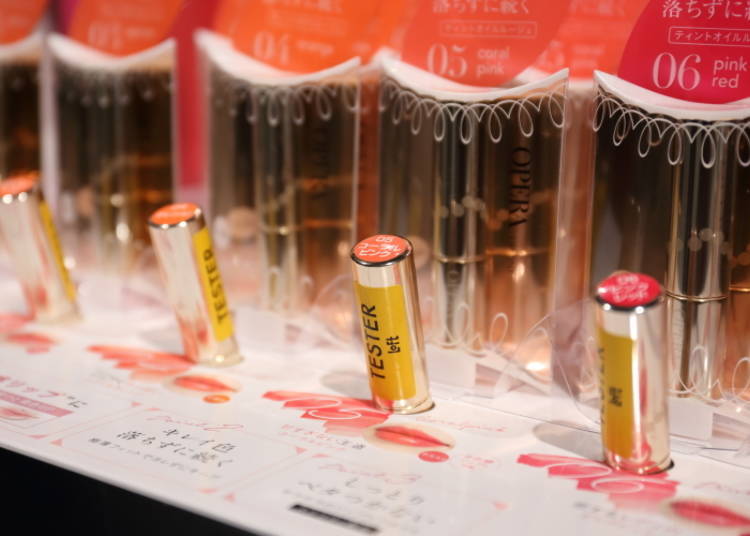 "Opera Lip Tint 05 Coral Pink" Brings Natural Color to Your Lips! (1,500 yen)
This item was released in 2016 and has been a smash hit ever since - even becoming a staple item in the cosmetic lineup of many a woman.

Its strong point is that it does not look painted on like rouge but rather enhances your natural lip color with a transparent tint. With one layer only, your lips will look flawlessly finished!

Additionally, the Opera Lip Tint develops its colors by responding to the moisture of your lips, keeping the tint fresh and without discoloration.

It is moist and feels wonderfully natural, coming in six different colors from 01 red to 06 pink-red. Especially 05 coral pink is popular, as it seems to match the color of Asian skin perfectly.

From time to time, you'll find limited colors among the lineup that are only available for a brief amount of time, so check for those as well!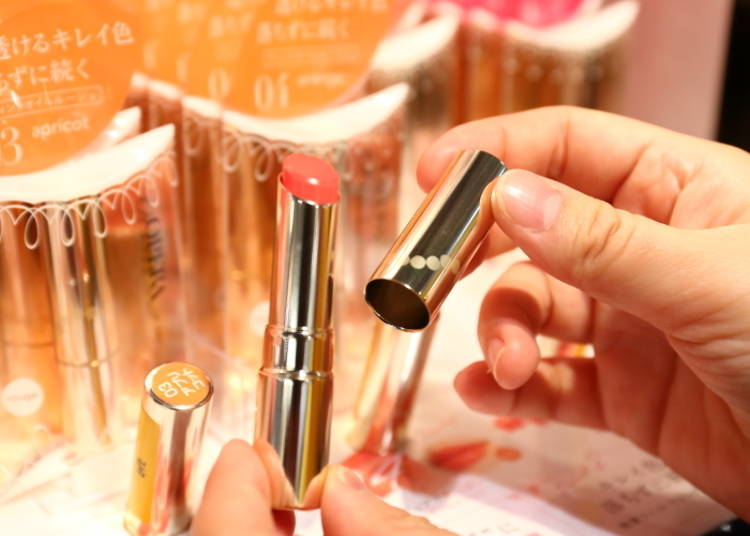 Coral pink matches Asian skin. If you don't know where to start, try this one.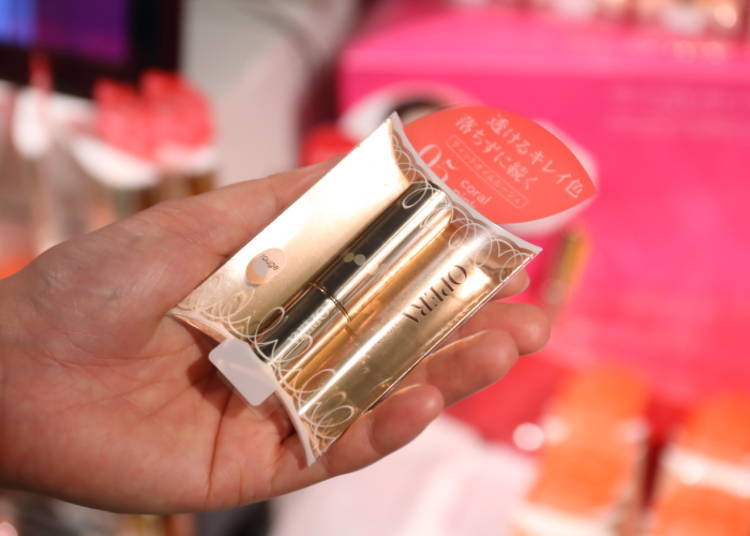 The packaging looks casual but luxurious.
6. The Product Hair Wax: Brings All-Natural, Safe-to-use Glam!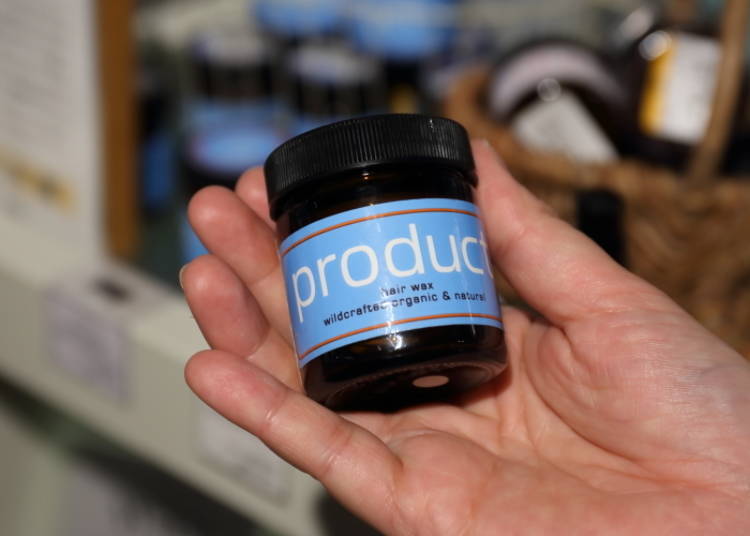 "The Product Hair Wax" Brings All-Natural, Safe-to-use Glam! (1,980 yen)
This product may be named hair wax, but it can actually be used to care for your whole body, from your skin to lips and nails.

Made only from natural, organic ingredients, it could even be used on the delicate skin of a baby. Simply scoop up a small amount with your fingertip, then spread it over your palm and wait until it gets oily before applying it – that's it!

It's also recommended for calluses on elbows, heels, and knees. The main ingredients are Shea Butter, aloe vera, vitamin E, beeswax, tangerine essential oil, and so on.

With a refreshing citrus aroma, it's recommended for both men and women, and since it's rather small, it can be easily kept in a makeup pouch.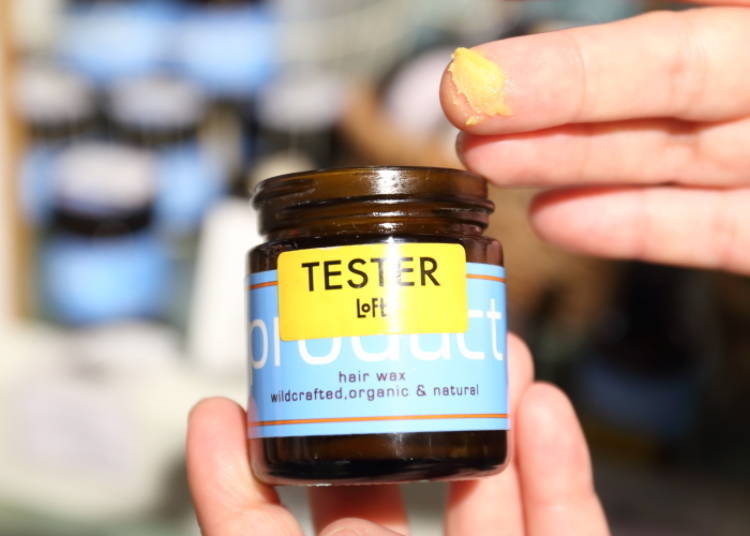 At first, the wax is yellow but becomes transparent once you massage it in.
7. Fujiko PonPon Powder: Adds Volume to Your Hair!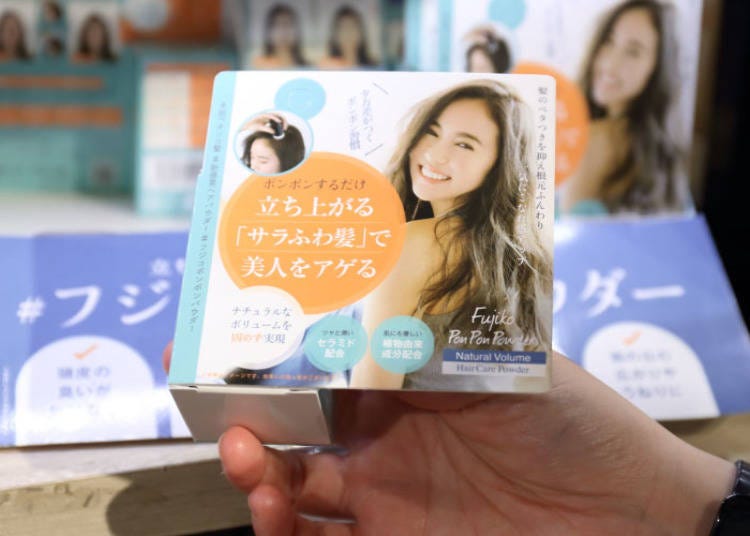 # 7 – "Fujiko PonPon Powder" Adds Volume to Your Hair!
This fantastic powder brings volume to flat hair with a puffy smoothness! The powder, containing plant-derived ingredients, fills the microscopic gaps in the hair, and absorbs any excess sebum.

That affects every single hair, so this powder is even effective to tame any frizz on rainy days and combat oily flatness in the evening.

It comes in a compact case that's easy to carry around, so go ahead and try it throughout the day to see the astounding difference. It's quickly applied!

"It's useful, so this one will quickly become a new favorite. It will look a little white in the beginning, but you'll immediately understand how it works," explains Public Relations. It's undoubtedly a haircare item that you'll always want to have in your bag!
The powder is applied with a soft sponge, adding volume to your hair!
8. Wafood Made Tofu Face Wash: Soft, Non-foaming Cleansing Fun!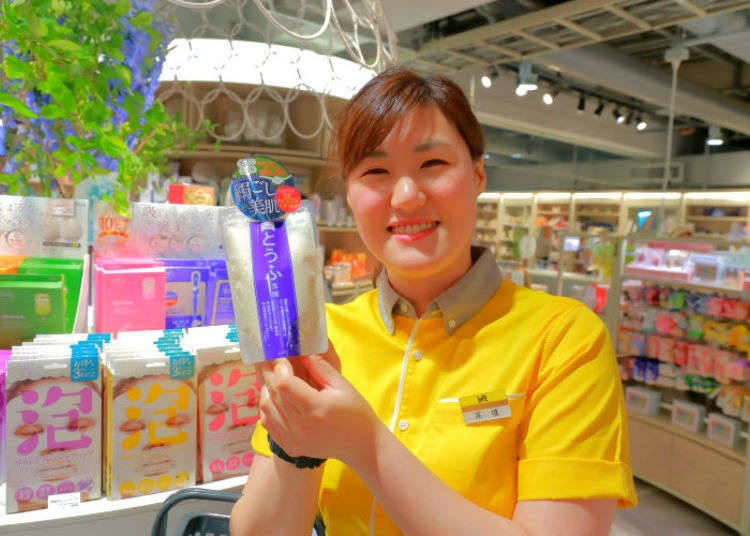 "Wafood Made Tofu Face Wash" is Soft, Non-foaming Cleansing Fun! (1,000 yen)
This unique face wash doesn't foam and instead boasts a wonderfully rich creaminess. It is made from the soy milk of a famous tofu shop in Hiroshima called Tsubakiya, as well as nigari (a coagulant used for tofu making) from Kochi's Muroto area.

Remove your make-up, then apply a cherry-sized amount of the Tofu Face Wash to your hand and massage it into your face. The rich cream will cleanse your pores and refresh your skin, making it wonderfully moist and smooth.

It's popular among women of all ages, and one face wash contains 170g.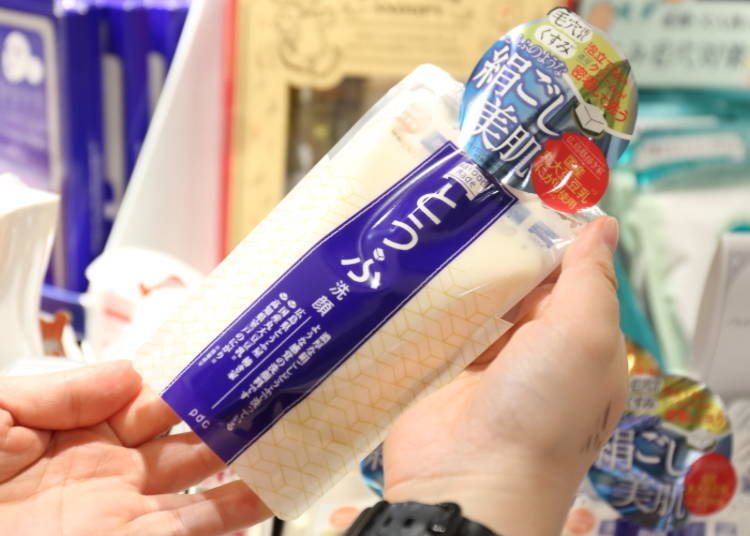 It's in a light and easy-to-use packaging.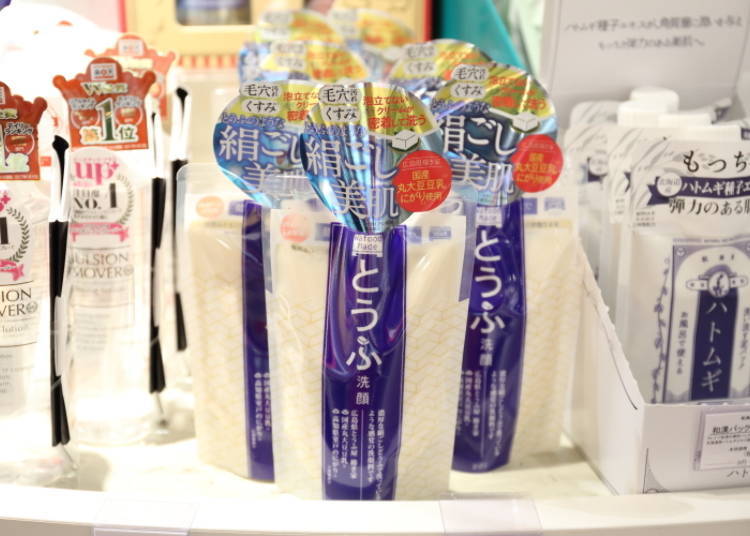 Its design evokes the image of tofu as well.
9. Flowfushi Mote Liner Liquid Brown Black: Ridiculously Popular and Ridiculously Great!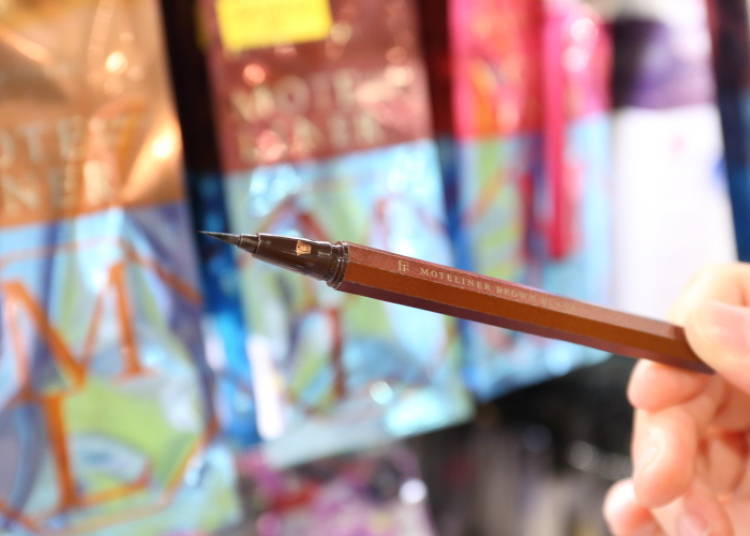 "Flowfushi Mote Liner Liquid Brown Black" is Ridiculously Popular and Ridiculously Great! (1,500 yen)
This eyeliner is wonderfully reliable, making drawing your lid line both easy and enjoyable. The Mote Liner sits on first place of all sorts of different Japanese cosmetics rankings for quite a while, never losing popularity.

The brush is a blend of four kinds of hairs with different hardness and flow, chosen by a brush craftsman of the Kumano area, boasting both softness and spring.

Both thick and fine lines are no problem for this unique eyeliner. The liquid is exceptionally water-resistant and withstands both sebum and moisture, using hybrid polymers that were chosen by considering safety.

Even if you rub your eye, the Mote Liner stays in place, and you won't have to reapply it. And yet, if you wash your face with warm water, you won't have any trouble getting rid of it.

The octagonal pen is comfortable to hold and features a bit of weight for better stability. The Mote Liner comes in five different colors, but the brown-black is by far the most popular one. It's just the right kind of shade to match pretty much any makeup!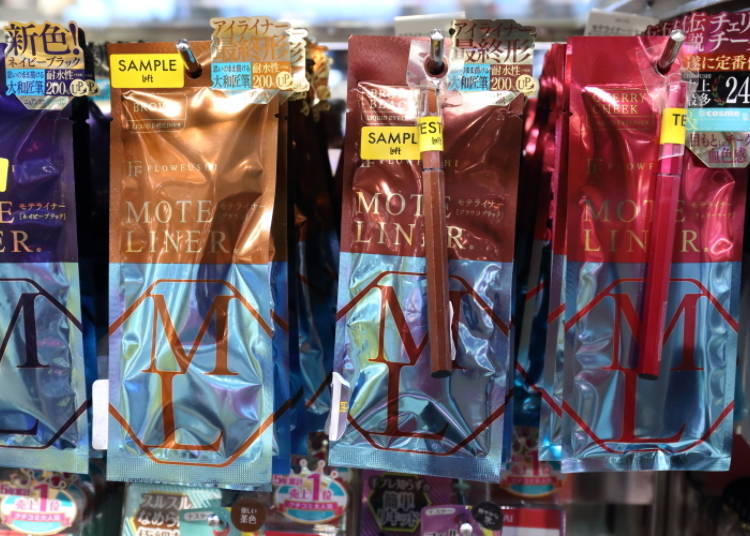 The five different colors in a simply packaging.
10. Ettusais Oil Block Base: For Oil-Free Skin with One Touch!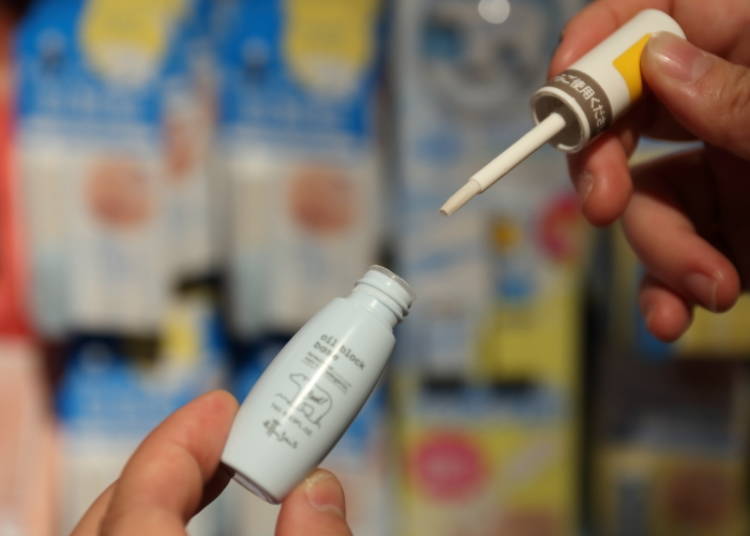 "Ettusais Oil Block Base" for Oil-Free Skin with One Touch! (1,200 yen)
The cute design of this product almost looks like a stationery goodie! However, the Ettusais Oil Block Base is all about reducing oily shininess in the T-zone.

It's effortless to use – simply prepare your skin with a bit of lotion, then paint the areas that get particularly shiny with the soft brush. A special powder absorbs any excess sebum and makes for smooth, matte skin.

It's transparent, so you can safely use it after applying your foundation. That also means that you can apply it during the day when you notice your skin getting shiny.

Its compact size makes it a staple cosmetic item to carry around, and it's especially recommended to people who worry about their makeup or oiliness during the day.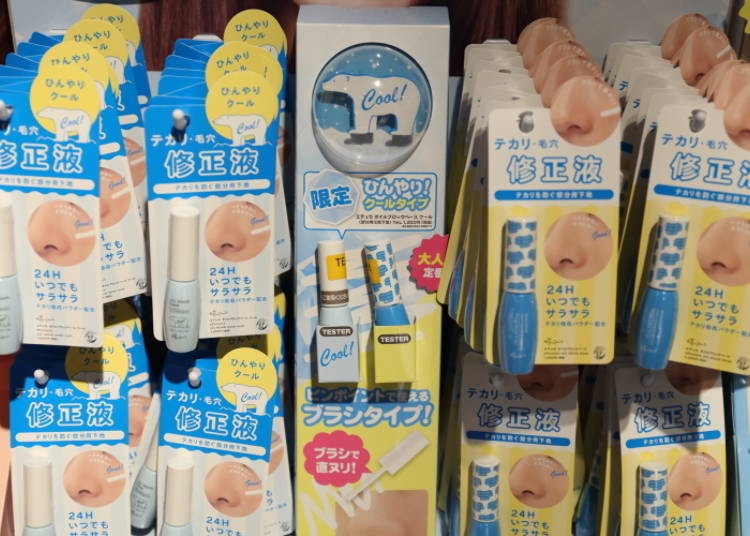 The regular type is on the right, the cooling type is on the left.
Shibuya Loft is just a 5-minute walk away from Shibuya Station, making it a popular spot for both locals and tourists to stop by for some fun shopping. There are all sorts of cute and functional miscellaneous goods spread out over seven floors – the Japanese cosmetics we introduced today can be found on the second floor.

You'll find pretty much any category there, from reasonable prices to all-organic and Made in Japan. Happy shopping!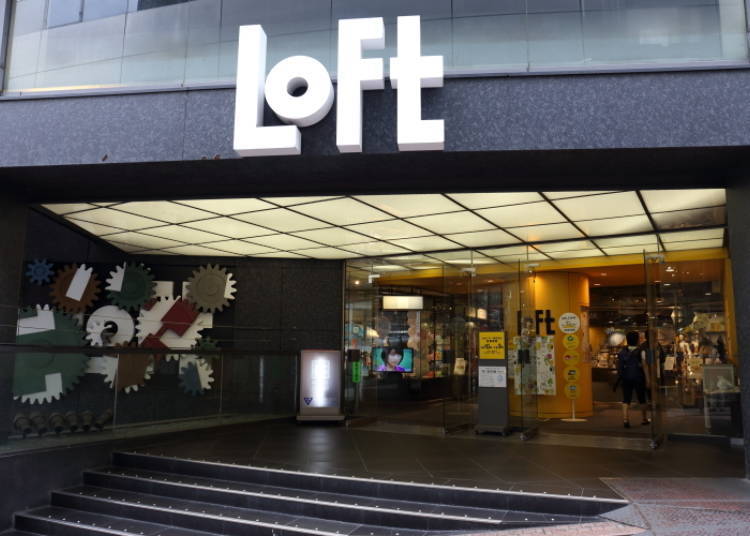 *All prices exclude tax.
渋谷ロフト

Address

21-1, Udagawacho, Shibuya-ku, Tokyo, 150-0042, Japan

Nearest Station

Access: Shibuya Station (JR Lines, Ginza Line, Fukutoshin Line, Hanzomon Line, Den-en-toshi Line), 3 minutes from Subway Station Exit 3, 5 minutes from JR Station Hachiko Exit


Phone Number

03-3462-3807

Hours: 10:00 a.m. – 9:00 p.m.
Closed: open every day

*This information is from the time of this article's publication.
*Prices and options mentioned are subject to change.
*Unless stated otherwise, all prices include tax.