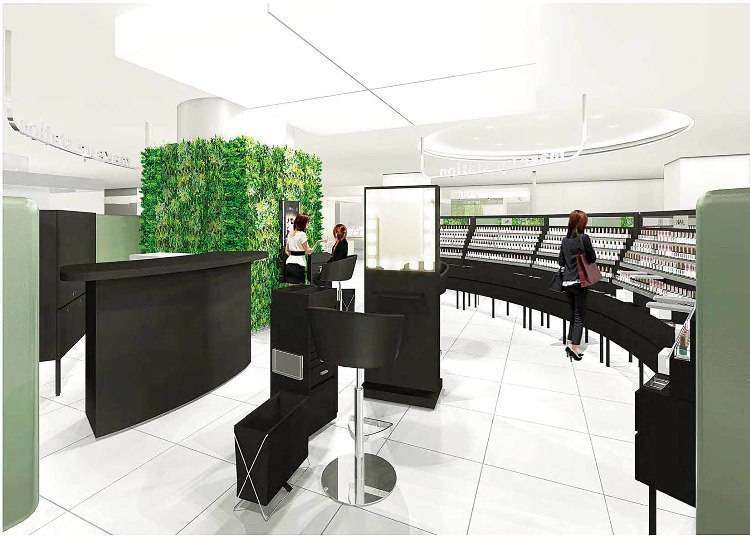 Luxury, organic, budget, trend—Japan is well-known for its vast world of cosmetics and skincare items. The best places to see this broad selection is at large department stores. Their cosmetic floors offer an array of ever-popular items an, brand-new releases, and the current trends. Just walking along the colorful aisles is exciting! If one of your must-do activities while in Japan is shopping, this is something you cannot miss out on.

The cosmetics floor can be called the face of a large department store, often defining the character of the entire facility. That's why we'll be taking a closer look at some of the most intriguing department stores and their unique cosmetics floors! Shoppers, at the ready!
1. Sogo Yokohama: Grand Opening of an Experience-Type Cosmetics Floor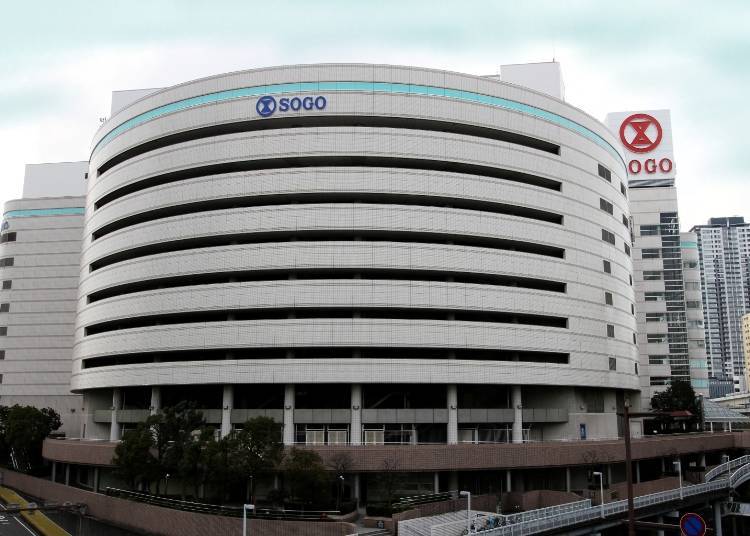 Sogo Yokohama's Beauty & Cosmetics Floor just celebrated its grand opening on August 17, 2018. It doesn't only boast a wide variety of products but was also reborn as an experience-type cosmetics floor.
One of Japan's Largest Beauty and Cosmetics Floors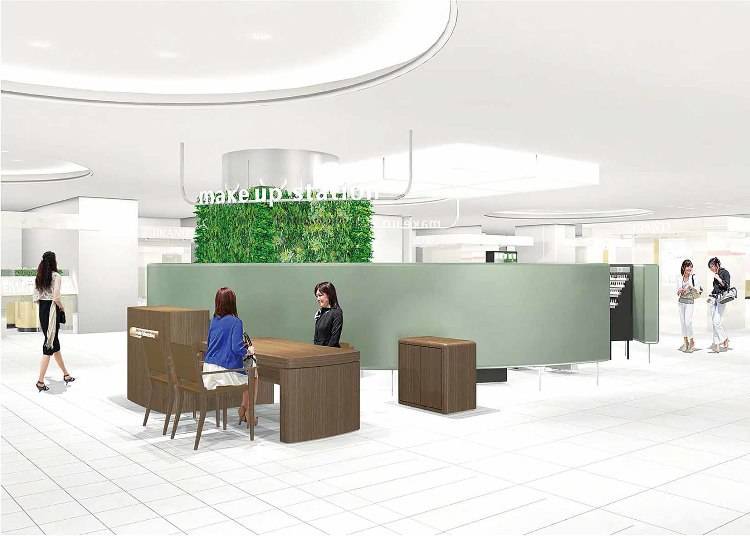 Sogo Yokohama's cosmetics floor has been remodeled in stages and is now home to numerous cosmetic brands on the first floor and even includes a beauty salon on the first basement floor.

There are 67 brands available in total, making it one of the largest cosmetic floors in all of Japan. Japanese beauty product and skin care fans will feel like they're in paradise! It's also a modern take on the typical concept of a cosmetics floor, which is why the shopping experience at Sogo Yokohama is particularly enjoyable.
Beauty Information: Guidance and Advice by Friendly Beauty Attendants
Beauty attendants are at the ready to help you navigate Sogo Yokohama's expansive cosmetics floor and its services. They will also introduce you to brands that you might find interesting and give consultation if you're looking for a gift or souvenir. Don't hesitate to approach these experts with all of your questions!
The Makeup Station: Find Your Perfect Match!
Which cosmetic and makeup items are perfect differs from person to person, so consulting with a beauty stylist to find the perfect match for you—this service is entirely free and will introduce you to a variety of brands and products that might fit you, as well as giving you advice on how to use these products.

These stylists also suggest full makeups and individual makeup for specific parts of your face, such as eyes or lips. Since autumn, Sogo Yokohama's cosmetics floor also features a "Digital Mirror" that takes a video of the makeup being put on you by the stylist and sends it to your smartphone. With this personalized tutorial, recreating this look will be a breeze!
All Sorts of Beauty Experiences!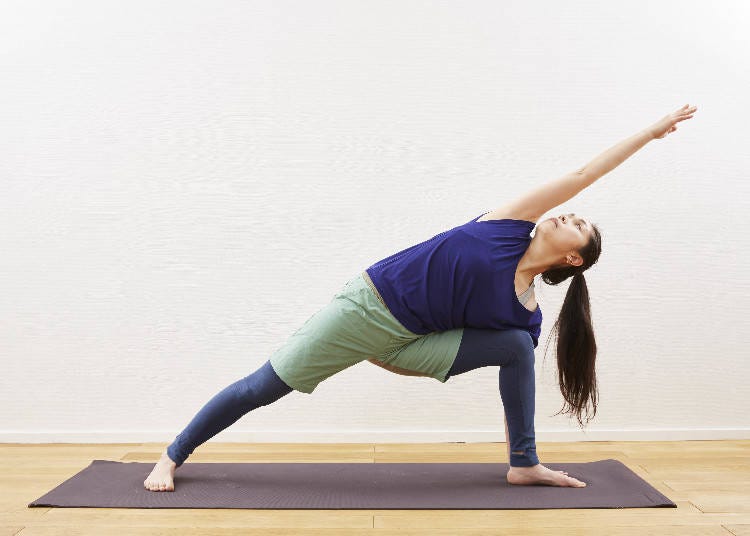 Next to cosmetics, Sogo Yokohama also treats you to hair styling and makeup demonstrations done by experts. Those are great experiences to learn more about various aspects of styling, enriched with first-hand experiences. Events such as yoga lessons and how to use super foods are perfect for people who want to connect health and beauty.
Great Services for Tourists
Sogo Yokohama welcomes a lot of international tourists, with a large percentage of them being Chinese. The department store has Chinese-speaking staff for cosmetic brands such as Suqqu and MSNA. Of course, brands popular with international tourists such as Clé de Peau Beauté, Kosé, Fancl, Haba, and Albion are available as well.
Appealing

Address

2-18-1, Takashima, Nishi-ku, Yokohama-shi, Kanagawa, 220-8510
View Map

Nearest Station

Yokohama Station (JR Tokaido Main Line / JR Yokosuka Line / JR Shonan Shinjuku Line / JR Keihin-Tohoku Line / JR Negishi Line / JR Ueno Tokyo Line / Line 3 (Yokohama Blue Line) / Tokyu Toyoko Line / Minatomirai Line / Keikyu Main Line / Sagami Railway Main Line)


Phone Number

045-465-2111
2. Tokyu Plaza Ginza: the Amazing Lotte Duty Free Cosmetics Floor!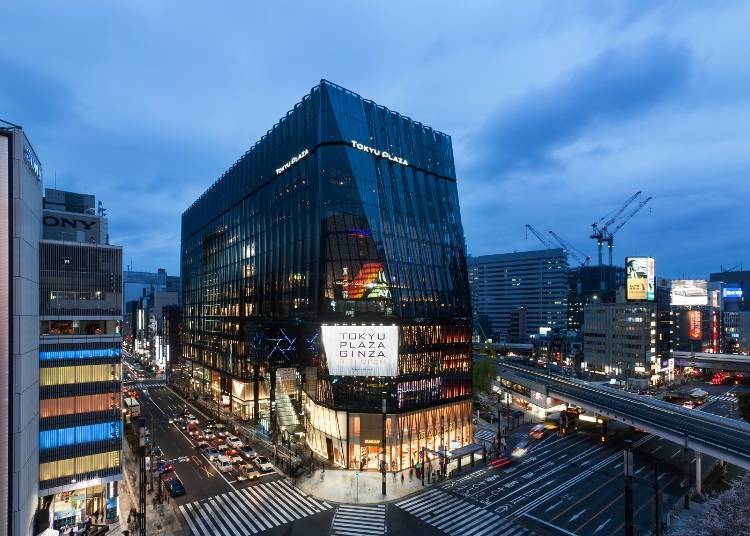 Tokyu Plaza in Ginza opened in 2016 and immediately became a new landmark of the area. Its modern design evokes the image of traditional Edo Kiriko glass craft. Not only its exterior is intriguing, however, so is the selection of shops that unite inside the large facility under the concept of "tradition meets innovation." Especially interesting is the HANDS EXPO section on the 7th floor, as well as the Lotte Duty Free Shop Ginza on the 9th floor.
Enhance Your Style in the Japanese Beauty Zone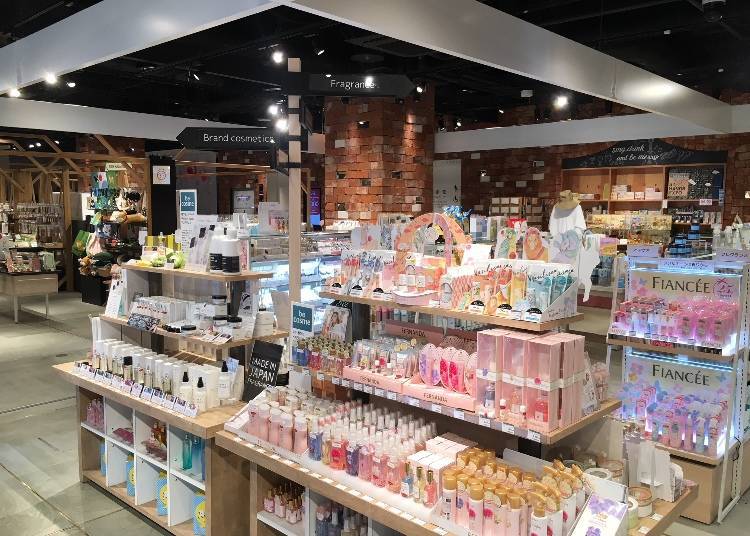 HANDS EXPO is made up of a variety of culture-centric zones that are filled with Japanese goods, separated into categories such as "Wa" (Japan), "Beauty," and "Food." Browsing this colorful, intriguing selection is inspiring! Especially recommended for beauty fans is the Beauty Zone with its many Japanese cosmetic brands, fashion, and miscellaneous goods. You'll also find plenty of Japan-exclusive products, such as rice masks that pamper your skin with ingredients from Japan-grown rice.
Smart Shopping at the Lotte Duty-Free Shop Ginza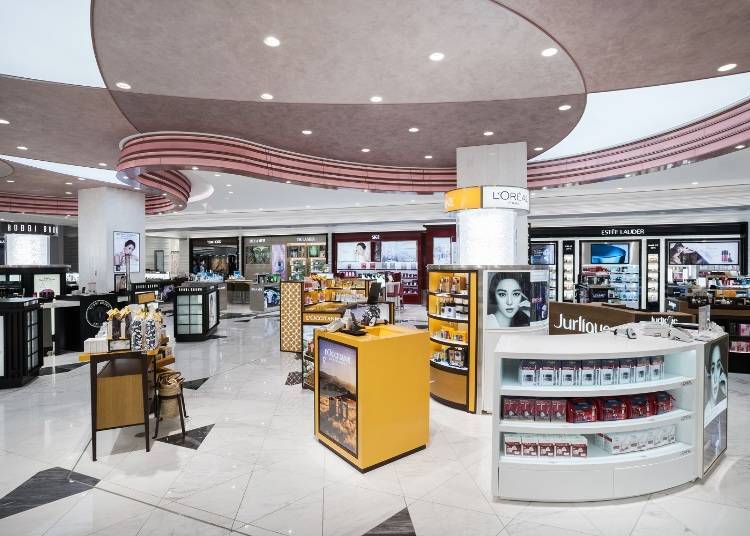 You'll find the Lotte Duty-Free Shop Ginza on the 9th floor of Tokyu Plaza Ginza. It's a favorite among both tourists and Japanese people planning to go abroad. Its layout resembles that of a department store's cosmetics section, so visitors can enjoy shopping in a familiar setting. The shop features over 100 different cosmetics brands, including many Japanese such as Shiseido, SK2, THREE, CPB, and so on.

It's also a member shop of Japan Airlines and Jeju Air, so look forward to collecting miles and points for Reward U and Happy Go. On top of that, Lotte Duty-Free Shop Ginza offers to store your bags and luggage for a hands-free shopping experience. Be sure to get some great cosmetics deals before leaving Japan!
東急プラザ銀座

Address

Tokyu plaza Ginza, 5-2-1, Ginza, Chuo-ku, Tokyo, 104-0061


Nearest Station

Ginza Station (Tokyo Metro Ginza Line / Tokyo Metro Marunouchi Line / Tokyo Metro Hibiya Line)
1 minute on foot


Phone Number

03-3571-0109
3. Tokyu Plaza Omotesando Harajuku: Modern, Stylish, and Fun!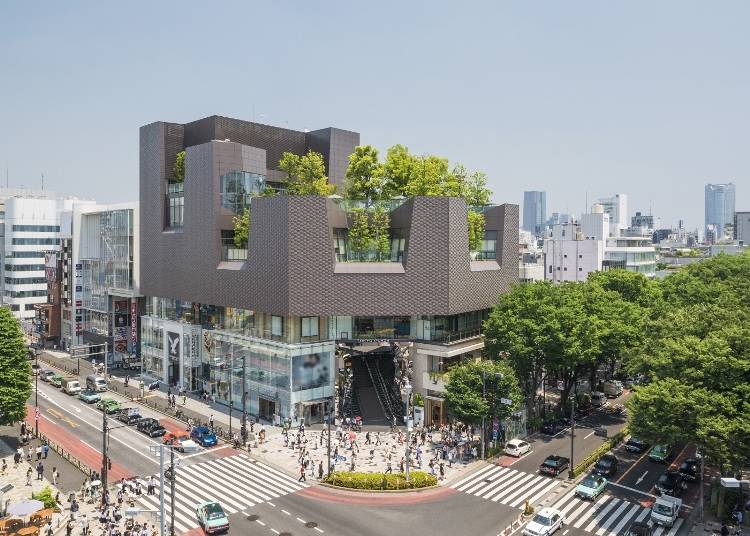 Tokyu Plaza Omotesando Harajuku opened in 2012 and has been a hot spot for trends and the latest fashion ever since. The unique entrance of hexagonal mirrors immediately attracts attention, and this modern, quirky design hints at what kind of shops await inside. The cosmetics available here are from both Japanese and international brands and always match the latest trends!
Carefully Selected Cosmetic Shops on 3F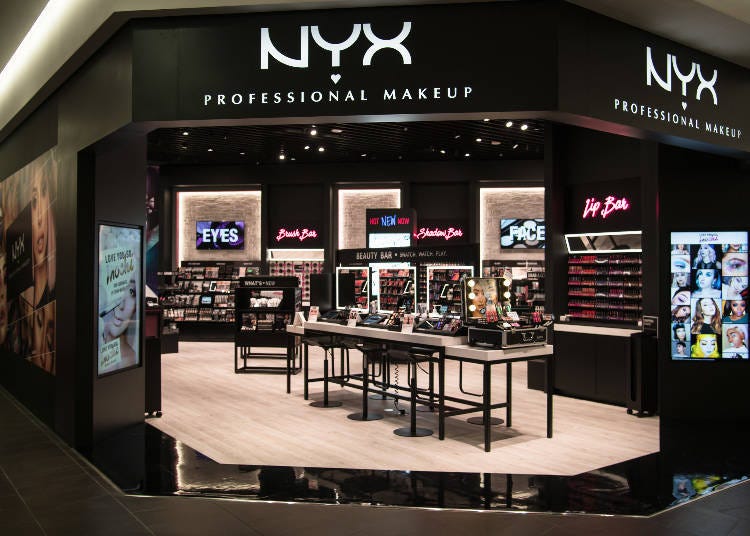 NYX Professional Makeup is probably the most popular store on Tokyu Plaza Omotesando Harajuku's third floor. The brand from LA treats you to professional-level makeup at affordable prices. The colorful lineup has many fans in Asia, but there's something for every type and skin to be found here!

A more club-tastic makeup selection can be found at ISETAN MiRROR, a shop that features domestic and international luxury cosmetics cater to a perfect party makeup.
More Cosmetics on the 4th and 5th Floor!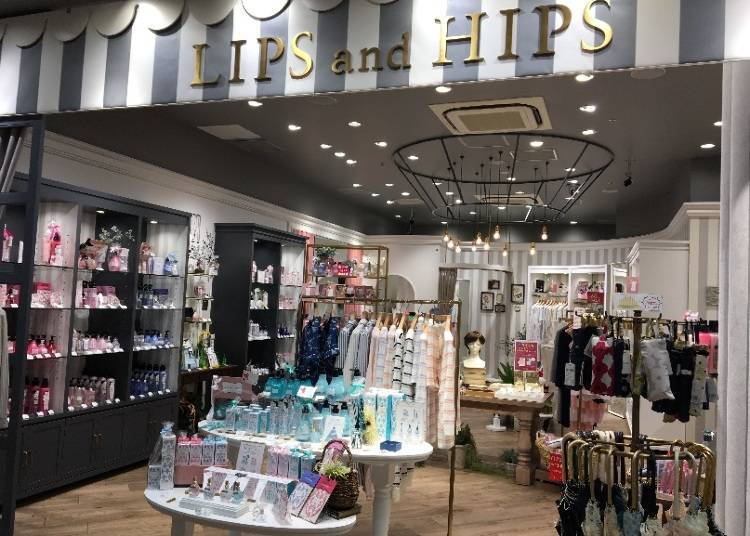 LIPS & HIPS on the 4th floor is a treasure trove of select Japanese beauty products developed with special regard to female skin. An array of cosmetic brands and their body care, skin care, and hair care products are at the ready to help you emphasize your feminine side!

The 5th floor features an area called AUX PARADIS, featuring on fragrant cosmetics. Especially wonderful are the many products that do not use any artificial perfume and rely on natural fragrances only, as well as the selection of cosmetics developed under the strict expert eyes of pharmacists. These cosmetics skillfully combine an outstanding gentleness to the skin with cute, playful design!
Multilingual Services for International Shoppers
The entire facility features a telephone interpretation service. If you have any questions or requests, don't hesitate to make use of it for the best shopping experience! Even without any Japanese skill, you'll easily be able to communicate with the staff via the language service center.
TOKYU PLAZA OMOTESANDO HARAJUKU

東急プラザ表参道原宿

Address

4-30-3 Jingumae, Shibuya-ku, Tokyo, 150-0001


Nearest Station

Harajuku Station (JR Yamanote Line)
4 minutes on foot


Phone Number

03-3497-0418
4. Tokyu Department Store Toyoko: Huge Selection of Seasonally Trendy Items!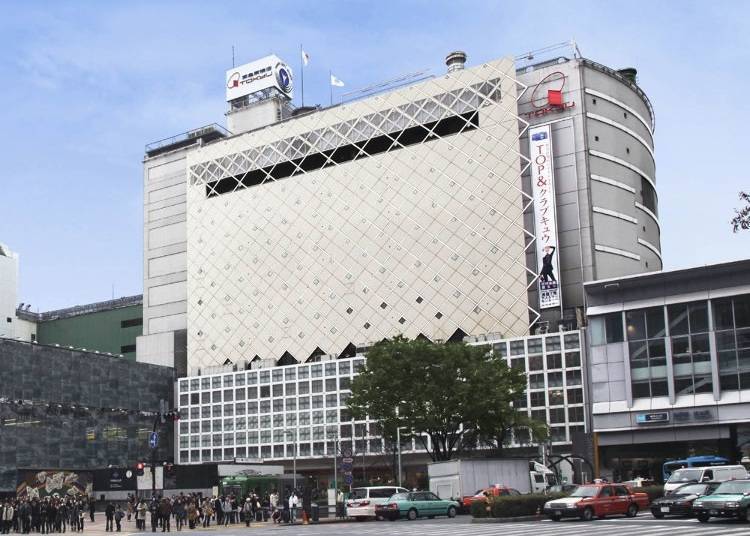 Tokyu Department Store Toyoko is directly connected to Shibuya Station, making it a popular spot for both fashionistas and skin care addicts!
The Large Lineup is Amazing!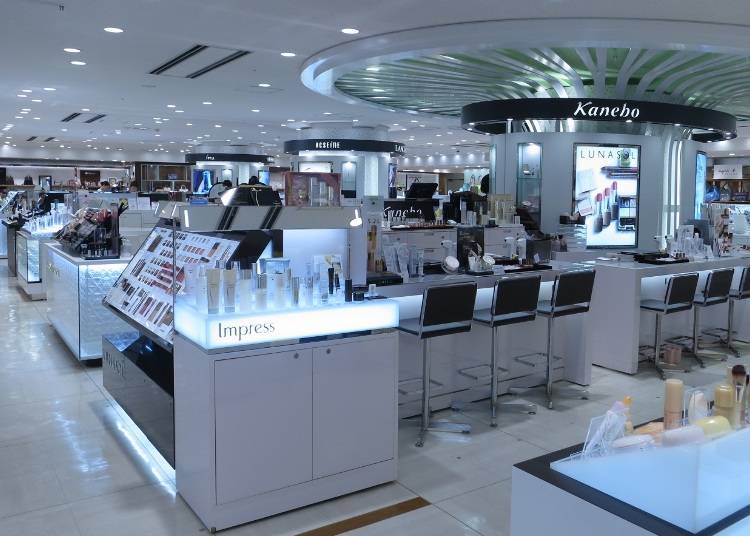 The biggest draw of Tokyu Department Store Toyoko is how diverse its selection of cosmetic brands is. Especially the 5th floor and its 33 brands are amazing, offering a wide range of products from famous Japanese cosmetic brands to couture brands and natural cosmetics that are particularly friendly to the skin.

One recent trend is a brand called ReFa, especially popular among international shoppers. The Japanese beauty brand certainly seems to have gained a worldwide following!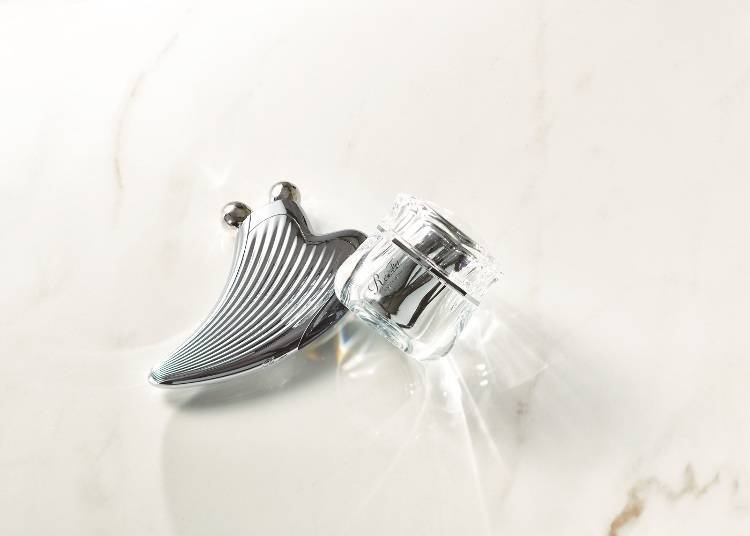 On the left: ReFa CAXA RAY for 25,704 yen. This little gadget works on the fascia, a sheet of connective tissue that acts as the base of your skin.

On the right: ReFa EXPRESSION GLOSSY CREAM (30g) for 12,960 yen. This cream is the perfect option to enhance the use of the CAXA, promising facial beauty with a fresh glow and suppleness.
Off to Shibuya Scramble, the Trendiest Cosmetics Spot!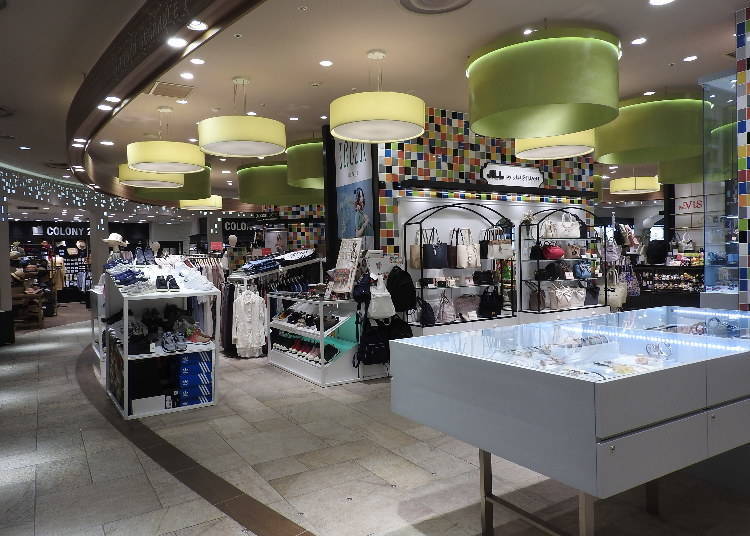 The 1st and 2nd floor of Tokyu Department Store Toyoko's West Wing also unite numerous cosmetics stores under the name "Shibuya Scramble," designed after the world's busiest intersection just outside. This urban hot spot boasts a massive selection of the latest trends and must-haves in regard to fashion, miscellaneous goods, and makeup, of course. This is where you want to go to explore what's "in" in Shibuya right now.
A Popular Spot for International Shoppers
Tourists and expats like to shop for Japanese beauty products on the 5th floor of the massive complex. These Japanese beauty brands offer products that are perfect souvenirs for all ages and genders. Shibuya Scramble, on the other hand, is just as urban and modern as its real counterpart, so choose according to your own style!
東急百貨店東横店

Address

2-24-1 Shibuya, Shibuya-ku, Tokyo, 150-8319


Nearest Station

Shibuya Station (JR Shonan Shinjuku Line / JR Yamanote Line / JR Saikyo Line / Tokyo Metro Ginza Line / Tokyo Metro Hanzomon Line / Tokyo Metro Fukutoshin Line / Tokyu Toyoko Line / Tokyu Den-en-toshi Line / Keio Inokashira Line)
1 minute on foot


Phone Number

03-3477-3111
5. Tobu Department Store Ikebukuro: Casual, Laid-Back Shopping in a Huge Complex!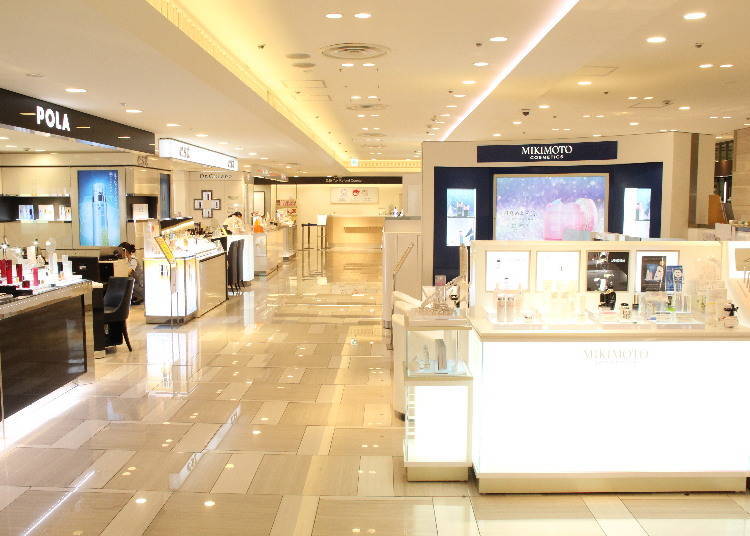 Tobu Department Store Ikebukuro doubtlessly is one of Japan's premier department stores, uniting a large number of shops and catering to a wide range of shoppers. Directly connected to Ikebukuro Station, it also boasts super convenient access! That lets you connect a fulfilling shopping spree to both work and sightseeing activities easily.
All the Must-Have Cosmetic Brands!
Famous cosmetic brands have their reputation for a reason, offering products that people can rely on for many years. Of course, this department store has all the staple products as well as trends and new releases by the big brands such as Dior, Guerlain, Kanebo, RMK, MAC, NARS, and L'Occitane.
Takami, a Brand Born from Cosmetic Dermatology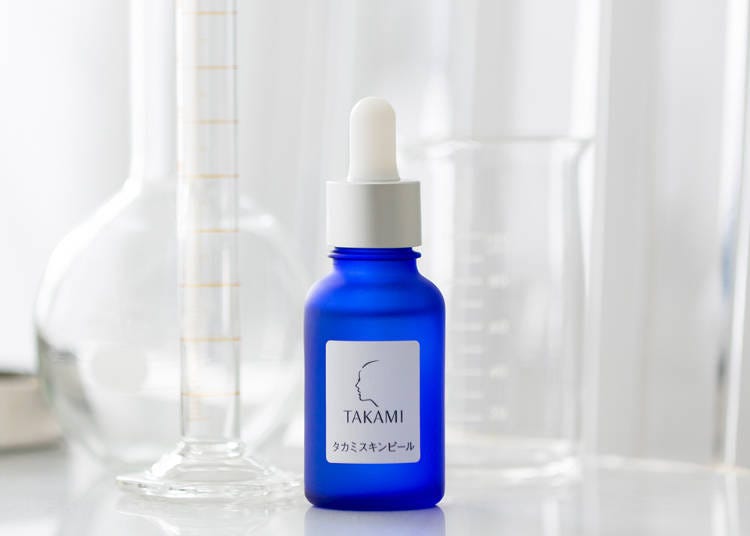 Our special recommendation for Tobu Department Store Ikebukuro is the Japanese skin care brand Takami, developed by a cosmetic dermatology clinic in Omotesando. It is based on the statement that beautiful skin is connected to a high metabolism and that approach has gained the brand quite a lot of followers, making it one of Tokyo's hottest trends. Furthermore, Takami offers products that are not tied to a specific skin type or age, and you can find it on the 2nd floor within Area 1. Of course, Takami also offers counseling and advice regarding all things skin care!
Special Services for Shoppers from China, Hong Kong, and Taiwan!
Tobu Department Store Ikebukuro especially welcomes many shoppers from China, Hong Kong, and Taiwan, which is why it offers a special Chinese interpretation service for its cosmetic shops. Popular payment methods such as Alipay, WeChat Pay, and UnionPay.

Of course, nine other language interpretation services are also available via phone, including English, Korean, Thai, Portuguese, Spanish, Vietnamese, Tagalog, and French.
Tobu Department Store Ikebukuro

東武百貨店 池袋店

Address

1-1-25, Nishiikebukuro, Toshima-ku, Tokyo, 171-8512


Nearest Station

Ikebukuro Station (JR Shonan Shinjuku Line / JR Yamanote Line / JR Saikyo Line / Tokyo Metro Marunouchi Line / Tokyo Metro Yurakucho Line / Tokyo Metro Fukutoshin Line / Seibu Ikebukuro Line / Tobu Tojo Line)


Phone Number

03-3981-2211
6. Seibu Shinjuku PePe: A Great Spot on the Seibu Line!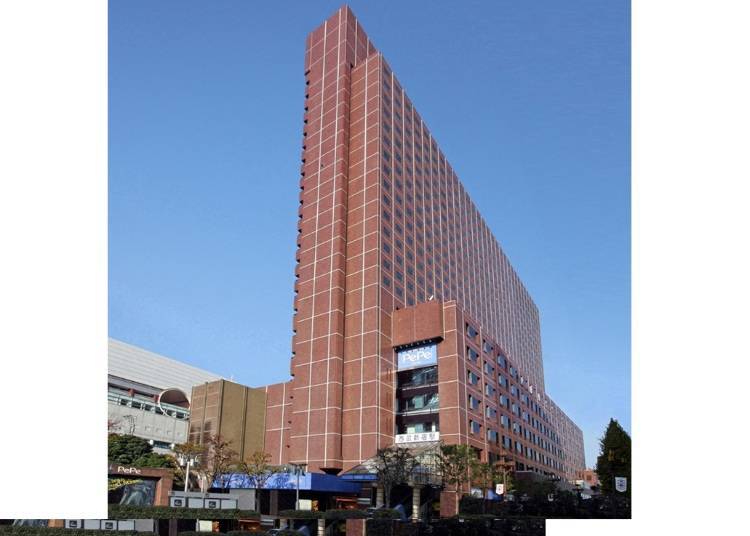 PePe is a popular department store chain found along the lines of Seibu Railway. Especially prominent is Seibu Shinjuku PePe, a mere 5-minute walk away from JR Shinjuku Station. Even people who don't usually use Seibu lines can easily stop by! Being open until 10:00 p.m., many people stop by to pick up some cosmetics on their way back home from work.
Feminine, Playful Cosmetics at ITS'DEMO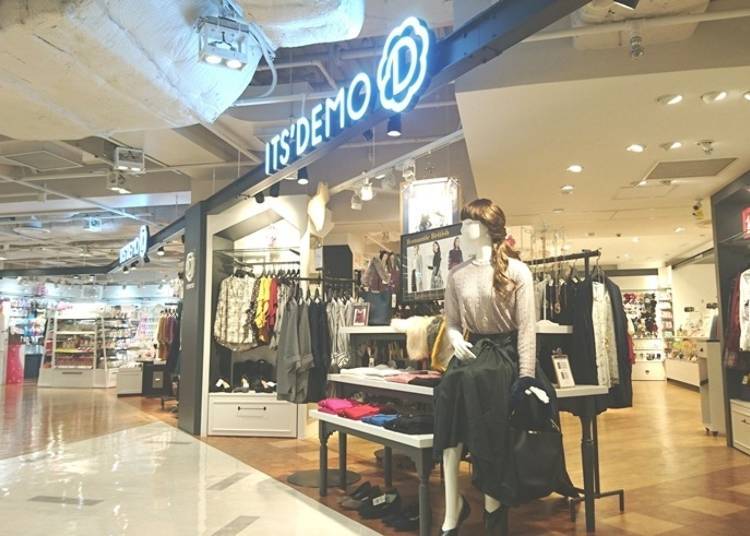 We especially recommend stopping by a shop called ITS'DEMO, pampering shoppers with a large lineup of trend cosmetics, brands, and a plethora of makeup products. The shop even has its own original cosmetics selection that often collaborates with popular shows and characters. Many of the items offered here boast a wonderful Japanese aesthetic, so they make excellent souvenirs.
Hands Be: a Lifestyle Shop all About High Quality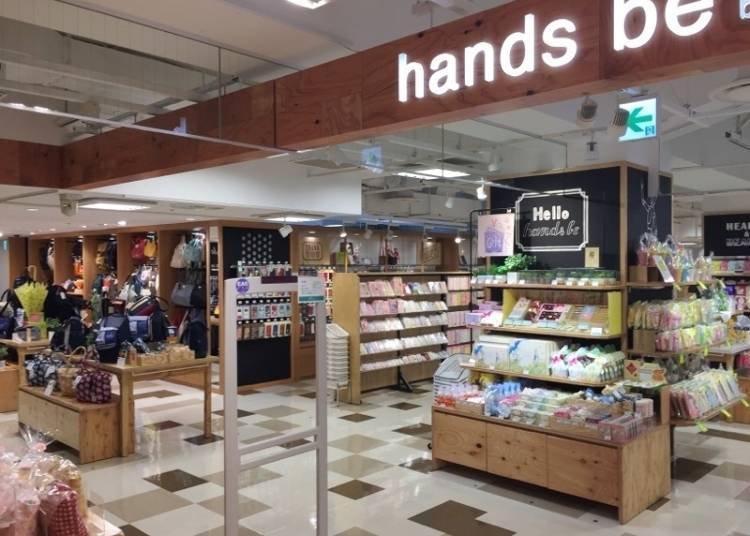 Hands Be is a special shop that makes perfect use of the know-how and product lineup cultivated in the famous Tokyu Hands chain and offers a wide range of skin care goods and makeup products.

Browse the products of 55 brands, including Japanese brands such as Naturaglacé, focused on all-natural ingredients, or the mineral cosmetics brand Etvos. Those two are particularly popular among Japanese shoppers, but the best-sellers among tourists are low irritative cosmetics that are fit even for children, and facial masks with components from Japanese-grown rice.
西武新宿ペペ

Address

1-30-1, Kabukicho, Shinjuku-ku, Tokyo, 160-0021


Nearest Station

Seibu-Shinjuku Station (Seibu Shinjuku Line)
0 minute on foot


Phone Number

03-3232-7777
One of the best things about shopping on the cosmetics floor of a large department store is the many counseling services by genuine beauty advisors. Interpretation services make them accessible to pretty much everyone, pampering you with excellent service and hospitality. It's not just about buying cosmetics—it's a whole experience, start to finish, that includes all sorts of services and entertainment.

As mentioned at the start of this article, each department store has its own unique concept and characteristics, and a big part of the shopping experience is exploring this character and match it with your own style! We hope that you'll find the makeup goods and cosmetics that are just right for you in a fun shopping adventure!
*This information is from the time of this article's publication.
*Prices and options mentioned are subject to change.
*Unless stated otherwise, all prices include tax.
Search for International flights