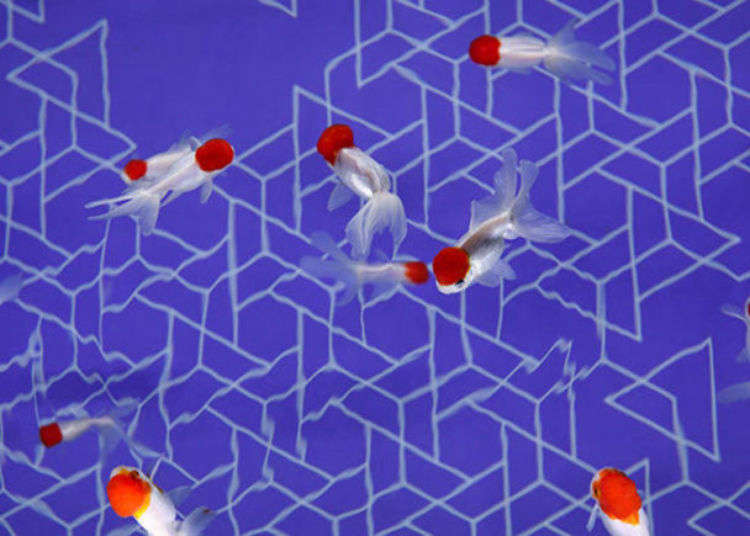 Sumida Aquarium, located in Tokyo Skytree Town's Tokyo Solamachi is a relaxing way to end a day of sightseeing. But it's also a romantic locale for a unique dating experience as your enjoy looking at penguins, jellyfish, and more!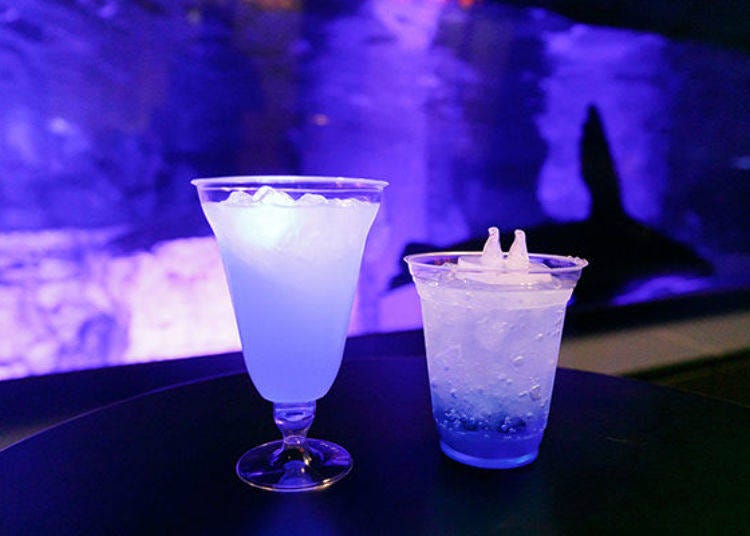 Enjoy cocktails and an undersea view
Sumida Aquarium is easy to get to from Tokyo's major tourist centers and is open until 9pm. With a unique system that utilizes completely artificial seawater in its tanks, the in-land aquarium is able to exhibit a wide range of sea life.
Getting to Sumida Aquarium
A couple going to the aquarium
The aquarium is a 1-minute walk from Tokyo Skytree Station (Tobu Skytree Line) or a 5-minute walk from Oshiage Station (Tobu Skytree Line, Tokyo Metro Hanzomon Line, Keisei Oshiage Line & Toei Subway Asakusa Line).

Since Oshiage Station passes through Tokyo Skytree Town, it's a good location to do some window shopping, or you can sit on a bench in front of the aquarium entrance for a sunset view of Tokyo Skytree.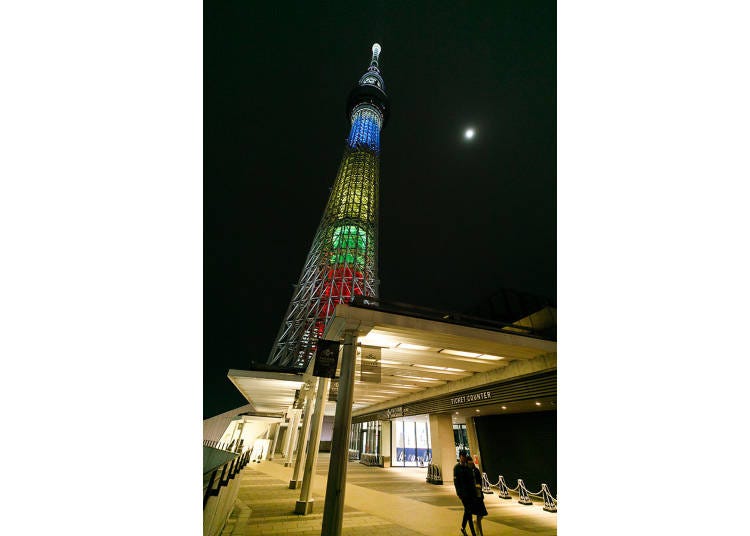 Tokyo Skytree as seen near the aquarium entrance
Admission tickets are 2,050 yen for adults, 1,500 yen for high school students, 1,000 yen for middle and elementary school children, and 600 yen for children 3 years and older (tax included).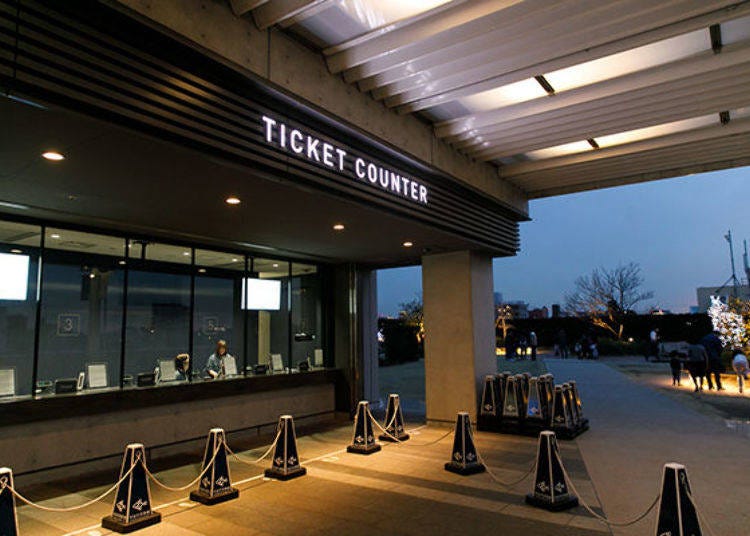 No lines on this night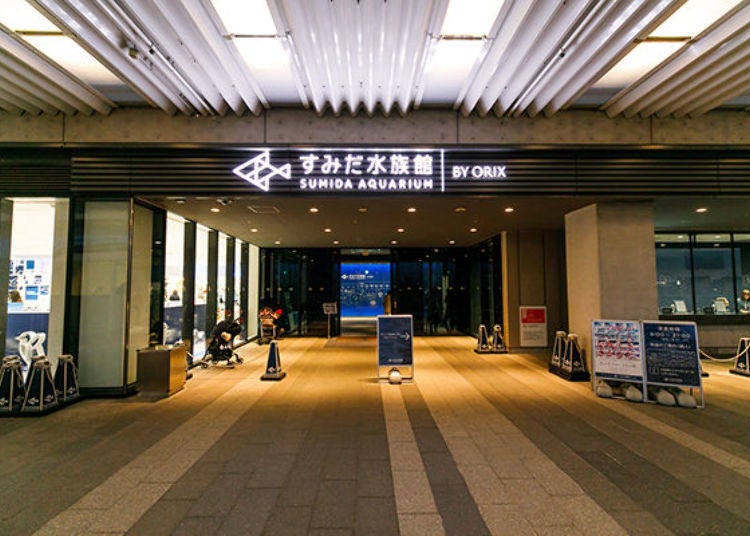 A different atmosphere at night
Relax in a soothing setting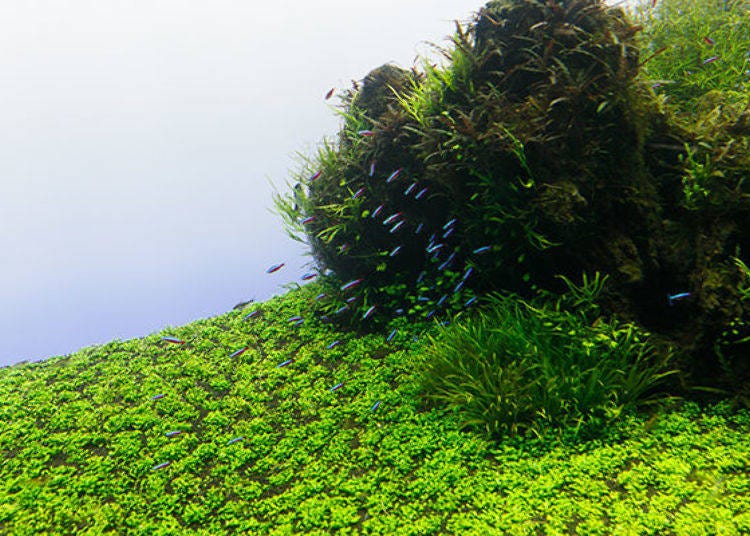 Small oxygen bubbles found leaves are evidence of photosynthesis
Upon entry, you'll notice a very nice smell. The aquarium uses aromas to enhance the relaxing effect throughout the facility. It's an unexpected surprise!

The first display is the "natural waterscape" filled with aquatic plants and freshwater fish. Here, carbon dioxide is supplied to the tank to stimulate the photosynthesis of aquatic plants, and fish breathe the generated oxygen in this reproduction of a natural ecosystem. The tank undergoes daily maintenance, so you'll always be able to enjoy the beautiful waterscape.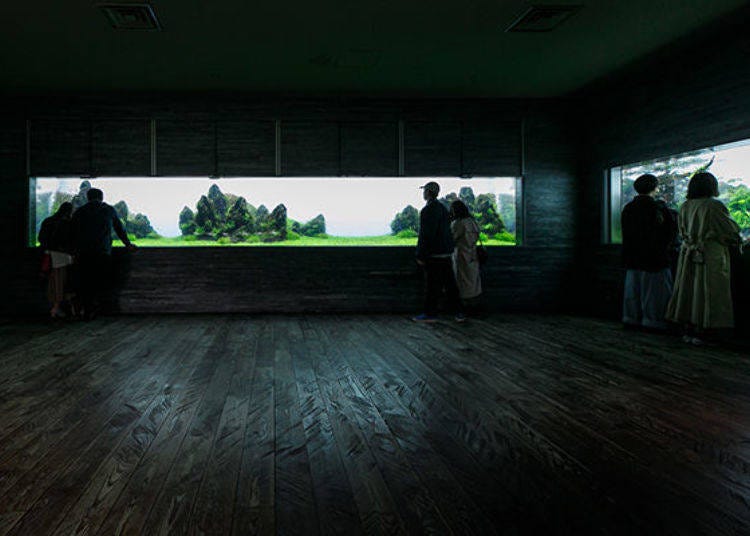 Couples captivated by each other and by small freshwater fish
The tank is illuminated by bright LEDs that make the scene look like moving CG art, and it's not an exaggeration to say that the aquatic plants steal the show from the innumerable freshwater fish in this beautifully designed waterscape.

Next is the popular jellyfish zone. The translucent jellyfish slowly move with the currents in the tank and look like floating moonlight. You'll be entranced and may want to stay at the tank for a while.
Fantasy jellyfish tank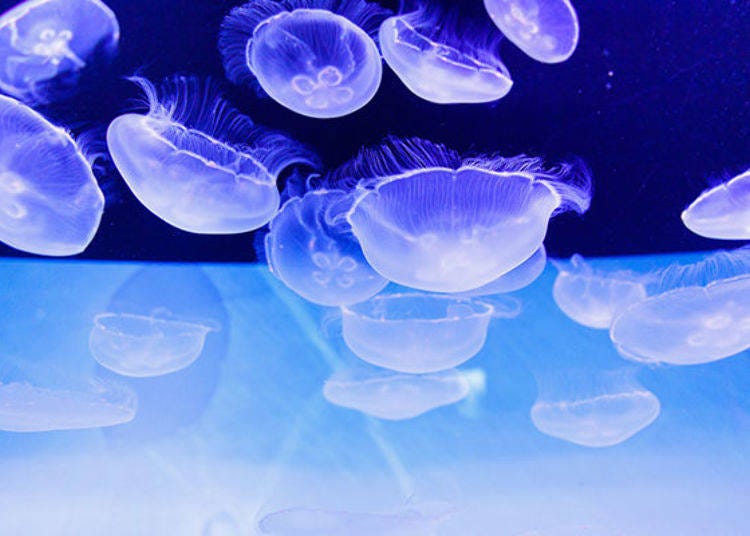 Moon jellyfish have a six-month lifespan. Those on display were born and raised at Sumida Aquarium
Be sure to pay close attention to the background of the jellyfish tank – a projection of the rhythm of the jellyfish heartbeat. It's a creative way to learn more about the characteristics of the moon jellyfish.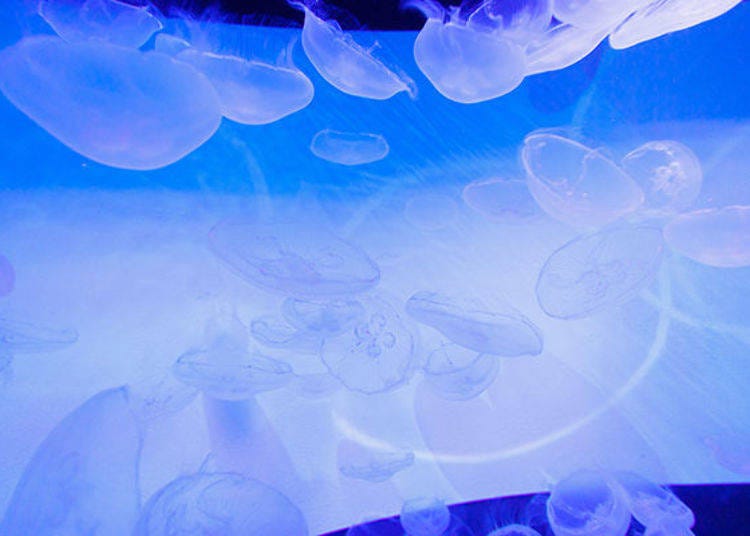 Large and small rings representing corresponding beats
Near the jellyfish tank, the Aqualab is where the jellyfish are born and raised.

Here, the aquariums are divided according to the creatures' growth period. In the newborn tank, jellyfish as small as one millimeter in length look like miniature versions of the older examples. The growth process can be seen in five or six tanks, and after about two months, the jellyfish are moved to the main tank.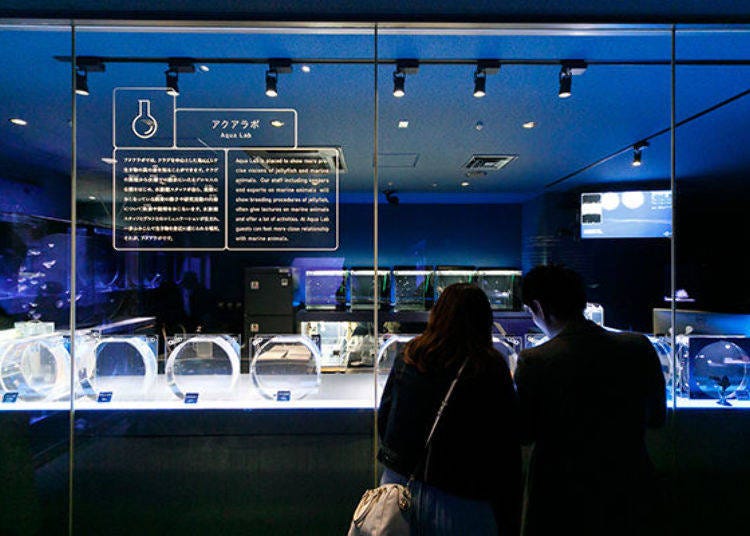 Learn about the ecology and life cycle of jellyfish
In addition to moon jellyfish, several other types are bred so that you can see a variety of jellyfish babies. Watching the slow movement of both large and small jellyfish is both relaxing and soothing for the mind.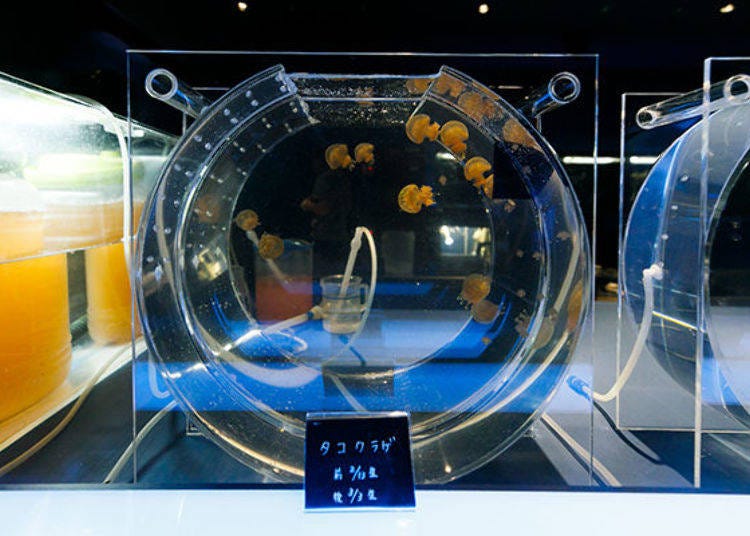 Spotted jellyfish babies less than one week old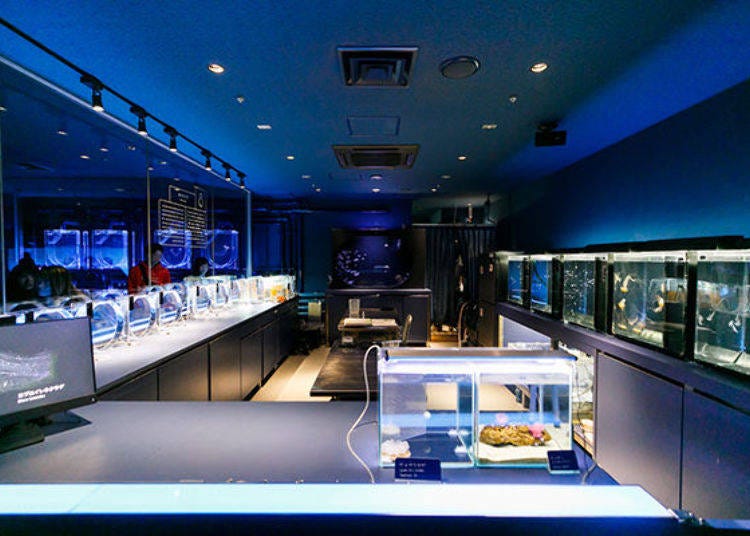 See how the breeding staff care for jellyfish and feel free to ask questions
Next is the Aqua Gallery, where small tanks look like paintings in a museum. The exhibition focuses on the ecology and beauty of various creatures such as clownfish, pufferfish, and porcupine fish. In the dimly lit gallery, the aquariums seem to be floating fantastically.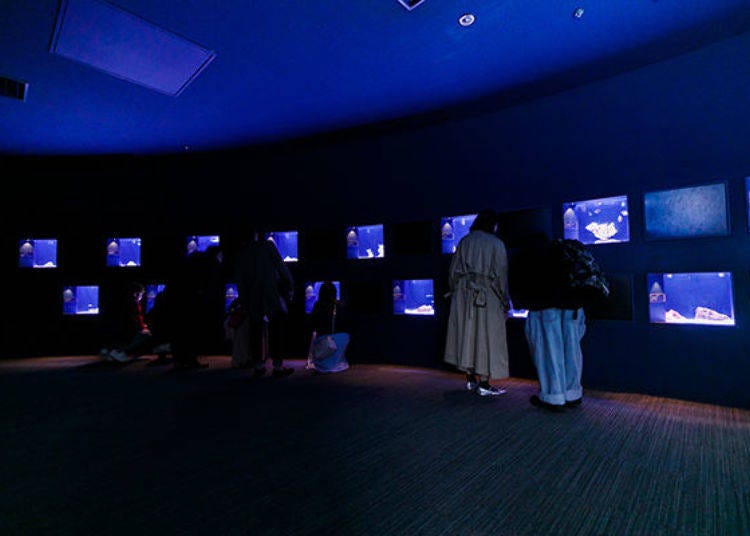 Fewer visitors at night provides a chance to observe each creature more closely
The coral reef area features many colorful fish, and as you circle the acrylic glass tank, it's fun to see the same fish from different angles.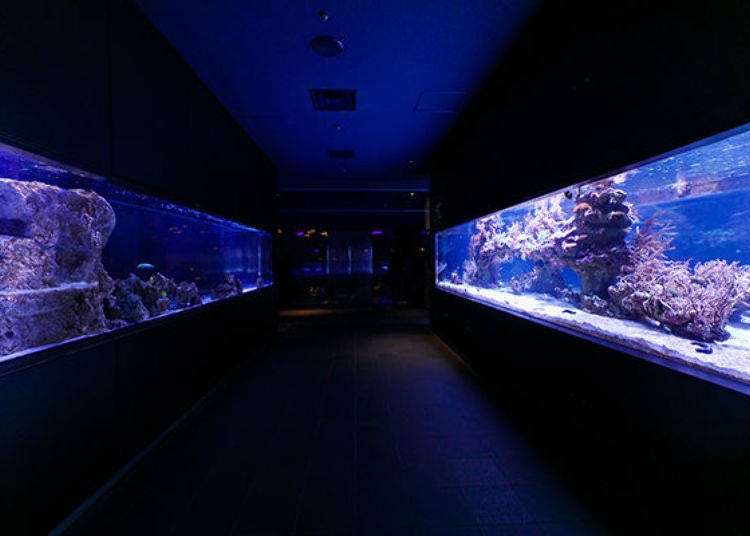 See the creatures that coexist with coral reefs
Chilled Out Penguins! Observe the Private Life of Sea Creatures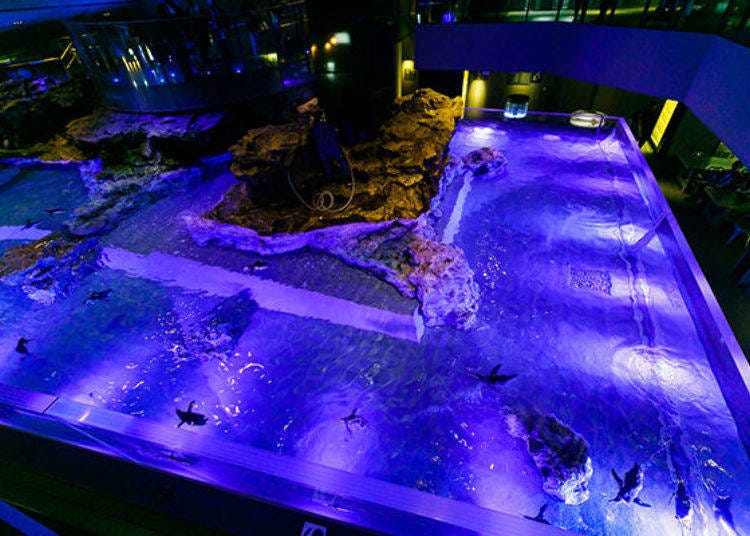 The most popular exhibit at Sumida Aquarium is the Penguin Pool. Here you can see Magellanic penguins swimming freely in one of the country's largest indoor open pool aquariums.

In the wild, penguins spend about 70% of the day in the water, and Sumida Aquarium has penguin pools with ample capacity for penguins to enjoy swimming at the high speeds they enjoy in the ocean.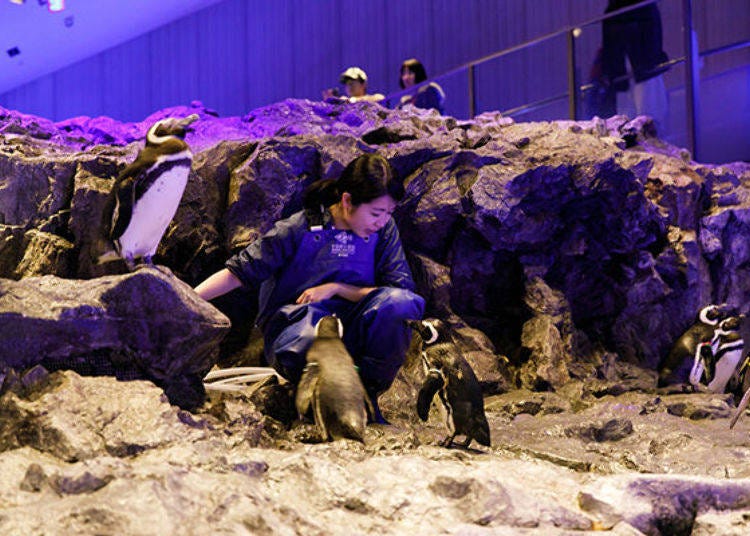 Seen from above, swimming penguins seem to be flying in the sky
Also, the lighting around this penguin pool directs changes with the time of day, so it mimics bright natural light during the day and gradually fades as the sun goes down. You might wonder if penguins and other marine animals feel the passage of time and will be ready to sleep as the lighting decreases.

Unique to the night aquarium, you can see the penguins' transition from lively daytime activity to their more relaxed evening behavior. Around 19:00, some penguins have already started sleeping.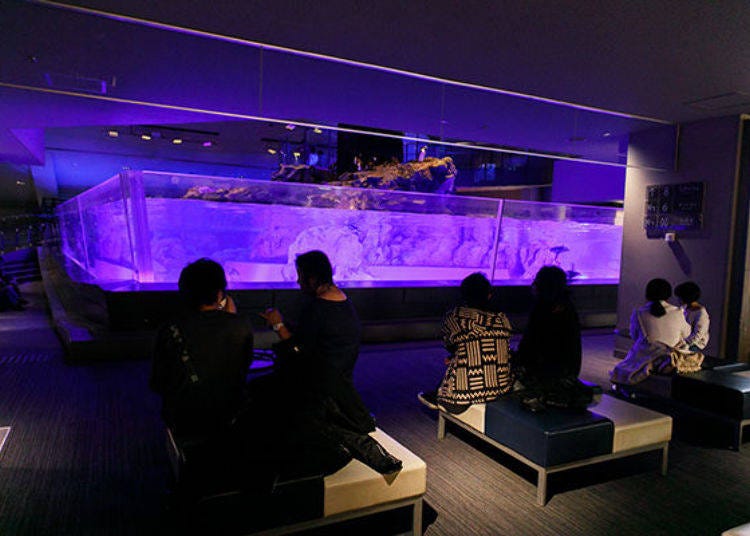 Because they have plenty of interaction every day, penguins are fond of their caregivers
The Penguin Pool's two-story construction allows visitors to see penguins from both above and below. Seated on the sofas abound the pool, couples can enjoy quiet conversation while watching the penguins swim!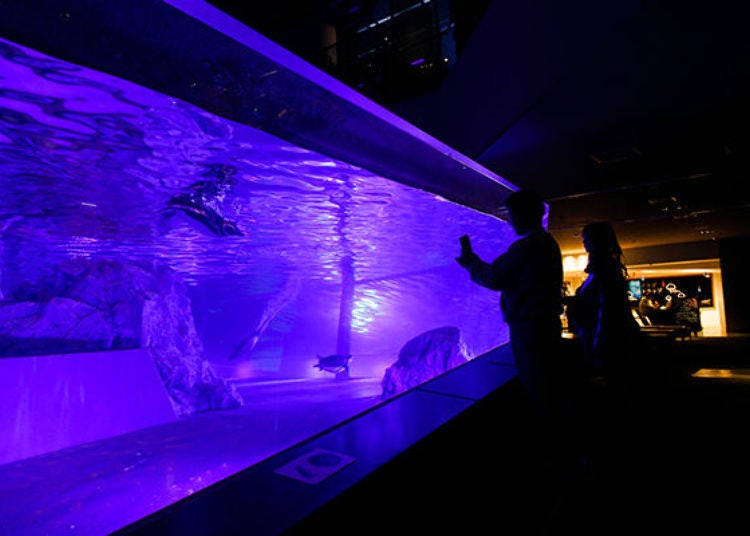 A quiet hall where you can forget the noise of the city
The Magellanic penguins at Sumida Aquarium reach peak breeding in February and March. Most penguin couples breed in a room separate from the pool area and begin laying eggs in April. As a result, the penguins in the pool in mid-March have more space than usual.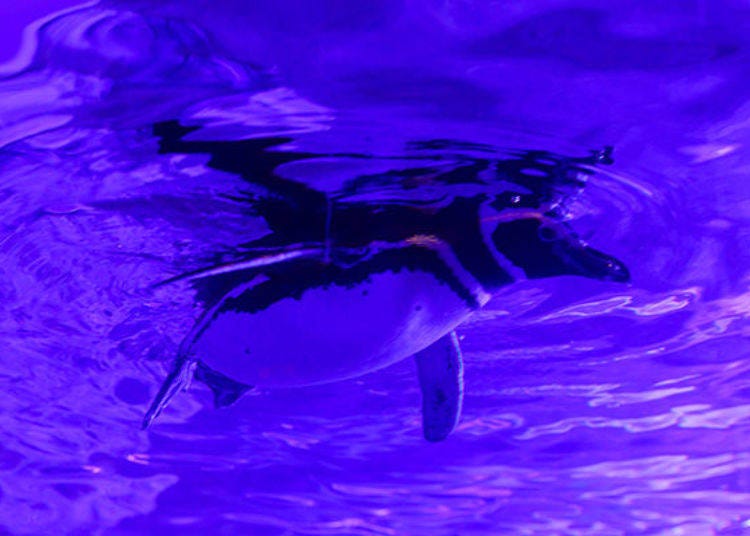 A cute penguin relaxing while floating near the surface of the water
The penguins generally mate for life and are said to have a "divorce rate" of about 3% after producing offspring. However, some penguins at Sumida Aquarium have a triangular relationship of one male and two females, which causes the aquarium's staff some concern when trying to determine which pairs are mated.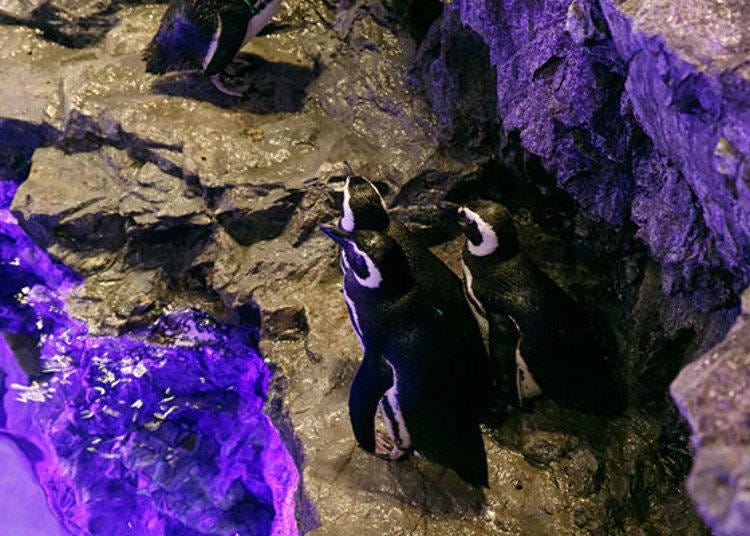 A rare penguin triangle of one male and two females
The pool grants close access to the birds, making it easy to see their expressions, and fun to look for penguin couples.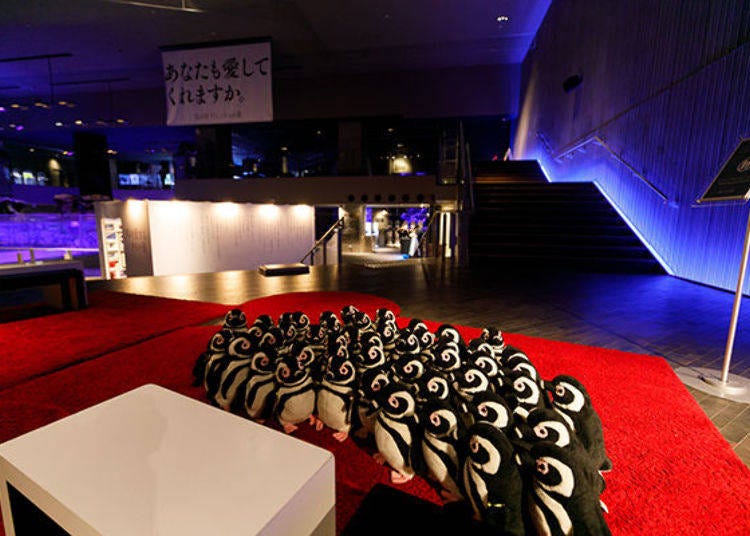 Penguin stuffed animals near the pool
Next to the penguins, there's a South American fur seal which you can watch as it slides down a slope coming down from the upper floor. The fur seals, already in the night mode, play alone or call out from the rocks. It's almost like a glimpse into their private time after a day of work.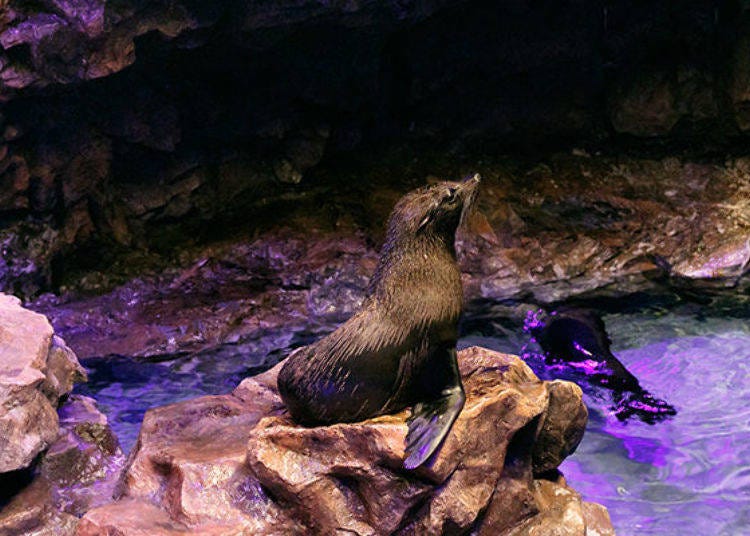 The fur seals say, "Our work is done!"
The fur seal pool is also visible from the "fur seal tunnel," and since they often follow the same route repeatedly, you'll be able to see them swim back and forth many times. If you're lucky, one might even linger near the window and give you a closer view!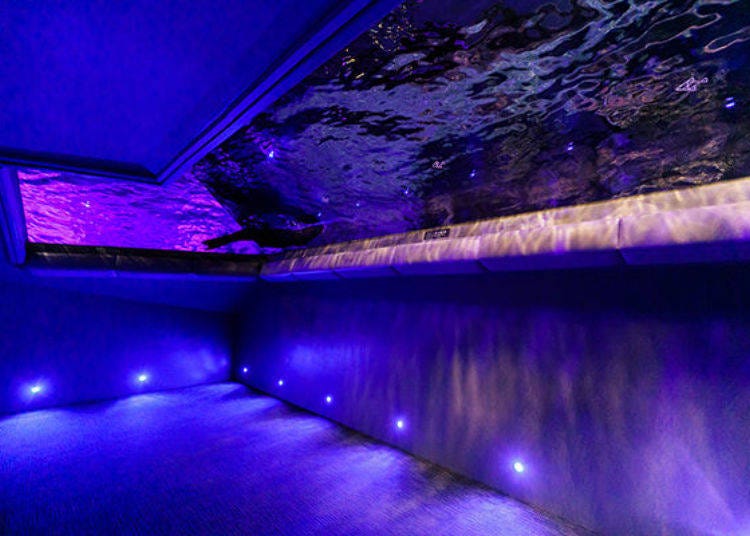 Anticipating a seal's return route: "Here it comes again!"
Reproducing the Mysterious Deep Blue Sea of the Ogasawara World Natural Heritage site!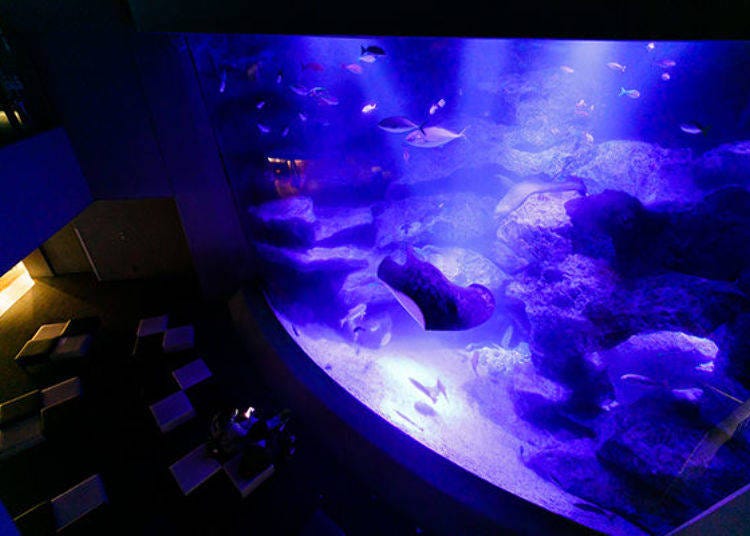 Round ribbontail rays swimming gracefully
Sumida Aquarium's large "Tokyo Great Tank" reproduces the seas around the Ogasawara Islands, a World Natural Heritage site. With the cooperation of Ogasawara Village and advice on the rock layout and the color of the seawater, this faithful reproduction is home to 55 species of fish, including sand tiger sharks and round ribbontail rays.

I sat on the couch and became silent and looking for a while, I felt as if the blue sea was spreading in front of my eyes. I am moved by the luxury of seeing the beauty of Ogasawara in the city center!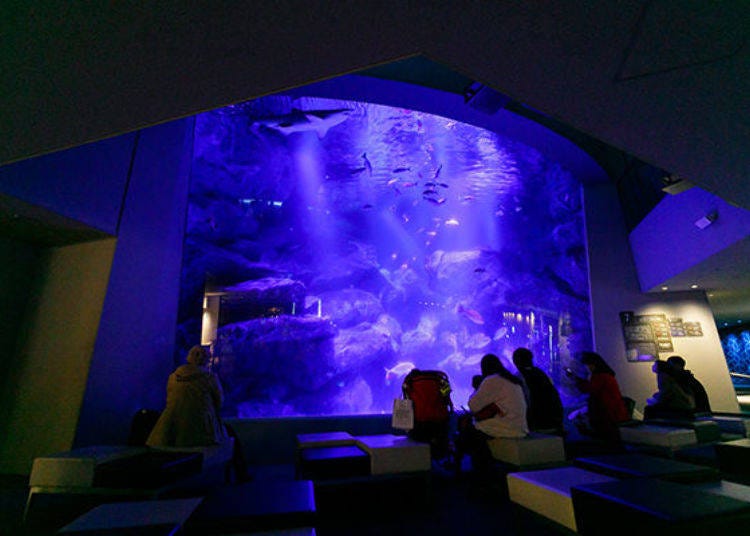 Enter the mysteries of the deep while seated on a sofa on the lower floor
The Aquascope area has small windows for a peek inside the large tank. It's perfect for a fish's eye view!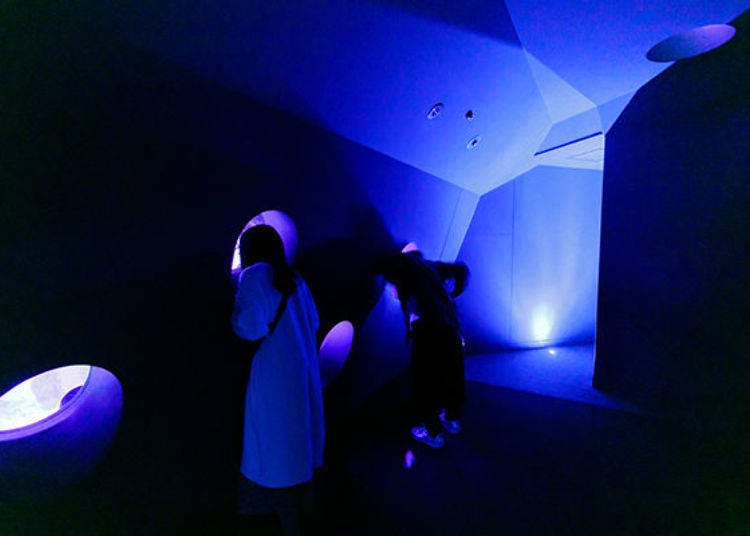 Even looking through different windows, it's fun to look together
Looking at the large tank from this perspective gives a totally different impression, as watch the fish swimming around the rocks.
The beauty of Japan! Study the Roots of Goldfish at the Edorium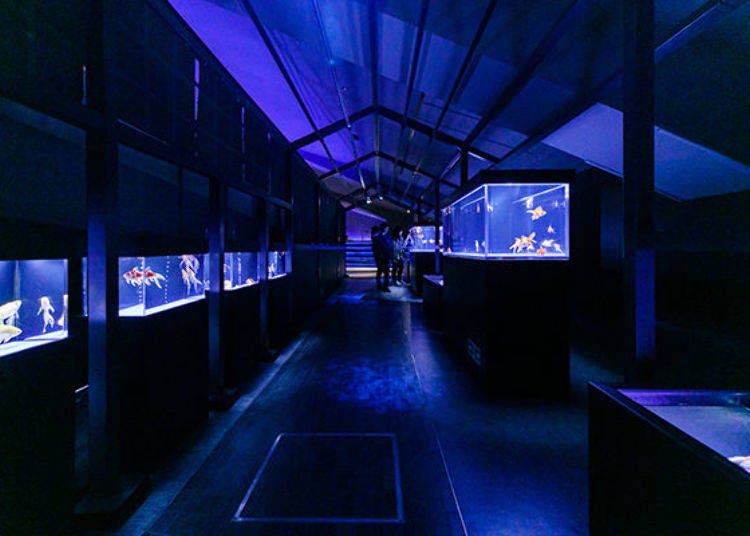 The aquarium is divided according to goldfish type
Another of Sumida Aquarium's many highlights is the Edorium, where about 20 types of goldfish are exhibited. Sumida Aquarium is close to Edogawa ward, one of Japan's three major goldfish production areas, and the Edorium serves as a close-up of downtown Tokyo's goldfish culture.

You can admire a variety of goldfish, from the familiar goldfish such as Demekin, Ryukin, and Ranchu, to the unfamiliar types such as Pearlscale and Suihougan.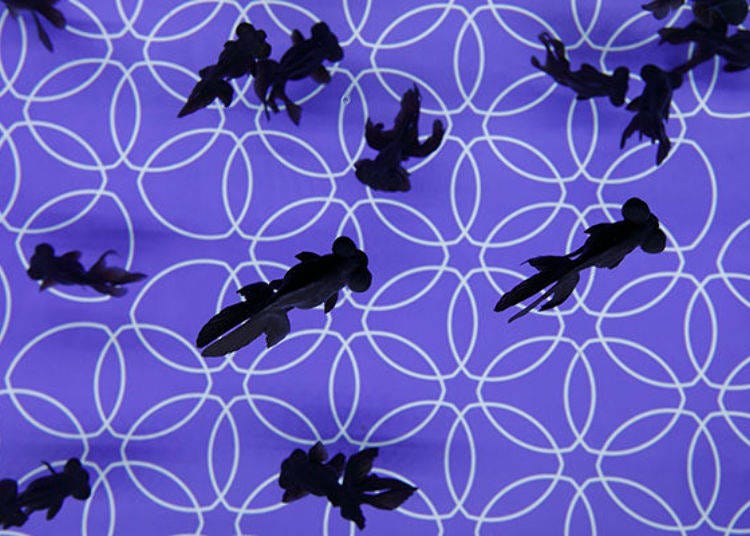 When viewing from above, pay attention to the shape of the goldfish and the beauty of their tail fins!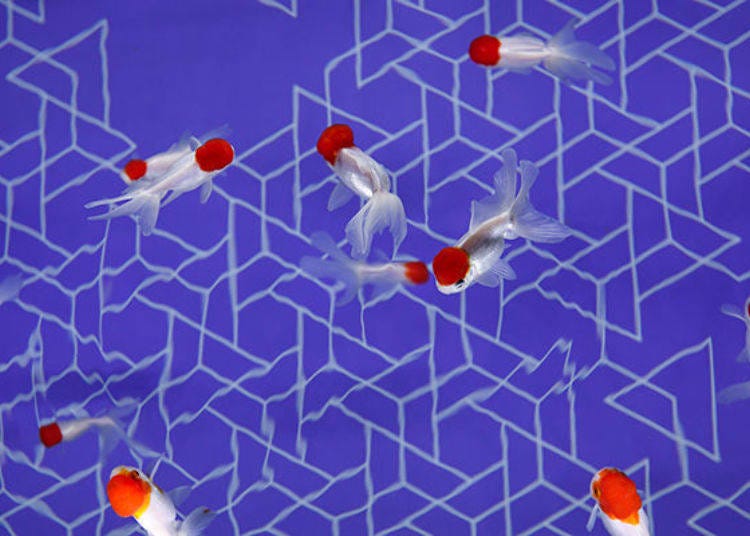 With a red cap on a white body, these fish stand out against the tank's blue bottom
Here you will also find goldfish that you don't usually see very often including British-born Bristol Shubunkin and Calico Ryukin both with red, black, and white coloration.
▲Bristol Shubunkin have a heart-shaped tail fin that shakes gracefully every time it moves, creating a fantastic sight!
As the name suggests, Edorium features Japanese-style decorations with the theme of "Edo." The goldfish, widely popular in Japan and around the world, are presented along with a stylish decor.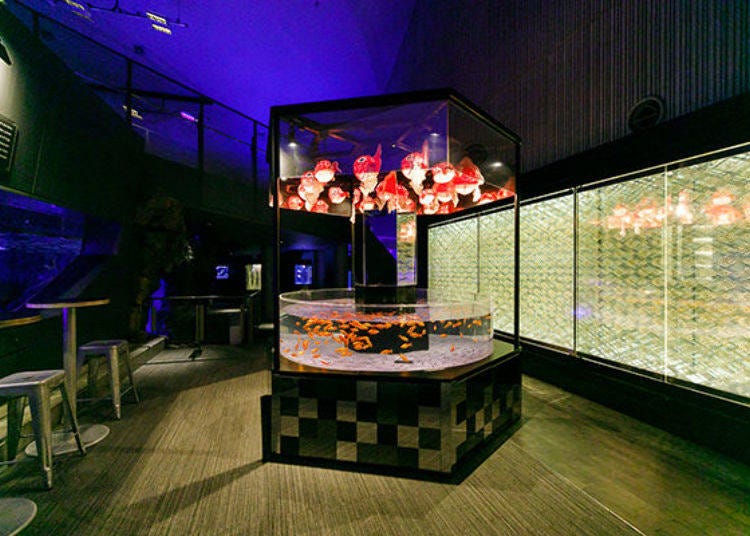 Goldfish-shaped nebuta lanterns and above the Common Goldfish Tank
In addition to the aquariums and fish themselves, there's also a recreation of a Showa Era goldfish-selling stand.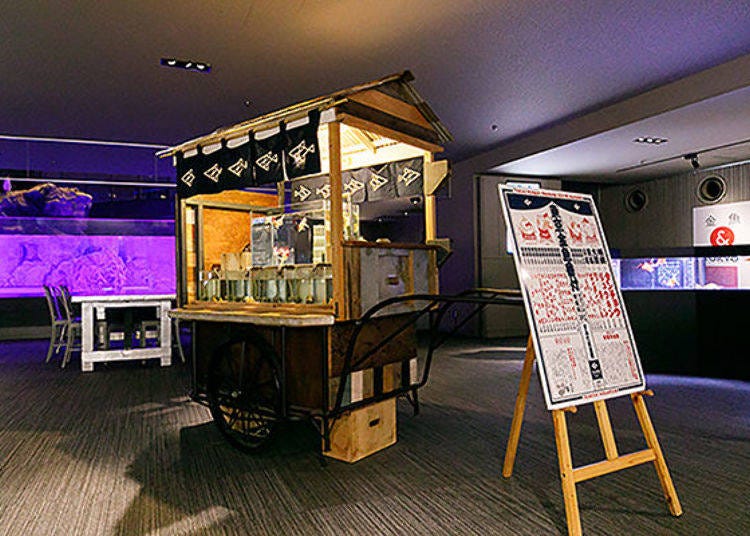 The goldfish stand seems almost like a moving aquarium
Goldfish are part of the carp family and through mutation and breeding became the fish we know today. You can learn more about goldfish breeding from a display panel at Sumida Aquarium.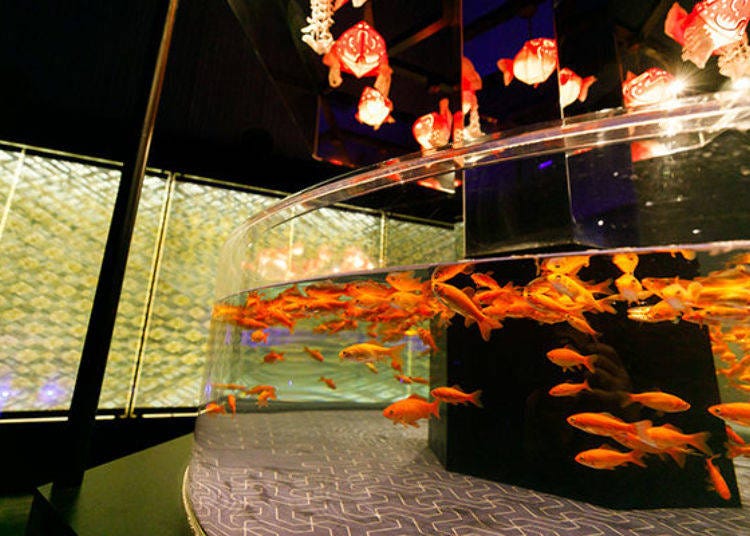 Most people are familiar with the Common Goldfish. Seeing hundreds in one tank is impressive.
Goldfish bred by humans are said to be a living art object created by Japanese culture, but they are a breed that could disappear without human intervention.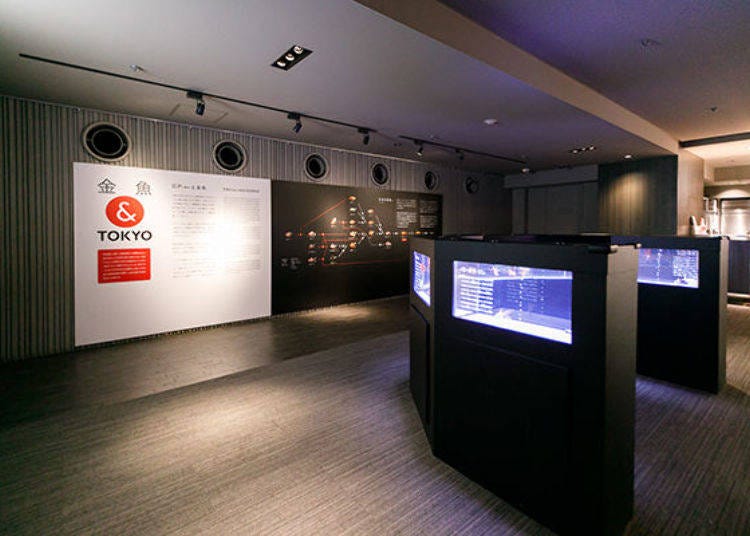 Surprisingly, goldfish are a species that could become extinct if they are not carefully bred
Your view of goldfish as an important aspect of Japanese culture may be widened by this interesting exhibit, as you learn about their origin, history, and future.
Don't Miss the Special Event Nights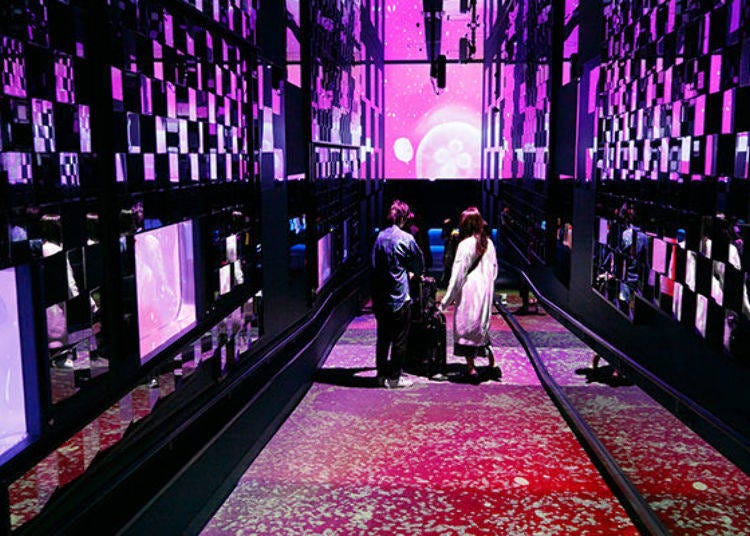 Cherry blossom petals projected on the floor ripple as people move.
Sumida Aquarium also holds special events regularly. One impressive example is the "Kaleidoscope Tunnel." During this limited-time event you can walk along a 50m incline surrounded by 5,000 mirrors the wall and ceiling.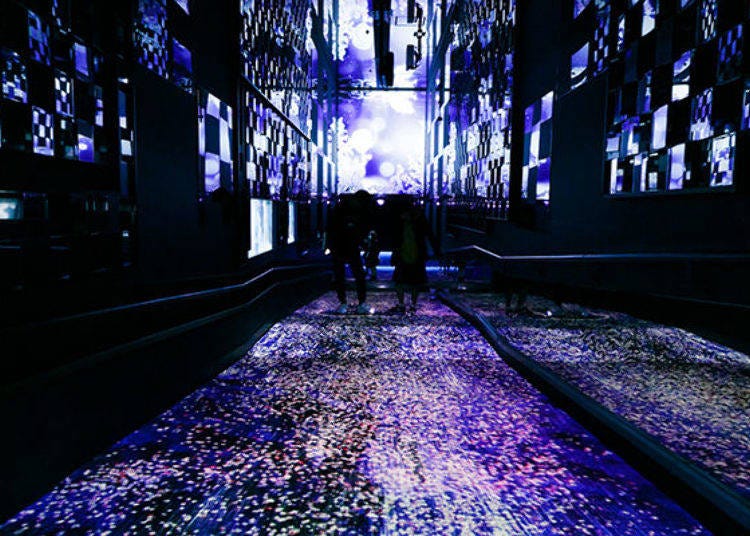 A couple walks happily while spreading the cherry blossoms
Themed events are seasonal, so repeat visits to the aquarium are worthwhile. Every evening at 7pm, visitors can watch as the spotted garden eels are fed. (Time subject to change or cancellation; may be canceled depending on the physical condition of the eels.)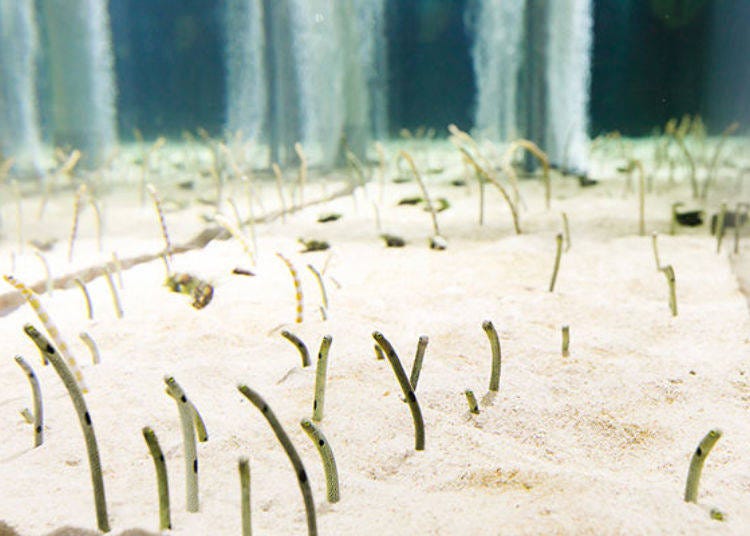 Tiny eels before feeding
Sumida Aquarium has three types of garden eels: spotted, orange-barred, and white spotted. Each has a different length, anywhere from 30 to 70 centimeters!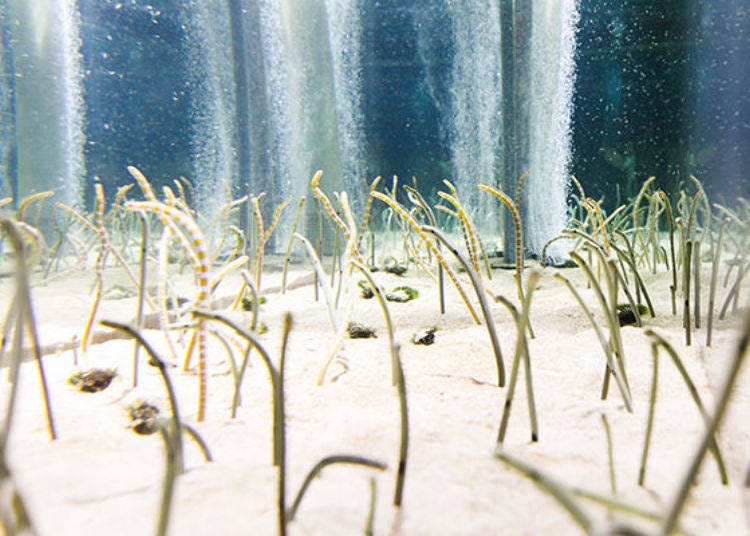 Eels stretch out of the sand for food
Watching the eels feed is captivating, as they jump out of the sand to capture pieces of food floating down through the water.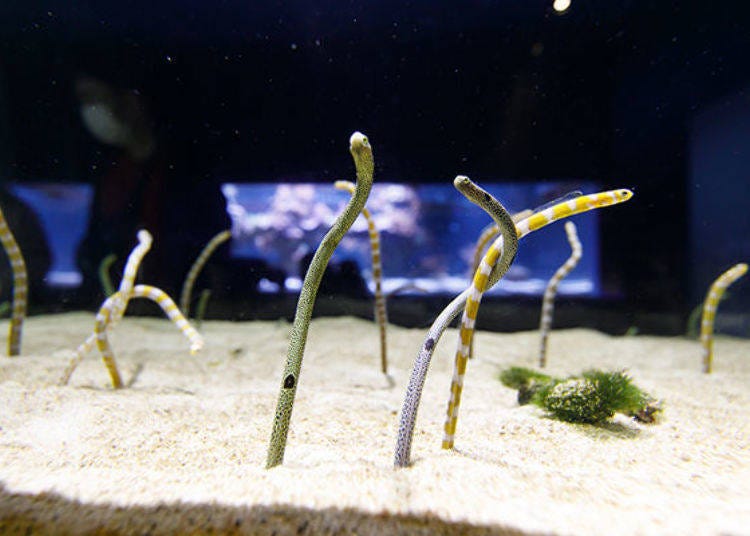 Eels occasionally become intertwined
There are also other experiences that require signing up in advance and a lottery for participation. If you arrive early enough, be sure to sign up!

For guests 18 years of age or older "Penguin Watch" (free participation fee/lottery after pre-registration), held every Wednesday, makes it possible to view penguins as they prepare to sleep. The aquarium staff recommend viewing locations, and lottery winners of use binoculars to observe penguins that couldn't be seen otherwise.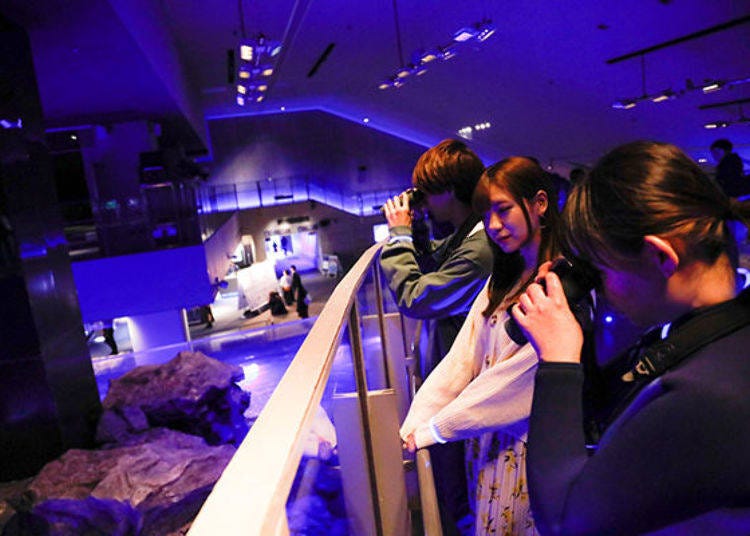 A close-up look using Swarovski Optics binoculars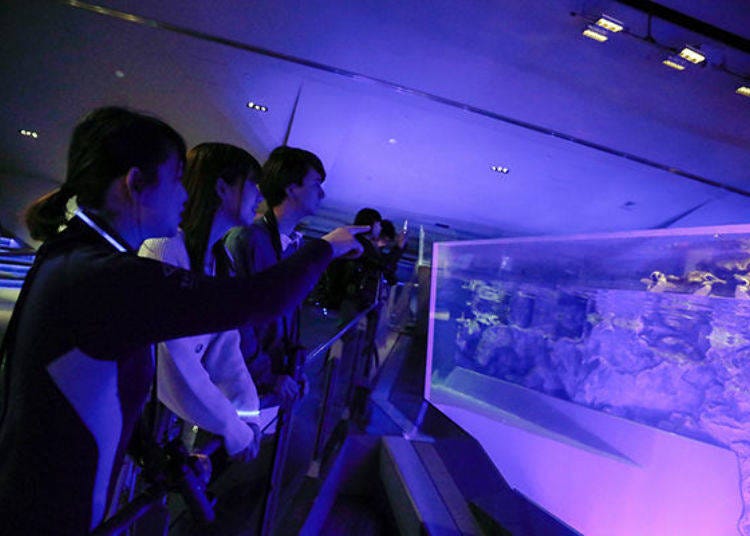 Listening to the breeding staff's detailed and enjoyable explanation and making small discoveries!
Learning about jelly fish during "Fluffy Jellyfish"
Other popular events include the regularly held "Fluffy Jellyfish," and "Ogasawara Academy – Yu Yu Ogasawara" in which the breeding staff and the Ogasawara Village Tourist Office present the charms of Ogasawara. Both are free of charge, but require an advance application and use a lottery system.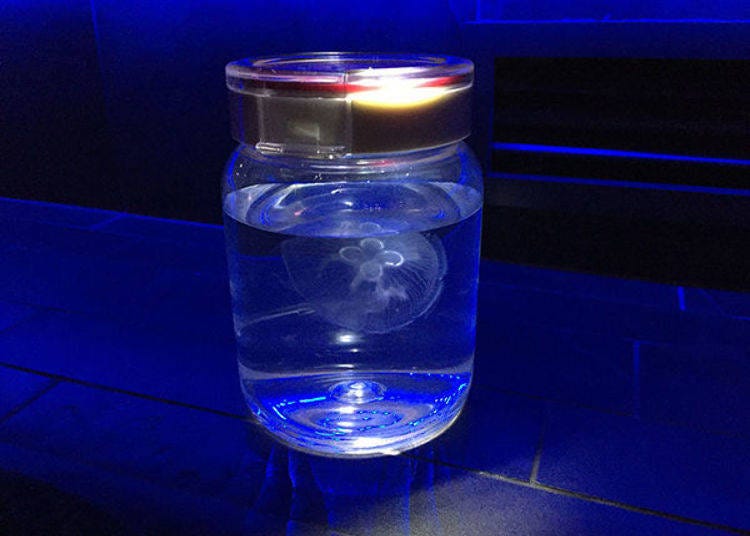 Participants can feed and observe a jellyfish in a bottle
Many events are held throughout the month, so be sure to get further details on the aquarium's website and apply for the events that catch your interest.
Snacks, Drinks, and Souvenirs!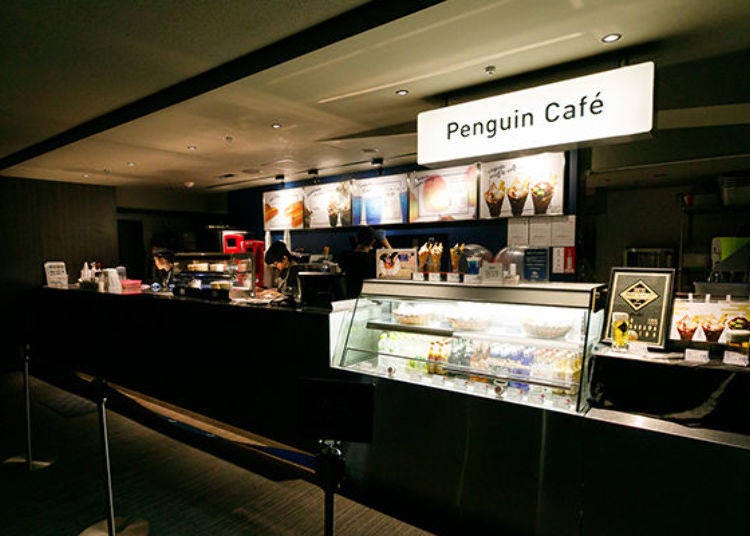 Alcohol is served, so you watch penguins while enjoying a stylish cocktail
While eating or drinking while walking through the aquarium are not allowed, you can sit and eat on sofas or chairs near the various tanks. Bringing your own food is ok, or you can buy something from the Penguin Café.

Beverages from the "Sparkling Drink Series" shine in the dimly lit building and further enhance the night aquarium experience. The "Light Blue Night Cocktail" (650 yen, tax included) matches the blue light in the hall, and it looks great in photos with penguins in the background! Non-alcoholic sparkling night juice is also available.

As for soft drinks, the "Penguin Float" (410 yen, tax included) is recommended. Cute penguin-shaped ice floats at the top of the drink and looks like a penguin couple at the South Pole!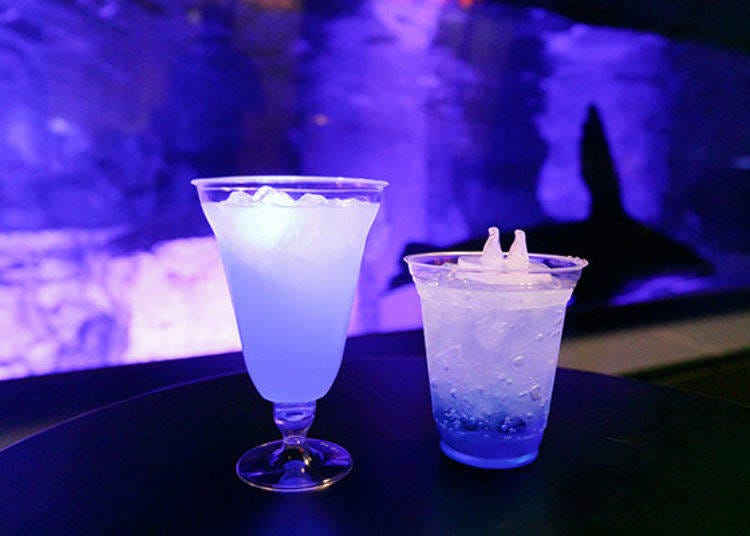 Light Blue Night Cocktail (L) and Penguin Float (R)
"Penguin Waffle Soft" (500 yen, tax included), a soft cream dessert, is a good choice for eating at the tables in the Edorium or in the fur seal area. If you eat it while watching the goldfish, you'll feel like you're eating it in the sunshine!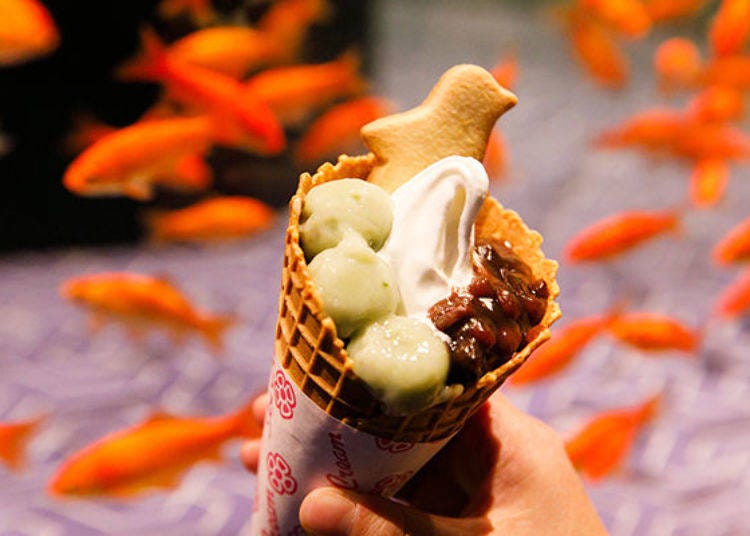 Penguin Waffle Soft comes in three varieties: Mitarashi, black honey kinako and Kusamochi dumplings (pictured).
If you want a souvenir to commemorate your visit, head for the gift shop near the aquarium exit. There are items for both young and old, so you'll be able to buy something for your date, too.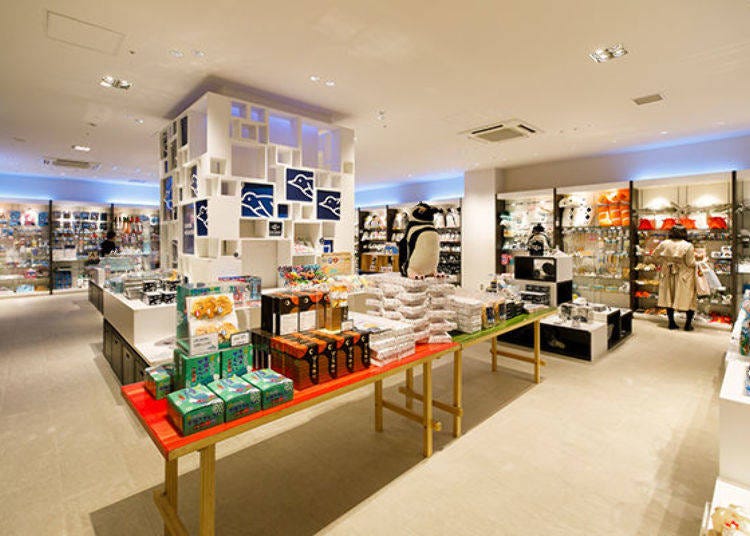 So many items you'll wonder which to buy!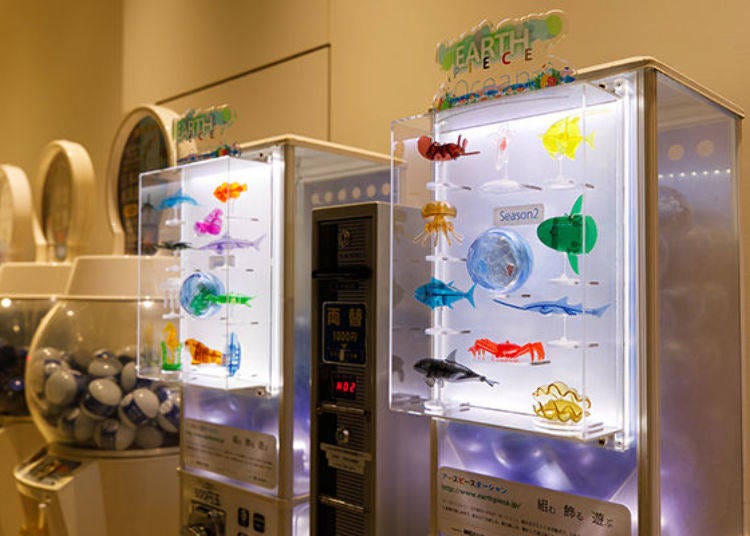 The popular "Earth Peace Ocean" gashapon balls make it possible to assemble and decorate your own movable sea creatures to play with! (500 yen, tax included)
The shop also sells the aroma oils used throughout the aquarium. There are five types available: "pro hygiene," "serene," "redwood," "sapphire," and "arobalance." All include notes describing where and when they were used in the aquarium. If a particular scent caught your attention during the evening, pick it up here!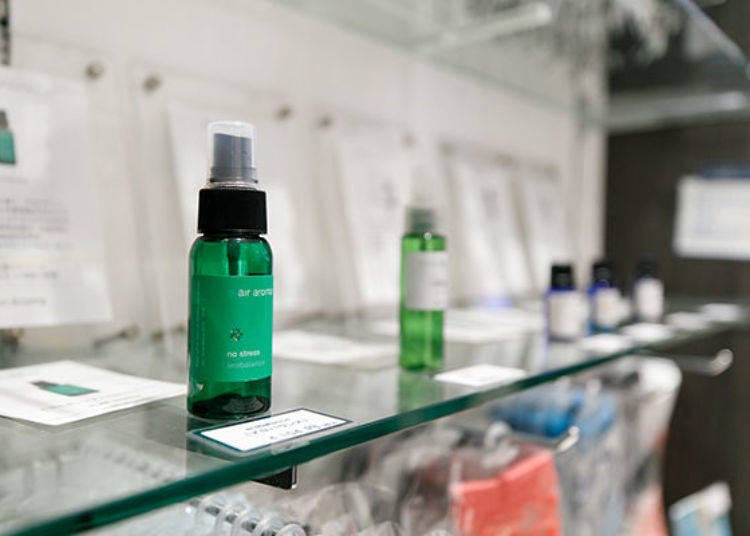 Green bottle (50 ml, 4,104 yen), large blue bottle (100 ml, 6,048 yen), small blue bottle (13 ml, ·3,240 yen). (All prices included tax)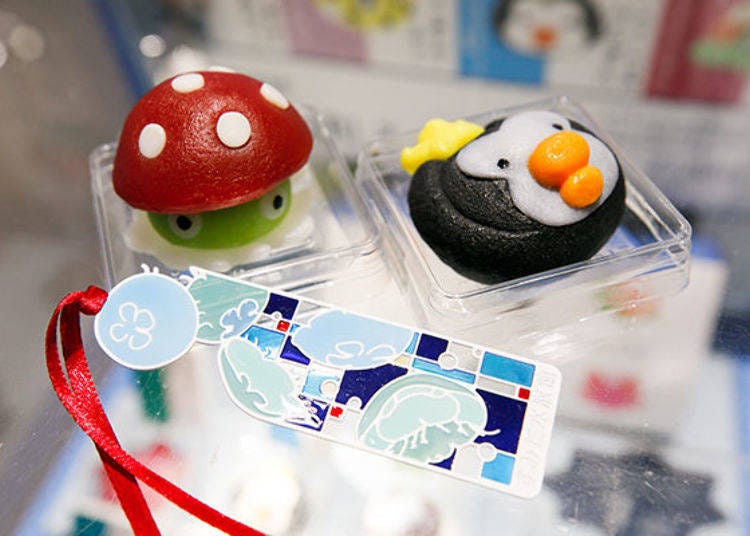 "Aquarium Wa Sweets" are also popular for all ages (one piece, 210 yen, eight pieces, 1,680 yen). Pictured, back: "Jellyfish" with strawberry paste (L) and "Penguin" cream daifuku (R). Front "Sumida Aquarium Limited Jellyfish Book Mark" (486 yen). (All prices included tax)
In addition to sweets, there are many practical products including bookmarks, tape, stickers, and key chains.
Sumida Aquarium, an Urban Oasis for a Leisurely Evening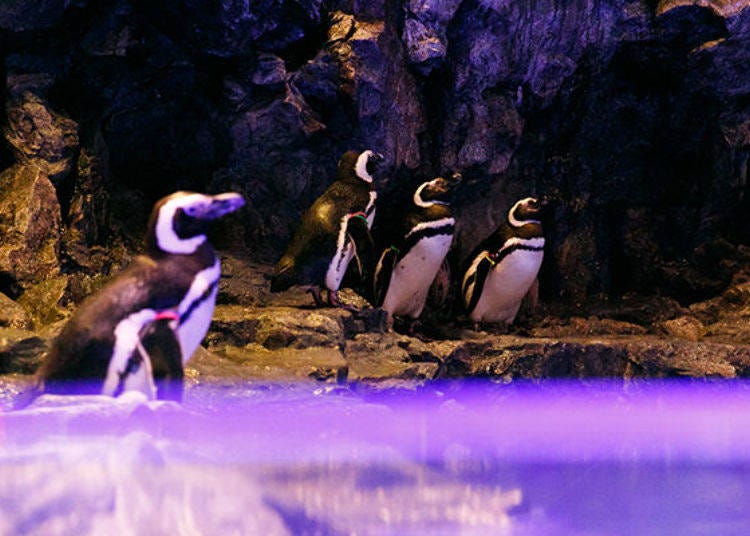 As closing time approaches, most penguins have begun to go to bed
Sumida Aquarium has been carefully designed to be more leisurely than typical aquariums.

Annual passes are available (adults 4,100 yen, high school students 3,000 yen, middle school and elementary school children 2,000, and 1,200 yen for preschool and kindergarten children aged 3 years and older, tax included). This fresh take on the aquarium experience with its quiet environment has become one of Tokyo's most popular tourist secrets!

Buy your favorite deli dinner from Tokyo Skytree Town and enjoy it while watching the penguins swim. Or if you're looking for somewhere to go regardless of the weather, or a fun new place for a unique date night, you should check out Sumida Aquarium!

Written by Kimiko Kishi. English by Gabriel Wilkinson.
Address

Tokyo Skytree town Solamachi 5F, 6F, 1-1-2, Oshiage, Sumida-ku, Tokyo, 131-0045
View Map

Nearest Station

Tokyo Skytree Station (Tobu Isesaki Line (Tobu Sky Tree Line))
1 minute on foot


Phone Number

03-5619-1821
*This information is from the time of this article's publication.
*Prices and options mentioned are subject to change.
*Unless stated otherwise, all prices include tax.