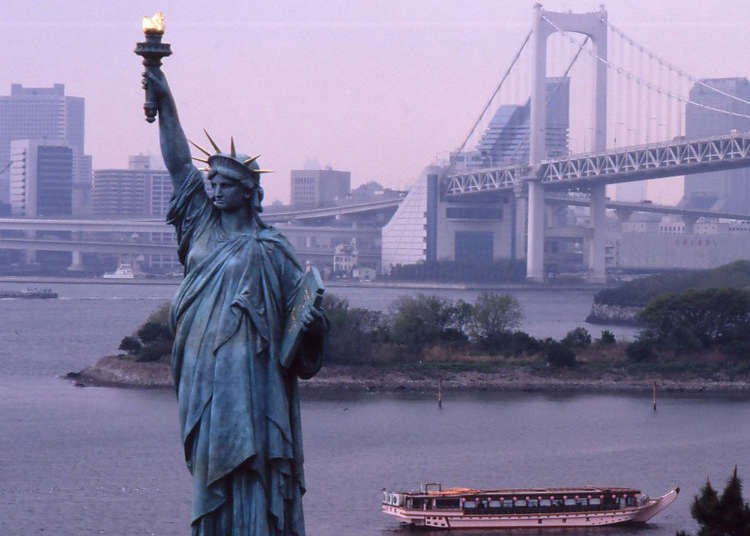 These are the top recommendations for Odaiba, with travel tips and more, according to LIVE JAPAN, a top-class travel website for visitors to Japan. Our ranking is based on the most popular pages viewed by foreign visitors in a given category.

For instance, Oedo-Onsen Monogatari, Mega Web, VenusFort and other related spots will be listed. Be sure to check them out during your visit to Odaiba!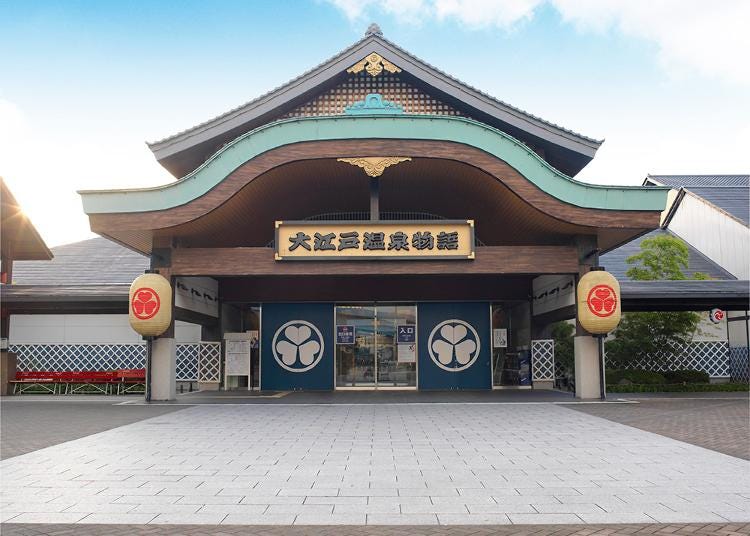 The Oedo-Onsen Monogatari Group operates nationwide onsen (hot spring) hotels and onsen theme parks with the motto, "Enjoy casually and repeatedly onsen and travel". Especially its onsen theme park, Oedo-Onsen Monogatari in the Tokyo Bay Area, Odaiba is popular. Natural hot spring water supplied from the source 1,400 meters under the ground is very gentle to your skin. The theme park is equipped with indoor baths, open-air baths and a footbath as well as a mist sauna exclusive for female guests. A wide selection of yukata (casual cotton kimono) robes to wear in the premises, 5 patterns for female, 4 for male and a few for kids are well appreciated by visitors. In the relaxation room, you can experience esthetic treatment, skin exfoliation and rock-salt sauna with an additional fee. There are also spacious hall to relax after bath, reclining chairs with a TV monitor, restaurants, Japanese festival stalls, fortune tellers and arcade games. Needless to say, the theme park provides accommodations.
大江戸温泉物語

Address

2-6-3, Aomi, Koutou-ku, Tokyo, 135-0064


Nearest Station

Telecom Center Station (Yurikamome)
2 minutes on foot


Phone Number

03-5500-1126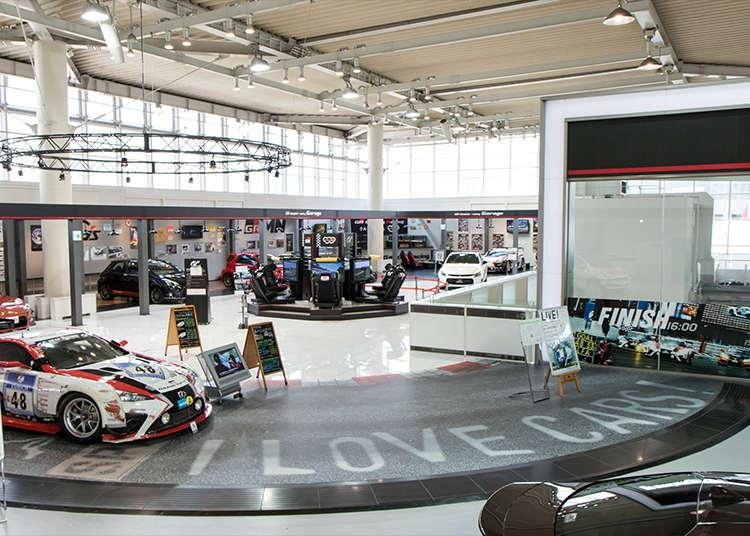 Toyota, one of Japan's most famous car manufacturers has its own showroom in Palette Town. The theme park where you can "See, Ride, and Feel Cars" offers an exciting experience for both young and old. From safety to environmental topics, learn everything there is to know about Toyota's cars here – all of that without an entry fee. There are things to do in Odaiba for literally everyone.
Address

1-3-12, Aomi, Koutou-ku, Tokyo, 135-0064
View Map

Nearest Station

Aomi Station (Yurikamome)


Phone Number

03-3599-0808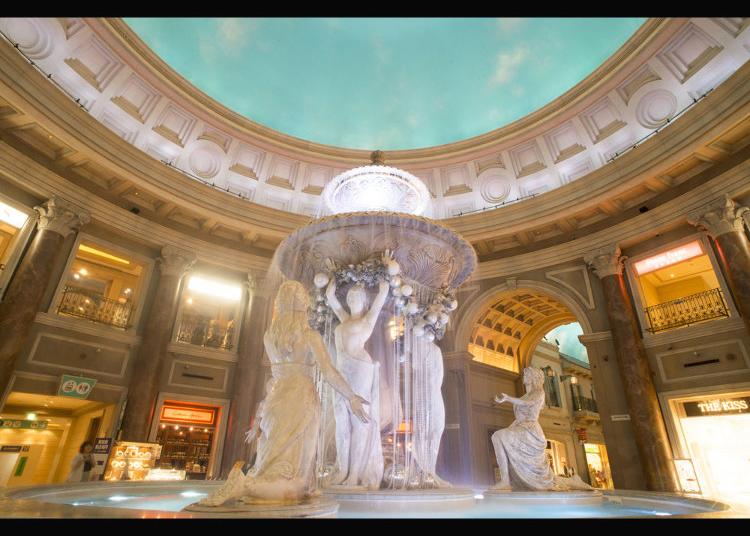 The Venus Fort in the Odaiba area is a unique shopping mall with its interior that evokes a medieval European town. There are many shops in the mall, always teeming with shoppers. Kids wear, pet supplies, and home appliances are on the first floor. The second floor specializes in fashion items and cosmetics, and the third floor is an urban outlet store. The largest of three people's squares boasts a fountain and is very popular as a meeting or photo-shooting place. Looking up at the ceiling, you can enjoy images of a sky that changes from a clear blue sky to a sunset while being inside the building. By the information desk in the front is a replica of the Mouth of Truth made with Italian marble imported from Rome. At the information counter on the second floor, staff who can speak foreign languages are available to help tourists from overseas.
Address

1-3-15, Aomi, Koutou-ku, Tokyo, 135-0064
View Map

Nearest Station

Aomi Station (Yurikamome)
1 minute on foot


Phone Number

03-3599-0700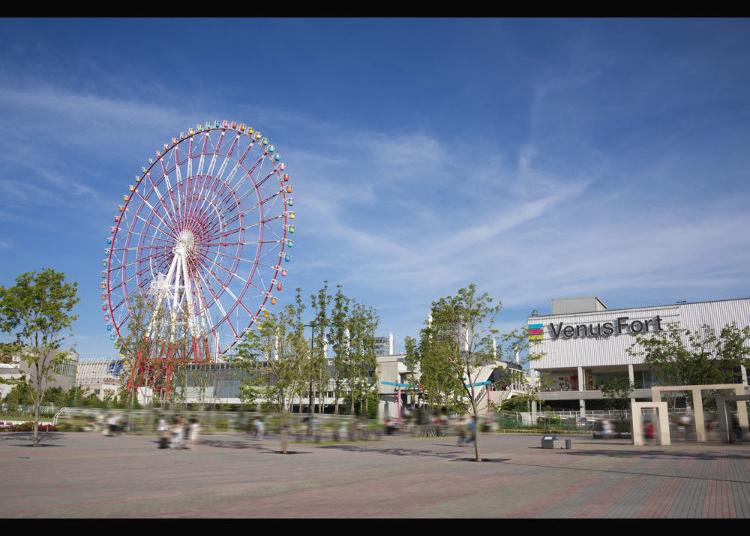 Pallete Town is a popular site with many entertainment facilities for both children and adults. Among these are a large Ferris wheel (Symbol of Odaiba), MEGA WEB (car theme park) and Venus Fort (large shopping mall designed to resemble Medieval Europe). Venus Fort has about 190 restaurants and shops for fashion, accessories and general goods, and an outlet floor handling both domestic and foreign brands. From the large Ferris wheel you can enjoy majestic views of Tokyo Tower, Sky Tree, Tokyo Gate Bridge and Rainbow Bridge; the twinkling night view is popular as well.
Address

Palette town, 1-3-15, Aomi, Koutou-ku, Tokyo, 135-0064
View Map

Nearest Station

Tokyo Teleport Station (Rinkai Line)
1 minute on foot


Phone Number

03-3529-1821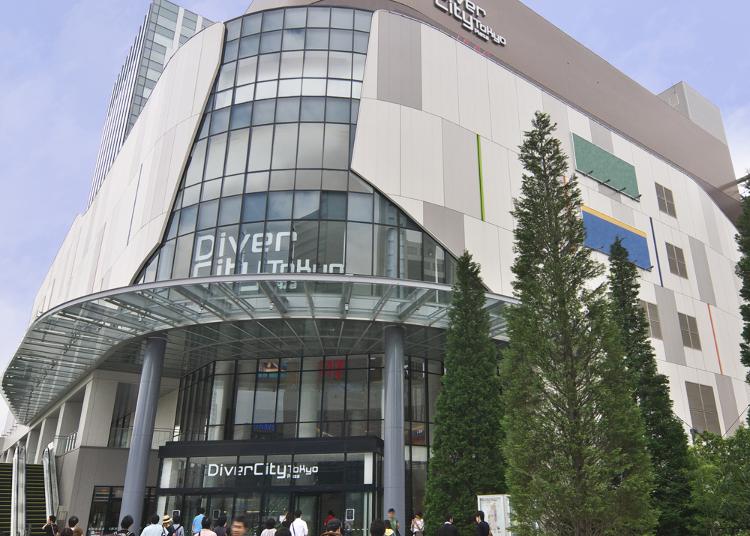 Visitors are welcomed by the life-sized Unicorn Gundam statue at the Festival Plaza. This statue can even transform from Unicorn Mode to Destroy Mode.
Also, The Gundam Base Tokyo on the 7th floor is Japan's first facility dedicated to Gundam plastic models.
A total of approximately 2,000 items are available for purchase, including limited-edition Gundam items only sold here, and Gundam fans can have a blast making Gundam models, learning, and exploring the world of Gundam models.
DiverCity Tokyo Plaza is flush with Japanese-style shops and restaurants!
Savor a plentiful variety of Japanese food, such as dessert drinks made with Japanese tea and matcha powdered green tea, or fresh-caught seafood at a conveyor belt sushi bar!
Address

1-1-10, Aomi, Koutou-ku, Tokyo, 135-0064
View Map

Nearest Station

Daiba Station (Yurikamome)
5 minutes on foot


Phone Number

03-6380-7800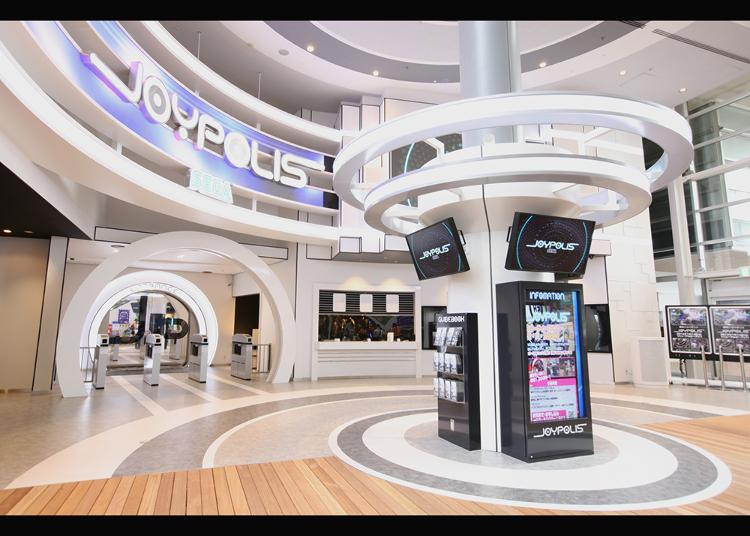 The Tokyo Joypolis is one of the largest theme parks in the nation, and its concept is "DigitaReal." You can have new, unusual experiences in the theme park, where the digital world and the real space are integrated. It provides five DigitaReal spaces, such as the DigitaReal Live Stage, where projected images and actors perform together, and the Trans Illusion, which fuses video images, lights, and sounds by utilizing the lighting and audio system. Also, it holds various events and stage shows, such as projection mapping shows. There is a café in which you can enjoy a light meal while you have fun and a store that handles original goods and the goods of Sonic, which is one of the popular characters in the Sega games. So, it is a theme park that a variety of people can enjoy, including families, groups, and couples.
Address

DECKS Tokyo Beach 3F - 5F, 1-6-1, Daiba, Minato-ku, Tokyo, 135-0091
View Map

Nearest Station

Odaiba-Kaihinkoen Station (Yurikamome)
2 minutes on foot


Phone Number

03-5500-1801
7.RICOLAND TOKYO BAY SHINONOME
We stock a huge lineup of motorcycle-related products, such as helmets, clothing, gloves and shoes. In particular, the helmet brands SHOEI and ARAI offer a fitting service, so we recommend that you consult our experienced staff at the Shinonome store if you're unsure about sizes. We'll definitely be able to suggest the best size for you.
Of course, we also offer a variety of stock such as race suits, boots and gloves, which will satisfy the needs of circuit users. Our well-versed staff can help you out. At this store, we speak not only English, but also employ staff who can speak Chinese and Thai, so feel free to ask anything. If you're going to buy motorcycle accessories, do it at Ricoland Tokyo Bay Shinonome!
RICOLAND TOKYO BAY SHINONOME

RICOLAND TOKYO BAY東雲

Address

2-7-12 Shinonome, Koto-ku, Tokyo, 135-0062


Nearest Station

Shinonome Station (Rinkai Line)
10 minutes on foot


Phone Number

03-3527-7431
8.Statue Of Liberty, Tokyo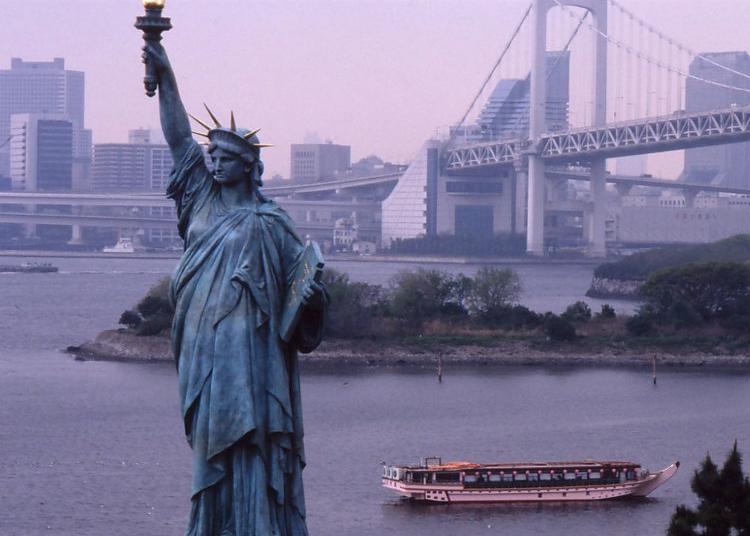 The French Statue of Liberty made in France in 1889 was placed in Odaiba from April 1998 to January 1999 as a symbol of the Japan-France friendship. It was her first exhibition abroad. The statue was so popular that people wanted to have their own as her return date approached. The present statue is a replica created in 1999 with official permission from the city of Paris and was unveiled on December 22, 2000. It is 12.25 meters in height from the pedestal to the top and weighs 9 tons. The best spot to take its photos is the promenade called Skywalk, which connects the Odaiba Marine Park and the Symbol Promenade Park. You can see the statue up close from there. It is a three-minute walk from the Yurikamome Line Odaiba-Kaihinkoen Station or Daiba Station and, alternatively, a seven-minute walk from the Rinkai Line Tokyo Teleport Station.
Address

1, Daiba, Minato-ku, Tokyo, 135-0091
View Map

Nearest Station

Odaiba-Kaihinkoen Station (Yurikamome)
3 minutes on foot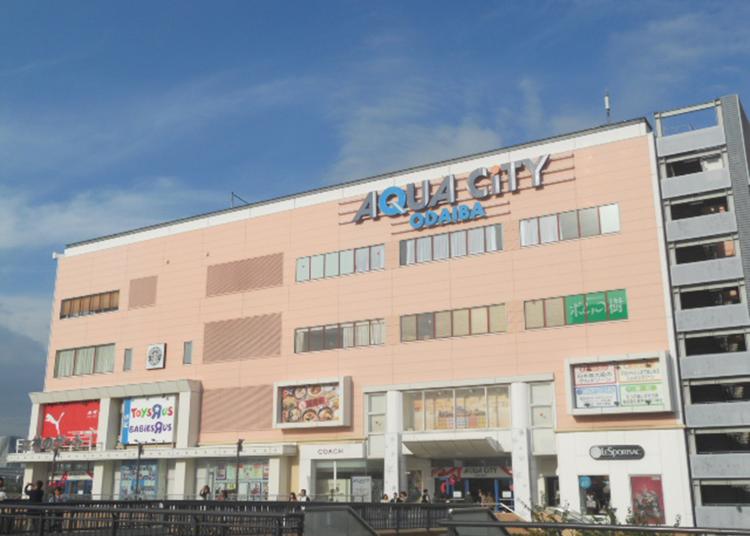 The Aqua City Odaiba Mall was built with the theme "Tokyo Resor-to (the Tokyo resort island)." It is a shopping complex that is located in the seaside district where you can feel the ocean and the sky while being in the middle of central Tokyo. There are 136 stores, such as restaurants, cafés where popular characters welcome you, and a movie theater, as well as other retail shops. The Odaiba Statue of Liberty, which was erected in 1998 to commemorate the "Year of France in Japan," has become a symbol of Odaiba. There is the Aqua City Odaiba Shrine on the seventh-floor rooftop where you can see the Rainbow Bridge, the Statue of Liberty, and the Tokyo Bay. The shrine obtains its spirit from the Shiba Daijingu Shrine, which is familiar to people as Oise-sama (a famous Shinto shrine in Mie Prefecture) in the Kanto region. Free Wi-Fi service is available in some areas of the Aqua City Odaiba. It is suited for overseas tourists because an email-only registration can be done offline as well to use the service.
アクアシティお台場

Address

1-7-1, Daiba, Minato-ku, Tokyo, 135-0091


Nearest Station

Daiba Station (Yurikamome)
1 minute on foot


Phone Number

03-3599-4700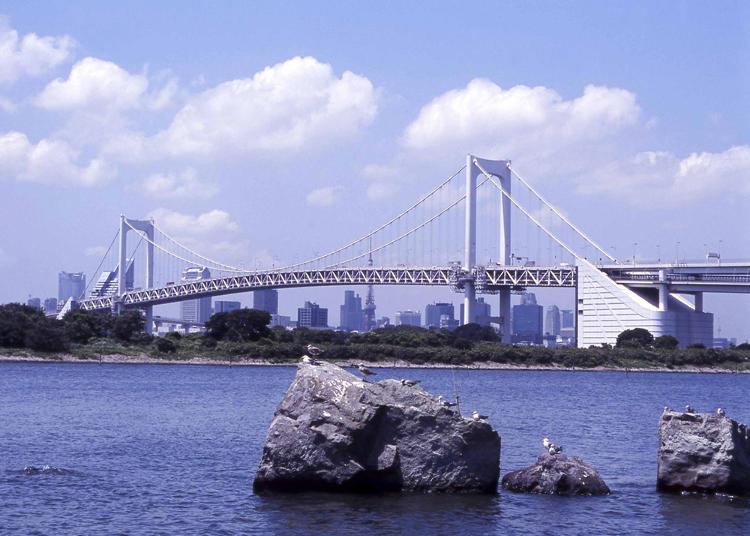 Rainbow Bridge is a suspension bridge that opened in 1993, linking Rinkai Fukutoshin (Tokyo Waterfront Secondary City Center) to the city center. It is a double deck composite transportation suspension bridge: On the bottom deck are a walkway, harbor highway, and the track for the New Transit Yurikamome; on the top deck runs the Shuto Expressway No. 11 Daiba Route. The walkway spans 1.7 km from the Shibaura entrance to the Daiba entrance, and offers a view of passenger boats going back and forth on Tokyo Bay, and of the Tokyo Waterfront, while you stroll. When the sun sets, Rainbow Bridge's 444 lights come alive. Lights that change colors from white, green, and coral pink, are the first in the world. The light patterns change depending on the season, day of the week or national holiday: In summer, the lights portray coolness, and in winter, warmth.
Address

3-33-19, Kaigan, Minato-ku, Tokyo, 105-0022
View Map

Nearest Station

Odaiba-Kaihinkoen Station (Yurikamome)
5 minutes on foot


Phone Number

03-5442-2282
*This information is from the time of this article's publication.
*Prices and options mentioned are subject to change.
*Unless stated otherwise, all prices include tax.