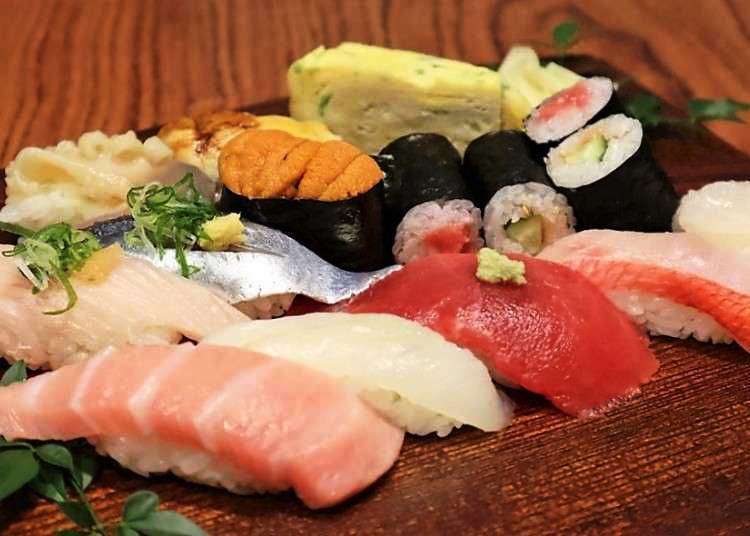 Tokyo's fish market has always been very popular for the gourmet dishes found there from the time it was located at Tsukiji.

Here are some famous restaurants recognized by those who are affiliated with the market and food professionals for dishes that can only be enjoyed at the Toyosu Fish Market. Many of the restaurants that operated at the Tsukiji Fish Market have moved to the Toyosu Market. Especially if you are coming from Odaiba looking for a good restaurant, this is the spot for you!

This article will provide you with basic information about restaurants at the new Toyosu Market.
When are Toyosu Market restaurants open and what are their hours?
There are a total of 39 dining establishments in the Toyosu Fish Market. These are spread among the three main market areas as follows: 4 shops on the first floor of the Fruit and Vegetables area, 13 shops on the third floor of the Office Management area, and 22 shops on the third floor of the Marine Products Intermediate Wholesaler area.

The hours during which the general public can use these facilities are the same as the hours during which tours of the market are possible, that is to say, between 3:00 a.m. and 5:00 p.m.

However, most of the shops stay open until after noon and then close in the afternoon. It is best to check the hours of operation of those places you intend to visit ahead of time because the hours of operation vary from shop to shop.

The peak time for almost all of them is around 11:00 a.m. and they are usually crowded with lines of customers waiting to get in. That being the case, if you want to sample certain gourmet dishes, you had best try to get there early in the morning.

Taking into consideration the working hours of those working at the market, the best times for you to visit are between 8 and 11 in the morning.
Shops that moved from Tsukiji Fish Market popular for their superb dishes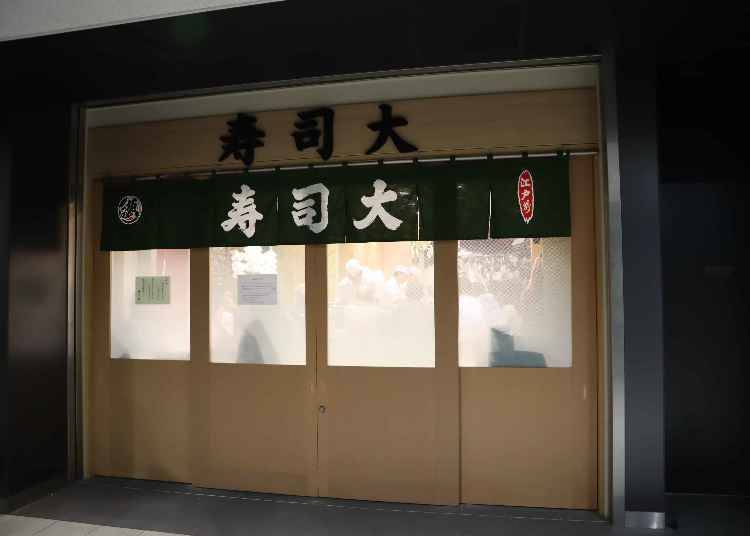 Sushi Dai is a popular sushi shop that has always had lines of eager customers even when it was located at Tsukiji. It has remained popular even after moving to Toyosu. On weekdays it generally closes around 11:00 a.m. and on Saturdays and holidays between 8:00 and 9:00 a.m. Each day it only serves a set number of dishes, so if you expect to get a seat, you will need to get there early.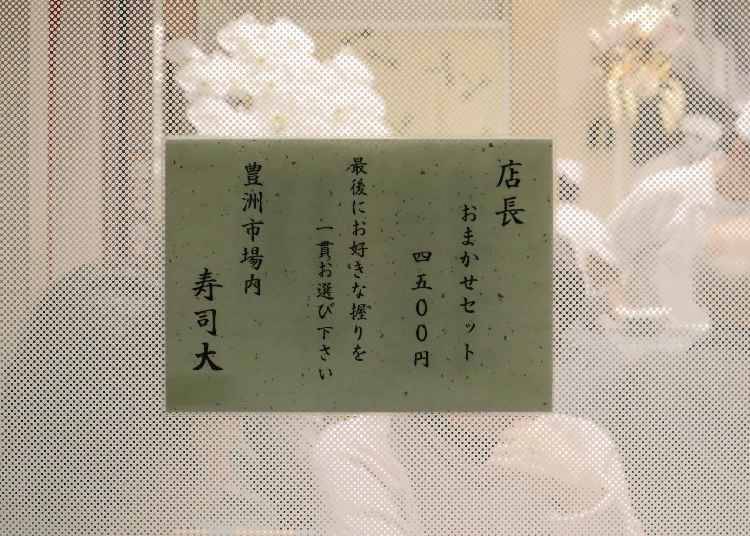 Almost all of the customers request "Tencho Omakase Set" - the set course recommended by the manager (4,500 yen including tax). Depending on the type of fish obtained that day, the types offered will vary and the set usually contains 10 kan [individual servings] and 4 types of rolled sushi. You may select a type of your choosing for the 10th and final kan.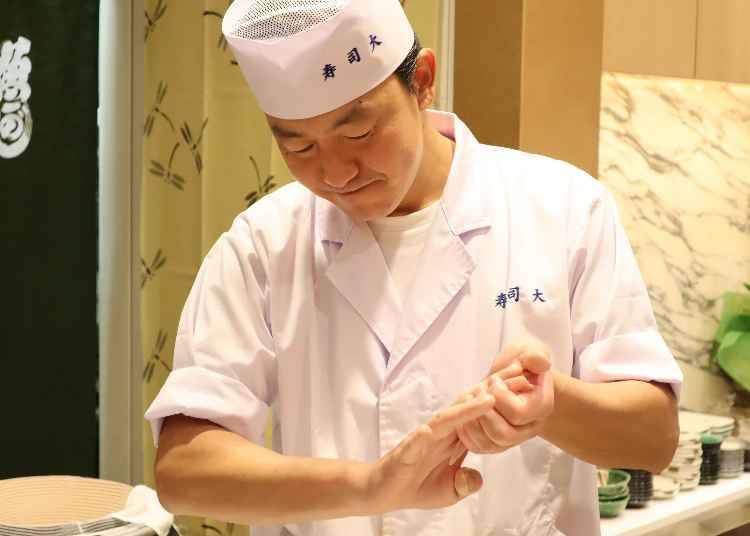 As with most sushi shops with counters, you can watch the chef prepare the dishes. It is easy to become transfixed watching the skilled hands of the chef preparing each one.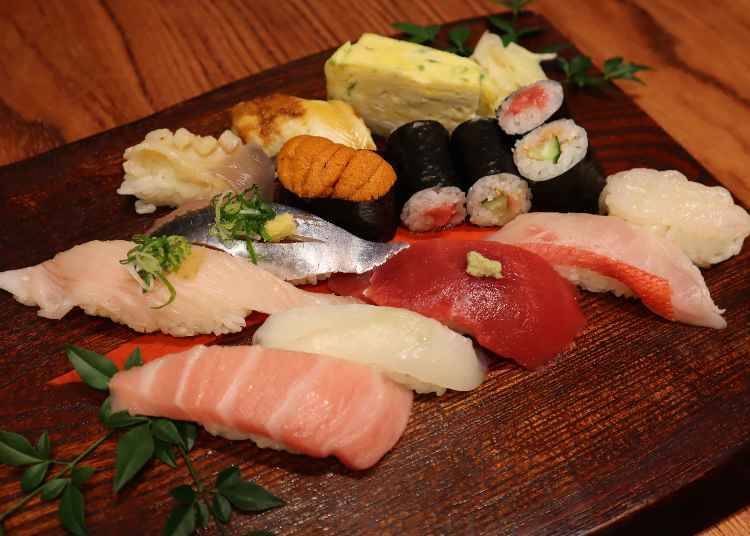 This was the colorful selection served on the day we visited and which contained otoro [fatty tuna], anago [conger eel], uni [sea urchin], tai [red snapper], and sanma [Pacific saury]. One taste and you'll be in heaven. The fish is so fresh and delicious it is certain to bring a smile to your face. The tamagoyaki is equally delicious.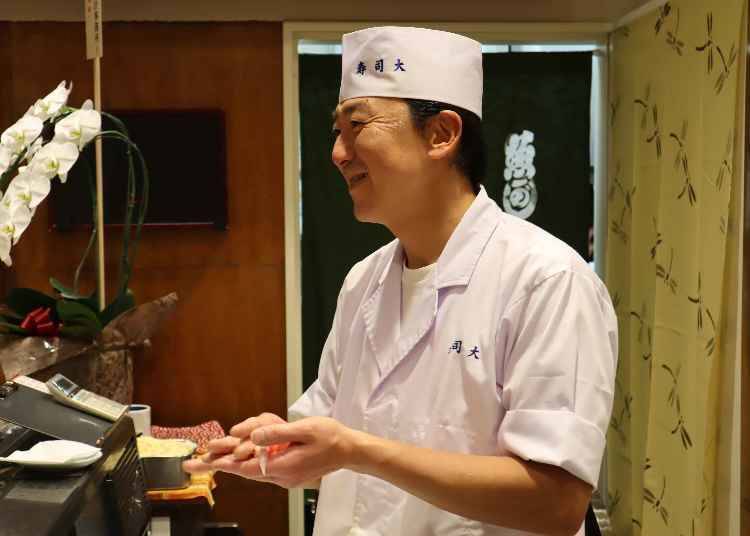 Despite being a popular sushi restaurant noted for the high skills of the chef and the quality of the food, you shouldn't feel hesitant in the least about entering because the shop has a friendly at-home atmosphere.

"We want you to enjoy yourself. It's only natural to enjoy dining out and enjoying delicious food. For the occasion to be truly enjoyable it is absolutely essential that the atmosphere also be important!" says the manager Mr. Urushibara.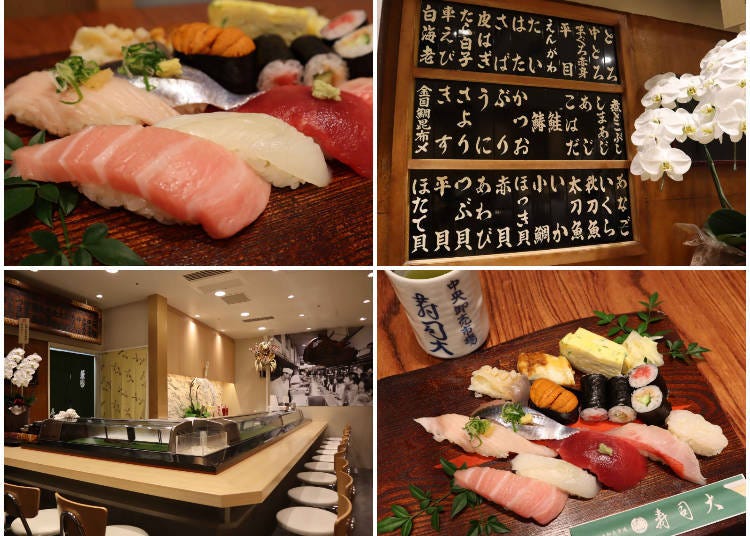 To foreign guests he says, "Thank you!" and "Xièxiè!" to make them feel at home. There's no doubt that it is not only the quality of the sushi, but also the warm hospitality that attracts so many customers.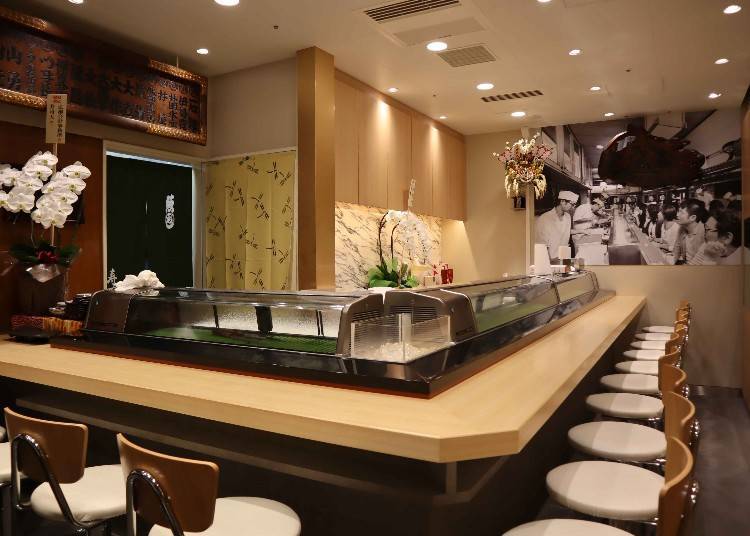 It is easy to understand why so many people line up to eat here. This is a shop I heartily recommend which will leave you feeling very satisfied.
寿司大

Address

Market Marine Products Intermediate Wholesalers Area 3F, Block 6 inside the Tokyo Metropolitan Central Wholesale Market

Phone Number

03-6633-0042

Hours
5:30 a.m. ~ 2:00 p.m.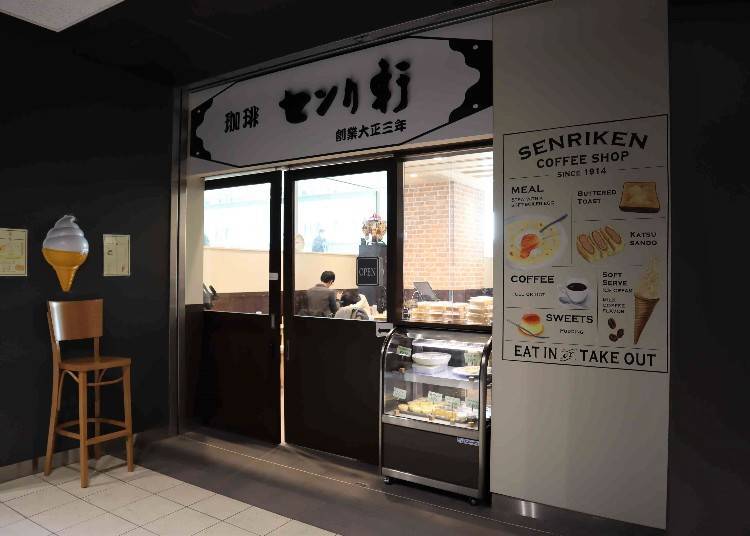 Senriken got its start as a milk hall in Nihonbashi even before the Uogashi was moved to Tsukiji and this marks the 104th year since the establishment of the coffee shop. This is a shop that has been serving the workers of the market for a very long time.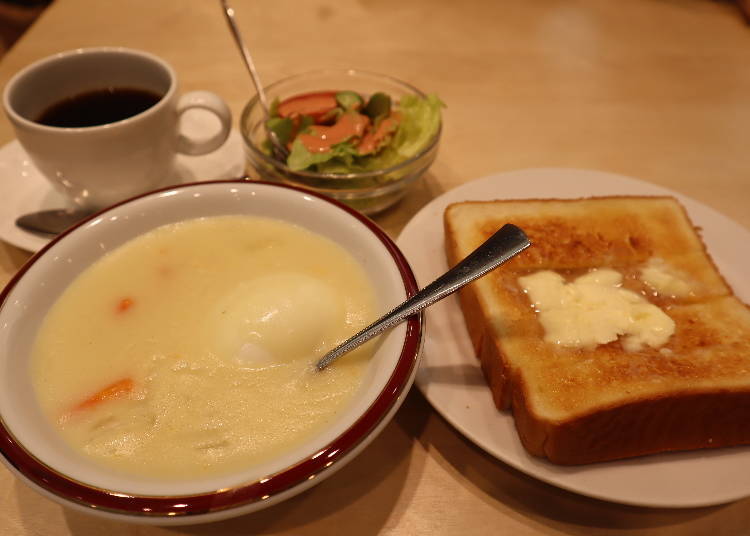 The Cream Stew with Soft Boiled Egg (600 yen including tax) has long been a standard on the shop's menu. We recommend the special set in the morning, similar to those served in coffee shops, which is a half-size bowl of the cream stew with soft boiled egg, toast, small salad, and coffee (1,200 yen including tax). Even the half size, using one whole egg, is of a decent size.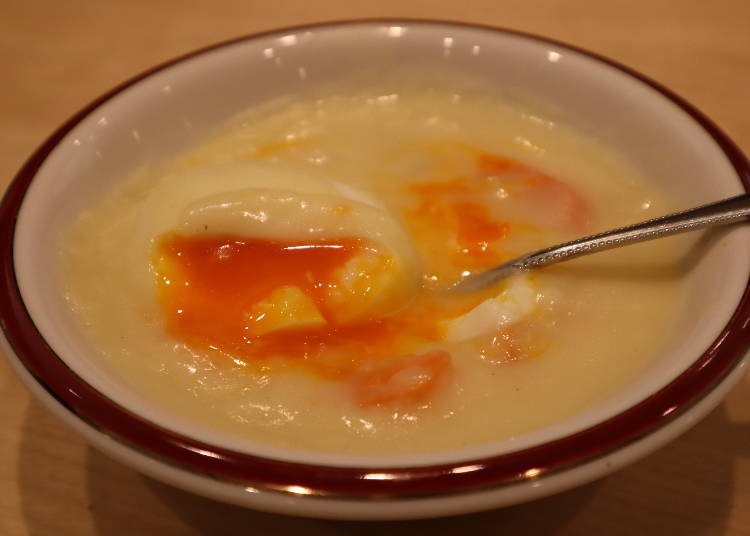 Breaking open the egg in the stew releases the soft yellow yolk which blends well. The gentle, creamy flavor is perfect for breakfast.
The Katsu Sandwich [pork cutlet sandwich] is also a popular menu item (800 yen including tax). Ragout, a western-style restaurant near Suitengu, is a sister shop of Senriken and the current owner of Senriken, Mr. Kawashima, opened it in 1983. Once you eat this sandwich you will see why it is so popular. The meat is tender and has a crispy exterior which goes perfectly with the lightly toasted bread.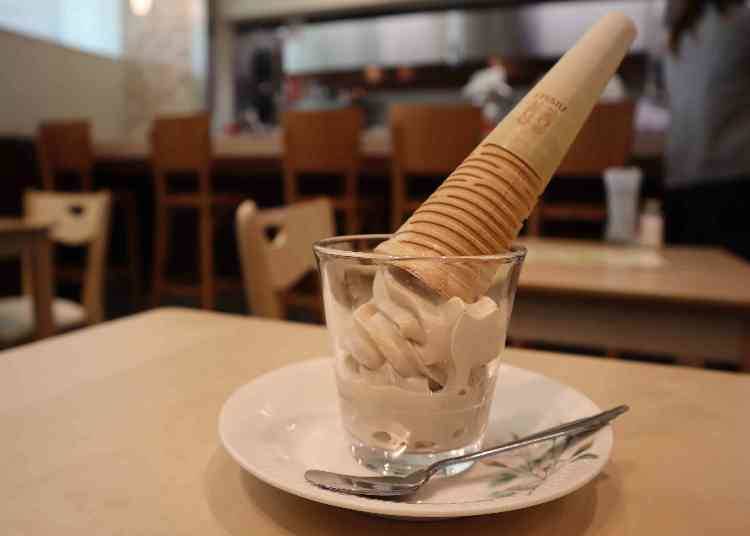 "Wow!" was all I could say when I saw the Miruko Soft Cream, a milk-coffee flavored soft ice cream dish (450 yen, including tax; 390 yen for takeout). It is served in a cup to make it easier to eat with a spoon.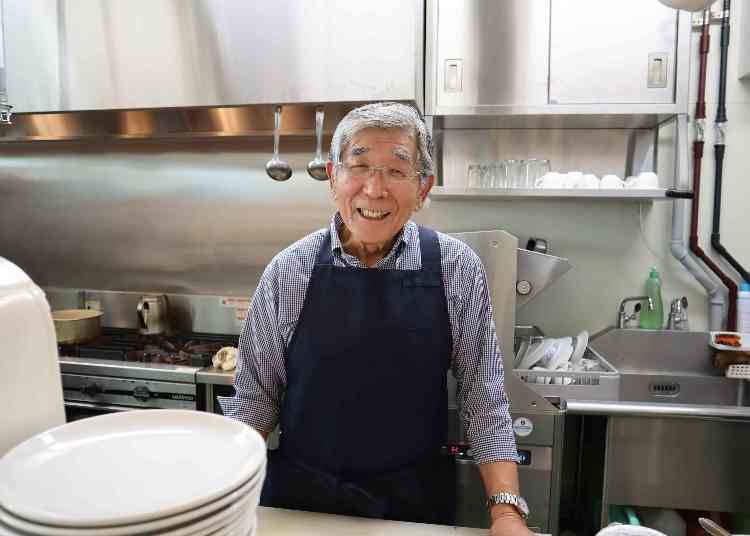 Third-generation owner Mr. Kawashima says, "I wanted to make a flavor that I thought adults would like to eat and not tire of." This soft ice cream dish is a new addition to the menu that has been added since moving to Toyosu. It has a rich flavor of robustly roasted coffee and the sweetness is subdued. The shop also has a menu in English. It seems that a happy customer made it and this shows how much the shop is loved by its regular customers.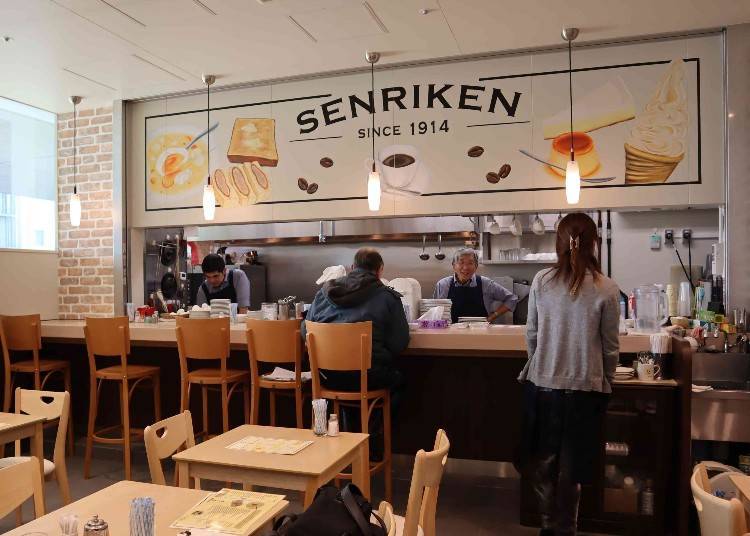 You can get sandwiches, coffee, and ice cream for takeout, too. This cafe in the Toyosu Market is one with a long history which I am sure you will enjoy.
センリ軒

Address

6-5-1 Toyosu, Koto-ku, Tokyo 135-0061 Market Marine Products Intermediate Wholesalers Area 3F, Block 6 inside the Tokyo Metropolitan Central Wholesale Market

Phone Number

03-6633-0050

Hours
5:00 a.m. ~ 1:00 p.m.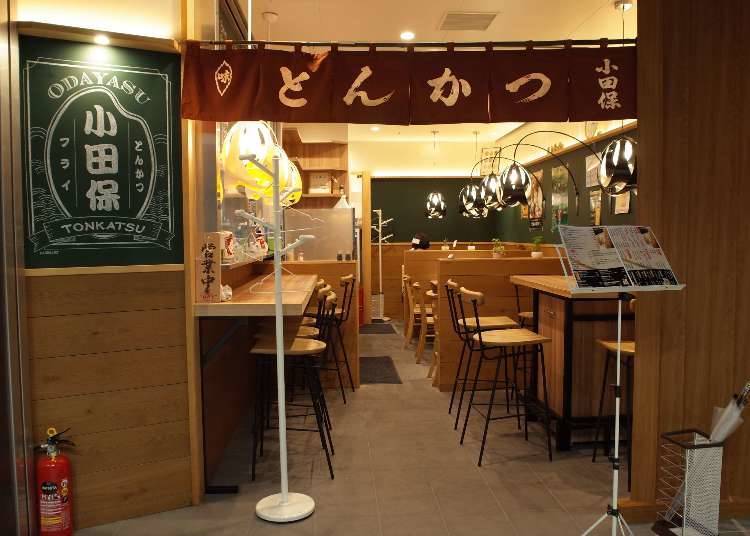 Tonkatsu Odayasu has been popular for its set lunches since the time it was in Tsukiji. The menu includes several other fried dishes, including seasonal oysters, in addition to its pork cutlets.

It got its start in 1938 as an izakaya [Japanese-style pub] and later the first owner shifted the focus to fried foods after receiving training in a western-style restaurant.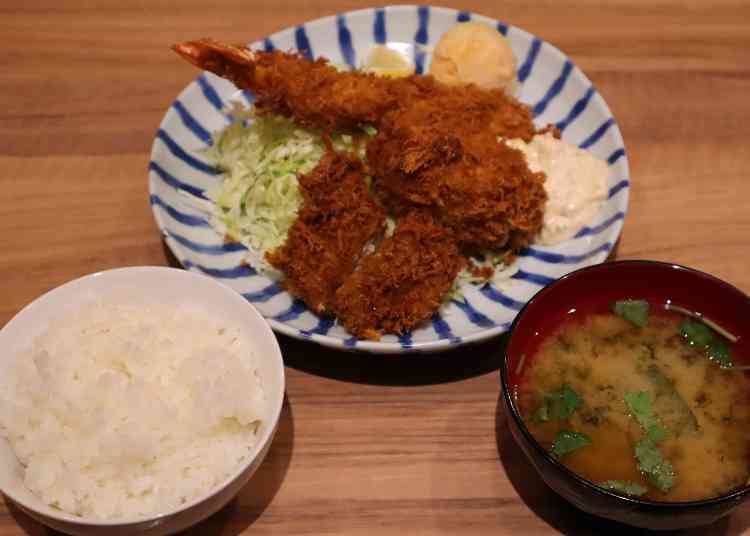 The A Set Meal (1,550 yen tax excluded) is a very popular menu item having a fried prawn, a crab cream croquette, and a pork loin cutlet. The fried prawn is quite large.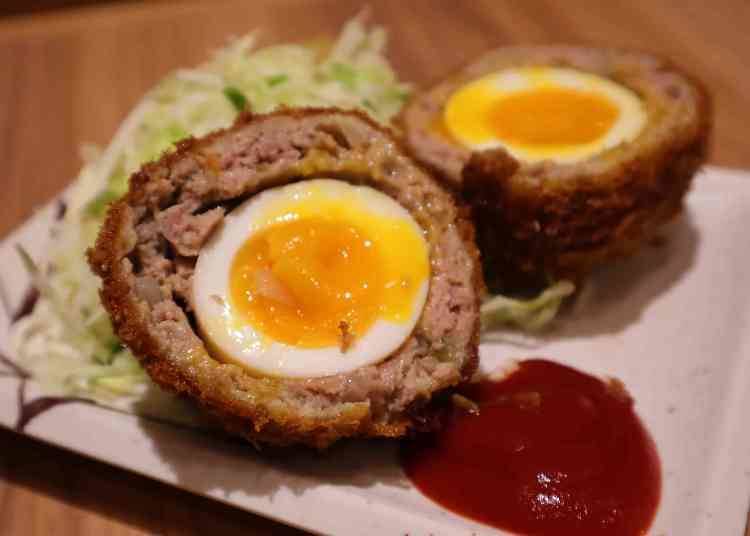 The Scotch egg (550 yen each / 1,350 in a set meal, tax excluded) is a popular menu item only available at Odayasu. The soft-boiled egg wrapped in hamburger meat coated in bread crumbs and deep-fat fried has an excellent texture. In addition to being offered as a set meal it is also possible to order Scotch eggs individually.
The fried oysters are an especially popular seasonal item on the menu. (1,750 yen, excluding tax). You will be amazed by their size! The oysters are only available during the winter when they are in season and are large, plump, and juicy.

The fried oysters alone are quite sumptuous, but for a really luxurious meal try this set which also includes oysters sautéed in butter.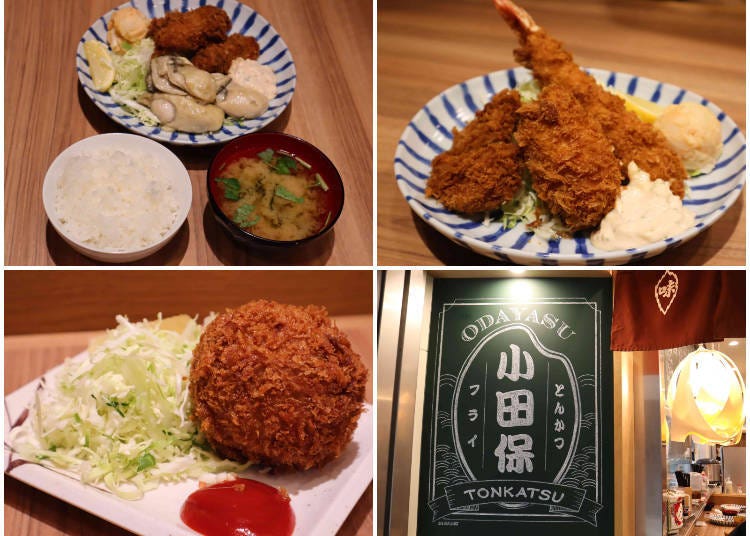 The menu has a rich selection of appetizing dishes made with the freshest seafood products from the market and the finest meats obtained from butcher shops.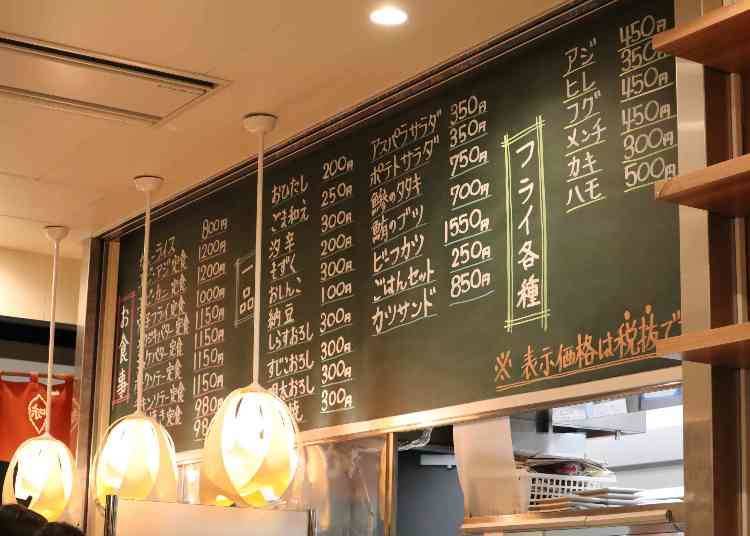 Primarily set meals are served, however, you may also order individual items that go especially well with drinks as a snack. There is also no charge for second helpings of rice. Once you find the one item you like, try a little bit of the other items on the menu, too. This is a great place to have a drink with delicious snacks.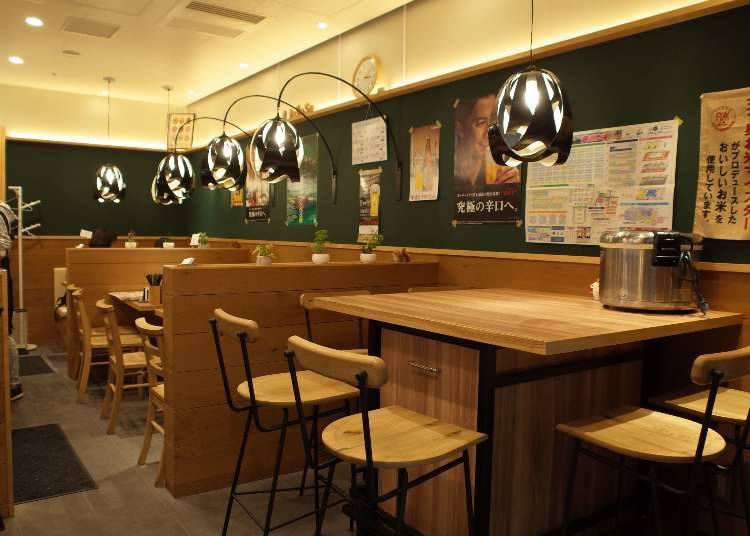 Usually it is packed with customers between 11 a.m. and 2 p.m. It closes at 3:00 p.m. and last orders must be made by 2:00 p.m., so you will need to get there before then. The shop also has a menu in English.

In addition to the shop in Toyosu Market, there is also an Odayasu in Tsukiji which also has a dinner menu you might want to check out.
小田保(おだやす)

Address

6-5-1 Toyosu, Koto-ku, Tokyo 135-0061 Market Marine Products Intermediate Wholesalers Area 3F, Block 6 inside the Tokyo Metropolitan Central Wholesale Market

Phone Number

03-6633-0182

Hours
5:30 a.m. ~ 3:00 p.m. (Last order 2:00 p.m.)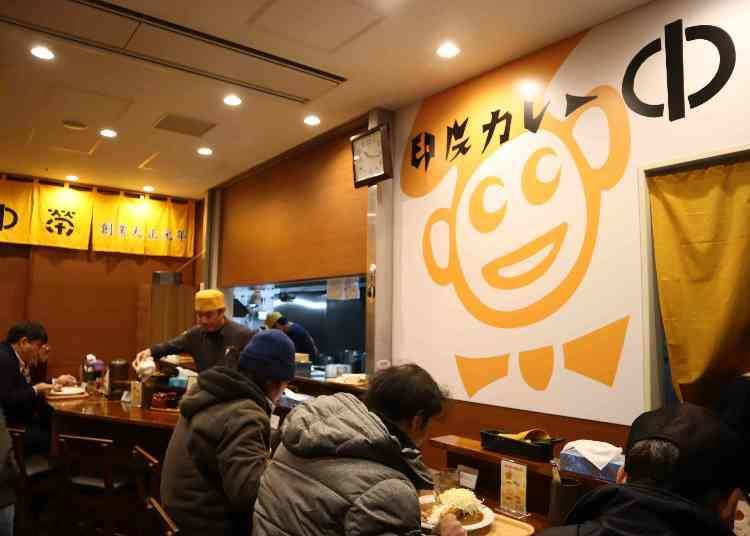 Most likely many of the visitors going to the market are looking for places to eat sushi and fresh seafood dishes, but Nakaei, established in 1912, has excellent Indian curry. The curries are all made by hand in accordance with original recipes handed down through generations, giving each a comforting and nostalgic flavor.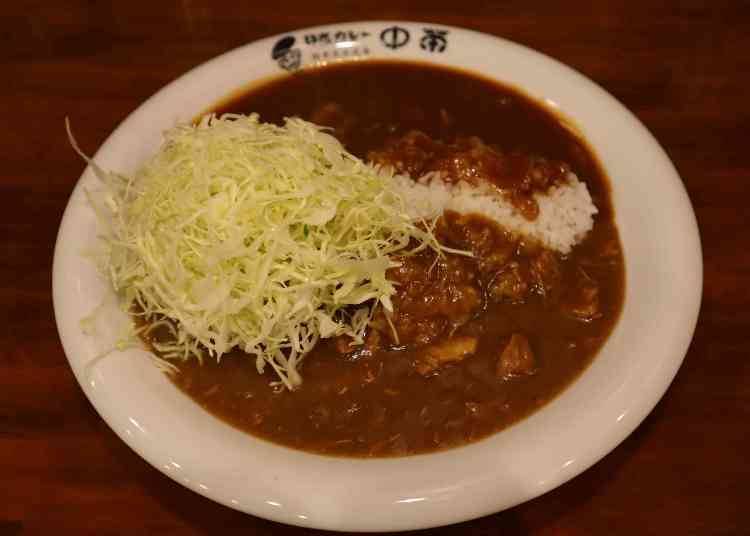 The base for each curry varies according to the type, so you can enjoy different flavors. Popular types are the Indo Curry (pork), Beef Curry, Broiled Pork, and Seafood Curry. The Aigake (700 yen including tax) is a popular dish containing two different kinds of curry.

You can select the two types you want from either the Indo Curry, Beef Curry, or Hayashi Rice.

By the way, the Indo Curry is mildly spicy. The Beef Curry is slightly spicy. The Hayashi Rice [hashed beef rice] has a mild flavor with a hint of tart tomato. If you like your curry spicy, for an additional 100 yen you can have it made spicier.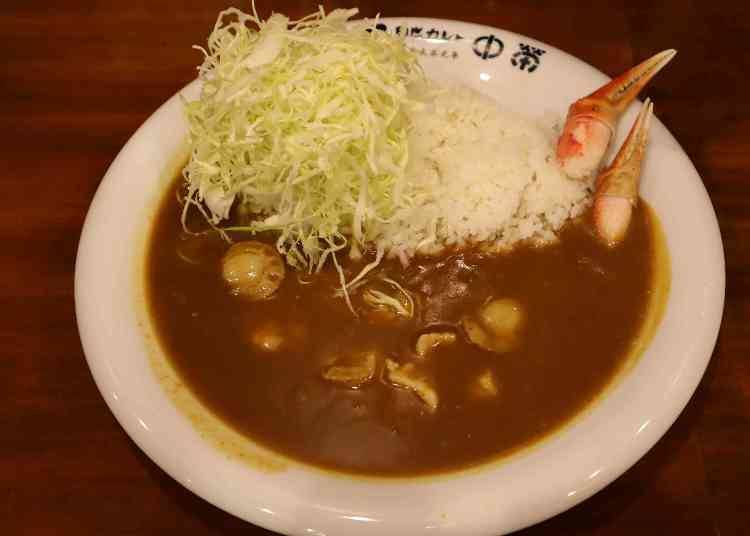 Most likely as you have come to the market to sample seafood, you probably would enjoy the Tsukiji Uogashi Seafood Curry (1,000 yen including tax) made with fresh seafood. This dish has a rich seafood flavor due to the delicious snow crab, shrimp, and scallop ingredients.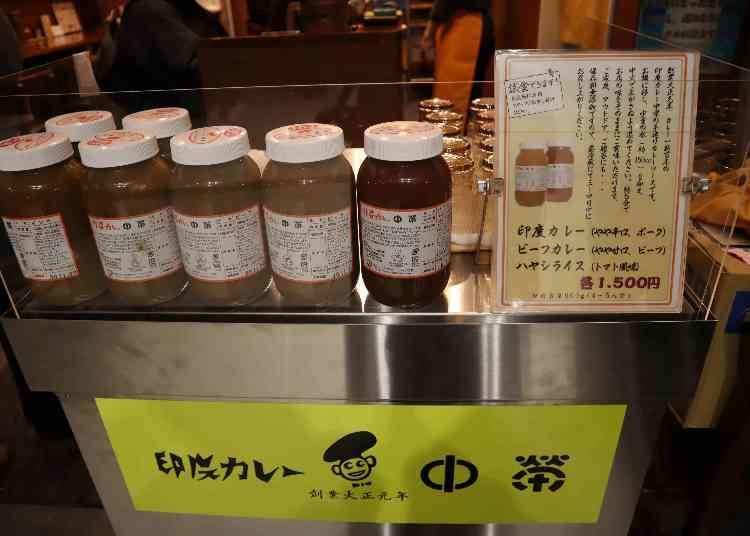 You can also enjoy these flavors at home as the curries are also sold as gifts. Each contains about 5 servings and costs 1,500 yen (including tax).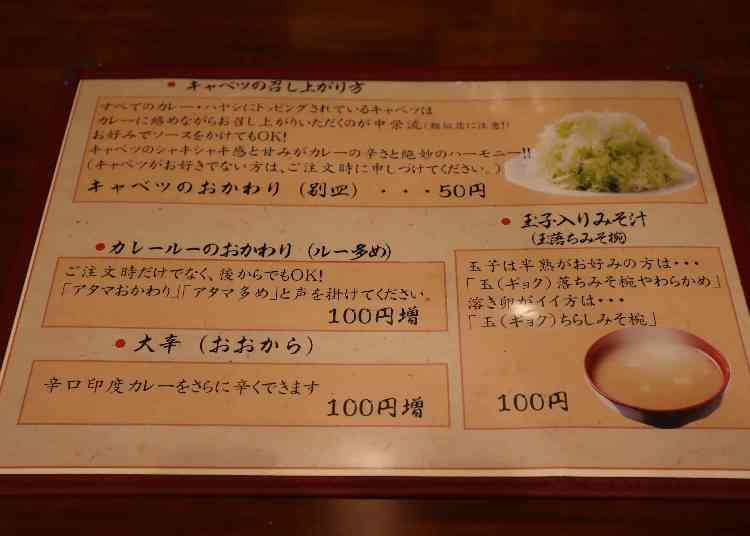 All of the curry dishes and hayashi rice come with cabbage and toppings, the Nakaei style for eating them is to mix them with the curry. Mixed together with the roux, the spiciness becomes milder making for a more refreshing taste.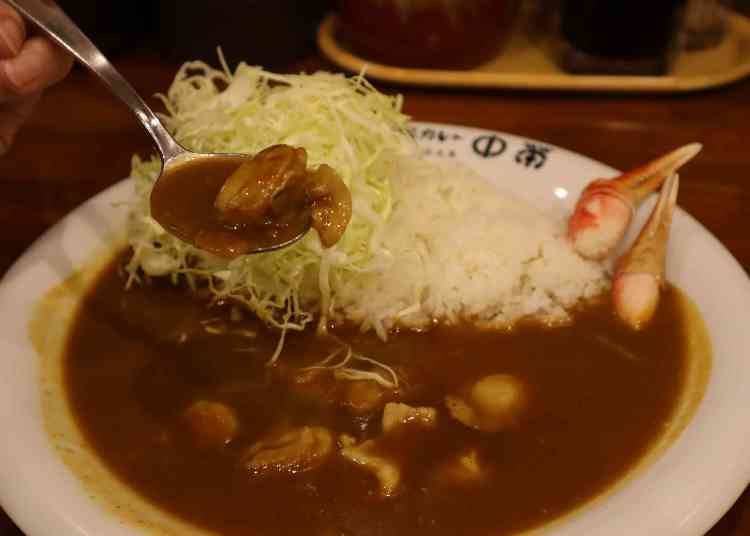 Adding Fukujinzuke [Japanese version of chutney] accentuates the tart taste that adds flavor. A pay-in-advance method is used here, so you need to pay when you order.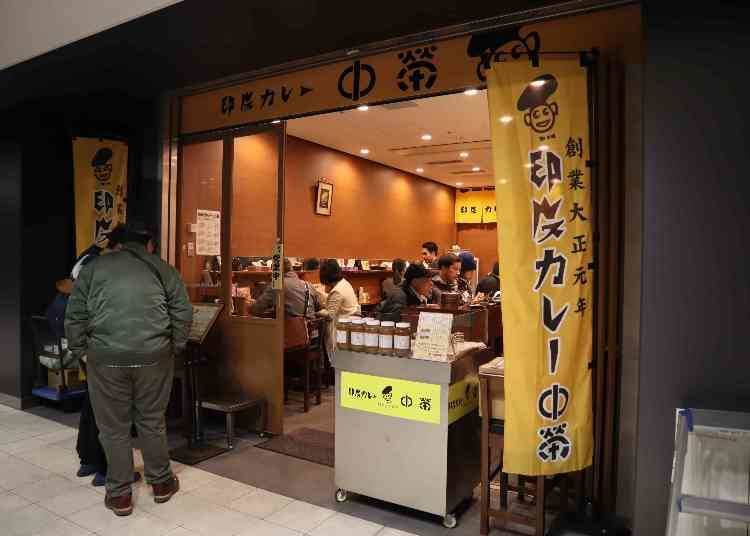 The shop is always packed with people who work at the market because of its reasonable prices and hearty portions. This "cafeteria of the market" lives up to its reputation for providing market workers with filling and satisfying dishes. The menu is only in Japanese, but I'm certain you will enjoy the original curry flavors in this warm atmosphere.
中栄(なかえい)

Address

6-5-1 Toyosu, Koto-ku, Tokyo 135-0061 Market Marine Products Intermediate Wholesalers Area 3F, Block 6 inside the Tokyo Metropolitan Central Wholesale Market

Phone Number

03-6633-0200

Hours
5:00 a.m. ~ 2:00 p.m.
From the time it was located in the Tsukiji Market, Tenfusa has been a well-known tempura restaurant. Now it is located on the first floor of the Fruit and Vegetables building. It is so popular that overseas guests who often come to Japan make it a point to eat here regularly. There is also a simple menu in English.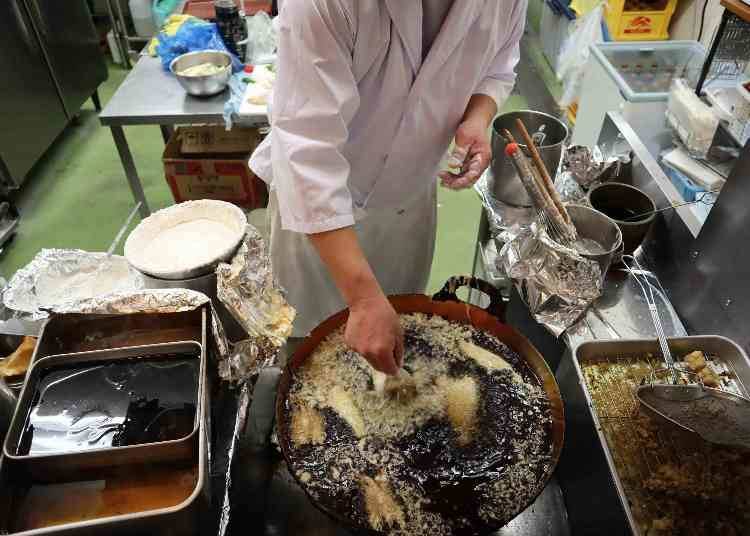 In keeping with the character of the market, it serves "tempura that can be eaten even from the morning", and special attention is paid to the oil and panko bread crumbs used in making it. This is evident in the light, perfectly fried breaded morsels that when tasted make you forget that it is a fried food; a meal perfect for mornings.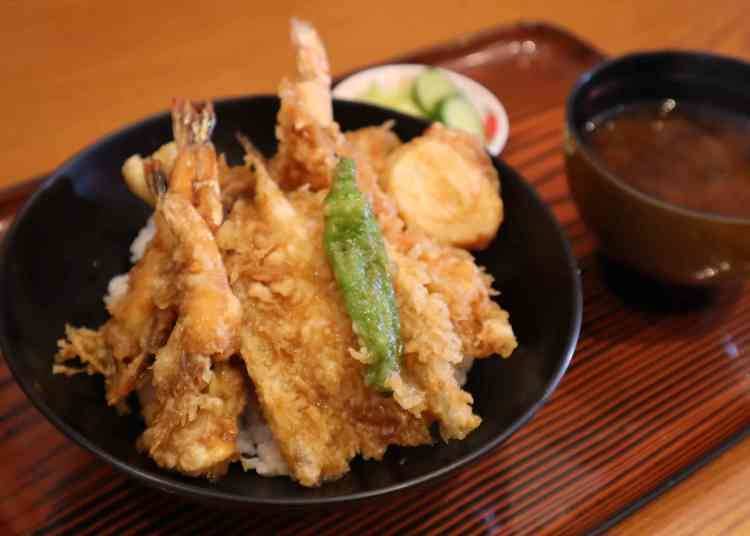 I recommend the Daily, the contents of which change from day to day depending on the types of seafood obtained in the market (1,600 yen including tax). The prawn tempura has an especially unique savory taste packed with flavor.

The scallops are sweet, tender, and flavorful. The recipe for the sauce used in the Tendon [tempura bowl] has remained unchanged for 20 years.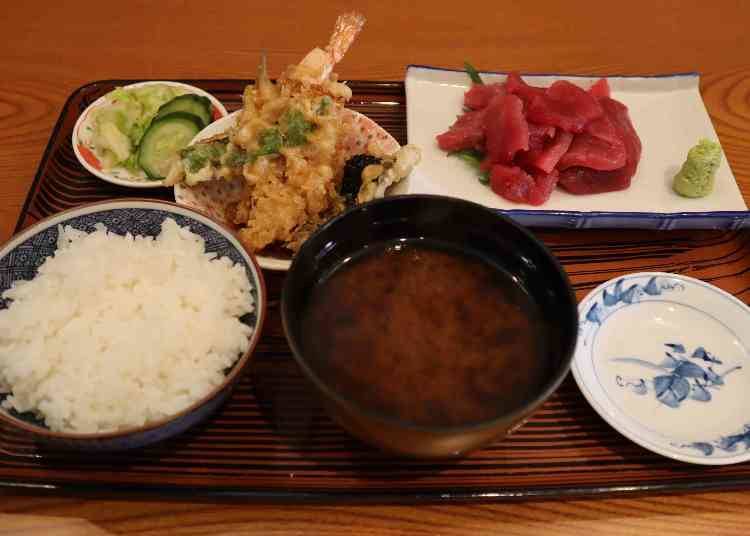 And while it is a tempura restaurant, it has another popular set meal as well: red meat of southern Bluefin tuna served together with tempura. When you come to the market you really should try the sashimi! Visitors from overseas who enjoy sashimi will find this to be the perfect place.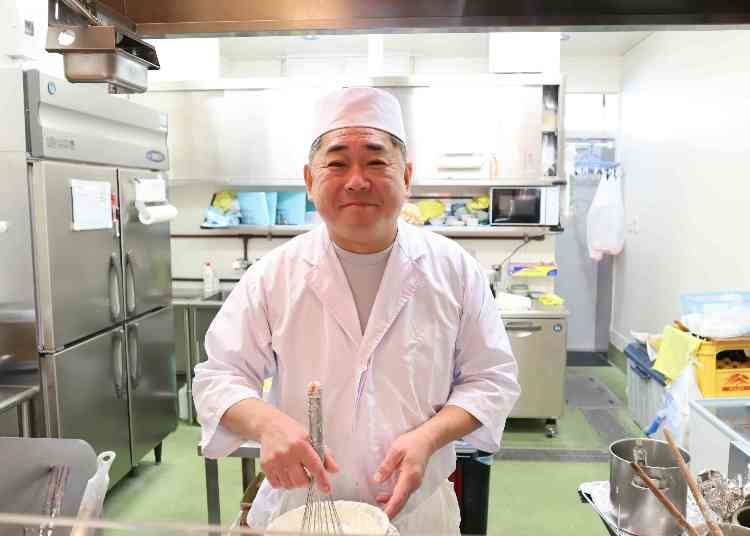 Mr. Suzuki, the cheerful proprietor of the shop, says special attention is paid to using rice that makes for a delicious meal in the morning.

He has polished rice made from unpolished rice by a specialized rice farmer directly sent to him. It is the special care given to this selection of rice that further brings out the flavor of the tempura.
In addition to delicious tempura, there is a variety of other menu selections including sashimi and stewed fish.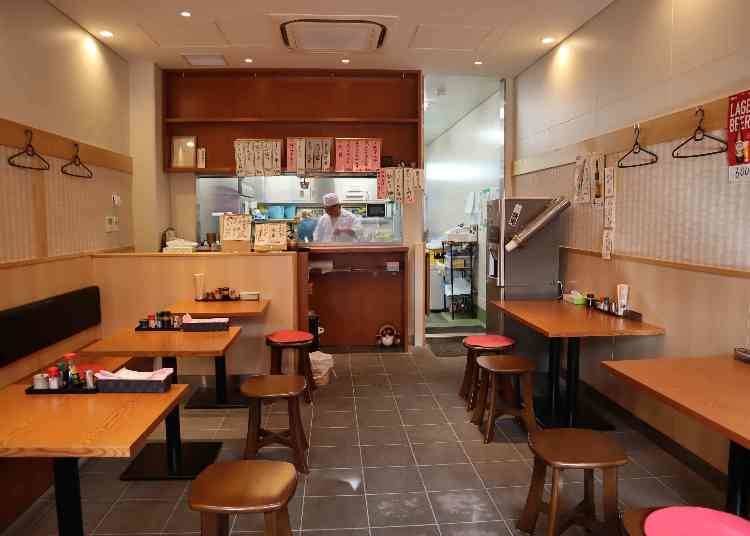 Like sushi, tempura is a Japanese food that is a must. From 11 in the morning until the restaurant closes there is always a line of customers waiting to get in, so if you plan to visit, I suggest you come early in the morning for breakfast. Tenfusa is located on the first floor of the Fruit and Vegetable Building close to the station so you can't miss it.
天房(てんふさ)

Address

6-3-2 Toyosu, Koto-ku, Tokyo 135-0061 Toyosu Market Block 5: Fruit and Vegetables Building 1st floor

Phone Number

03-6633-0222

Hours
7:00 a.m. ~ 2:00 p.m.
Enjoy delicious, budget gourmet meals at Toyosu Fish Market, Tokyo's Kitchen!
Toyosu Market supplies Tokyo with food. The gourmet dishes served here are inexpensive and fresh because it is a market. I am certain that you will enjoy any of the restaurants in the market. Many of them have long histories and have been loved by many people for generations, so please come and enjoy the food at Toyosu Market!

* All stores are closed on the same days as when the market is closed.
*This information is from the time of this article's publication.
*Prices and options mentioned are subject to change.
*Unless stated otherwise, all prices include tax.