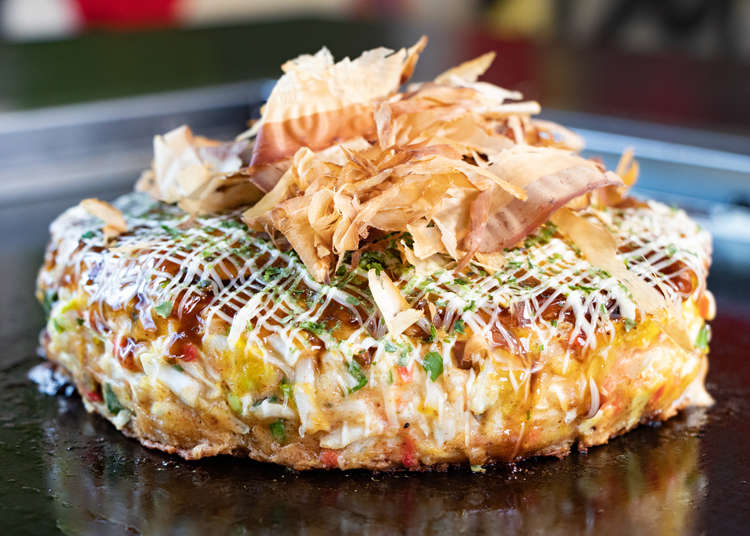 Young people love the town of Harajuku for its fashion and subculture. The area is also very popular among foreign visitors as a tourist hotspot with plenty of things to see and do.

Walk a little farther down from this bustling town and you'll find yourself in the nearby Ura-Harajuku, where an okonomiyaki (Japanese pancake) store by the name of Sakura Tei has been all the rage recently for its unique blend of art and hot plate cooking.

Curious yet? Let's take a closer look at why this shop is so popular among international visitors and interview some staff about their recommended food items! We believe this will be a handy reference for anyone making plans to visit Harajuku soon.
An okonomiyaki store surrounded by artwork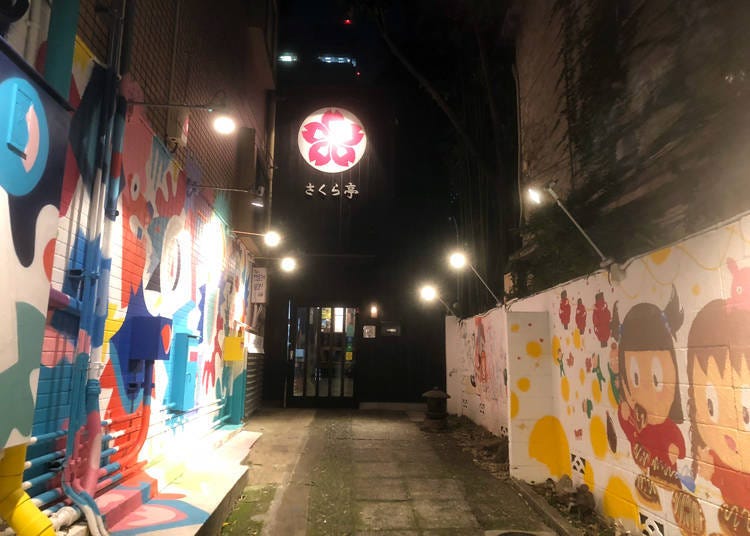 Sakura Tei is about an 8-minute walk from Harajuku Station the JR Yamanote Line. Simply hit Takeshita Street and follow it all the way down until you pass by Ura-Harajuku's Design Festa Gallery and spot a bamboo grove. That's your destination!

The restaurant prides itself on the theme of harmonious fusion between food and art, a fact that is impressed upon you by the numerous pieces of artwork on display both inside and outside the facility.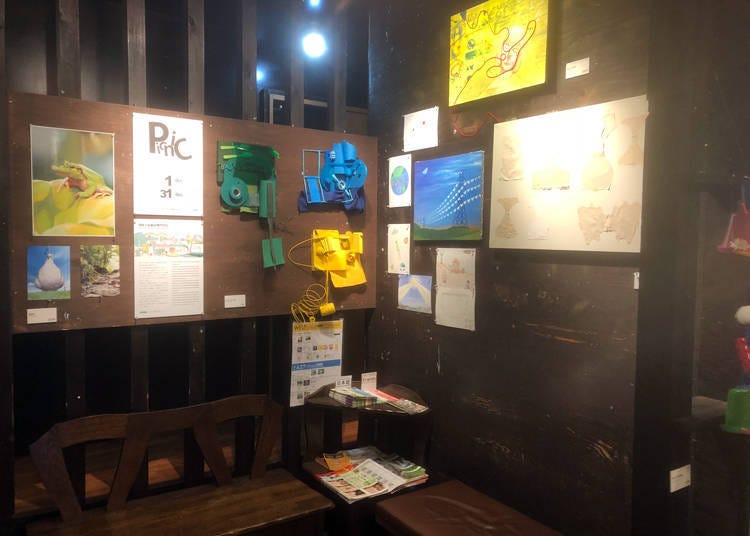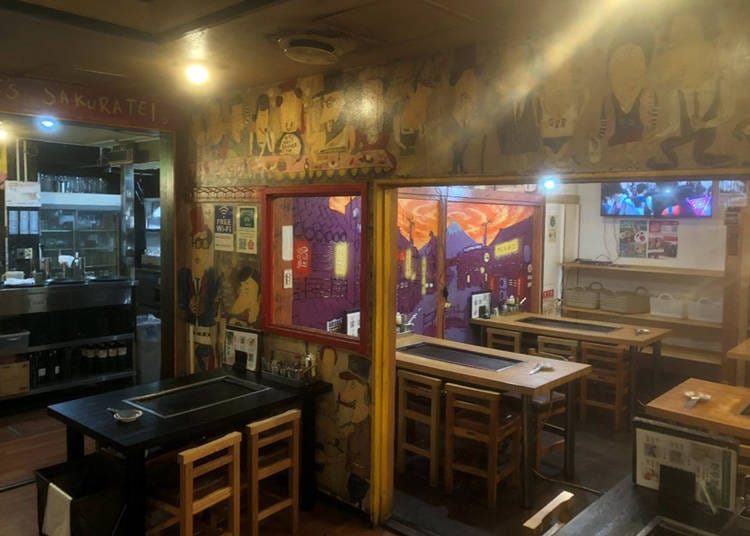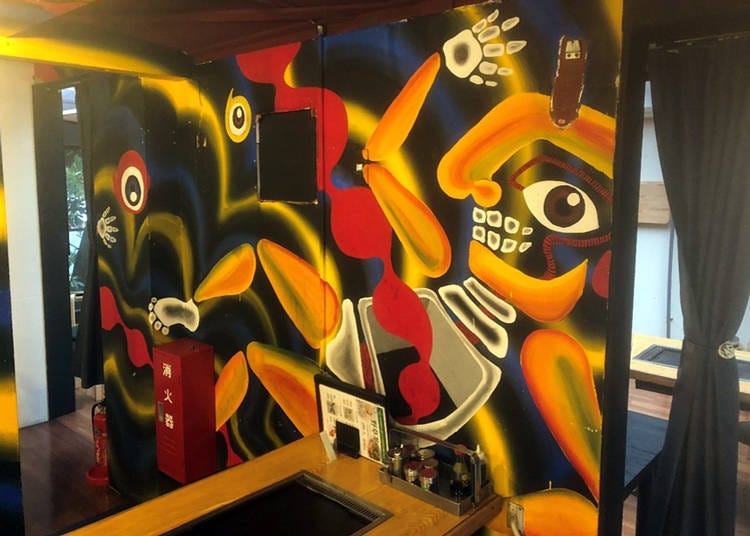 The sheer number of art pieces on display everywhere inside and around the shop may come as a surprise to you, but they've got nothing on the three pomegranate trees and a number of persimmon trees left growing right within the shop itself!

They're there because Sakura Tei took over an old folk house building and renovated it into the charming eatery it is now. The shop's unusual decor is certainly one of the reasons foreigners are attracted to it. Many even put their hungry tummies on pause to take plenty of photographs to commemorate their visit!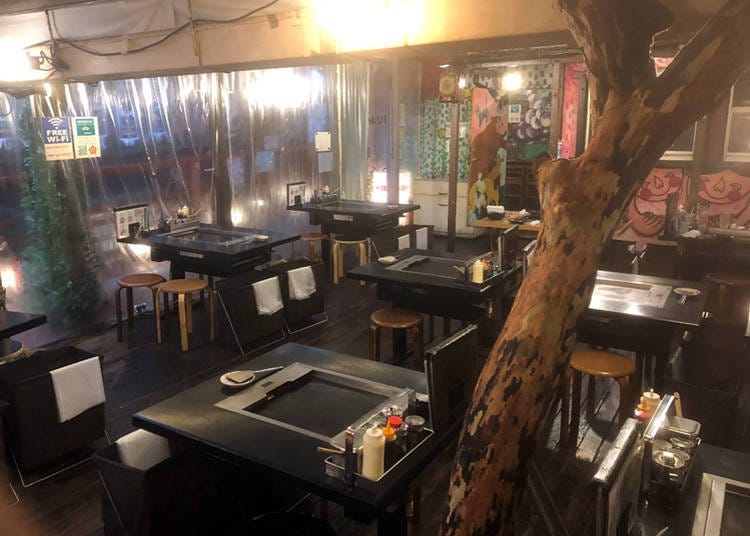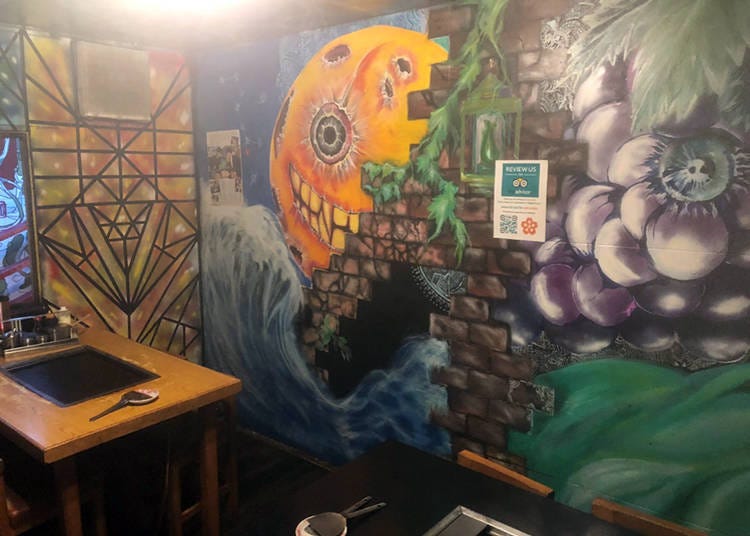 Besides a large and spacious communal dining area, the shop also offers private rooms.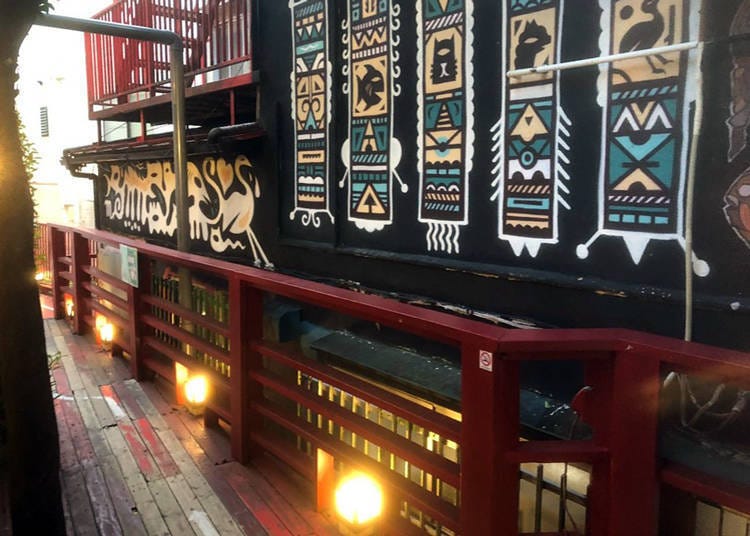 As you pass through the entrance into the shop, you may notice there's another entrance and exit that leads you to an external area adorned with yet more wall art!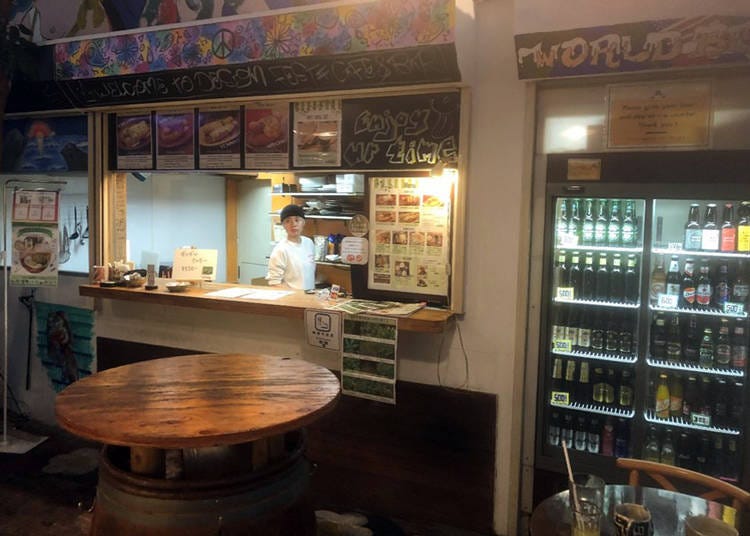 Turn right from this entrance and exit to find the shop's cafe and bar section. This is where you can enjoy delectable dishes other than okonomiyaki and monjayaki (Japanese pan-fried batter).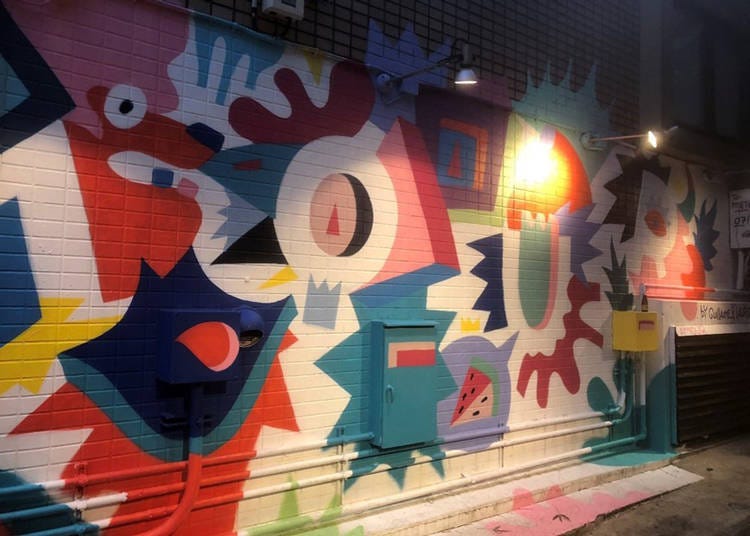 Looking for a great photo spot? The wall murals towards the left side of the shop's main entrance is an especially popular pick among visitors. In fact, it's the de facto background most customers to the restaurant use for their commemorative photographs!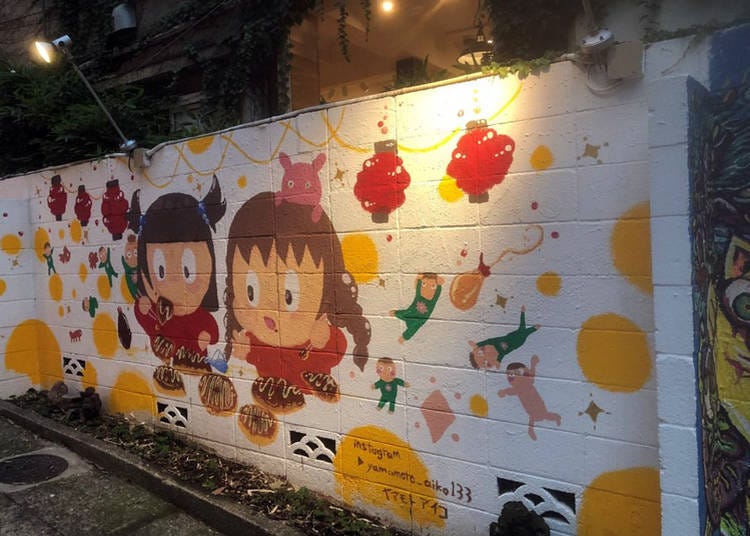 All the artists featured in and around Sakura Tei belong to galleries operated by group businesses, and the purpose is to get people to enjoy art created by those with close ties to the locality.

The displays change from time to time on an irregular basis, so you may find yourself diving in a completely new world of art on your next visit.
All-you-can-eat okonomiyaki and monjayaki!
The shop offers a wide and varied range of food on its menu, including items like yakisoba (fried noodles) in addition to their signature okonomiyaki and monjayaki. The sheer amount of different toppings you can slather all over your pan-fried food is quite frankly ridiculous, too!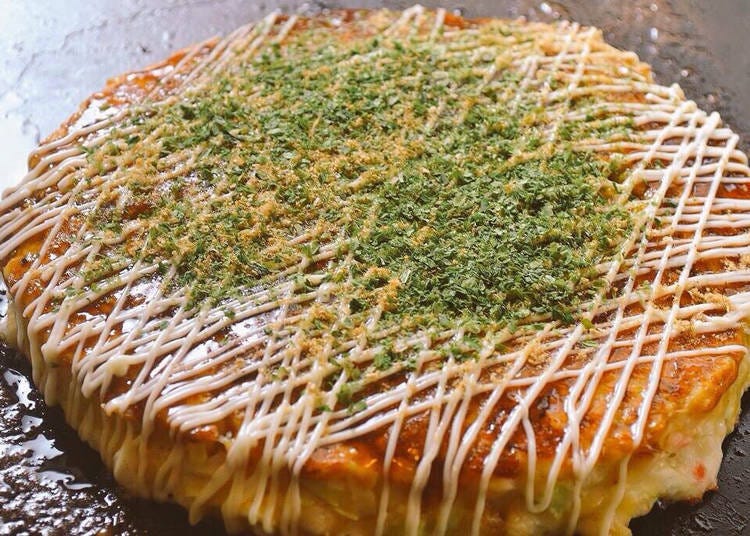 The "All-You-Can-Eat Lunch" comes highly recommended from us. This 90-minute lunch time package lets you pick from 21 types of toppings for a reasonable 1,500 yen, and you're free to help yourself to all the okonomiyaki, monjayaki, and shiodare (salt sauce) cabbages that you want. This lunch package even comes with one bonus free drink!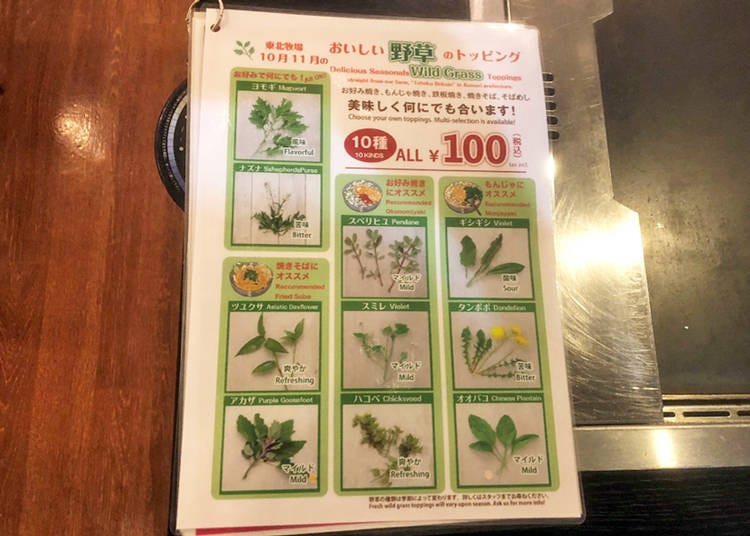 Since the restaurant aims to promote good health with what's on its menu, it offers patrons the choice of having healthy herbs and weeds like Japanese mugwort, shepherd's purse, dandelion, viola mandshurica, and others as toppings as well.

Yes, these ingredients may seem like a complete mismatch with what you usually see on okonomiyaki and monjayaki, but you'd be surprised at how well they go together after all if you just give them a chance! There are a total of 10 types of herbs and weeds available for 100 yen (tax excluded) per type.

Other than the unconventional idea of using herbs and weeds as toppings, you could also add on 400 yen (tax excluded) for a cup of "Tohoku Bokujo Weed Tea", another item unique to the restaurant that you won't be able to find anywhere else.

We tried the drink ourselves and were pleasantly surprised at its smooth taste that didn't contain a hint of its grassy origins at all. Ingredients that went into the making of this drink were carefully selected and this is something health-conscious visitors will definitely love.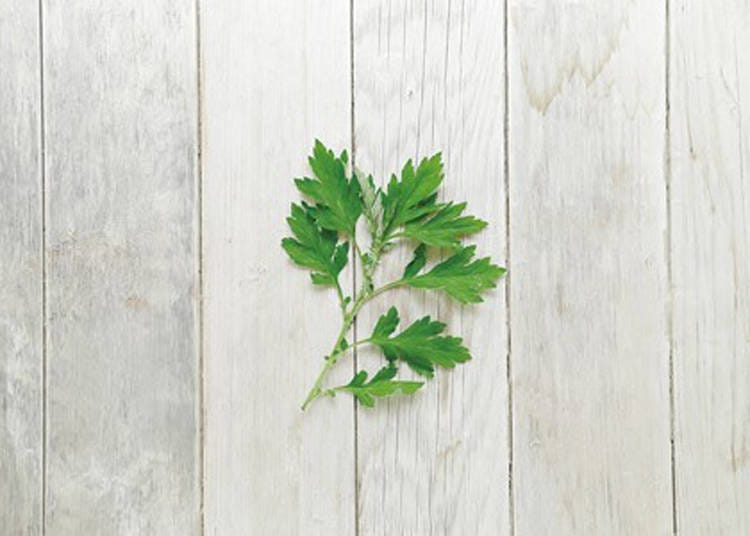 Japanese mugwort
A rotating seasonal menu is a thing here as well, and there are actually some regular menu items that were moved from limited time seasonal menus because of their incredible popularity! As of time of writing, the shop has expressed their intention to introduce exciting new seasonal menu options soon, so keep a lookout for that if you're heading down!
Committed to providing foreign customers a welcoming stay!
Almost half of Sakura Tei's customer base is made up of foreigners. That's just how well-liked this okonomiyaki house is both locally and globally!

One of the reasons the shop has achieved the star status it has is due to all the preparations it's made to ensure international visitors can enjoy their meal time here without having to stress unnecessarily over language barriers.

Some staff on hand are foreigners themselves and can communicate with customers in English if the situation calls for it. The menu is conveniently available in Japanese with English labels as well.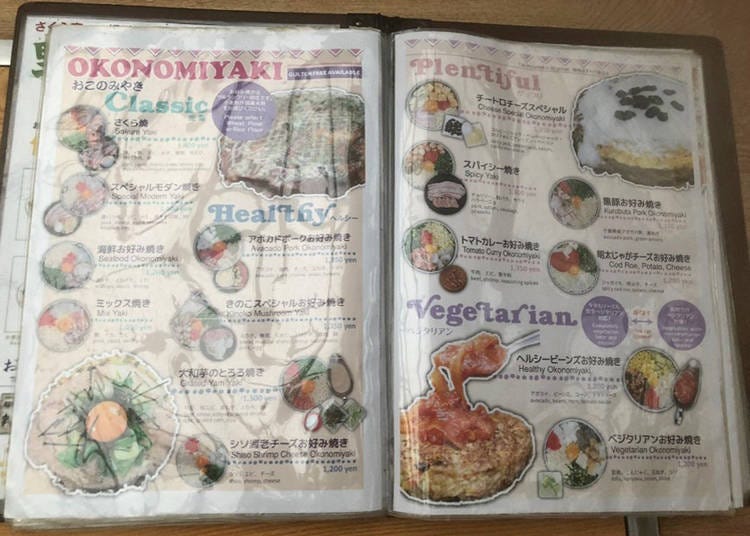 The shop is always happy to accommodate customers who have dietary restrictions or are vegetarians. They offer soup stock made entirely from vegetable sources and gluten-free wheat, although they would need to be informed beforehand about the latter.

Since the restaurant has a maximum capacity of 220 people, they do also entertain requests about private bookings from large international tour groups that may need the space.

Being able to make your own okonomiyaki just the way you like it is another reason for Sakura Tei's enduring popularity among foreign visitors. It can even be said that many of them look forward to the activity of cooking their own okonomiyaki more than the okonomiyaki itself!

That said, if this is the first time you or someone in your travel group are cooking your own okonomiyaki, it can seem like a daunting task.

Not to worry, though! Just for you, Sakura Tei has prepared a step-by-step chart on how to make the best okonomiyaki anyone's ever seen - complete with pictures and English descriptions! You can really tell the restaurant takes great care to ensure that all of their guests will enjoy their time spent here.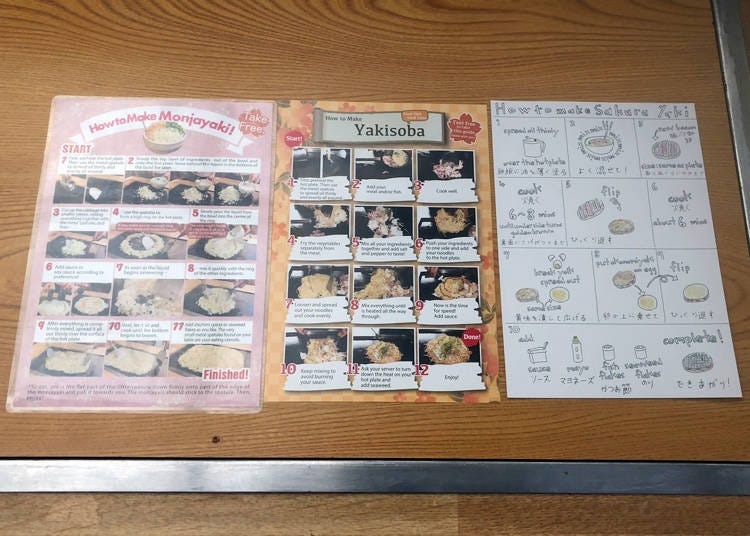 We interviewed staff members about the most popular items among foreign visitors and received a list with three names. "Sakura Yaki" is one. This is an okonomiyaki with seven types of ingredients wrapped up in an egg layer.

There's also "Special Modern", an item that's known for its hearty and satisfying portions. Finally, there's the "Seafood Okonomiyaki", which is basically a regular seafood okonomiyaki that's been a hot favorite since olden times.

We also asked staff members what their personal recommendations would be, and their shortlist included "Sakura Yaki" and "Seafood Okonomiyaki" as well - quite similar to the top picks by our international friends.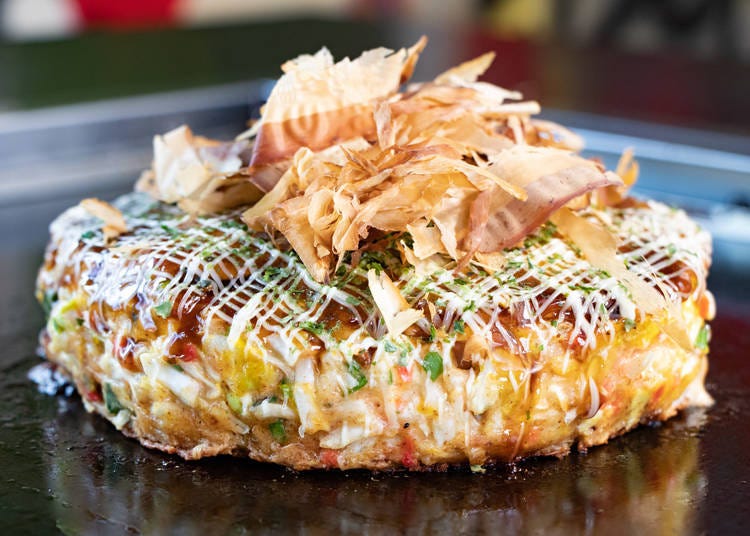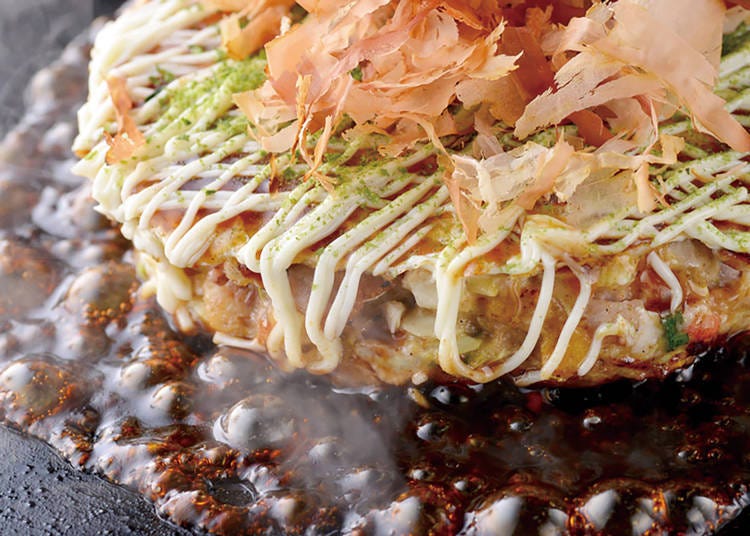 "Avocado Pork Okonomiyaki" is apparently another hot favorite. As the name suggests, this okonomiyaki contains the unusual ingredient of avocado slices, something that's rarely seen in other shops with similar menus. Since this nutritious fruit is popular with both local and international customers, it's quite naturally one of the most regularly ordered item in Sakura Tei as well.
For this time, we ordered the "Seafood Okonomiyaki (1,200 yen, tax excluded)" that made it to the favorite lists of both foreign visitors and staff of the restaurant. This item comes with tasty premium ingredients such as prawns, squid tentacles, and scallops. What's there not to like?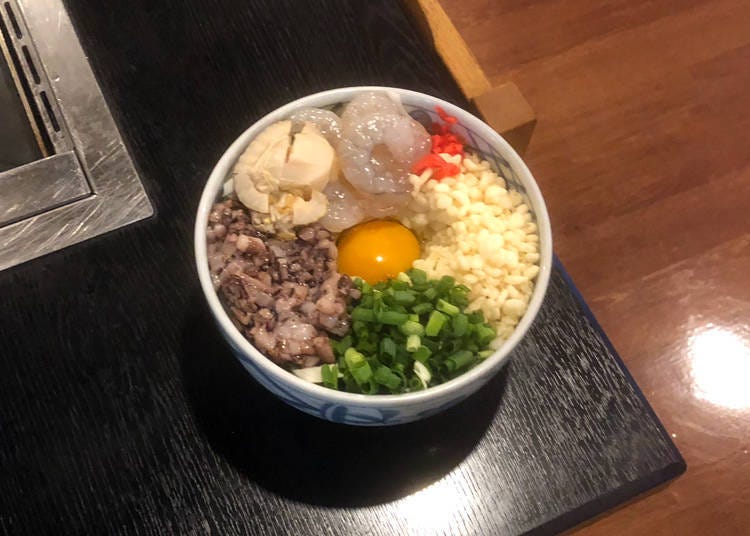 Although one of the highlights of dining at Sakura Tei is the ability to make your own okonomiyaki, if you're unsure about getting it right for any reason at all, speak to the staff! They'll be most happy to help you get that sorted in a jiffy.

There's really no shame in asking for help, and as a matter of fact, we got a staff member to help us with the cooking this time too!
To begin, spread a layer of oil over the entire cast iron hot plate.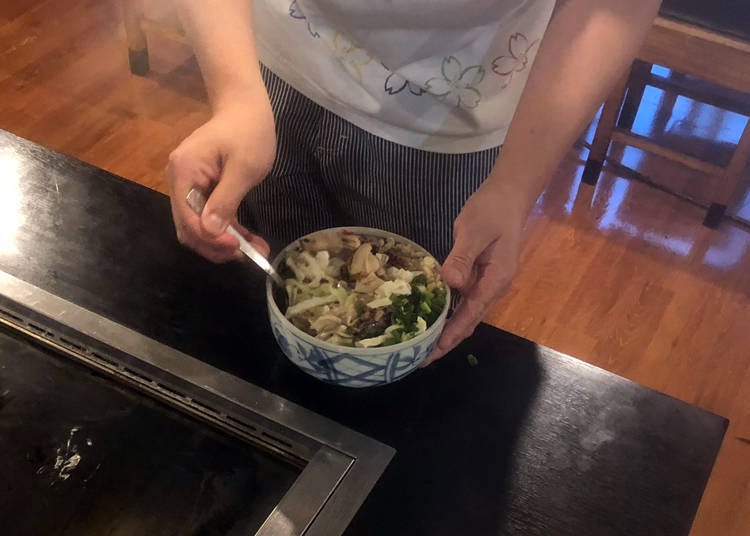 After that, use a spoon to mix the ingredients like prawns and scallops together.

Check if the hot plate is heated up to the right degree, then pour out the mixed ingredients onto it.
Make a round shape with the ingredients and wait for the bottom surface to cook.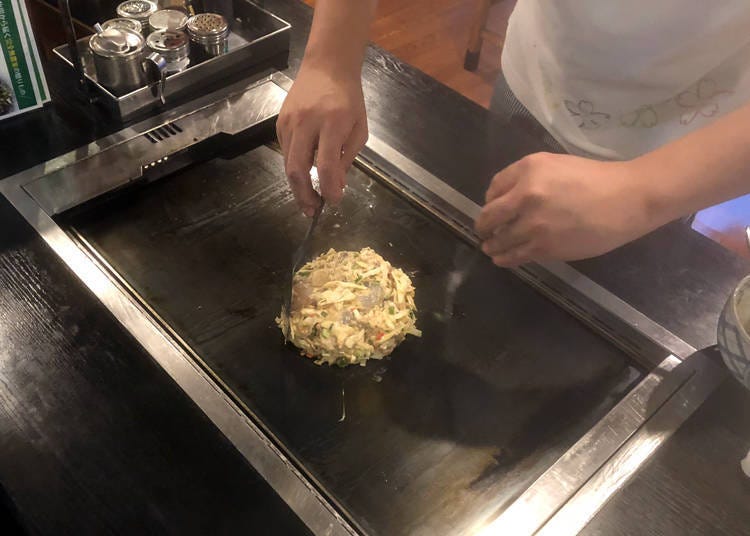 When the bottom is cooked, flip the batter over to allow the other side to cook as well.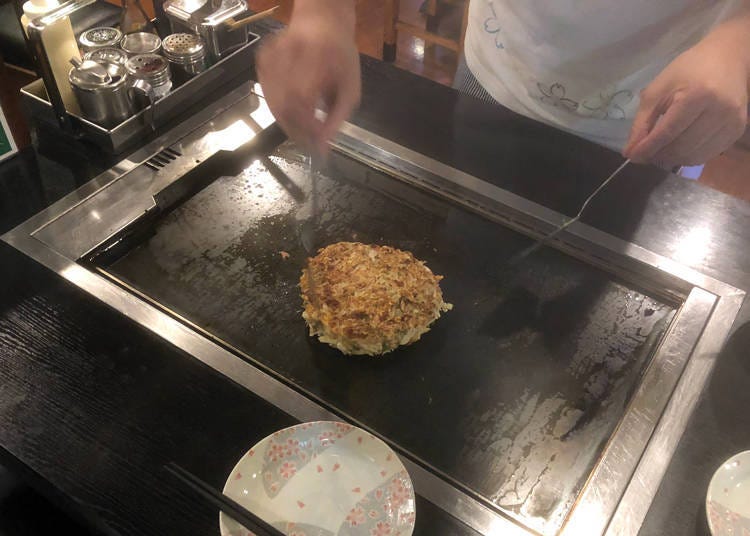 Once both sides have been cooked to your satisfaction, finish up by adding the okonomiyaki sauce, bonito flakes or green laver toppings, and finally, mayonnaise.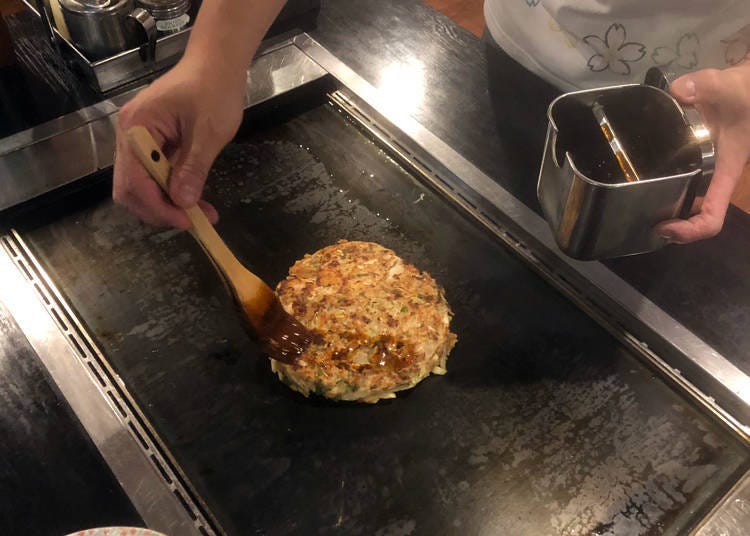 Last but not least, cut the finished okonomiyaki up into comfortable bite-sizes for easier eating. The staff who helped us with the cooking proudly announced that this was one of his better ones yet, which we can't help but agree with!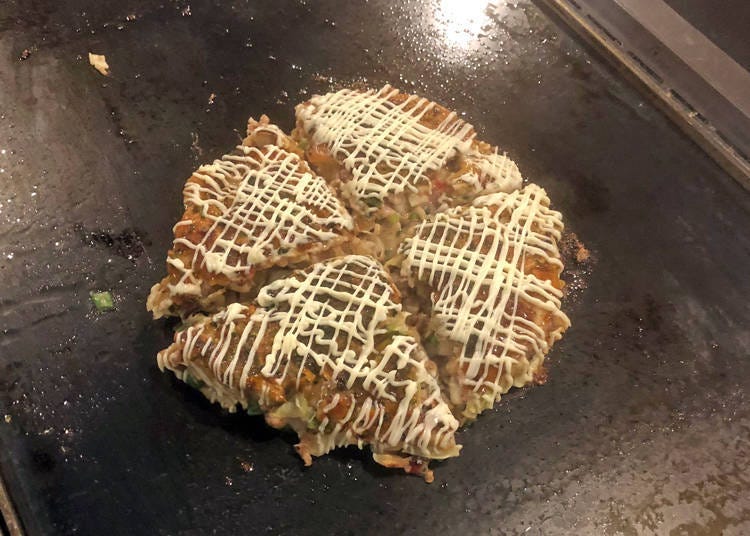 Needless to mention, we relished the perfectly and beautifully browned okonomiyaki made by the helpful restaurant staff, leading us to the conclusion that we highly recommend Sakura Tei to foreign tourists who are interested in enjoying great tasting okonomiyaki surrounded by unique artwork.

Take it from us, really - this restaurant is worth spending some time seeking out during your trip to Harajuku for the memorable experience it provides!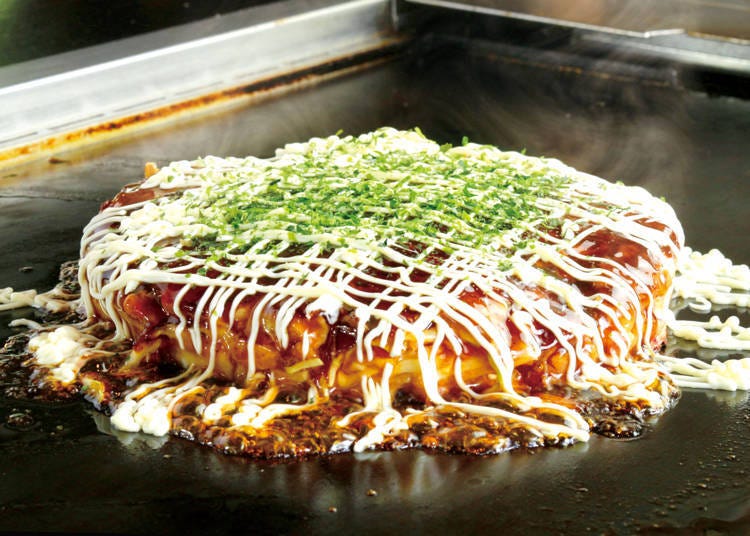 Written by: Satō Yū (Dali Corporation). English translation by: Huimin Pan
Address

3-20-1, Jinguumae, Shibuya-ku, Tokyo, 150-0001
View Map

Nearest Station

Meiji-Jingumae (Harajuku) Station (Tokyo Metro Chiyoda Line / Tokyo Metro Fukutoshin Line)


Phone Number

03-3479-0039
*This information is from the time of this article's publication.
*Prices and options mentioned are subject to change.
*Unless stated otherwise, all prices include tax.