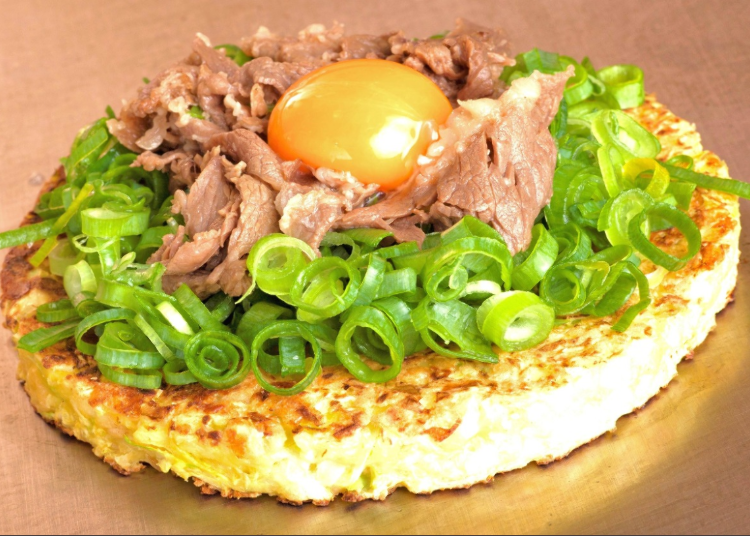 LIVE JAPAN PERFECT GUIDE TOKYO, the #1 guide for local travel information for tourists in Japan, presents the LIVE JAPAN Awards 2019, which recognizes the most popular shops and facilities among overseas visitors in Japan based on user access.

Today we bring you the Top 5 in the Gourmet Division, and take a look at some of the reasons tourists love our first place winner, Asakusa Tsurujirou!
Presenting the LIVE JAPAN Awards 2019 Gourmet Division Top 5!
The Ranking System is divided into the following five categories: Gourmet, Experiences, Shopping (Large Commercial Facilities), Shopping (Retail Facilities), and Tourism. The following are the results of the Gourmet Division:
#5. Teppanyaki Grow Roppongi Store
You can enjoy the highest-grade, A5-ranked aged meat at this Roppongi Teppanyaki shop. It seems pretty popular amongst tourists as a place famous for its internationally recognized Japanese Wagyu beef.
Gokande Kanjiru Teppanyaki A5 Ranku Kurogewagyu grow Roppongiten

五感で感じる鉄板焼×A5ランク 黒毛和牛 grow 六本木店

Address

1F,3-8-7, Roppongi, Minato-ku, Tokyo, 106-0032


Nearest Station

Roppongi Station (Tokyo Metro Hibiya Line / Toei Oedo Line)


Phone Number

03-6455-4240
#4. Monja Fugetsu Tsukishima
Tsukishima Island is a fierce battlefield of Monjayaki shops, and Monja Fugetsu is the winner in popularity. Here you can enjoy okonomiyaki and teppanyaki, along with authentic monjayaki cooked by skilled craftsmen before your very eyes. Service is also available in English and Chinese.
もんじゃ風月 月島店

Has Health & Safety Measures

Address

1-19-4, Tsukishima, Chuo-ku, Tokyo, 104-0052


Nearest Station

Tsukishima Station (Tokyo Metro Yurakucho Line / Toei Oedo Line)


Phone Number

03-5166-0888

* For business names, representatives or managers, and other information, please contact the store directly.
* Time of payment (Pre-paid: On confirmation of reservation. Other than pre-paid: At time of visit.)
#3. Tosura (Asakusa Store)
Here you can enjoy Japan's super popular Wagyu beef. This shop offers high-class Yamagata beef, raised surrounded by lush greenery and clear, natural water. Dishes are made with delicious beef, selected by an expert meat technician, and are reasonably priced.
土古里 浅草店

Address

Asakusa Sekine Building 2F,1-23-6, Asakusa, Taito-ku, Tokyo, 111-0032


Nearest Station

Tawaramachi Station (Tokyo Metro Ginza Line)


Phone Number

03-5246-6633
#2. Yakiniku Aburiya Musashi
Ginza is known for famous restaurants, and the current hot topic is Yakiniku Aburiya Musashi, popular for their all-you-can-eat course, serving the finest Kuroge Wagyu beef. Foreign languages such as English, Chinese, Korean and Thai are also available, another reason for its popularity with tourists.
焼肉 炙屋 武蔵

Address

Pacific Ginza building 4F,7-2-20, Ginza, Chuo-ku, Tokyo, 104-0061


Nearest Station

Ginza Station (Tokyo Metro Ginza Line / Tokyo Metro Marunouchi Line / Tokyo Metro Hibiya Line)


Phone Number

03-5568-7020
#1. Claiming first place is Asakusa Tsurujirou, boasting many reasons for its popularity with foreign tourists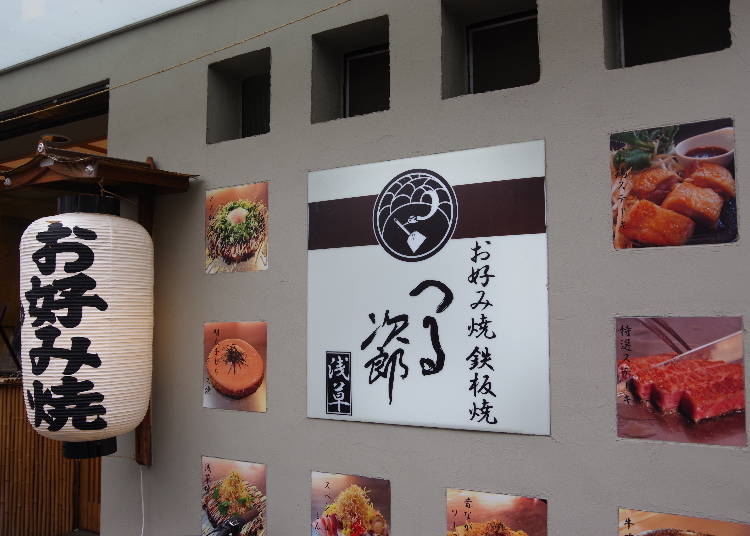 Asakusa Tsurujirou is a quick 3-minute walk from Asakusa Station on the Tokyo Metro Ginza Line and right in front of Kaminarimon. As soon as you enter the shop you are greeted by a powerful, booming "Welcome!"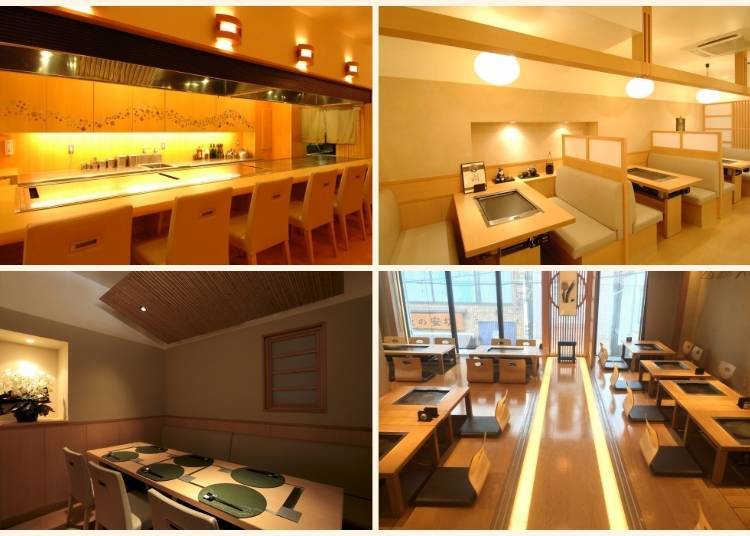 There are counter seats, where you can watch the meals as they are cooked right before your eyes, table seats where you can sit without taking off your shoes, and semi-private rooms, as well as a total of 60 sunken kotatsu-style seats on the second floor. It is a spacious shop with a very Japanese atmosphere.
Which Okonomiyaki and Monjayaki are Most Popular with Tourists?
We asked Mr. Hamada, the shop manager, about the most popular menu items with their overseas visitors. Let's begin with okonomiyaki.

"Many of our Japanese guests seem to order the pork okonomiyaki, however our visitors from overseas seem to prefer beef and chicken. Beef and chicken with egg are most popular."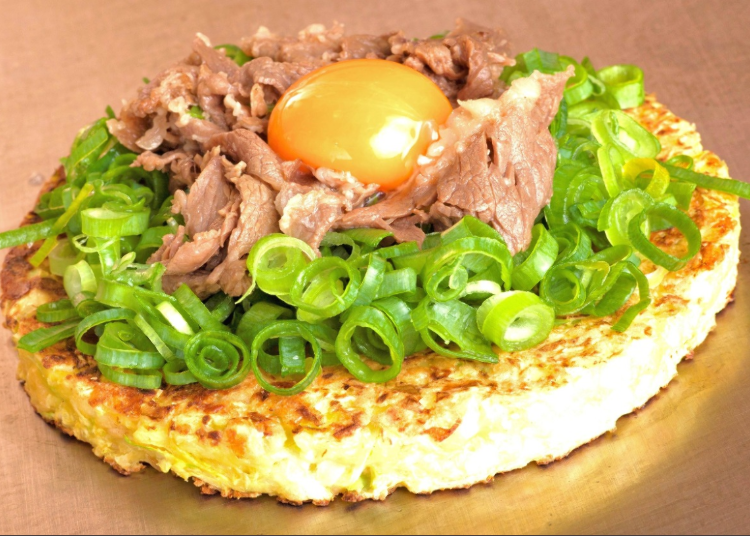 Gyu-tama (beef with egg), ¥1270 (tax included)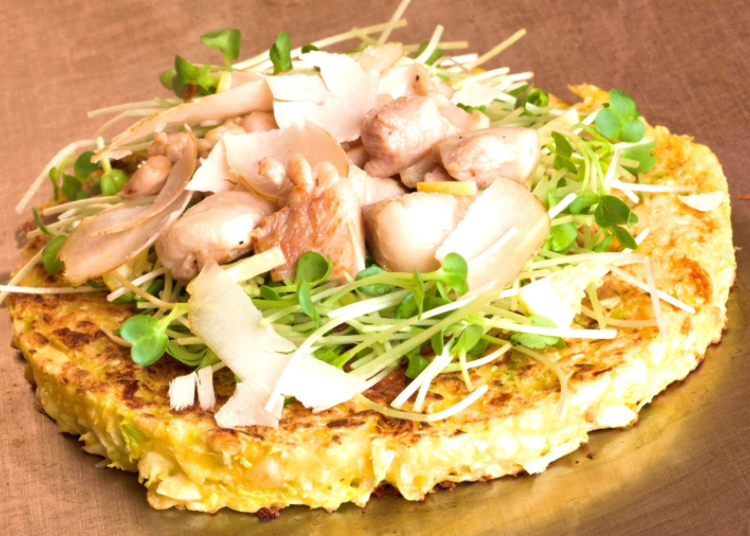 Tori-tama (chicken with egg), ¥1270 yen (tax included)
Gyu-tama is a soy sauce flavored okonomiyaki made with sweet, boiled beef. Tori-tama okonomiyaki is made with high-quality Daisendori chicken, and eaten with salty ponzu vinegar. Being able to enjoy these dishes with Japanese-style condiments instead of regular sauces is another reason for its popularity with tourists who want to experience authentic Japanese cuisine.

What's Popular on the Monjayaki Menu?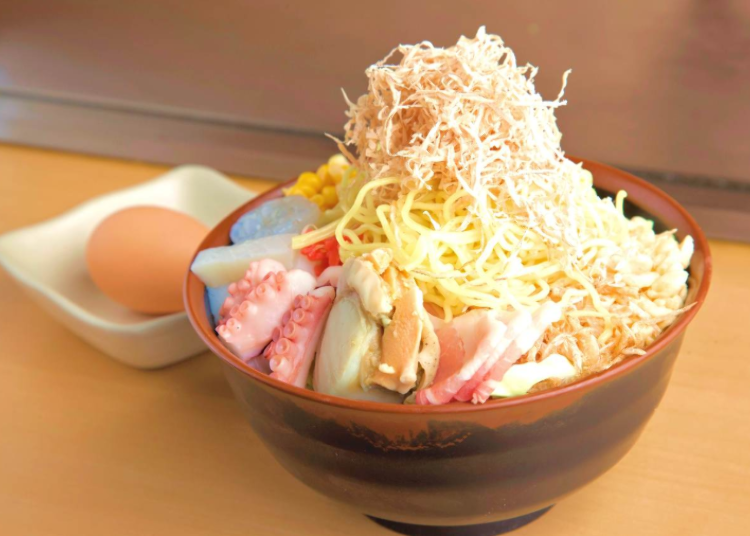 Special Monja, ¥1530 (tax included)
"The typical Monjayaki shop usually offers a wide variety of items, but our shop sticks to only three simple ones. This way you can add your favorite ingredients and toppings on your own. This also makes it easier for people to choose. The Special Monja is the most popular among our foreign guests."

The Special Monja contains many ingredients, including pork belly, squid, octopus, large scallops, shrimp, corn, red ginger, eggs, and noodles. It is a very hearty and satisfying dish.
Asakusa Tsurujiro is great even if you don't speak/read Japanese!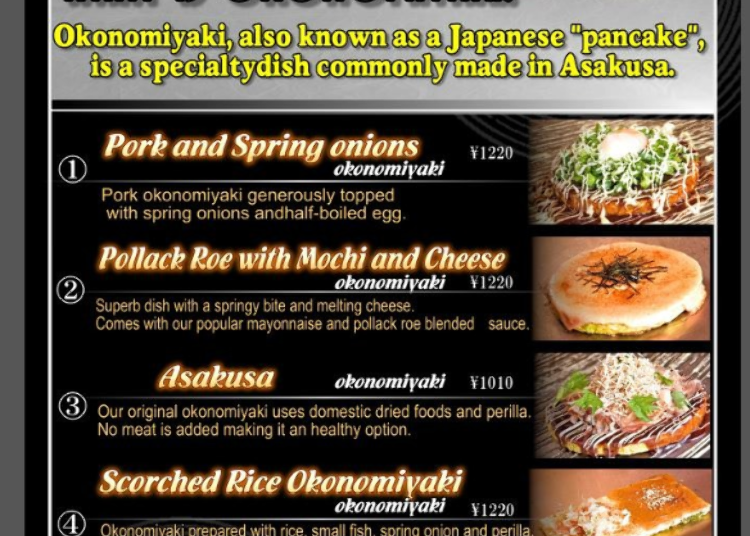 English, Chinese, and Korean menus are always available, so you will have no problems, even if it is your first time trying okonomiyaki and monjayaki. There is even an English guide explaining how to cook it!

The shop staff are also incredibly tourist-friendly.

"There is no detailed manual. We simply think about how we can please our customers and act accordingly. Some of our staff are not very good at English, but we all keep a smile and treat all our customers with courtesy."
Free Commemorative Photo Service with Staff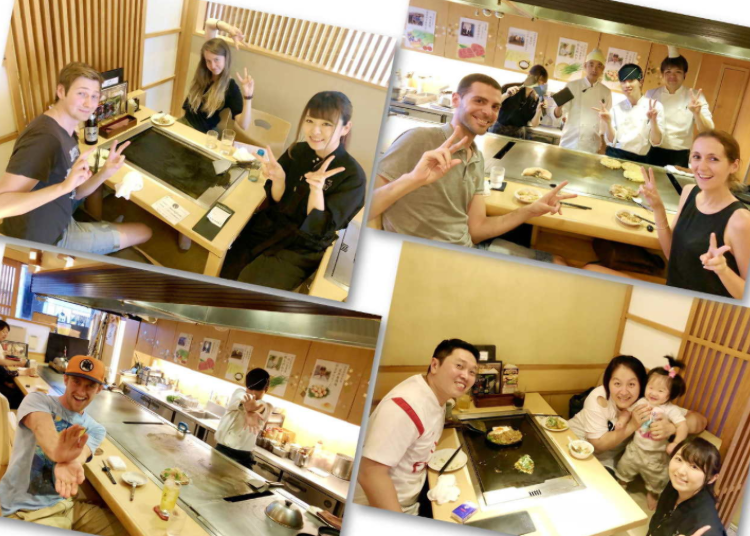 Because their charming staff has made the shop more popular than they had ever imagined, they also offer a free photo service for tourists.

"We take photos of our customers as they enjoy their meals which we give them before they leave. In fact, recently, the number of customers asking for photos with our staff has increased even more. They can have photos taken together as they chat with the staff and create wonderful memories of their trip."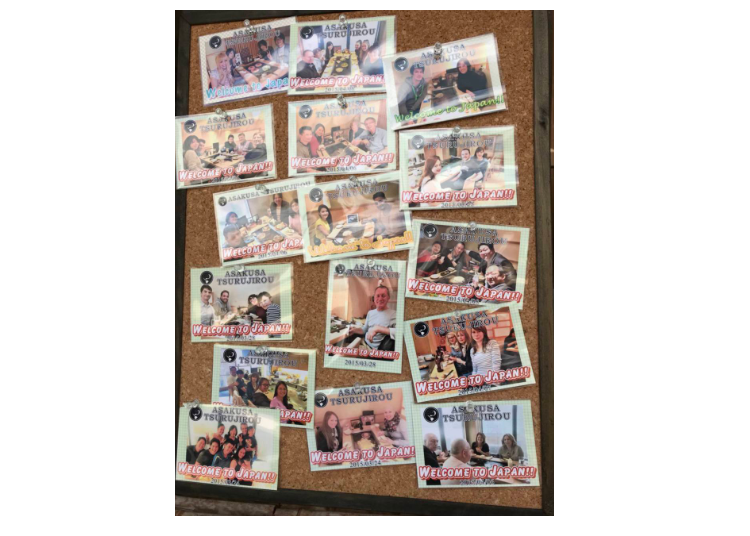 What makes foreign travel memorable is more than just the food but also the interaction with local people. Without a doubt, simply looking at the photos and remembering their conversations with the staff is sure to bring back fun memories every time.

"Foreign customers tend to make exaggerated reactions and rich, emotional expressions. When they watch the food being cooked in front of them, they may exclaim in delight, "Bravo!" bringing a smile to the faces of our other customers and staff. We may serve food to our customers, but from them we receive plenty of smiles."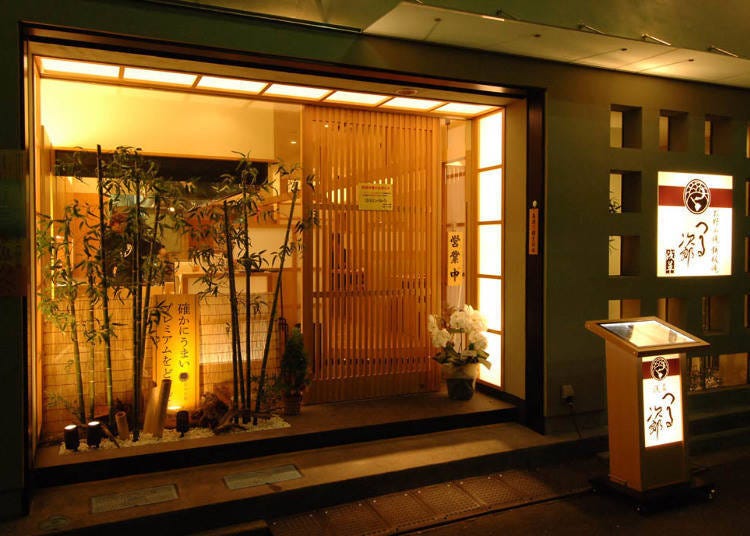 The fluffy and delicious okonomiyaki and monjayaki, combined with the great service and friendly staff at Asakusa Tsurujiro, captivates visitors from the moment they walk in. Even amongst foreign visitors there are many repeat customers. For delicious Japanese cuisine and fun conversations with a friendly staff, this is one of the best places to visit!

Written by Ran Tanaka. Translated by Krys Suzuki.
*This information is from the time of this article's publication.
*Prices and options mentioned are subject to change.
*Unless stated otherwise, all prices include tax.
Limited time offer: 10% discount coupons available now!