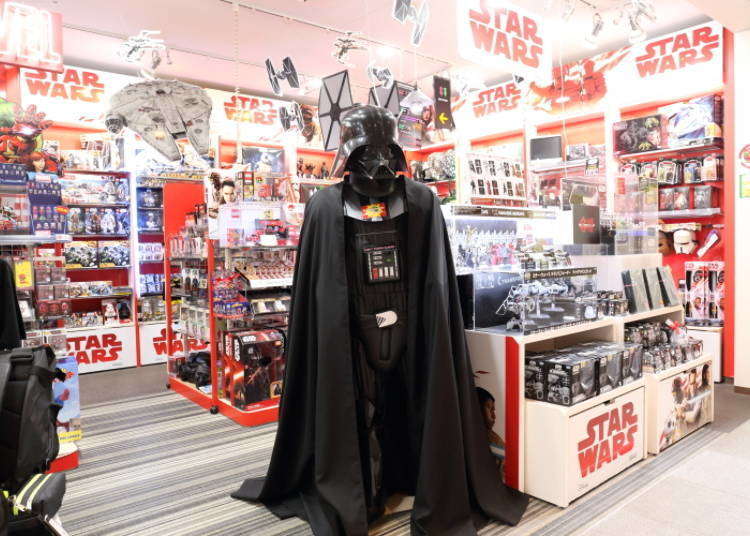 The Harajuku Kiddy Land store is a treasure trove loaded with the latest and most popular toys. Each of its floors, from the basement to the fourth, has a wide selection of character goods popular both in Japan and abroad, such as Rilakkuma, Studio Ghibli, Hello Kitty, and Snoopy. It also has all of the latest trending items. Here there is so much to see that you will surely lose track of time. In this article we will introduce the characters and items handled on each floor.
Knowing what is displayed on each floor ahead of time makes shopping more efficient and enjoyable. Different character shops and special character corners are on different floors. Once you find where the items you are looking for are displayed you can directly go there.

4th Floor
Rilakkuma Store, Hello Kitty Shop (Hello Kitty, My Melody, Little Twin Stars), Sumikkogurashi Shop
3rd Floor
Toys Wonderland (Lego, Tomica & Plarail, Pokemon, Anpanman), Star Wars Galaxy
2nd Floor]
Disney Avenue, Miffy Style mimi, Character Mix (Monchhichi, Doraemon, Studio Ghibli)
1st Floor
NEXT Kiddy Land, k-spot, Funassyi LAND Select HARAJUKU
Basement
Snoopy Town Shop
4th Floor - Hello Kitty and Rilakkuma, Shelves lined with cute characters popular with girls
■ Hello Kitty Shop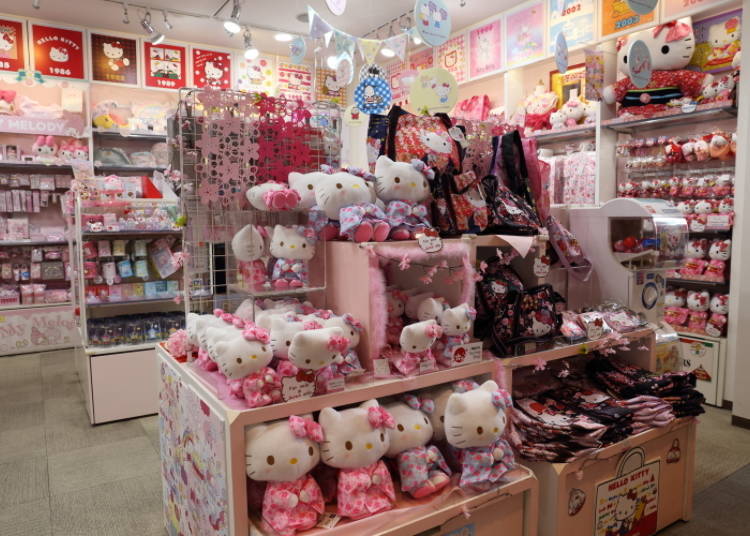 (C) 1976, 2018 SANRIO CO., LTD. TOKYO, JAPAN (L)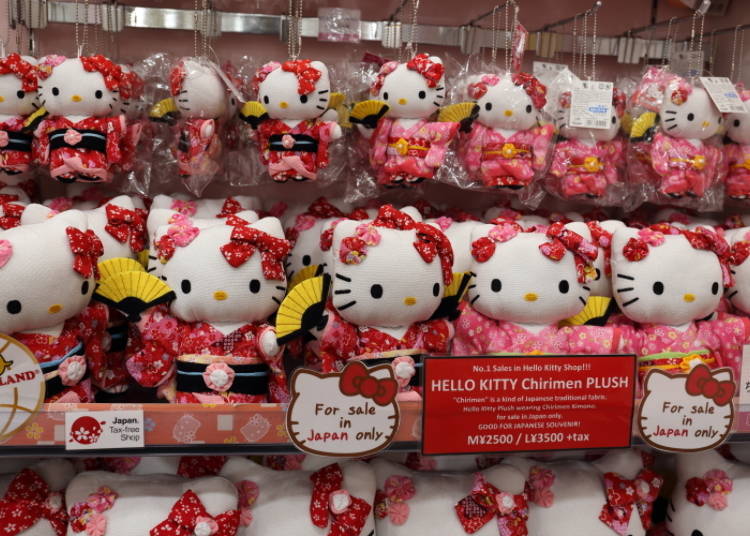 (C) 1976, 2018 SANRIO CO., LTD. TOKYO, JAPAN (L)
In addition to Hello Kitty, loved by people all over the world, there is a selection of other popular Sanrio character goods such as My Melody and Little Twin Stars. This is a good place to shop for Japanese-like gifts as there is a large selection of stuffed toys, keyholders, and characters wearing Japanese-style outfits.

■ Rilakkuma Store Harajuku Shop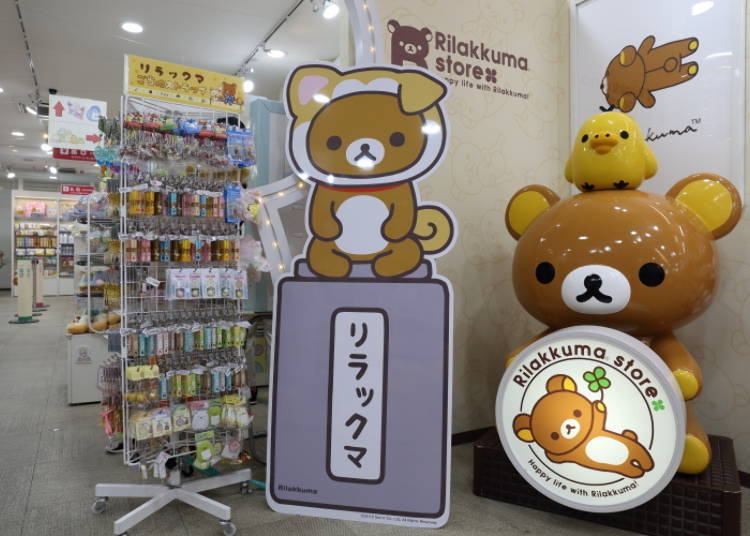 (C) 2018 SAN-X CO., LTD. ALL RIGHTS RESERVED.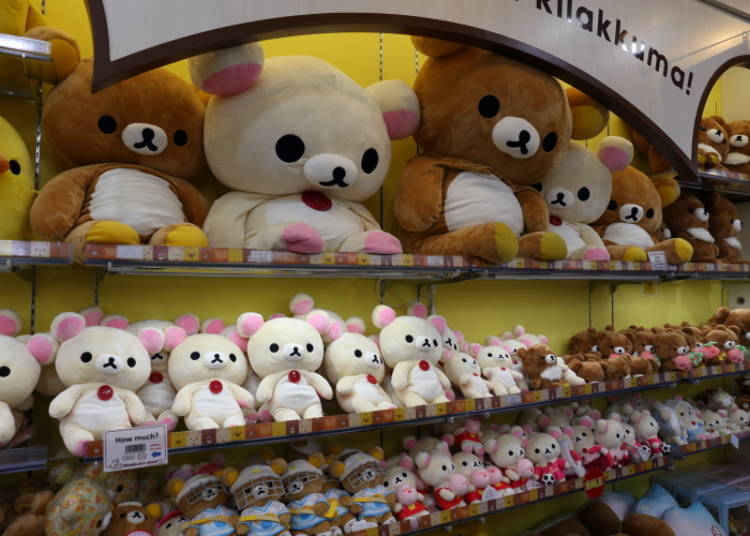 (C) 2018 SAN-X CO., LTD. ALL RIGHTS RESERVED.
Don't forget to check out the Rilakkuma Store Harajuku Shop on the 4th floor. Its concept is "Happy life with Rilakkuma" and that is evident everywhere in the cute displays on this floor. Here there are more than 3,000 items ranging from stuffed toys to stationery goods, sweets, and key holders making it one of the largest collections of Rilakkuma goods anywhere. There are also a number of limited edition items that are only available here.

■ Sumikkogurashi Shop
(C)2018 SAN-X CO., LTD. ALL RIGHTS RESERVED.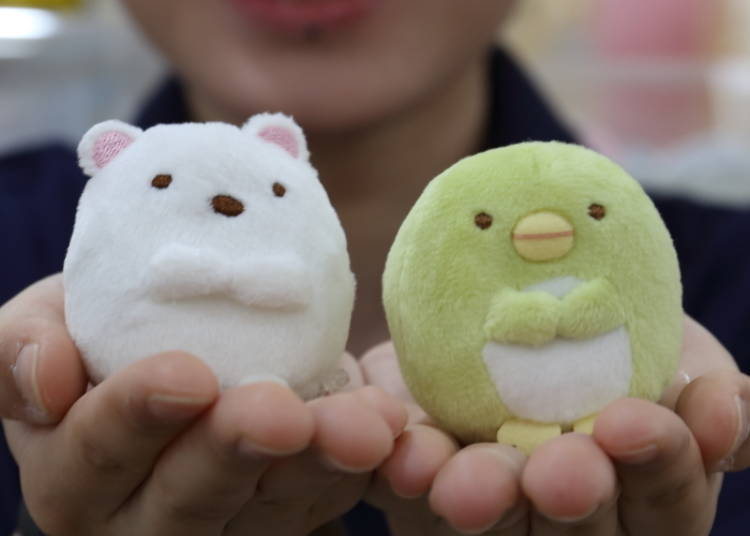 (C) 2018 SAN-X CO., LTD. ALL RIGHTS RESERVED.
Here there is a selection of the Sumikkogurashi items that have been very popular with Japanese youngsters in recent years. These characters that made their debut in 2012 have expressions that imply they prefer "sitting unobtrusively in a corner", and from the Japanese expression describing that, sumikko ga suki (I like sitting in a corner), it was the theme on which they were based. Looking slightly unconfident and stooped, one can't help but want to help these adorable little creatures and that is the secret to their popularity. Small enough to sit in the palm of your hand, the stuffed toys and stationery items have been very popular with children.
3rd Floor - Special Star Wars Corner and Toys Popular with Boys
■ Star Wars Galaxy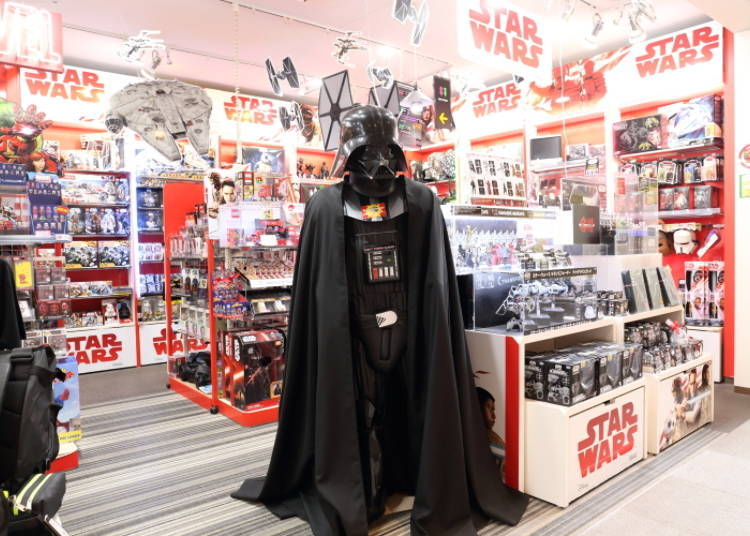 (C) & TM Lucasfilm Ltd.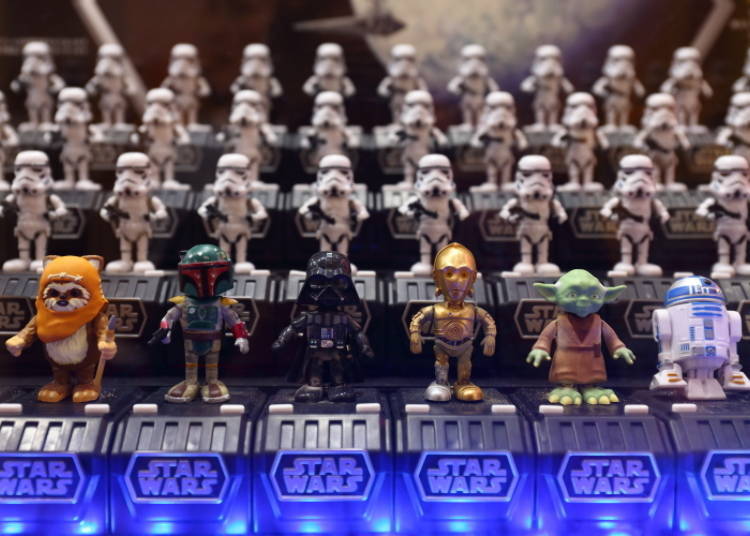 (C) & TM Lucasfilm Ltd.
The main attraction on the third floor is the Star Wars special corner "Star Wars Galaxy". A large figure of Darth Vader greets visitors in a world like one out of the movies and whether you are a Star Wards fan or not, you will want to see it. In addition to figures of characters, there are stationery goods, items for daily use, neckties, and items for business use such as cases for business cards. When Hollywood celebrities and Star Wars fans visit Japan, they visit this spot. Here you will be able to feel the Force in the many items offered.

■ Toys Wonderland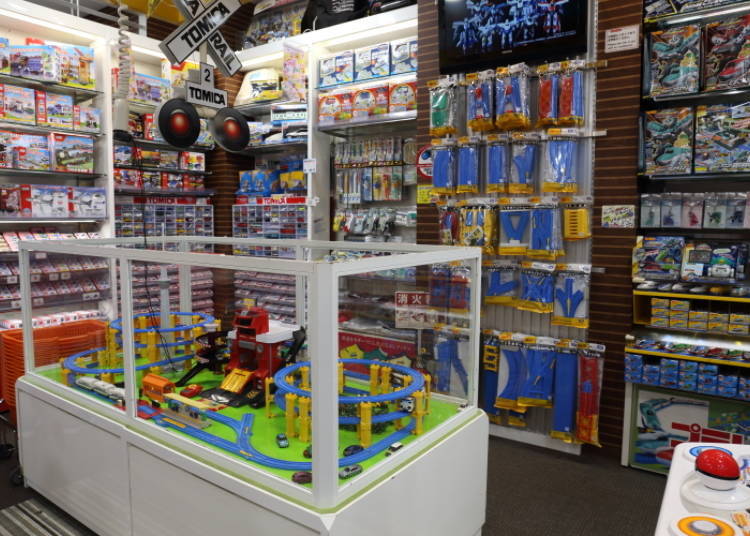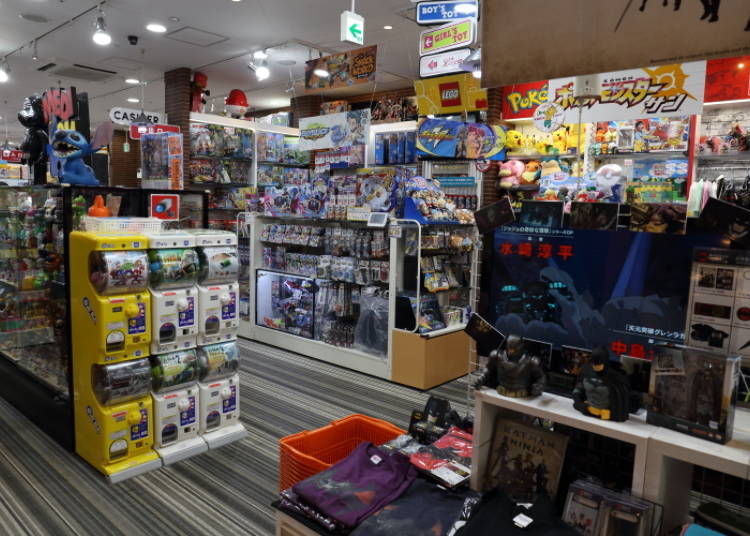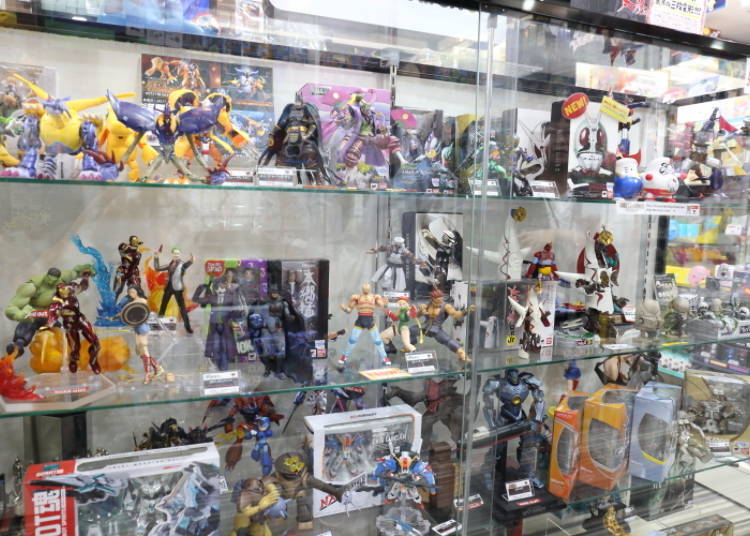 Your eyes will be transfixed on the minutely detailed figures
Lego, Tomica and Plarail, Pocket Monsters, Anpanman, Licca-chan, and a host of other characters popular with children and adults alike are everywhere to be seen. So sophisticated are they arranged in the wide display cases that many people like to photograph them. There are so many exciting and adorable characters here that they evoke sweet memories of childhood.
2nd Floor - Disney Characters and Items Grownups Find Adorable!
■ Disney Avenue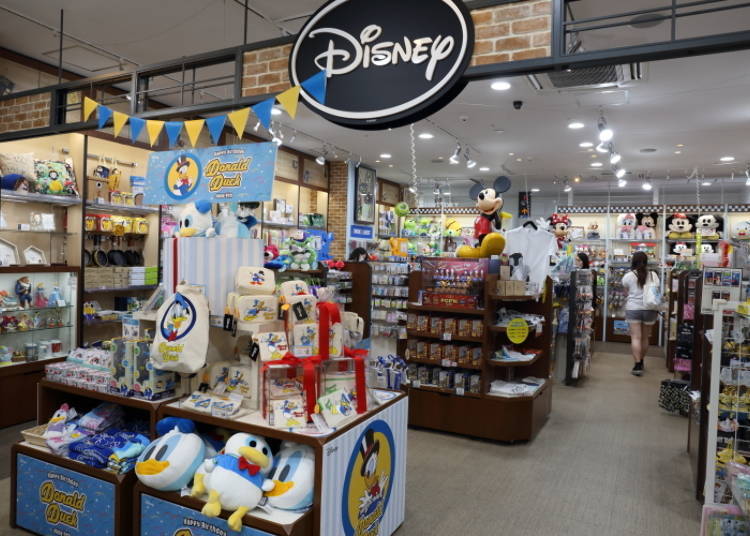 (C) Disney (C) Disney/Pixar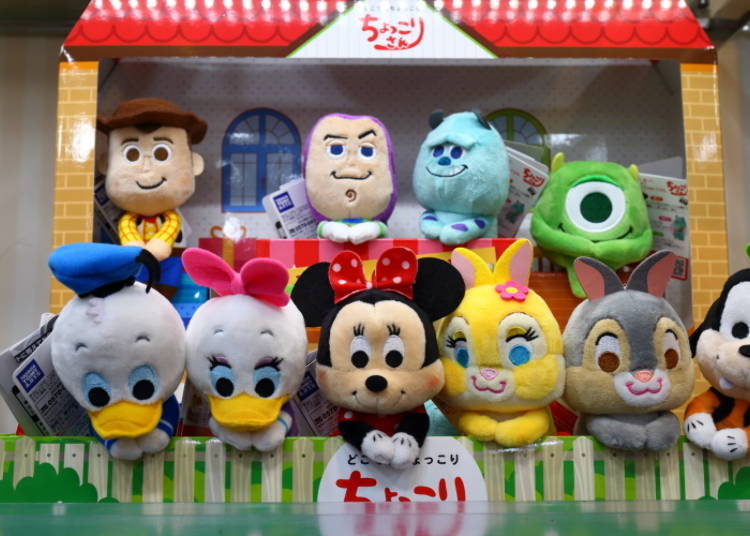 (C) Disney (C) Disney/Pixar
"Items which adults find adorable" is the theme on the second floor. Almost half of the floor displays popular Disney character goods in the Disney Avenue section. Here you can find Mickey Mouse, Minnie Mouse, Winnie the Pooh, and many other popular characters. There are stuffed toys, apparel, stationery, daily goods, and many other items on display.

■ Miffy Style mimi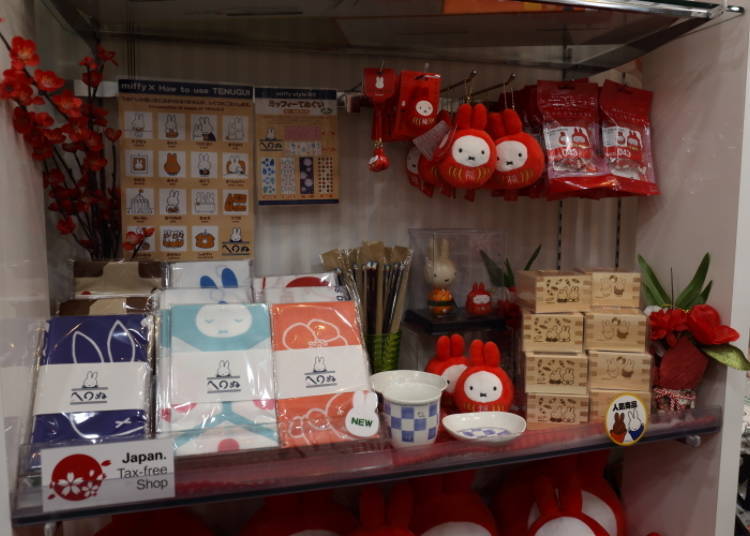 (C) Mercis bv
This is a mini-version of Miffy Style, a shop that has a large selection of Miffy items. In addition to stuffed toys and daily goods, there are also daruma and kokeshi along with Miffy items arranged in a Japanese style brimming with originality that foreign visitors especially enjoy and buy because they make great souvenirs and gifts.

■ Character Mix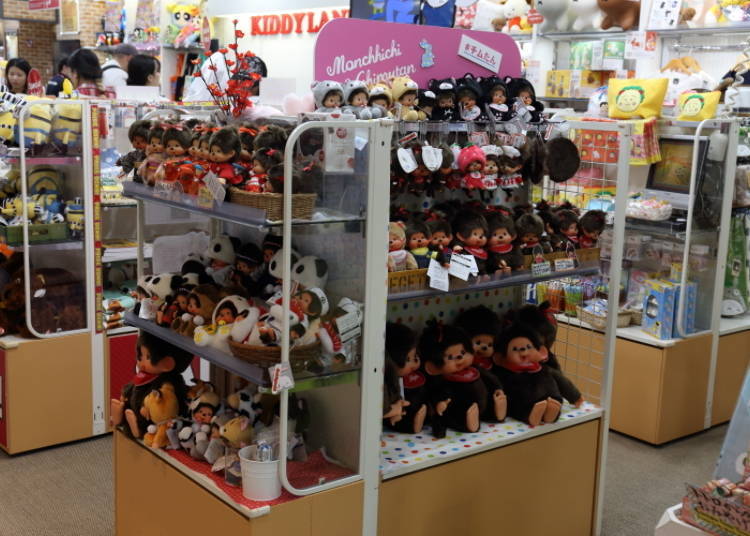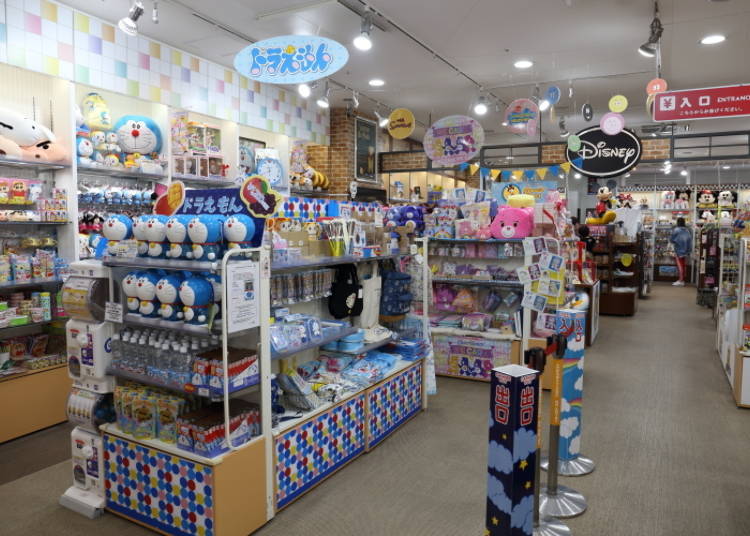 Characters from popular movies, such as My Neighbor Totoro, and Kiki's Delivery Service, are in the Studio Ghibli Corner in the form of stuffed toys, daily goods, and stationery items, as well as traditional Japanese items such as fans having Ghibli characters for their themes. These all make wonderful gifts. Here, too, there is a corner for Monchhichi, Doraemon, Minions, and other popular characters that span the generation gap in their popularity.
1st Floor - A Generation into the Future! Items a step ahead of their time like the very popular Funassyi
■ Funassyi LAND Select HARAJUKU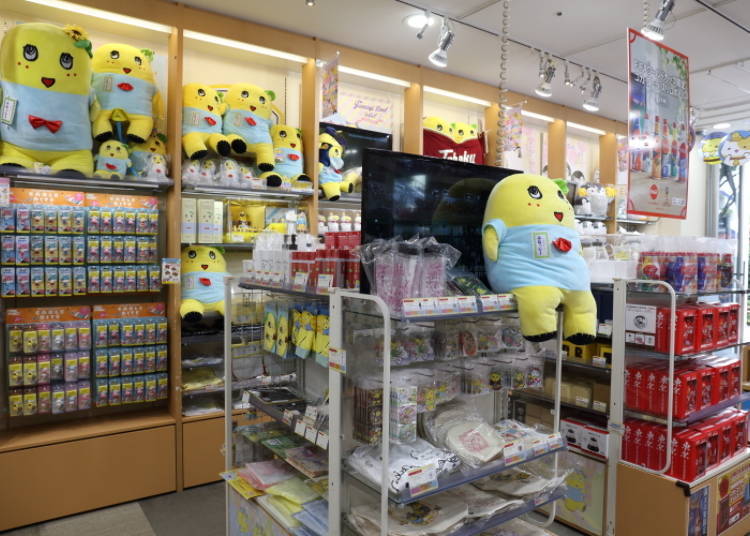 ©Funassyi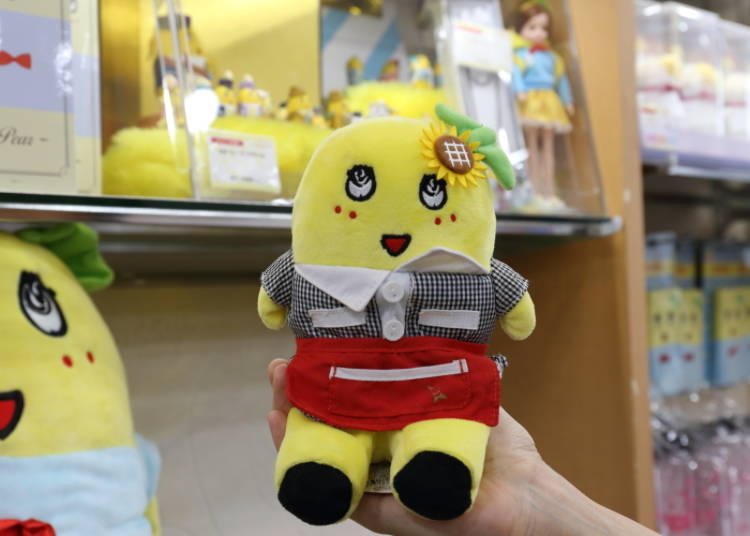 Sold only in Harajuku, Funassyi wearing an old Kiddy Land clerk costume. 1,800 yen (tax not included) / ©Funassyi
This corner has many Funassyi items of the unofficial character of Funabashi City, Chiba Prefecture, which became very popular a few years ago. This is a new style official shop authorized for Funassyi displaying a wide selection of Funassyi dressed in all sorts of clothes; all very cute and chic at the same time. You definitely should check out this collection of items that are only offered here in the Harajuku store.

■ NEXT Kiddy Land & K-Spot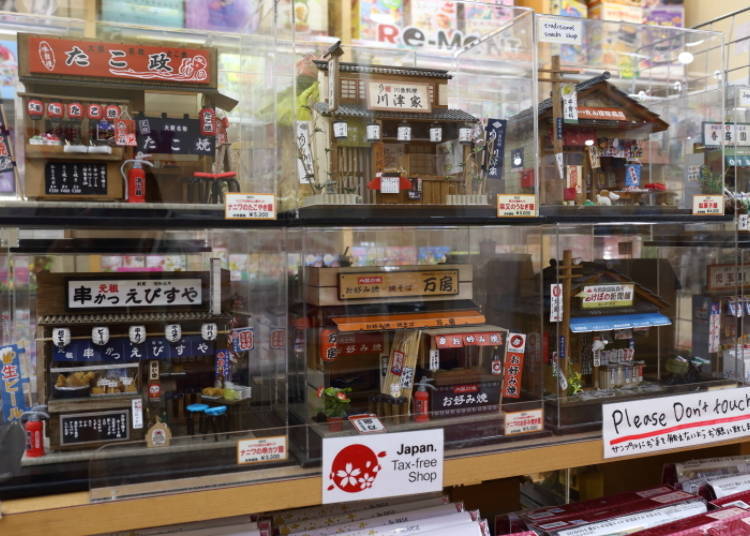 These are exact replications of Japanese stores typical of the 1960s. They nostalgically recall the ambience of the "good old days" in Japan with their retro atmosphere. They can be compactly disassembled which makes them great for gifts.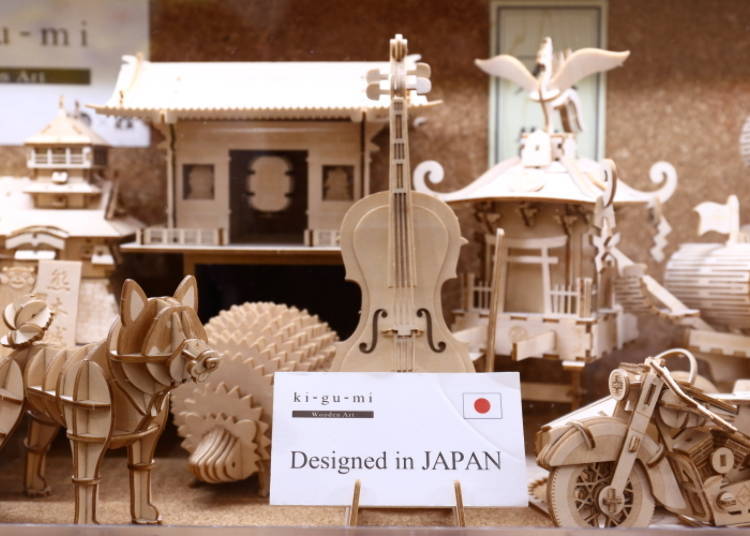 These are three-dimensional dolls called ki-gu-mi (from 1,000 yen, tax not included) that are assembled from wood. Animals such as dogs and dolphins, Ferris wheels, Tokyo Skytree® and many other architectural models are available. Not only are they fun to make, but they also make great interior décor items.
This floor displays a variety of daily goods, character goods, toys and many other kinds of items that are the current craze as well as items that are a step ahead of their time. Many are seasonable items, so if you are eager to know what the latest trends are, this is the place to go.
Basement - 3,500 items! A floor devoted to Snoopy
■ Snoopy Town Shop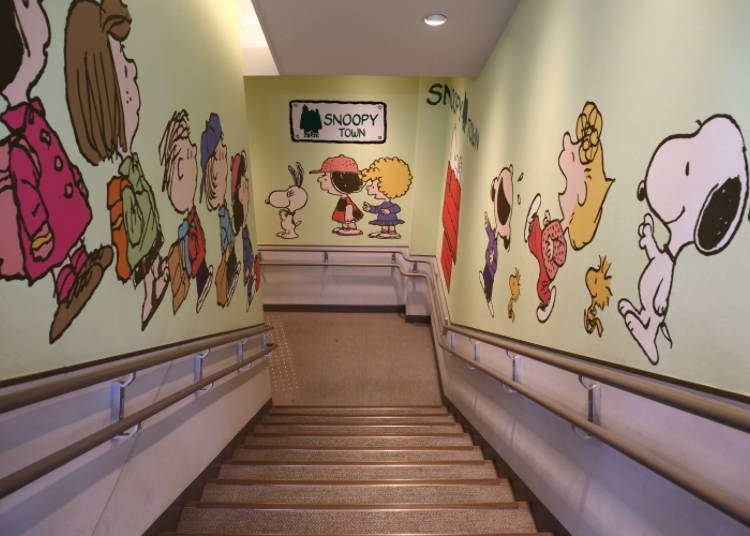 Stairway going down to the basement. From here you enter the world of Peanuts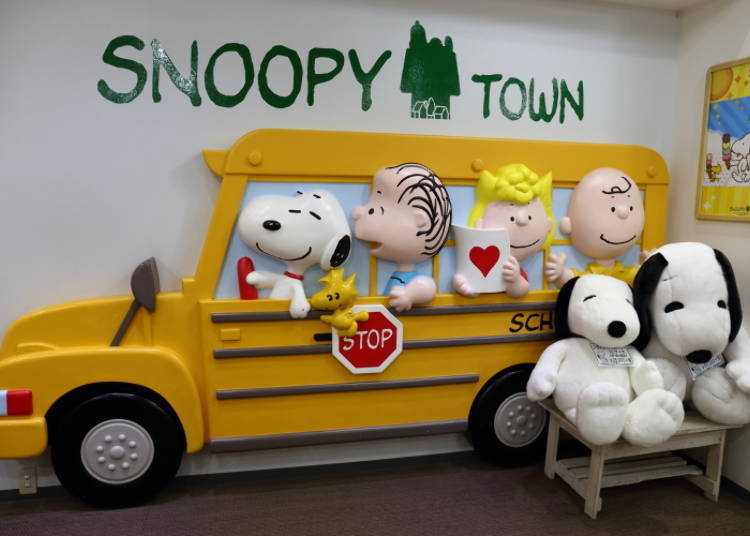 Basement corner where you can take photos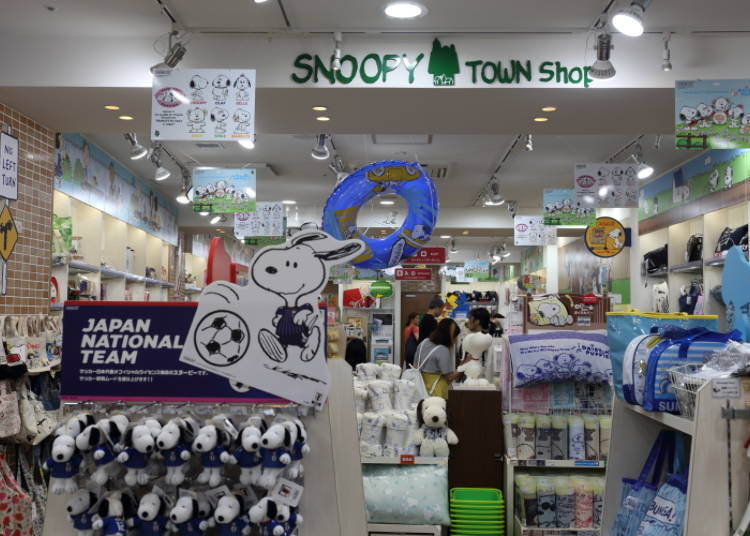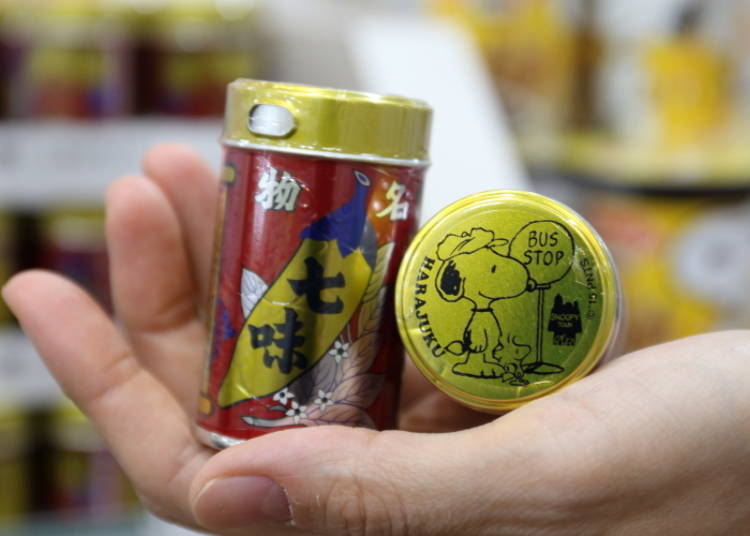 The popular Yawataya Isogoro Shichimi Togarashi adorned with a Snoopy illustration. The bus stop version is a Harajuku store original. 600 yen each (tax not included)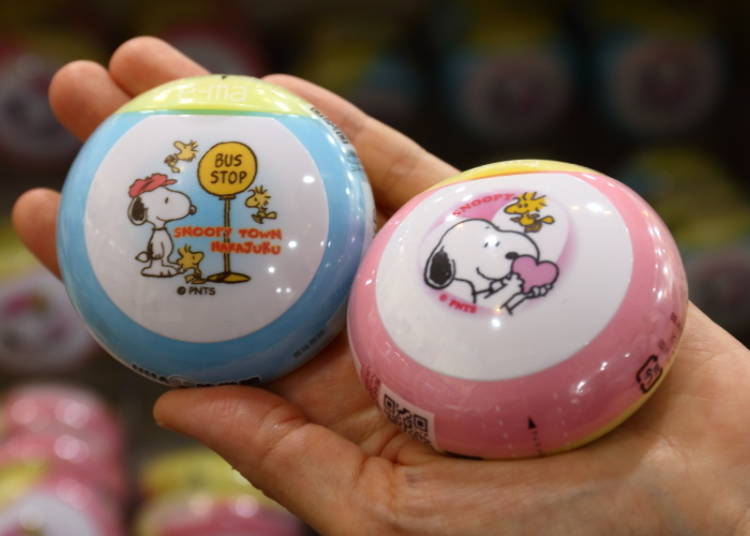 e-ma Throat Lozenges which are very popular in Japan, with Snoopy illustrations. Sold only at the Harajuku store. 380 yen each (tax not included)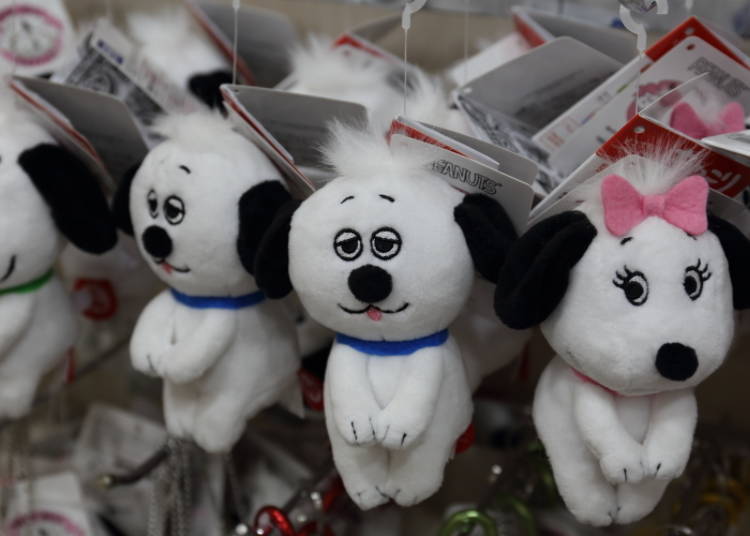 A collection of DAISY HILL PUPPIES made to commemorate the 50th anniversary of PEANUTS arrival in Japan. Each chokkori-san costs 1,000 yen (tax not included)
The theme here is "Happiness is…a warm puppy" as evidenced by the collection of cute Snoopy characters in this official PEANUTS shop. The concept is one of "a town in which the friends of Peanuts live". Many of the items are only sold in Japan and several are only available in the Harajuku shop. There are about 3,500 items here. Here you can spend a happy moment among characters that appear to have just stepped out of the comic strip.

© 2018 Peanuts Worldwide LLC
www.SNOOPY.co.jp
KIDDY LAND 原宿店 (キデイランド原宿店)

Address

6-1-9, Jingumae, Shibuya-ku, Tokyo, 150-0001, Japan

Nearest Station

3-minute walk from the No. 4 exit of the Meiji Jingu-mae Station on the Tokyo Metro Chiyoda Line / 7-minute walk from the Omotesando Exit of the JR Harajuku Station / 3-minute walk from the No. 7 exit of Meiji Jingu-mae Station on the Tokyo Metro Fukutoshi Line


Phone Number

03-3409-3431

Hours: 11:00 AM ~ 9:00 PM (Saturday, Sunnday, holidays 10:30 AM ~ 9:00 PM)
Closed: Open daily

*This information is from the time of this article's publication.
*Prices and options mentioned are subject to change.
*Unless stated otherwise, all prices include tax.