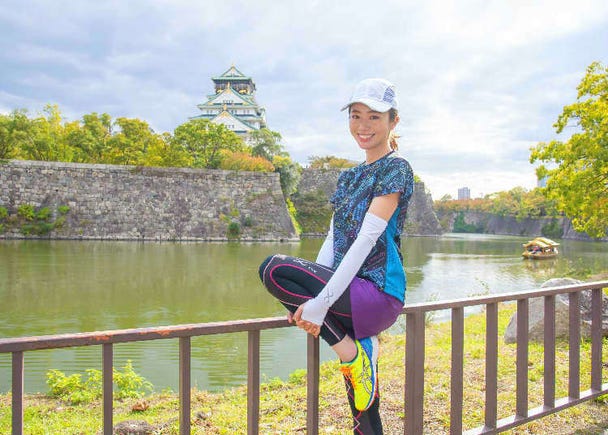 There are many ways to enjoy their stay in Japan. Many people use their free time to experience the country while running, making it a daily habit. Running certainly allows you to better appreciate the scenery compared with traveling by car or train. Offering a closer look at the sights, it is an excellent option for those wanting to catch the proverbial two birds—health and sightseeing—in one swoop.

Let's look at some popular running spots in Tokyo and Osaka where you can easily challenge yourself while taking in the sights. And since you're sightseeing in Japan, we'll also introduce CW–X, a type of clothing that is perfect for running thanks to its fashion and comfort!
Tokyo's Imperial Palace: Views of the cityscape and famous places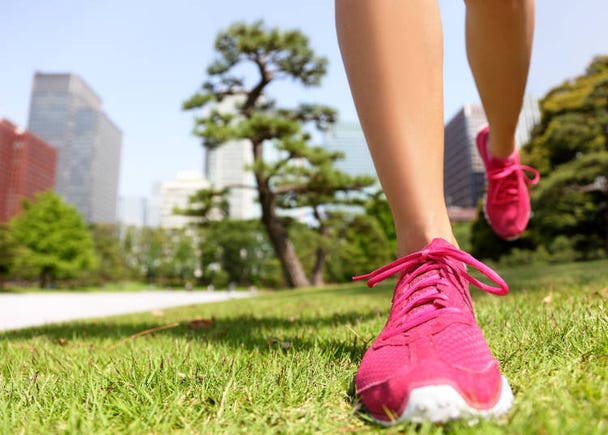 *Photo is for illustration purposes
If one were to name Tokyo's most popular running spot, it would undoubtedly be the Imperial Palace. One lap covers five kilometers and takes you through areas such as the Imperial Palace Outer Garden, Chidori-ga-fuchi Moat, Hanzomon, and Miyakezaka.

Reasons for its popularity include easy calculation of distances, the absence of traffic lights, and readily available restrooms.

Most runners choose to start from the Sakuradamon clock, which is a two-minute walk from Exit 3 of Sakuradamon Station on the Yurakucho Line, though the course is also easily accessed from Takebashi Station on the Tozai Line. There are running stations nearby, complete with lockers and showers, making this an extremely convenient course.
Osaka Castle's ABCD Courses Offer Beauty in Every Season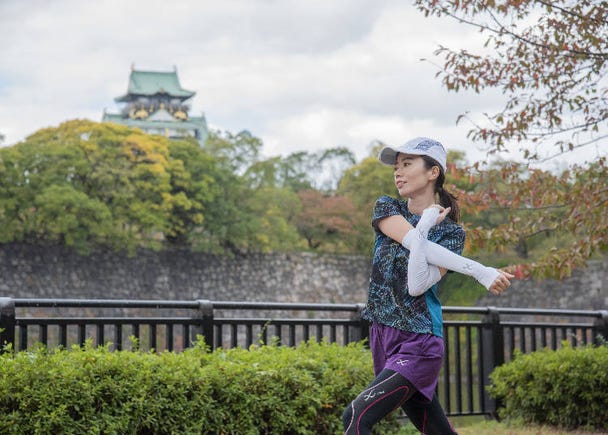 There are five recommended courses near Osaka Castle: A (4.2 km), A + (5.5 km), B (3.8 km), C (3.5 km), and D (1.4 km). If you want to include the castle tower on your run, we recommend courses A, A+, and C. These have many slopes and offer great views of the castle tower not easily seen from elsewhere. Courses B and D have gentle slopes and short distances, making them perfect for beginners.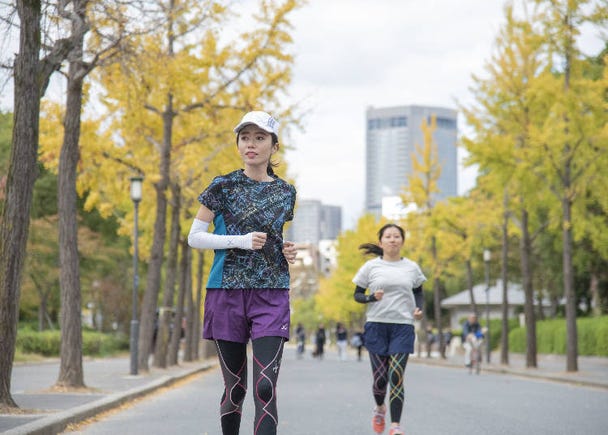 The running courses around Osaka Castle boast beautiful scenery in every season. Enjoy your exercise all the more surrounded by plum blossoms in winter, cherry blossoms in spring, and colorful maple and ginkgo leaves in autumn. The Osaka Castle running courses are best reached from Morinomiya Station or Osakajokoen Station on the JR Osaka Loop Line.
Since you're running in Japan, enjoy clothing that excels in appearance and functionality!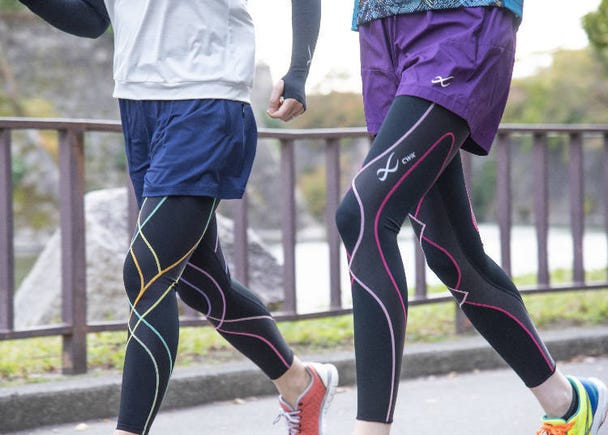 If you're going to sightsee in Japan while running, you'll have an even more memorable experience if you enjoy what you're wearing. CW-X, developed by Wacoal—one of Japan's leading garment manufacturers—is currently a hot topic in terms of functionality and fashion. Let's explore the secret to its popularity.
Experience the product appeal at CW-X company stores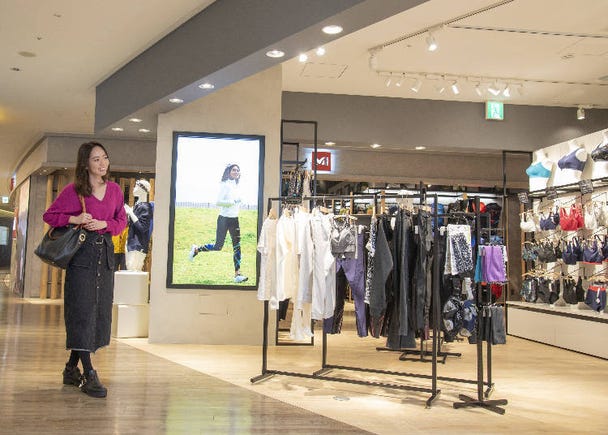 We've arrived at a CW-X company store in Grand Front Osaka, near Osaka Station. CW-X is used by Major League Baseball player and world-class athlete Ichiro Suzuki, and the brand is well known in Japan for its running wear. There is also a company store in Tokyo's Ginza district.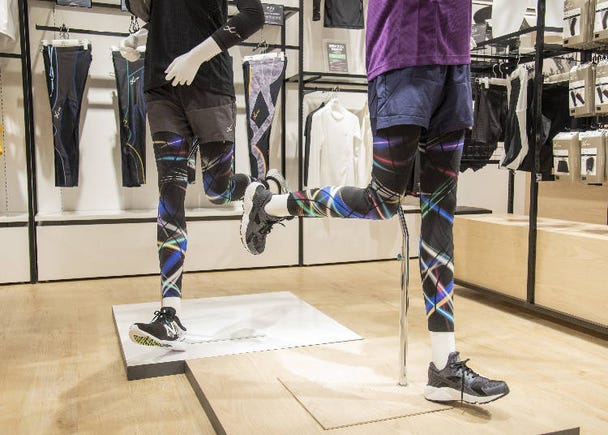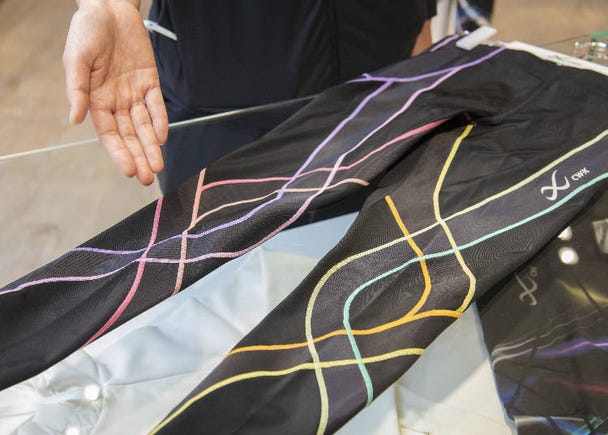 Each CW-X Model Has Its Own Characteristics
Developed by the Wacoal Human Science Research Center, CW-X is a functional product based on the principle of taping, or the use of tapes by athletes to help and enhance their performance.

Much like taping, CW-X supports joints and muscles, reduces the burden on the knees, hips, and hip joints, and also suppresses muscle fatigue in areas such as the thighs and calves during exercise. CW-X also wicks away sweat, dries quickly, and cuts ultraviolet rays.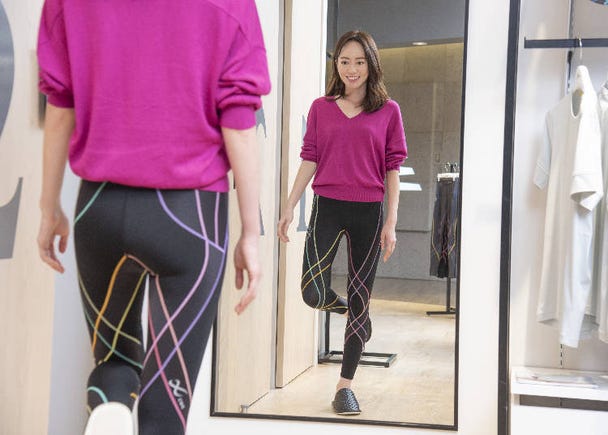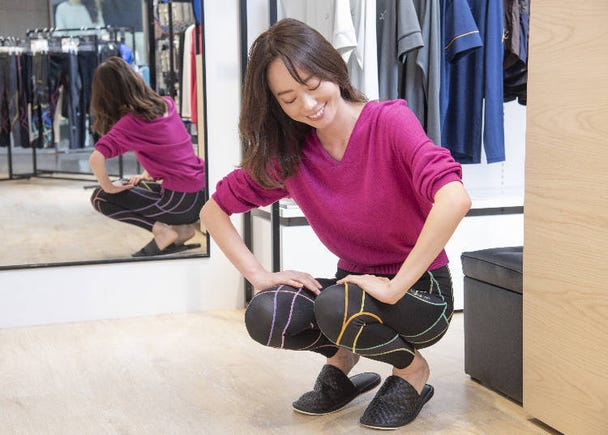 Select CW-X tights that best match your running ability and goals.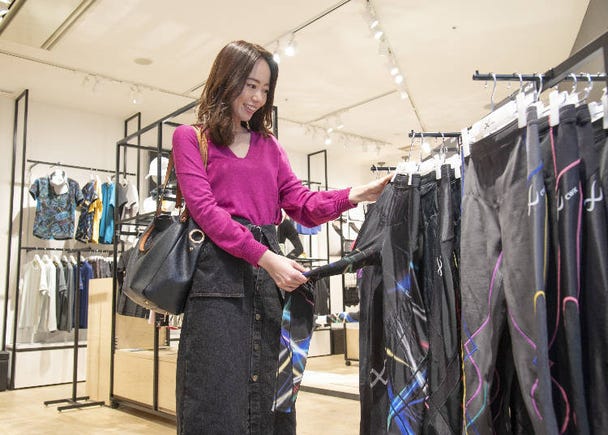 Beginning Runner/First Marathon:
「Purchasing expensive tights can be rather difficult for beginning runners. "I just started running" or "I don't know if I can continue running in the future," are thoughts that might give one pause. For those feeling this way, we recommend the CW-X Expert model, which is relatively easy to find.

Finishing the Race
The StabilyX model is suitable for those taking on the challenge of finishing a full marathon, as it supports the knees, waist, and hip joints, and also reduces the burden on the legs.

Sub 5/Sub 4
The Generator model, which is recommended for runners aiming for a sub-5 time, features added taping for the gluteus medius muscle, as well as the hips, hip joints, and knees. It supports the entire lower body. Those pursuing a sub-4 time will benefit from the Revolution type, which does away with the seam of the taping part and is perfect for those needing lightweight wear for greater agility.

Sub 3.5 / Sub 3:
The Generator model Half pursues lightness with a shortened length and is designed for the runner who aims to complete a full marathon at a sub-3.5 time. For those chasing a sub-3 time who want to lighten their wear just a little more—and improve their time even by one second—we recommend the Shorts type that supports the hip joints.
Peace of mind: Information is available in multiple languages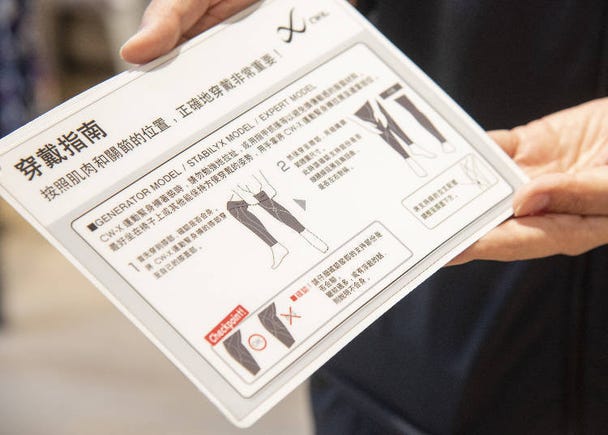 Before purchasing CW-X, we recommend trying on the tights at a company store to compare the fit. This will help you select a product that gives you the best fit. There are even info cards available in foreign languages (such as the one pictured above) inside the store, so non-Japanese visitors need not worry about communicating with shop employees.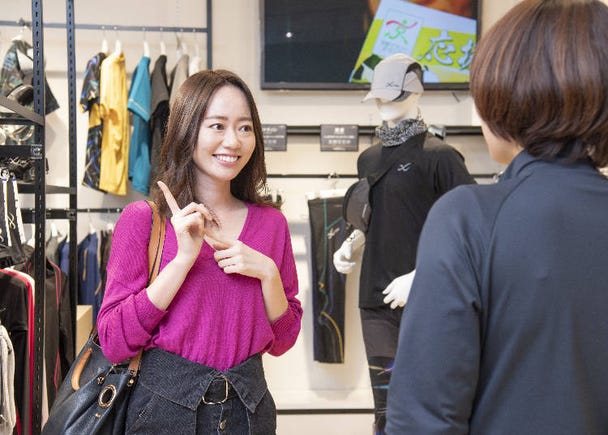 Some convenient point-and-get-assistance phrases include:
 Can you see if this fits me? Should I wear a larger (smaller) size?
 この着方で合っているか見てもらえますか?もっと大きい(小さい)サイズの方がよいでしょうか?

 Which is most popular? (Female/male)
 一番人気があるのはどれですか?(女性/男性)

 Is this the latest model? How is it different from the previous model?
 これは最新モデルですか?旧モデルとどこが違いますか?

 Do you have other colors?
 他の色はありますか?

 Is there a top (sportswear) that matches these pants?
 このパンツに合うトップス(スポーツウェア)はありますか?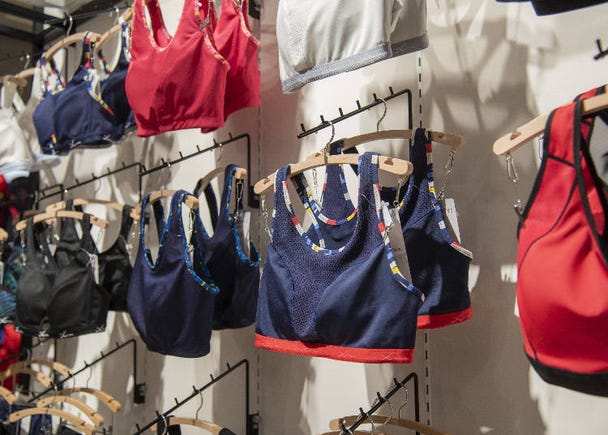 Those interested in the latest design may want to ask shop staff about the EXPERT MODEL 2.0 tights, which are made using CORDULA nylon. Not only do they provide a better fit compared with the previous design, they are also lighter and more durable. CW-X is suitable not only for running but also for winter sports such as skiing and trekking. The company stores carry a full range of related products, including CW-X for men and products intended for yoga.

Wacoal began as a manufacturer of innerwear for women. Its sports bra, the result of know-how cultivated through the creation of underwear, soon gained a reputation for fit and ease of mobility and became well-regarded by women. The company is now developing sports bras for various scenarios. For example, one designed for runners reduces movement of the bust and provides support in five directions.
Join the CW-X running experience!
From January 14 to March 31, 2019, you can try on CW-X products and take a trial run on courses near the Nishiginza Tokyo and Grand Front Osaka company stores! There will also be a fixed amount of special limited-edition designs released on January 10, so be sure to head to the shops and check them out!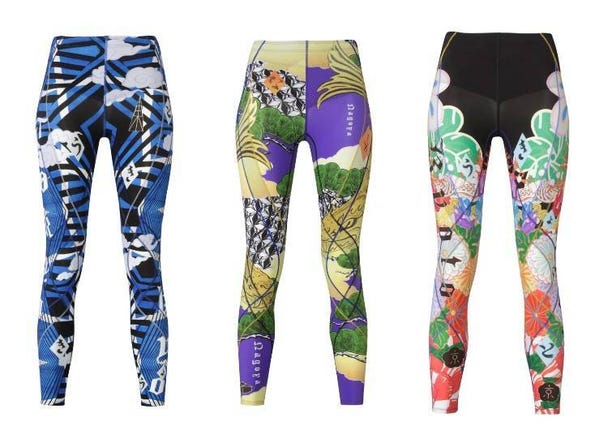 Run in style with one of these colorful, limited-edition CW-X models featuring TOKYO, NAGOYA, or KYOTO motifs.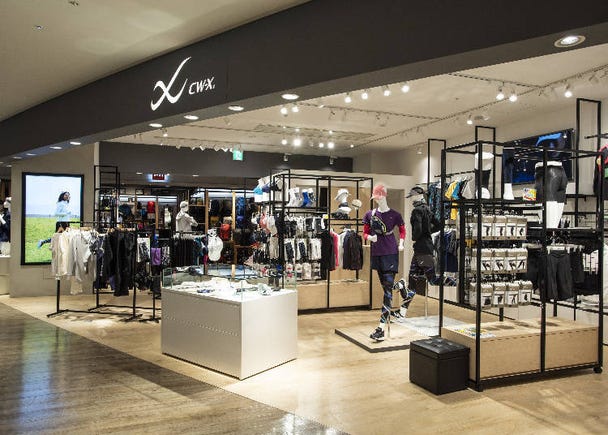 LIVE JAPAN x CW-X Preferred Shop Information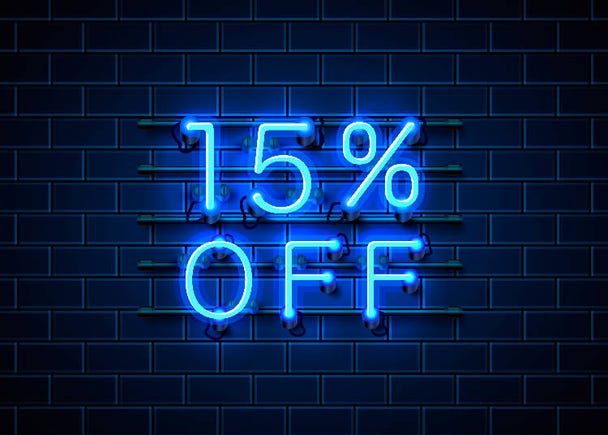 From January 14 to March 31, 2019, simply show this LIVE JAPAN article along with your passport to shop staff when you pay at the register and the CW-X company store in Grand Front Osaka will exempt you from sales tax and give you a special 15% discount. Sales tax exemption is not available at the CW-X shop in Nishiginza Tokyo, but if you show the article and passport to the shop staff, they will provide the 15% discount plus the amount that would normally be exempt from tax. Please share this deal with your friends!
(*Please note that tax exemption only applies to non-residents of Japan.)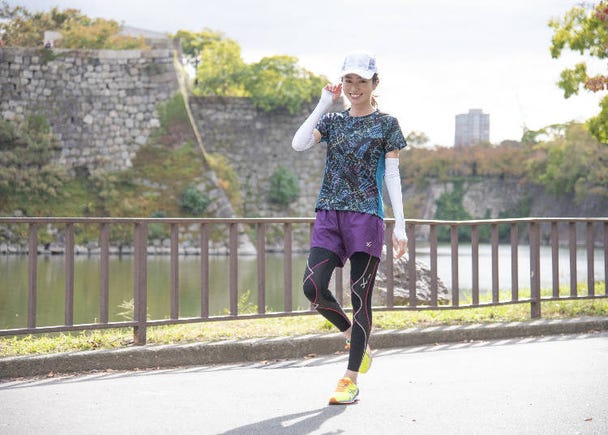 Once you find the right sportswear, you'll enjoy running more and more. Discover your favorite and save during the CW-X campaign period. Don't miss the CW-X running event that will be held in Tokyo and Osaka February 17–March 31!

CW-X Running Events - Run with a Running Instructor!
Event dates:
Osaka - 2/17 (Sunday), 2/24 (Sunday), 3/3 (Sunday), 3/10 (Sunday), 3/17 (Sunday), 3/24 (Sunday)
Tokyo - 2/24 (Sunday), 3/2 (Saturday), 3/10 (Sunday), 3/17 (Sun), 3/24 (Sunday), 3/31 (Sunday)
Meeting time: 8:00 am
Participation fee: Free
Details:https://www.cw-x.jp/news/news201901/run-japan-with-cw-x.html
CW-X グランフロント大阪

Address

Grand Front Osaka, South Building 5F, 4-20 Ofukacho, Kita-ku, Osaka

Nearest Station

JR Osaka Station or Umeda Station (Hankyu/Hanshin/Osaka Metro)


Business Hours:10:00-21:00
CW-X Conditioning Store Nishiginza

CW-Xコンディショニングストア 西銀座

Address

B1 of Nishiginza Department Store, 4-1 Nishiginza, Chuo-ku, Tokyo

Nearest Station

JR Yurakucho Station, or Tokyo Metro Ginza Station


Business Hours:11:00-21:00
*This information is from the time of this article's publication.
*Prices and options mentioned are subject to change.
*Unless stated otherwise, all prices include tax.