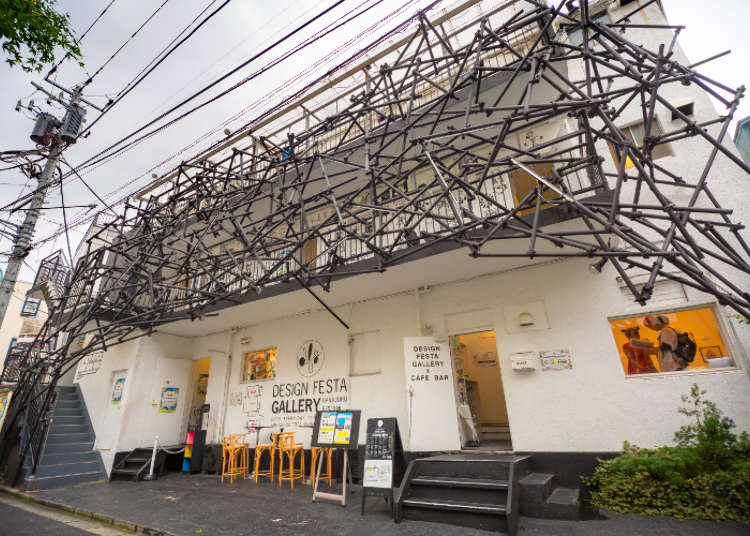 A haven for artists located in Tokyo's Harajuku district. This two-building art village consisting of 75 different exhibition spaces, allows artists to freely exhibit their work, whether it be photography, illustration, fashion, craft, or performance art. Art lovers can also experience independent films, collaborative projects, and more. In keeping with the multicultural vibe, the gallery has many English-speaking staff, making it easily accessible to the international crowd. I took a visit to Harajuku to see what Design Festa Gallery had to offer, and even had the chance to chat with a few of the featured artists!
Over 20 years of Artistic Expression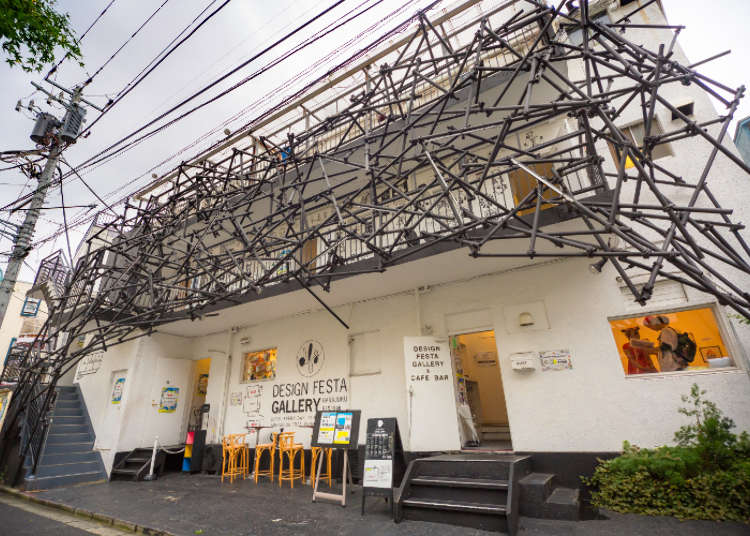 The International Art Event Design Festa was launched in 1994 as a way to provide people an opportunity for creative expression. Twice a year the festival features over 12,000 artists, designers, and performers as the single largest art festival in Asia. In 1998, the Design Festa Gallery officially opened its doors. Throughout its history, the gallery has maintained a policy of allowing artists to exhibit and sell their work, free of commission fees. Both the Design Festa event and gallery welcome exhibits regardless of age, nationality, language, or medium. Creations by amateurs as well as professional artists can be seen on display. Exhibited works can be changed as often as every day, providing visitors a fresh experience even after multiple visits.
Buildings Overflowing with Art, From the Inside Out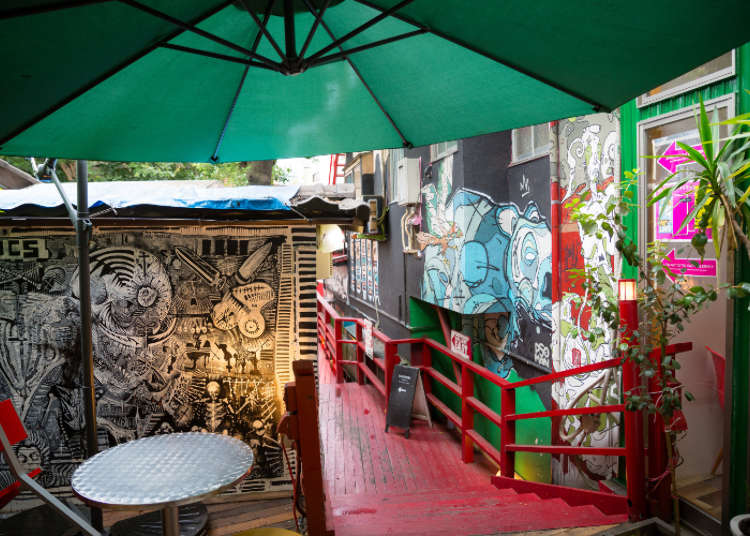 The Design Festa Gallery consists of two buildings, East and West. The beauty of Design Festa Gallery is that art is not just contained within its walls; instead, art appears to be overflowing from the buildings. The exterior of the West building is covered in a web of black steel pipes. On the outer walls of second floor, an ongoing stencil art project can be seen. Connecting the two buildings is a mural created by an artist from Thailand, and you can see more paintings on the outside of the gallery. The jumble of art styles somehow perfectly meshes together, befitting its location in fashionable, offbeat Harajuku.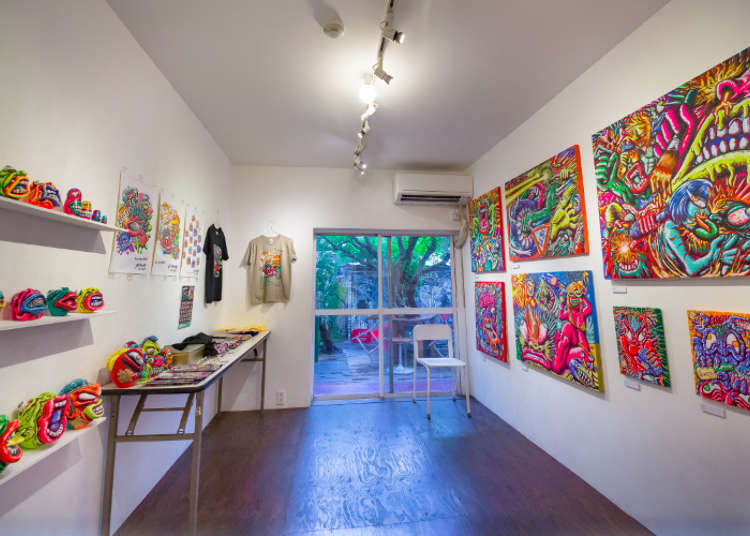 A large part of the charm of Design Festa Gallery is the relaxed vibe throughout the premises. Most of the rooms are quite small, featuring the works of just one or two artists, making for an intimate and concentrated viewing experience. An exhibit by Shinya Nishikata featured neon colored paintings and sculptures with designs that would be equally at home in a skate park as they are in a museum.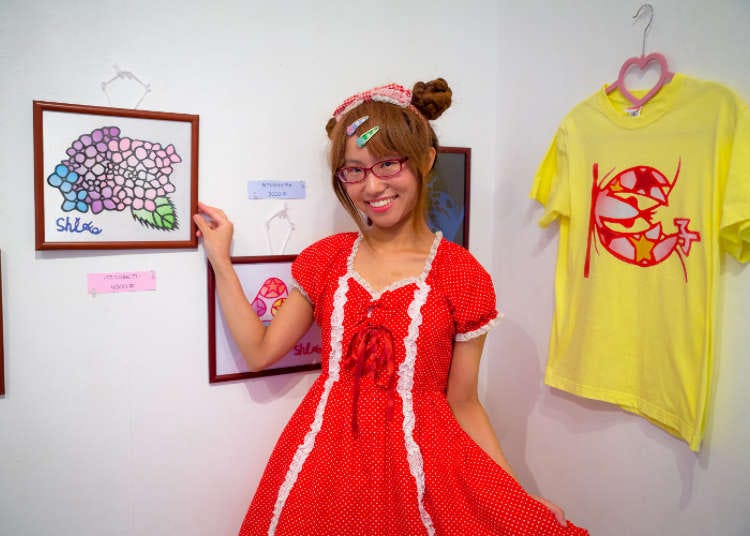 You're likely to find many of the artists themselves in the gallery, just as I did on the day of my visit. One of the artists we met was named Shi-ko, a multi-talented artist, who also spends time as a lolita/gothic lolita model. As part of her "Happy Colors Market," Shi-ko offered a colorful assortment of original paintings, accessories, and t-shirts. Dressed in a red polka-dot dress with hairclips she designed herself, she told me me that she really likes being able to meet both Japanese and international visitors at the gallery. Her designs live up to the name of her exhibit, with bright colors and happy imagery in every work. I was curious about one particular image that appeared frequently: a crayfish in the shape of the letter "C" followed by the character "ko" (子). It turns out that it's a quirky representation of of her name, with "C-ko" standing for "Shi-ko" (In Japan, the letter "C" is often pronounced as "shi"). It was a pleasure to have met Shi-ko, who was as cheerful as her artwork.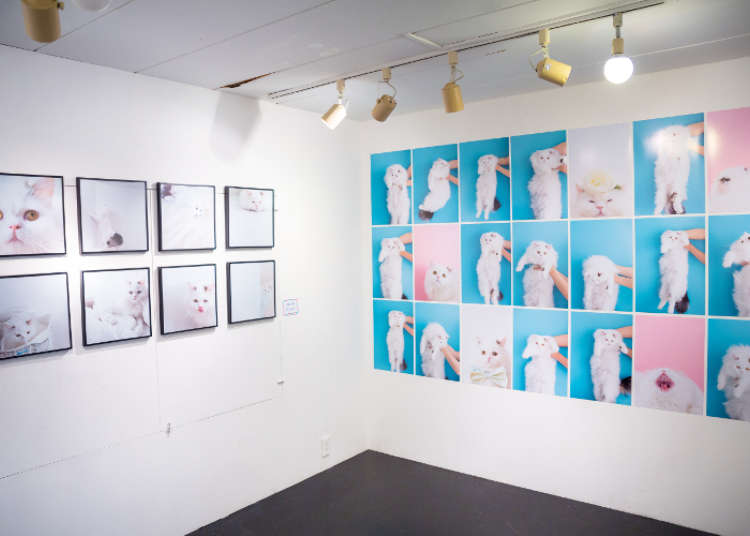 Perhaps the most whimsical exhibit was Natsuki Hamamura's "Machiavelli Meets Nyanstagram," featuring photos of the artist's diabolically-named pet. In addition to meeting the exhibition's creators, fans could buy stickers, cat toys, and even a Nyanstagram book. The book features color photos of Machiavelli, as long with practical tips and tricks for cat owners seeking to take the perfect pictures of their own beloved felines. Personally, I liked the Machiavelli parody movie posters, but I'm pretty sure my cat would most appreciate the kitty teepee on display in the corner.
Immerse Yourself in Creativity
As mentioned earlier, the art you can find is not limited to a small, designated space. Just about every space is covered in some form of art. I wasn't just viewing art – I was walking in the midst of it! Visitors are surrounded by creations, some of which can be cute, surreal, beautiful, or grotesque. Even the toilet room is used as an art rental space! While everyone will have their own opinion, one of the works that most captured my attention was an intricate black and white design on the walls adjacent to one of the indoor staircases.
Videos, Events, Souvenirs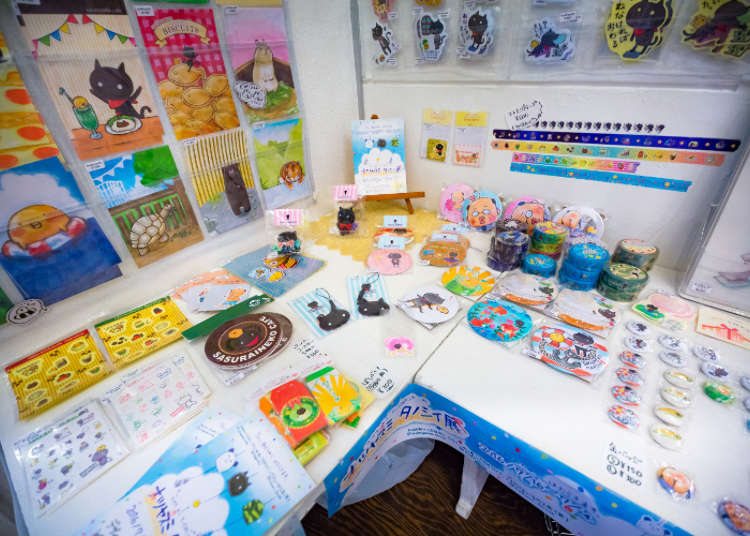 I was also able to take a peek at a mural-covered area on the third floor that is used for various purposes, such as a reception room, discussion area, and sometimes as a spot for events. It has even been the place of live broadcasts from Japan's leading video website, Nico Nico Douga. If you're lucky on your visit, you might be able to catch a fashion show or other performance either on the third floor or another area in the gallery.

In addition to the exhibited artworks available for purchase, the gallery has an "Art Piece Space" with a number of postcards, jewelry, and other trinkets that you might want to take home as a souvenir. I was surprised to learn that artists can rent their own part of the space for just 540 yen per day, without having to give up any of their profit.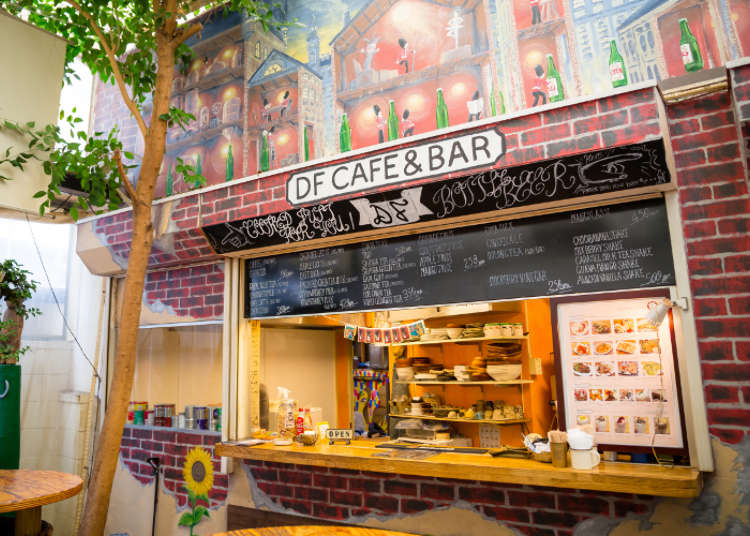 After enjoying the gallery, visitors can choose to catch a bite at either of the two eateries on site: Design Festa Cafe & Bar (try one of their vanilla avocado shakes!), or Sakura Tei, a restaurant specializing in okonomiyaki, a Japanese food which is something like a cross between an omelette and a pizza that you prepare yourself.
Visiting Design Festa Gallery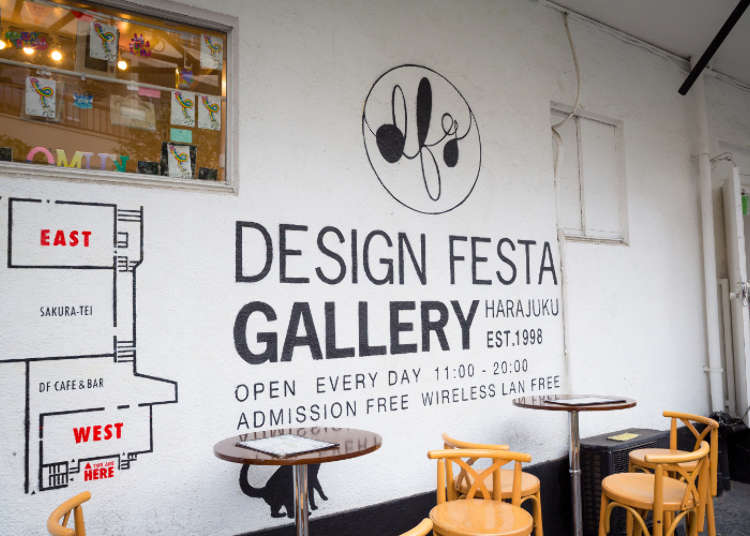 Over 100 people (roughly 30% of whom are foreigners) visit Design Festa Gallery each day to experience some of Tokyo's most original artwork. While I have visited more than a few museums around Japan, this was one of the most unique I have seen, both in terms of the variety of artwork showcased, and the space itself. As mentioned before, the exhibits are constantly changing, so I'm already looking forward to my next visit to see what else is in store. Whether you're artistically-inclined or you just want to get a taste of authentic Harajuku culture, I highly recommend paying a visit!
デザインフェスタギャラリー

Address

East Building:3-20-2 Jingu-Mae, Shibuya, Tokyo 150-0001 / West Building:3-20-18 Jingu-Mae, Shibuya, Tokyo 150-0001

Open everyday, 11:00 a.m. - 8:00 p.m.
Written by: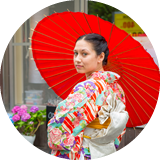 *This information is from the time of this article's publication.
*Prices and options mentioned are subject to change.
*Unless stated otherwise, all prices include tax.