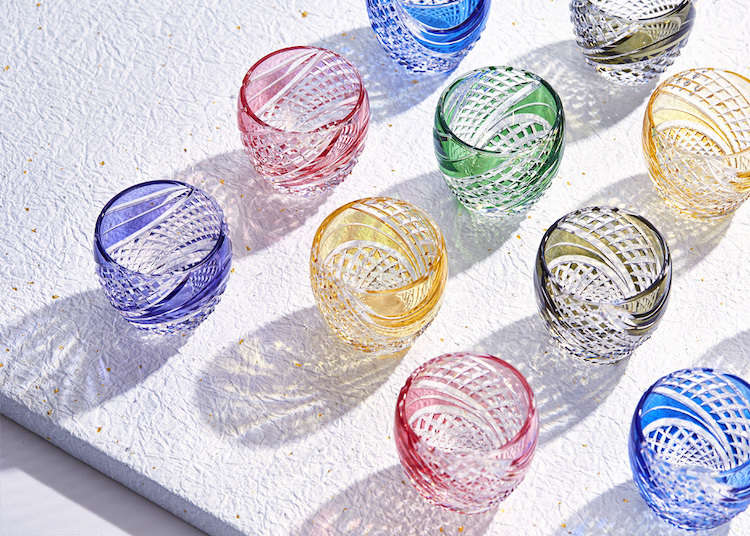 Edo kiriko (cut glass) is one of the most familiar of all Japan's kogei (artisanal crafts). All over the world, its intricate designs and vibrant colors have become synonymous with Japanese artistic sensibility and craftmanship, but its origins might actually surprise you!

First brought to Japan in the late nineteenth century by early British and French traders, cut glass quickly found devotees throughout Japan. Two hubs developed: Kagoshima Prefecture, formerly Satsuma Province, as well as the capital city of Edo, now Tokyo. Accordingly, artisans of Japanese cut glass split into two schools: Satsuma kiriko and Edo kiriko, both of which continue to this day.

Whereas Satsuma kiriko is created using mainly the colors, motifs, and techniques introduced from Europe, Edo kiriko has been adapted to suit Japanese tastes more closely, which is why it is often perceived as quintessentially Japanese by people worldwide.

As one of the most prestigious names in Edo kiriko, Kagami Crystal is an excellent place to witness the ongoing evolution of this exciting craft. Join us and see for yourself.
Edo Kiriko: Exceptional Glassware for Everyday Use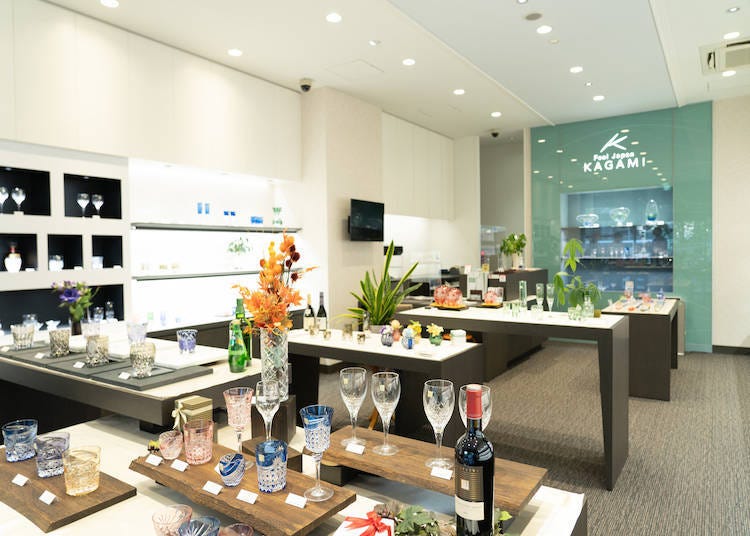 Inside Kagami Crystal's flagship store in Ginza.
Kagami Crystal's clients, which include the Prime Minister's Office of Japan, may lead you to think of Edo kiriko as precious glassware you would use only for special occasions. But make no mistake—Kagami does not stop there, but extends to all occasions.

Broadly speaking, the distinction between art and kogei in Japan comes down to whether an object can be used in daily life. Edo kiriko is firmly in the latter category, so don't shut it away in a cupboard; let it be part of your everyday!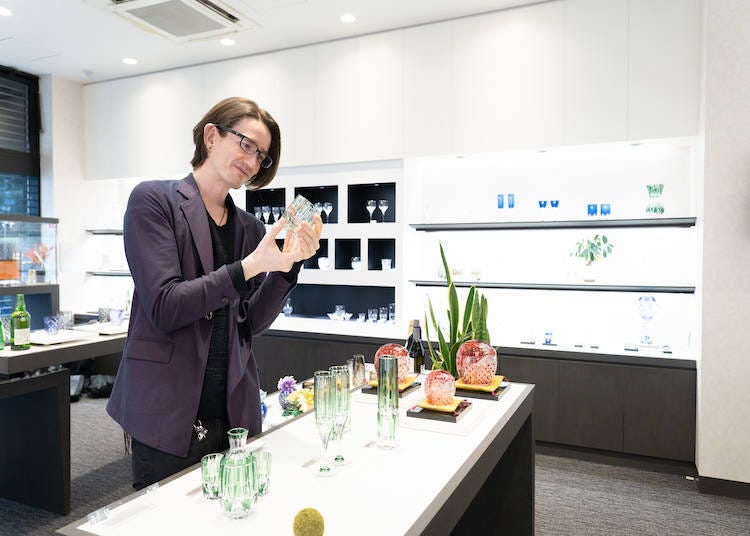 As something to be used, not just admired, Kagami Crystal unsurprisingly reflects Japanese culture and the traditional way of life in its designs. From short glasses with matching carafe designed specifically for sake to vase sets that take you on a journey through the seasons, each item is a product of Japanese culture.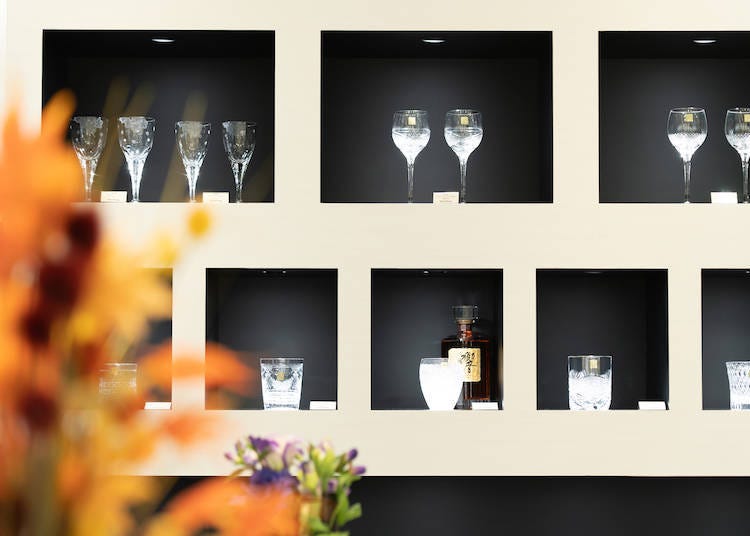 However, Kagami Crystal's story, like that of Edo kiriko overall, is one of constant evolution. Of course, Japan now has a vibrant culture of its own in whiskey, beer, and Western-style wine. In line with that, Kagami Crystal makes glasses, tumblers, and flutes for all types of drinks and occasions.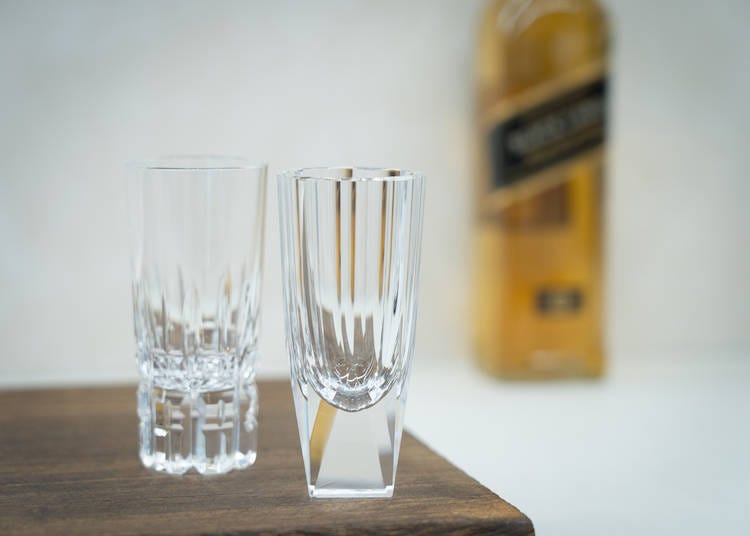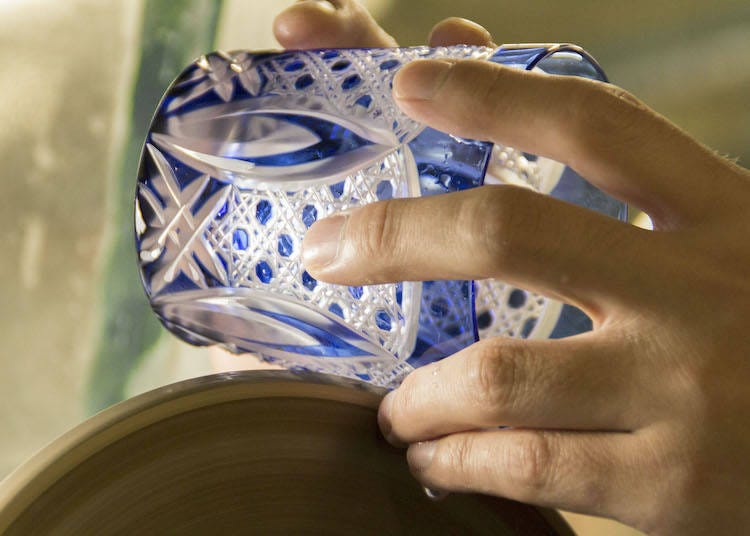 Edo kiriko is cut by hand on a wheel. You can't actually see the point you are cutting unless you look through the glass, making the level of detail in this glassware all the more amazing.
Apart from its diverse line-up of glassware, which includes a perfect fit for any lifestyle anywhere, there is another reason why Kagami Crystal has become one of the most respected names in Edo kiriko—it was the first manufacturer of crystal in Japan. The difference between crystal and other glass is all in the clarity. Watching the play of light through the facets of the crystal makes this difference all the more tangible.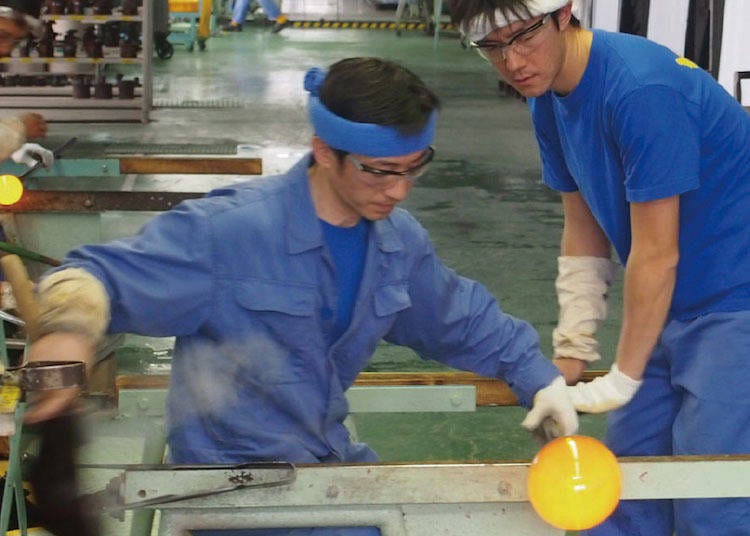 Inside Kagami Crystal's Ibaraki atelier.
All of Kagami Crystal's glassware passes through the same Japanese atelier, under the watchful eye of prefecture-certified Traditional Craftsmen of Ibaraki Prefecture. Each piece is melted, shaped, and colored before being cut on a grinder and then polished. Every step is performed meticulously by hand. Although all pieces might look identical, the shaping and the cutting are ultimately dependent on the artisan's eye, which can result in minute differences in each piece that make it one of a kind.

Where Kagami Crystal again differs is in the little tweaks made to the traditional kiriko formula. Most makers of Edo kiriko use only the lead colorings that were originally popularized in the nineteenth century, but Kagami Crystal uses new pigment combinations to conjure up glowing ambers, rich purples, and emerald greens in its glassware.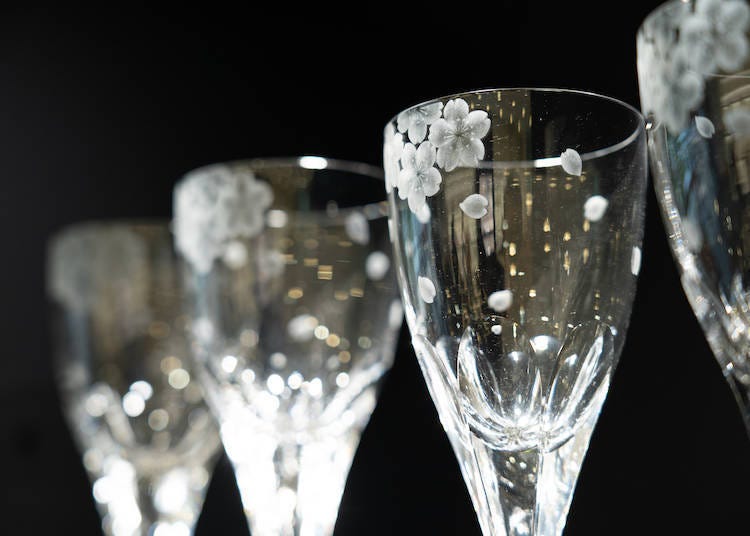 Graveur etching on a transparent glass.
Kagami also employs graveur etching techniques using emery sand to achieve breathtaking detail with an amazing depth of field. This glassware really has to be seen in person to be believed.
Starting Your Edo Kiriko Collection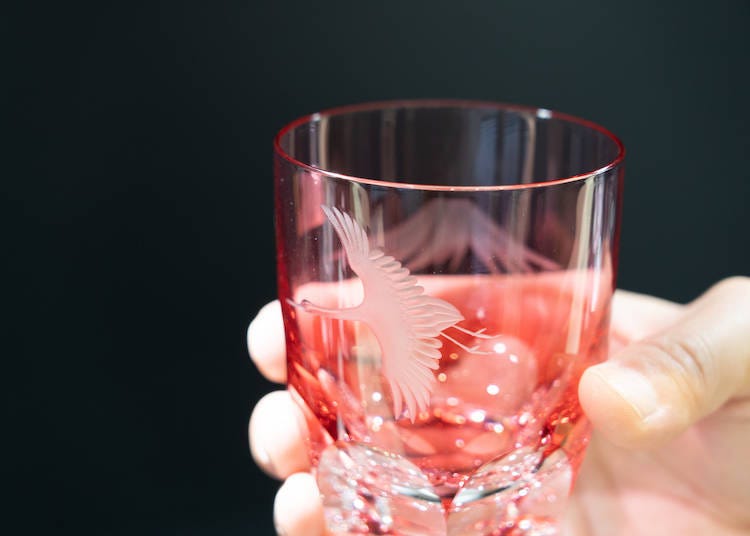 Edo kiriko glassware is a popular wedding gift in Japan—a set of two glasses (one red and one blue) is often given to a bride and groom on their special day. But you don't have to be bound by tradition when buying kiriko. In fact, it's best to start by adopting a kogei frame of mind and considering how to make this beautiful glassware a part of your daily life.

You might prefer a vase for fresh flowers or a wine glass fit for your favorite chardonnay or cabernet or even an everyday tumbler for your desk. The best occasion for Edo kiriko is the one you create yourself. Further, Edo kiriko truly comes alive the moment it is put to use. All those intricate facets sparkle with the movement of the liquid in the glass, bringing a fantastic work of art into your everyday life.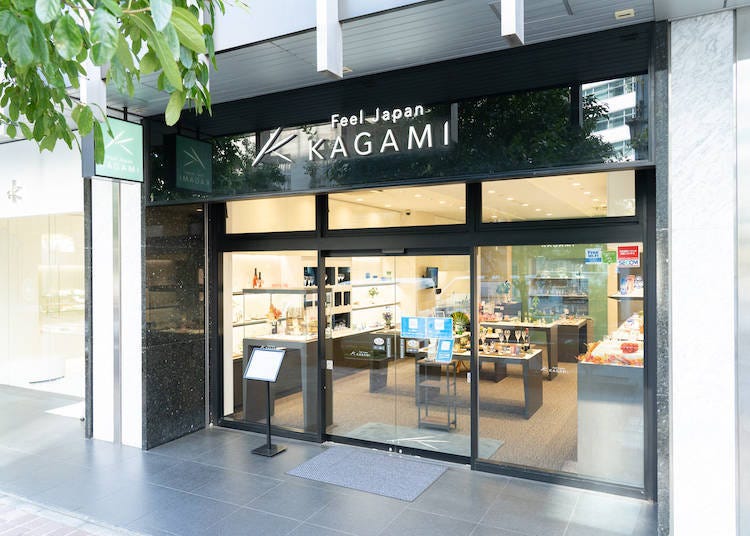 Kagami Crystal's Ginza store, where its logo, a large stylized "K," is clearly visible above the door.
Kagami Crystal has two stores in Tokyo: one in Ginza and the other close to the Imperial Palace near Tokyo Station. However, given the current situation with COVID-19, those stores may be difficult to reach right now, but the company offers global shipping via its official website. Shipments are sent by registered courier so that each masterpiece is assured to arrive safely.

Here's our three recommended Edo kiriko products to get you started.
1. Tradition With a Twist: Edo Kiriko Whiskey Glasses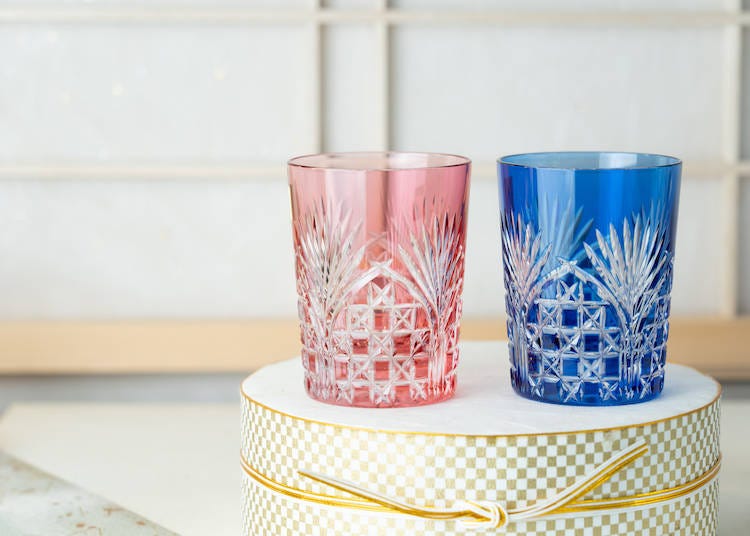 Pair of whiskey glasses with Tetragonal Basket Weave and Bamboo Leaves motif (15,000 yen, excluding tax).
At first glance, you might think these glasses are the epitome of tradition. Yet, their color has been made a little bolder and their size a little larger to suit contemporary tastes. They are wide enough to take the ice for whiskey on the rocks yet tall enough to accommodate beer with a pleasing head.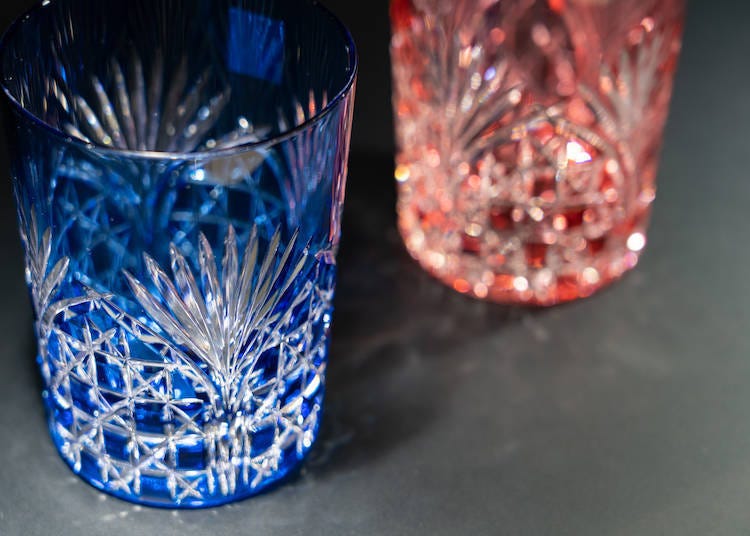 2. Living Ornaments: Bud Vases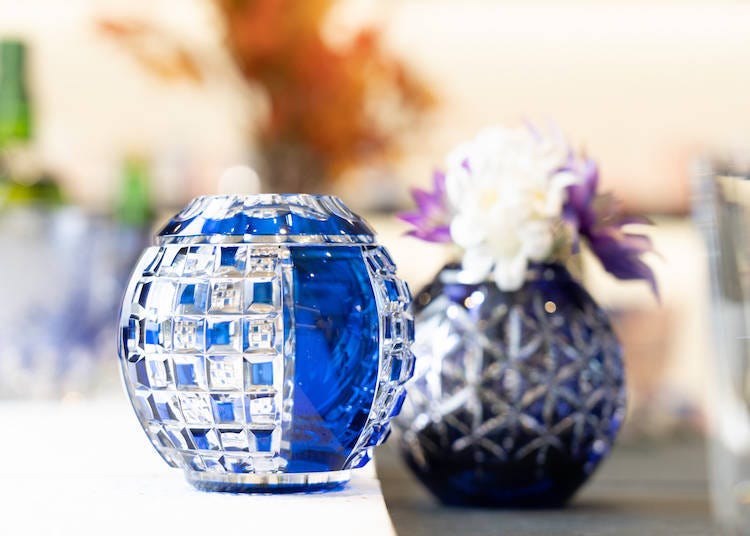 Temari Bud Vase with Checkered Pattern (30,000 yen, excluding tax)
For a contemporary take on this vase, these designs in a range of colors are satisfyingly complete without flowers but come to life with the addition of your favorite blooms.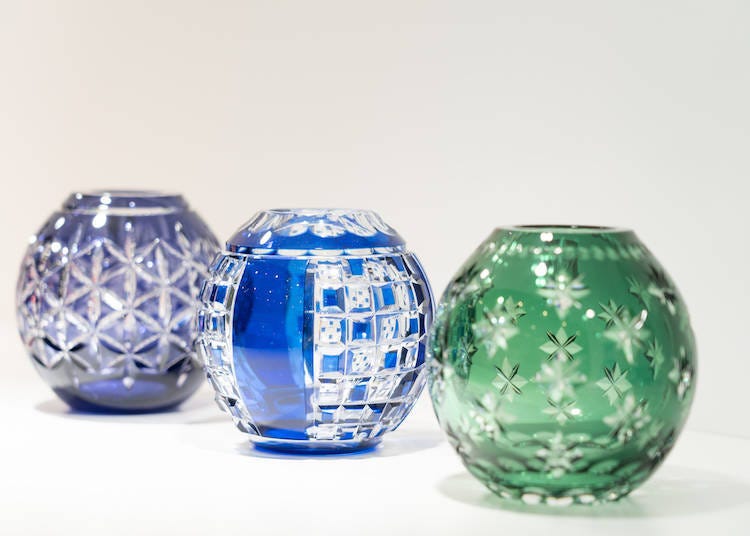 3. Technique and Tradition: Edo Kiriko Sake Glasses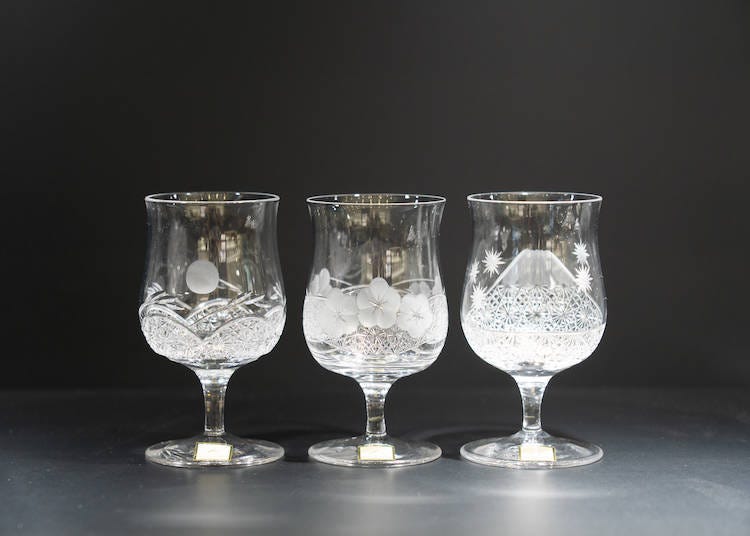 Sake glasses with (left to right) moon, flower, and snow motifs (20,000 yen each, excluding tax).
Showcasing Kagami Crystal's exceptional attention to detail, the designs on these glasses capture Japanese motifs in fabulous clarity, including one of Mt. Fuji in the snow. While designed as sake glasses, they are also a good choice for dessert wine, sherry, or neat liquor.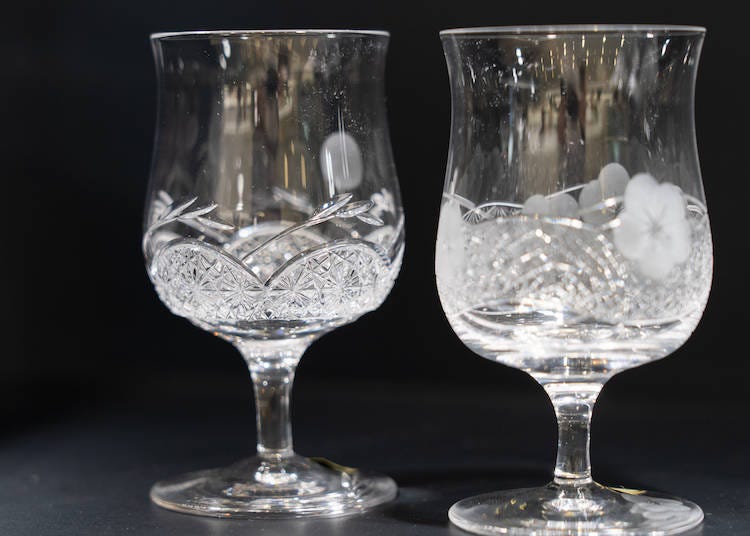 Kagami Crystal Ginza Shop

カガミクリスタル 銀座ショップ

Address

6-2-1 Ginza, Chuo-ku, Tokyo, 104-0061

Phone Number

03-3569-0081
*This information is from the time of this article's publication.
*Prices and options mentioned are subject to change.
*Unless stated otherwise, all prices include tax.