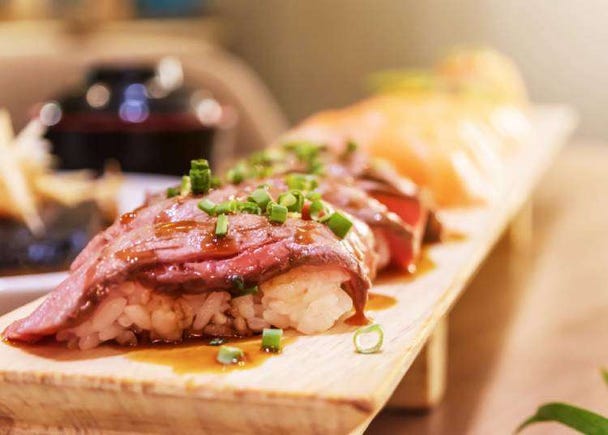 Tokyo's "yokocho" (back alley & back alley bar) culture is experiencing what some might call a "horizontal boom." You've likely heard of Ueno's "Ameyoko," and Tokyo has other popular alleyways including Shinjuku Omoide Yokocho, Shibuya Nonbei Yokocho, Harmonica Alley in Kichijoji.

Visiting small back alley bars is like stepping into another world, and today we're heading to Ebisu Yokocho!
Retro Showa Atmosphere in "New Yokocho"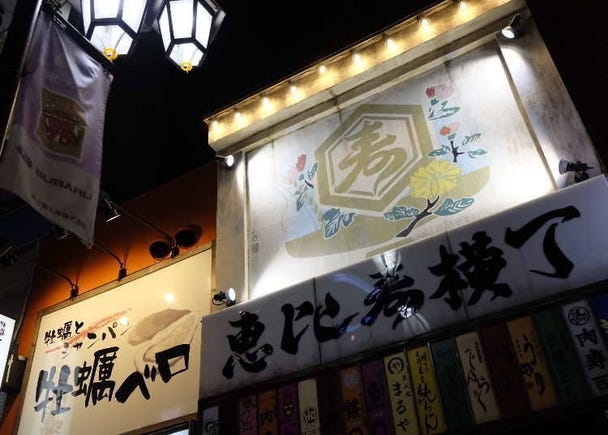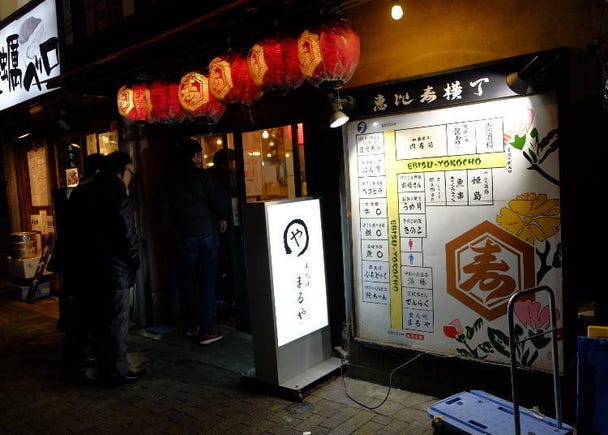 Ebisu, often call a "city for adults," has a fashionable, mature image, and many elegant restaurants. If you walk for about 2 minutes from Ebisu Station's east exit, you'll come to a shop with a multi-colored sign and red lanterns with the word "Kotobuki" (long life) written on them. The scene is different from typical Ebisu. As the door opens with a "creak!" you're officially in Ebisu Yokocho!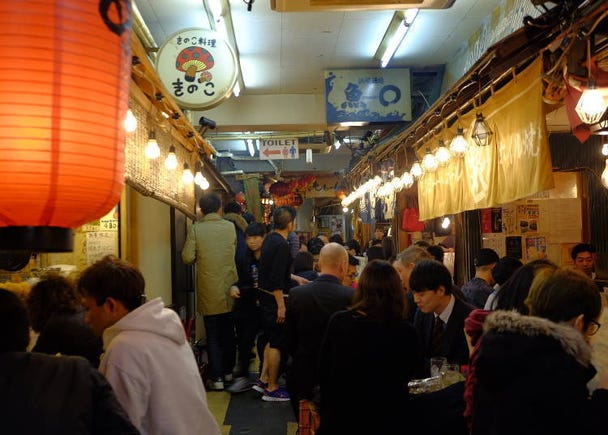 Even though it's not even 7 o'clock on a weeknight, every store is buzzing with the sound of tipsy business men and women laughing, toasting, and simply forgetting work.
Despite the narrow confines, there are 20 stores in the L-shaped Ebisu Yokocho. Originally a shopping street named "Yamashita Shopping Center," it was reborn in 2008 as a "new yokocho."

In some ways Ebisu Yokocho feels like a retro Showa Era theme park, and the shops are so close to one another that you can even talk with guests from the neighboring restaurant. And with low prices, it's clear why the area is so popular.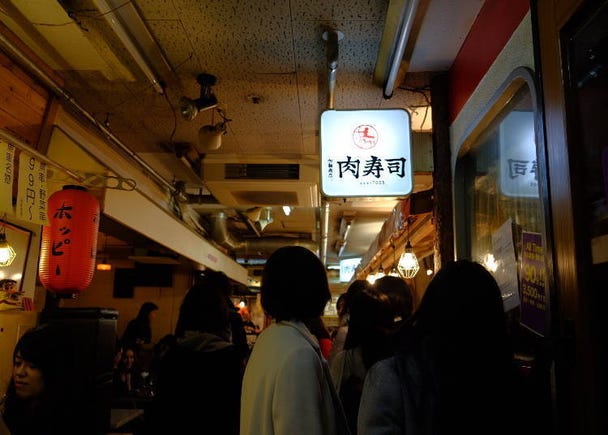 There are a variety of restaurants from Japanese restaurants serving oden, teppanyaki, yakitori, and yakiniku to Chinese restaurants and wine bars. One shop with several people in front, has three bold kanji reading "Nikuzushi" ("Meat Sushi").
Nikuzushi: Meat Instead of Fish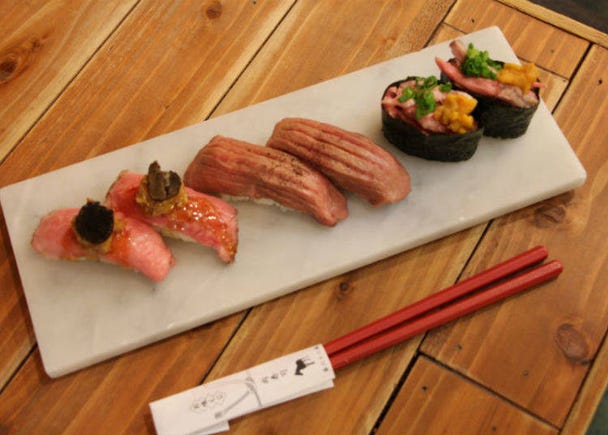 After a 30-minute wait, we were able to get a seat. Of course, sushi brings to mind images of tuna, salmon, and octopus, but her the specialty is sushi made with beef and chicken. Other restaurants have jumped on the nikuzushi (meat sushi) bandwagon, but Ebisu Yokocho is where it all began.

When the shop opened about seven years ago, it occupied only about 10 square meters. Now it's about twice that size! The number of items on the menu is abundant, so it might take time to decide.

Let's start with a popular trio: Wagyu Rossini, Beef Tongue, and Beef Uni Toro Gunkan. The tongue is cooked to your liking, and even though it isn't truly raw, the texture certainly gives it a raw feeling (1 piece 270 yen, minimum 2 per order, tax included).

The Beef Uni Toro Gunkan is a roll made of Wagyu beef, sea urchin, green onion, and soy sauce that will melt in your mouth (1 piece, 480 yen, tax included). Saving the best for last, the Wagyu Rossini is a luxurious combination of Wagyu beef, foie gras, and truffles. The rich flavor and texture are unbeatable!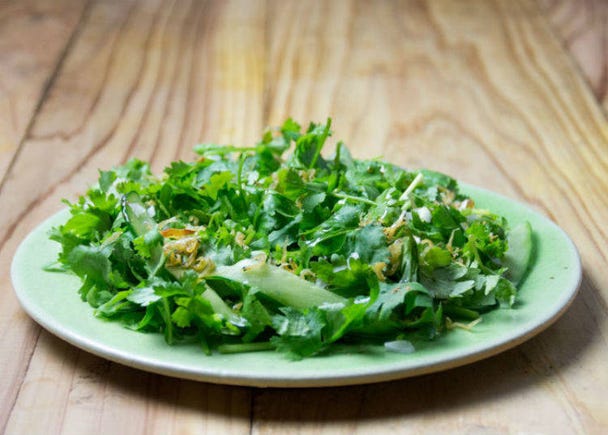 While eating at the counter, we asked the sushi chef about the characteristics of nikuzushi. First of all, the sushi rice needs to pair well with the meat, so it's actually different from that used for traditional fish sushi. A different type of vinegar is used, and the right choice was discovered through trial and error.

Next, the meat. While the aforementioned menu items are made with grilled meat, most of the items are truly raw. Since raw meat isn't uncommon in Japan, it seems the shop might have been inspired by the novel idea of combining two Japanese standards – raw meat and sushi. Of course, it's a requirement that the meat used is fresher than that used for yakiniku, and has an image of being "high-grade."

In addition to beef, horse, chicken, minced meat and others grace the menu. For those adverse to raw meat, there are plenty of cooked options as well.

"Yes, let's order some side dishes!"

The "Pakchi bomb" (750 yen, including tax) made with coriander that was Japan's "Dish of the Year" (Kotoshi no Hitosara) in 2016. For those who like chicken dishes, "Ume Quartz" (450 yen, tax included) made with chicken cartilage and plum. We also recommend Wagyu beef Sukiyaki (580 yen, tax included) and Smoked Raw Ham (780 yen, tax included) using. It's not surprising that so many of the sides are very popular!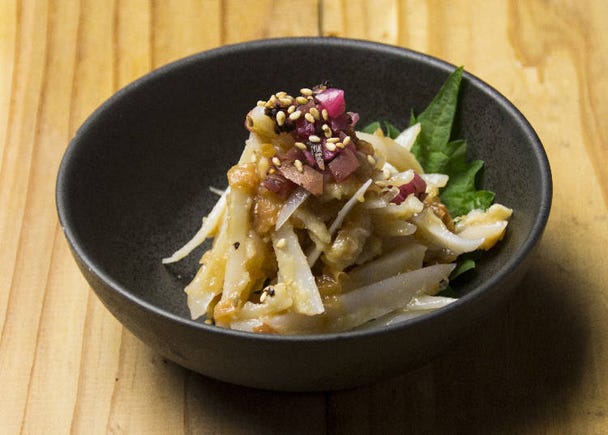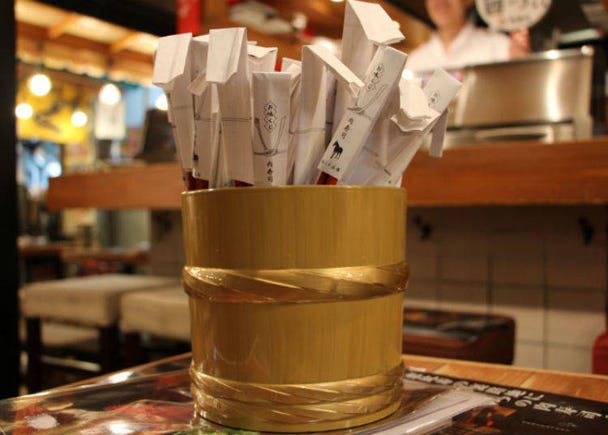 Aside from the menu, other aspects of the shop help create a stir in the hearts of yokocho fans. For example, the menu holders are heart shaped, and each pair of chopsticks comes with a fortune!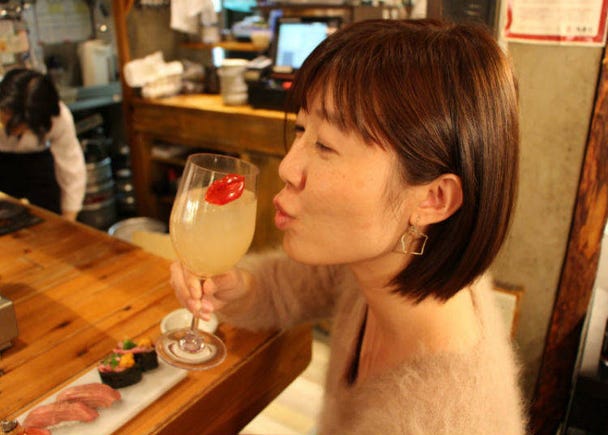 One of the bar's signature drinks is the "Erotic Peach Bellini" (690 yen, tax included). This fun cocktail has a pair of gummy lips stuck to the glass, so if you take a photo with it, you're sure to draw attention.

According to the manager, Mr. Nakamura, Nikuzushi is particularly popular among people in their 20s to 40s on weekdays as well as office workers.

Nikuzushi doesn't offer seat reservations, and you can stay for a maximum of two hours. Depending on the time of day you might have to wait in line, but the delicious meat and drinks in this unusual and fun side street are well worth it! Maybe you can even become friends with the people sitting next to you and have an impromptu party!
肉寿司 恵比寿横丁店

Address

1-7-4 Ebisu, Shibuya-ku, Tokyo 150-0013 Japan
*This information is from the time of this article's publication.
*Prices and options mentioned are subject to change.
*Unless stated otherwise, all prices include tax.