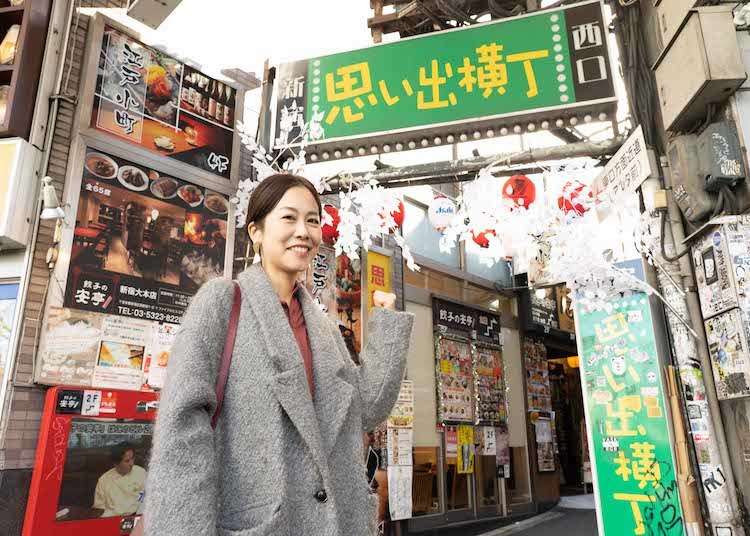 Shinjuku should be on every Tokyo sightseeing itinerary. Shinjuku Station plays a central role in Tokyo's transportation network. Globally, it boasts the largest number of passengers who use it daily, and it is surrounded by a variety of restaurants, department stores, electronics retailers, drugstores, and hotels.
But Shinjuku's charm extends beyond these attractions to include OLD spots that are rich in history and NEW spots that reflect modern Tokyo. This contrast makes Shinjuku a place you'll never tire of!
Freelance writer and Tokyo resident Mentaiko shares her tips for enjoying Shinjuku!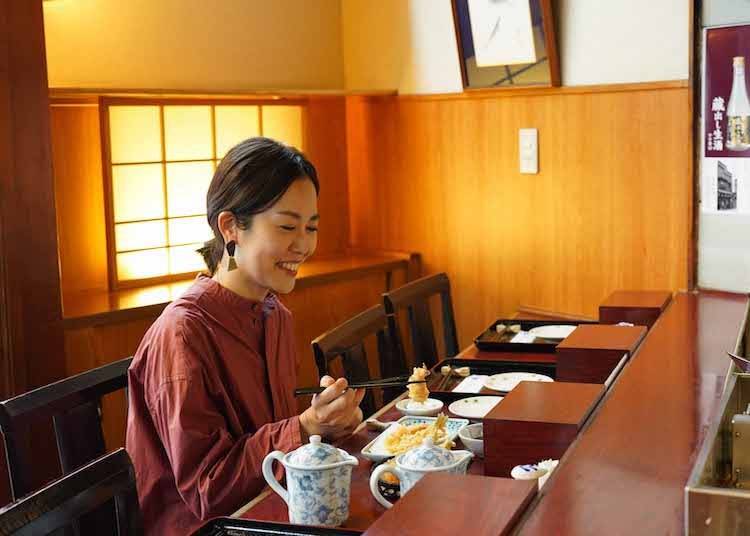 Mentaiko, who has lived in Tokyo for eight years, is a former magazine editor and current freelance writer. Although she struggled just to order food in Japanese when she first came to Japan, she can now describe in fluent Japanese her favorite sightseeing spots and preferred dishes!
With her camera and notebook in hand, she explores the streets of the metropolis. She has written two books, Mentaiko's Tokyo Life Handbook and Mentaiko's Tenkomai Childcare Diary.
Shinjuku is full of charm, both new and old!
Shinjuku is a kaleidoscope of stimulation. Upon exiting the labyrinthine train station, you're bombarded with blaring pop music, large and colorful advertisements for the latest cosmetics and fashion, and tempting aromas from an abundance of restaurants. In Shinjuku, trends come and go quickly in a flood of information. Still, Shinjuku manages to retain a vibrant history and culture, and every visit reveals something new.
OLD Shinjuku, Spot 1: Shinjuku West Exit Omoide Yokocho—Lively both day and night!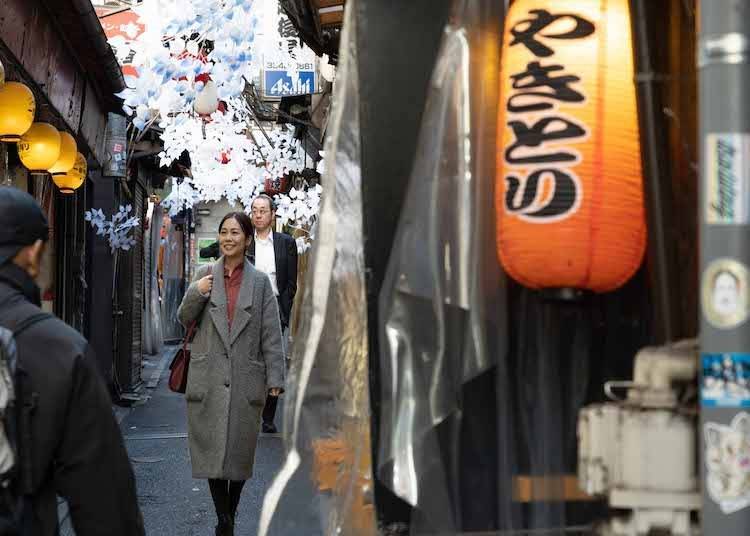 Shinjuku has many sights that should not be missed. One of these is Omoide Yokocho, which is just three minutes from Shinjuku Station's west exit. Its roots go back to just after World War II when the small streets were lined with black-market vendors.
Echoes of that era remain, making you feel like you've stepped back in time. Some eighty shops are densely packed into the Yokocho's three narrow alleyways. Kushiyaki shops that fill the air with the aroma of their grilled seafood, meat, and vegetables on skewers are the most common eateries, although you'll also find izakaya (Japanese pubs) and Chinese restaurants.
Restaurants generally open in the evening, giving the impression that Omoide Yokocho is only a nighttime spot, but some restaurants are open for lunch as well.
The lunchtime atmosphere is more leisurely, in contrast to that of the crowded, bustling nighttime hours. A visit during both the day and the night is the best way to experience the appeal of Omoide Yokocho.
Address

Corporate house time shop 202, 7-13-12, Nishishinjuku, Shinjuku-ku, Tokyo, 160-0023
View Map

Nearest Station

Shinjuku-Nishiguchi Station (Toei Oedo Line)


Phone Number

03-3364-3235
OLD Shinjuku, Spot 2: Tempura Shinjuku Tsunahachi—A long-established restaurant that prides itself on using fresh ingredients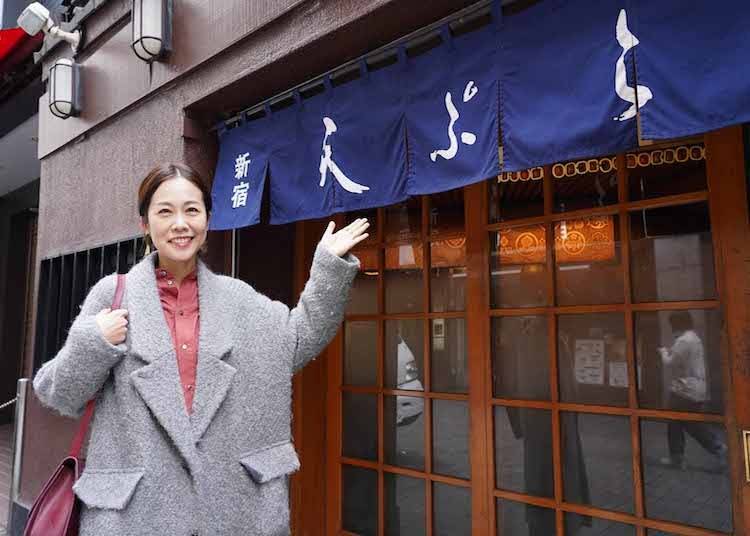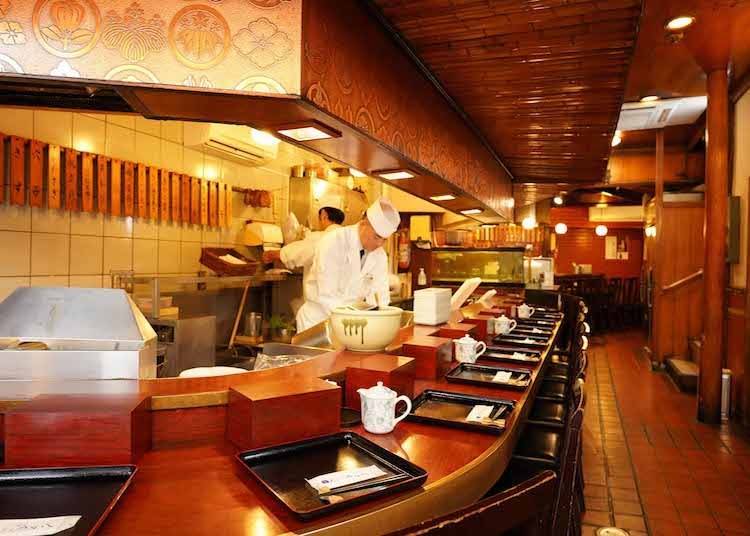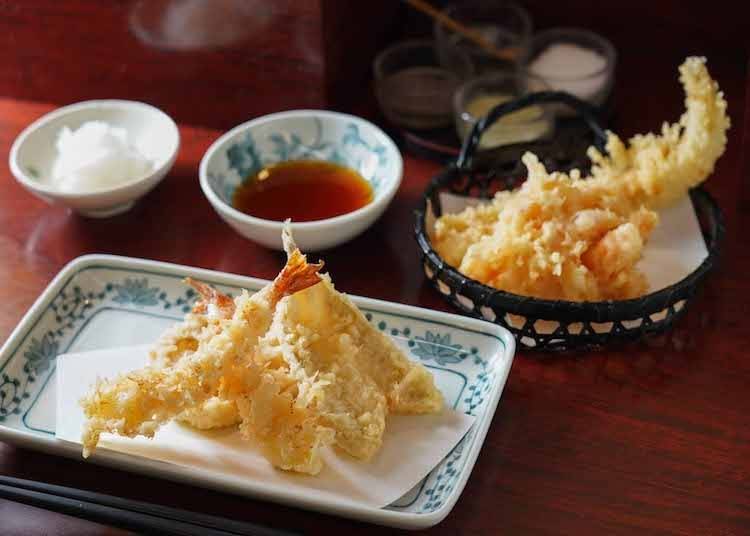 Tempura Shinjuku Tsunahachi was established during Japan's Taisho era (1912–26). Pass through the noren (shop curtains), open the sliding door, and take a seat at the counter.
You'll find the tempura offerings of the day posted on the wall inside the shop and see live shrimp swimming in a tank. Your tempura order is deep-fried right in front of you. You hear the spatter of the oil as the savory aroma of tempura spreads throughout the store.
Tsunahachi uses flavorful sesame oil and fresh ingredients in their delicious and affordable tempura, which is served with natural sea salt, wasabi salt, shiso (perilla) salt, and dipping sauce. Chinese and English menus, complete with photos, are available too!
Tempura Shinjuku Tsunahachi, Main Shop

天ぷら新宿つな八 総本店

Address

3-31-8 Shinjuku, Shinjuku-ku, Tokyo

Business hours: 11:00–22:30
Closed: Open every day except on the New Year holidays
OLD Shinjuku, Spot 3: Hanazono Shrine—Pray for good fortune at the shrine of Shinjuku's local Shinto deity!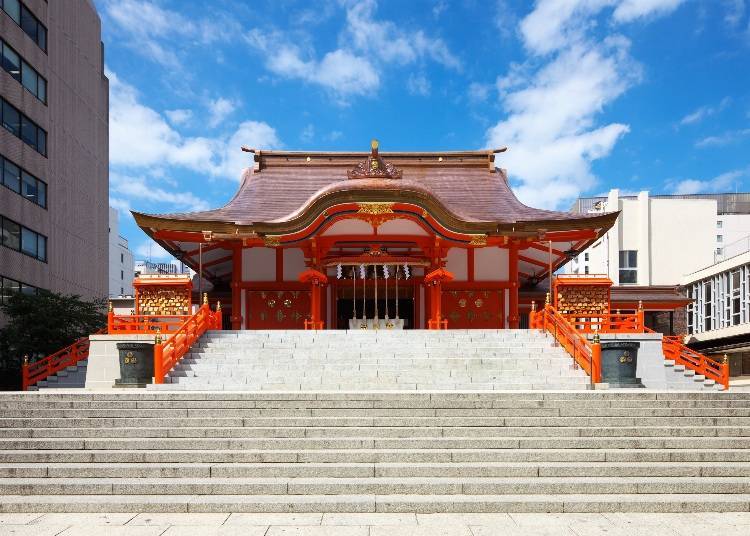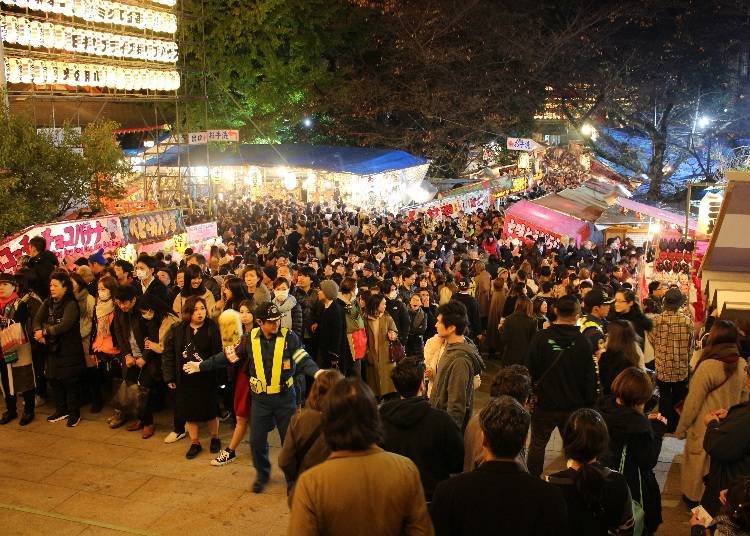 The most interesting characteristic of Shinjuku is how a winding path can suddenly surprise you with a dramatic sight. Hanazono Shrine, the home of Shinjuku's local Shinto deity, is an example of this!
The traditional Shinto shrine, painted a bright vermilion, will seem to emerge suddenly from the cityscape as you walk by. Its origin precedes the Edo (Tokugawa) period, which began around 1603. The deity is believed to promote prosperity in commerce and industry and to bring good fortune. The peaceful grounds of the shrine are a sharp contrast to the hustle and bustle of its surroundings.

Geino Asama Shrine, located on the Hanazono Shrine grounds, is famous for enshrining the deity of entertainment, thus attracting actors, singers, and other entertainers. Itoku Inari Shrine is popular with women since it's reputed to bring good fortune in love, marriage, and fertility.
In November, the Tori no Ichi Fair (a festival held on the days of the rooster), one of three such festivals in the Kanto region, is held on the shrine grounds. People involved in commerce visit this shrine to purchase an ornamental bamboo rake, which is a lucky charm for prosperity in business.
And for decades, an antique fair has been held on the premises every Sunday morning when the weather permits, providing one of the best glimpses of local life in Shinjuku.
Address

Shinjuku 5-17-3, Shinjuku-ku, Tokyo, 160-0022
View Map

Nearest Station

Shinjuku-Sanchome Station (Tokyo Metro Marunouchi Line / Tokyo Metro Fukutoshin Line / Toei Shinjuku Line)


Phone Number

03-3209-5265
NEW Shinjuku, Spot 1: Tokyo Metropolitan Government Building Observation Decks—See ever-changing Tokyo from above!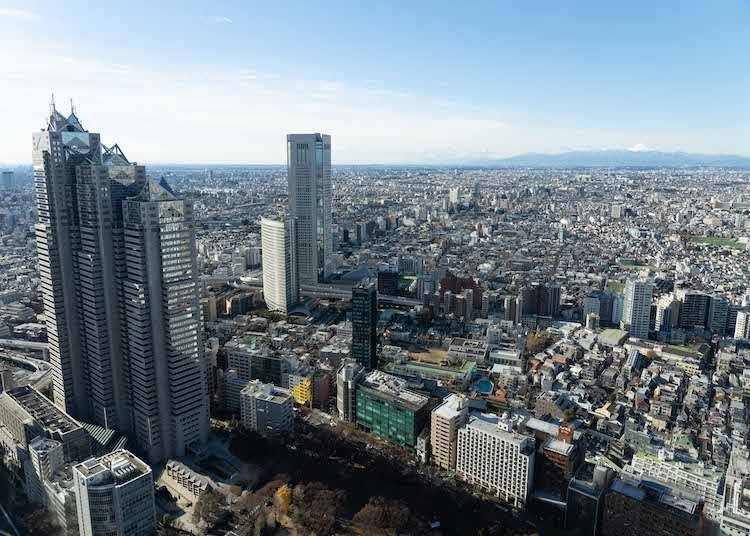 The Tokyo Metropolitan Government building may not be a new tourist attraction, but it's still a must-see if you want to get the latest information about Tokyo and take in some incredible views of the metropolis for free.
The Tokyo Tourist Information Center on the first floor of this building is a good place to start if you need assistance with travel plans. It offers Wi-Fi, USB charging ports, and travel pamphlets and is staffed by guides who can assist you in Japanese, Chinese, English, or Korean.

To get a panoramic view of Tokyo, head up to the 202-meter-high observatories on the 45th floor (there are two observatories, north and south, and both are free). From these vantage points on a clear day, you can spot Mt. Fuji in the distance.
Looking down on Nishi-Shinjuku, Shinjuku, and Kabukicho, you'll see how the area is evolving, with many old buildings being removed and new ones constructed. In particular, the area around Shinjuku Station is now undergoing construction as part of a major remodeling project. The observation decks also have small cafes and souvenir shops, making them ideal for a quick break.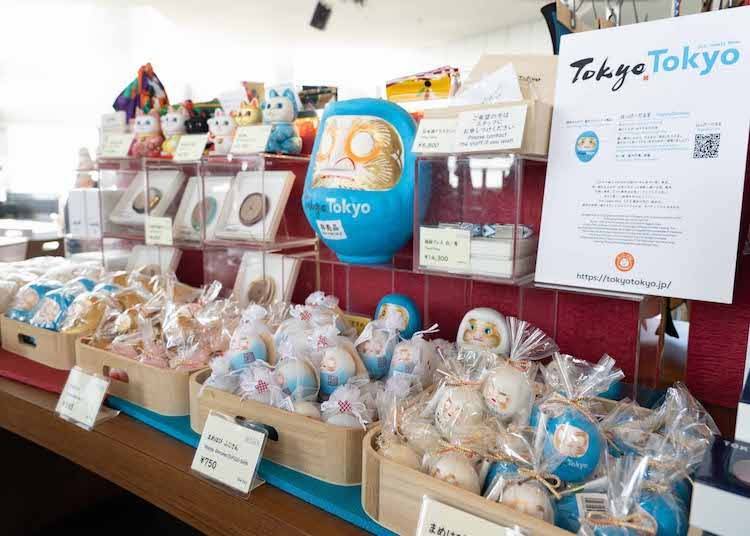 Address

2-8-1, Nishishinjuku, Shinjuku-ku, Tokyo, 163-8001
View Map

Nearest Station

Tochomae Station (Toei Oedo Line)


Phone Number

03-3277-2815
NEW Shinjuku Spot 2: NEWoMan Shinjuku, popular with women!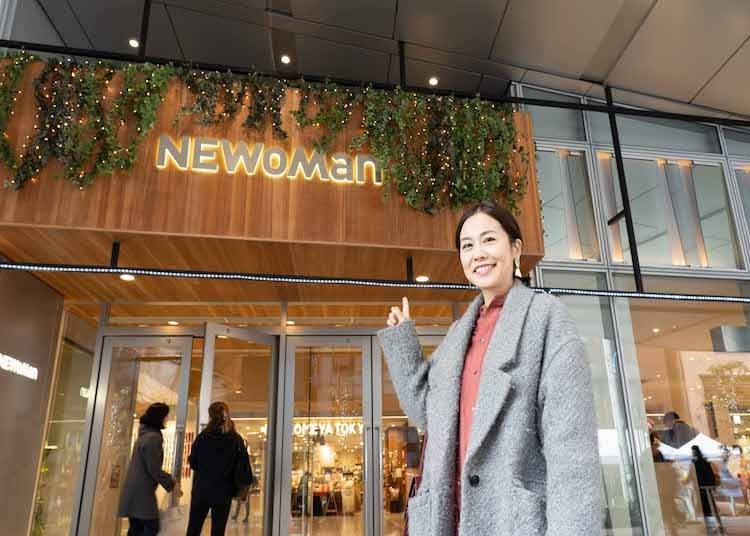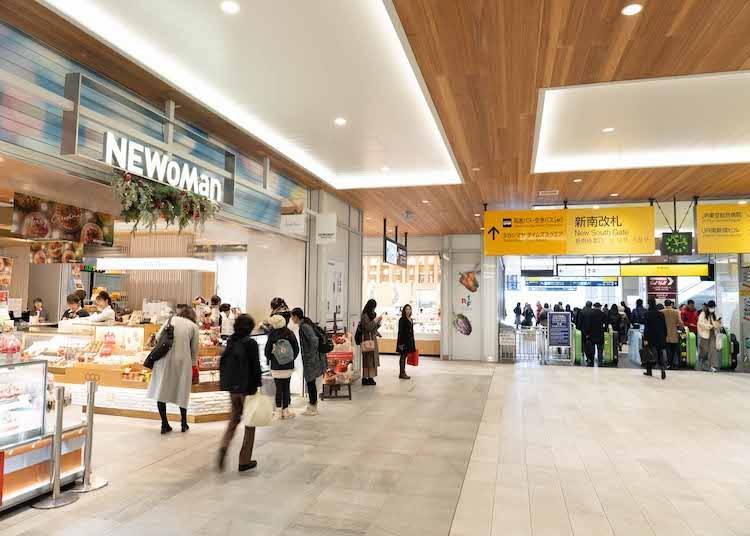 NEWoMan Shinjuku has been very popular with women ever since it opened in the spring of 2016.
Unlike your typical department store, this mall features domestic and foreign boutique stores, variety stores, and coffee shops, all with their products and displays beautifully arranged.
Also, there are medical clinics, including children's doctors, and day-care centers, which increase NEWoMan's appeal to women. It also offers direct access to the ticket gates in JR Shinjuku Station's Miraina Tower, where NEWoMan is located.
If you want to check out the latest fashions in Tokyo, buy yourself some new clothes, or find goods, sweets, or souvenirs from all over Japan, visit NEWoMan Shinjuku!
NEWoMan新宿

Address

4-1-6 Shinjuku, Shinjuku-ku, Tokyo

Business hours: 11:00–21:30 (Until 21:00 on Saturday, Sunday, and public holidays) Some shops may have different business hours.
Closed: Irregular schedule
NEW Shinjuku Spot 3: The Samurai Museum—Travel back to the age of Japanese warriors!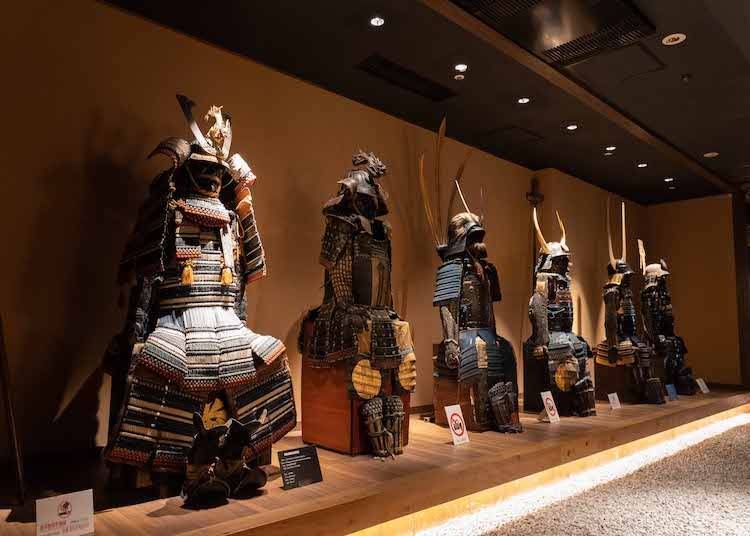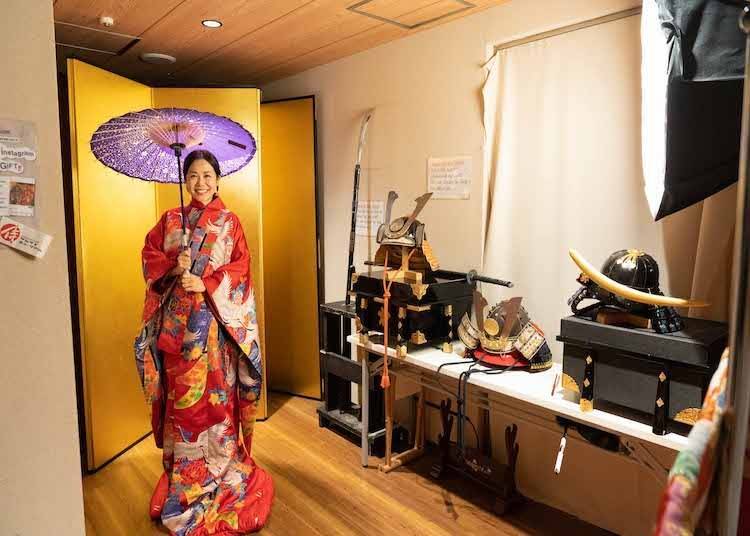 Kabukicho is home to the Samurai Museum. Besides seeing impressive displays of Japanese swords and armor here, you can learn about samurai history in a one-hour guided tour (available in English).
The guide will share some fascinating samurai trivia, such as the reason samurai carried two swords on their waist and why helmets bore animal motifs. The swords and armor displayed are of the same type as those used on historical battlefields. Viewing them up close, you can imagine life during that era. Visitors can even have their photo taken while wearing a helmet or a kimono.
In the gift shop on the first floor, you can also purchase a replica of a Japanese sword (unsharpened), which makes a terrific souvenir!
Address

2-25-6, Kabukicho, Shinjuku-ku, Tokyo, 160-0021
View Map

Nearest Station

Shinjuku Station (JR Shonan Shinjuku Line / JR Yamanote Line / JR Chuo Main Line / JR Saikyo Line / Tokyo Metro Marunouchi Line / Toei Shinjuku Line / Toei Oedo Line / Keio Line / Keio New Line / Odakyu Odawara Line)
8 minutes on foot


Phone Number

03-6457-6411
Explore Shinjuku, a place full of charm, both new and old.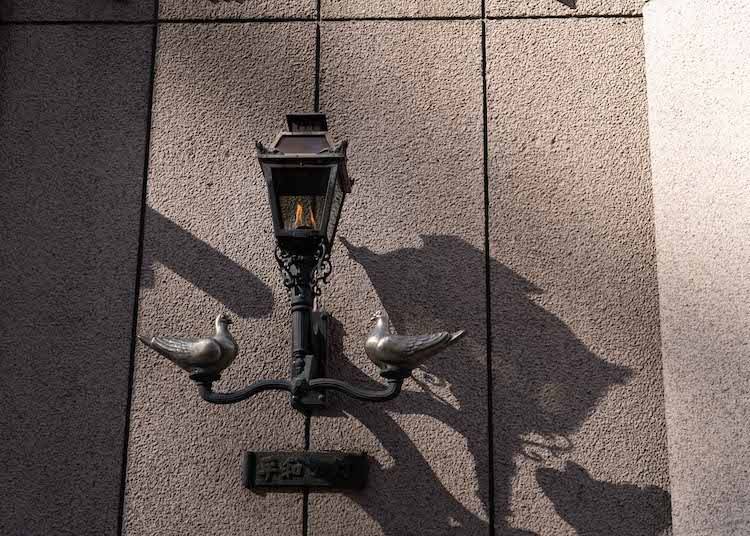 Having read about the new and old aspects of Shinjuku, are you now interested in taking your own tour? The next time you visit, wander around the Samurai Museum, witness the latest changes to Shinjuku's cityscape from the Tokyo Metropolitan Government's Observatories, order fresh tempura at the Tsunahachi counter, pray for good fortune at Hanazono Shrine, enjoy shopping at NEWoMan, and round out your day at lively Shinjuku West Exit's Omoide Yokocho. You'll quickly discover that there is much more to Shinjuku than you thought!
*This information is from the time of this article's publication.
*Prices and options mentioned are subject to change.
*Unless stated otherwise, all prices include tax.
Search for International flights