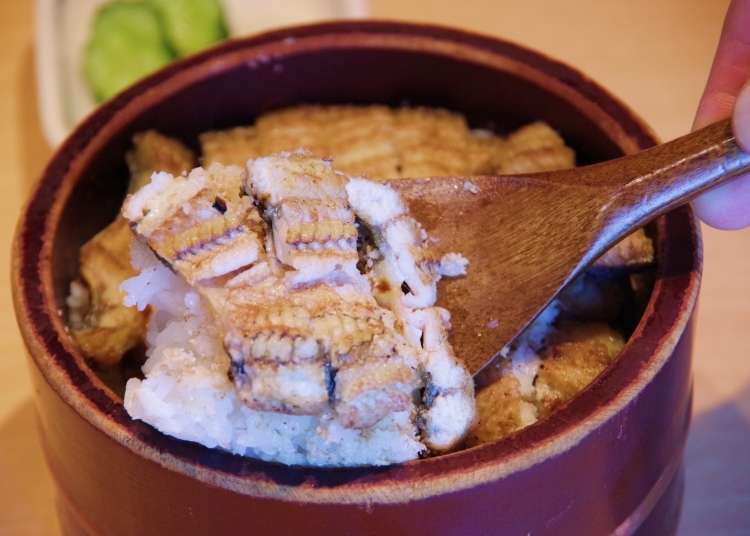 Tokyo's historical Asakusa neighborhood is a sanctuary of traditional Japanese food, and there's been a recent craze for exotic Asakusa unagi, or eel dishes, from the restaurant Asakusa Unatetsu!

Their tasty signature dish, Salted Hitsumabushi®, is only available here, and it's something fans of eel shouldn't want to pass up. What's so special about this Asakusa unagi shop, anyway? We went down during lunchtime peak hours to find the reason behind the restaurant's explosive popularity.

Content in this article was prepared in June 2020.
60 seconds from Asakusa Station, with an eye-catching entrance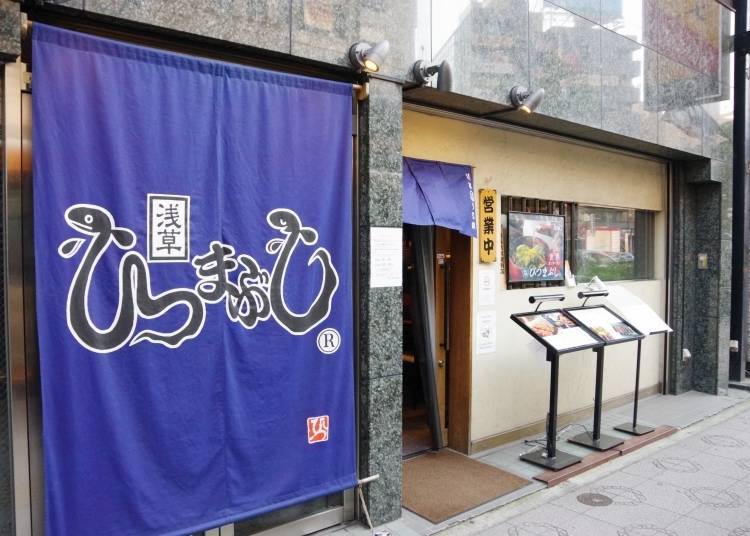 Asakusa Unatetsu's main store, as its name suggests, is conveniently located right in front of Asakusa Station. Simply walk for about one minute from Asakusa Station on the Ginza Line and you can find the shop along the way - it's kind of hard to miss!

The sign to look out for is the large door curtain, called a noren, with the restaurant's Japanese name printed on it (shown above). Once you find it, step right in!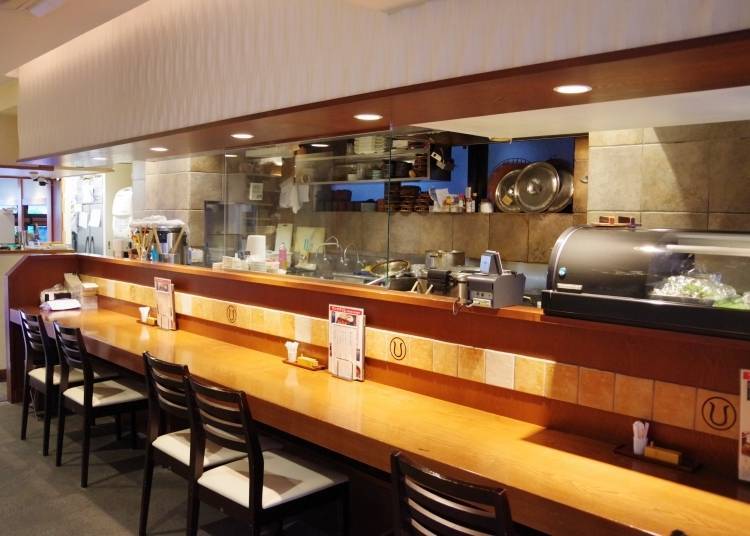 Depicted here are the counter and table seats on the first floor of the restaurant. From the counter seats, you'll be able to observe the kitchen in action and see how the expert Asakusa unagi chefs expertly prepare the ingredients right before your very eyes.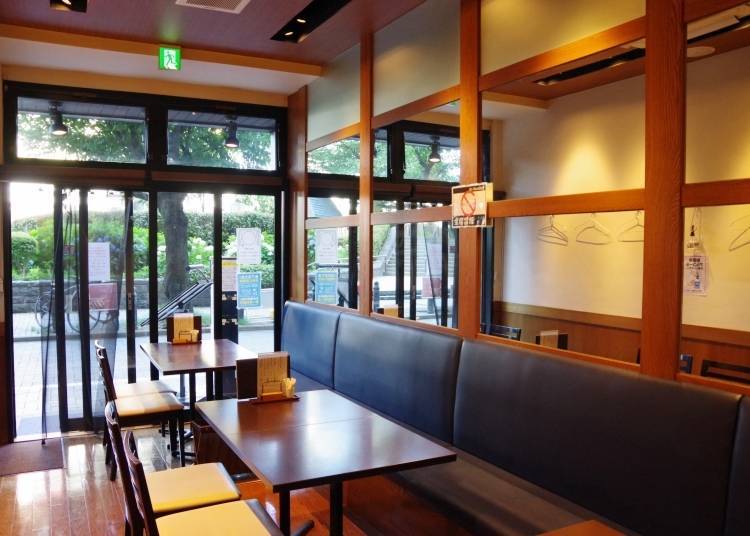 From the table seats on the first floor, you'll be able to look out of the shop's glass windows and see the beautiful Sumida Park. Visiting the shop in summer means you'll be able to enjoy your meal surrounded by the lush greenery outside too.

The restaurant keeps its premises well-ventilated to prevent the spread of COVID-19, allowing customers to dine with peace of mind.
Not just Asakusa unagi - Get amazing views of Tokyo Skytree!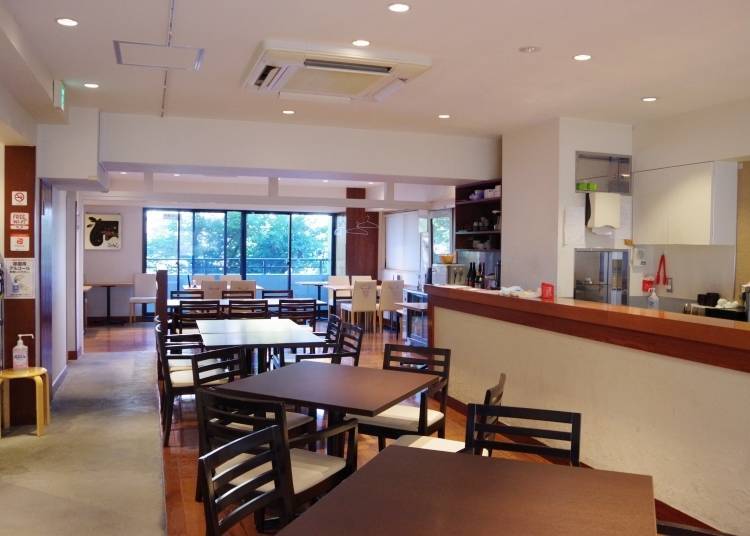 There's a second floor to the restaurant, which is a spacious area for table seats and private rooms. Social distancing rules are actively enforced here, so only up to 16 people are allowed to dine in this second-floor space at once.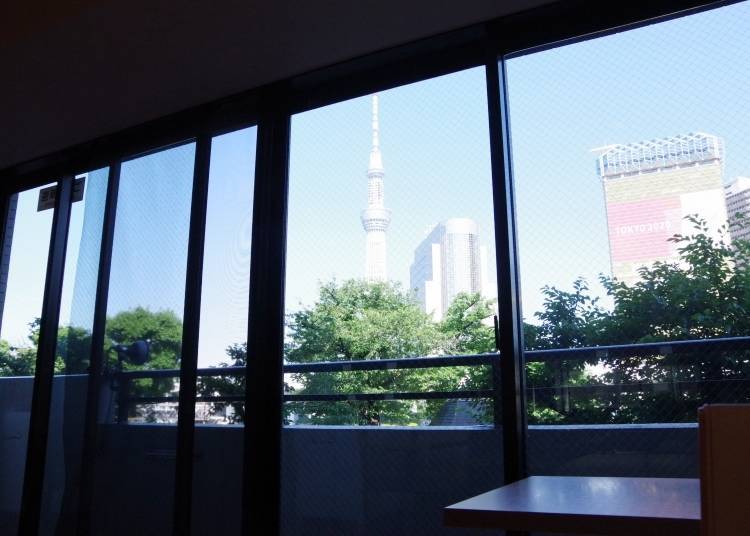 If you're seated at a table right beside the window, you'll be treated to a magnificent, unblocked view of the Tokyo Skytree, since the shop is located along the Sumida River. Admire the view outside while waiting for your order, and time will fly so quickly, your food will arrive at your table before you even realize it!
Why is Asakusa Unatetsu so popular?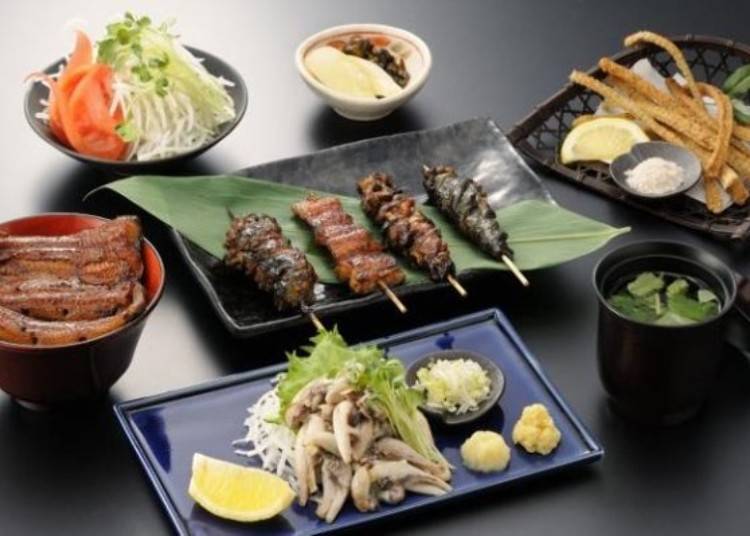 The shop's prime location and impressive views aside, the real reason Asakusa Unatetsu is so popular is because of their sumptuous food. They offer up an interesting variety of foods you won't find anywhere else, such as unagi tataki (seared or pounded meat), liver broth, and unagi skewers. This break from convention is proof of the shop's confidence in its great-tasting food!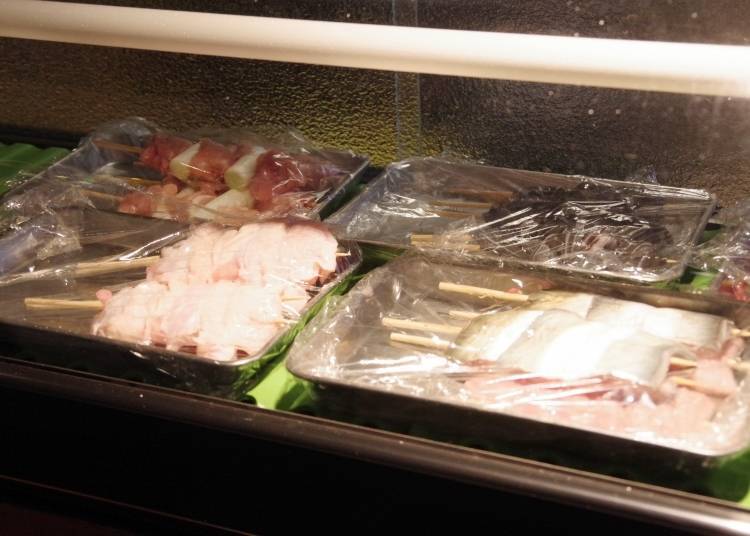 A wise Japanese saying goes, "It takes 5 years to learn to cut meat, 3 years to learn to skewer, and a lifetime to learn to grill."

The main import behind those words is that a humongous amount of time and training is needed to gain the right technique.

Most unagi specialty stores simply focus on kabayaki (fillet grilled with sweet sauce) or unagi rice bowls. Still, Asakusa Unatetsu also offers unagi prepared using lesser-known methods - and they do it so well at that! It goes to show that their chefs are a cut above the rest in terms of skill and experience.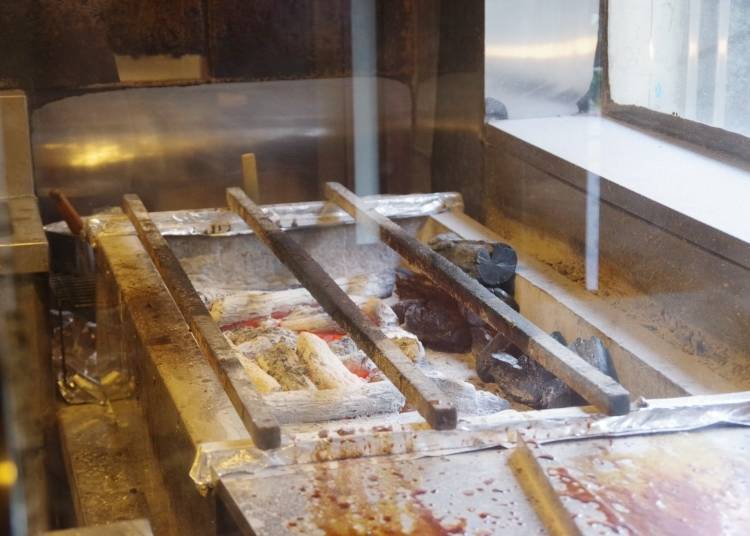 Each individual eel has its own unique texture and needs to be grilled in different ways depending on the cuisine. The most difficult part to get right is the amount of time it needs to spend on the grill, and how strong the fire should be.

Asakusa Unatetsu makes use of the strong heat of binchōtan, or white charcoal, to keep the unagi's mellow flavor locked within while adding a layer of depth with the rich fragrance of the grill.
The limited-time Salted Hitsumabushi® is perfect for lunch!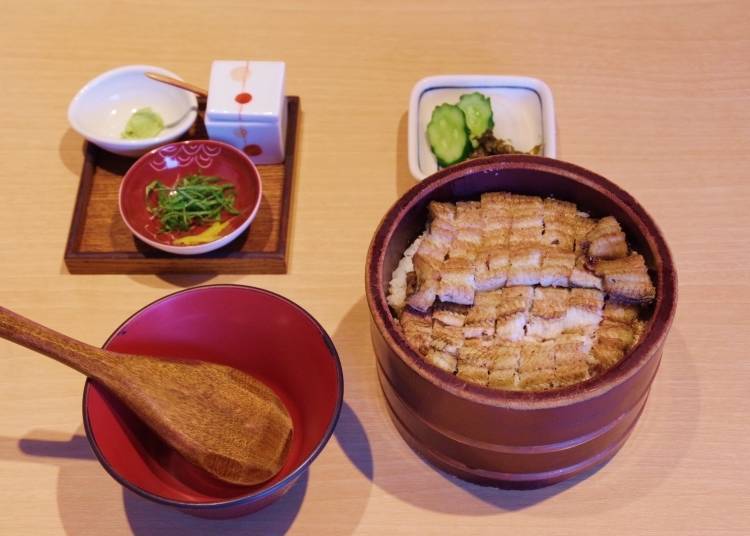 As mentioned, Salted Hitsumabushi® is our top recommendation for this Asakusa unagi restaurant. Hitsumabushi refers to a meal served with a wooden container packed full of rice and unagi kabayaki. You'll also get a bowl and utensils for scooping up portions into. The restaurant's version uses salt as seasoning instead of sweet sauce. This allows the original flavor of the ingredients to really shine.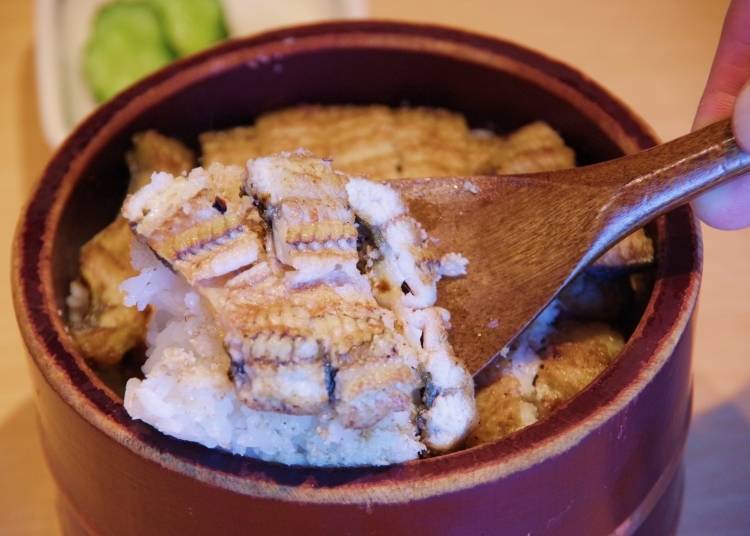 The delicious dish took about 5 years to develop, and now, it's the signature dish of Asakusa Unatetsu. Crowds of customers flock to the shop every day at lunchtime in search of this delicacy.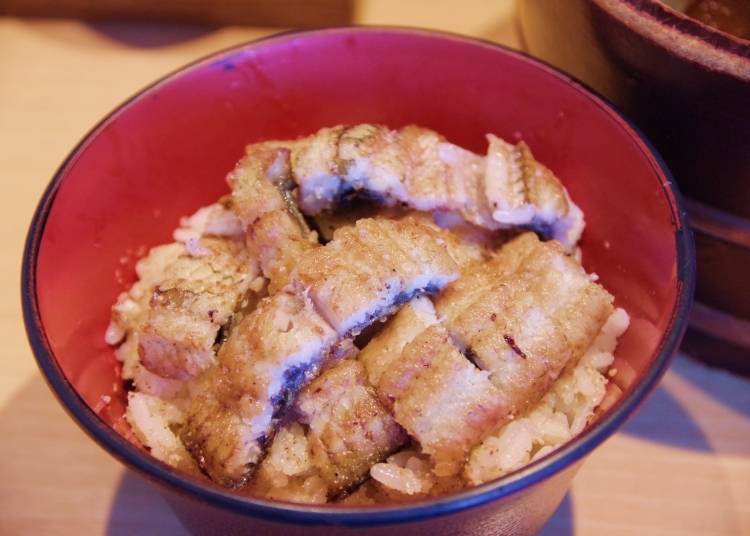 For your first scoop, dress it lightly with some Japanese pepper salt to savor the full and fluffy texture of the unagi's fragrantly grilled meat. The pepper salt is stimulating and energizing, which goes very well with the overall taste of the meal. The first portion you just scooped out will soon be gone before you even realize it.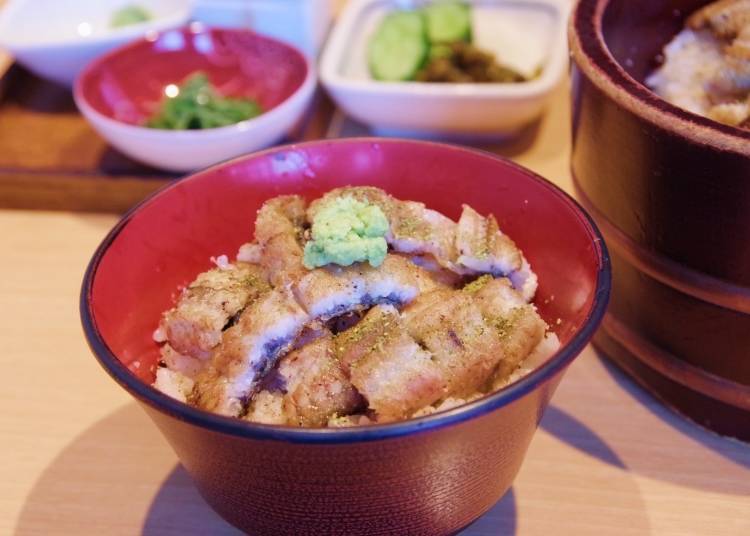 For your second portion, put a little bit of traditional wasabi on top. This zesty paste is made from Japanese horseradish grown in the Nakaizu area of Shizuoka Prefecture, known for its clean water and fresh air. This wasabi's usual sharp spiciness is kept moderately subdued while not compromising its unique flavor, making it the perfect companion for Salted Hitsumabushi®.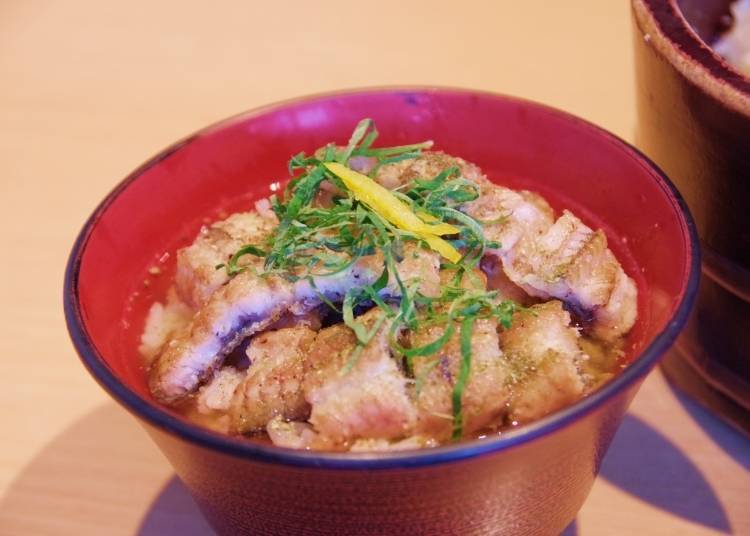 On to the third scoop. Sprinkle some yuzu citrus and shiso leaf slices onto the bowl and pour the provided sauce over everything before tucking in.

The refreshing taste of the yuzu and shiso leaf slices is a good contrast against the wasabi's zestiness in the previous portion, bringing out the taste of the unagi in a completely different way.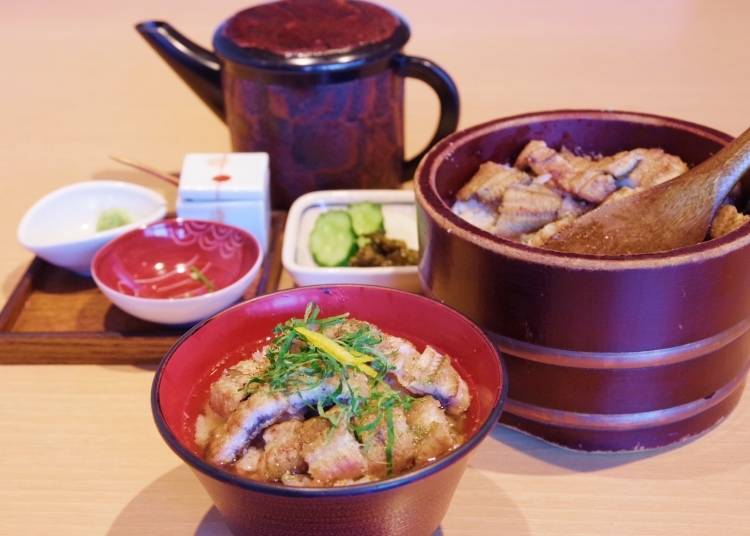 Some people wonder if they can really finish an entire container full of rice and unagi fillet, but if you try out our suggestions above, the large variety of tastes ensures that you'll be able to enjoy every last grain of rice without growing tired of it!

The light and refreshing Salted Hitsumabushi® is a great way to boost your nutrition during those hot, hot summer days.
Foodies - Asakusa Unatetsu wants you to have a good time!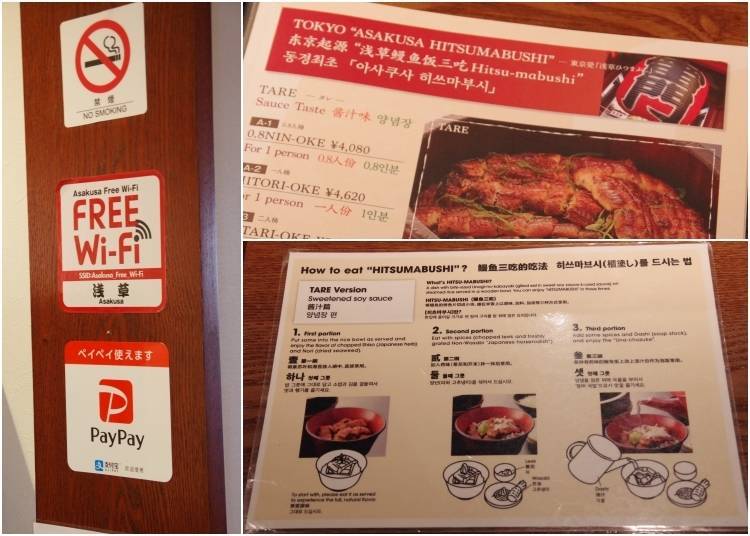 Asakusa Unatetsu offers a whole range of other authentic Japanese dishes, and this popular Asakusa unagi restaurant has a pretty good reputation overseas as well.

Among the foreign visitors who come to the store, many are stepping into an unagi restaurant for the first time ever. So the shop has taken great care to ensure that everyone thoroughly enjoys their time and food here by providing foreign language menus that introduce what hitsumabushi is and how best to eat it. There's also free Wi-Fi everywhere in the shop and cashless payment is supported.
Come to Asakusa Unatetsu for one of the most authentic Japanese tastes in town!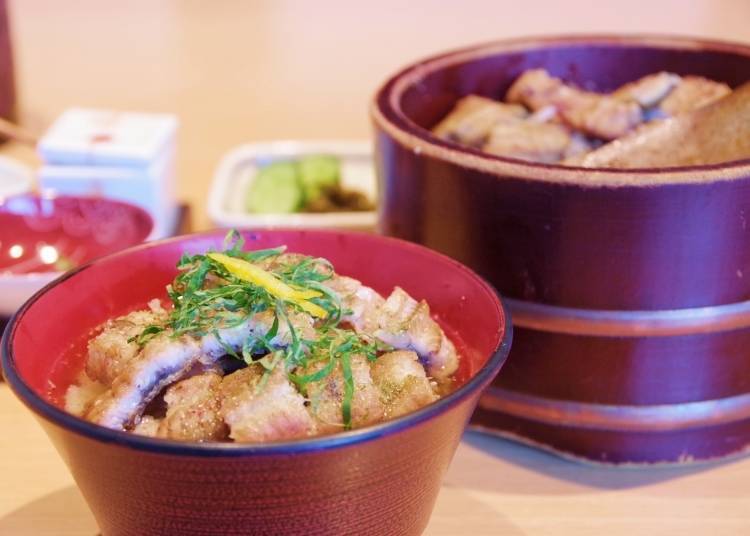 With a wealth of unagi-based dishes such as their signature Salted Hitsumabushi® and an unbeatable view of the Tokyo Skytree, Asakusa Unatetsu offers a unique dining experience that's constantly being tailored to ensure customer satisfaction. When you're around the Asakusa area, be sure to check this place out!
浅草うな鐵

Address

1-2-11, Hanakawado, Taito-ku, Tokyo-to

Nearest Station

5-minute walk from the Central Exit of Asakusa Station on the Tobu Railway
1-minute walk from Exit 5 of Asakusa Station on the Ginza Line
2-minute walk from Exit A3 of Asakusa Station on the Asakusa Line


Phone Number

03-5830-3302

Hours: 11:15 a.m. – 10:00 p.m. (last order 9:15 p.m.; drinks last order 9:30 p.m.)
*Hours may have changed due to the novel coronavirus situation. Be sure to check the official website for updates before heading down.
*The shop may also close early if their supply of unagi is sold out for that day.
Written by: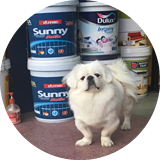 English translation by Huimin Pan

*The above article is based on information from June 2020
Other Asakusa Unagi Restaurants
Address

2-1-29, Komagata, Taito-ku, Tokyo, 111-0043
View Map

Nearest Station

Asakusa Station (Tokyo Metro Ginza Line / Toei Asakusa Line / Tobu Isesaki Line (Tobu Sky Tree Line) / Tsukuba Express)


Phone Number

03-3841-6314
Book an unforgettable experience in Asakusa!
Make your trip extra memorable by booking one of these recommended experiences on our partner site, Klook!
*This information is from the time of this article's publication.
*Prices and options mentioned are subject to change.
*Unless stated otherwise, all prices include tax.