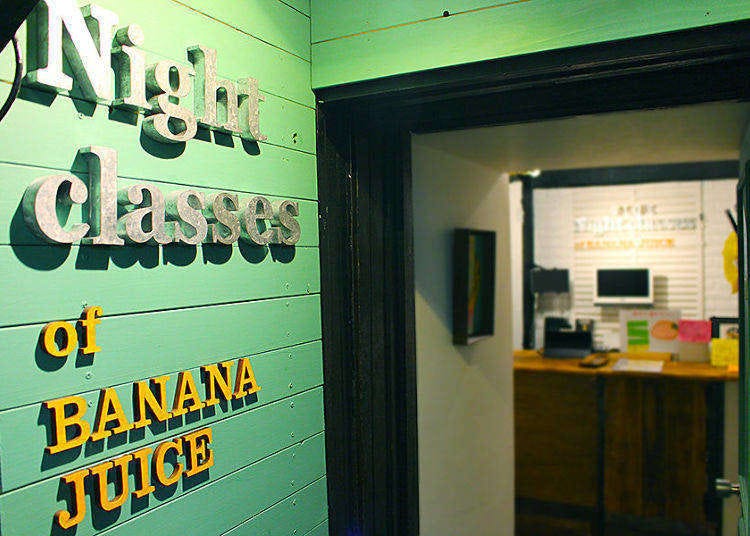 This sister shop of Banana Juice Corridor Street Shop, which specializes in banana juice, opened in the Ginza Corridor-gai in September 2017 and is one everyone is talking about. This shop, just like the Higashi Ginza one, does not open for business if the bananas are not ripe and also has a strong core of fans. Whether you work in the Ginza district or are just passing through, why not stop by here for a refreshing break?
This is the Place for Banana Lovers!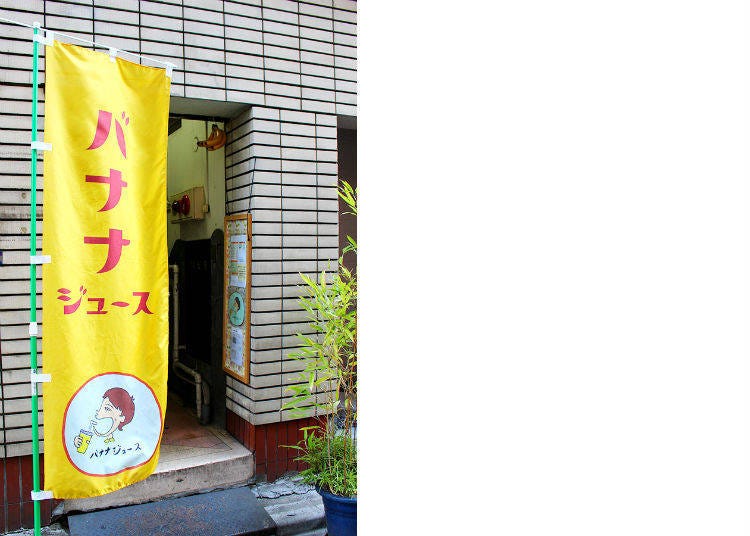 The Banana Juice Corridor-gai Shop is located in a narrow alley near Ginza Corridor-gai just a 5-minute walk from the Tokyo Metro Ginza Station. Look for the yellow flag with "Banana Juice" written in Japanese in large letters with a cute illustration below it.

This shop is unique in that if the bananas are not ripe, the shop will not open. Whether the shop is open or not is posted on Twitter, causing a sensation among users who often wonder whether the shop is open or closed that day. I was a bit surprised to learn that there was a shop like this in Ginza.
Stairs lead down to the shop and descending them is as exciting as entering a secret hideaway!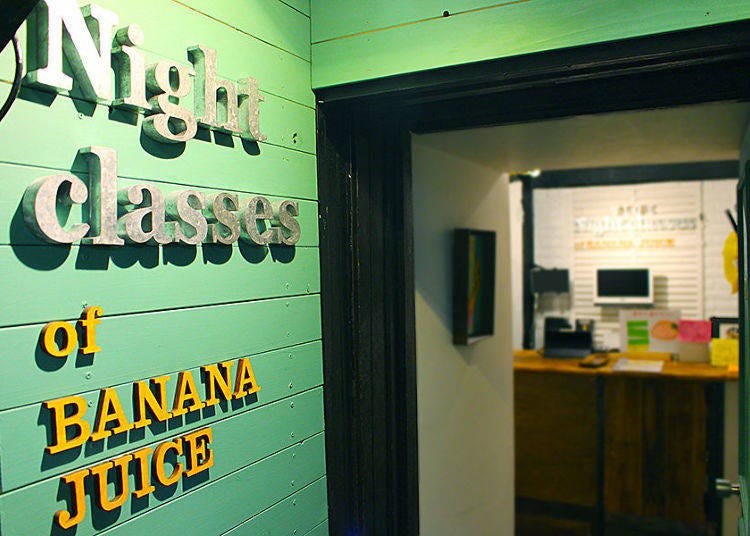 This is the attractive green sign that greets you at the bottom of the stairway at the entrance of the store.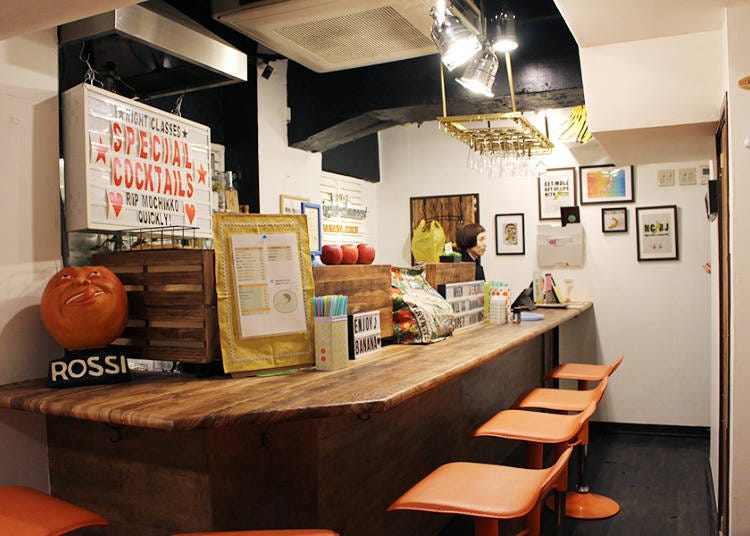 The counter is right inside the entrance.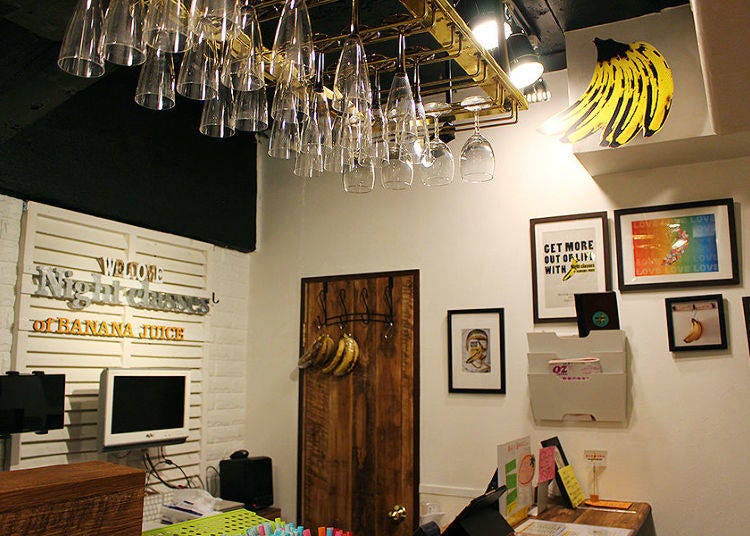 When you hear "banana juice specialty shop" you probably imagine a typical juice stand, but this place while being a banana juice shop during the day becomes a bar at night.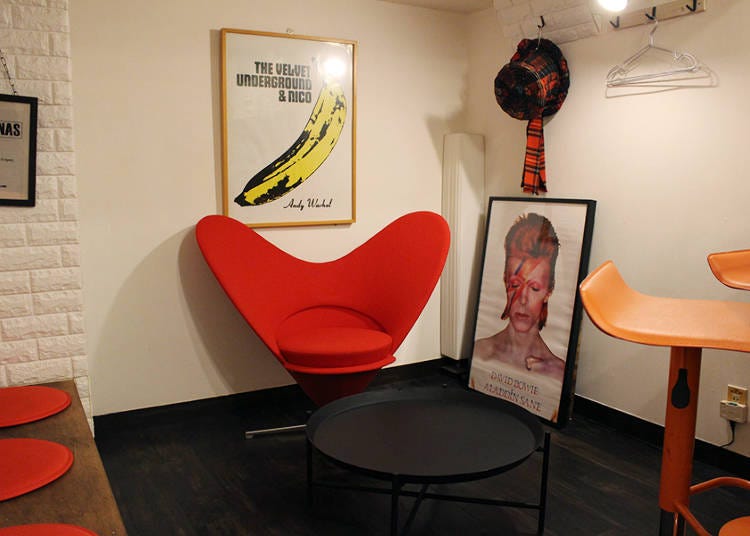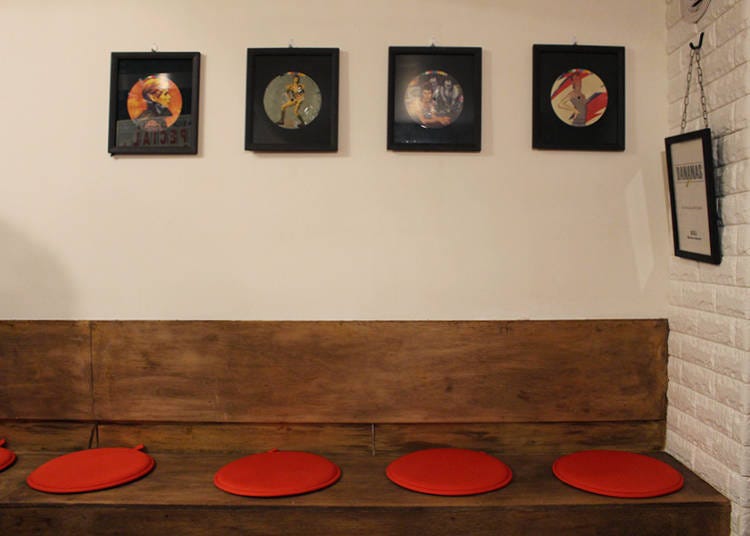 For that reason there is a counter with seats around it. But of course, during the hours when banana juice is sold you can use this space, too.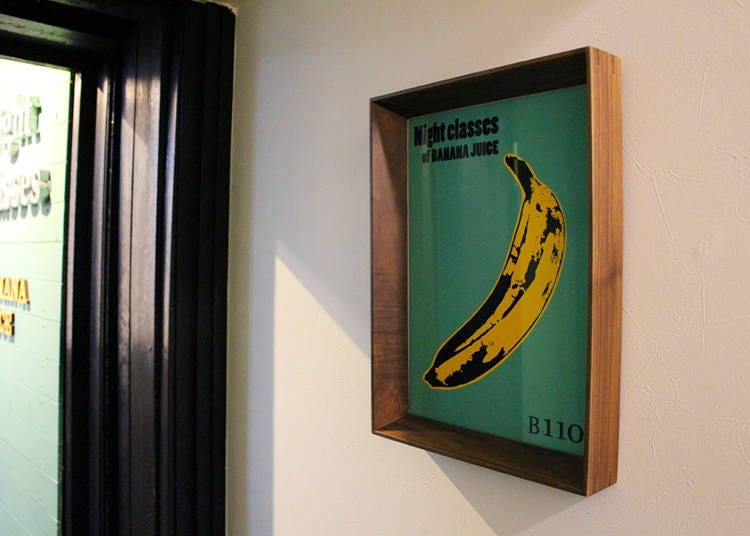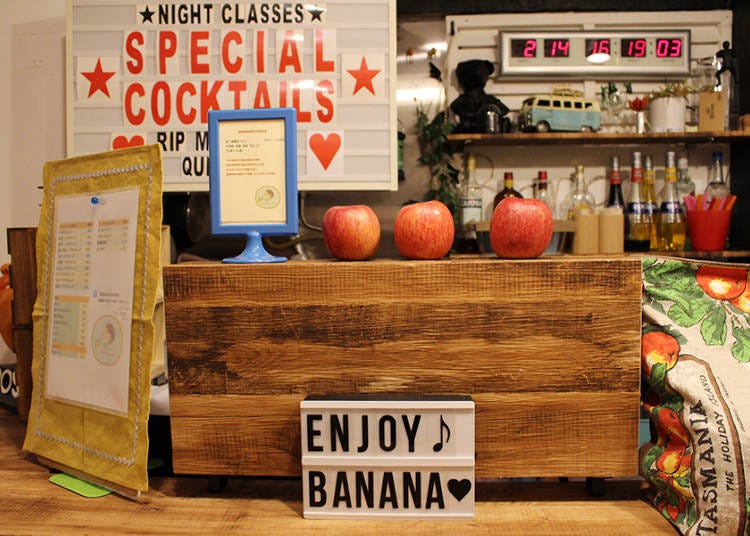 The interior has a banana motif. When you have time to spend there, rather than getting take-out, you can enjoy banana juice drinks there.
Refreshing with Bananas! Packed Full of Flavor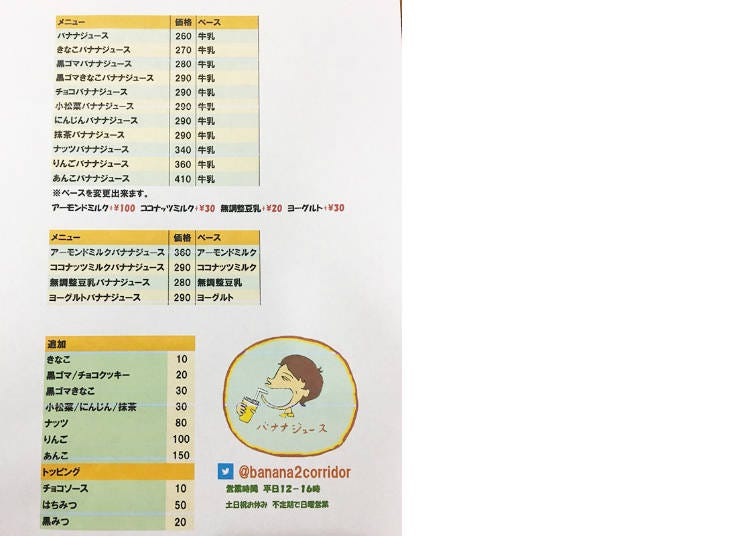 There are 10 basic variations on the menu. In addition to the standard banana juice, there are those having black sesame, carrots, and apple variations, too.

Normally milk is used for the base, but it is possible to request other bases, such as almond milk and pure soymilk, for an additional fee. You can also use soybean flour or nuts for toppings to make customized variations of your liking.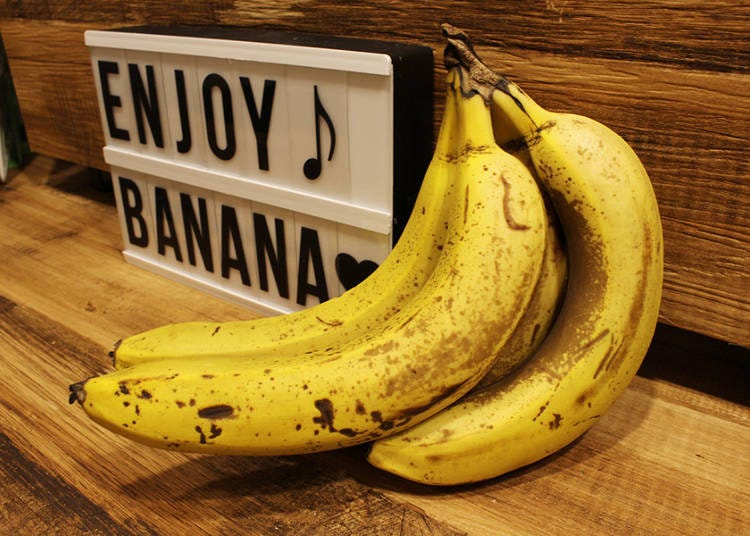 There is also a daily special menu having five variations. These daily specials primarily use seasonal fruits and vegetables. On the day I visited the lineup consisted of strawberry, parsley, macha (powdered green tea), celery, and pineapple. (The price of "Today's additional menu" is that before the price was revised.)

I had my doubts about adding parsley and celery to banana juice, but they actually went very well together.

The cilantro banana juice is also very popular. According to the shop manager Ishizaki-san, "once they try it, they keep coming back for more."
Each juice is carefully made after it is ordered.

Normally one and a half bananas are used to make one juice drink. No sugar is used in the drinks because the natural sweetness of the banana is adequate. These are really healthy drinks which make them popular with women who are conscious about their health and beauty.

The bananas in the photo still have a ways to go until they are fully ripe. Bananas that have ripened to a dark color are best for use in juices.

Ishizaki-san says that "in the winter it takes about 10 days for bananas to ripen fully. And while it may inconvenience some customers, the store will be closed until the bananas are ripe enough to make delicious juices." I admire that dedication!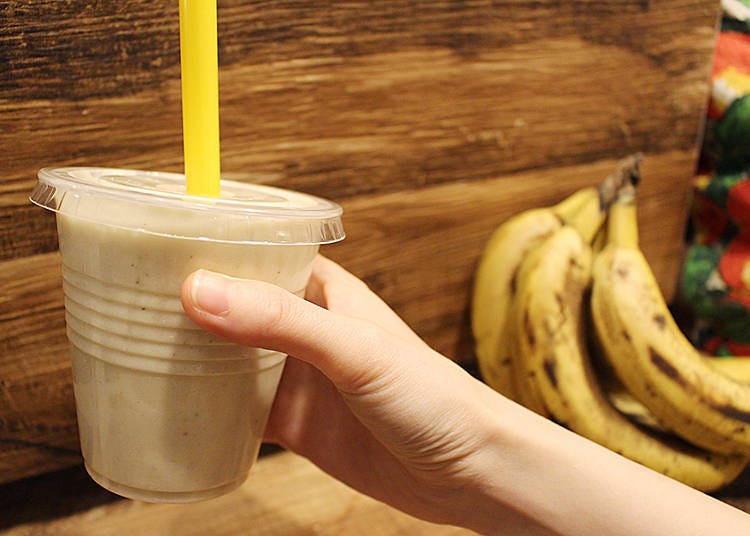 For first-time visitors I recommend the simple "banana juice" that fully delivers the taste of ripened banana. At 260 yen it is reasonably priced.

One sip and the rich flavor of the banana fills your mouth and you are likely to think, "I never imagined bananas could be so sweet!" It's easy to understand why there are so many repeat customers. To enjoy the full rich flavor, I recommend drinking the juice as soon as it is made.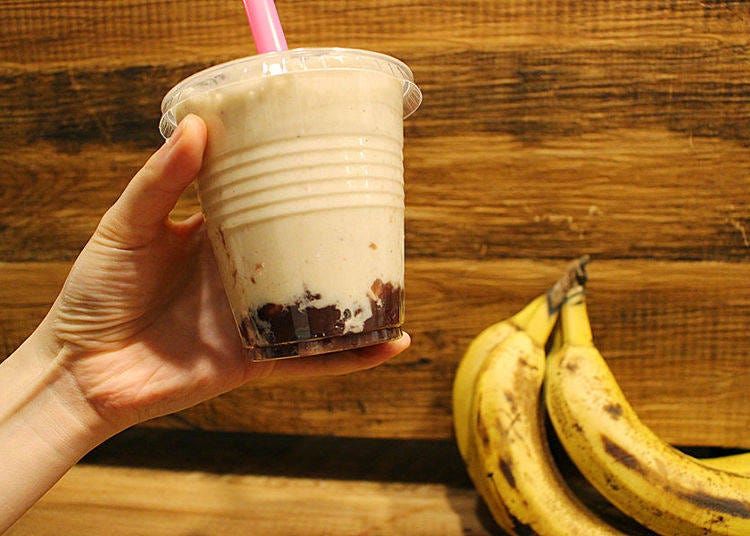 The "Anko (bean paste) Banana" (410 yen) has a dollop of Hokkaido-made anko in the bottom of the cup and is a drink only offered at this shop. To enjoy this drink, first sip the banana juice at the top and then work your way down mixing the juice with the anko on the bottom for a gradation of flavors. This hearty juice perfectly takes the place of other sweets.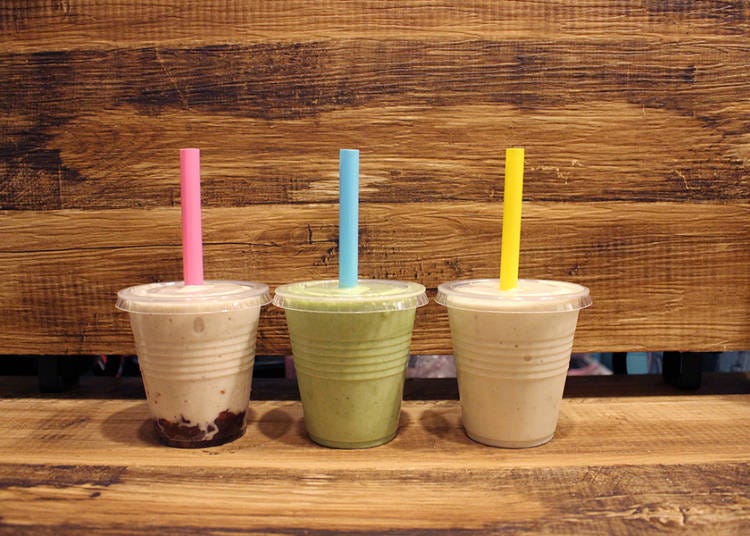 If you visit with a friend or colleague you can each order something different and share the different flavors with each other. Whichever flavor you choose, you will definitely be satisfied with the rich, delicious flavor of the banana.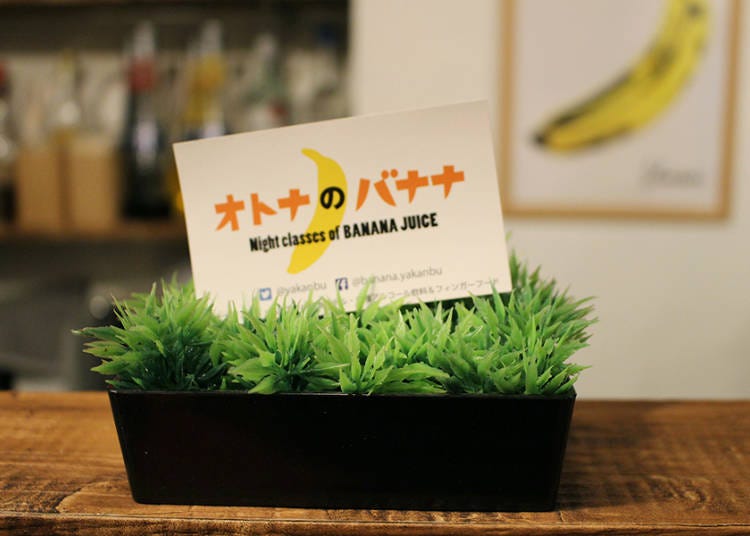 The quality of this banana juice specialty shop exceeded my expectations. It really is an ideal place to take a break from your busy schedule and recharge your batteries.
Banana Juice

Address

Taimei Bldg. B1F, 6-3-16 Ginza, Chuo-ku, Tokyo

Nearest Station

Ginza Station


Hours: 12:00 PM ~ 4:00 PM (or until when bananas run out)
Closed: Saturday, Sunday, holidays, days when bananas are not ripe (check on Twitter)
Written by Chiaki Ishibe
*This information is from the time of this article's publication.
*Prices and options mentioned are subject to change.
*Unless stated otherwise, all prices include tax.