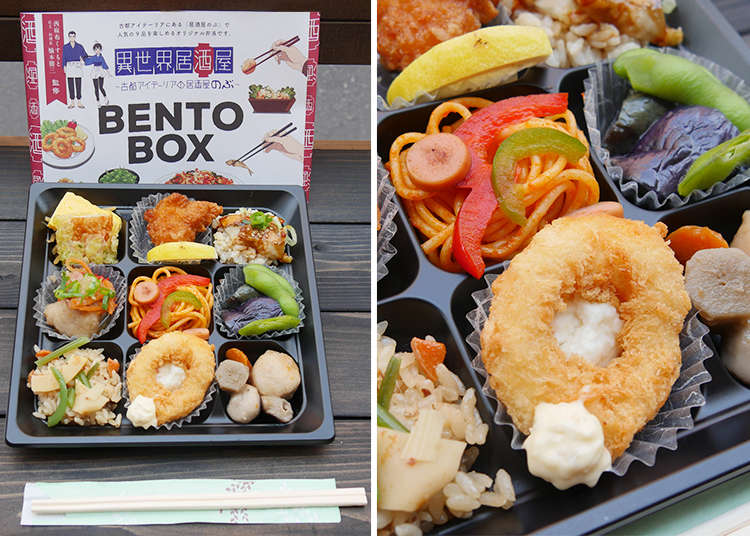 Don't know what to eat while touring Asakusa and its famous Senso-ji Temple? We have a one-of-a-kind recommendation for you! Head over to Samurai Hostel Asakusa to try the brand-new Bento Box, a box full of tasty delights inspired by the recent gourmet anime Isekai Izakaya Nobu.
Asakusa is known for its traditional townscape and narrow streets lined with small houses, shops, and restaurants. While there's an abundance of food to be savored, it can be hard to get a seat, find a place that suits your budget, or figure out where and what to eat in the first place. That's exactly what makes a bento lunch so wonderfully convenient – just pick it up casually and enjoy it wherever you want, without the need to go through a long menu in Japanese.
Meet the Isekai Izakaya Nobu Bento Box
The Nobu Bento Box is a delicious arrangement of nine different dishes that combine Japanese cuisine with the colorful world of anime. It's not just any regular lunch box like those available at convenience stores and supermarkets, however. The Isekai Izakaya Nobu Bento Box was put together by Chef Kusumoto, head chef of a same-named restaurant that is famous for its amazing modern Japanese cuisine that is also Halal-friendly! While his upscale restaurant is "members only," his creative bento brings you excellent food with a quirky dash of anime! Let's take a closer look at what your taste buds can expect!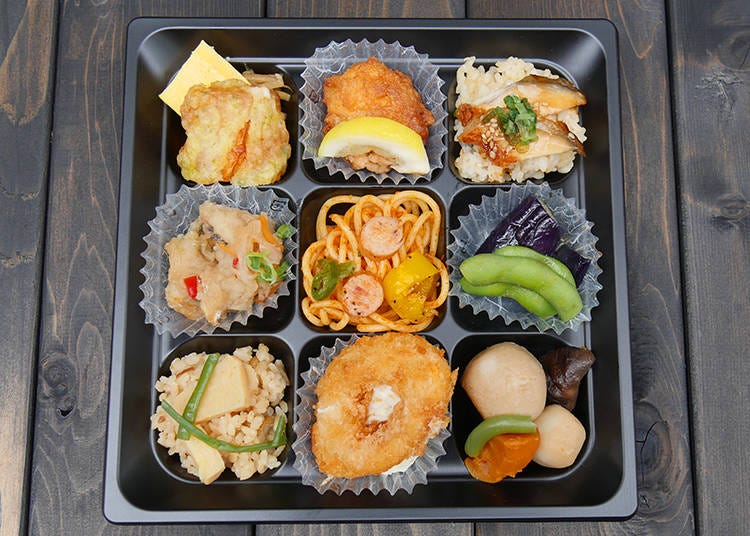 From top to bottom, left to right:

1) Kinpira (chopped burdock root simmered in soy sauce and sesame oil) with Japanese fried egg and chikuwa (fish paste cake) fried Tempura-style with dried seaweed
When in Asakusa, you have to eat tempura, the crisply fried dish that has been a favorite of many Japanese people for centuries.

2) Fried chicken with lemon
Karaage is Japan's take on fried chicken, a staple dish loved all around the world. Juicy and flavorful, it's a great bento component that is sure to recharge your energies. In the Isekai Izakaya Nobu anime, there's a constant discussion whether soy sauce or salt is the tastier variety – Chef Kusumoto sides with the third party and serves up a fresh slice of lemon to sprinkle on your chicken.

3) Grilled eel on rice
Grilled eel is a staple summer dish in Japan, believed to recharge your energies and beat the heat like no other food! The wonderfully flakey eel is traditionally coated in a rich sauce and even people who usually avoid fish tend to enjoy Japanese eel for both its texture and taste.

4) Fried horse mackerel marinated with vinegar
Called nanban-zuke, this vinegar marinade is a classic way to season fried fish and meat, making for a light and flavorful bite with a refreshing aftertaste. Horse mackerel is a favorite ingredient when it comes to fried dishes, but the vinegar version stands out as being particularly delightful when cold.

5) Pasta Napolitan
This is Japan's own pasta variety, beloved by old and young. Based on a ketchup sauce with plenty of green bell pepper, onion, bacon, and so on, it tickles your taste buds with a simple yet positively addictive taste!

6) Fried eggplant with dashi (Japanese soup stock) and edamame beans
Soup plays an important role in Japanese cuisine and a lot of people know dashi as bonito soup stock. However, dashi can be made from various ingredients and thus enjoys versatile uses, such as complementing these flavorful fried eggplant bites. The edamame (green soybeans) complement the soft eggplants as a nice, firm-to-the-bite nibble to be snacked right out of the pod!

7) Rice with bamboo shoots
This is a staple choice when it comes to making simple yet delicious rice dishes. Chef Kusumoto manages to bring out their subtle flavor just perfectly, bringing a hint of Japanese seasonal cuisine to his diverse bento selection.

8) Fried squid on potato salad
This is an honest, no-nonsense Japanese pub dish that unites deliciously fried calamari with mellow potato salad. If you're having your bento not during lunch but later in the day, why not enjoy it with a sip of cold beer?

9) Simmered taro balls and boiled roots
Vegetables and roots are an inherent part of Japanese cuisine. These healthy bites have been simmered in a pot while stirred with long chopsticks to keep the little balls on the roll. They're soft but firm to the bite and the taste of the broth mingles pleasantly with the natural flavor of the taro.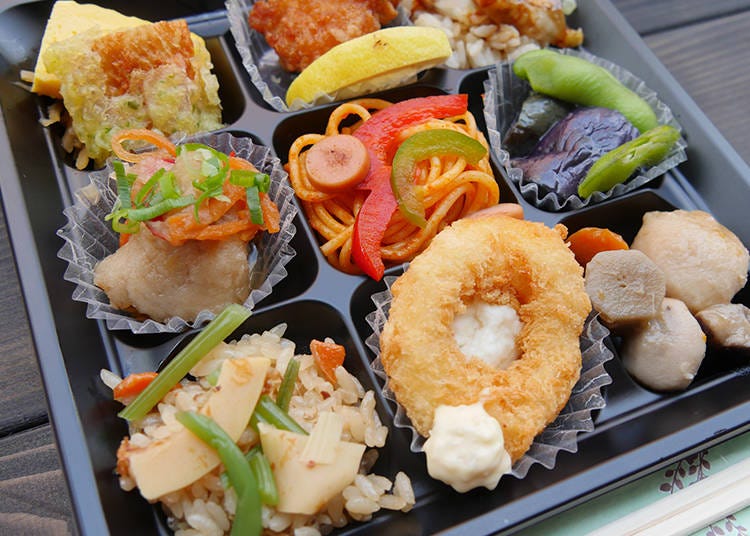 The Bento Box offers a meal that's both filling and rich in variety.
Each of the bites is actually inspired by an individual episode of Isekai Izakaya Nobu, tying together the different textures and flavors under a pop culture concept that is definitely worth trying!

The main characteristic of this Bento Box is that it is a fun mix of authenticity and modern cooking. "It combines authentic Japanese ingredients with Western-inspired cuisine, and I do hope that you'll challenge yourself to this culinary experience," encourages Chef Kusumoto curious eaters.
Samurai Hostel Asakusa: Where to Buy the Bento Box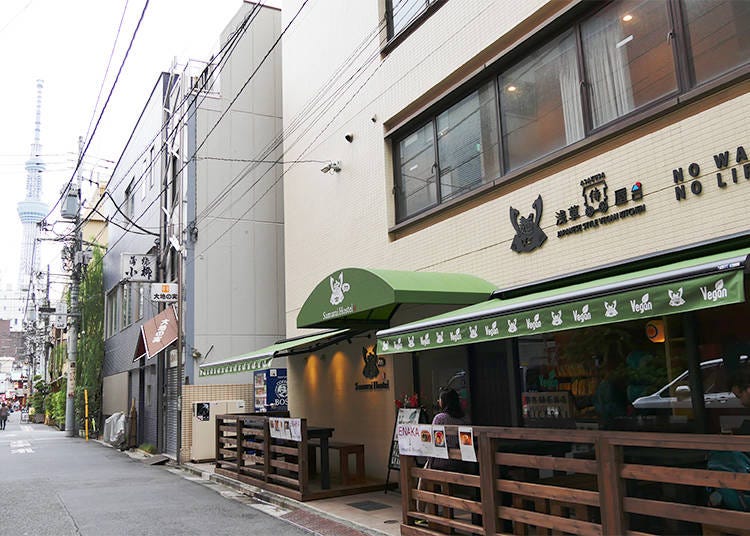 Are you hungry yet? The Bento Box is sold at Samurai Hostel Asakusa for 1,280 yen (tax included) per box. That might be slightly more expensive than your average convenience store bento, but you also get nine dishes created and arranged by a genuine first-class chef from a first-class restaurant!

Find Samurai Hostel just a stone's throw away from Asakusa Station, Kaminarimon, and the famous Senso-ji Temple, in a side street of Nakamise-dori Street. The stylish hostel doesn't only offer the Isekai Izakaya Nobu Bento Box but has its own selection of delectable dishes to offer – and all of them are vegan and Halal-friendly! After enjoying the bento box for lunch, why not stop by in the evening for a bowl of ramen, curry, or traditional Japanese shaved ice? Of course, Samurai Hostel also has a room for you if you're still looking for a place to stay.
The World of Japanese Cooking in One Bento Box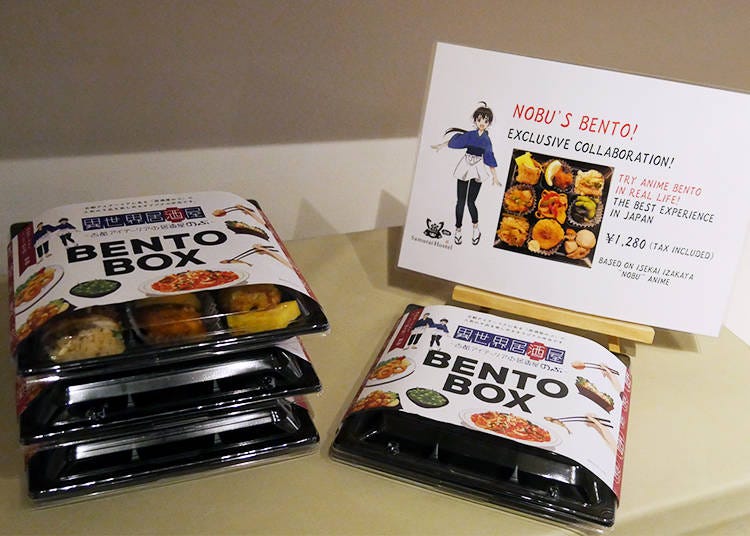 Experience the flavor of nine iconic Japanese dishes – both traditional and modern – in one colorful and delicious bento box! Grab it for lunch or savor it as a casual dinner and immerse yourself in Asakusa's wonderfully traditional atmosphere with the perfect gourmet experience to go with it!
*This information is from the time of this article's publication.
*Prices and options mentioned are subject to change.
*Unless stated otherwise, all prices include tax.
Limited time offer: 10% discount coupons available now!