Welcome to the sixth of a series of articles spotlighting select Japanese recipes from the new anime series, Isekai Izakaya Nobu! Whether you're a fan already or have just stumbled upon the show, one thing is for sure: the dishes of gourmet anime Isekai Izakaya ~Koto Aitheria no Izakaya Nobu~ look absolutely amazing! Japanese star chef Ryuta Kijima created simple recipes based on the food served at Izakaya Nobu itself, for you to cook in your own kitchen at home. (Even if you're not a giant anime fan, you're still bound to enjoy these authentic Japanese foods!)
In episode eleven of Isekai Izakaya Nobu, the ingenious chef of the otherworldly pub introduced us to a combination of two Japanese favorites: yakisoba and omelet! Yakisoba is Japan's savory take on stir-fried noodles, a delicious pan full of ramen-style noodles fried with pork, vegetables, and the iconic yakisoba sauce that gives the dish its wonderful kick.
Omelet, on the other hand, does not seem like an integral part of Japanese cooking at first glance. However, prepared in a wonderfully fluffy way, it has been a favorite for decades. Most commonly, you'll find the Japanese-style omelet on a dish called omurice, ketchup-flavored rice topped with an omelet. Today, we're trying just how amazingly good it tastes with stir-fried noodles!
Omu-Yakisoba, Stir-Fried Noodles with a Fluffy Omelet
Yakisoba are one of the most-beloved snacks enjoyed at Japanese festivals throughout the year. And indeed, there's hardly a more pleasant summer evening than the one enjoyed with a hot plate of stir-fried noodles, a cold beer, and Japan's famous fireworks.
The tasty noodle dish has its origin with China's chow mein. Yakisoba enjoyed a massive spike in popularity only in the early 20th century. Just like today, it was a food cart dish that conquered the hearts of both adults and children throughout Japan! Fun fact: soba noodles are generally made from buckwheat flour, but the noodles used for yakisoba are usually wheat flour noodles like the kind used for ramen.

Yakisoba are as delicious as they're easy to make, and while there's a standard set of vegetables most often used, just customize them in whichever way you like – drop the meat and you have a nice vegetarian dish, for example! Even the sauce, which arguably is the most important part about yakisoba, is made in next to no time if you can't find it anywhere to buy. And because plain stir-fried noodles don't knock anyone off their socks, Chef Kijima shows us how to add a fluffy omelet as a unique topping! Without further ado, let's get to the cooking!

Yield
Makes 2 servings

Ingredients
・1 portion of yakisoba noodles (*1)
・2 sausages (*2)
・50g cabbage
・2 eggs
・1 bag of yakisoba sauce (*3)
A:
・Salt
・Pepper
B:
・Mayonnaise
・Ketchup
・Nori powder (*4)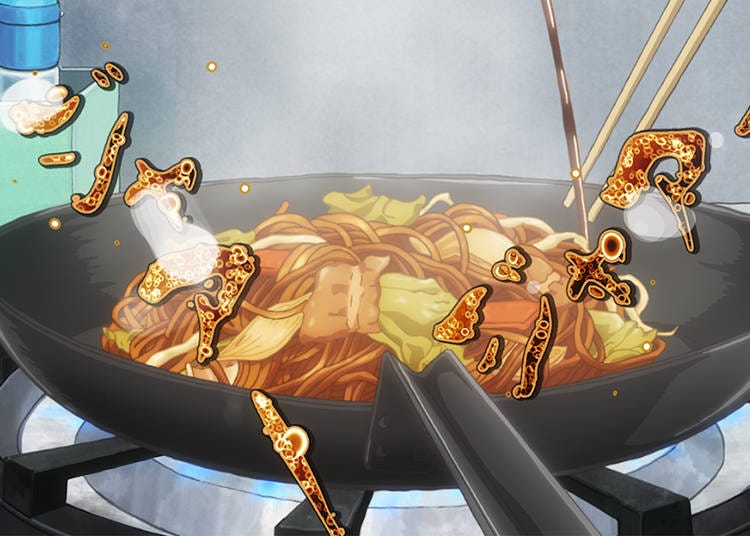 Making yakisoba at Izakaya Nobu...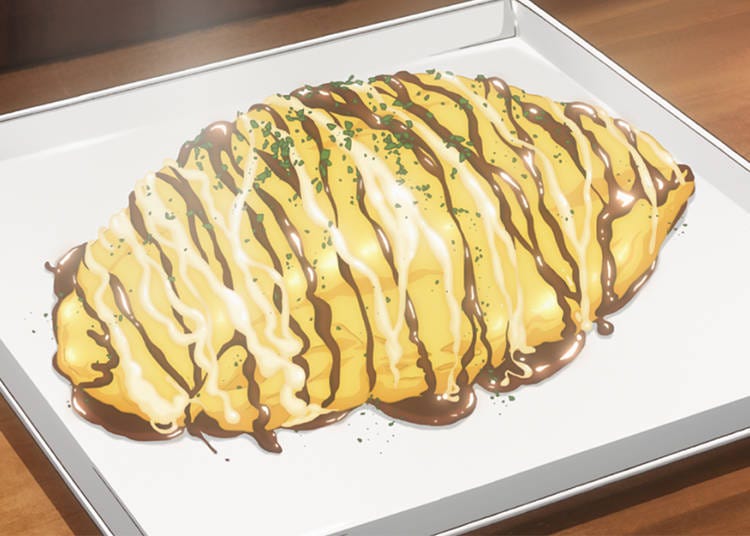 ...and topping them with an omelet!
Preparation
1. Cut the sausages diagonally into 7~8mm thick slices.
2. Cut the cabbage into 7~8mm thick slices.
3. Break the eggs into a bowl and mix with A (salt and pepper).
4. Heat up the yakisoba noodles in the microwave for about a minute.
5. Add a teaspoon of frying oil into a pan, add the sausages and the cabbage and stir-fry everything well.
6. Add the noodles and stir-fry again. Then add the yakisoba sauce, mix everything together, and take it out of the pan.
7. Add another teaspoon of frying oil to the pan, pour in the beaten eggs, and stir slowly. Turn off the heat once the egg is half done, then pour the yakisoba back into the center.
8. Flip the side of the egg that faces you over the noodles, turn it like that towards the back, and rapidly put it on a plate.
9. Adjust the shape of your omu-soba with a paper towel.
10. Add the B ingredients as a garnish, as much as you like. Itadakimasu!|

*1) Chef Kijima uses fresh ramen noodles for this recipe, which is why he heats them up in a microwave before adding them to the stir-fry. If you use dried noodles, cook them first and skip the microwave.
*2) Frankfurters are commonly used, but feel free to experiment which whatever kind of sausage you like!
*3) If you cannot find packaged yakisoba sauce, you can make it from scratch by combining Worcestershire sauce, oyster sauce, and ketchup with soy sauce and sugar at a 2:1 ratio.
*4) Extra garnish and seasoning. Can be omitted if you cannot find it at your supermarket.

With these quick and easy recipes, you can bring both the taste and atmosphere of Izakaya Nobu to your own kitchen. Whether you enjoy this traditional dish all by yourself or treat friends and family to a healthy, yummy meal, don't forget to savor it alongside a nice drink!
©蝉川夏哉・宝島社/古都アイテーリア市参事会
*This information is from the time of this article's publication.
*Prices and options mentioned are subject to change.
*Unless stated otherwise, all prices include tax.