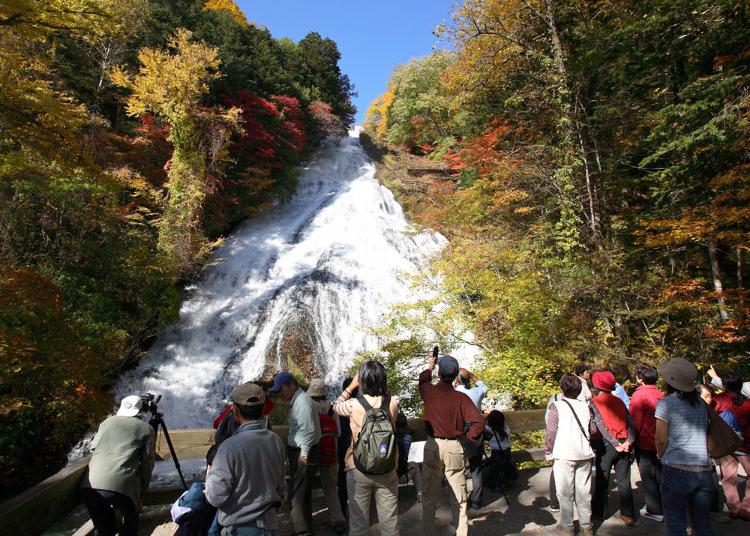 These are the top recommendations for Nikko, with travel tips and more, according to LIVE JAPAN, a top-class travel website for visitors to Japan. Our ranking is based on the most popular pages viewed by foreign visitors in a given category.

For instance, Irohazaka Route, Nikko Futarasan Shrine, Kegon Falls and other related spots will be listed. Be sure to check them out during your visit to Nikko!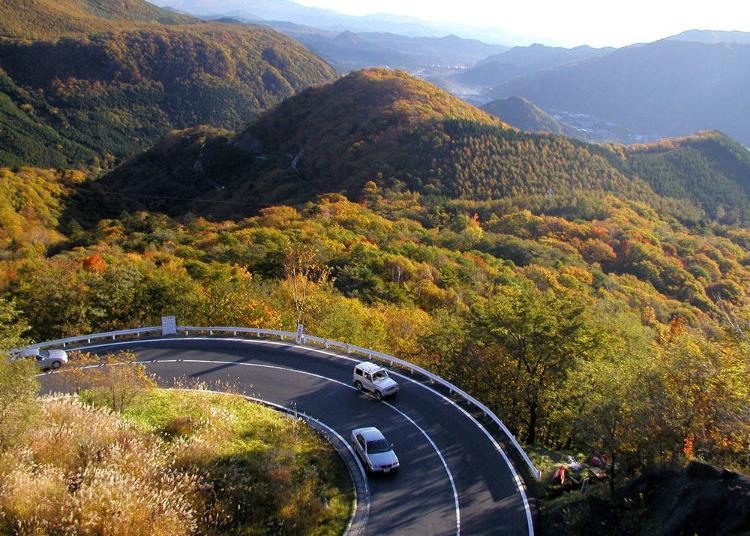 The Iroha-zaka Slopes lead to Lake Chuzenji and Kegon Falls, two major sightseeing spots in Nikko. There are 48 hairpin turns on Daiichi Iroha-zaka (the first, for going down) and Daini Iroha-zaka (the second, for going up); the "Iroha" in the names come from a song used to memorize Japanese characters. The difference in elevation is 440 meters, making the slopes a great vantage point for viewing Nikko's nature. Fall is the most popular season, when trees gradually begin to change color from the north side, creating a totally new scene before you. Buses start from both JR Nikko Station and Tobu Nikko Station on the Tobu Line, taking approximately 40 minutes to reach the summit of the Iroha-zaka Slopes.
Address

Chuguushi, Nikko-shi, Tochigi, 321-1661
View Map

Nearest Station

Nikko Station (JR Nikko Line)
40 minutes by bus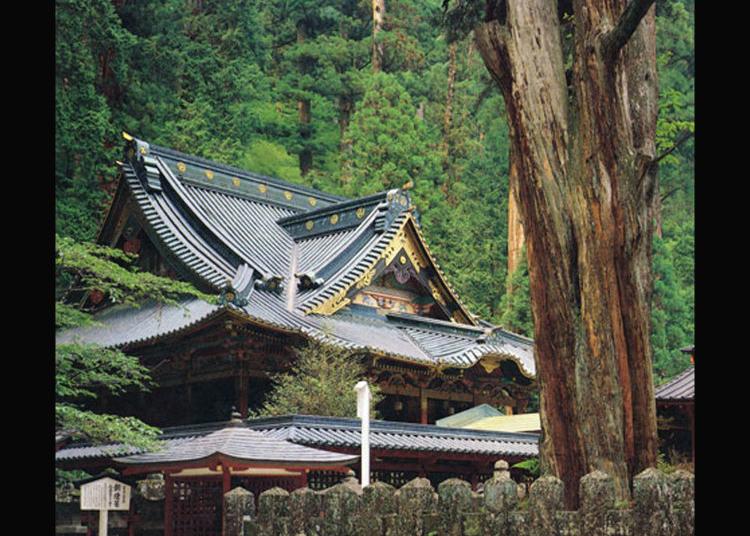 It is an old shrine where the Nikko-san faith originated, and the shrine places Mt. Nantai (Futarasan) as the object of worship. Okuninushi-no-Mikoto, who is the god of luck and marital matchmaking, is enshrined here. At present, the shrine is especially popular for its good luck in matchmaking. The premises encompass the Nikko mountain range in the Nikko National Park and are spread over 3,400 hectares (34 mil. sq. m.). At the entrance, there is a beautiful, sacred bridge whose vermilion color stands out against the green mountains, crossing over the mountain valley. It is the only drawbridge left in Japan and is even registered as a World Cultural and Natural Heritage Site. There are various events held inside the precincts, such as the Yayoi festival, which notifies the coming of spring in Nikko. Seasonal sceneries can be enjoyed. It is a seven-minute walk from the Nishi-sando bus stop, traveling by a Tobu bus toward Cyuuzenji-onsen or Yumoto-onsen from the JR Nikko Station or the Tobu Nikko Station.
Address

2307, Sannai, Nikko-shi, Tochigi, 321-1431
View Map

Nearest Station

Nikko Station (JR Nikko Line)


Phone Number

0288-54-0535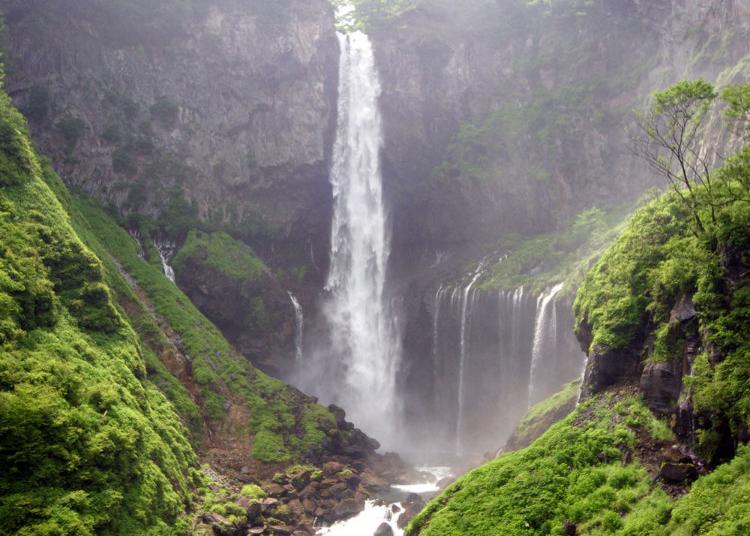 Kegon Falls is surrounded by the magnificent scenery of the Oku-nikko area. Water from Lake Chuzenji, created by the volcanic eruption of Mt. Nantai about 20,000 years ago, splashes down a large cliff. It is 97 meters high and 7 meters wide, and its basin is about 4.5 meters deep. In the building located at the foot of Mt. Nantai is an elevator that enables you to view the waterfall as it dashes down, and hear the thunder of the waterfall 100 meters below. In this area, one can enjoy beautiful scenery that changes by the season: deep green in early summer, red and yellow leaves in autumn, and small frozen falls that turn to blue ice in winter. You will find the columnar joints, which emerged when the lava was cooling down, where you can view the beautiful creations of Mother Nature. From Tokyo, take a Limited Express Spacia of the Tobu Line or the JR Utsunomiya or Nikko Line. It is about 40 minutes by a Tobu bus from the Nikko station of the Tobu Line or the JR Lines and a 5-minute walk from the Chuzenji bus stop.
Address

Chuguushi, Nikko-shi, Tochigi, 321-1661
View Map

Nearest Station

Nikko Station (JR Nikko Line)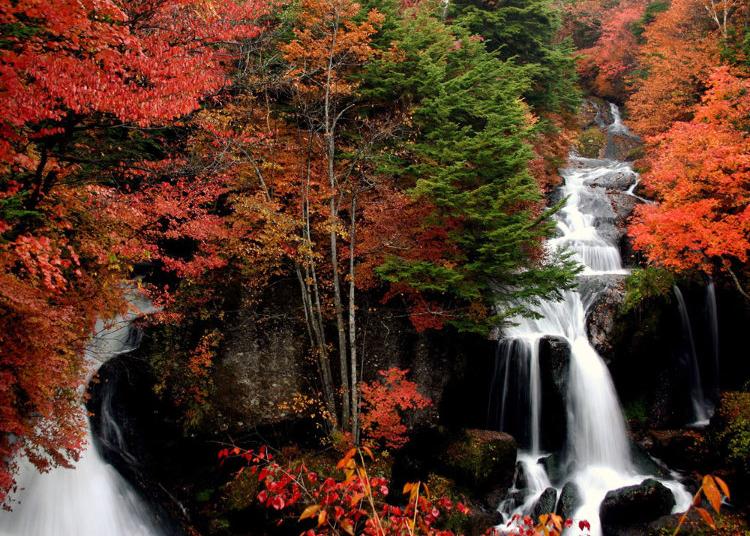 Ryuzu Falls, one of the three largest waterfalls in Oku-Nikko, lies between Yudaki Falls at Yunoko Lake and Kegon Falls at Lake Chuzenji. The falls are 210 meters long and flow rapidly over the 10-meter-wide stepped rocks created by the eruption of Mt. Nantai. The water hits the large rocks violently and forks near the basin, a shape that resembles the head of a dragon and gives the falls its name, Ryuzu (dragon head). The rock at the center is the "head," while the forks are the "barbs." The falls are best seen from the observation deck facing them downstream. Or, take the walking path on the east side to see them flowing over the steep cliff. The surrounding scenery worth a look, too: the autumn landscape colored by red leaves such as azalea is spectacular. One hour by Tobu Bus heading for Yumoto Onsen from Tobu Nikko Station on the Tobu Line, then two minutes' walk from the Ryuzu-no-taki bus stop.
Address

Chuguushi, Nikko-shi, Tochigi, 231-1661
View Map

Nearest Station

Tobu Nikko Station (Tobu Nikko Line)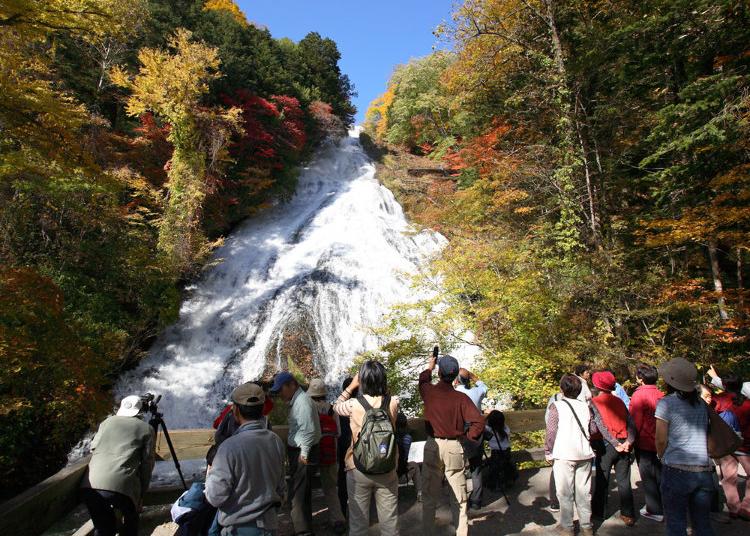 Yudaki Falls are located on the south edge of Yunoko Lake at the foot of Mount Nikko-Shirane, one of the 100 most famous mountains in Japan. These great falls are 70 meters high, 25 meters wide and 110 meters long. They empty into the river that runs through the Senjogahara marshland, one of the largest in Japan, then into Ryuzu Falls, Lake Chuzenji and finally, Kegon Falls. Yudaki, Ryuzu, and Kegon Falls are known as the three great waterfalls of the Oku-Nikko area. A walkway placed alongside the falls allows visitors to observe them from the lip, basin and side. In particular, the observatory platform near the basin lets you see the powerful cascade from up close. Visitors can also enjoy the scenery of the surrounding area, known for its azaleas and rhododendron. There is a hiking course from the observatory platform to the Senjogahara Plateau Nature Trail. The falls are about a 60-minute bus ride from the Tobu Railway Nikko Station on a bus bound for Yumoto Hot Spring, then a five-minute walk from Yutaki-iriguchi bus stop.
Address

Yumoto, Nikko-shi, Tochigi, 321-1662
View Map

Nearest Station

Tobu Nikko Station (Tobu Nikko Line)

6.Edo Wonderland Nikko Edomura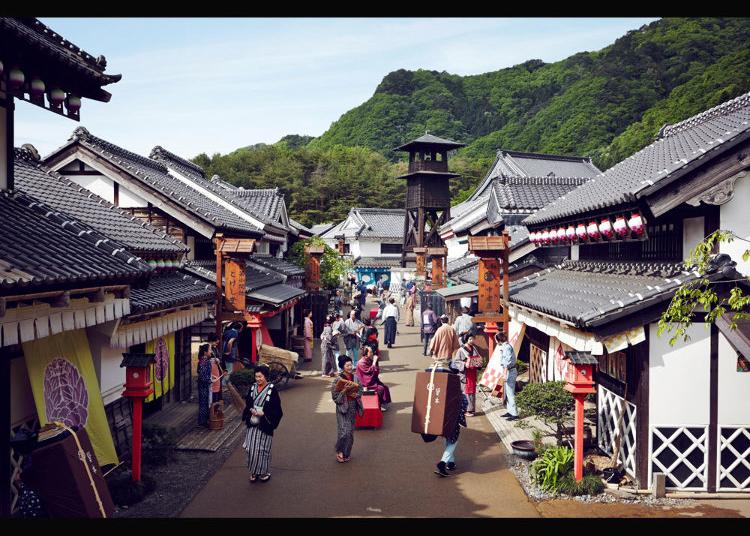 【Important notice regarding coronavirus outbreak】
As of March 6 2020, Edo Wonderland does not have any plans to close, however, they are asking visitors to take certain precautions such as wearing a mask while on the premises. (Information in Japanese: http://edowonderland.net/img/upload//2020/03/cf11143baa1e10d3e72d0096565d11e4.pdf)

Please refer to their official website for more information: http://edowonderland.net/en/

---

Edo Wonderland is a huge theme park that simulates a town from the Edo period in a realistic manner, where you can enjoy and experience Edo culture. At the henshin-dokoro, you can change into a kimono and transform into an Edo citizen. You can also try some programs designed to give you real Edo period experiences, such as being a samurai or a ninja. These programs are perfect for families as they are available for both children and adults. Events featuring ninjas, a theater where you can enjoy traditional performing arts, a yakata boat cruise, and the shuriken (a ninja weapon) and Japanese archery training grounds are also popular. You can enjoy the Edo atmosphere in the village where Edo townspeople, such as samurais with topknots and merchants, walk around.

The park also holds seasonal events that are unique to Japan such as O-Shogatsu (New Year), Hinamatsuri (girl's day), Tanabata Festival and more. There are restaurants that offer Edo-style dining and souvenir shops that sells ukiyoe and items modeled on the park's Nyanmage mascot. It is the last stop on a 15-minute bus ride on a Tobu Bus bound for Nikko Edomura from Kinugawa-onsen station.
Address

470-2, Karakura, Nikko-shi, Tochigi, 321-2524
View Map

Nearest Station

Kinugawa-Onsen Station (Tobu Kinugawa Line)


Phone Number

0288-77-1777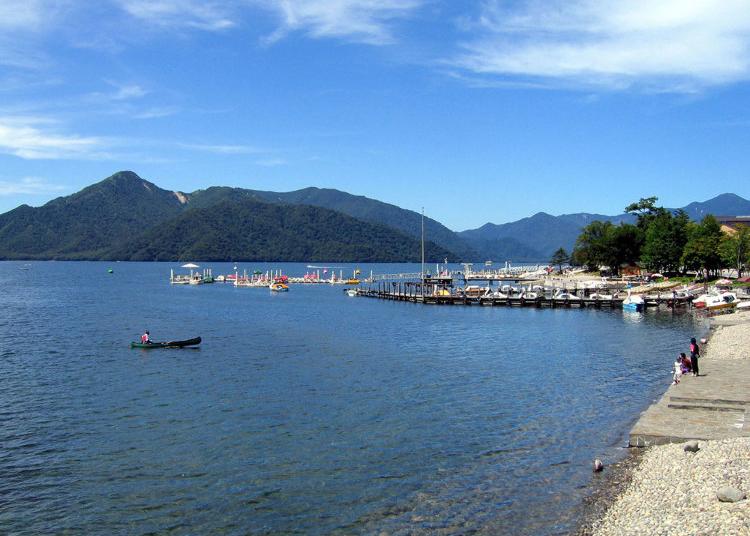 At 1269 meters above sea level, Lake Chuzenji is the highest lake in Japan, and a leading sightseeing spot frequented by tourists from both home and abroad. It is said that the lake was created by a dam of lava that erupted from Mt. Nantai more than 20,000 years ago. During the Meiji period, foreign ambassadors from each nation built summer resorts on the shore, allowing tourists to enjoy the changing seasons, in particular the azaleas of early summer and the red leaves of autumn. There is also a pleasure cruise that starts on the eastern bank where you can appreciate the shore's landscape. To reach the pleasure cruise boarding site, take the bus to either Chuzenji Hot Springs or Yumoto Hot Springs for 45 minutes, alighting at Chuzenji Hot Springs, from which it is just a five-minute walk. It is also possible to travel from the Kanto region by Shinkansen. The easy access is another reason why Lake Chuzenji is so popular.
Address

Chuguushi, Nikko-shi, Tochigi, 321-1661
View Map

Nearest Station

Nikko Station (JR Nikko Line)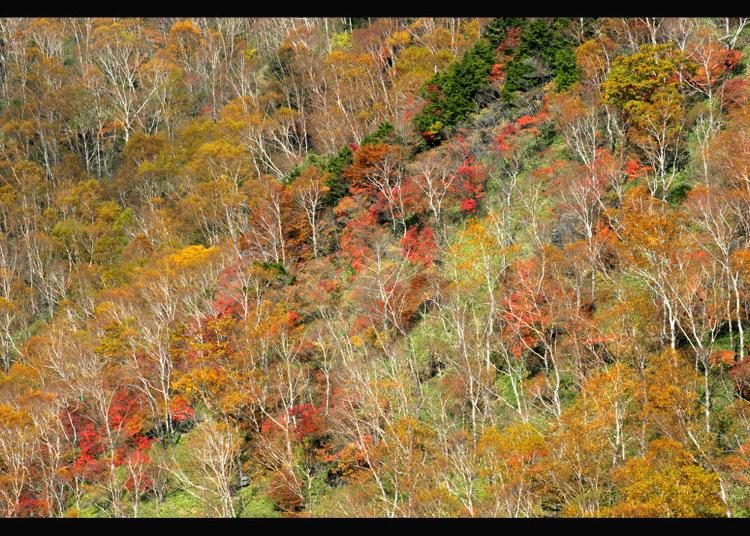 Located at an elevation of about 1,200 meters on the slopes of Mt. Akanagisan, the Kirifuri-kogen Highlands is a plateau consisting of three areas: mountain, stream and forest. Visitors can enjoy rich nature here throughout the year, particularly the vivid azaleas in spring, the day lilies in summer and the changing colors of leaves in autumn. Between late June and mid-July, the Nikko kisuge (Nikko day lilies) come into full bloom, blanketing the entire field in yellow — a sight well worth seeing. At Kisuge-daira Park where the day lilies grow, there is a 1,445-step stairway from the car park to the observation deck for visitors to view the various flowers and panoramas. The area also offers restaurants, hot springs and accommodations. Kirifuri-Kogen is about 25 minutes from JR Nikko Station or Tobu-Nikko Station by buses bound for Kirifuri-kogen or Ozasa Bokujo, and a short walk from Kirifuri-kogen bus stop.
Address

Tokorono, Nikko-shi, Tochigi, 321-1421
View Map

Nearest Station

Nikko Station (JR Nikko Line)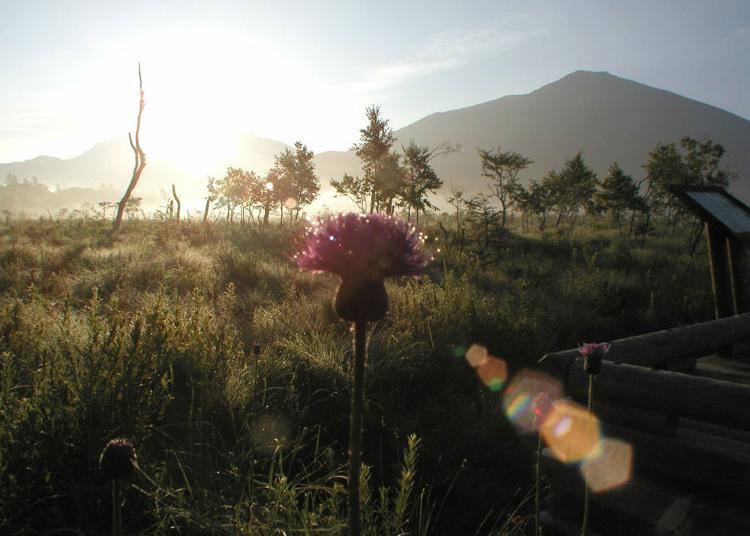 This high moor in the Oku-Nikko region extends into Nikko National Park. Part of it is protected under the Ramsar Convention, an international treaty for the conservation of wetlands. The name "Senjoga-hara" derives from a legend that it was once the battlefield of wars between two mountain gods, Mount Akagi and Mount Nikko, over Lake Chuzenji. Boardwalk trails circumnavigate the moorland. One popular hiking trail goes from Yumoto Hot Springs to Ryuto Falls (about two-and-a-half hours). There are scenic lookouts to view the moor with Mount Nantai as a backdrop. Grand natural vistas, full of variety, include fresh green leaves in spring, fully bloomed hare's tail cotton grass (Eriophorum vaginatum) and Spiraea salicifolia in July, and bright-red fields of grass during late September to early October. To reach the observation deck at Senjoga-hara, take the Tobu bus bound for Yumoto-onsen from JR Nikko Station (about 50 minutes), get off at Sanbonmatsu bus stop, and walk about one minute.
Address

Chuguushi, Nikko-shi, Tochigi, 321-1661
View Map

Nearest Station

Nikko Station (JR Nikko Line)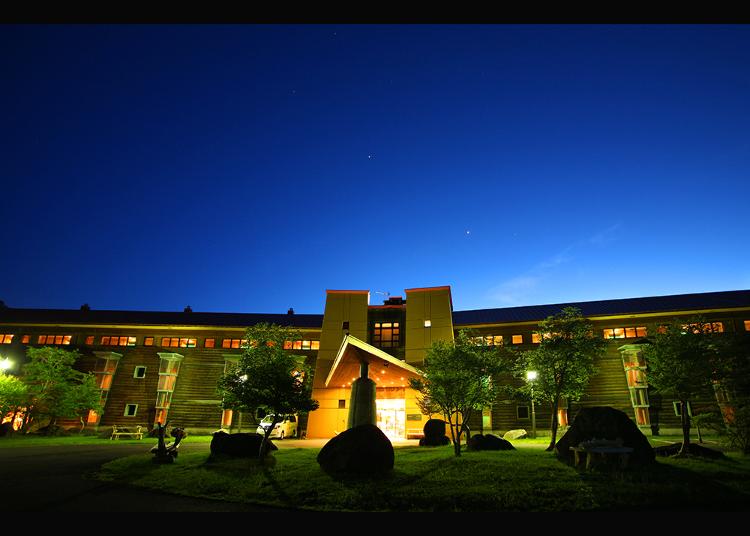 Lake Chuzenjiko is situated 1,271 meters above sea level. Standing amid a cluster of water oak that stretches the lakeside, the Chuzenji Kanaya Hotel is a lodge-style hotel lavishly made using Canadian precious wood. The hotel is a resort hotel for adults, offering the ultimate in comfort thanks to the breathtaking scenic beauty of the four seasons: opening of buds in spring, fresh verdure in summer, artistically-tinted autumnal leaves, and a star-studded sky and plains of silver white in winter. We also have "Soraburo," an outdoor free-flowing hot spring, which has been popular since the opening. You can enjoy Lake Chuzenjiko and the green woods in the daytime, and a sky full of stars while taking a bath at night. Relax your mind and body in Soraburo surrounded by nature and feel real comfort and calmness throughout your five senses.
Address

Chuugushi 2482 , Nikko, Tochigi, 321-1661
View Map

Nearest Station

Mato Station (Watarase Keikoku Railway Watarase Keikoku Line)


Vacancy search, reservation

from

26,136JPY

1room, 2adults

Check with our partner site as the latest rates, rate details, and guest room requirements may vary.
*This information is from the time of this article's publication.
*Prices and options mentioned are subject to change.
*Unless stated otherwise, all prices include tax.