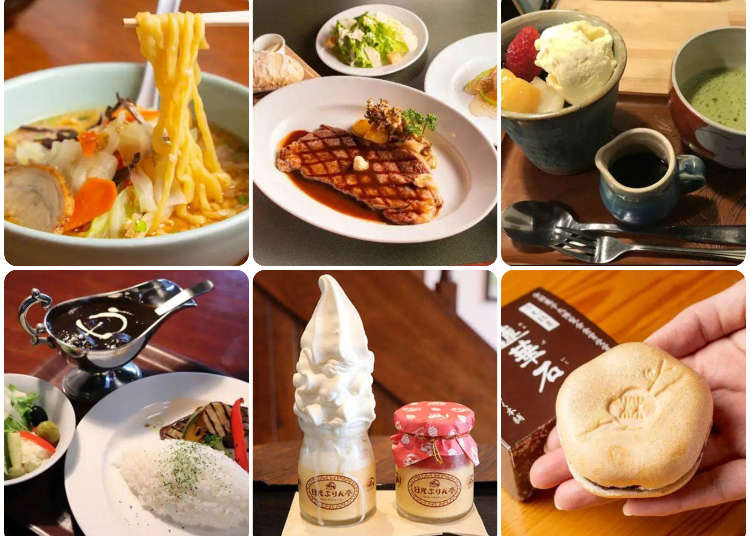 North of the Kanto region is the Tochigi Prefecture, where Nikko, a well-known place of interest resides. The area is very accessible from Tokyo and features beautiful, changing natural landscapes throughout the seasons. It's also jam-packed with beautiful and scenic hotspots such as the 48 Waterfalls of Nikko, Nikko Toshogu Shrine, and other amazing sights.

Speaking of Toshogu Shrine, this historic shrine is no doubt the representative face of Nikko's cultural properties. It's within a 2.3 kilometers (about 1.4 miles) walk from Tobu-Nikko Station on the JR Lines, and there are plenty of good eateries along the way to investigate.

We've prepared this article with our top four picks of shops you just can't afford to miss as you sojourn towards the shrine, including a shop selling dessert made from Tochigi strawberries, an esteemed soba shop that's been established for 100 years, a reputable bakery that's well-known for selling fresh bread early in the morning, and more!

Check out the following four shops to see some of the best-tasting foodstuff you can find as you walk towards your sightseeing destination!
■Nikko Sakaeya: Fried yuba buns and kakigori with Tochigi strawberries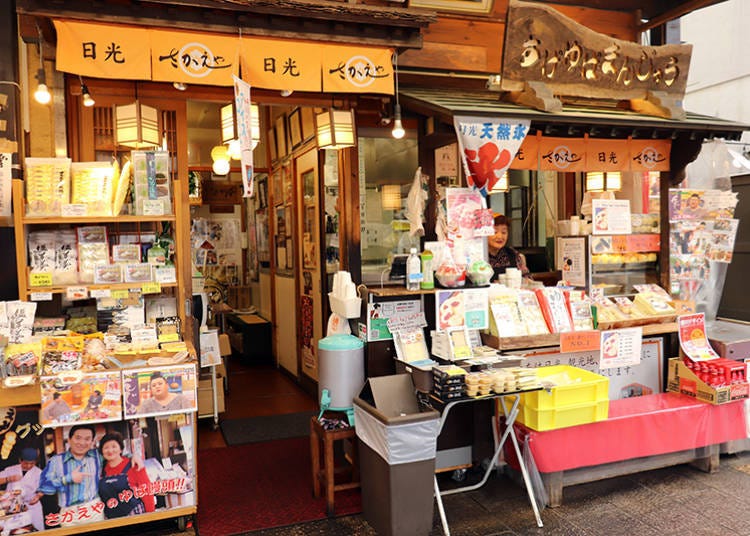 This old-time souvenir shop stands right in front of Tobu-Nikko Station, the gateway of Nikko, and has been established since 1958! Throughout the decades, visitors and locals alike have fallen deeply in love with its quaint charm.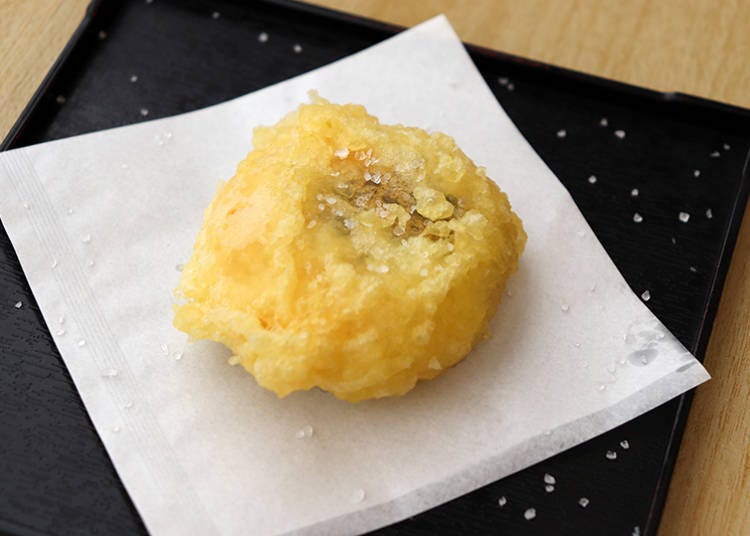 The shop's signature product is their original homemade "Fried Yuba (Tofu Skin) Bun" that goes for 220 yen per piece, including tax. The dough of the bun is kneaded with Nikko's famous yuba and soy milk, then deep-fried to a crisp.

It has been featured in various media so far, and has been ranked as the "No. 1 popular souvenir ranking in Nikko" by many TV program surveys in Japan.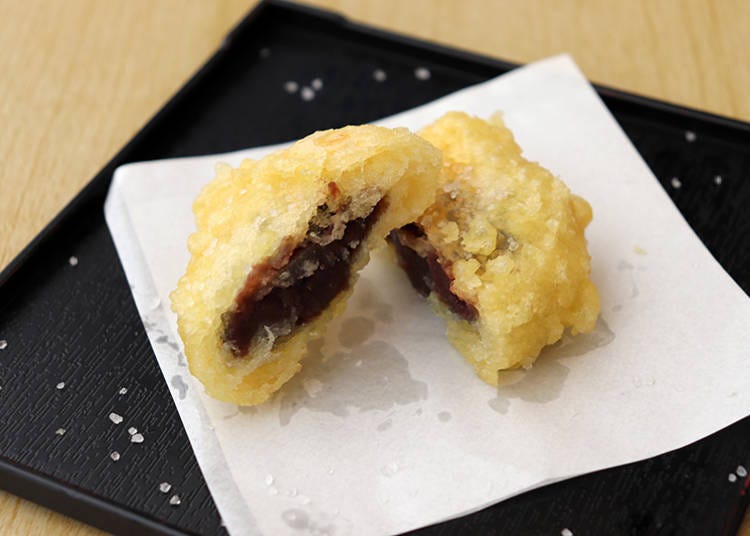 This steaming hot "Fried Yuba Bun" is then sprinkled with a smattering of rock salt that goes surprisingly well with its crispy exterior and moderately sweet red bean paste filling. The buns are packed individually in different bags when ordered as takeout, making it all the better for you to eat them on the go with!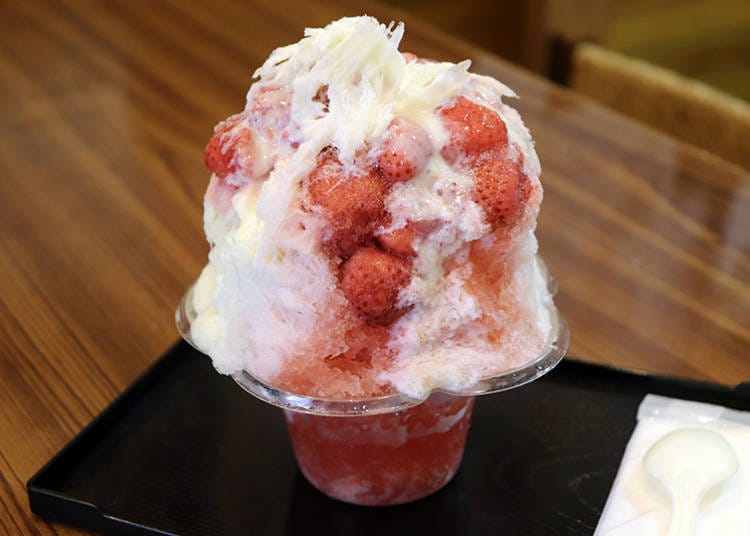 This is the "Nikko Strawberry Kakigori (900 yen, tax included)", another exquisite item we would love for you to try. The refreshing shaved ice is topped with a luxurious serving of three types of strawberries, soy milk, and condensed milk.

Cultivated carefully among Nikko's lush nature, which is considered a World Heritage, the crunchy strawberries' marriage with the cool and refreshing shaved ice made with the scarce and valuable natural water of Nikko (processed by Mitsuboshi Himuro) will be a grand treat your taste buds.

We did also mention this was a souvenir shop, didn't we? Besides the takeout menu, you can also buy souvenirs like yuba buns and yuba slices to bring home as a memento of your visit!
日光さかえや 揚げゆばまんじゅう本舗

Address

10-1, Matsubara-cho, Nikko-shi, Tochigi-ken

Phone Number

0288-54-1528

Hours: 9:30 a.m. - 6:30 p.m.
Closed: Not fixed
■Uoyou: Featuring an original gourmet pride of Nikko - "Yuba Soba"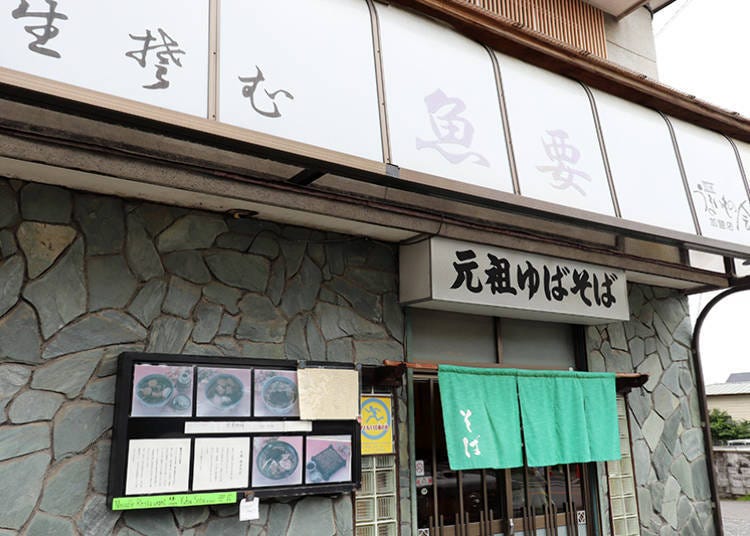 Our next stop is a soba shop called Uoyou, situated about 12 minutes from Tobu-Nikko Station by foot. This longstanding shop has been in business for 100 years now! As the name Uoyou, which means "fish needs" suggests, the shop used to operate as a fish merchant before opening a canteen at the start of the Showa era (1926 to 1989) to offer soba noodles for the masses, which it has continued doing until this very day!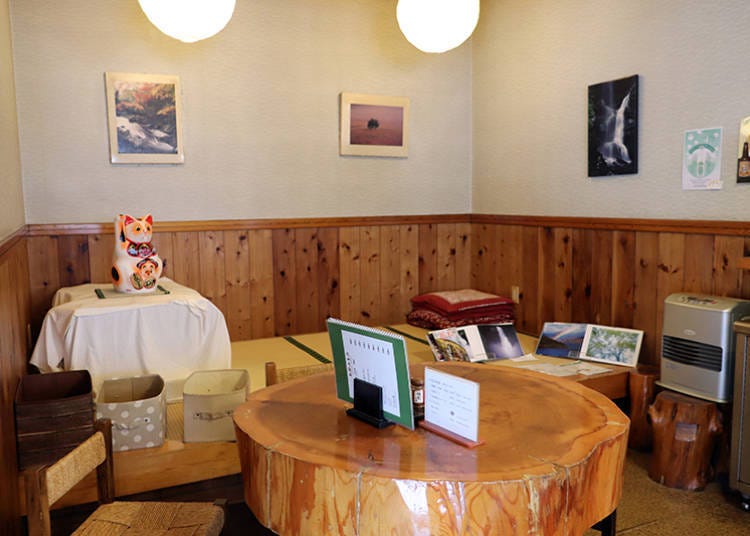 Cedar tree tables can be found throughout the shop, adding a woodsy warmth to the ambience that quickly lulls customers into a relaxed state.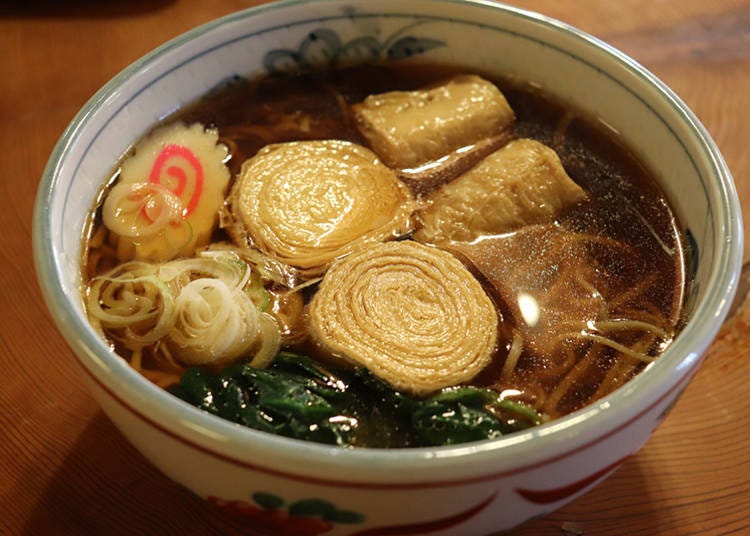 The shop's signature dish is "Yuba Soba (1,300 yen, tax included)", which uses three types of yuba ordered from Fujiya, another longstanding shop, in a warm bowl of soba topped with a generous amount of four other ingredients. It's a popular delicacy loved by both locals and international visitors.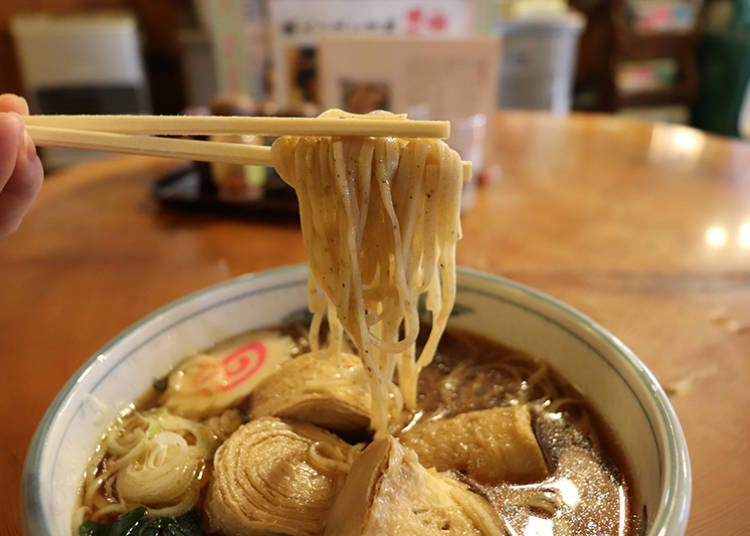 The soba here was hand-kneaded with buckwheat flour ground by a millstone machine. The noodles' smooth and chewy texture is easy on the throat and absorbs the broth well, further enhancing its taste.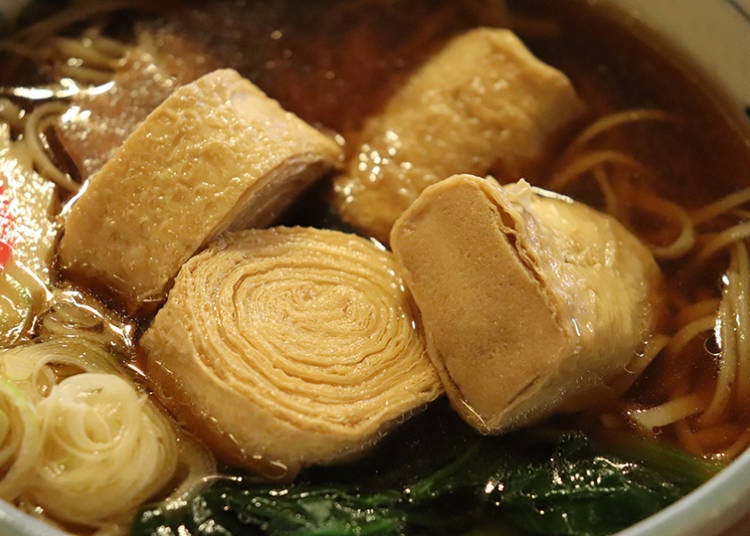 The three types of yuba served on top of these hand-kneaded soba noodles are: Rolled yuba, tofu yuba, and osmunda yuba. All of them have been carefully seasoned and soaked in soba broth to make every bite deliciously succulent. Pilgrims visiting the area from all over Japan are familiar with the dish as a valuable source of protein. The large portions will ensure your stomach is properly filled to satisfaction and ready for the next leg of your trip!

Yuba is made from the thin layer of skin that forms on the surface of heated soy milk. Another place that's famous for their yuba is Kyoto, but Nikko's yuba is written with different Chinese characters, alerting people to the fact that there's a distinction between what the two regions have to offer. In Kyoto, the thin layer of surface skin is pulled up from the corners and shaped like a leaf, so yuba in Kyoto is written with the character for "leaf". In Nikko, however, chefs pull up the skin from the center and put it over another layer, forming characteristic creases that resulted in Nikko's yuba being written with the character for "waves"!

Besides their well-known "Yuba Soba", Uoyou offers a rich lineup of other food items as well. "Wild Vegetables Soba" is another dish that is popular among international tourists.
魚要

Address

栃木県日光市御幸町593

Phone Number

0288-54-0333

Hours: 11:00 a.m. -- 3:00 p.m.
Closed: Not fixed
*English, Chinese, Korean menus available (all soba items come with photo references)
■Nikko Pudding Tei: Luscious puddings and half-pudding ice-cream
Let's venture a little farther from the station. We'll be stopping by Nikko Pudding Tei, a shop about 20 minutes by foot from Tobu-Nikko Station and a one minute walk from Shinkyo Bridge bus stop. This pudding specialist shop uses premium Nikko Kirifuri Kogen Ozasa Ranch cow milk and high quality Nasu eggs to produce their sweet snacks.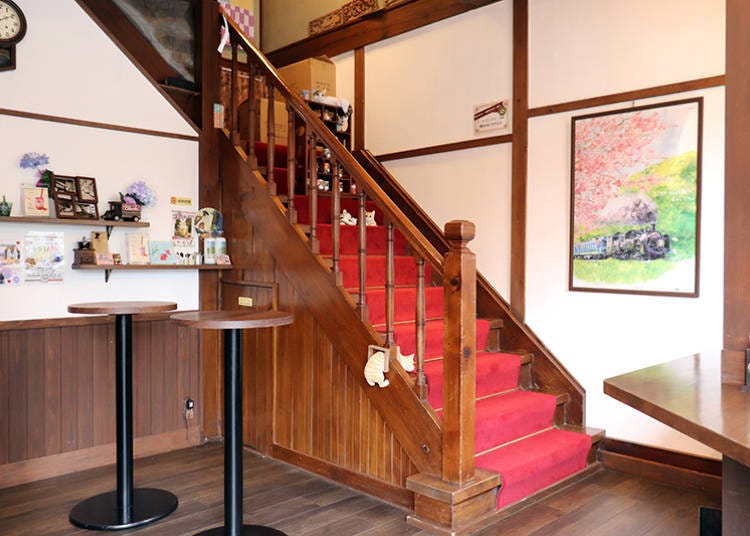 The eatery is in a renovated olden folk house that's brimming with vintage Japanese charm and perfect for photographs! Speaking of photographs, you can't miss the array of colorful packaged puddings that welcome you into the shop as you enter, and believe us, these fanciful desserts are excellent subjects for amazing shots as well!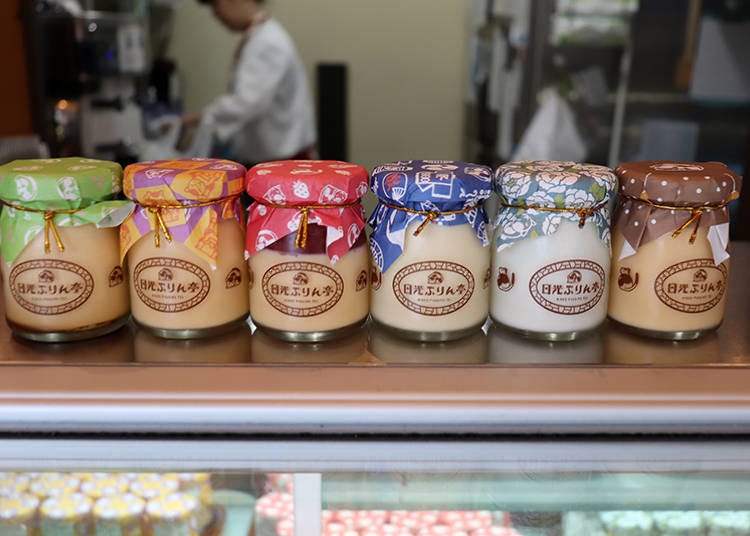 The shop is always selling a few types of pudding at once. "Nikko Pudding" is a rich and sweet dessert with a smooth texture. "Otome Pudding" is made with Tochigi strawberries. "Mitarashi Pudding" uses soy sauce made with quality Nikko water. These localized puddings are an easy way to introduce yourself to the flavors of Nikko.

"Nikko Pudding" is the most popular dessert here. As mentioned, it uses premium milk from the Nikko Kirifuri Kogen Ozasa Ranch and high-quality Nasu eggs, making the pudding so smooth, it melts delightfully in your mouth. The Brown Swiss cow milk being used here is still some sort of a rarity in Japan. With high milk components like 4% milk fat and 9% solid non fat, the resulting pudding is thick on taste and rich in flavor - a characteristic light sweetness that sets it apart from the others.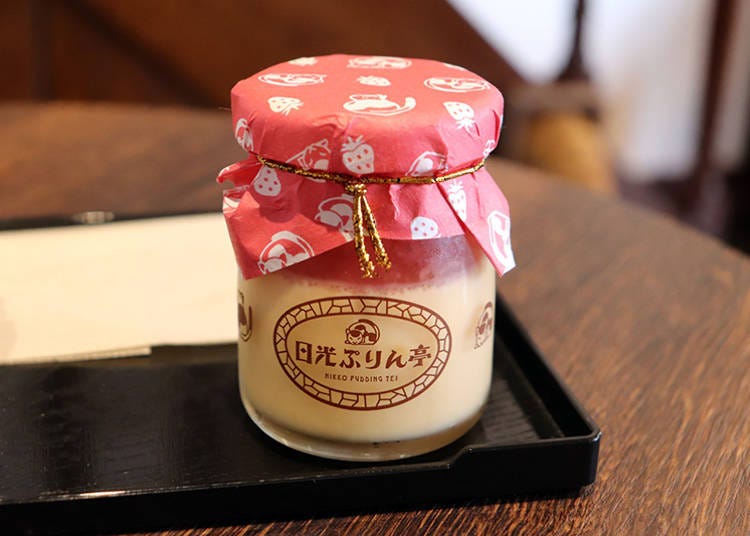 This is the "Otome Pudding", another popular item we highly recommend. The strawberry part of the pudding is made with strawberries cultivated in Tochigi, Japan's top producer of strawberries. That's not to say random strawberries are picked for the pudding. Only the choicest fruit with a good balance of sweetness and sourness will make the cut into the dessert - and your belly!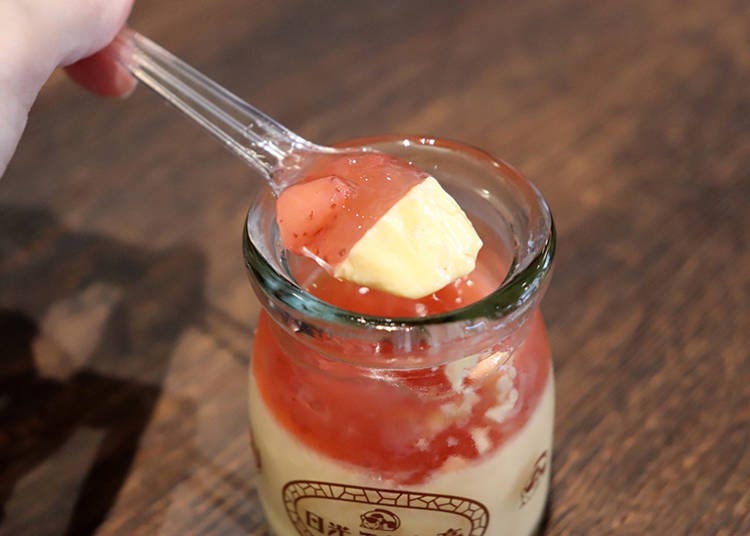 To ensure that you get maximum enjoyment from both the pudding and strawberries, a special manufacturing method is used for "Nikko Pudding" that also brings out the taste of the eggs in the dessert, giving the pudding a full-bodied texture. Depending on the season and the strawberries available then, the manufacturing method changes as well, keeping the product fresh and full of tasty surprises all year round!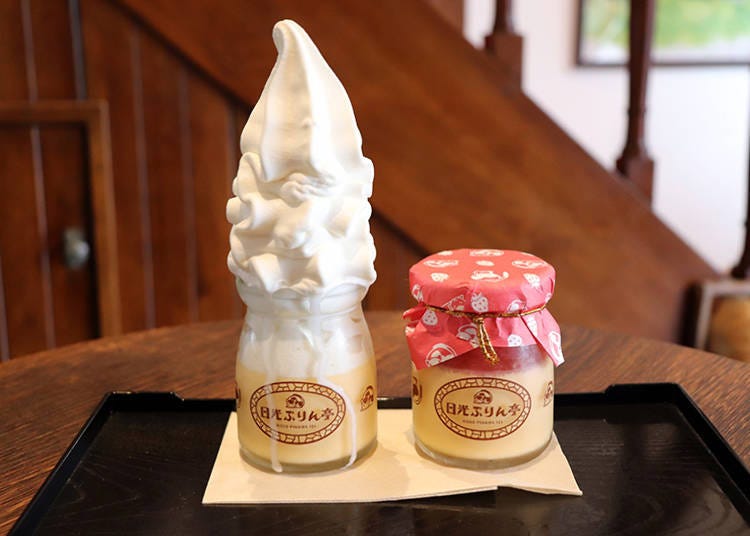 The shop's "Original Pudding Ice-Cream" is yet another delectable treat you might want to consider trying. An overwhelming portion of creamy ice-cream is served on top of a half-jar of pudding. Its majestic stature demands a photo or three.
日光ぷりん亭(日光本店)

Address

1017 Kamihatsuishi-machi, Nikko-shi, Tochigi-ken

Phone Number

0288-25-6186

Hours: 10:00 a.m. -- 4:00 p.m. (may change depending on season)
Closed: Not fixed
*English menu available
■Cottage Inn Restaurant & Bakery: Indulge in all the Kanaya Hotel bread you want!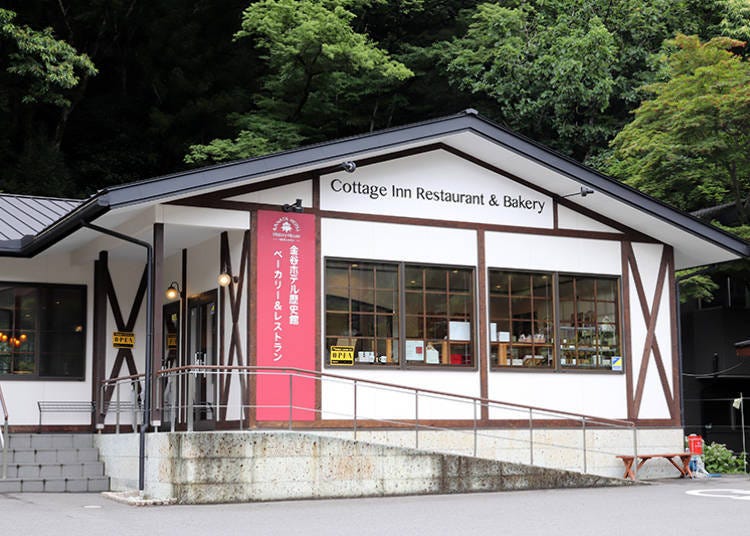 This will be our last stop for our food tour - the Cottage Inn Restaurant & Bakery that's about a 10 minutes bus ride away from Tobu-Nikko Station, right next to the Kanaya Hotel History Museum bus stop. This restaurant is directly managed by Kanaya Hotel Bakery and began operations the same year Kanaya Hotel History Museum opened its doors in 2015. It is located on an adjacent plot of land to the museum.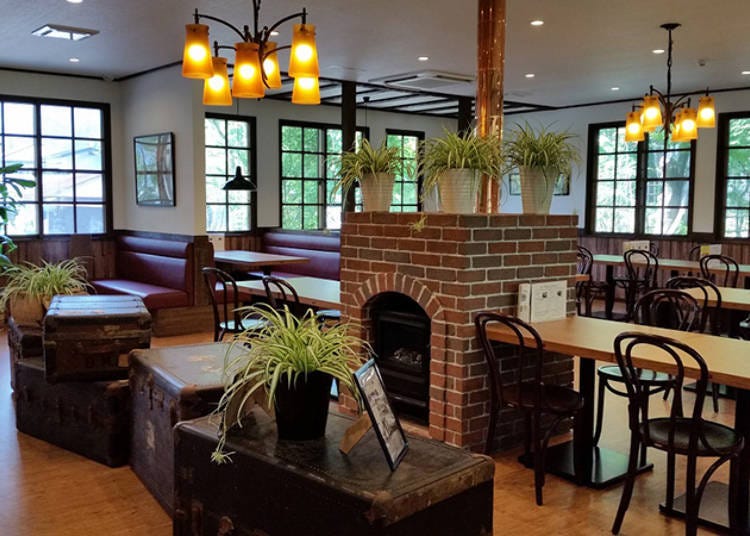 The classy feel of the spacious shop interior allows you to enjoy your meal at leisure. The main draw of the restaurant is the Kanaya Hotel Bakery bread that has been delighting bread enthusiasts for nearly 100 years. Other signature food items also use fresh and premium ingredients carefully selected by the chefs themselves to ensure customers always receive the best they have to offer.

"Hamburg Stew and Bread Gratin" features a hollowed out campagne bread that's subsequently filled up with demi-glace sauce and a hamburger patty. Everything is topped with cheese and toasted to aromatic perfection. Or try a portion of their good old "Beef Stew", made with tender beef and special demi-glace sauce. The sheer popularity of these dishes is the best proof of their irresistible taste!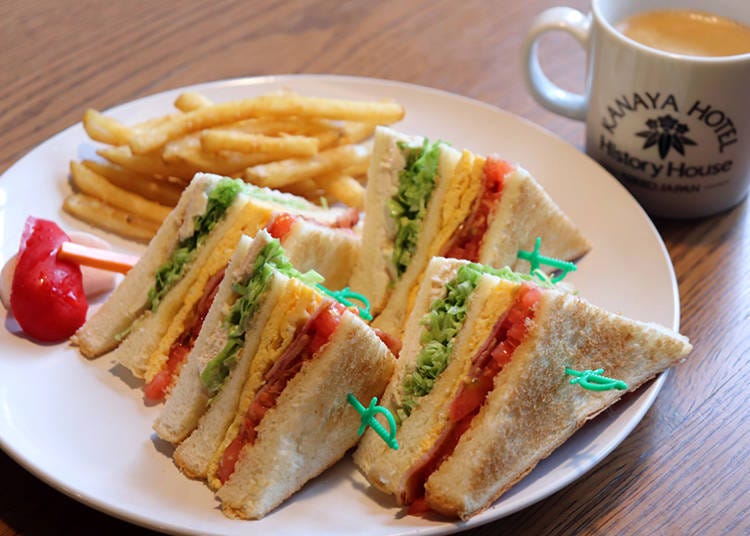 "Clubhouse Sandwich (1,520 yen, tax included)" is apparently the top choice for the sandwich section of the menu. The eggs and bacon of this traditional clubhouse sandwich are only cooked when someone makes an order, then put between slices of the best-selling "Royal Bread" of Kanaya Hotel Bakery along with other ingredients before being served.

Cottage Inn Restaurant opens at 9 a.m. every morning, offering four types of breakfast meals until 11 a.m. Since there are very few restaurants with breakfast options in the Nikko area, this is a restaurant you simply can't afford to miss if you're planning to take a morning stroll around Nikko!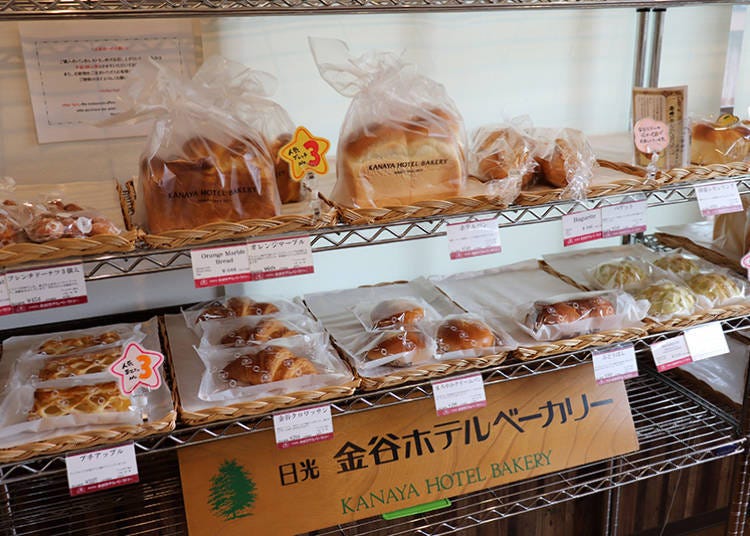 The attached bakery corner also offers all types of breads for takeout, like the "Kanaya Croissant" or "Mellow Cream Bread", each going for 238 yen a piece including tax. All bread items are wrapped up individually, making it easy for you to eat as you walk!

The Kanaya Hotel History Museum next door introduces you to Kanaya Cottage Inn, a building established in 1873 that was the previous incarnation of Kanaya Hotel (Registered Tangible Cultural Property: Kanaya Samurai House). After filling your stomach with some warm and delicious bread, feel free to hop over for a slice of the building's history throughout the years.
Cottage Inn Restaurant & Bakery

カテッジイン・レストラン&ベーカリー

Address

1-25 Hon-machi, Nikko-shi, Tochigi-ken

Phone Number

0288-50-1873

Hours: [March to November] 9:00 a.m. -- 5:00 p.m. [December to February] 10:00 a.m. -- 4:00 p.m.
*Only the tea menu is available after 3:00 p.m. throughout the year.
Closed: [March to November] Open daily [December to February] Not fixed (two to three days every month)
*Wi-Fi and English menu available
Besides the shops featured in our tour this time, you'll soon see that there are plenty of other food places all around Nikko Toshogu Shrine as well, waiting for your discovery! As you walk through Nikko taking in the sights, don't forget to enjoy the wide and varied food flavors the area has to offer as well!

Written by: Naho Jishikyu. English Translation by: Huimin Pan
*This information is from the time of this article's publication.
*Prices and options mentioned are subject to change.
*Unless stated otherwise, all prices include tax.