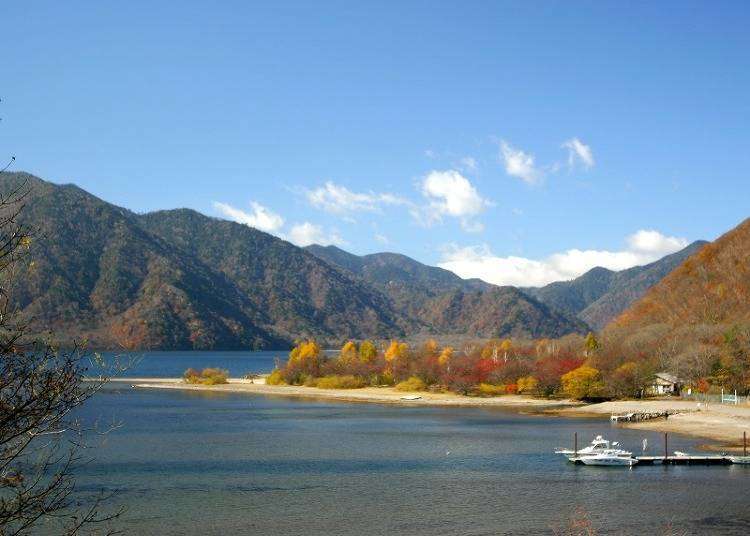 Nikko City in Tochigi Prefecture is known for the Nikko Toshogu Shrine, a World Heritage Site just around 2 hours by train north of Tokyo. This city boasts an abundance of seasonal spots packed with historic structures and stunning natural scenery.

This city has a lot to offer in terms of activities such as the "Line Kudari" cruise featuring seasonal flowers and natural features and events such as the Snow Festival recognized as a Japanese Night Scene Heritage. In this article, we will be featuring recommended spots by season in the rich lands of Nikko. This place is packed to the brim with highlights regardless of the season!
Nikko in Spring: Immerse in history while flower-viewing in Monzenmachi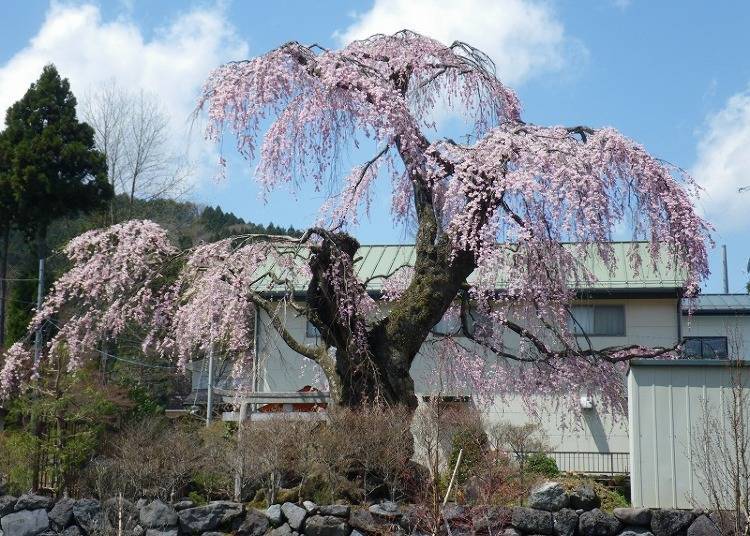 Nikko has a number of sakura trees that are more than 200 years old, and it is in "Monzenmachi no Sakura" where you can marvel at the beauty of flowers while admiring historical structures. Monzenmachi is located in the immediate vicinity of a World Heritage Site, the Shrines and Temples of Nikko. This area hosts long-established stores such as a 300-year-old Japanese confectionery shop, souvenir stores, etc., allowing you to shop while viewing the flowers.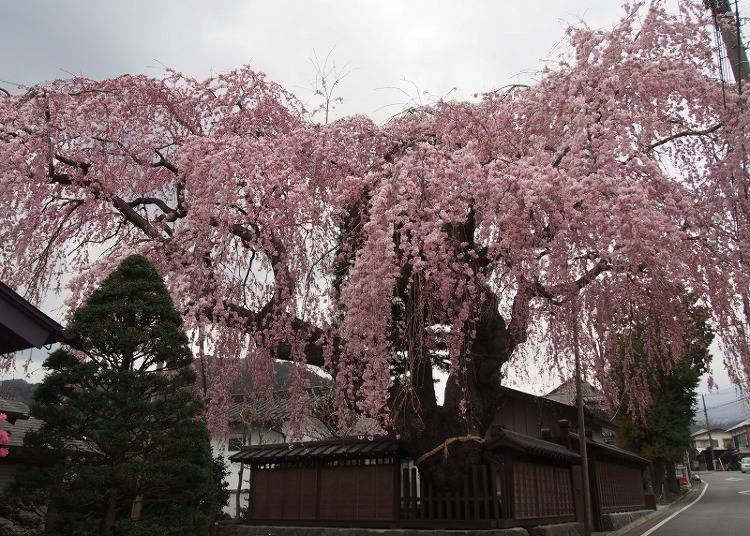 Weeping Cherry Blossoms of the Takada Family
It is the most popular place for cherry blossoms in Monzenmachi and was selected as a natural monument of Nikko City. When the cherry blossoms are in full bloom, they are adorned with lights, so please can enjoy a magical flower-viewing. Aside from this, throughout the day, you can also enjoy the cherry blossoms along the streets of Furuimachi.
門前町

Address

Nikko, Tochigi Prefecture: Yamauchi, Hachiishicho, Miyukicho area

Nearest Station

10-minute walk from the JR Nikko Station and Tobu Nikko Station


Best time to see: Early to late April
Nikko in Summer: Liven up your Summer in Nikko with the Ryuo Festival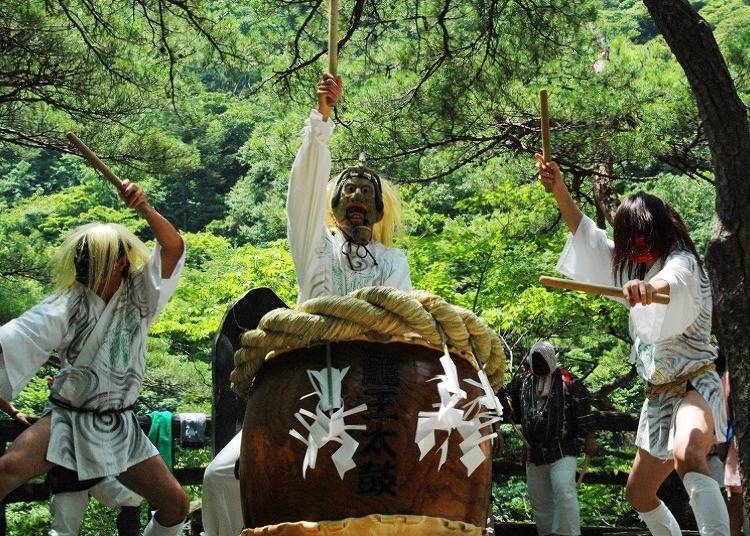 The Ryuo Festival is an event held in the Kinugawa/Kawaji Onsen area which heats up Nikko's summer. This traditional festival, which is being celebrated for more than 50 years, features mikoshi, or portable shrines, and events like folk entertainment that liven up the hot spring district.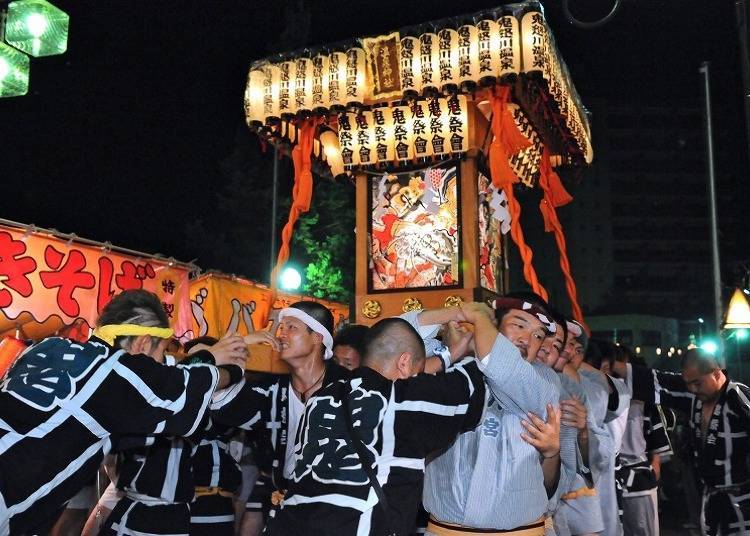 Aside from the powerful Mando Mikoshi, the gorgeous Onna-taru-mikoshi (mikoshi with sake barrels) carried exclusively by women, is also paraded along the streets. Both mikoshi are extremely appealing. To end the festival, bursting fireworks adorn the summer night sky of Nikko.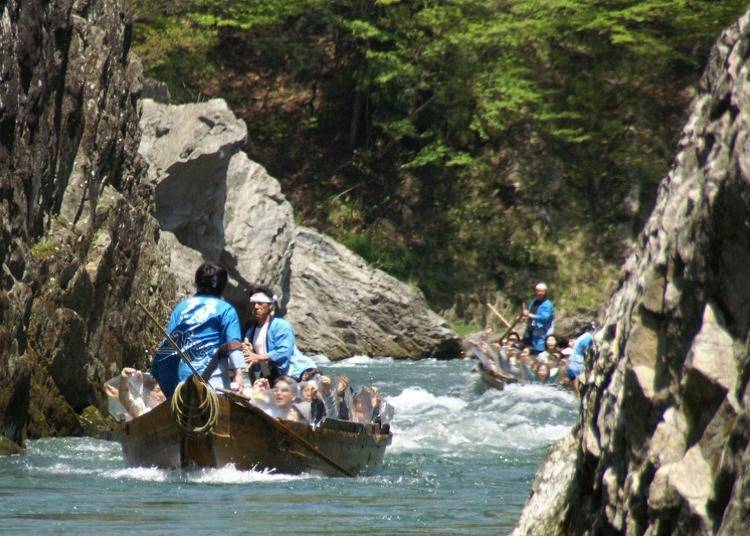 In addition, what has become a staple of summer activities in Nikko is the "Kinugawa Line Kudari Cruise", where you can experience going down the river while looking at the towering Kinugawa Valley. The boatman operates a boat with a wooden oar called "kai" and navigates through sights on the route.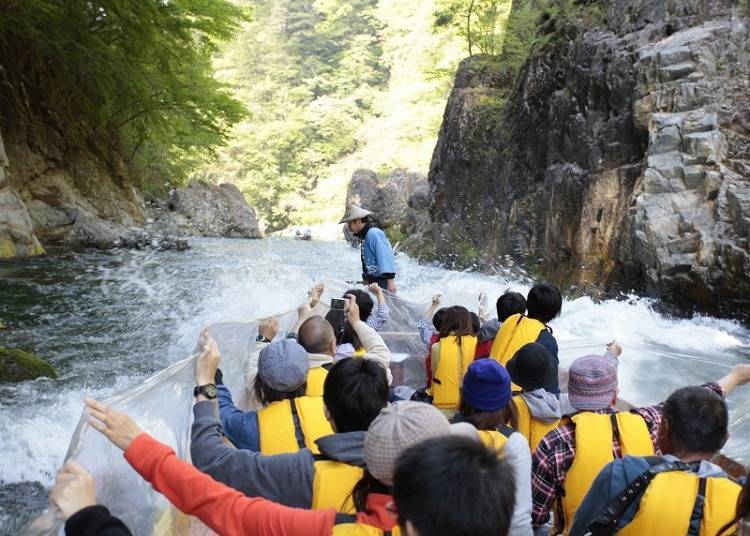 The Line Kudari cruise takes about 30 to 40 minutes, allowing you to enjoy the lush trees and valleys at a leisurely pace. In autumn, you can also see the magnificent autumn leaves, so this activity can be enjoyed across all seasons.
龍王祭

Address

Kinugawa and Kawaji Onsen area, Nikko, Tochigi

Nearest Station

Kinugawa Venue: 15-minute walk from Tobu Railway Kinugawa Onsen Station, Kawaji Venue: 15-minute walk from Yagan Railway Kawajimoto Station

Nikko in Fall: The beautiful contrast of the autumn leaves and the water at Chuzenji Lake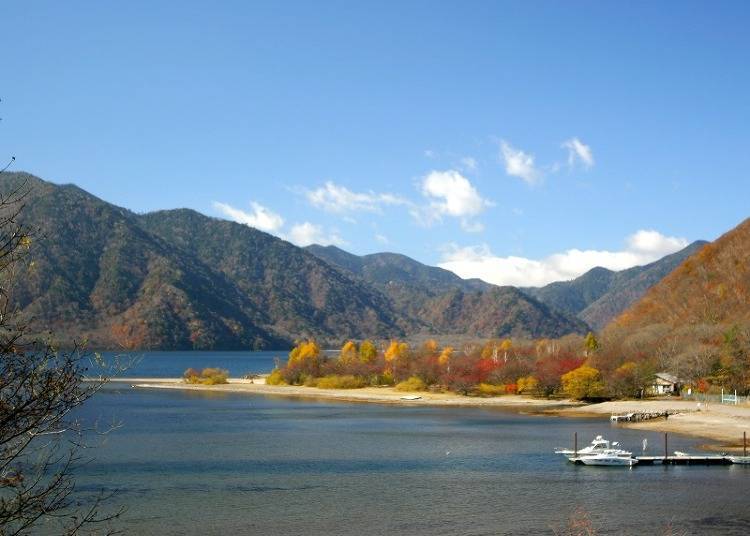 Located at the entrance of Okunikko with a circumference of 25 km and a maximum depth of 163 m, Lake Chuzenji (Chuzenjiko) is a place known to be the summer capital of Nikko since time immemorial with its rich environment and gentle climate. From the shore, you can admire the beautiful autumn leaves of maples and Japanese rowan, making this place the iconic spot for autumn leaves in Nikko. There is also a pleasure cruise where you can enjoy cruising from the lake with a view of the mountain covered with autumn leaves.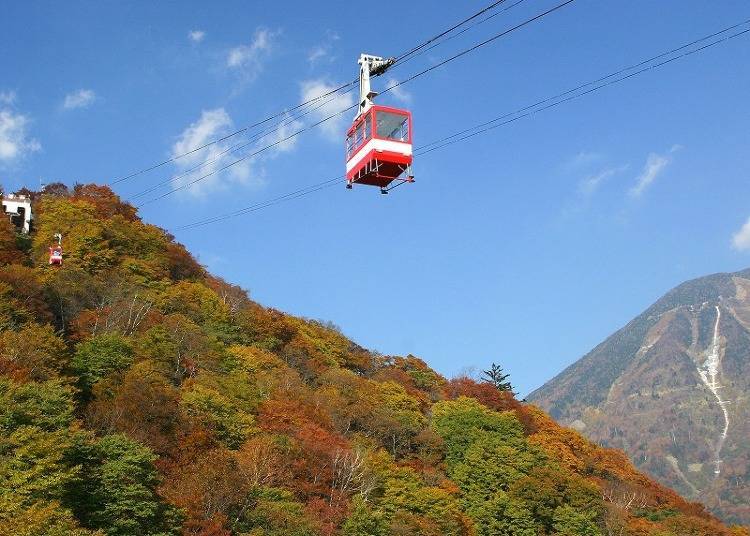 Another spot for autumn leaves in Nikko is the Akechidaira Ropeway. This is located midway the Irohazaka, a known driving course. It sits on an elevation of 1373 m from where you can enjoy the superb view from the sky. Nikko's popular places, namely the Chuzenji Lake, Kegon Waterfall and Mt. Nantaisan, can be viewed here. You can gaze at the dynamic view of the brilliant autumn colors from the ropeway.
中禅寺湖(明智平ロープウェイ)

Address

Chugushi, Nikko, Tochigi 321-1661

Nearest Station

Take a 45-minute ride on the bus bound for Chuzenji Onsen/Yumoto Onsen from the JR Tobu Nikko Station, and get off at the Chuzenji Onsen


Phone Number

0288-22-1525
Nikko in Winter: Relax amidst the magical lights in Yunishigawa Onsen Kamakura Festival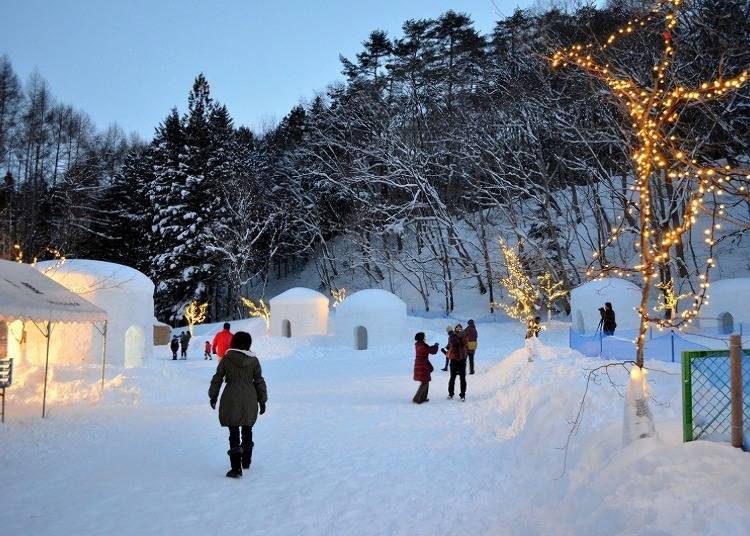 This is a snow festival held at Yunishigawa Onsen in Nikko City, Tochigi Prefecture. Inside the venue, you can enjoy your meal in the snow covered pillows, and enjoy sledding on the slide.
The highlight of the festival is "Mini Kamakura", which is a row of small snow huts called kamakura adorned with lights. The light of the candle sways and creates a fantastic landscape. Because it is a hot spring area, you can also enjoy a hot spring at a day trip hot spring or at a lodging facility.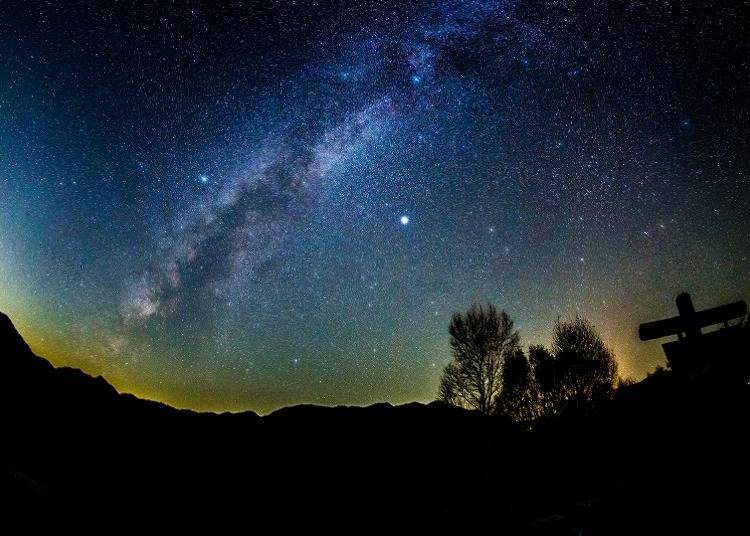 Winter is said to be the best time to watch the starry sky because the night is long, and the air is clear. In such a season, we recommend the Nikko's iconic marshland, Senjougahara. It is located at an elevation of 1400 m above sea level, and you can see glowing stars in a large panoramic view. As there are days when the temperature of Senjougahara in winter falls below -10°C, always remember to protect yourself against the cold before going stargazing.
Yunishikawa Onsen Kamakurasai

湯西川温泉かまくら祭

Address

1193-6 Yunishigawa, Nikkō-shi, Tochigi-ken 321-2601

Nearest Station

From Yagan Railway Yunishikawa Onsen Station, take a bus bound for Yunishigawa Onsen for about 30 minutes and get off at the bus stop "Honke Bankyu Ryokan-mae". 15 minutes walk to Heike no Sato, the main venue


Phone Number

0288-22-1525
Nikko Kegon Falls: See different views according to the season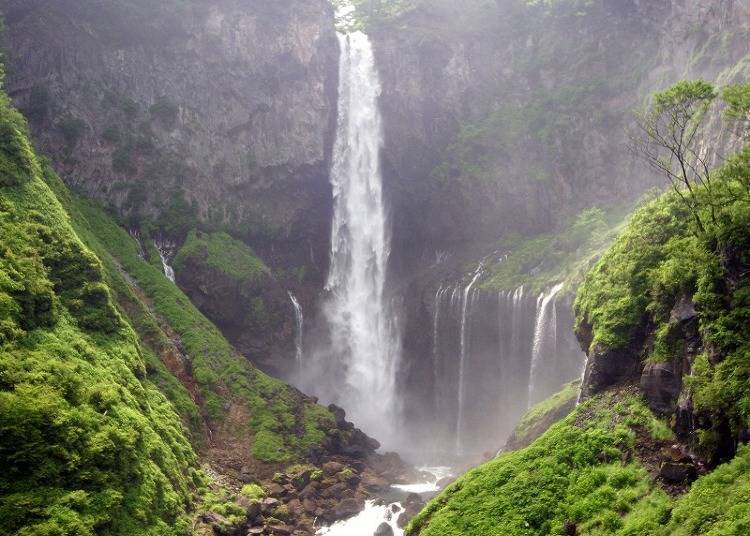 Renowned as one of Nikko's leading power spots, Kegon Falls is one of Japan's three largest waterfalls. The water of Lake Chuzenji falls from a quay of 97 meters high, and the force of the spray is a masterpiece. From spring to summer, you can feel the fresh greenery, in the fall, is autumn leaves, and in the winter is the scenery of the snow. You can feel the beauty of nature that changes with the season.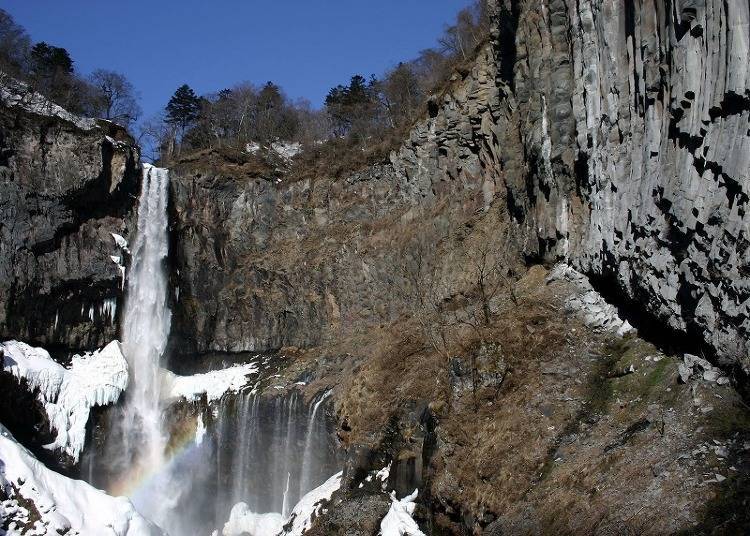 You can also use the elevator to go to the waterfall basin and watch the roar of water falling nearby. Between January and February, a thin waterfall called Junitaki freezes. The blue ice makes for a majestic scenery. It is a spot that you can enjoy all year round, and if you visit Nikko it is a must-see spot.
華厳ノ滝

Address

Chugushi, Nikko, Tochigi 321-1661

Nearest Station

Take 40-minute ride about the Tobu bus bound for Chuzenji Onsen from the JR Tobu Nikko Station, get off at the Chuzenji Onsen bus stop and take a 5-minute walk


Phone Number

0288-55-0030

Business hours: March to November 8:00 to 17:00, December to February 9:00 to 16:30 (Time may vary depending on season and weather conditions)
Nikko is a place where you can immerse in a wide range of historical architecture, culture, and nature in one area. You can enjoy it regardless of the season, and it is also interesting that the same sights change looks depending on the season. Please visit Nikko in each of the four seasons, not just once, and look for the unique charm of Nikko.

Written by: Medium KK
*This information is from the time of this article's publication.
*Prices and options mentioned are subject to change.
*Unless stated otherwise, all prices include tax.
Limited time offer: 10% discount coupons available now!