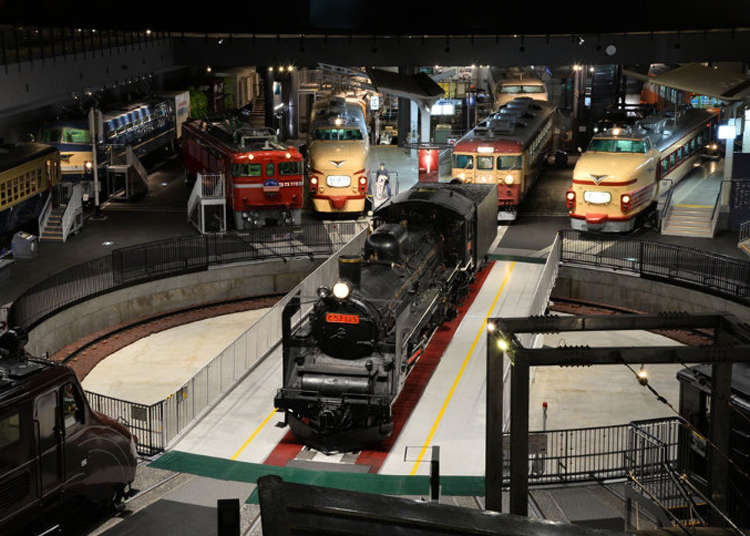 These are the top recommendations for Saitama Suburbs, with travel tips and more, according to LIVE JAPAN, a top-class travel website for visitors to Japan. Our ranking is based on the most popular pages viewed by foreign visitors in a given category.

For instance, MITSUI OUTLET PARK IRUMA, Seibuen Amusement Park, Toki no Kane and other related spots will be listed. Be sure to check them out during your visit to Saitama Suburbs!
1.MITSUI OUTLET PARK IRUMA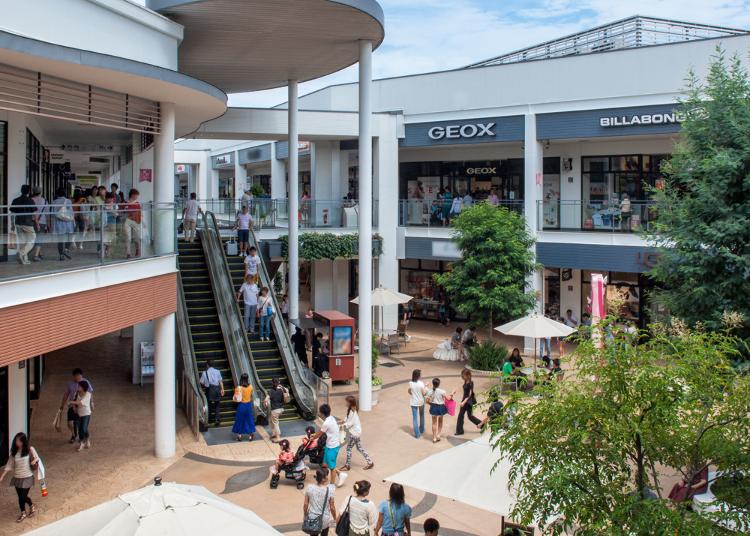 About 1 hour from either Ikebukuro or Shinjuku, MITSUI OUTLET PARK IRUMA has around 210 shops. Find everything from famous international brands, high-end fashion, kids fashion, sports & outdoor wear, accessories, fashion accessories and more, all at outlet prices.

Sightseeing nearby includes one of the Kanto region's best spots for cherry blossoms, and the famous Nagatoro Riverboat ride past the impressive Iwadatami rock formations!

Nearby Kawagoe, which retains at atmosphere of Edo-era Japan, is also a great choice to visit. Combine a half-day mall visit with sightseeing, or shop 'til you drop for a whole day!

The facility boasts 17 restaurants, from sushi and Japanese food, to Chinese and other genres, plus a food court! Great for worry-free shopping with kids.
Address

3169-1, Miyadera, Iruma-shi, Saitama, 358-8515
View Map

Nearest Station

Irumashi Station (Seibu Ikebukuro Line)
15 minutes by bus


Phone Number

04-2935-1616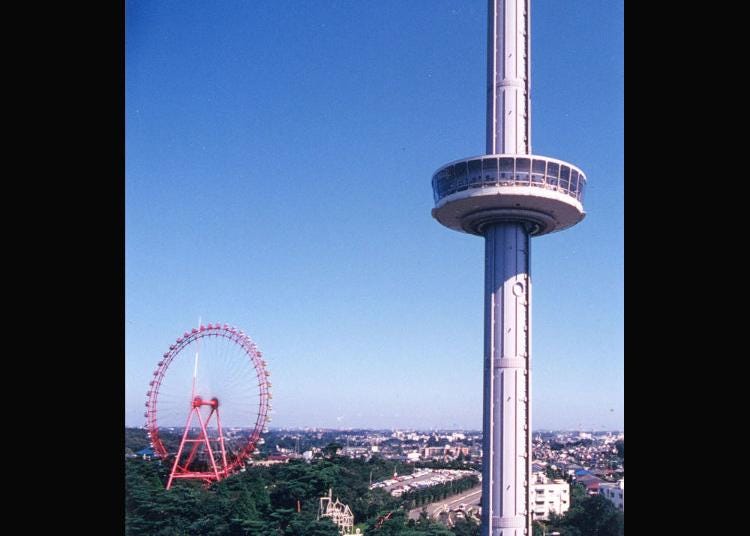 This is an amusement park in Tokorozawa, Saitama. There are many permanent attractions here including a merry-go-round, which is popular among children; revolving attractions such as Octopus, Gyro Tower and a large Ferris wheel from which you can see a view of the park and its greenery; and miniature play equipment that little children can enjoy. In Meruhen Town (Fairlytale Town), a dream-like place filled with Sanrio characters, attractions are designed using popular characters such as Hello Kitty, and at the Meruhen shop you can purchase limited-edition character goods and so on. The Atrax Series, which makes use of both your brain and body to go around the vast park, is also worth a look. It is a popular new style of entertainment consisting of treasure hunts and compatibility checks while solving various riddles. There are nursing rooms, tables for changing diapers and rental baby carriages in the park, so it is an amusement park that you can enjoy at ease with your small children. Nearest station is Seibu Yuenchi Station on the Seibutamako Line and Yuenchinishi Station on the Seibu Yamaguchi Line (Leo Liner).
Address

2964, Yamaguchi, Tokorozawa-shi, Saitama, 359-1145
View Map

Nearest Station

Yuenchi-Nishi Station (Seibu Yamaguchi Line)
1 minute on foot


Phone Number

04-2922-1371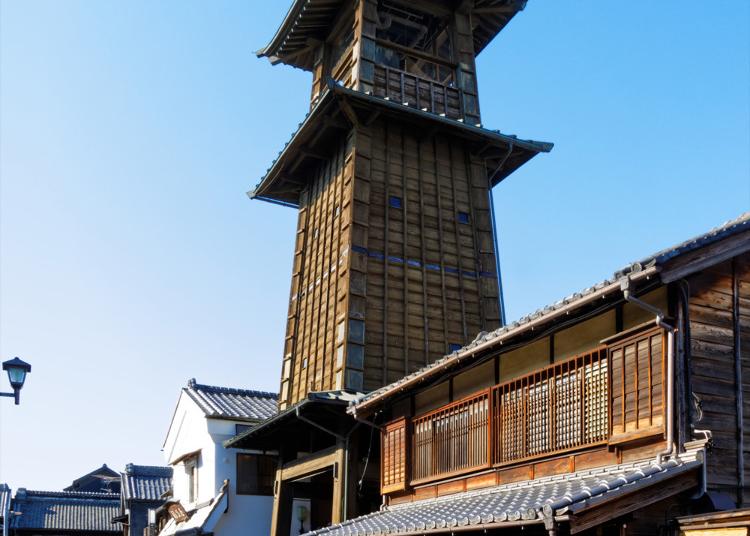 The Chime of Time is a symbol of Kawagoe, a town of traditional Japanese warehouses. Locals love the Chime, which has been telling time since the Edo Period. It is said to have been built 400 years ago. The present tower and bell are the fourth generation, having been rebuilt after burning down several times. The Chime is 16-meters high and has three wooden layers; it sounds four times a day. While it now rings automatically, the tone informing locals of the time has not changed, and in 1996 was chosen as one of the "100 Soundscapes of Japan." The chime has a different character depending on the time of day, comforting those who seek nostalgia and healing.
Address

15-7, Saiwaicho, Kawagoe-shi, Saitama, 350-8601
View Map

Nearest Station

Hon-Kawagoe Station (Seibu Shinjuku Line)
15 minutes on foot


Phone Number

049-224-6097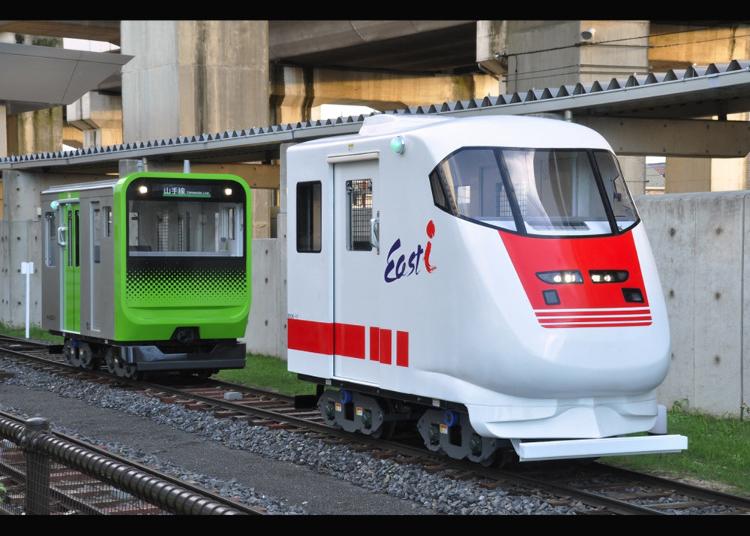 Transfer to the New Shuttle at JR Omiya Station then get off at Tetsudo-Hakubutsukan Station and you'll only need to walk a minute to get to the Railway Museum. Here, you can have hands-on fun learning about the development and evolution of railway technology from the early Meiji era, when rail got its start in Japan, to the present day. In addition to the items on exhibition, there are lots of other attractions including driving simulators for a steam locomotive, JR Lines, and the bullet train as well as a "train operators'" workshop classroom. There is also a miniature train system you can operate that runs along a 300 meters course outdoors – truly this is a museum where both adults and children can have fun. In addition, the building also includes a restaurant where you can take a break and a museum shop that has original goods on sale. The explanations and notes on the exhibits are available in English, Chinese, and Korean via QR codes and explanatory cards.
Address

3-47, Onaricho, Omiya-ku, Saitama-shi, Saitama, 330-0852
View Map

Nearest Station

Omiya Station (Hokkaido Shinkansen Line / Tohoku Shinkansen Line / Akita Shinkansen Line / Yamagata Shinkansen Line / Joetsu Shinkansen Line / Hokuriku Shinkansen Line / JR Shonan Shinjuku Line / JR Keihin-Tohoku Line / JR Tohoku Main Line / JR Utsunomiya Line / JR Takasaki Line / JR Saikyo Line / JR Kawagoe Line / JR Ueno Tokyo Line / Tobu Noda Line (Tobu Urban Park Line) / Ina Line (New Shuttle))


Phone Number

048-651-0088
MIDORIYA Co., Ltd. was established 44 years ago.
The company has roots in the local community, managing 3 pawnshops in 'Little Edo' Kawagoe, and is beloved by many customers.
The MIDORIYA main shop sells brand items at reduced prices. Inside the cheery shop, staff well-versed in appraisals provide customers with a lineup of quality products and trade-in services. When buying or selling brand items and precious metals, leave it to MIDORIYA. Their staff is looking forward to your visit!!
Address

15-8, Wakitamachi, Kawagoe-shi, Saitama, 350-1122
View Map

Nearest Station

Kawagoe Station (JR Kawagoe Line / Tobu Tojo Line)
6 minutes on foot


Phone Number

049-224-2200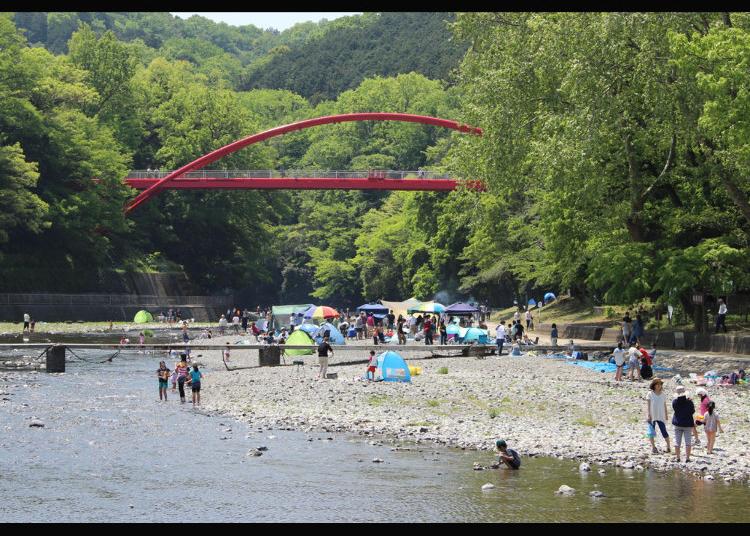 Han'no-gawara is a spacious riverbed, located by the Iruma River in the Saitama Prefecture, surrounded by nature. Only an hour away from central Tokyo, many families come every year to enjoy the day camping. In spring, people view cherry blossoms, and in summer, many enjoy playing in the shallow part of the river. Summertime events include firework festivals and goldfish scooping in the river. In the fall, you can view the autumn foliage and pick a few pieces of maple leaves to take home. The riverbank provides visitors with a wide range of recreation throughout the year. Also, the entire Han'nogawara riverbank can be used as a barbecue area. No reservation is required, so anyone can set up and enjoy cookouts. The barbecue equipment is available for rent, and various barbecue ingredients, charcoals, firewood, canned beers, and ice are for sale for those who might be a bit unprepared. Rental boats are available at the Nagurigawatei boating facility, located in upstream, for those who want to ride on a boat. The Agatsuma Valley is located further upstream from Nagurigawatei and is famous as a spectacular fall foliage viewing spot. It is just a 15-minute walk from the Hanno station on the Seibu Ikebukuro Line.
Address

Kuge, Hannou-shi, Saitama, 357-0063
View Map

Nearest Station

Hanno Station (Seibu Ikebukuro Line)
15 minutes on foot


Phone Number

042-973-2124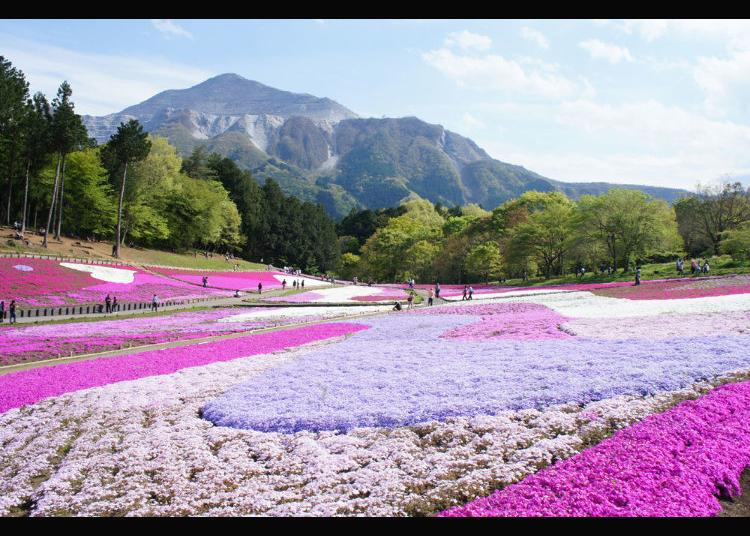 The Hitsujiyama Park, which stands on a hill that overlooks the city of Chichibu, Saitama, is a part of the Prefectural Buko Natural Park surrounded by the rich greeneries. The moss phlox (shiba-zakura) that blooms all around the hill is especially famous. You might imagine moss phlox as a cherry-like tree because of its name; however, it is a perennial plant that originates from North America and was named shiba-zakura (literally, "turf cherry blossoms") in Japanese for its habit of spreading its cherry blossom-like petals on the ground like a turf. On the hill, there are nine kinds of colorful moss phloxes in various shades of pink and purple, about 400,000 specimens in total, planted and arranged in patchwork patterns. The spot is also famous for cherry blossoms, where about 1,000 trees of Yoshino cherry, weeping cheery, and double-blooming cherry trees bloom in springtime. In early summer, irises can be enjoyed as well.
Address

6267, Omiya, Chichibu-shi, Saitama, 368-0023
View Map

Nearest Station

Seibu-Chichibu Station (Seibu Chichibu Line)
15 minutes on foot


Phone Number

0494-25-5209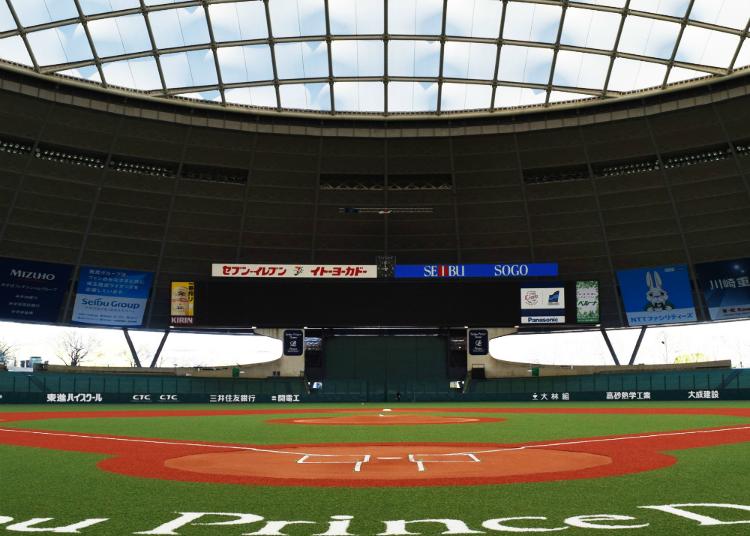 This is a dome-shaped baseball stadium that is the home stadium of the Japanese professional baseball team Seibu Lions. It is a place where many famous games that left a mark in baseball history took place. Being located amidst the hills of Sayama, one can also enjoy a sense of outdoors. When the stadium first opened in 1979, it was an outdoor stadium, but in 1999, it was transformed into a dome-shaped indoor stadium. From the 2008 season, a high-tech artificial turf has been used in place of the traditional artificial turf that had been used, and a highly shock-absorbent soft-rubber fence was installed. The large video screen inside the stadium underwent a complete upgrade. It is a stadium that continues to evolve. On March 1, 2015, the name of the stadium changed to "Seibu Prince Dome," and it is lively with many fans throughout the season. It is a six-minute walk from the Seibu-Kyujo-mae Station on the Seibu Sayama Line.
Address

2135, Kamiyamaguchi, Tokorozawa-shi, Saitama, 359-1196
View Map

Nearest Station

Seibu-Kyujo-Mae Station (Seibu Sayama Line / Seibu Yamaguchi Line)
6 minutes on foot


Phone Number

04-2925-1141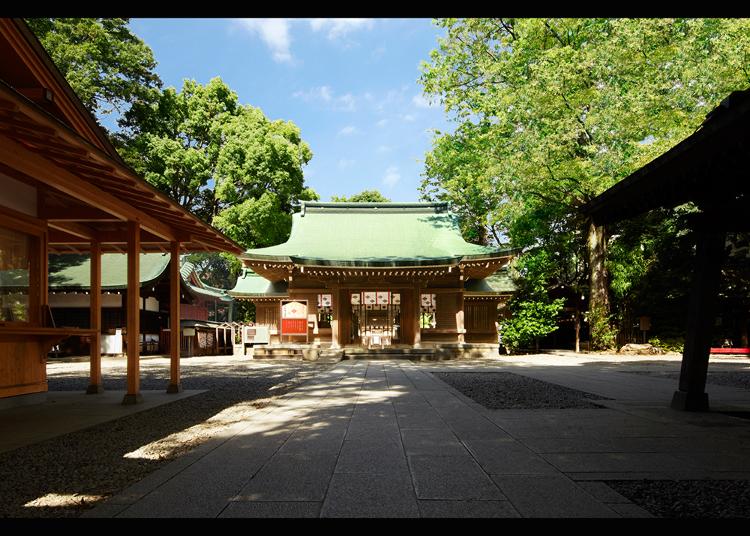 It is said that the Kawagoe Hikawa Shrine was established during the Tumulus period, about 1,500 years ago. Since 1457, when the military commander Dokan Ota constructed the Kawagoe Castle, this shrine has been worshiped as sochinju (a Shinto deity of a locality). The deities, Itsuhashira-no-kamisama, which this shrine is devoted to, are a family, so they were worshiped as the gods for a good marriage match as well as a couple's and family's harmony. People say that you will be blessed with a good match if you pick a small, white stone on the shrine grounds and take good care of it. Thus, those men and women who wish to meet someone special visit there. The current shrine hall has elaborate reliefs. Picture scrolls and ema wooden plaques that have historical value are designated as tangible cultural properties of the Kawagoe city, and many other valuable articles are stored as treasures. Many events are held throughout the year. In the new year's Prayer Ceremony for better fortune, fortune coins that are said to bring good luck for the year are thrown from the shrine hall, and many people join the ceremony to get one. The divine favor of the shrine is for general concerns, a good match, family harmony, good health, profitable business, safe child labor, and the blessing of a child. It is a 20-minute walk from the Kawagoe Station on the JR Saikyo Line.
Address

2-11-3 Miyashitamachi, Kawagoe City, Saitama Prefecture, 350-0052
View Map

Nearest Station

Kawagoe Station (JR Kawagoe Line / Tobu Tojo Line)
10 minutes by bus


Phone Number

049-224-0589
10.kimono rental shop YUZUYA
Welcome to Kawagoe, a town that looks its best when you're wearing a kimono. Here you can find your favorite kimono from the many selections and enjoy a stroll around beautiful Kawagoe!
The shop staff will prepare everything necessary for your experience Please come empty handed. Even if you have a lot of luggage, the shop is happy to keep it at the store.

With Yuzuya's most popular photography plan, a professional cameraman will go with you, taking commemorative photos at sight-seeing spots.

They will take fantastic photos so that you can always cherish and remember the beautiful townscape of Kawagoe. You can apply for the photo plan you desire at the time of making a reservation.

In addition, you can experience a "Japanese tea ceremony" for 500 JPY at Yuzuya, with traditional Japanese sweets service included. It's a truly memorable experience!
kimono rental shop YUZUYA

着物レンタル柚屋(ゆずや)

Address

1-4 2F Nakacho, Kawagoe City, Saitama Prefecture, 350-0065


Nearest Station

Hon-Kawagoe Station (Seibu Shinjuku Line)
9 minutes on foot


Phone Number

049-227-9150
*This information is from the time of this article's publication.
*Prices and options mentioned are subject to change.
*Unless stated otherwise, all prices include tax.
Limited time offer: 10% discount coupons available now!