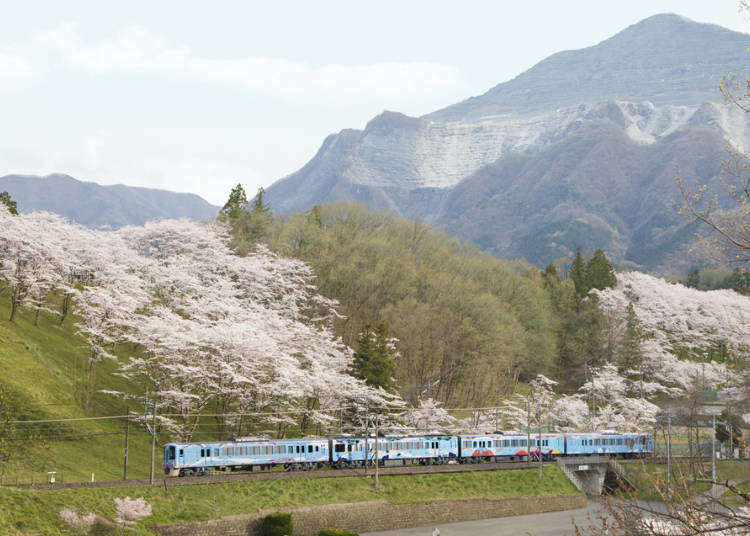 Celebrating an anniversary, commemorating a special date, or just wanting to make a unique memory of your trip to Japan? We have a very special treat for you: Fifty-two Seats of Happiness.
Behind this whimsical name hides a restaurant train that belongs to Seibu Railway. Fifty-two Seats of Happiness promises the experience of dining on fine cuisine on a moving train, taking you to and from the scenic town of Chichibu and other locations.

Every season, there's a new scenery to admire, such as spring's famous Chichibu shibazakura, or pink moss phlox. I'll take you along on my trip so that you can get an impression of Fifty-two Seats of Happiness before hopping on board yourself!
Today, we depart from the Seibu Shinjuku Station!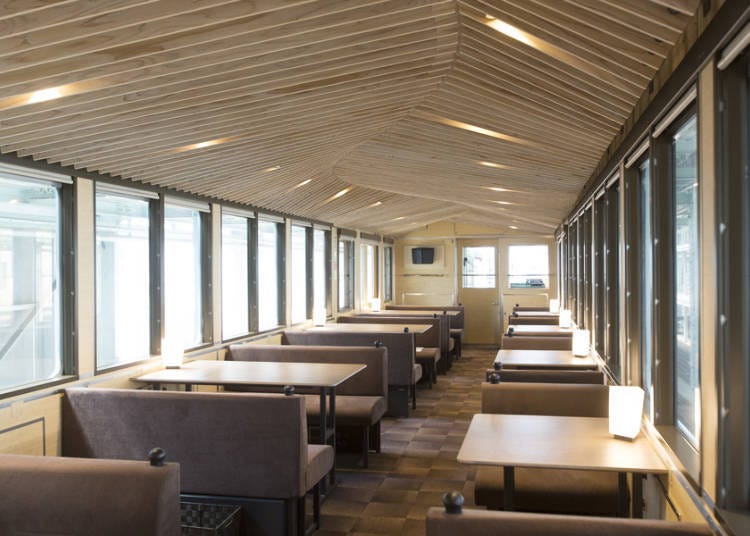 Today, we depart from Seibu Shinjuku Station. Boarding the special car that I reserved, the unique, rich atmosphere of the restaurant train engulfed me immediately! The seats are spacious and rather sturdy, while the lattice ceiling emits a wonderful wooden scent. All in all, there's a relaxing calmness to the car, making me almost forget that I am standing in a train.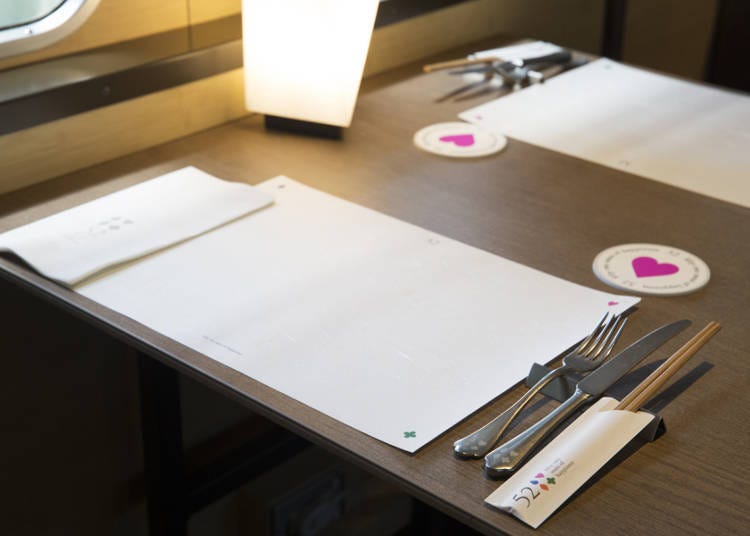 The table decoration and cutlery is themed both around the logo "52" and the seasonal scenery of Chichibu, changing with the season. The attention to detail is astounding!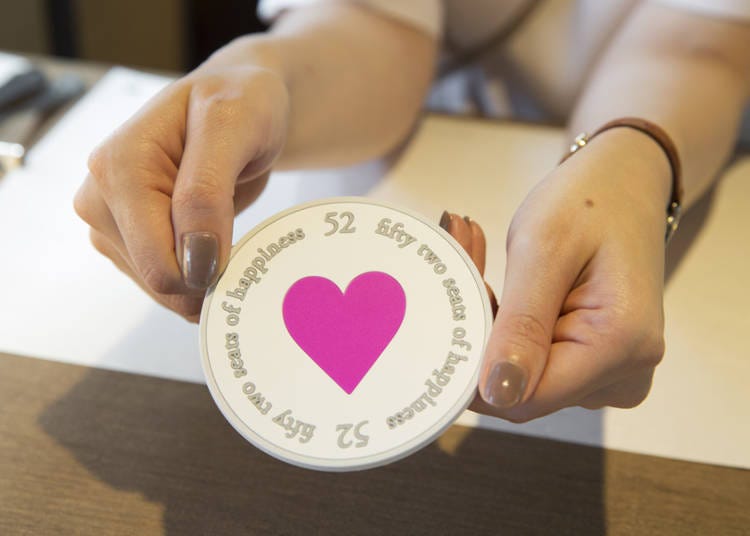 Four different types of coasters can be taken home as souvenirs. Since I booked Fifty Two Seats of Happiness to commemorate the first anniversary with my boyfriend, our coasters feature a simplistic, modern heart design. There sure was no lack of a romantic mood!
The Restaurant Train's Open Kitchen and its Freshly Made Food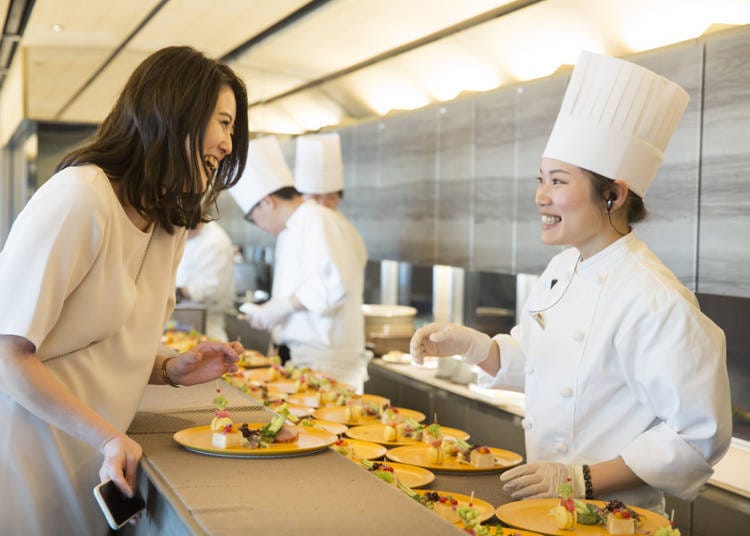 One of the train's total of four cars is a spacious, open kitchen where all the dishes aren't only freshly prepared but the chefs can be observed at work, too.

The fine food that we're about to savor is lined up just like in a high-class restaurant, raising my expectations and making me excited about the dining experience!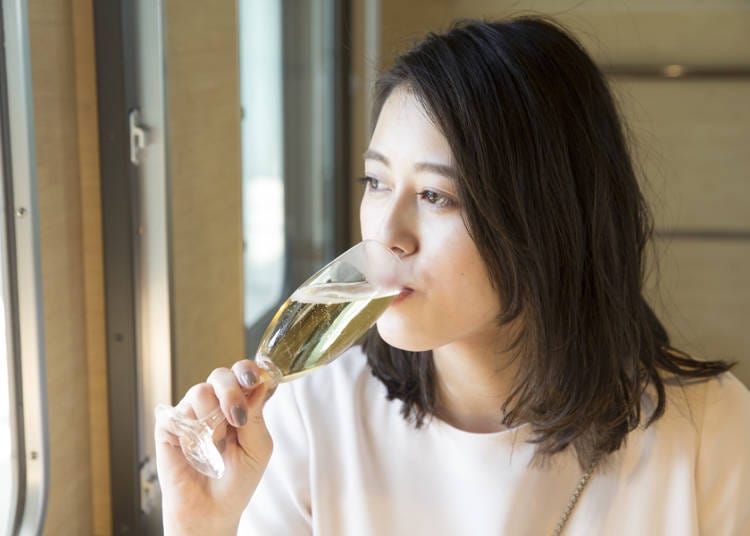 Before trying the food, however, we are served a glass of champagne to drink to our anniversary and admire the moving scenery outside the window. Clinking glasses with my boyfriend in such a luxurious environment sure was an unforgettable memory. Enjoying the scenery that seems to flow along the train like a fast river sets a wonderful mood and we chat so freely and easily, we almost forget the time.
Connecting over a Luxurious Brunch made by Award-Winning Chefs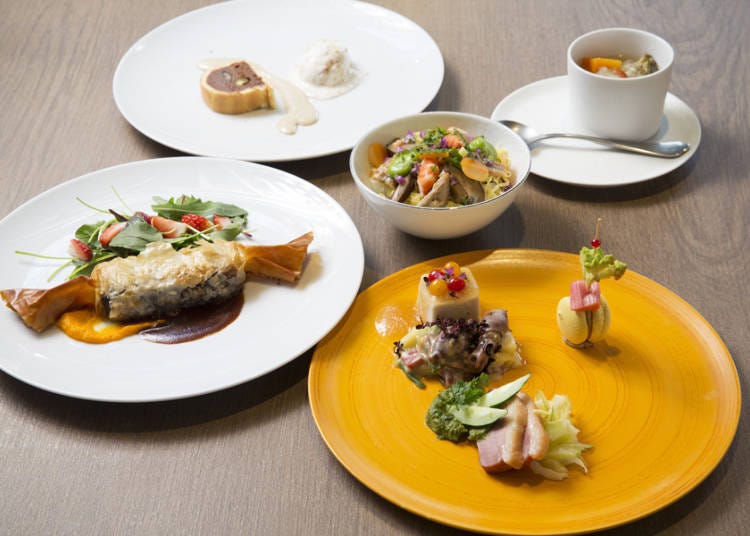 The aforementioned dishes are created by three young, up-and-coming chefs who have won the RED U-35 Award - Japan's largest cooking competition! The cuisine is an intriguing balance of Eastern and Western flavors and aesthetics, and the arrangement alone is breathtakingly beautiful.

We enjoy the special Brunch Course (10,000 yen, train ticket included), only available from April to June on the trip from Seibu Shinjuku Station to Seibu Chichibu Station. This train can also be boarded at Ikebukuro Station.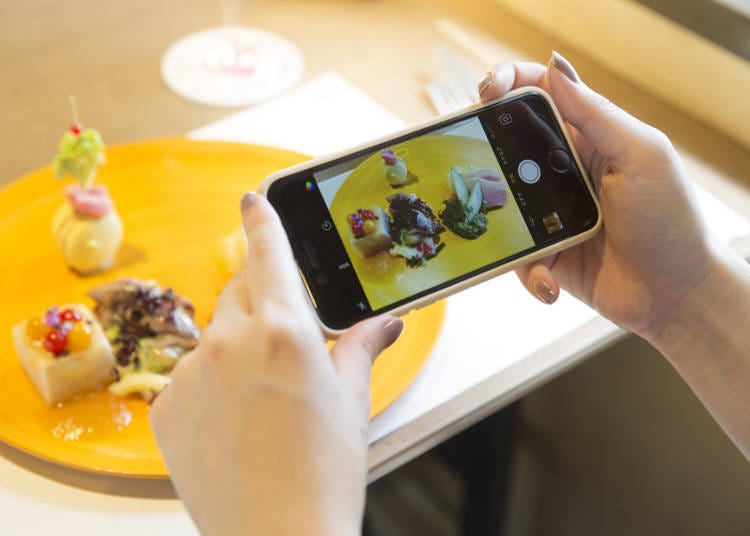 Every dish is a feast for the eyes and makes for an excellent snapshot. You'll want to snap photos and share your amazing experience on the Fifty-two Seats of Happiness restaurant train with your friends and family on Facebook!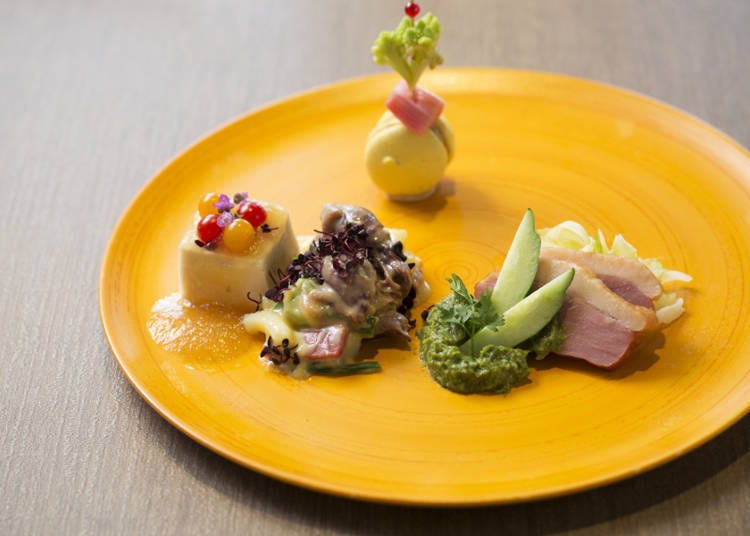 The appetizer is called "The Spring Trio – Japanese, French, and Chinese Appetizer Feast." This creative dish allows you to savor bite-sized delicacies from three different cuisines.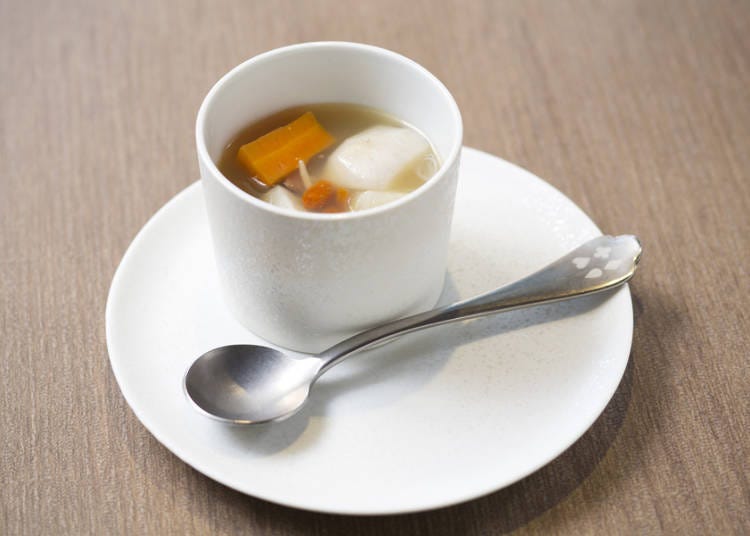 Next is the soup: "Buddha Jumps Over the Wall," a wonderfully sour variation of the shark fin soup from Chinese cuisine. At Fifty-two Seats of Happiness, eleven different and thoroughly steamed vegetables are used in the soup, making for a gentle taste.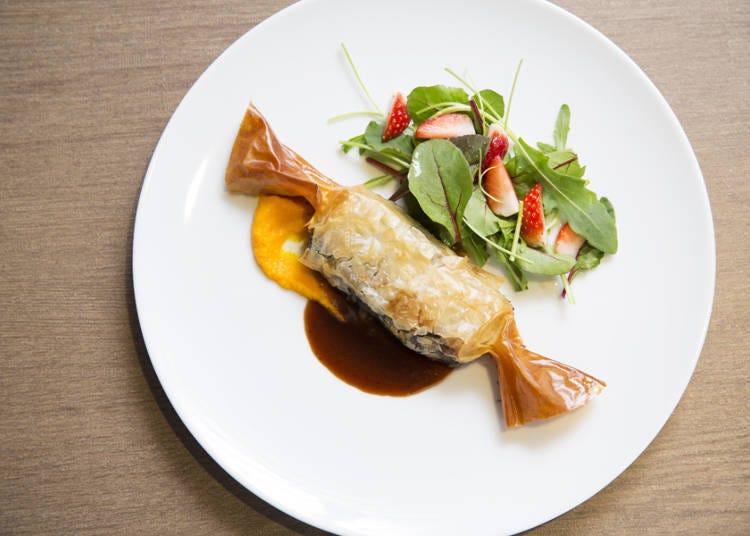 This dish is particularly amazing. What is wrapped like a present or a giant candy is actually the "Oxtail Strudel with Green Strawberry Salad." The tender meat goes extremely well with the crispy filo!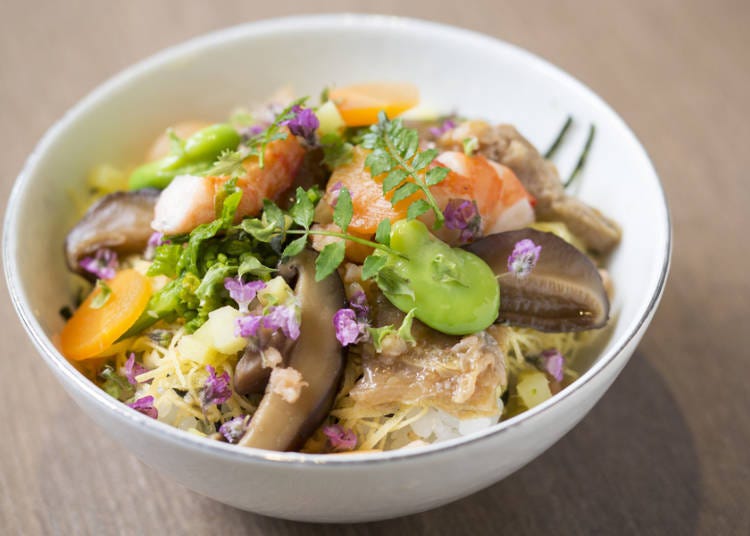 The "Telling Chichibu of Spring Chirashi Sushi" is almost too beautiful to eat. The little edible flowers scattered over rice and fish are the messengers of spring and thus give the creative name to this sushi bowl.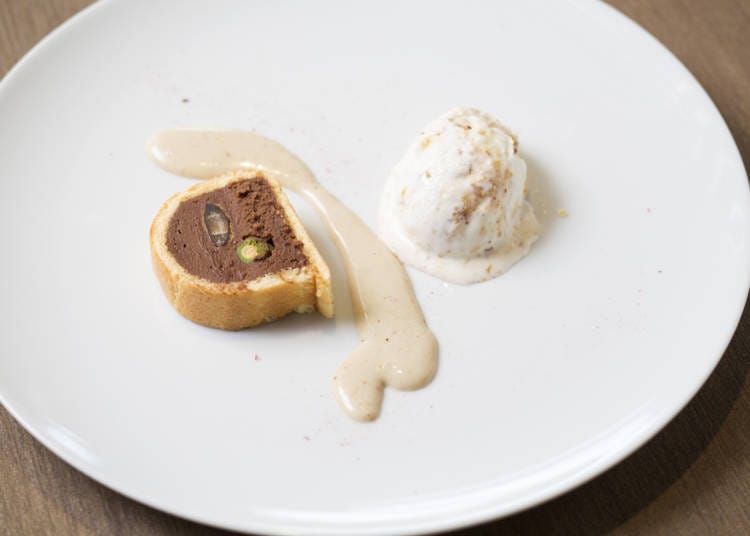 Meet the "Marquise au Chocolat," a delightful little creation of dry fig and chocolate. Next to it sits sweet sake ice cream, garnished with Sayama hojicha (roasted green tea) and soy milk sauce. While the chocolate is on the sweet side, the ice cream has a refreshing taste to it, creating a wonderful balance between the two different flavors.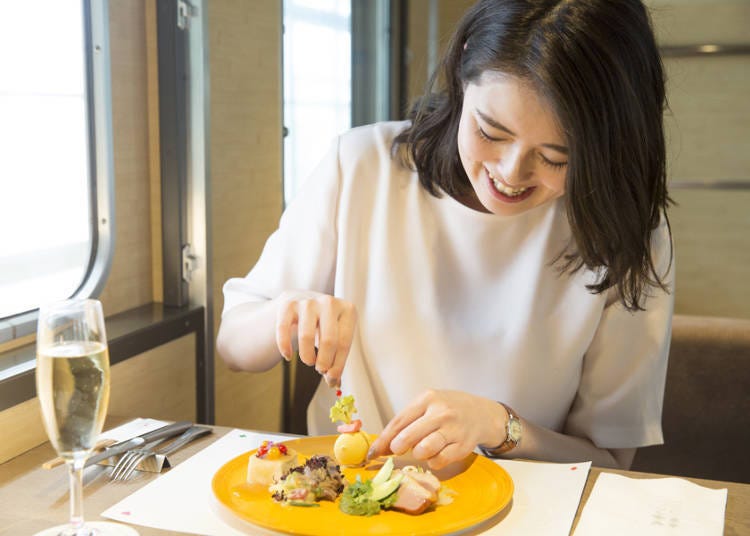 This delicious course, carefully selected and created by three excellent chefs, can only be savored at the Fifty-two Seats of Happiness restaurant train.

A feast for both your taste buds and your eyes, the many different dishes are sure to make you forget that you are actually on a moving train!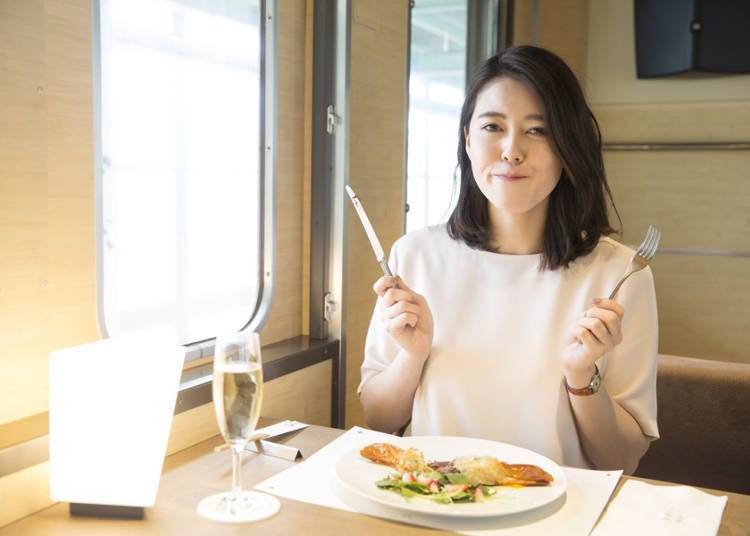 Only the moving scenery in front of the window is a reminder of this – and as you approach Chichibu, the big buildings of Tokyo disappear and you'll find yourself amidst lush nature. I myself managed to get excellent shots of delicious food and beautiful sceneries while enjoying my luxurious brunch.
The Female Chef, Cooking for Female Guests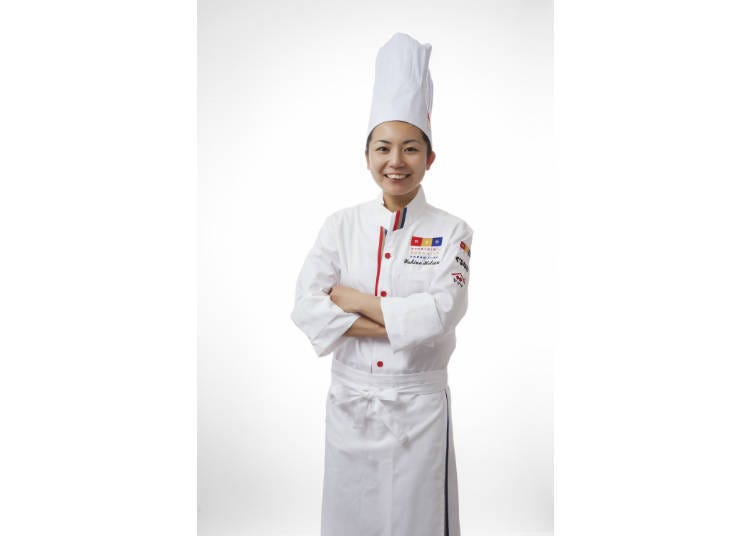 Meet Yukino Katsura, the only woman of the team of three chefs who supervised today's brunch menu on Fifty Two Seats of Happiness. She creates dishes that satisfy the female appetite for everything cute and adorable. Last year, she won the Asako Kishi prize bestowed to female chefs in Japan's biggest cooking competition, RED U-35.

Yukino Katsura usually works in the restaurant Brise Verte of The Prince Park Tower Tokyo. Today, she was responsible for the macaron of the appetizer plate, the main dish, and the dessert. Undoubtedly, she seems to perfectly understand creating dishes that look so whimsically unique, people cannot help but take pictures of them. The use of soy milk instead of fresh cream for the ice cream is also a very conscious decision, made in regards to the taste and preferences of her female guests.
ブリーズヴェール

Address

The Prince Park Tower Tokyo, 4-8-1 Shibakoen, Minato-ku, Tokyo-to 105-0011

Nearest Station

Shibakoen

Relaxing after Brunch and Enjoying Chichibu's Beautiful Scenery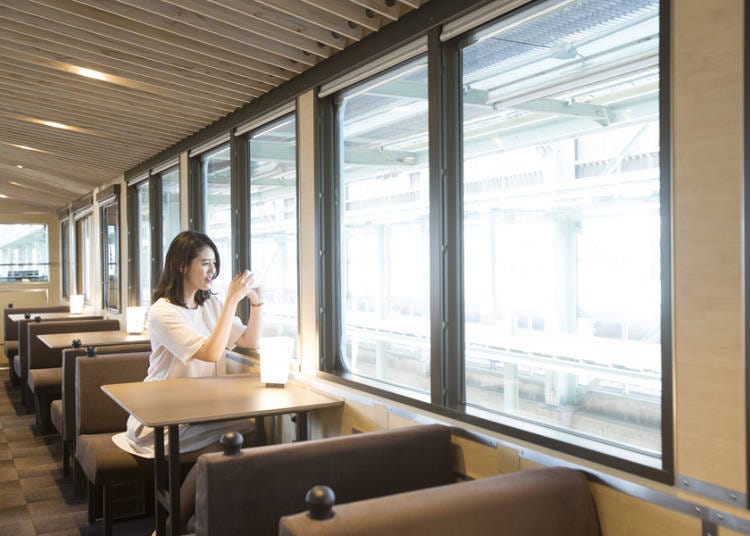 Once I finished brunch, the scenery has changed entirely. From the hustle and bustle of Tokyo to calm and beautiful nature!

Just a little bit more until we arrive at our destination, Chichibu. I take the time to relax and talk to my partner about what we want to do and see in Chichibu, and after our luxurious meal, we're both even more excited!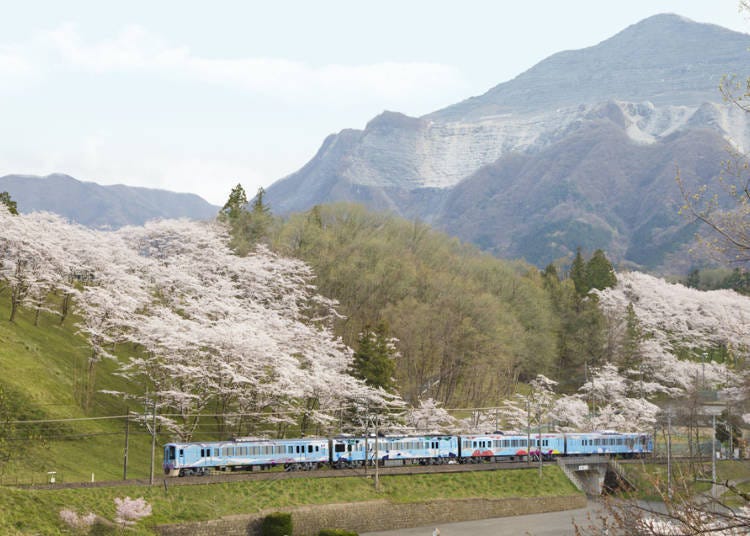 The natural scenery outside the window really is a sight to behold, especially Mount Buko. Right now, we get to see the pale pink of spring's cherry blossoms, but soon, everything will change to the lush and vivid green of early summer. I definitely want to ride the restaurant train Fifty-two Seats of Happiness again in autumn, to see the colorful foliage!

We both agreed that this little trip definitely qualifies as a yearly tradition to commemorate our anniversary. I am already looking forward to the next time.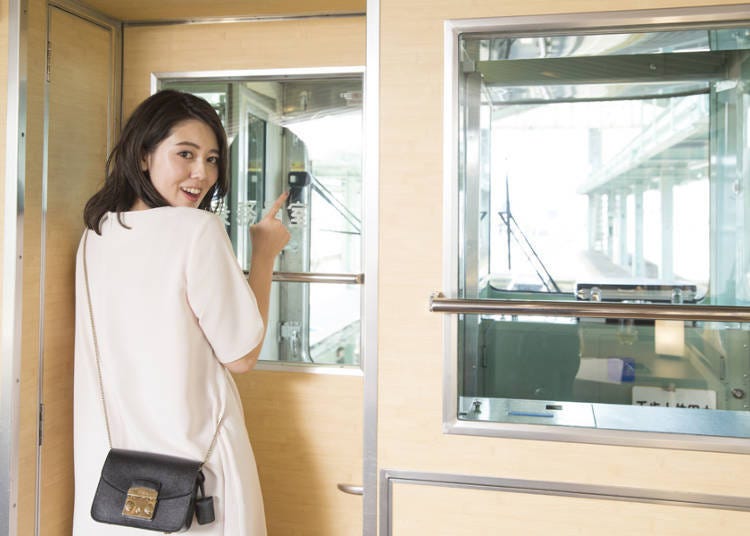 The luxurious brunch in this special setting really was an amazing experience. The time passed so fast, and because of the calm, cozy train setting, I was really able to share many special moments with my partner.

If you are looking for a unique experience and ever find yourself wondering "what should we do?" then I highly recommend Fifty Two Seats of Happiness. It has made the day with my boyfriend and our anniversary an unforgettable one.

Seibu Restaurant Train Fifty Two Seats of Happiness
Routes: Ikebukuro – Seibu Chichibu / Seibu Shinjuku – Seibu Chichibu / Seibu Shinjuku – Hon-Kawagoe / and more
Fee: Brunch Course – 10,000 yen / Dinner Course – 15,000 yen
*Both include a 1-day ticket for the Seibu Line
Date: As a special train, Fifty Two Seats of Happiness is scheduled to run on about 100 days per year, mainly on weekends and holidays.
Reservations: https://www.seiburailway.jp/railways/seibu52-shifuku/en/overview/
What to do While in Chichibu? Sightseeing Tips
1. Kakigori shaved ice at Asami Reizo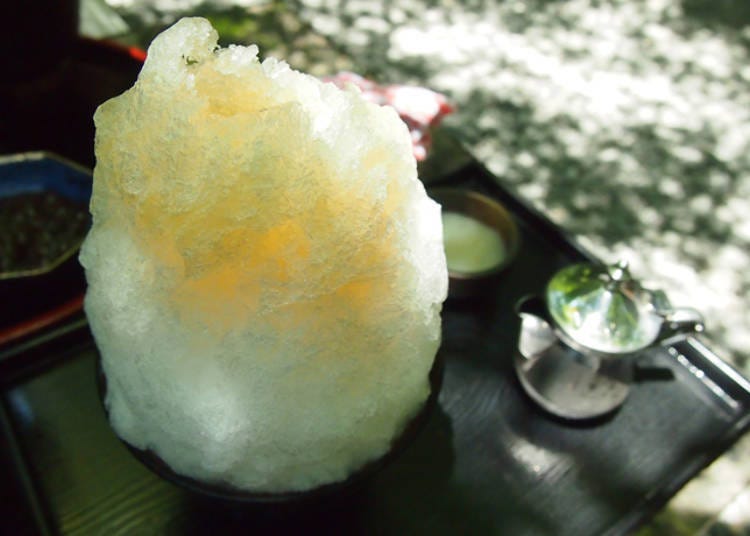 Asami Reizo is famous for its delicious kakigori, or shaved ice, made from Chichibu's natural water. The shop's most famous creation is the secret sauce shaved ice and often credited with starting the recent kakigori boom. If you're in Chichibu, you simply have to try Asami Reizo's kakigori!
Asami Reizo – Kanasaki Head Store

阿左美冷蔵 金崎本店

Address

27-1 Kanasaki, Minano-machi, Chichibu-gun, Saitama-ken 369-1621

Nearest Station

上長瀞

2. Relax at the Matsuri no Yu Hot Spring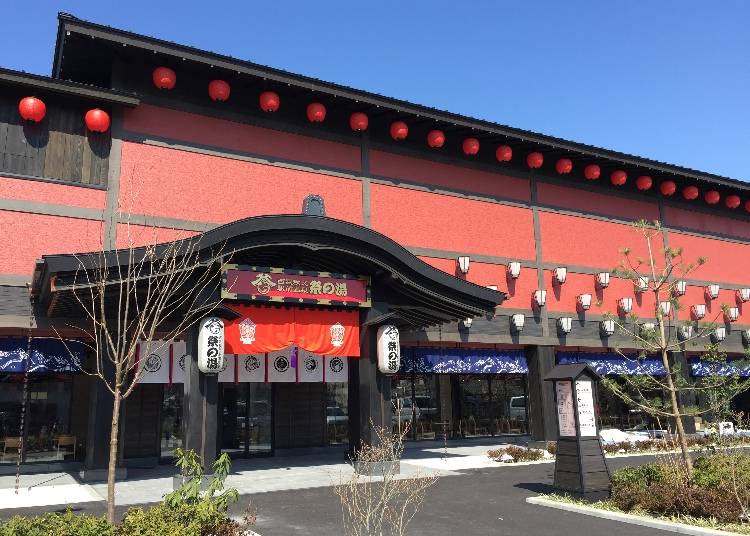 Matsuri means festival – and Matsuri no Yu is just that, a wonderful hot spring facility that has made Japanese festivals its main theme. It opened as recently as April 24, 2017, right in front of the Seibu Chichibu Station! Next to the hot spring baths, there's also the food court and the shopping area to enjoy; a total of three different areas make up the large facility. Five male and six female indoor baths invite to a relaxing soak, and four outdoor baths for each gender let you gaze over Chichibu's beautiful scenery while recharging your energy in the hot water. If you don't feel like leaving in the evening, why not stay at the hot spring's Premium Lounge until the next morning?
Address

1-16-15, Nosakamachi, Chichibu-shi, Saitama, 368-0033
View Map

Nearest Station

Seibu-Chichibu Station (Seibu Chichibu Line)


Phone Number

0494-22-7111
3. Shibazakura at Hitsujiyama Park in April and May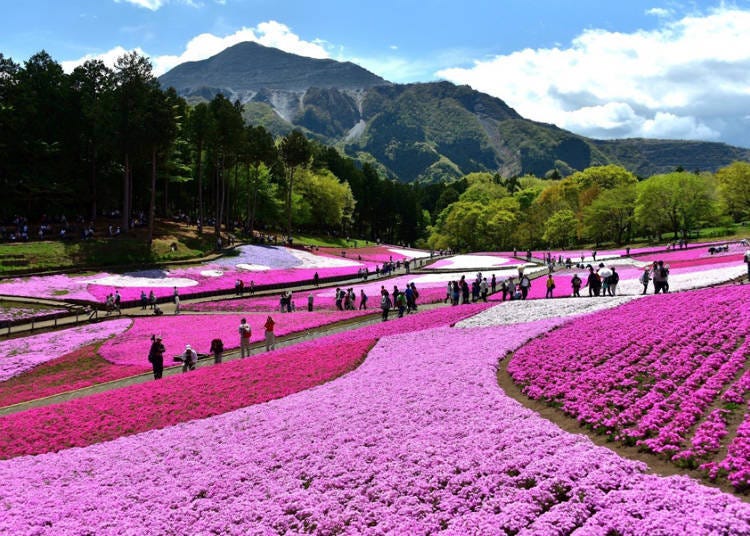 Around 400,000 individual flowers of nine different kinds of moss phlox are in full bloom between mid-April and early May in Chichibu's Hitsujiyama Park. The entire hill looks like one massive carpet of flowers!
Address

6267, Omiya, Chichibu-shi, Saitama, 368-0023
View Map

Nearest Station

Seibu-Chichibu Station (Seibu Chichibu Line)
15 minutes on foot


Phone Number

0494-25-5209
A luxurious brunch made by skilled chefs, admiring the seasonal scenery, and sharing many wonderful moments with a special person - this is what the restaurant train Fifty-two Seats of Happiness means to me.

I'd recommend this unique gourmet day trip to each and every one, no matter where you're from, if you have something to celebrate or just want to make special memories of your time in Japan.

Be careful, though, as Fifty-two Seats of Happiness is immensely popular! Be sure to plan ahead and make a reservation early on. I hope your trip will be as unique and exciting as mine!
*This information is from the time of this article's publication.
*Prices and options mentioned are subject to change.
*Unless stated otherwise, all prices include tax.
Limited time offer: 10% discount coupons available now!