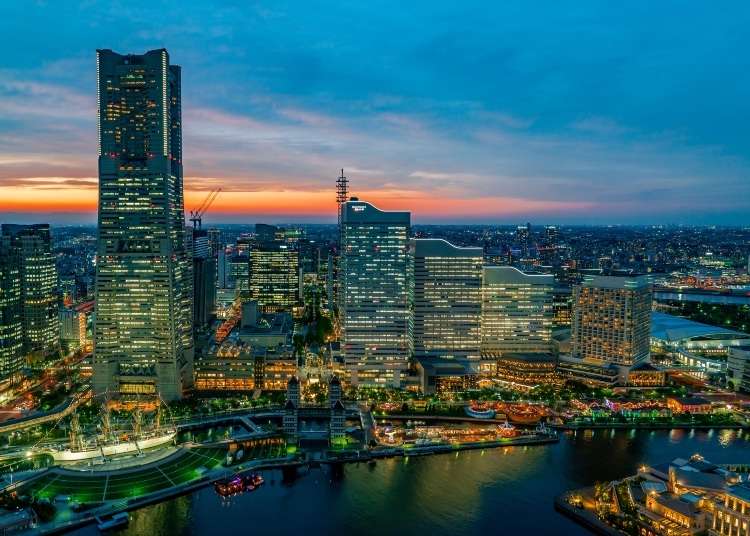 Yokohama is a beautiful city beside Yokohama Bay and just about half an hour south of Tokyo. Consistently voted as one of Japan's most livable cities, Yokohama offers all the expected conveniences of a major city, alongside quite a few unique features which make it an absolutely need-to-visit destination. Here's all you need to know about where to stay in Yokohama on your next trip.

Main image: PIXTA
1. How to select where to stay in Yokohama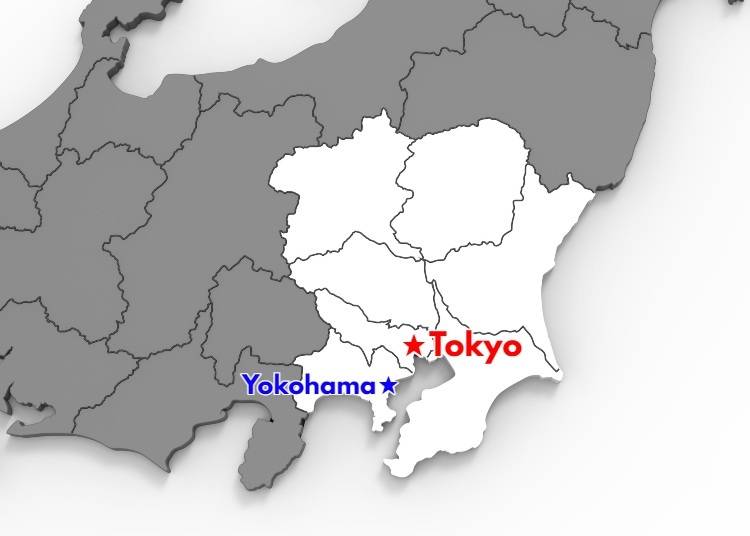 Image: PIXTA
a. Ease of access to/from the airport
Yokohama is very favorably located in terms of airports.

To/From Haneda Airport to Yokohama Station
・Train: You can get from Haneda Airport to Yokohama Station directly by train (via Keikyu Airport Line, 26 minutes, 370 yen o/w). Note that this train is not covered under the Japan Rail Pass.
・Bus: Haneda Airport Limousine Bus (24 minutes, 590 yen o/w).
・Taxi: Going to Yokohama by taxi is more expensive (around 9,000 yen or more o/w) than going by train, but if you direct the driver to take the Metropolitan Expressway Bayshore Route, you will discover a gorgeous 20-minute drive with the ocean on your left and city views on your right.

To/From Narita Airport to Yokohama Station
Narita Airport is further away, but still equally easy to get to.
・Train: It is possible to take the JR Narita Express (N'EX) train (4,170 yen o/w) directly from the airport to Yokohama Station. This train is covered under the Japan Rail Pass. It takes around 90 minutes and is a very comfortable train to ride. Further, you can save around 1,000 yen by taking local trains, but this requires changing lines one or two times – which isn't very convenient if you have a lot of baggage.
・Bus: The Airport Limousine Bus costs 3,700 yen (one-way) and takes around an hour and 45 minutes.

b. Ease of getting to sightseeing spots outside of Yokohama
Yokohama is well connected to Tokyo by both local trains and the Shinkansen (bullet train) network. In particular, the Shinkansen station at Shin-Yokohama makes it very convenient for onward travel toward Kyoto, Osaka, and other points in the west of Japan. Additionally, this amazing city is well connected for getting to Yokosuka and Kamakura toward the south by train.

c. What is Yokohama like?
Yokohama feels a lot more relaxed compared to Tokyo, and apart from some popular parts like Yokohama Chinatown, it generally seems less crowded. This city center benefits from wider streets, lots of green trees and small parks, and also the bay being close by.
Historical buildings that date back to when many foreigners lived in the area also give this city its own unique character, which, if you are coming from Tokyo, can make you almost feel like you have traveled to a different country!
It is perhaps for this reason, amongst others, that this city is the number one place where people want to live in Japan.

d. What's there to do in Yokohama
This city can definitely do a lot of boasting in terms of the food it can offer, whether it's Yokohama's famous Chinatown with its wealth of eateries or the variety of restaurants at Minato Mirai 21, which have gorgeous views of the surrounding area.
Yokohama is also quite unique in that there is a theme park, Yokohama Cosmoworld, and the CUPNOODLES MUSEUM YOKOHAMA located in the city center.
There are pretty parks (such as Yamashita Park) that are perfect for taking a rest and enjoying ocean views, such as Rinko Park, and also frequent boat tours.

e. What kinds of hotels are there in Yokohama?
Yokohama is a popular destination amongst Japanese and non-Japanese people alike, so you can find a full range of hotels to suit virtually any budget or preference. This includes 5-star hotels as well as vacation rentals.
2. Where is the best area to stay in Yokohama?
The following are the best, most convenient areas to stay in Yokohama, beginning with the most recommended places.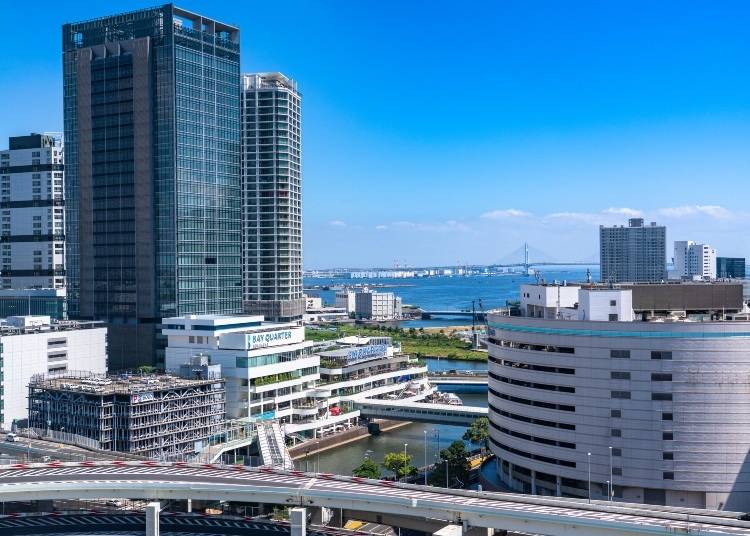 Yokohama Station area (Image: PIXTA)
a. Yokohama Station Area: Great place to stay on business
The Yokohama Station area is basically the main gateway for reaching the rest of the city, and as such it is quite busy and the station can be quite crowded. Despite how busy it is, the benefits outweigh the disadvantages when it comes to traveling with a family as connections here are so convenient.

i. Ease of access to Yokohama Station area
The Yokohama Station area is a very convenient place to stay. As Yokohama Station is a major train station, it has a direct line to Haneda Airport and Narita Airport. Yokohama Station is also home to several JRs, the Yokohama Municipal Subway, the Tokyu Toyoko Line, Keikyu Line, Minatomirai Line, and Sotetsu Line.

Yokohama features great connections to the wider Tokyo area as well as cities further south in the Miura Peninsula, such as Yokosuka. It is also the perfect place to stay if planning a day trip to the historical coastal town of Kamakura.

It is less than 10 minutes to Shin-Yokohama Station, which gives access to the Shinkansen bullet train network. Yokohama Station also has two coach terminals which facilitate long-distance travel to other parts of Japan as well as Tokyo Disney Resort. There are also direct bus options from both airports.

ii. Type of neighborhood/atmosphere
The Yokohama Station area really has a port city vibe, with tall buildings interspersed with waterways. There are many department stores such as Takashimaya and Lumine, and skyscrapers like the Yokohama Sky Building. It is gorgeous at night, while during the day, there are all kinds of attractions that are fun for kids, like the Hara Model Railway Museum and the Yokohama Anpanman Children's Museum.

iii. Nearby sightseeing points of interest
The Yokohama Station area is a bustling one, and it is full of department stores, shops, restaurants, and other attractions. On the east side, you can enjoy the scenery of a city meeting Yokohama Bay, while to the west, there are smaller streets full of eateries. It is also delightful to walk along the waterways, such as the Katabira River.

・Recommended hotels in the Yokohama Station area:
-Luxury: Yokohama Bay Sheraton Hotel and Towers
-Mid-range: Hotel Plumm
-Budget: Yokohama Hostel Village
-For families: Yokohama meguri Apartment Hotel
-Vacation rental: Spacious Yokohama Penthouse, two bedroom 110m2
-Capsule hotel: Capsule Plus Yokohama Sauna & Capsule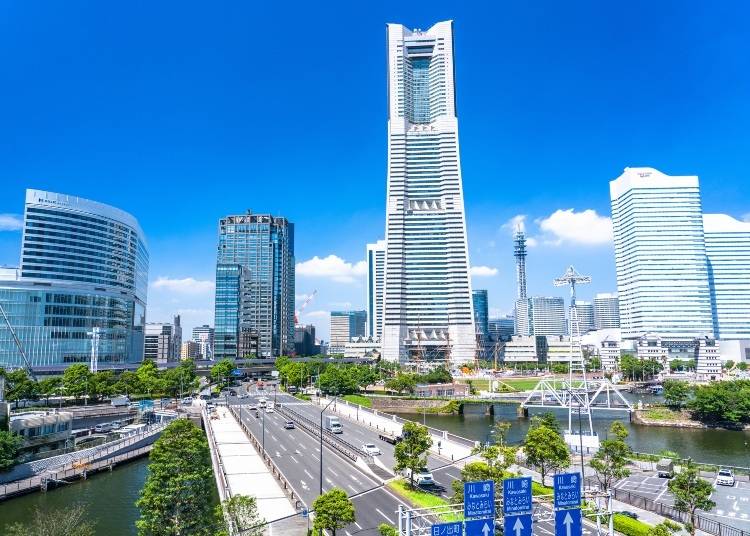 Minato Mirai 21 area (Image: PIXTA)
b. Minato Mirai 21/Sakuragicho: Perfect for staying close to the sights
Generally, when people think of Yokohama, they think of the beautiful skyline of Minato Mirai 21. This iconic area features Yokohama Landmark Tower, one of Japan's tallest skyscrapers, the Cosmo Clock 21 Ferris wheel, and the historic Yokohama Red Brick Warehouse. It is a popular destination for travelers of all types, including both families and solo travelers.

i. Ease of access to Minato Mirai 21/Sakuragicho
Home to two train stations: Sakuragicho Station (JRs/Yokohama Municipal Subway Blue Line) and Minatomirai Station (Minatomirai Line), this area can be easily reached from Haneda Airport and Narita Airport via Yokohama Station.

Sakuragicho Station is a direct train to Shin-Yokohama Station via the Blue Line (subway; 15 minutes). Meanwhile, Minatomirai Station is a straight shot to Shibuya via the Minatomirai Line and Toyoko Line (35 minutes), making this area very conveniently situated.

ii. Type of neighborhood/atmosphere
For any traveler planning to stay in this area, it is best to understand that the areas around Minato Mirai 21 and Sakuragicho are where people come to have fun – whether that is going to the Yokohama Cosmoworld amusement park, going on a bay cruise or enjoying dinner and drinks at a restaurant. This area is particularly busy on weekday evenings and at the weekend.

iii. Nearby sightseeing points of interest
This area is chock full of attractions, shops, and restaurants. There is even the Nippon Maru sailing ship, Yokohama Brewery, and also in 2021, the Yokohama Air Cabin (ropeway) opened which connects Sakuragicho with Unga Park.

・Recommended hotels in Minato Mirai 21/Sakuragicho
-Luxury: The Kahala Hotel & Resort Yokohama
-Mid-range: Yokohama Sakuragicho Washington Hotel
-Ryokan: PROSTYLE Ryokan Yokohama Bashamichi
-For families: InterContinental Yokohama Grand, an IHG Hotel
-Vacation rental: Oakwood Suites Yokohama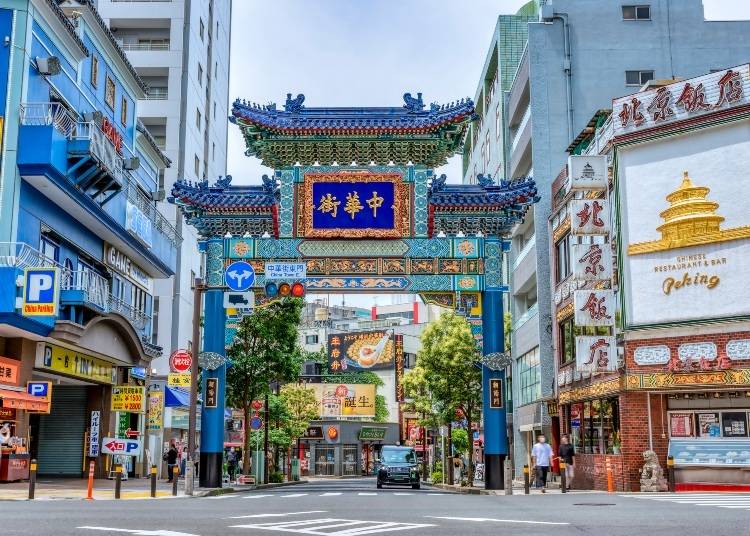 Motomachi-Chukagai area (Image: PIXTA)
c. Motomachi-Chukagai Area: Enjoy staying around Japan's largest Chinatown
Get deep into the history and culture of Yokohama with a trip to Motomachi-Chukagai. This area is most famous for Yokohama Chinatown, Japan's largest, but it also includes the upscale Motomachi Shopping Street and tranquil Harbor View Park.

i. Ease of access
This area is conveniently serviced by two stations: Motomachi-Chukagai (Minatomirai Line) and JR Ishikawacho Station (Yokohama, Keihin-Tohoku, Negishi Lines). From Yokohama Station, it takes around 10 minutes to get to this area via either line, making this area perfect for visiting both the wider Tokyo area and points south as well. Yokohama Chinatown is within a 10-minute walk from both stations as well.

ii. Type of neighborhood/atmosphere
The Motomachi-Chukagai area has a very different character to the center of Yokohama. While Yokohama Chinatown bursts with color and decorations, Motomachi Park and Harbor View Park feature stately European-style architecture. It is also close to many of Yokohama's cultural landmarks, such as the Yokohama Foreign General Cemetery, Yamate Italian Garden, and Bluff No. 18 Residence.

iii. Nearby sightseeing points of interest
It goes without saying that if you are going to eat in this area then you need to go to Yokohama Chinatown. You are spoilt for choice from among the 200+ restaurants on offer here. This area also offers a bit of respite from the busier city center with lots of quiet parks and a more laid-back pace of life. Although Motomachi is one of Yokohama's fashion districts, it has a laid-back vibe and sports a variety of dining options. Just north, you'll find the expansive Yamashita Park and waterfront.

・Recommended hotels in Motomachi-Chukagai Area
-Luxury: Hotel New Grand
-Mid-range: Rose Hotel Yokohama
-Budget: Chillulu Coffee and Hostel
-For families: Hotel Mielparque Yokohama
-Vacation rental: Ray House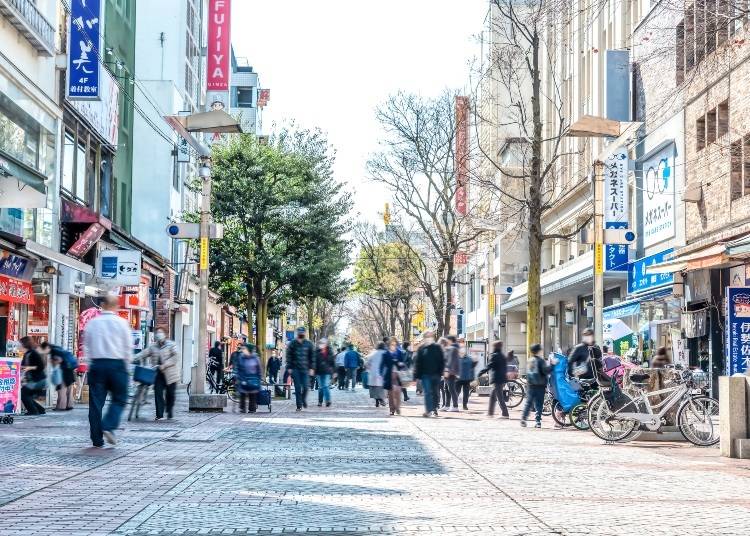 Yokohama Stadium Area (Image: PIXTA)
d. Yokohama Stadium Area (Kannai): Most convenient area for quick trips or staying after the game
Kannai is split by a very wide main street and offers great access to both the Sakuragicho area and Yokohama Chinatown. However, it is somewhat less convenient for travel and is suited more towards solo travelers or those traveling with friends. As it is close to Yokohama Stadium, it is also the perfect location for baseball fans.

The Yokohama Stadium area is a bit of a distance from the center of Yokohama, but Yokohama Station is the perfect gateway for accessing Tokyo and the rest of Japan. However, it needs to be kept in mind that the further away from the Yokohama center you are, the more time it will take to access sightseeing spots outside of Yokohama.

i. Ease of access
The Yokohama Stadium area is serviced by two main stations: Kannai Station (JR and Blue Line; roughly 5 minutes from Yokohama Station) and Nihon-Odori Station (Minatomirai Line; around 7 minutes from Yokohama Station). As such, it has good access to both airports and to the Shinkansen (at Shin-Yokohama Station).

ii. Type of neighborhood/atmosphere
This neighborhood features a lot of large governmental buildings, which does make it quieter on the weekend. However, the general vibe of this area is one of space, with wide streets and not so many crowds – save for when baseball is on. This area also has a fair number of bars and restaurants. It really suits people who prefer a more relaxed area for staying in, and also great for families.

iii. Nearby sightseeing points of interest
There are lots of local stores and restaurants to discover in this area, and you can get to the waterfront with just a 15-minute walk. The waterfront offers access to Osanbashi Pier, Yamashita Park and Yokohama Red Brick Warehouse. In particular, these are really photogenic spots perfect for great night-time views and also taking that perfect Instagram photo.

・Recommended hotels near Yokohama Stadium Area (Kannai)
-Mid-range: Daiwa Roynet Hotel Yokohama-Koen
-Budget: Comfort Hotel Yokohama Kannai
-Vacation rental: SyukuyaYokohama Main Building 1F - Vacation STAY 82573
-Hostel: Yokohama Guesthouse HACO.TATAMI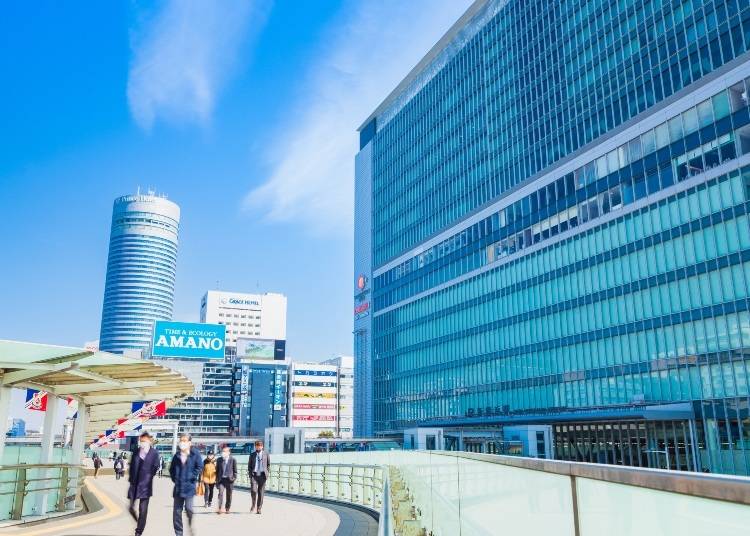 Image: PIXTA
e. Shin-Yokohama Area: Convenient access to the Shinkansen network
This area is more commercial and has fewer attractions than elsewhere in Yokohama, so it is best suited to travelers who are looking for convenience or just a quick stopover. As it is a Shinkansen station it offers direct access into Tokyo and toward the west of Japan, but it does also have its own special perks like the Shin-Yokohama Ramen Museum! This museum includes a gallery, museum shop, old-fashioned sweet shops, and of course ramen restaurants!

i. Ease of access
Shin-Yokohama Station is very convenient to reach. Serviced by both JR and Blue Line, it's around 10 minutes away from Yokohama Station. As Shin-Yokohama Station is also a stop on the Tokaido-Sanyo Shinkansen line, it is extremely easy to not only travel directly to Shinagawa and Tokyo stations (within 20 minutes) but also for onward travel to Kyoto (just under 2 hours) and Osaka (around 2.5 hours) in the west of Japan.

ii. Type of neighborhood/atmosphere
This is a busy train station, so it is important to remember that public transport can be very crowded – especially in the evening. There are quite a few office buildings nearby, and generally, you will find many office workers in this area. As such, this is a location to stay at if you need the convenience of local transport, or if you are going to the Ramen Museum or the Nissan Stadium.

iii. Nearby sightseeing points of interest
If you are staying here and are looking to eat, then the answer has to be the Ramen Museum, but there are also ramen restaurants on the street up to the museum. Past the museum, you can get to the Nissan Stadium and check out the parks around the stadium. There is also a MEGA Don Quijote Shin-Yokohama Store which is just a 12-minute walk away.

・Recommended hotels in Shin-Yokohama Area
-Mid-range: Hotel Associa Shin-Yokohama
-Budget: Super Hotel Shinyokohama
-For families: Shin Yokohama Prince Hotel
3. Types of accommodation in Yokohama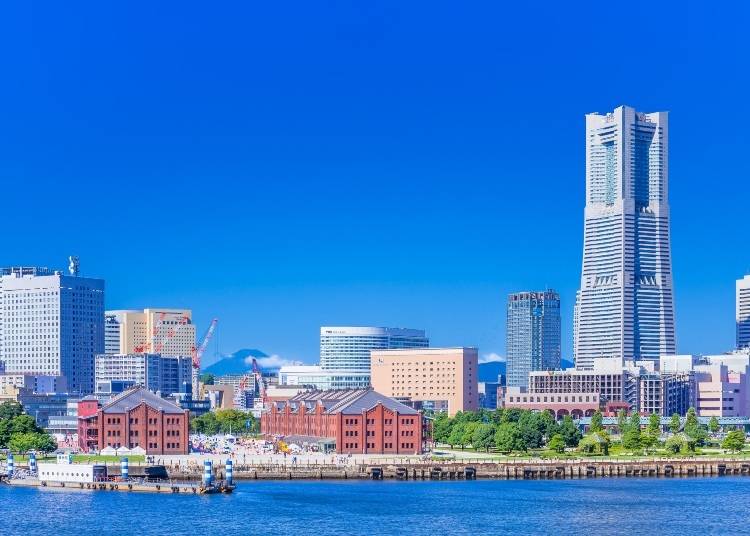 Image: PIXTA
There are a variety of different kinds of hotels available in Yokohama. Here we'll walk you through the main categories.

a. Hotels
・Best luxury hotels in Yokohama (Booking.com)
・Best mid-range hotels in Yokohama (Booking.com)
・Best hotels in Yokohama for families (Booking.com)
・Best value hotels in Yokohama (Booking.com)

b. Business hotels
These kinds of hotels tend to be very economical, so the rooms tend to be quite small and basic. However, they are often found near train stations and the price per night can be quite reasonable. They are quite a good choice when you just literally need a bed and aren't too concerned about creature comforts.

c. Capsule hotels (pod hotels)
Capsule hotels offer a very different and unique kind of stay, one which first started in Japan. At these hotels you can stay in a small capsule! Typically, you are given a small chamber which is about the size of a small bed, while facilities like toilets and showers are shared. They are very cheap, but are not really suitable for people uncomfortable with being in a small space.

d. Guesthouses & Hostels
Guesthouses and hostels, like the world over, offer really great accommodation at a reasonable price. In Japan they are typically safe, clean and quite often well located. Generally they are perfect for solo travelers or people in a small group, but some places have accommodation which is also suitable for families.

e. Vacation Rentals
Vacation rentals really took off in Japan after a change in the law in 2018, and now it is possible to stay at a range of different accommodation types. Although they can be more expensive than even budget hotels, there are many options available and often include entire apartments. However, it has to be kept in mind that the people in neighboring apartments are living there so you need to avoid creating disturbances, and in addition, Japan can have some quite strict garbage separation rules which you will need to follow.
▶Find a vacation rental in Yokohama

f. Love hotels
Love hotels might sound a bit seedy, the original concept being a hotel where couples can have some private time, but over time these kinds of hotels have also become popular with tourists because they can be inexpensive, the rooms can be quite big and also because theme-type love hotels can be quite interesting! Another benefit is that you can normally book a room by the hour, so they are convenient for very short stays.
4. When is the peak season for visiting Yokohama?
In autumn, the rows of gingko trees in front of Yamashita Park turn golden colors
Japan features certain times of the year when domestic travel can get really busy, and tourist attractions can get very crowded.

・August (Obon/Summer vacation)
In around mid-August, many workplaces close for a few days for the Obon holidays. In addition, universities and schools are closed and it is a popular month for travel. Air travel and train lines can particularly be crowded at this time.

・November (Autumn)
A lot of tourists come to Yokohama in November to see beautiful autumn foliage! For example, the beautiful colors of tree leaves along Nihon Odori Avenue (near Kannai Station) and the collection of cherry blossoms at Sankeien Garden. This means that outside areas can be quite busy during this season.

・March (Cherry blossom season)
Similar to autumn, many domestic tourists go to Yokohama in March to see cherry blossoms. Beautiful spots include Sakura Odori Street in Minato Mirai 21, Kamonyama Park (about 15 minutes from Sakuragicho Station), and Yamashita Park (around a 3-min walk from Motomachi-Chukagai Station).

Check Yokohama hotel availability and pricing on Booking.com, especially in the busier seasons. Many accommodations offer free cancellations, and you can usually reserve a room with no prepayment.
5. Where to search if Yokohama is booked
If you are finding that hotels are booked up in Yokohama as you are visiting during a busy period, then you can consider other alternatives which are not far from Yokohama.

・Kawasaki
As the city right next door, Kawasaki is really well placed for going to Yokohama, Tokyo and Haneda Airport. In fact, you can get from Kawasaki Station to Yokohama Station in just 8 minutes! On top of that, this city has its own great attractions which include Korea Town, Yumemigasaki Zoological Park, and Kawasaki Marien.

▶Browse hotels in Kawasaki

・Tokyo
Southern Tokyo (especially around Kamata and Shinagawa stations) is a straight shot to Yokohama via the JR and Keikyu lines. Staying in Tokyo offers the advantage of being able to enjoy all the pleasures that a big city has to offer. Both station areas offer great access to Haneda Airport and are convenient for sightseeing around central Tokyo as well.

▶Check out the best places to stay in Tokyo
*This information is from the time of this article's publication.
*Prices and options mentioned are subject to change.
*Unless stated otherwise, all prices include tax.
Search for International flights