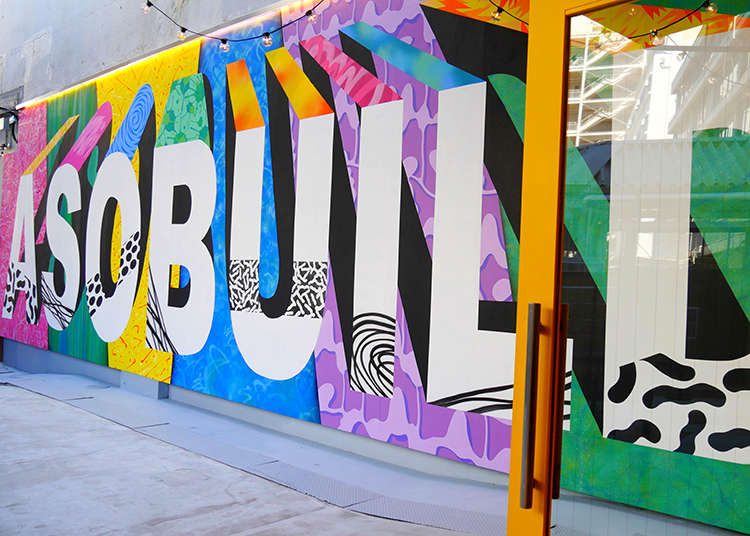 The experience-based entertainment complex "ASOBUILD" is a new genre of fun! It is directly connected to Yokohama Minami East Exit passage. "ASOBUILD" is born from the renovated Yokohama Station Central Post Office annex, and located about 1-minute walk from the station square from the east exit. "ASOBUILD" provides new experience-based contents that will sure WOW you with bunch of surprises and discoveries!
1st floor gourmet street "POST STREET"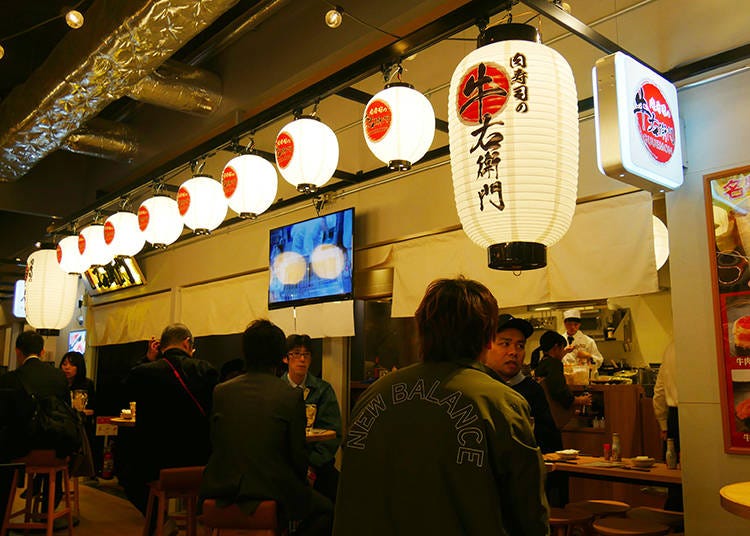 18 restaurants gather here right on the gourmet street to make you fall in love with Yokohama. Targeting on a wide range of age groups, the gourmet street gathers different types of restaurants from the latest trendy restaurants to the long-established Japanese restaurants like Sakiyoken. You can also drink around in Japanese pubs like Noge, which has a deep connection to Yokohama culture. Plus, there is a stage at the corner of the floor where you can enjoy the food and live music at the same time.

■ List of Restaurants
-DAIGOMI BURGER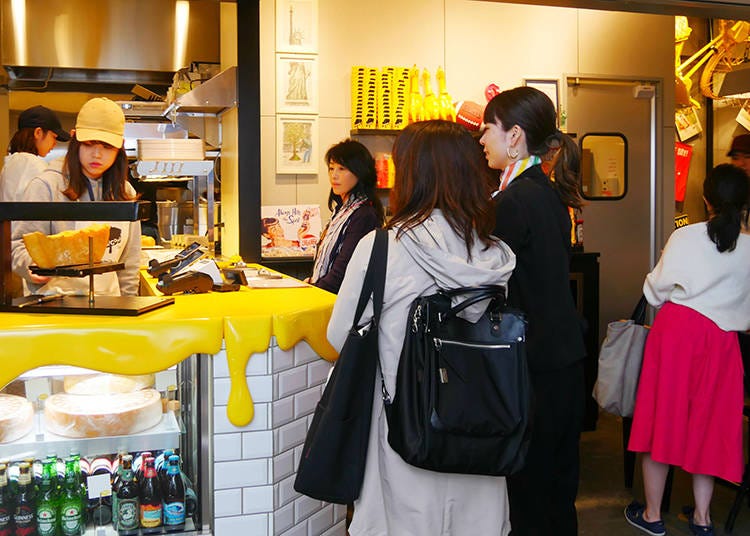 If you like cheese, this restaurant is build for you. "DAIGOMI" cheeseburger specialty store, which is famous as "a restaurant that is too popular to be reserved" in Minami Aoyama and Ikebukuro areas.

*Menu
・D.G.M cheeseburger lunch 1,458 yen, grand 1,674 yen
・D.G.M roast beef cheeseburger lunch 1,782 yen, grand 1,998 yen
*Add more cheese
・NYC raclette cheese fall 864 yen
DAIGOMI signature creamy thick raclette cheese
・Browned cheese chips 648 yen
 Mix of various types of cheese burned to crispy

In order to make the most of the charm of cheese, the patties are made of two types of beef, 100% beef and roast beef. They provide brown rice buns made from natural water of Kumamoto and Aso, domestic Koshihikari brown rice flour, butter from Hokkaido, and natural sea salt from Okinawa. Completely additive-free burger buns without the use of additives such as antioxidants and emulsifiers, one by one handmade by professional baker. They also provide home-made barbecue and tartar sauces to enhance the taste of the cheese.

Opening Hours:
Weekdays: 8:00 to 14:00 (LO 13:30) / 17:00 to 21:00 (LO 20:30)
Saturdays, Sundays, and holidays: 10:00 to 14:00 (LO 13:30) / 17:00 to 21:00 (LO 20:30)
Number of seats: 30
Average cost: Lunch ¥ 1300 Dinner ¥ 2500

-Dumbo Doughnuts and Coffee ASOBUILD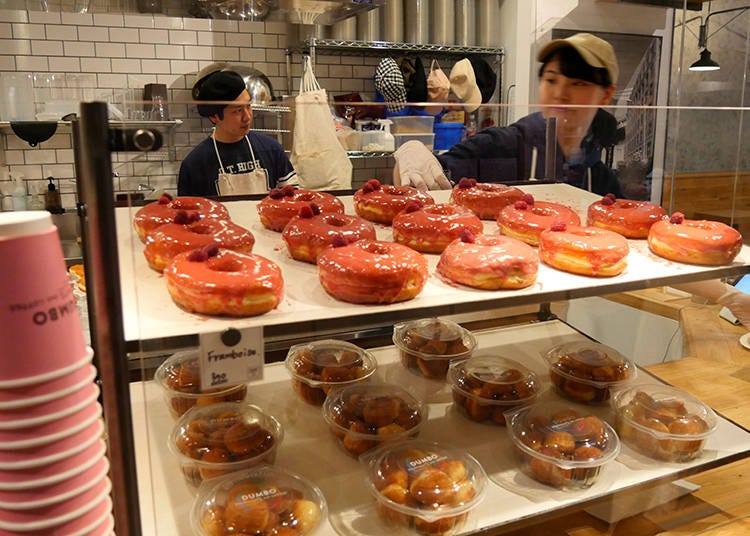 The popular store originally from Azabujuban opens its first store here in Yokohama. A specialty store of rich NYC style donuts and coffee blended to fit the donuts. The home-made, carefully-kneaded dough with secret ingredients, makes the donuts crispy outside and chewy inside. These fresh donuts are fried little by little inside with a voluminous look, makes them sweet but not too sweet.

Recommended Menu
FRANBOISE: A sweet and sour taste, rich in bright Framboise glaze sauce, and highly satisfying for both appearance and taste. The most popular choice in Azabujuban Main Store.

Opening hours: 9:00-19:00
Number of seats: 12
Average cost: Lunch: ¥ 800, Dinner: ¥ 800

-Umedaemon Meat Sushi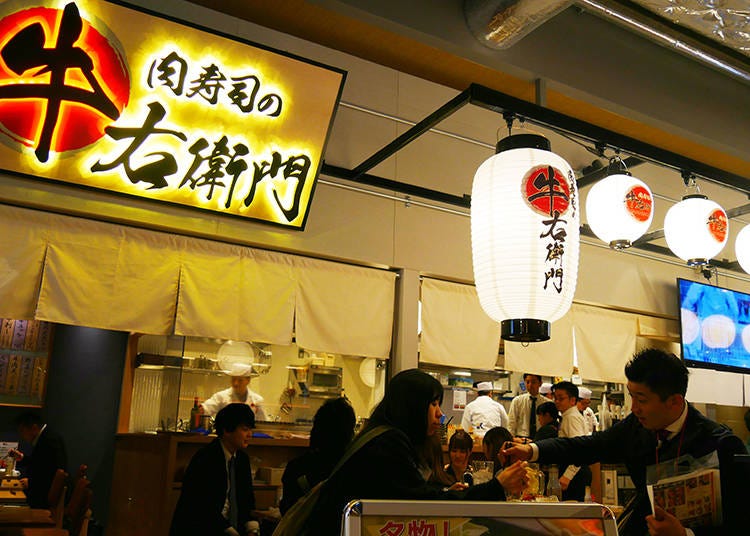 An "unconventional meat tavern" with a rich and varied menu and reasonable prices, providing grilled beef and grilled meat with a variety of cooking methods and eating methods. This is a place where everyone can enjoy from various types of meat sushi, various parts of beef, directly-delivered fresh Yamagata chicken.

Recommended Menu
Beef sushi combination platter: Assorted 6 kinds of creative sushi with various parts of beef and seafood

Opening Hours: 17:00-24:00 (LO: 23:30)
Number of seats: 58
Average cost: ¥ 3,000-

-Sushi Suzunari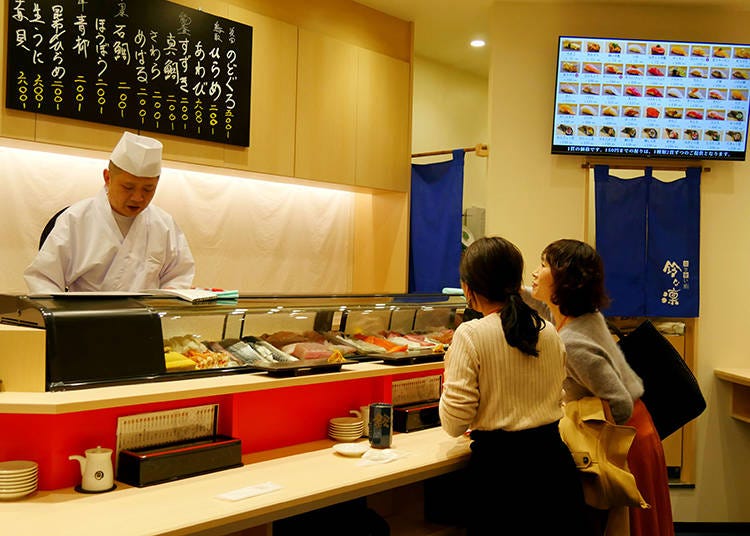 "Japan's proud traditional food", "Inherited craftsmanship", "certain ingredients chosen with great skill" ... If such full-fledged sushi can be eaten more freely- The dream is realized by combining sushi with stand-up meal style.

"High standard", "Those sushi masters are scary", "Too expensive" ... In order to wipe out these negative image of the traditional high-class full-scale sushi restaurant, Sushi Suzunari is built to begin the new ear of sushi culture.

Recommendation:
・ Fish sent directly from fishermen from Noto, Ishikawa Prefecture
・ Fresh fish caught in the morning at Odawara fishing port

Opening hours: 11:00-23:00 (LO: 22:45)
Number of seats: 20
Average budget: Lunch: ¥ 980, Dinner: ¥ 1, 800

-Kanbei Yokohama east exit store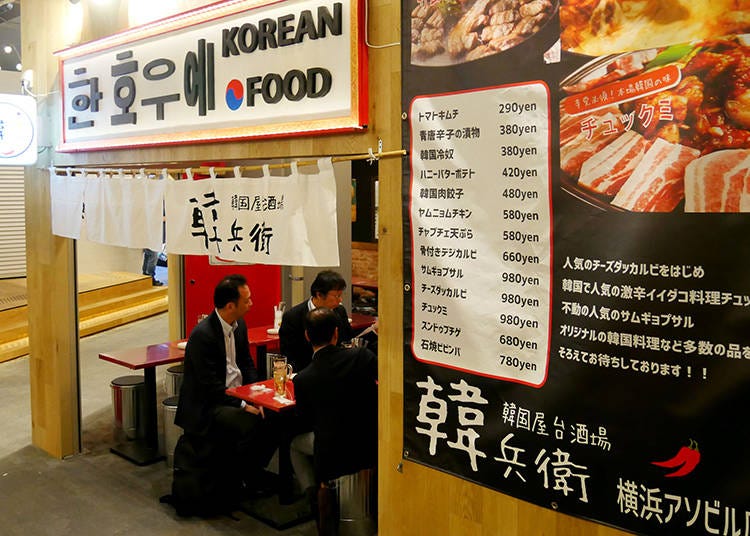 Popular Korean food is provided here. Cheese Takalbi, stir-fried Chukumi of octopus, classic Samgyopsaru, etc... you can find all kinds of Korean food that is buzzing in Japan recently! Enjoy the hospitality with authentic taste! Don't forget to have a fresh creamy macgolli to enhance the spicy Korean food. Please do not hesitate to come in!

Recommended menu
・ Chukkumi: Extremely hot and spicy dish of octopus, great choice for spicy food challenge! Double tasty with melted cheese fondue.
・Bone-in Dejikarubi meet: A well-cooked bone-in pork sparerib with a sweet and spicy sauce will definitely satisfy your hunger.
・Korean grilled gyoza: Korean grilled gyoza with a crispy taste. Plenty of meat and Chappuche ingredients inside. Original gyoza sauce will be served.

-Sakiyoken Yokohama Station East Exit Shiumai BAR Store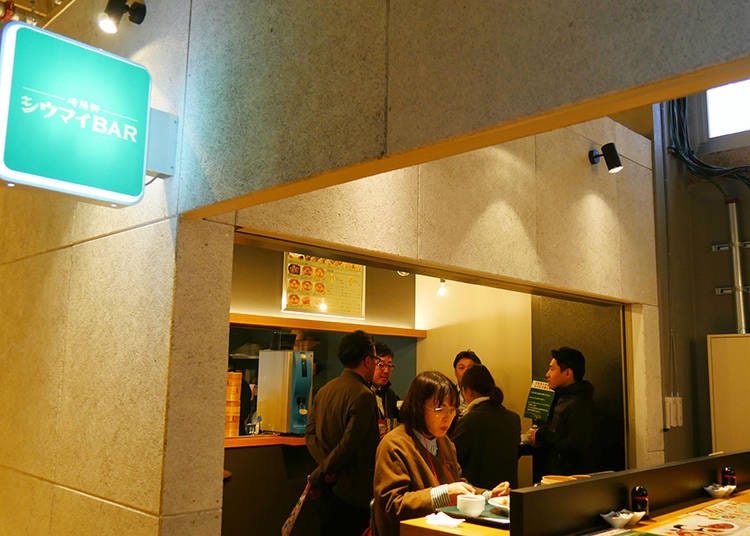 The popular "Shiumai BAR" originally from Tokyo Station now opens at ASOBUILD, Yokohama Station East Exit. You can enjoy hot meals and drinks here. Sakiyoken's Shiumai was born for station lunch, it is characterized as "delicious even if it gets cold". In this shop, you can enjoy Sakiyoken shiumai while it is hot and fresh. Whether you are alone or with friends, whether you a traveller or working people, please come in and spend a blissful time here.

Recommended menu
・Old-fashioned shiumai (6 pieces): Rich flavor created when pork meets dried scallops
・Yakiyaki shiumai (6 pieces): Fresh made Shiumai with a crispy bambooshoot accent
・5 types of Shiumai combination platter (5 pieces): Assorted with old-fashioned Shiumai, specially made Shiumai, Shrimp Shiumai, Crab Shiumai, Black Pork Shiumai

Opening hours
Weekdays: 11: 00-23: 00 (LO: 22:30, 14: 30-16: 30 break)
Saturday: 11: 00-23: 00 (LO: 22:30)
Sunday and Holiday: 11: 00-22: 00 (LO: 21:30)

-Spinx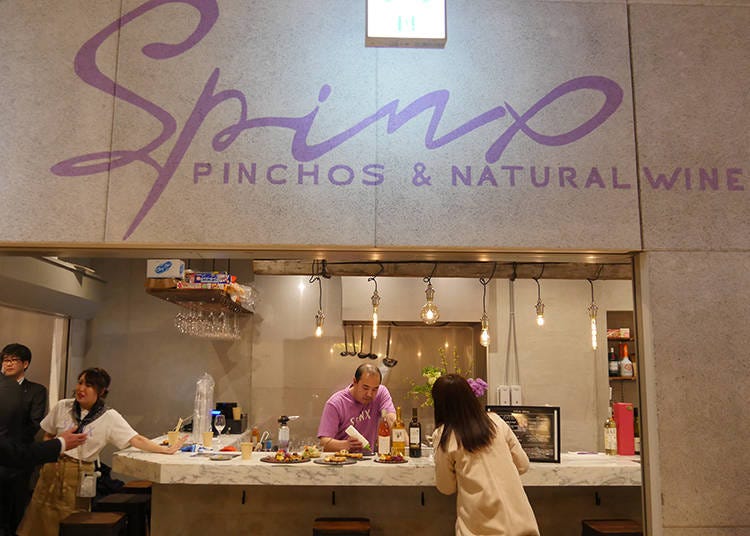 A wide variety of bite-sized pintxos along with natural wines. Great choice for those who want a light meal.

Recommended menu
・Today's pinchos platter
A wide range of desserts, fried foods, appetizers, salads, steaks, and many bite sizes and rich seasonings can be enjoyed.

Opening hours: 16:00-23:00 (LO: 22:30)
Seats number: 20
Average cost: Lunch ¥ 1,200-; Dinner ¥ 2,000-

-Noge Yakisoba Center Maruki Yokohama store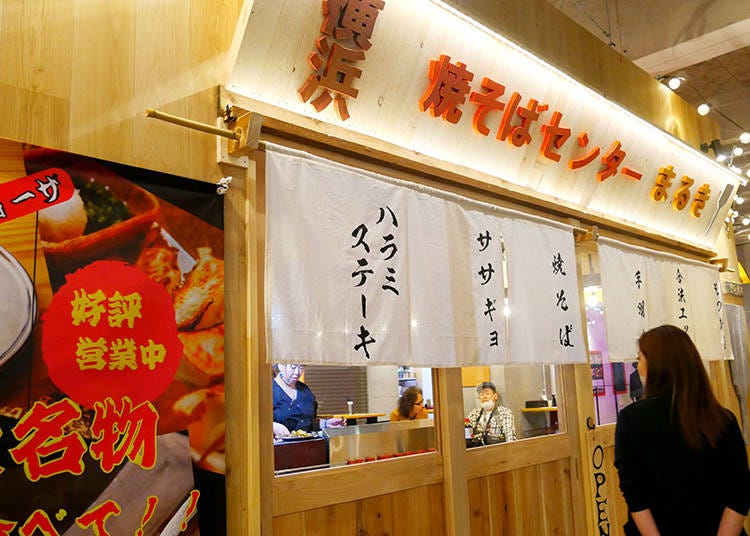 "Maruki" serves yakisoba and gyoza. You can enjoy a traditional menu of food and drinks here. Yakisoba, known as Japanese home meal, with various toppings chosen by yourself, will give you the taste of home. There are many varieties from free toppings to premium toppings! The noodles was jointly developed with Asakusa's long-established noodle shop "Kaikaro", combining with the "Union sauce" from a long-established sources store in Nikko, will sure serve you the Yakisoba that remains in memory.

Recommended menu
・Maruki Yakisoba: "A memorable Yakisoba" originated from Noge. Make your own original Yakisoba with the free toppings.
・Sasagyo (Sasami chicken meat with beefsteak plant): Garlic non-use, please enjoy it with grated ponzu vinegar
・Superb Harami Steak: A super-excellent steak that will not be forgotten once eaten

Opening hours: 17:00-23:30 (LO: 23:00)
Number of seats: 30
Average Budget: Lunch: ¥ 1,000, Dinner: ¥ 2,000

-Ramen Ichirokuya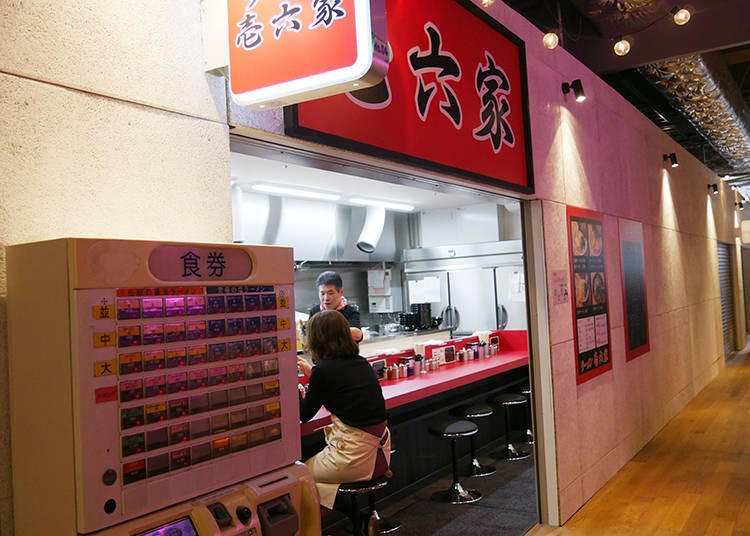 Delicious soup since 1992. We offer rich soup which is carefully made over time. We are proud of our salt ramen and Char-siu pork. For all customers who love the real thing, make sure you have a ramen from Ichirokuya. We are here in Yokohama store and waiting for you to come and enjoy the best ramen experience.

Recommended menu
Char-siu Ramen: The taste of the fresh baked domestic thigh meat will come back to you later and it will definitely become one of your precious taste memories.

Opening hours 11:00-2:00
Number of seats 19

-Seafood bar Norisuke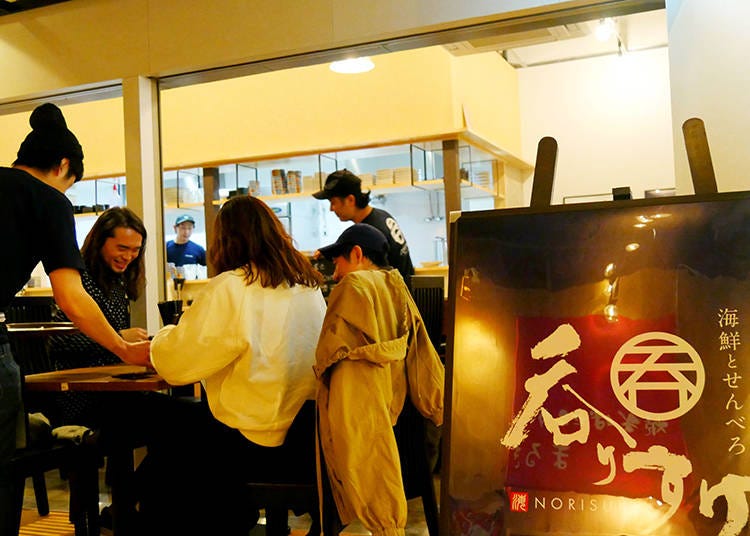 "4 cups for 1000 yen, you can drink up to 7 cups if you win a gacha" A real bargain of drink set with Seafood at "Norisuke". Environment, taste, price… everything is great! Seafood fresh from Toyosu market is outstanding. Please stop by.

Opening hours: 11:30-24:00
Average cost: Lunch ¥ 880-, Dinner ¥ 1,000-¥ 1,500

And 8 other restaurants will open!
2nd Floor: Experience Event Floor ALE-BOX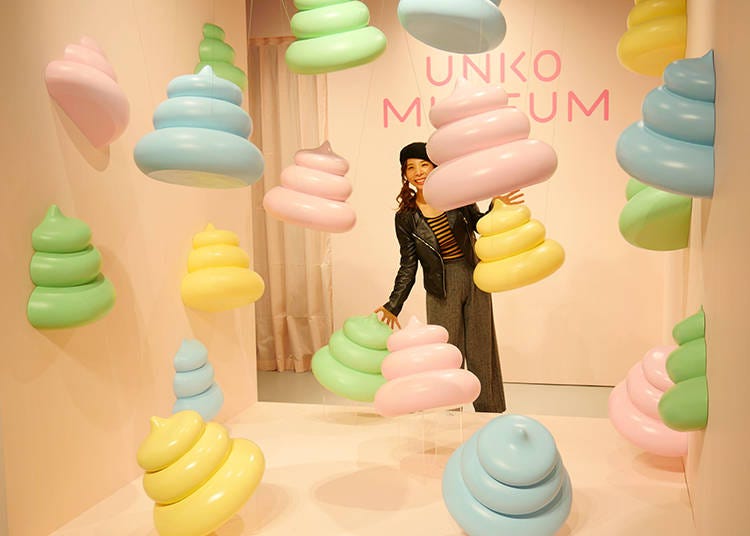 Unko Museum

ALE-BOX is a permanent experience event floor based on the concept of "selected shops for entertainment experiences".

Things that can only be experienced here, such as the latest technologies, innovative escape games and exhibition events, VR, sports contents will be developed. Contents will be replaced regularly, so it will be a place that always brings you fresh experiences and surprises.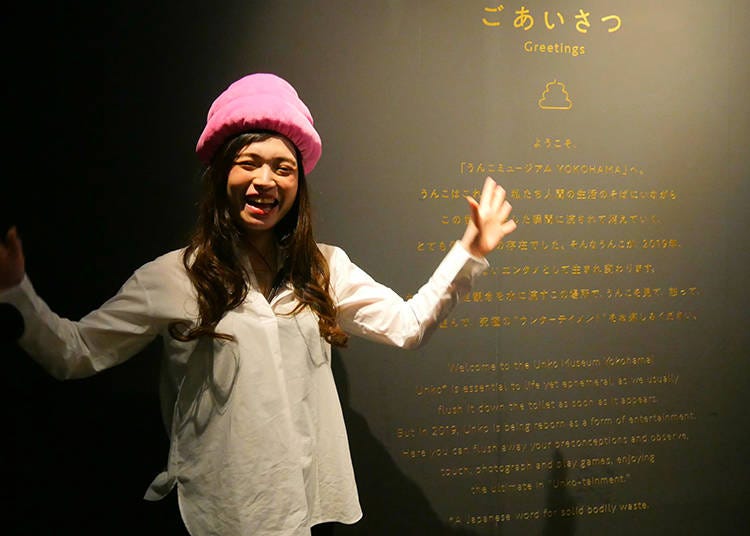 "UNKO MUSEUM (Poop Museum)" is the world's first amusement space with the theme "Poop". The museum consists of 4 areas - "Poop plaza" is where the poop jump out from the huge object, the "Unstagenic area" is where cute and sparkling poops are lined up, the "Untelligence area" is where you can learn the history of poop and poop stories over the world, and "Unteractive area", where you can enjoy fun poopy games. The museum provides a new experience through poop regardless of nationality or age. You will not only see "poops" here, but also touch it, feel it, hear it, and even play with it in this new experience-based museum.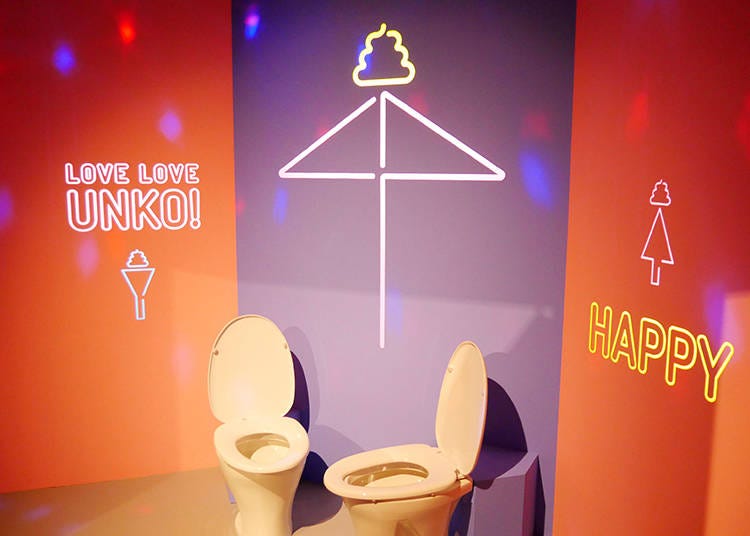 Aiming to build a place where customers can feel surprised and experience things that they have never seen before, the museum sees the great potential in "Poop" which has universal value over time. Through this familiar and magnificent theme of "Unko (Poop)", you will have an unprecedented experience.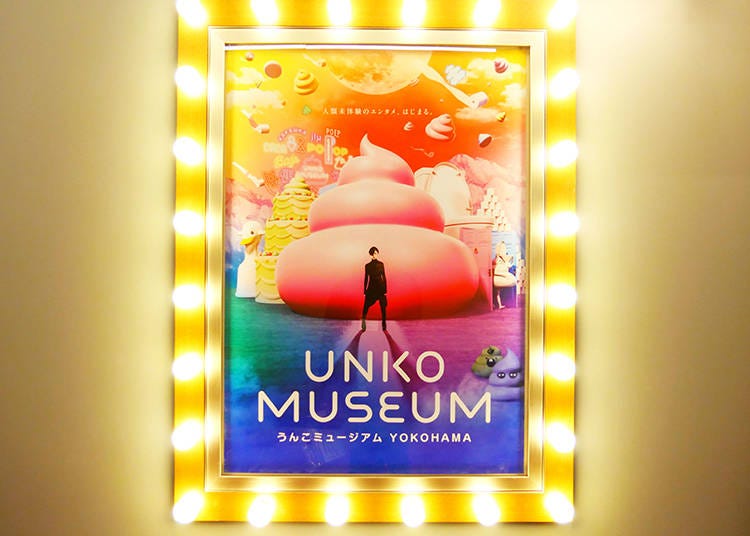 ・Opening period: March 15, 2019 - July 15, 2019
・Business hours:
A: Weekdays (Monday - Thursday) 11: 00 ~ 20: 00
 * Final entrance reception 19:30
B: Friday, Saturday, Sunday, Holidays, day before Holidays 10: 00 ~ 21: 00
 * Final entrance reception 20:30
・Exhibit contents: Poop Plaza / Unstagenic Area / Untelligence Area / Unteractive Area
・Entry method: Ticket system by booking (※ same-day tickets are available depending on availability)
・Admission time: Fridays Saturdays, Sundays, public holidays, only on public holidays Admission designation at the following time (not a replacement system)
1. 10: 00 ~ 14: 00
2. 14: 00 ~ 17: 00
3. 17: 00 ~ 20: 30
・Admission fee:
Adult (Junior high school student or above) ¥ 1,600 (tax included)
Child (elementary school student) ¥ 900 (tax included)
Elementary school student free
https://ale-box.com/unkomuseum/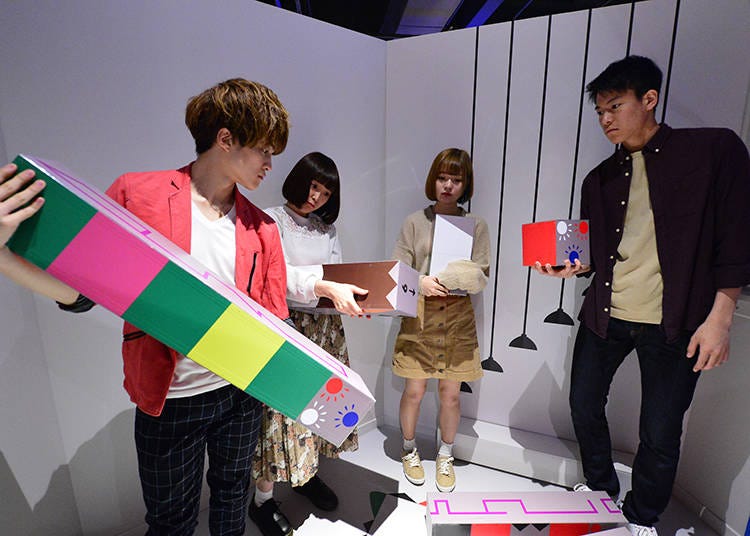 Escape from The Nine Rooms

While holding a tablet on the stage of "9 rooms" with a series of large-scale devices and an innovative system, solve the mystery of each room using the five senses within 50 minutes. A brand new escape game that can be played by 1 to 4 people.

Opening Period: March 15, 2019 (Fri) ~ End date undecided
Performance time:
10:00/11:00/12:00/13:00/14:00/15:00/16:00/17:00/18:00/09:00/20:00
Price: 4 tickets 11200 yen, 3 tickets 9000 yen, 2 tickets 6200 yen, 1 ticket 4300 yen
3rd Floor: Handmade floor MONOTORY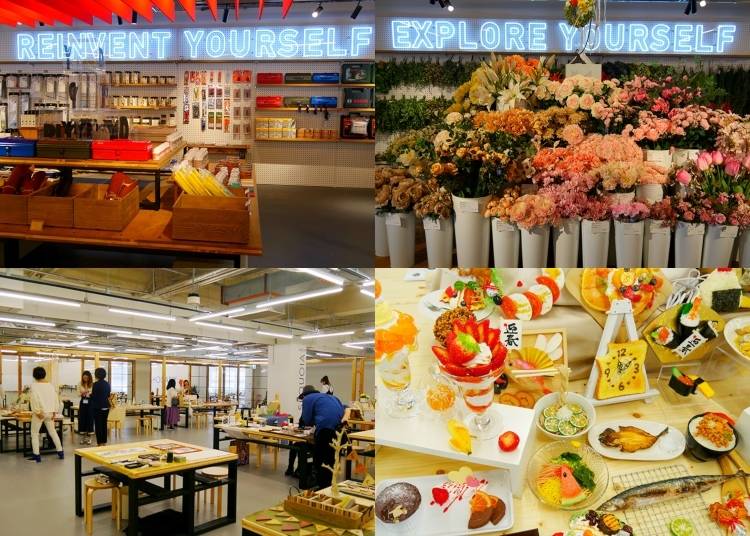 In recent years, the demand for a single hand-made item other than mass-produced products is increasing. MONOTORY is the largest handmade experience floor in Japan, with a total of 20 genres and 200 kinds of manufacturing workshops, including pottery, accessories, leather accessories and candle making. Ateliers, event spaces, and select shops are held on one floor where crafting workshops with cutting-edge technology are held every day.
4th Floor Indoor Kids Park
PuChu! is an indoor kids park for children of the new era. The concept is to improve "aesthetic sense", "emotional sense" and "intelligent sense"that are essential in the post-AI era while playing. The kids park is designed based on the images of universe, consists of 11 play areas with 7 planets of different themes and 4 zones. Kids will be adventurers traveling in space. As they travel through PuChu! While playing, they will be able to experience spaces, toys and arts designed by top creators and artists. It is not only a place to improved the kid's sense, it is also a cozy and stylish space for adults to spend time together.
B1 Floor Bar lounge PITCH CLUB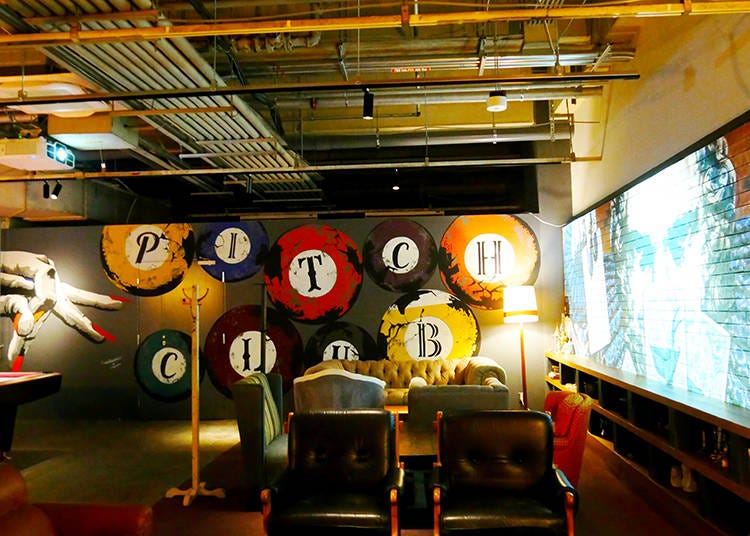 PITCH CLUB is an amusement bar lounge with the concept of "a high-quality adult playground". Combining art and technology and goes beyond just a tavern, the spot has been developed based on the concept of "a place to enjoy both drinking and fashion" and "redefining play and experience". Carefully selected foods and drinks, of course, even different toilet fragrances for men and women. Japan's leading bartender custom cocktails, wines made in Yokohama, delicate tableware, projection mapping darts that combine billiards with technology… Everything here are designed based on the concept of "redesigning standard play". Extraordinary spreads in the form.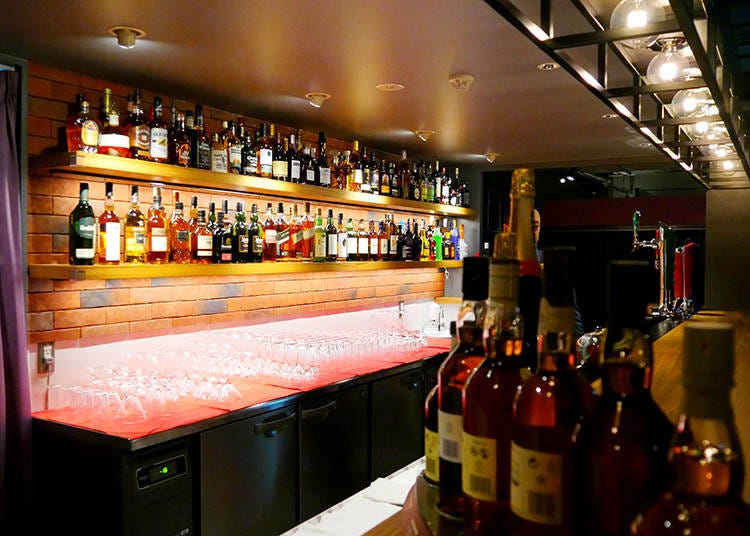 ■ Food & Drink
Food: Delicious "Shime" dish after drinks. 6 types of pickles (Japanese plum, salmon, Sea lettuce, whitebait, pollock roe, grilled rice ball, and whole set) is recommended. There are other light dishes served in beautiful tablewares.

Drinks: Over 500 varieties of Cocktails, as well as classics such as highball and gin tonic, are available at reasonable prices starting from 500 yen.

■ Art
Murals are prepared in all lounges and private rooms. The "electric paint art" where projection mapping and painting are fused together, creating a space where adults can have fun.

■ Amusement
A space for fun with selected standard games.
1. Flash Darts: A creative social dart game developed in-house by using the latest technology of projection mapping and infrared sensor. A new sense of dart game in which the target and the manner of play change in projection mapping.
2. Billiards: Pink tables and cues to reflect our unique design.
3. Others: Table tennis, pinball, board games, water tobacco game "SHISHA BUCKS" are prepared carefully in details.

In a space filled with arts, drinks, technologies and games, enjoy your extraordinary time in PITCHCLUB.

Opening hours: 18:00-24:00
(Fri, Sat, the day before the holidays open until 4 am)
Price: 3,000 yen for men, 1,000 yen for women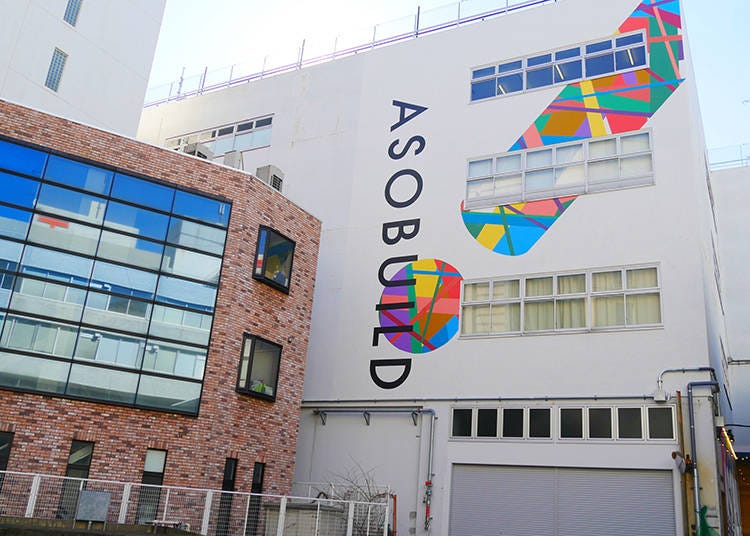 Based on the concept of "liberating your playful heart by art", and built on themes of "keeping your curiosity as your driving force to live and having a richer life" and "affordable entertainment contents for everyone regardless of age and gender, bringing curiosity and entertainment content closer to you", aiming for building a place where can "providing unique experiences that can not be provided in other commercial facilities and amusement parks", Asobuild is here to spread new ideas and values with the brand new platform.
*This information is from the time of this article's publication.
*Prices and options mentioned are subject to change.
*Unless stated otherwise, all prices include tax.