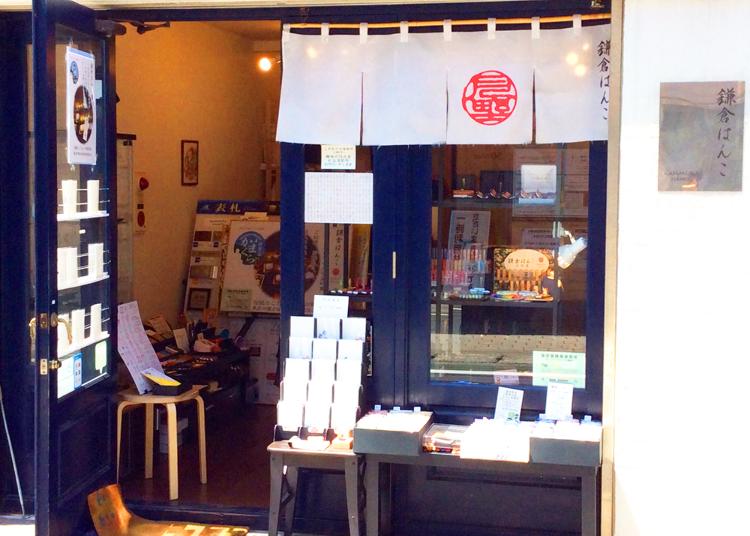 These are the top recommendations for Kamakura, with travel tips and more, according to LIVE JAPAN, a top-class travel website for visitors to Japan. Our ranking is based on the most popular pages viewed by foreign visitors in a given category.

For instance, Miura Kaigan Beach, KAMAKURA HANKO, Koajiro No Mori and other related spots will be listed. Be sure to check them out during your visit to Kamakura!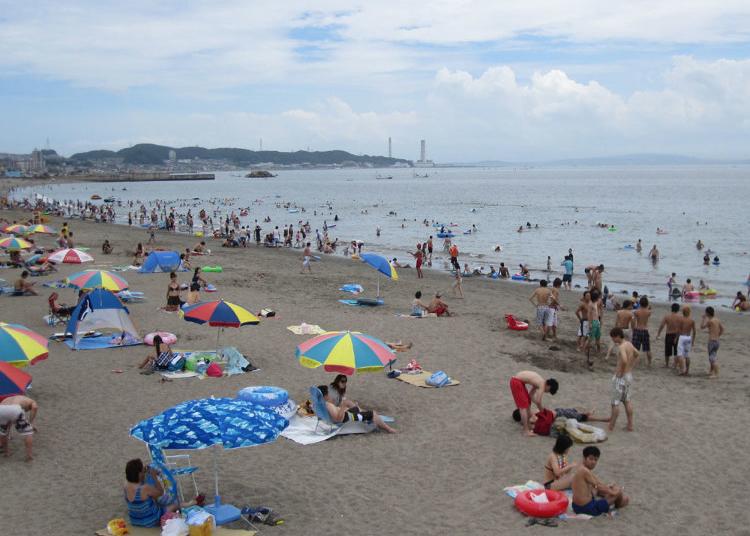 The Miura Coast is a long beach known for its seaside resorts. During the annual Miura Kaigan Firework Festival held in early August, you can watch 3,000 fireworks go off while lying on the spacious beach. It is also known for its abundant seafood such as tuna in Misaki and mackerel in Matsuwa, and for its farms growing tasteful vegetables such as cabbage, watermelon and daikon radish. Waiwai-ichi Market held every second and fourth Saturday of the month is brimming with vegetables just harvested from the farms that morning, seasonal vegetables, marine catches and produce from mountainous areas. The area has a number of great restaurants, too, where you can enjoy seafood fresh from the boat, attracting gourmands from the Tokyo and Yokohama areas. About 75 minutes by train from Shinagawa Station on the Keihin Kyuko Line; get off at Miura Kaigan Station.
Address

Minamishitauramachikamimiyada, Miura-shi, Kanagawa, 238-0101
View Map

Nearest Station

Miurakaigan Station (Keikyu Kurihama Line)
5 minutes on foot


Phone Number

046-888-0588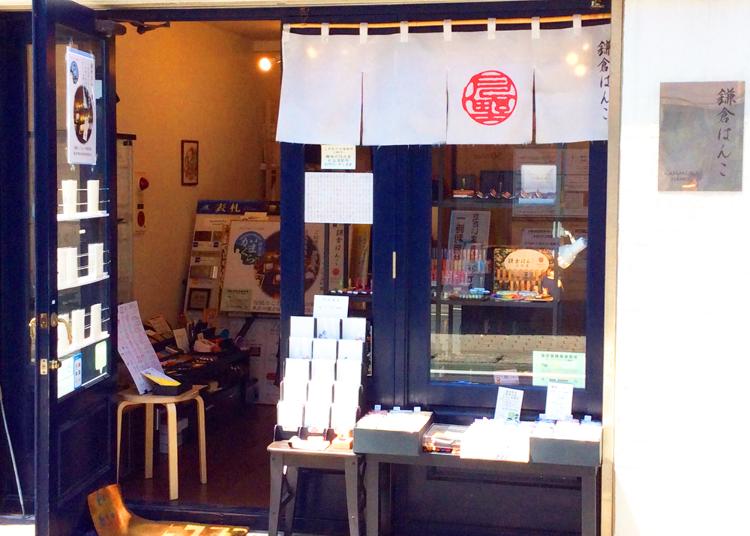 〜The land of inherited seal culture"Kamakura"〜

Kamakura Hanko is a seal made with traditional Japanese methods from the ancient times. All work is carried out in store.
Our shop is an auspicious stamp shop.
Hanko, Senjuuji, Makie stickers are Japanese culture.
It is said that good luck will come.

Seal culture that spread during the Kamakura period under Minamoto no Yorimoto, the first shogun of the Kamakura shogunate of Japan. Through the trades between the shogunate and the Song dynasty, issuance of documents among samurais, and in trades among common people, seals, "kaō" (stylized signatures), thumb prints and "tsumein" spread throughout the land of Kamakura.

Kamakura Hanko is a special seal made in Kamakura, a city imbued with such history.

With carefully selected natural stone, horns and precious timbers, and seal stock blessed by Kamakura's renowned Shinto shrine, we will create a seal from the stroke count of your name, making a most auspicious and appropriate seal for you.

〜Lucky charm seal〜

For those who believe in omens and signs, for those who are trying to attract their own luck rather than just waiting for it, we are waiting to serve you.
"Exquisite traditional seals"

In Kamakura Hanko, the third-generation owner,puts his heart into each seal when he finishes them, one-by-one, creating one-and-only seal for better fortune.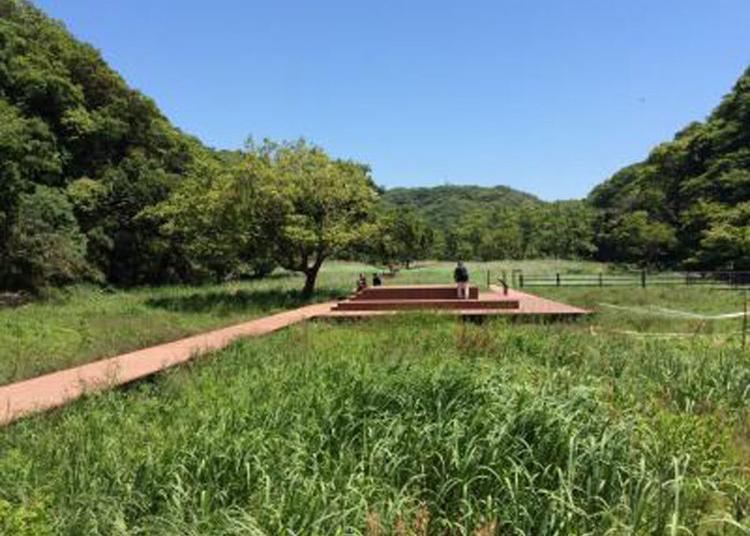 The Koajiro-no-Mori Forest is located at the tip of the Miura Peninsula in Kanagawa Prefecture and is a water catchment area of the Ura-no-kawa River, which runs through the valley in the center. A continuous stretch of land from the forest, marsh, and mudflat to the sea remains in its natural state and is an extremely precious resource. A variety of creatures including rare species is forming various ecosystems. Particularly, red-clawed crabs (Chiromantes haematocheir) that require an ecosystem of a forest, river, and the sea to survive represents this forest. A red-clawed crab is called "a crab living in a forest," and it can survive away from the water. Thus, you can spot one in the forest. There are also some nights when the forest is open to the public for firefly observation from late May to early June, and you can see two types of Japanese fireflies, Luciola cruciata and Luciola lateralis. Many areas are kept untouched in the Koajiro-no-Mori Forest, so some creatures may be dangerous. It is advisable to wear a long-sleeved shirt, long trousers, and shoes suitable for walking when you visit. It is a 30-minute walk from the Misakiguchi Station on the Keikyu Express or a 5-minute walk from the Hikibashi Terminal bus stop by catching a bus from the Misakiguchi Station.
Address

2255, Misakimachikoajiro, Miura-shi, Kanagawa, 238-0225
View Map

Nearest Station

Misakiguchi Station (Keikyu Kurihama Line)
30 minutes on foot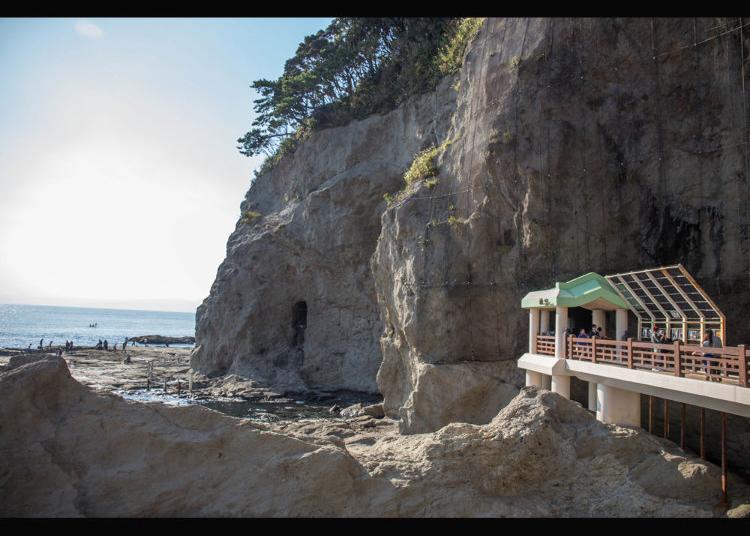 The Enoshima Iwaya Caves have been created by coastal erosion for eons of time. It consists of two caves: Daiichi-iwaya (first cave) of 152 meters and Daini-iwaya (second cave) of 56 meters in length. The caves had been closed for years but reopened in 1993 after the renovations of the facilities around the caves. Having been worshiped since ancient times the legends goes that Kukai (Kobo-Daishi, the founder of Shingon Buddhism) and Minamoto no Yoritomo who founded the Kamakura shogunate visited. The insides of these caves with illuminations and sound effects, stone statues and various exhibits tell us the history and culture of Enoshima Island. You can borrow candles inside the Daiichi cave (may not be available when the cave is too crowded) . From open space, stretching 128 meters in length, you can enjoy the vista of Mount Fuji stretching from Sagami Bay, Hakone and the Izu Peninsula. It is a 30-minute walk from "Katase Enoshima" Station of the Odakyu Enoshima Line.
Address

2, Enoshima, Fujisawa-shi, Kanagawa, 251-0036
View Map

Nearest Station

Katase-Enoshima Station (Odakyu Enoshima Line)
30 minutes on foot


Phone Number

0466-22-4141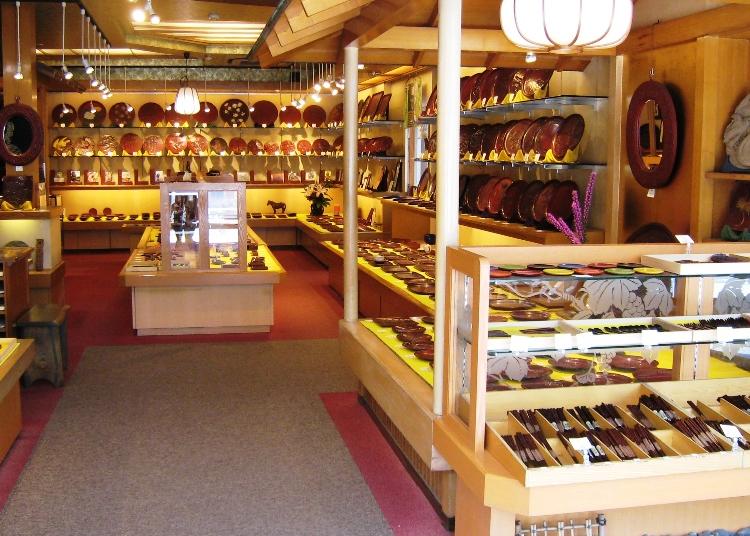 Kamakura-bori is a lacquered craft dating back to the Kamakura period (from the year 1185) that has passed down through the generations. Its origins lay in the Buddhist altar fittings and other lacquered crafts created by Kamakura Buddhist sculpture artisans.
Katsura wood is generally used as the base for the varied and delicately sculptured shapes, upon which many layers of lacquer coating are applied. Our Kamakura-bori pieces are crafted by skilled artisans, and each will develop the differing textures and brown tones unique to lacquer that become richer with use month to month, year to year.
Custom requests are accepted. We can also carve kanji into our pieces so that you can have one-of-a-kind commemorative pieces order-made.
6.The Beniya Antique Shop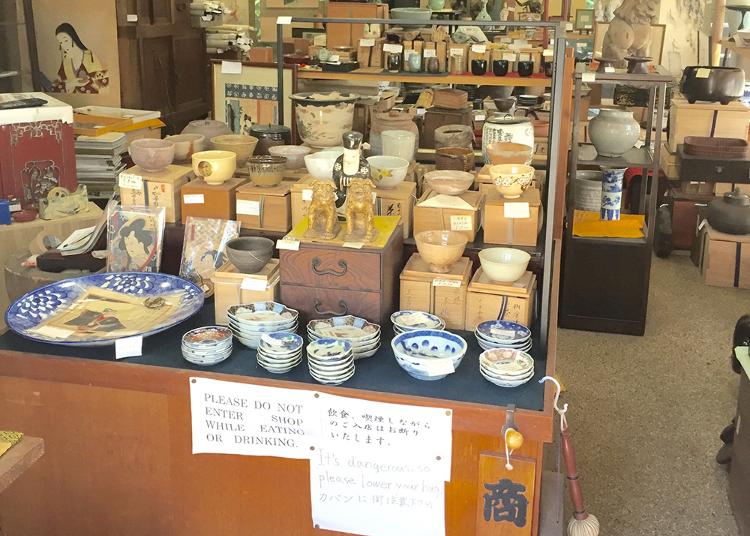 The historical Beniya Antique Shop is more than 150 years old, and is located near popular tour spots in Kamakura such as Hasedera Temple and Kotokuin Temple. We have a large inventory of products available, including Ukiyo-e Kakejiku, ceramics, lacquer ware, iron kettles, Chinese art, and more.
Whether they are used for ornamental or practical purposes, antiques bring us one step closer to a country's customs and culture. And although you may think such treasures would be a little over budget, our shop offers items at reasonable prices that would make excellent souvenirs. Of course, we also offer fine works of art for those interested in high-end products.
When touring Kamakura, I hope you'll drop by our historical shop, which is actually the oldest in town. I'm sure you'll find that special product to serve as a great memory of your trip. We are confident you'll be satisfied.
株式会社紅家美術店

Address

3-10-30 Hase, Kamakura City, Kanagawa Prefecture, 248-0016


Nearest Station

Hase Station (Enoshima Electric Railway Line)
1 minute on foot


Phone Number

0467-22-0644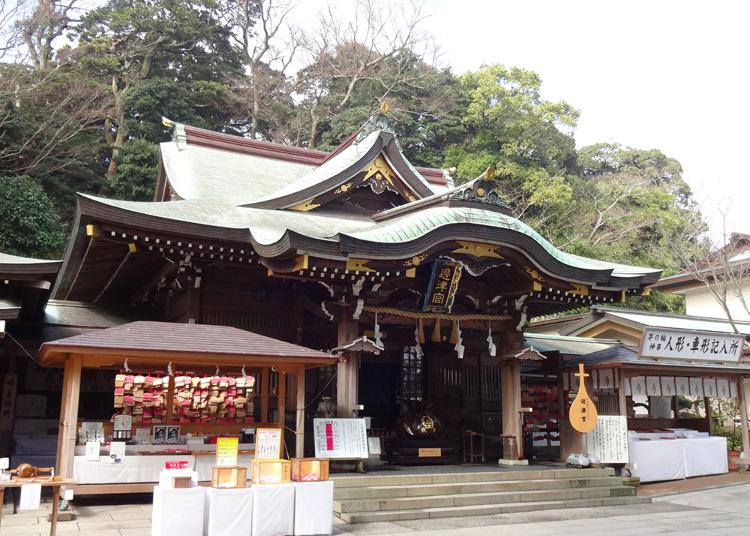 The Enoshima Shrine is one of the "Three Great Shrines" that enshrine Benzaiten (a goddess or goddesses) and is dedicated to worship the goddesses of Hetsuno-miya, Nakatsuno-miya, and Okutsuno-miya. It is said that the shrine was established when people worshiped a god in one of the island caves by the order of Emperor Kim'mei, who lived before Prince Shotoku. It is believed that this god is the guardian of marine and land transportations as well as a fishery. In addition, it is believed to grant good luck with money and success in one's career as many samurai warriors visited there to pray for victorious battles back in the old days. The sacred tree in the shrine precinct is called "musubi-no-ki," on the branches of which you will see many ema (votive horse tablets) hung. These ema tablets were placed by those who wish for good marriage matches. It is a 15 to 23-minute walk from either the Odakyu Line Katase-Enoshima Station, the Enoshima Dentetsu Line Enoshima Station, or the Shonan Monorail Line Shonan-Enoshima Station.
Address

2-3-8, Enoshima, Fujisawa-shi, Kanagawa, 251-0036
View Map

Nearest Station

Katase-Enoshima Station (Odakyu Enoshima Line)
15 minutes on foot


Phone Number

0466-22-4020
8.The Great Buddha and Kotoku-in
Kotoku-in is a Buddhist temple of the jodo-shu sect founded by Priest Honen. The principle image of Kotoku-in is the copper image of Amidanyorai. It is also known as the "Buddha sitting in a roofless house", and is a Japanese national treasure. The statue is approximately 11.3 m tall, weighs 121 tonnes, and retains its near-original state. It is regarded as highly valuable in Japanese Buddhist art history.
The construction of the Great Buddha began in 1252 but there are many gaps in information about the circumstances of the time, and to this day, it is unclear who created the statue. 750 years after its construction, the Great Buddha attracts a large number of Buddhists of all sects from Japan and overseas, and is seen as a symbol of Japanese Buddhism. Visitors can view the interior of the statue and see how it was cast using advanced techniques of the time. It is a seven minute walk from Enoshima Dentetsu Hase Station.
Address

4-2-28, Hase, Kamakura-shi, Kanagawa, 248-0016
View Map

Nearest Station

Hase Station (Enoshima Electric Railway Line)
7 minutes on foot


Phone Number

0467-22-0703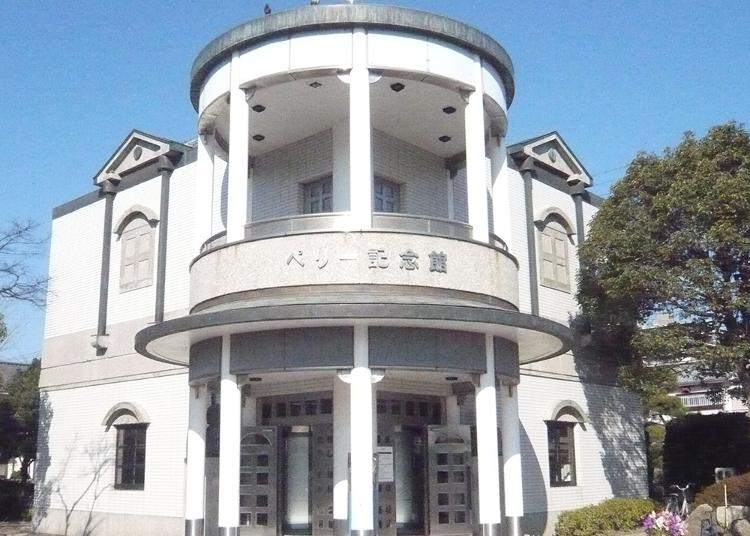 In 1853, Matthew Calbraith Perry, who was Commodore of the U.S. Navy, landed on the Kurihama beach, which paved the way for opening Japan. In order to make Perry's arrival and the history of the opening of Japan widely known, the city of Yokosuka built the Perry Memorial Hall in 1987, commemorating the 80th anniversary of the city's founding as a municipality. The entrance to the museum is free of charge, and inside the museum, important historical documents that portray the scenes of those days are on display, such as diorama models, picture scrolls depicting the commotion right before Perry's landing, and old books chronicling the overview of the "black ships." The first floor is an exhibition hall displaying the diorama models reproducing the spectacles on the arrival of the black ships; on the second floor is a document gallery. The Perry Memorial Hall is situated within the premises of the Perry Park, where the monument commemorating Perry's landing constructed in 1901 stands. It is a 20-minute walk from the Kurihama Station on the JR Line or the Keikyu Kurihama Station on the Keihin Kyuko Line. It is a 10-minute ride on a bus bound for Nobi-kaigan from the Keikyu Kurihama Station on the Keihin Kyuko Line. The museum is close when you get off at the "Peruri" Perry Kinenhi bus stop.
Address

Perry Park, 7-14, Kurihama, Yokosuka-shi, Kanagawa, 239-0831
View Map

Nearest Station

Kurihama Station (JR Yokosuka Line)


Phone Number

046-834-7531
This lighthouse with observation platform, built in 2002 as part of the 100th anniversary of Enoshima Electric Railway, sits 100 meters above sea level. It is affectionately considered a symbol of Shonan. "Consideration for the landscape and nature", "Pursuit of public utility value" and "Promotion of local tourism" are the basic concepts behind Enoshima SeaCandle. The illumination changes four times a year to match each season: spring is green, with the image of tender verdancy; summer is blue; autumn is orange and yellow, reminiscent of leaves; and winter is purple. The uniqueness of the winter illumination, and the cooperation of locals in its realization, earned it the distinction of being in the top three illuminations in the Kanto region in 2012, and in the Japan Night View Heritage in 2013. A 25-minute walk from Enoshima Station on the Enoshima Electric Railway.
Address

Enoshima 2-3, Fujisawa-shi, Kanagawa, 251-0036
View Map

Nearest Station

Enoshima Station (Enoshima Electric Railway Line)
25 minutes on foot


Phone Number

0466-23-2444
*This information is from the time of this article's publication.
*Prices and options mentioned are subject to change.
*Unless stated otherwise, all prices include tax.