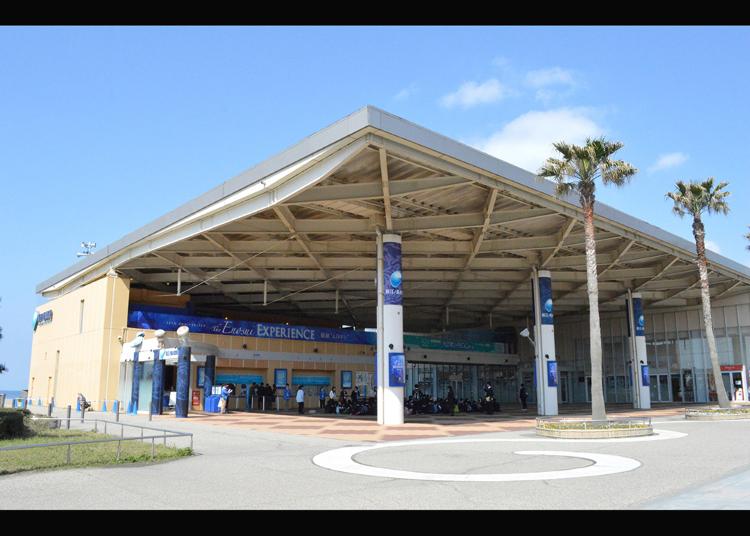 These are the top recommendations for Kamakura, with travel tips and more, according to LIVE JAPAN, a top-class travel website for visitors to Japan. Our ranking is based on the most popular pages viewed by foreign visitors in a given category.

For instance, Yokosuka Kurihama Flower Park, Miura Kaigan Beach, The Beniya Antique Shop and other related spots will be listed. Be sure to check them out during your visit to Kamakura!
1.Yokosuka Kurihama Flower Park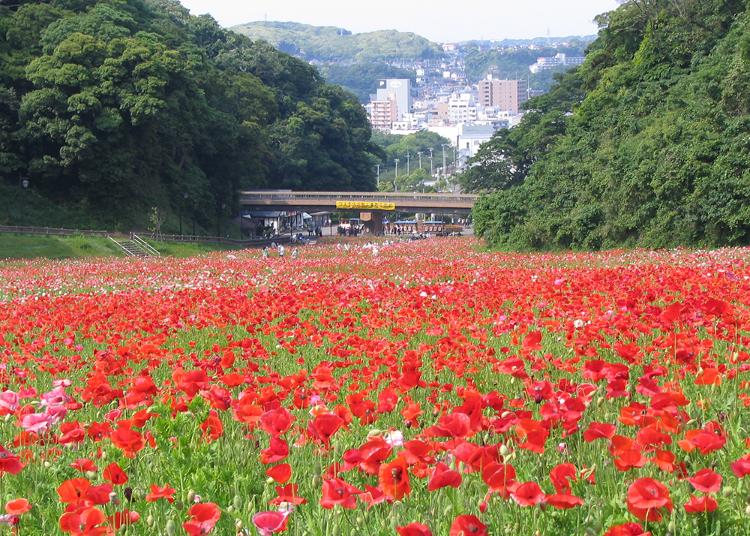 It is a large park that utilizes its natural, geological landscape. Many kinds of flowers are blooming. The cosmos and poppy garden is especially famous as poppies bloom in spring and cosmos flowers in autumn. The park has one million flowers covering its grounds like a carpet. The herb garden in the Kurihama Hanano-kuni area is known as one of the best in the Kanto region. This garden has about 30,000 roots of herbs in 130 different varieties. Lavenders and other flowers are in season between spring and early summer and sages in autumn. The characteristic of the Kurihama Flower World is not only flowers but also its abundant facilities such as a playground (the Adventure Land), a golf course, an archery field, and an air-rifle field. The Adventure Land has large-sized equipment such as huge Godzilla slides and 45-meter-long roller slides and is very popular among children. Within its large premises with rolling hills are steam locomotive-shaped buses called "Flower Trains," providing regular service, and visitors can travel comfortably while enjoying the view. The park is a 15-minute walk from the JR Kurihama Station or the Keikyu Line's Kurihama Station.
Address

1, Shinmeicho, Yokosuka-shi, Kanagawa, 239-0832
View Map

Nearest Station

Kurihama Station (JR Yokosuka Line)
15 minutes on foot


Phone Number

046-833-8282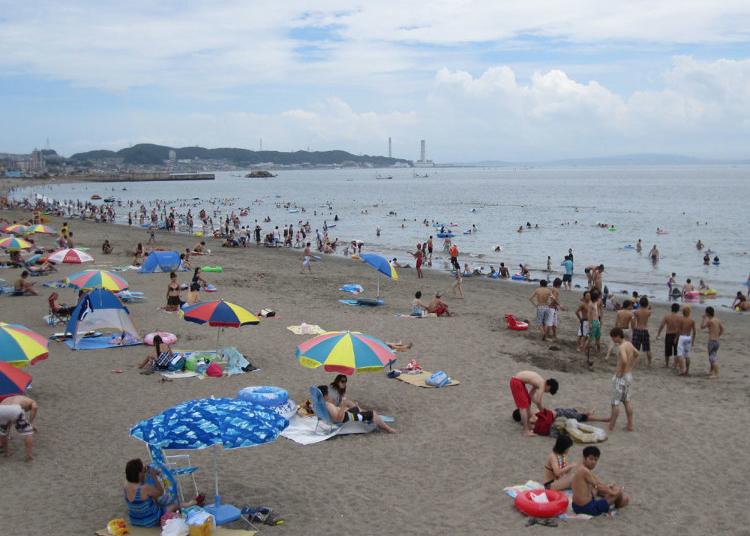 The Miura Coast is a long beach known for its seaside resorts. During the annual Miura Kaigan Firework Festival held in early August, you can watch 3,000 fireworks go off while lying on the spacious beach. It is also known for its abundant seafood such as tuna in Misaki and mackerel in Matsuwa, and for its farms growing tasteful vegetables such as cabbage, watermelon and daikon radish. Waiwai-ichi Market held every second and fourth Saturday of the month is brimming with vegetables just harvested from the farms that morning, seasonal vegetables, marine catches and produce from mountainous areas. The area has a number of great restaurants, too, where you can enjoy seafood fresh from the boat, attracting gourmands from the Tokyo and Yokohama areas. About 75 minutes by train from Shinagawa Station on the Keihin Kyuko Line; get off at Miura Kaigan Station.
Address

Minamishitauramachikamimiyada, Miura-shi, Kanagawa, 238-0101
View Map

Nearest Station

Miurakaigan Station (Keikyu Kurihama Line)
5 minutes on foot


Phone Number

046-888-0588
3.The Beniya Antique Shop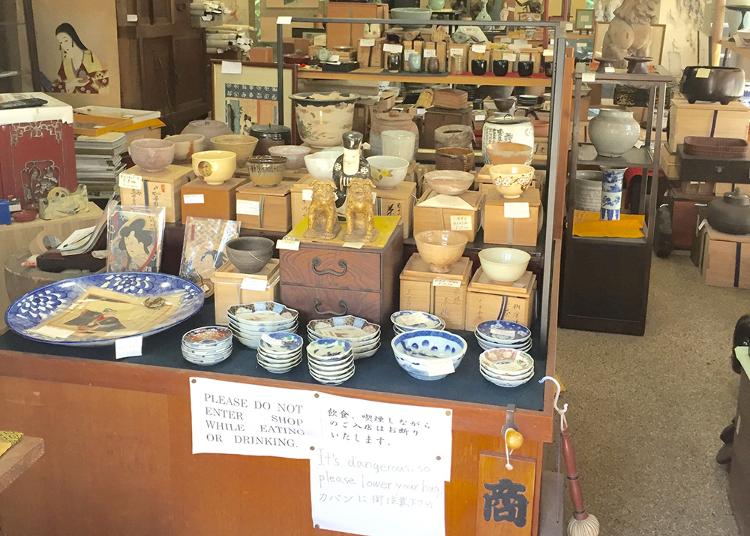 The historical Beniya Antique Shop is more than 150 years old, and is located near popular tour spots in Kamakura such as Hasedera Temple and Kotokuin Temple. We have a large inventory of products available, including Ukiyo-e Kakejiku, ceramics, lacquer ware, iron kettles, Chinese art, and more.
Whether they are used for ornamental or practical purposes, antiques bring us one step closer to a country's customs and culture. And although you may think such treasures would be a little over budget, our shop offers items at reasonable prices that would make excellent souvenirs. Of course, we also offer fine works of art for those interested in high-end products.
When touring Kamakura, I hope you'll drop by our historical shop, which is actually the oldest in town. I'm sure you'll find that special product to serve as a great memory of your trip. We are confident you'll be satisfied.
株式会社紅家美術店

Address

3-10-30 Hase, Kamakura City, Kanagawa Prefecture, 248-0016


Nearest Station

Hase Station (Enoshima Electric Railway Line)
1 minute on foot


Phone Number

0467-22-0644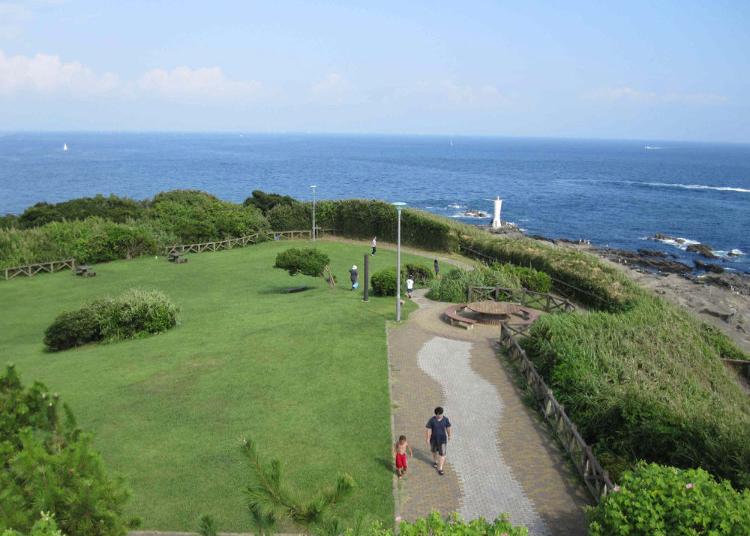 Lying at the eastern half of the island is Jogashima Prefectural Park, a scenic spot featuring the beautiful contrast of preserved greenery against rough rocky terrain. From the park you have the magnificent vista of Mount Fuji, Hakone Volcanic peaks, Boso Peninsula, Sagami Bay, Izu Oshima Island, Izu Peninsula and Tanzawa Mountains. The island is known for its 300,000 bulbs of double daffodils that bloom in the dead of winter. It is also home to a large number of water birds such as Japanese cormorants (Phalacrocorax capillatus), pelagic cormorants and eastern reef herons; their habitat is preserved as a Natural Monument of Kanagawa Prefecture. Near the habitat is a monument bearing the poem Jogashima no Ame ("The Rain of Jogashima") by Hakushu Kitahara, an arch-shaped rock formation and Jogashima Lighthouse. In and around the island are many restaurants serving seafood fresh from the boat, making this island one of the most popular day-trip destinations for Kanto-area residents. Take the Keikyu bus bound for Jogashima from Misakiguchi Station on the Keikyu Main Line; get off at Hakushu-hi-mae bus stop and walk about 20 minutes.
Address

Misakimachijogashima, Miura-shi, Kanagawa, 238-0237
View Map

Nearest Station

Misakiguchi Station (Keikyu Kurihama Line)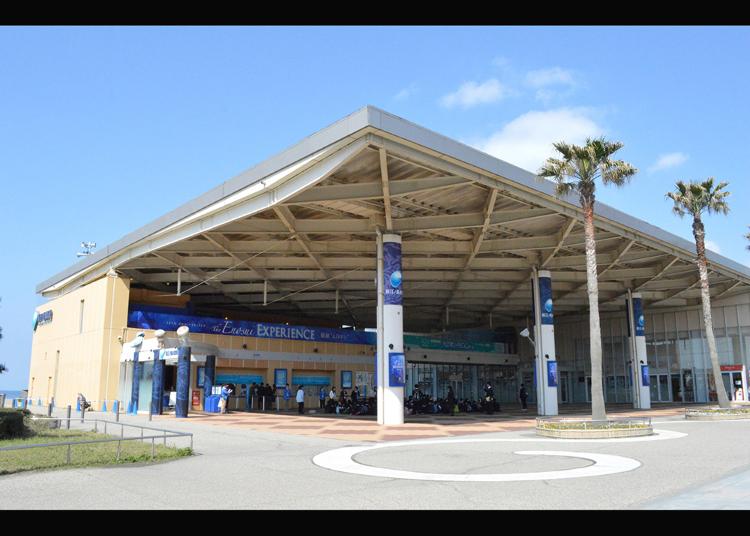 Facing the Sagami Bay, the aquarium has an outstanding location where the World Heritage, Mt. Fuji, and the scenic Enoshima can be viewed. You can observe the beautiful Japanese sardines swimming in groups among 90 different types of 20,000 fishes in the enormous aquarium, which is a miniature of the Sagami Bay located in front of the museum. There are 2 diving shows inside the water tank for visitors to enjoy a closer look at the fishes. Two exhibitions about jellyfish, which are "healing" and "learning" are a must-see since these exhibitions have been developed for about 60 years through its breeding and study, and exhibition method. The "healing" area holds the one and only jellyfish show, that is, to introduce the world of jellyfish, its ecology, and its selected displays inside the submarine-looking hall. The museum has plenty of highlights such as the turtles' beach, a sandy beach for the egg-laying of the turtles where you can enjoy watching them slowly swim by. There are also other high-lights such as the lovely penguins and seals. It is located just three-minute walk from the Katase-enoshima Station on the Odakyu Enoshima Line.
Address

2-19-1, Katasekaigan, Fujisawa-shi, Kanagawa, 251-0035
View Map

Nearest Station

Katase-Enoshima Station (Odakyu Enoshima Line)
3 minutes on foot


Phone Number

0466-29-9960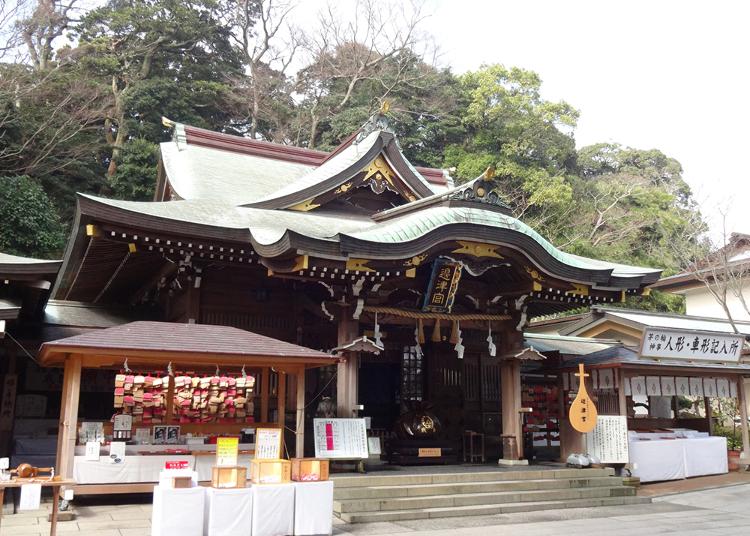 The Enoshima Shrine is one of the "Three Great Shrines" that enshrine Benzaiten (a goddess or goddesses) and is dedicated to worship the goddesses of Hetsuno-miya, Nakatsuno-miya, and Okutsuno-miya. It is said that the shrine was established when people worshiped a god in one of the island caves by the order of Emperor Kim'mei, who lived before Prince Shotoku. It is believed that this god is the guardian of marine and land transportations as well as a fishery. In addition, it is believed to grant good luck with money and success in one's career as many samurai warriors visited there to pray for victorious battles back in the old days. The sacred tree in the shrine precinct is called "musubi-no-ki," on the branches of which you will see many ema (votive horse tablets) hung. These ema tablets were placed by those who wish for good marriage matches. It is a 15 to 23-minute walk from either the Odakyu Line Katase-Enoshima Station, the Enoshima Dentetsu Line Enoshima Station, or the Shonan Monorail Line Shonan-Enoshima Station.
Address

2-3-8, Enoshima, Fujisawa-shi, Kanagawa, 251-0036
View Map

Nearest Station

Katase-Enoshima Station (Odakyu Enoshima Line)
15 minutes on foot


Phone Number

0466-22-4020
Walking through the lush green forest you will come upon Zeniarai Benten Shrine, one of the most popular tourist spots in Kamakura. Its official name is Zeniarai Benzaiten Ugakufu Shrine because it enshrines Ugafukujin, a water god with a dragon's body and a human head. Legend has it that Minamoto no Yoritomo searched for the sacred spring in 1185 after having a prophetic dream: peace in the domain would prevail, he was told, if he enshrined both Buddhist and Shinto deities with the spring water from a northwestern mountain. When Yoritomo did as the dream instructed, it came true; people's lives improved. Zeniarai Spring is one of five "remarkable waters" in Kamakura that draw many visitors. It is said that if you wash money in the sacred spring water here, that money will bring much more money. The shrine lends you a bamboo sieve for this purpose. After using it, you are advised to wipe the sieve completely and spend the washed money immediately. The shrine also sells lucky charms — put one in your wallet, they say, and you will never be short of money. A 25-minute walk from the West Exit of Kamakura Station (both Yokosuka and Enoden Lines).
Address

2-25-16, Sasuke, Kamakura-shi, Kanagawa, 248-0017
View Map

Nearest Station

Kamakura Station (JR Yokosuka Line / JR Shonan Shinjuku Line / Enoshima Electric Railway Line)
25 minutes on foot


Phone Number

0467-25-1081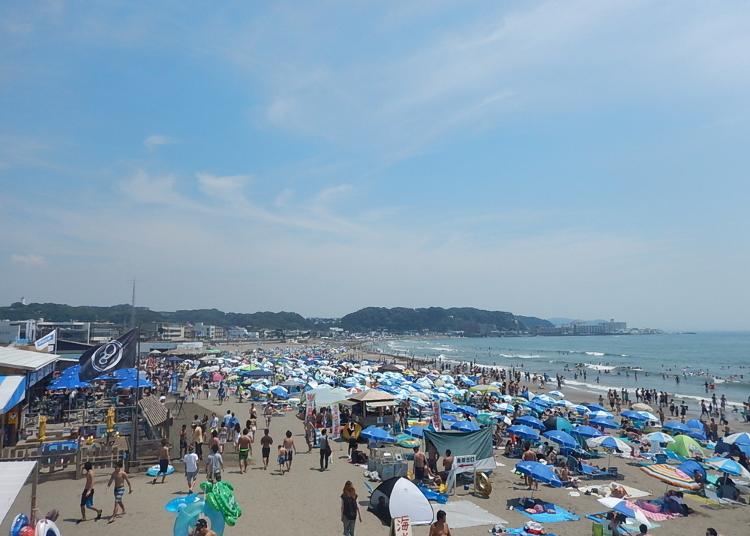 This beach was selected as one of the 88 best bathing beaches in Japan. It is a historic beach that has been bustling with visitors since the Meiji period, located in the southern part of Kamakura and facing the Sagami Bay. As the sandy beach is shallow, and the waves are relatively calm during the swimming season, children can enjoy swimming safely. In recent years, it has become a popular beach for surfers as the sea of Shonan. There is a school for surfing and body boarding available for beginners, and as the will lend out surfboards and wet suits, you will be able to participate even if you don't have them with you. It is also appealing that you can enjoy the fireworks on the beach. In the cafe called Umi-no-ie (house at sea) which is open only during the summer season, you can enjoy a variety of menus, and you can also take a shower or rent parasols at extra cost. It's a five-minute walk from Enoden Yuigahama Station.
Address

Yuigahama, Kamakura-shi, Kanagawa, 248-0014
View Map

Nearest Station

Kamakura Station (JR Yokosuka Line / JR Shonan Shinjuku Line / Enoshima Electric Railway Line)
5 minutes on foot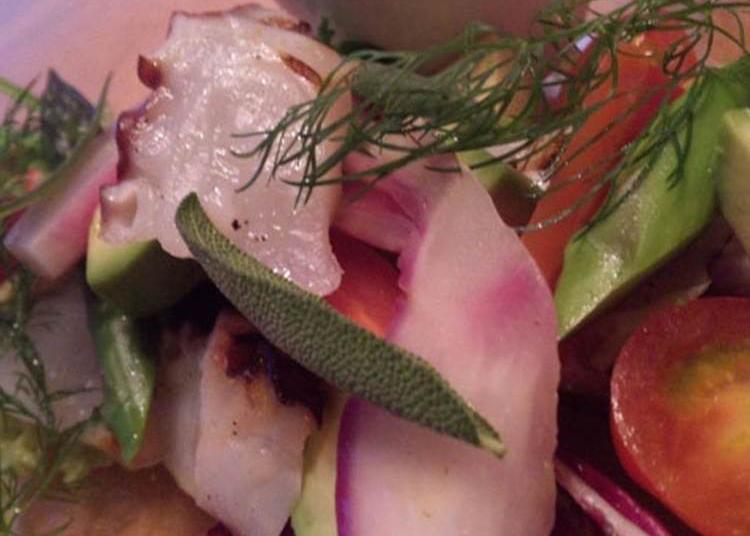 This inn owns a fishing boat and serves fresh sea food to guests. Some guests stay here to go fishing but many people just come to enjoy the meals.
Address

Koshigoe 2-10-30, Kamakura, Kanagawa, 248-0033
View Map

Nearest Station

Koshigoe Station (Enoshima Electric Railway Line)
2 minutes on foot


Vacancy search, reservation

from

7,000JPY

1room, 2adults

Check with our partner site as the latest rates, rate details, and guest room requirements may vary.
10.Yokosuka Museum of Art
This is a suburban museum located in a park full of nature's wonders. It opened in 2007 and has about 5,000 works of Japanese modern and contemporary art, mainly paintings and sculptures. It was once selected among the top 5 museums with beautiful views, and its view from the rooftop plaza looking right over the Tokyo Bay is especially worth seeing. On the lawned plaza that faces the ocean, there is an iron sculpture that evokes a deep gorge that you can pass through, created by Isamu Wakabayashi, a Japanese sculptor. In the Taniuchi Rokuro Gallery are displayed the heartwarming works of Rokuro Taniuchi, a Japanese illustrator, who depicted the nostalgic Showa era. There is a library where you can freely look at materials such as art albums, art books, and magazines, which stimulates the intellectual curiosity of the visitors. It includes an Italian restaurant, Aquamare, where a famous chef works, and a museum shop. The museum is located at a two-minute walk from the Kan'non-zaki Keikyu Hotel/Yokosuka Bijutsukan Mae (in front of Yokosuka Art Museum) bus stop. You can take a bus toward Kan'non-zaki from the JR Yokosuka Station or the Maborikaigan Station on the Keihin Kyuko Line.
Address

4-1, Kamoi, Yokosuka-shi, Kanagawa, 239-0813
View Map

Nearest Station

Maborikaigan Station (Keikyu Main Line)


Phone Number

046-845-1211
*This information is from the time of this article's publication.
*Prices and options mentioned are subject to change.
*Unless stated otherwise, all prices include tax.