These are the top recommendations for Kamakura, with travel tips and more, according to LIVE JAPAN, a top-class travel website for visitors to Japan. Our ranking is based on the most popular pages viewed by foreign visitors in a given category.

For instance, Miura Kaigan Beach, Enoshima Aquarium, Yuigahama Beach and other related spots will be listed. Be sure to check them out during your visit to Kamakura!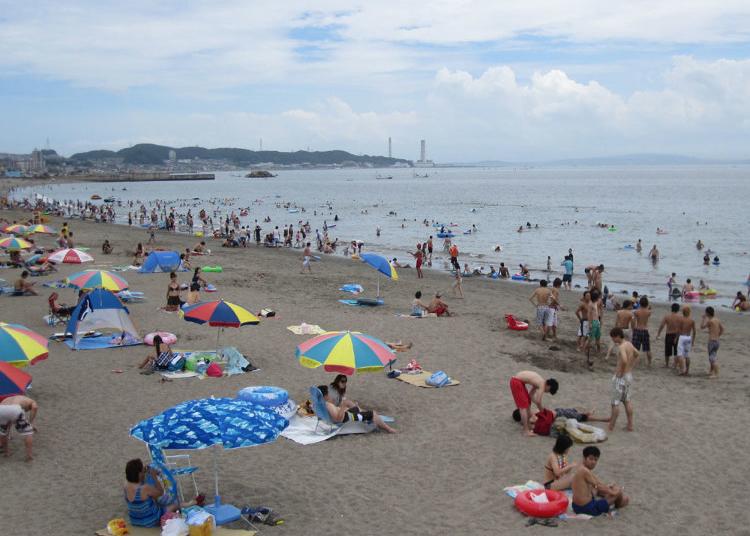 The Miura Coast is a long beach known for its seaside resorts. During the annual Miura Kaigan Firework Festival held in early August, you can watch 3,000 fireworks go off while lying on the spacious beach. It is also known for its abundant seafood such as tuna in Misaki and mackerel in Matsuwa, and for its farms growing tasteful vegetables such as cabbage, watermelon and daikon radish. Waiwai-ichi Market held every second and fourth Saturday of the month is brimming with vegetables just harvested from the farms that morning, seasonal vegetables, marine catches and produce from mountainous areas. The area has a number of great restaurants, too, where you can enjoy seafood fresh from the boat, attracting gourmands from the Tokyo and Yokohama areas. About 75 minutes by train from Shinagawa Station on the Keihin Kyuko Line; get off at Miura Kaigan Station.
Address

Minamishitauramachikamimiyada, Miura-shi, Kanagawa, 238-0101
View Map

Nearest Station

Miurakaigan Station (Keikyu Kurihama Line)
5 minutes on foot


Phone Number

046-888-0588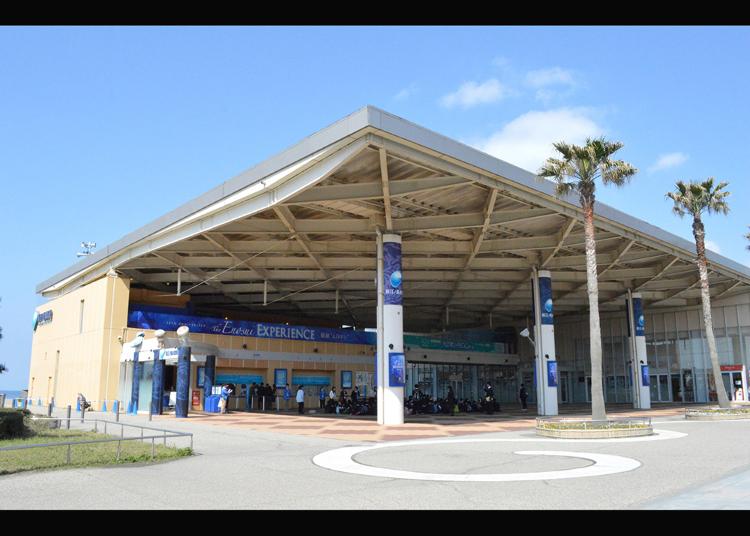 Facing the Sagami Bay, the aquarium has an outstanding location where the World Heritage, Mt. Fuji, and the scenic Enoshima can be viewed. You can observe the beautiful Japanese sardines swimming in groups among 90 different types of 20,000 fishes in the enormous aquarium, which is a miniature of the Sagami Bay located in front of the museum. There are 2 diving shows inside the water tank for visitors to enjoy a closer look at the fishes. Two exhibitions about jellyfish, which are "healing" and "learning" are a must-see since these exhibitions have been developed for about 60 years through its breeding and study, and exhibition method. The "healing" area holds the one and only jellyfish show, that is, to introduce the world of jellyfish, its ecology, and its selected displays inside the submarine-looking hall. The museum has plenty of highlights such as the turtles' beach, a sandy beach for the egg-laying of the turtles where you can enjoy watching them slowly swim by. There are also other high-lights such as the lovely penguins and seals. It is located just three-minute walk from the Katase-enoshima Station on the Odakyu Enoshima Line.
Address

2-19-1, Katasekaigan, Fujisawa-shi, Kanagawa, 251-0035
View Map

Nearest Station

Katase-Enoshima Station (Odakyu Enoshima Line)
3 minutes on foot


Phone Number

0466-29-9960
This beach was selected as one of the 88 best bathing beaches in Japan. It is a historic beach that has been bustling with visitors since the Meiji period, located in the southern part of Kamakura and facing the Sagami Bay. As the sandy beach is shallow, and the waves are relatively calm during the swimming season, children can enjoy swimming safely. In recent years, it has become a popular beach for surfers as the sea of Shonan. There is a school for surfing and body boarding available for beginners, and as the will lend out surfboards and wet suits, you will be able to participate even if you don't have them with you. It is also appealing that you can enjoy the fireworks on the beach. In the cafe called Umi-no-ie (house at sea) which is open only during the summer season, you can enjoy a variety of menus, and you can also take a shower or rent parasols at extra cost. It's a five-minute walk from Enoden Yuigahama Station.
Address

Yuigahama, Kamakura-shi, Kanagawa, 248-0014
View Map

Nearest Station

Kamakura Station (JR Yokosuka Line / JR Shonan Shinjuku Line / Enoshima Electric Railway Line)
5 minutes on foot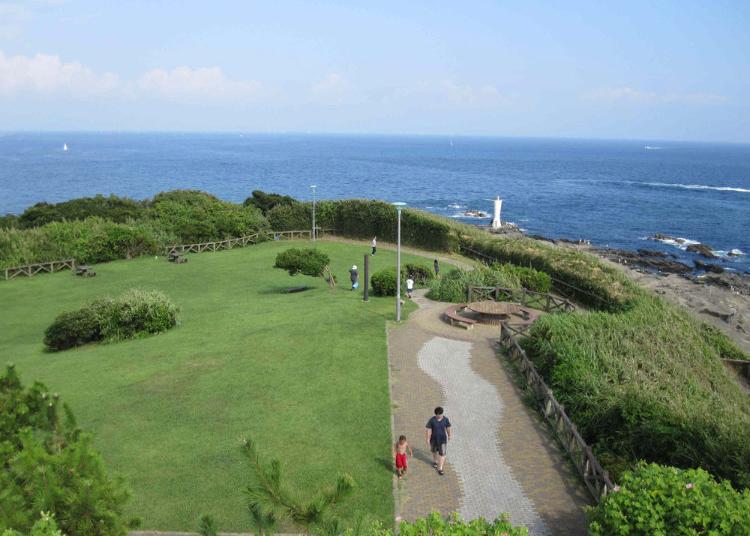 Lying at the eastern half of the island is Jogashima Prefectural Park, a scenic spot featuring the beautiful contrast of preserved greenery against rough rocky terrain. From the park you have the magnificent vista of Mount Fuji, Hakone Volcanic peaks, Boso Peninsula, Sagami Bay, Izu Oshima Island, Izu Peninsula and Tanzawa Mountains. The island is known for its 300,000 bulbs of double daffodils that bloom in the dead of winter. It is also home to a large number of water birds such as Japanese cormorants (Phalacrocorax capillatus), pelagic cormorants and eastern reef herons; their habitat is preserved as a Natural Monument of Kanagawa Prefecture. Near the habitat is a monument bearing the poem Jogashima no Ame ("The Rain of Jogashima") by Hakushu Kitahara, an arch-shaped rock formation and Jogashima Lighthouse. In and around the island are many restaurants serving seafood fresh from the boat, making this island one of the most popular day-trip destinations for Kanto-area residents. Take the Keikyu bus bound for Jogashima from Misakiguchi Station on the Keikyu Main Line; get off at Hakushu-hi-mae bus stop and walk about 20 minutes.
Address

Misakimachijogashima, Miura-shi, Kanagawa, 238-0237
View Map

Nearest Station

Misakiguchi Station (Keikyu Kurihama Line)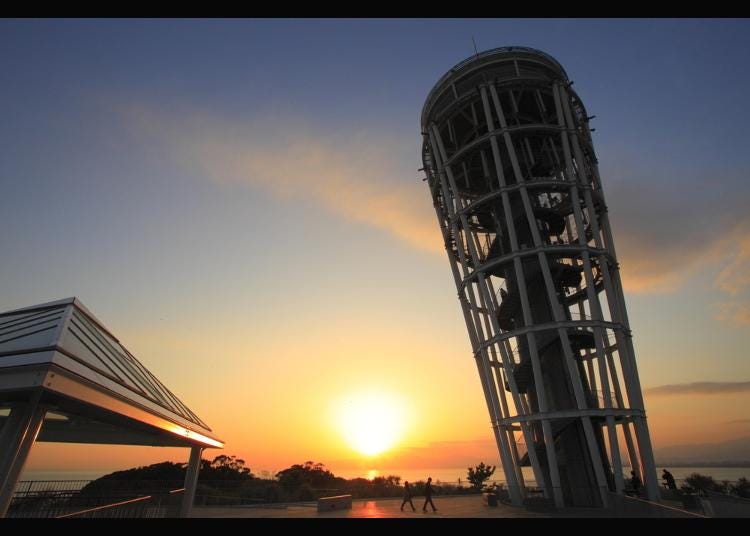 This lighthouse with observation platform, built in 2002 as part of the 100th anniversary of Enoshima Electric Railway, sits 100 meters above sea level. It is affectionately considered a symbol of Shonan. "Consideration for the landscape and nature", "Pursuit of public utility value" and "Promotion of local tourism" are the basic concepts behind Enoshima SeaCandle. The illumination changes four times a year to match each season: spring is green, with the image of tender verdancy; summer is blue; autumn is orange and yellow, reminiscent of leaves; and winter is purple. The uniqueness of the winter illumination, and the cooperation of locals in its realization, earned it the distinction of being in the top three illuminations in the Kanto region in 2012, and in the Japan Night View Heritage in 2013. A 25-minute walk from Enoshima Station on the Enoshima Electric Railway.
Address

Enoshima 2-3, Fujisawa-shi, Kanagawa, 251-0036
View Map

Nearest Station

Enoshima Station (Enoshima Electric Railway Line)
25 minutes on foot


Phone Number

0466-23-2444
6.Yokosuka Kurihama Flower Park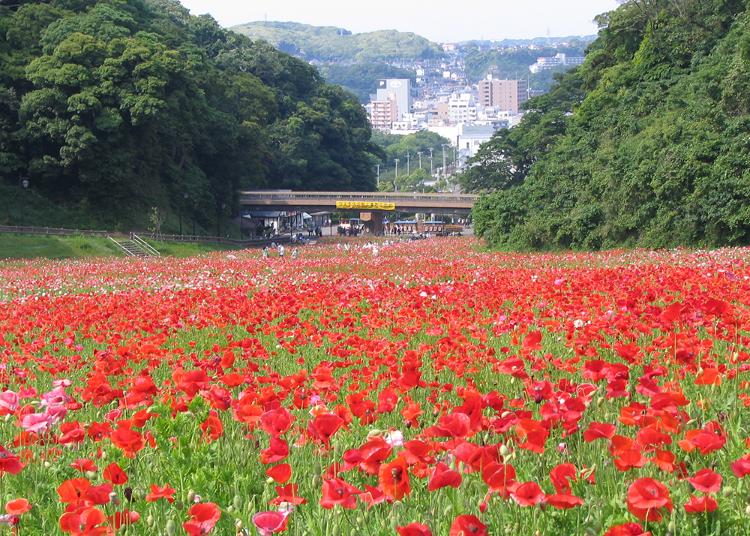 It is a large park that utilizes its natural, geological landscape. Many kinds of flowers are blooming. The cosmos and poppy garden is especially famous as poppies bloom in spring and cosmos flowers in autumn. The park has one million flowers covering its grounds like a carpet. The herb garden in the Kurihama Hanano-kuni area is known as one of the best in the Kanto region. This garden has about 30,000 roots of herbs in 130 different varieties. Lavenders and other flowers are in season between spring and early summer and sages in autumn. The characteristic of the Kurihama Flower World is not only flowers but also its abundant facilities such as a playground (the Adventure Land), a golf course, an archery field, and an air-rifle field. The Adventure Land has large-sized equipment such as huge Godzilla slides and 45-meter-long roller slides and is very popular among children. Within its large premises with rolling hills are steam locomotive-shaped buses called "Flower Trains," providing regular service, and visitors can travel comfortably while enjoying the view. The park is a 15-minute walk from the JR Kurihama Station or the Keikyu Line's Kurihama Station.
Address

1, Shinmeicho, Yokosuka-shi, Kanagawa, 239-0832
View Map

Nearest Station

Kurihama Station (JR Yokosuka Line)
15 minutes on foot


Phone Number

046-833-8282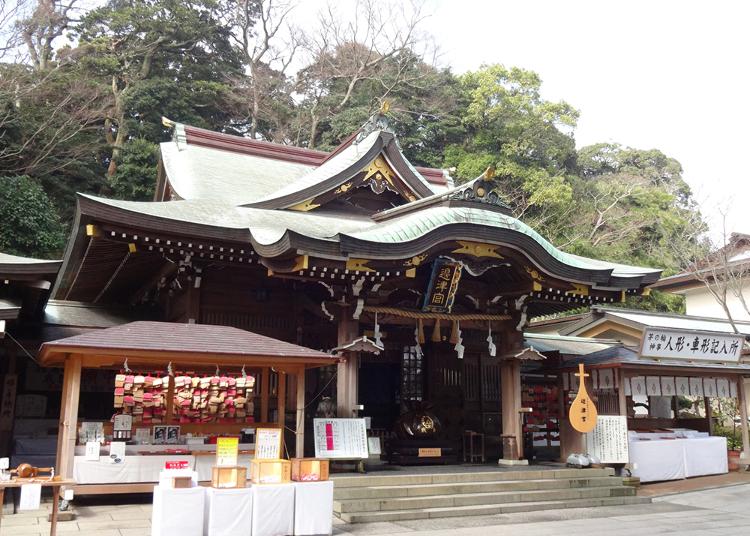 The Enoshima Shrine is one of the "Three Great Shrines" that enshrine Benzaiten (a goddess or goddesses) and is dedicated to worship the goddesses of Hetsuno-miya, Nakatsuno-miya, and Okutsuno-miya. It is said that the shrine was established when people worshiped a god in one of the island caves by the order of Emperor Kim'mei, who lived before Prince Shotoku. It is believed that this god is the guardian of marine and land transportations as well as a fishery. In addition, it is believed to grant good luck with money and success in one's career as many samurai warriors visited there to pray for victorious battles back in the old days. The sacred tree in the shrine precinct is called "musubi-no-ki," on the branches of which you will see many ema (votive horse tablets) hung. These ema tablets were placed by those who wish for good marriage matches. It is a 15 to 23-minute walk from either the Odakyu Line Katase-Enoshima Station, the Enoshima Dentetsu Line Enoshima Station, or the Shonan Monorail Line Shonan-Enoshima Station.
Address

2-3-8, Enoshima, Fujisawa-shi, Kanagawa, 251-0036
View Map

Nearest Station

Katase-Enoshima Station (Odakyu Enoshima Line)
15 minutes on foot


Phone Number

0466-22-4020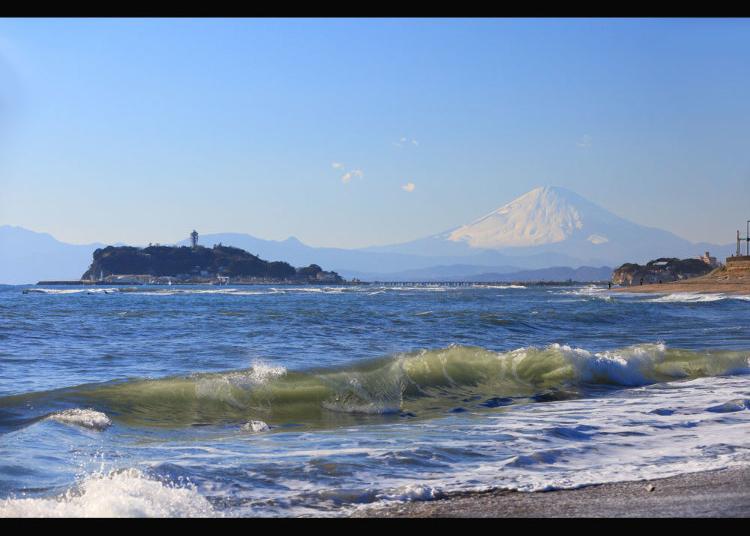 Enoshima is an island connected to the mainland by Enoshima-ohashi bridge. It is dotted with popular sightseeing spots such as shrines and caves. You will find a bronze torii gate that is a designated cultural property of Fujisawa City at the entrance of Enoshima. The entrance path leads to Enoshima Shrine, which is one of three great shrines dedicated to the deity, Benten. There are shops selling seafood from Sagami Bay and other souvenirs along the path. For a fee, the escalator, Enoshima Escar, will take you up 46 meters in just four minutes. The Love Bell built to commemorate an Enoshima love legend stands atop Lovers' Hill right above the Enoshima Iwaya Caves and is visited by many couples. The island is a 10-minute walk from Katase Enoshima Station on the Odakyu Line. Enoshima is hilly so wear comfortable shoes if you do not plan to use the Enoshima Escar.
Address

2-3, Enoshima, Fujisawa-shi, Kanagawa, 251-0036
View Map

Nearest Station

Katase-Enoshima Station (Odakyu Enoshima Line)
10 minutes on foot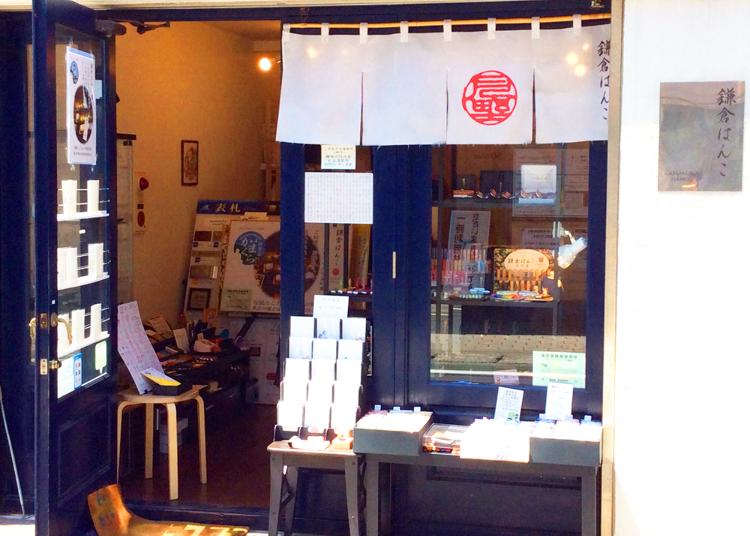 〜The land of inherited seal culture"Kamakura"〜

Kamakura Hanko is a seal made with traditional Japanese methods from the ancient times. All work is carried out in store.
Our shop is an auspicious stamp shop.
Hanko, Senjuuji, Makie stickers are Japanese culture.
It is said that good luck will come.

Seal culture that spread during the Kamakura period under Minamoto no Yorimoto, the first shogun of the Kamakura shogunate of Japan. Through the trades between the shogunate and the Song dynasty, issuance of documents among samurais, and in trades among common people, seals, "kaō" (stylized signatures), thumb prints and "tsumein" spread throughout the land of Kamakura.

Kamakura Hanko is a special seal made in Kamakura, a city imbued with such history.

With carefully selected natural stone, horns and precious timbers, and seal stock blessed by Kamakura's renowned Shinto shrine, we will create a seal from the stroke count of your name, making a most auspicious and appropriate seal for you.

〜Lucky charm seal〜

For those who believe in omens and signs, for those who are trying to attract their own luck rather than just waiting for it, we are waiting to serve you.
"Exquisite traditional seals"

In Kamakura Hanko, the third-generation owner,puts his heart into each seal when he finishes them, one-by-one, creating one-and-only seal for better fortune.
10.Kimono rental shop - Imakoji
Do you like Kamakura? Kamakura is surrounded by mountains on three sides with one side facing the sea. Terrain like this makes mild climate throughout the year and is possibly a reason why the rich expressions of the four seasons are displayed for us. It is also called the ancient capital and has many temples and shrines, a profound place of ancient hidden temples and the God of matchmaking. There are innumerable gracefully named towns and streets— Onarimachi, Ōgigayatsu (Folding Fans Vally), Yuki no Shita (Under the Snow), Komachi Dori, Tsujiseppou Dori (Preacher Street), Imakoji. Furthermore, there are also many popular cafes, ideal for stopping by during your walk. Well, what would you like to see in wonderful Kamakura? Shall we walk somewhere? Please find the perfect Kamakura walk for you. Drop in on us along the Imakoji road before taking a walk. Splendid Kimonos are waiting for you. Choose a kimono you like, put it on and leave the hair setting to us and we will make you perfect kimono lady. Then, walk in Kamakura to your hearts content and please... enjoy yourself.
Kimono rental shop - Imakoji

着物レンタル鎌倉 今小路

Address

1-1-29 Ogigayatsu, Kamakura City, Kanagawa Prefecture, 248-0011


Nearest Station

Kamakura Station (JR Yokosuka Line / JR Shonan Shinjuku Line / Enoshima Electric Railway Line)
4 minutes on foot


Phone Number

0467-33-5567
*This information is from the time of this article's publication.
*Prices and options mentioned are subject to change.
*Unless stated otherwise, all prices include tax.