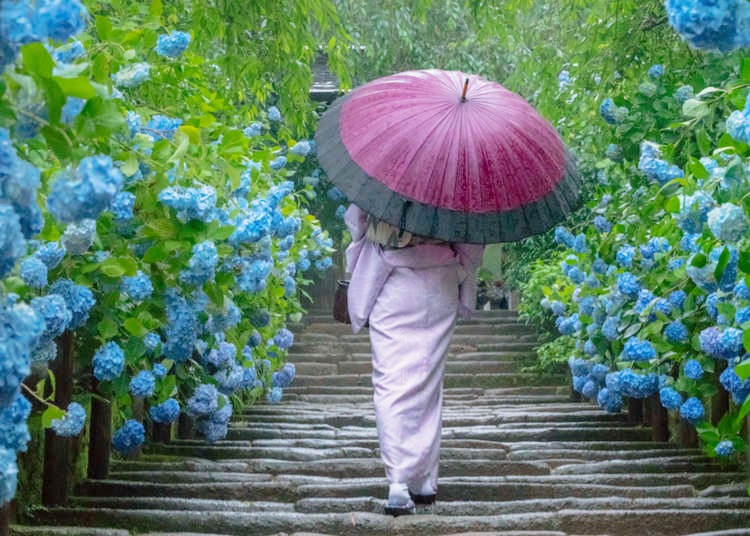 Kamakura is one of the most popular day trip destinations for both Tokyoites and tourists, uniting the beauty of nature with the majesty of history. It's a stunning place to explore no matter the time of year, but Japan's rainy season clads the ancient city in a breathtaking dress of blossoming hydrangea flowers. The elegant flowers can be admired at various sites, including the famous Hase-dera Temple. However, there's only one place so stunning, it earned the nickname "hydrangea temple:" Meigetsu-in. Come with us on a journey to a world full of petals, raindrops, and little discoveries.
The Calm, Quiet Path to Meigetsuin, the Hydrangea Temple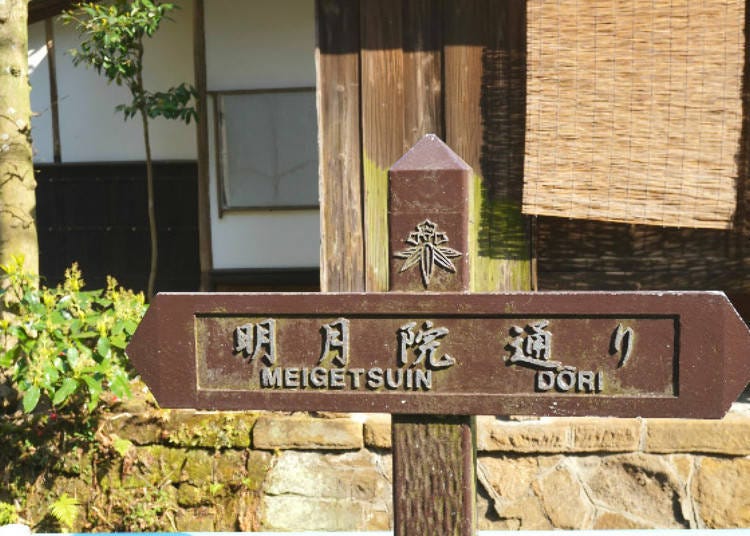 While most visitors continue on to Kamakura Station, we get off one stop earlier at Kita-Kamakura Station. Pass through the ticket gates and continue along the train tracks until you happen upon a street called Meigetsuin Dōri, stretching along a stream. As you head left onto this road, ahead you'll spot various kinds of seasonal flowers dotting the entire neighborhood in vibrant colors.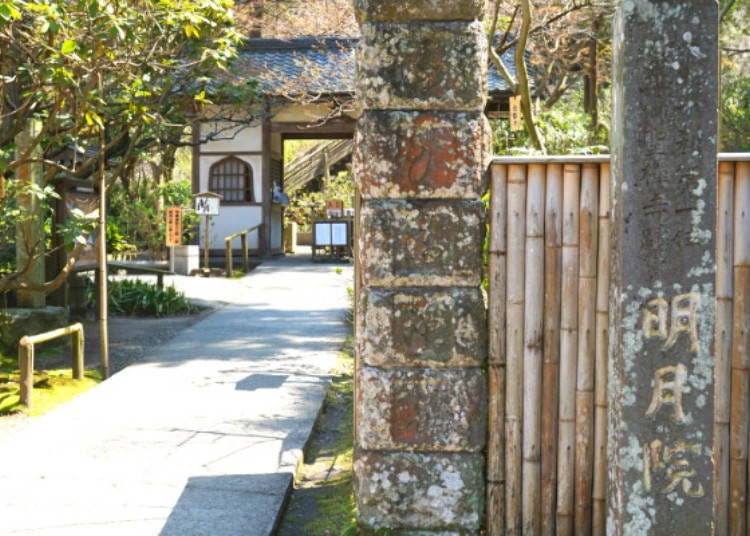 Meigetsu-in was founded in 1160 as a Rinzai Zen temple of the Buddhist Kenchō-ji school. As already mentioned, it is the most representative of Kamakura's beautiful hydrangea spots and thus bears the nickname of hydrangea temple.
Into the "Meigetsu-in Blue," an Enigmatic World of Petals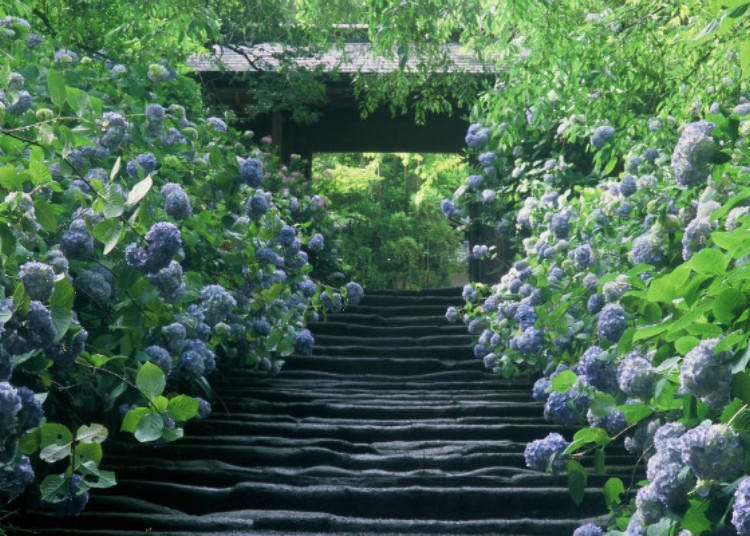 ▲ Hydrangea season lasts from end of May to the beginning of July. The peak is around mid- to late June, attracting visitors from all around the area.
Entering the temple's precincts via the main gate is like walking into a dream, step by step on the stone stairs that lead to the mountain gate. Hydrangeas blossom all around, seemingly reaching out to welcome visitors to their enigmatic world.

This part is also called "Meigetsu-in Blue;" its subdued colors and lush greenery create a cool atmosphere, further enhanced by the smell of rain of the rainy season. It is said that over 2,500 flowers blossom all at once within Meigetsu-in Blue, creating a fantastical scenery that can only be savored during this short time.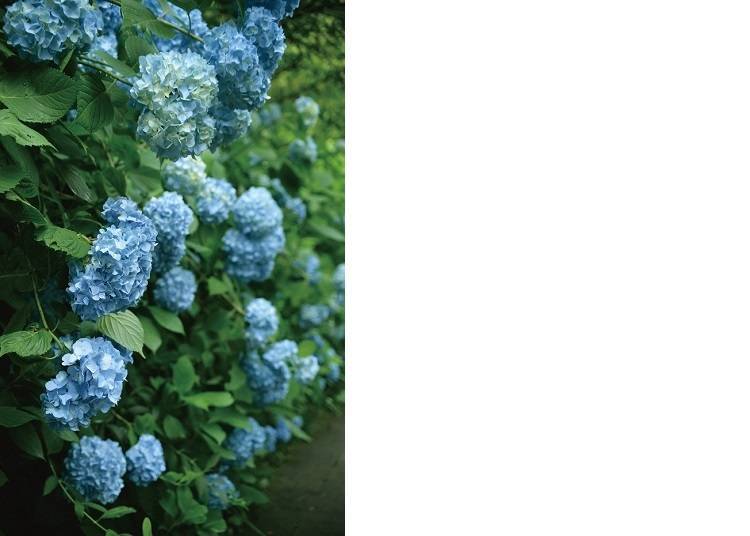 Hase-dera Temple is another one of Kamakura's famous hydrangea spots, known for its abundant variety of flowers. However, the hime ajisai or "princess hydrangea" dominates the scenery at Meigetsu-in with its rich blue color. Grown one by one from cuttings, these princess hydrangeas now blossom into a surprisingly beautiful flower landscape.

The variety was created by the famous botanist Tomitaro Makino, also known as the "Father of Japanese Botany." It is said that he found the hydrangeas in Togakushi, a village in Nagano Prefecture, and gave it the name of "princess hydrangea" because he fell in love with its beauty.
They blossom in large, plump clusters. Born in areas with heavy snowfall, the hydrangeas have a flexible stalk and bend easily, greeting visitors with bowed heads that make them seem as if they were crying. The color of the petals gradually increases in intensity the longer it blossoms, changing from a pale to a deep blue over time. They're the most beautiful in the soft light of early mornings and just before sunset, as well as on rainy days.
More than Hydrangeas: Meigetsu-in's Seasonal Beauty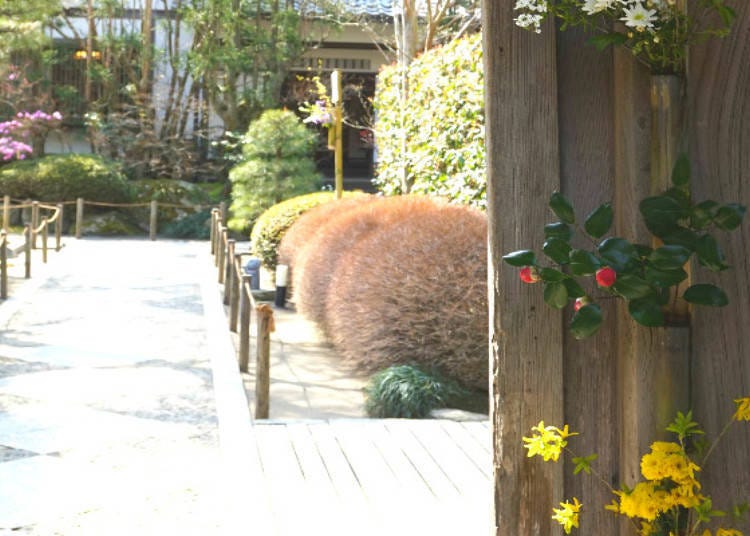 Meigetsu-in might be particularly famous for its hydrangea beauty, but seasonal flowers dip the temple in colors throughout the year. The atmosphere changes with the season, too. The temple precincts also feature yato, valleys in between low hills that are a characteristic geographical feature of the Kamakura area. Designated as a national historic site, Meigetsu-in offers a plethora of small, intriguing discoveries. Flowers welcome you in any season, calming both heart and mind no matter when you visit.

To give you a better impression of what this seasonal beauty looks like, here's a taste of Meigetsu-in throughout the year.
The Secret Garden Behind the "Window of Enlightenment"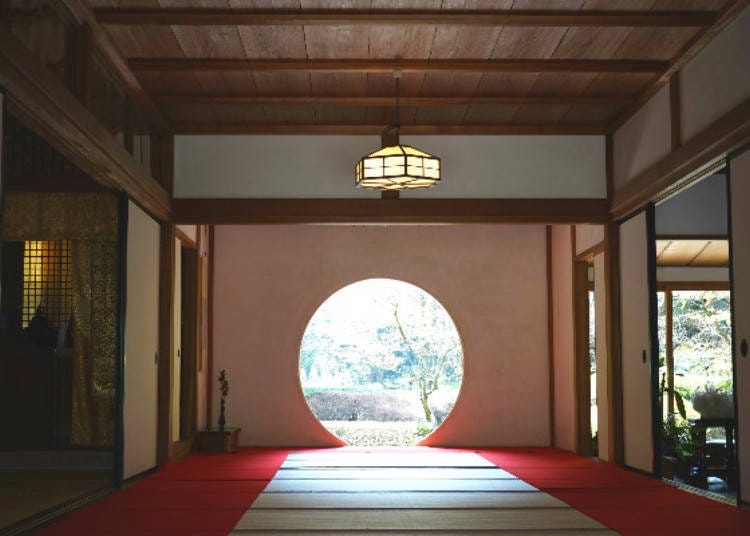 As you pass through the Mountain Gate, you'll find the temple's main hall to your left. Inside is Meigetsu-in's principal image: Sho Kanzeon Bosatsu, or Kannon, the Buddhist deity of mercy and compassion. The main hall also features a large, circular window known as the "Window of Enlightenment," looking out on the temple's own garden. It's a scenery that looks different in every season, picturesque and enigmatic.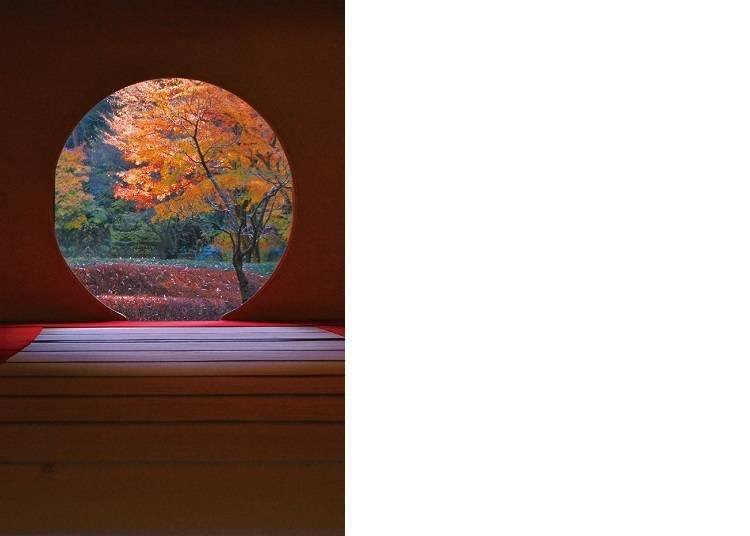 ▲ The colors of autumn, seen through the circular window.
The garden behind the Window of Enlightenment holds the historic legacy of being the number one garden of all Rinzai temples of the Kantō area. The picture above shows the autumn leaves in December, while irises blossom beautifully throughout June. In these two months, the garden is open to the public while being closed the rest of the year. It's surprisingly spacious and June clads the iris garden in stunningly beautiful colors. If you visit Meigetsu-in for its famous hydrangeas, don't miss out on the iris spectacle in the secret garden.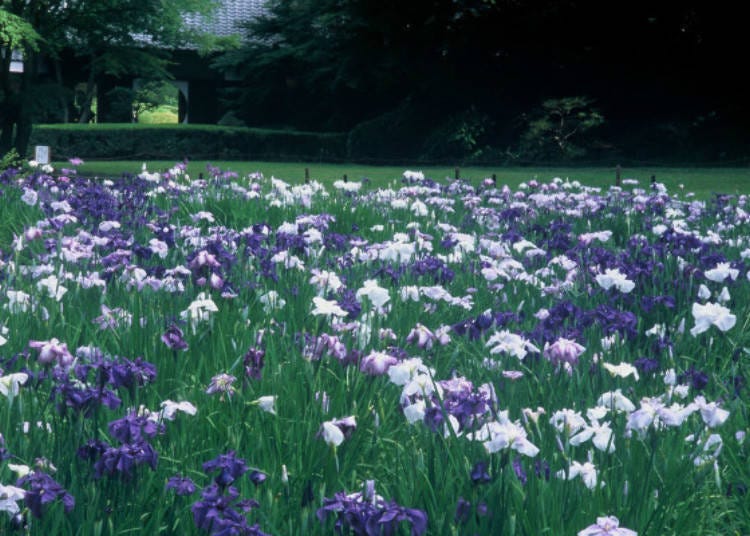 ▲ Early summer brings about 3,000 irises to full bloom.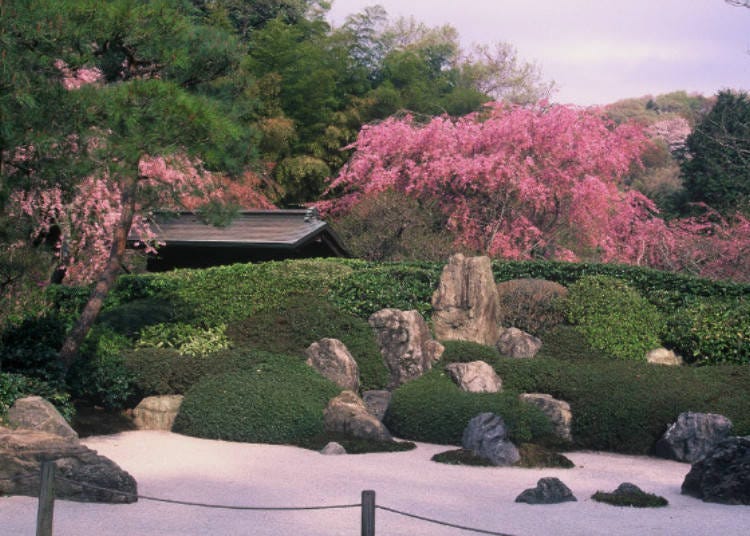 ▲ A Japanese rock garden can be found in front of the Abbot's Chamber. Late spring decorates it with vivid cherry blossoms.
Kaisandō, Where Time Flows Slowly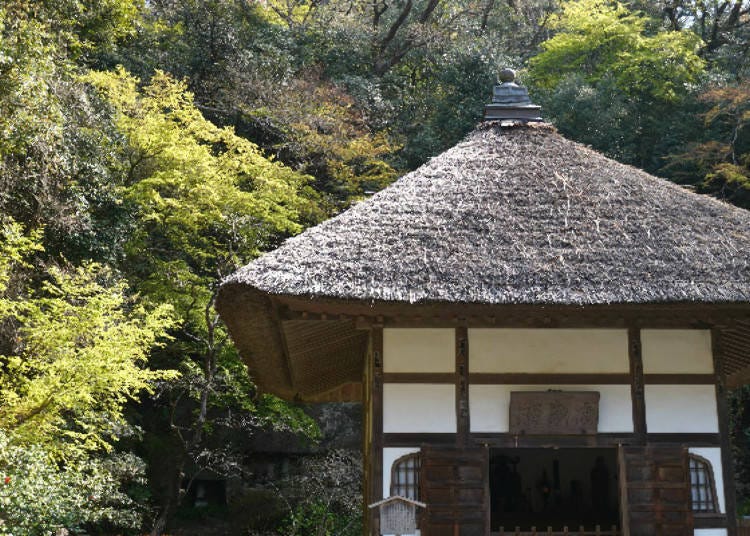 Leave the Abbot's Chamber behind to find Kaisandō, a thatched-roof hall nestled against the mountain. It is the oldest building on the precincts, dating back to 1719. Inside is an almost secret sanctuary that invites parishioners to quiet worship.

The atmosphere that surrounds Kaisandō is calm and wonderfully tranquil. One deep breath fills your lungs with the smell of lush nature and time seems to flow at a much slower pace at this enigmatic spot.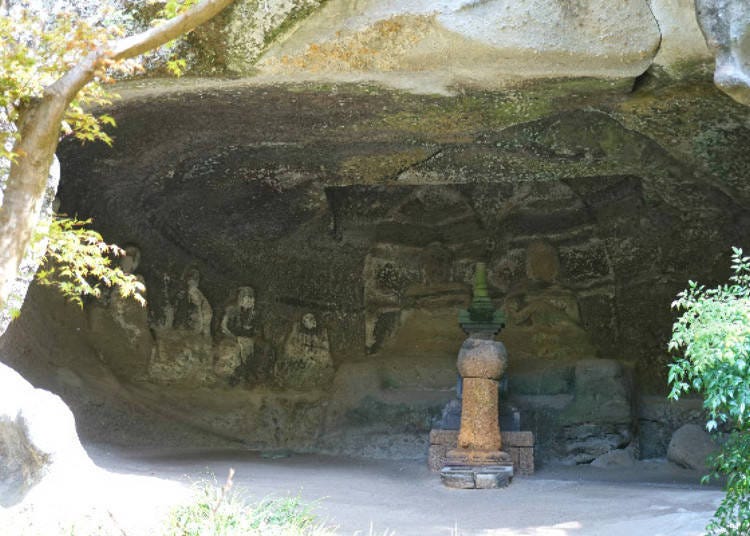 Further on is a cave tomb called yagura, a historical heritage of Kamakura's medieval period. Meigetsu-in boasts the largest of such tombs that still exist, thus being nicknamed Meigetsu-in Yagura. The walls are adorned with carvings of Gautama Buddha, the Sixteen Arhats, and Tahō Nyorai, all important Buddhas. In the center towers a hōkyōintō stone pagoda, believed to be a place of worship where sins are canceled, and the parishioner will be protected from disaster.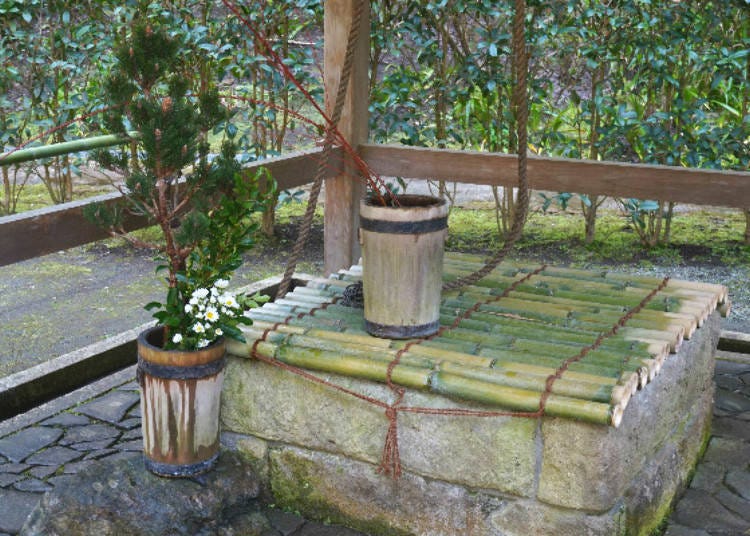 This well, seemingly made by carving through bedrock, is one of the famous Ten Wells of Kamakura. Inside is a bulge that resembles a water jar, giving the well the name of tsurube no i, or "bottle well." Around it are a variety of seasonal flowers that flourish on its high-quality water.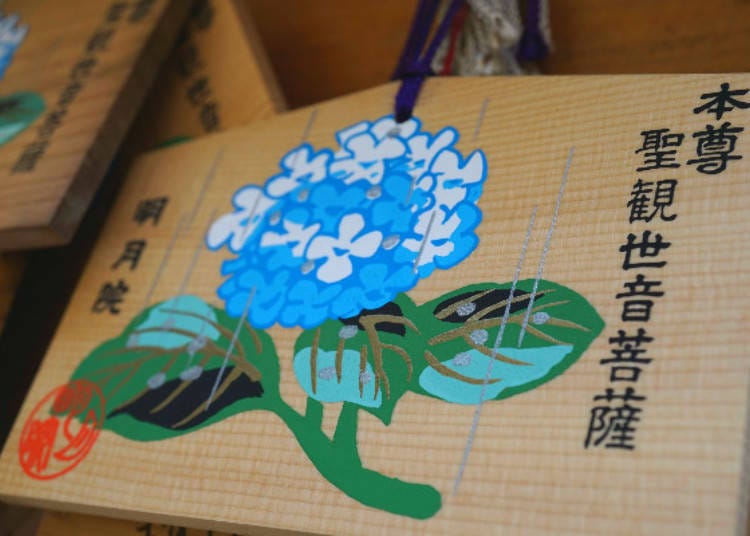 ▲ A wooden wishing plaque called "ema," decorated with an illustration of hydrangea.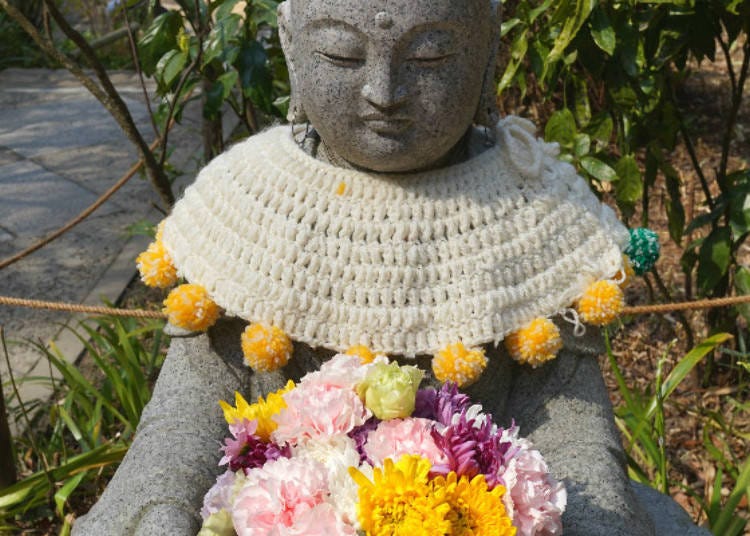 ▲ A "flower jizo," Buddhist guardian of children, holding seasonal flowers. In June, he'll have hydrangeas in his hands.
Wintersweet, Japanese apricot, and Japanese quince blossom at Meigetsu-in from early spring. The seasonal beauty that adorns the temple throughout the year is a result of its gardening department. We were told that the fallen leaves of the many trees on the precincts are gathered and used as fertilizer.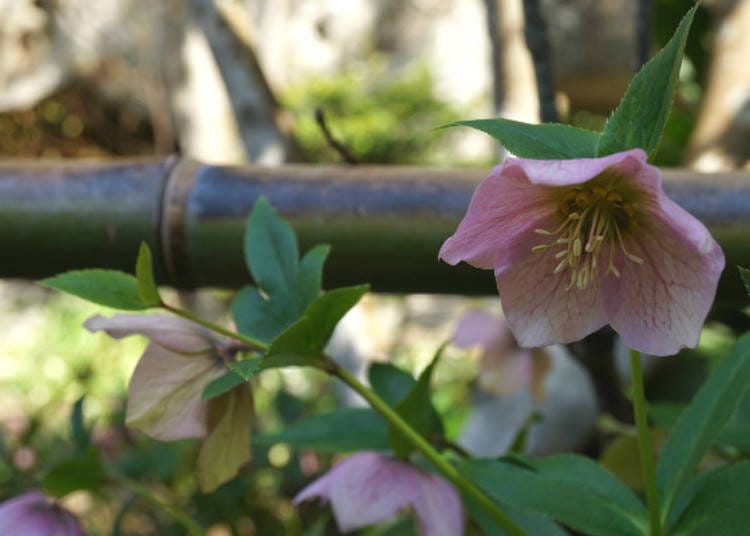 Clusters of Christmas roses called "winter lady" adorn the area around the yagura cave tomb between winter and early spring. They seem to protect the final resting place of an ancient noble with their petals.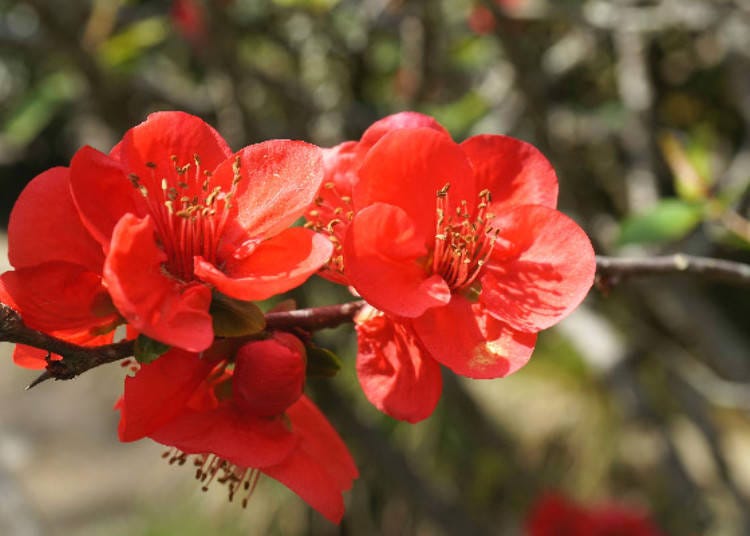 ▲ The large flowers of the Japanese quince.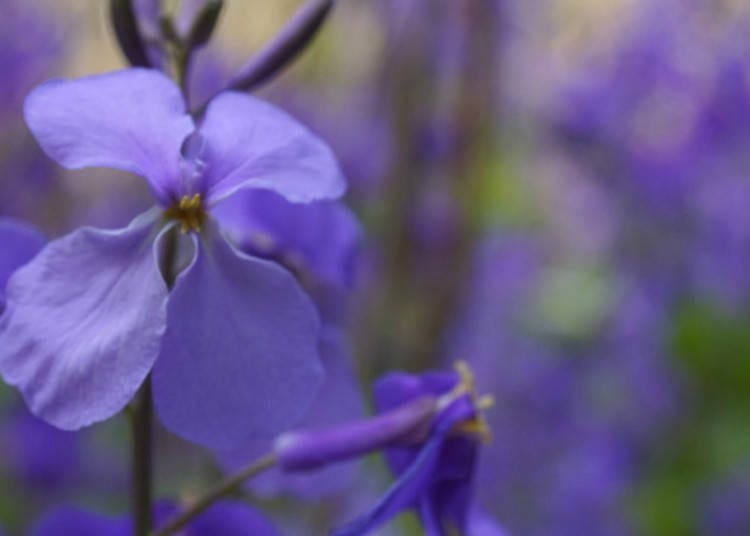 ▲ As the hydrangeas slowly start to sprout, Meigetsu-in is already dyed blue by the Chinese violet cress.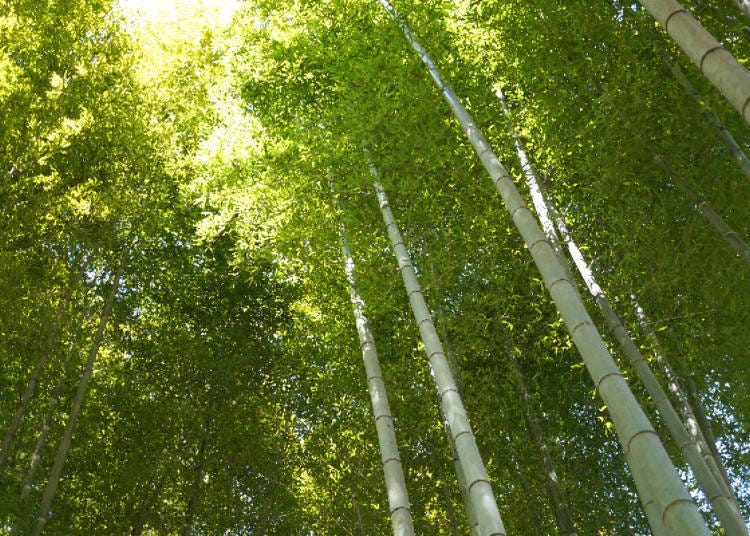 ▲ Meigetsu-in even has its own bamboo forest. A gentle wind blows through the stalks, inviting to take a rest on one of the benches.
Time for Tea Breaks and Seal Stamps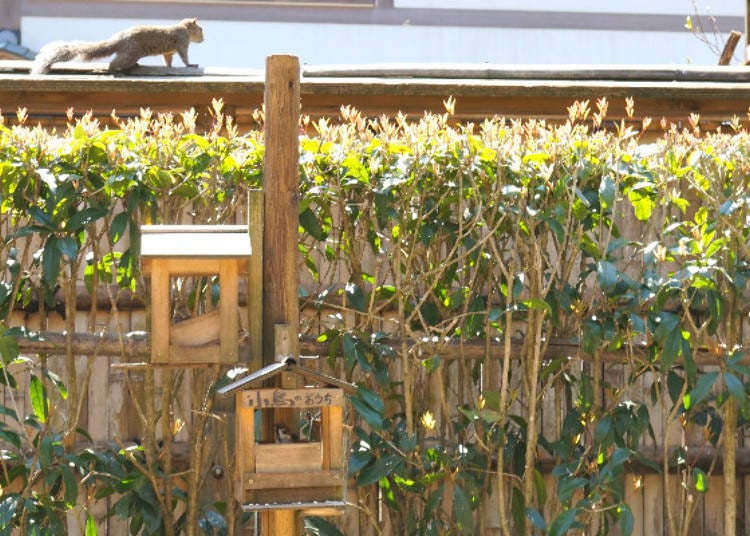 Wild birds and squirrels call the lush nature of Meigetsu-in their home. Rabbits are also famous inhabitants of the precincts. According to Japanese legend, a rice cake-pounding rabbit lives on the moon, so it is only fitting that its earthly siblings populate a temple that has the character for "moon" (月) in its name. They can be met up close in a dedicated corner of the temple, so even children will make precious memories at Meigetsu-in.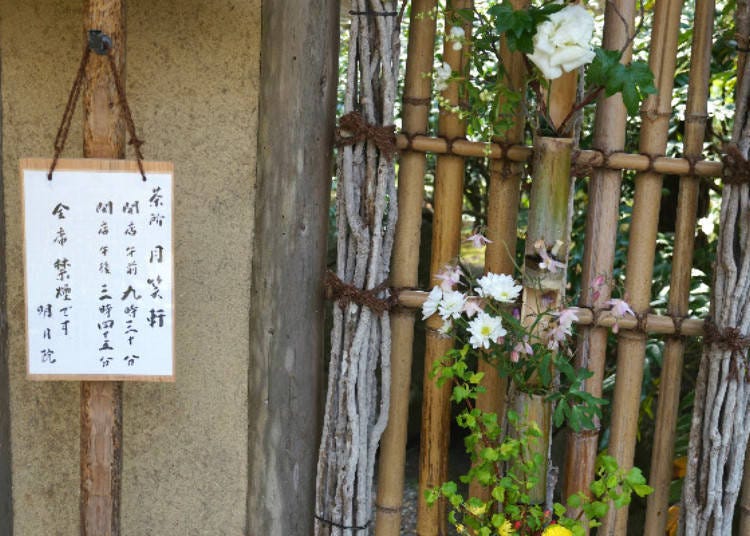 ▲ Gesshōken serves matcha green tea and traditional sweets.
After you've explored the temple's precincts thoroughly, why not take a break with a cup of tea at the Gesshōken teahouse? The gentle sounds of Japanese water harps caress your ears while you enjoy a cup of green tea and traditional sweets.

Afterward, make sure to pay a visit to the seal stamp shop near the main gate. Called shuin, these seal stamps are for both worshippers and visitors to Japanese shrines and temples. They're available for a small price and make for a wonderful memento of your visit to Meigetsu-in.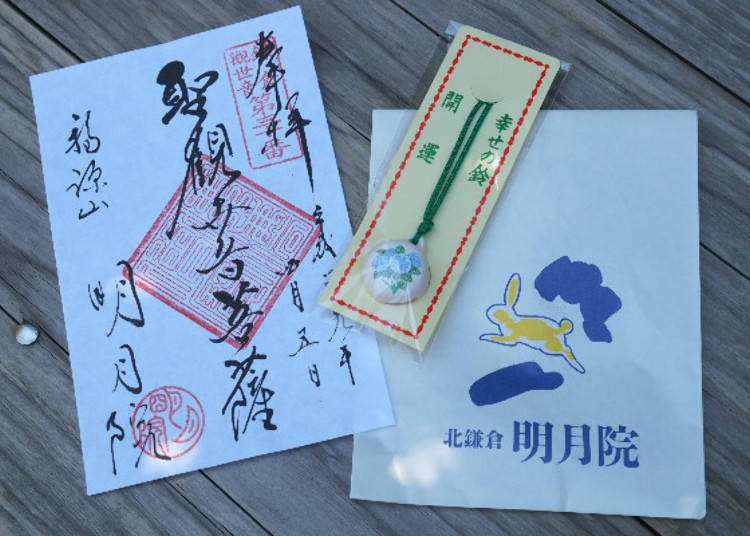 On the left is the stamp seal of Meigetsu-in, featuring the name of the temple, the name of the famous Kannon principal image, the date of your visit, and so on. Right next to it is a strap with a little bell charm that is adorned with hydrangeas, available for 500 yen. Whenever you hear the gentle sound of the bell, you'll surely be reminded of your magical visit to the beautiful temple.
Hydrangeas, Autumn Leaves, and More – Any Season is Worth the Visit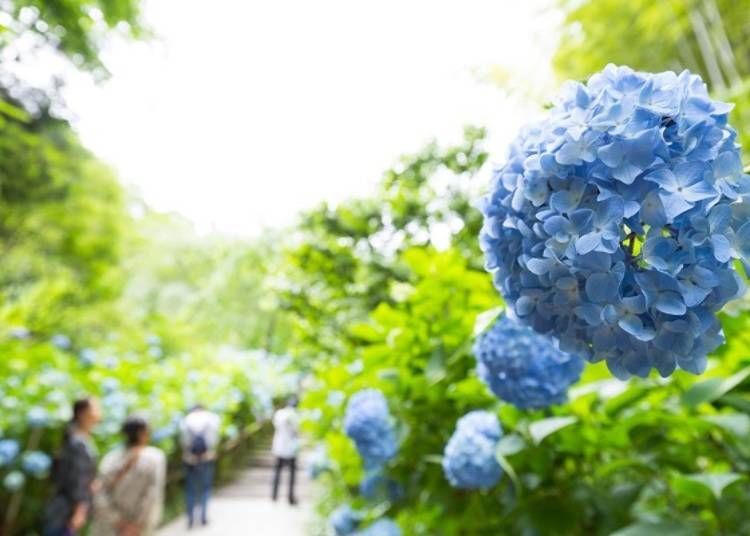 Kamakura is an ancient city full of temples and other sights, with Meigetsu-in and its hydrangea being one of them. If you wonder what to do during the rainy season and everything seems bleak and cloudy, remember it as a spot that truly shines when coated with numerous little raindrops. It might be crowded, but the unique atmosphere of Meigetsu-in Blue is so calm and peaceful, you'll barely notice anything but the mesmerizing scenery in the rain.

Even if you ended up missing hydrangea season, Meigetsu-in is well worth the visit, no matter what time of year you decide to make the journey to Kamakura. There are always flowers welcoming you to a one-of-a-kind place.

Hours: 9:00 a.m. – 4:00 p.m. (8:30 a.m. – 5:00 p.m. in June)
Admission: 500 yen; 300 yen for elementary and middle school students)
Address

189, Yamanouchi, Kamakura-shi, Kanagawa, 247-0062
View Map

Nearest Station

Kita-Kamakura Station (JR Yokosuka Line / JR Shonan Shinjuku Line)
9 minutes on foot


Phone Number

0467-24-3437
Writer: Yasuko Goto
Main image credit: Kantaya / Shutterstock.com

*This information is from the time of this article's publication.
*Prices and options mentioned are subject to change.
*Unless stated otherwise, all prices include tax.
Limited time offer: 10% discount coupons available now!