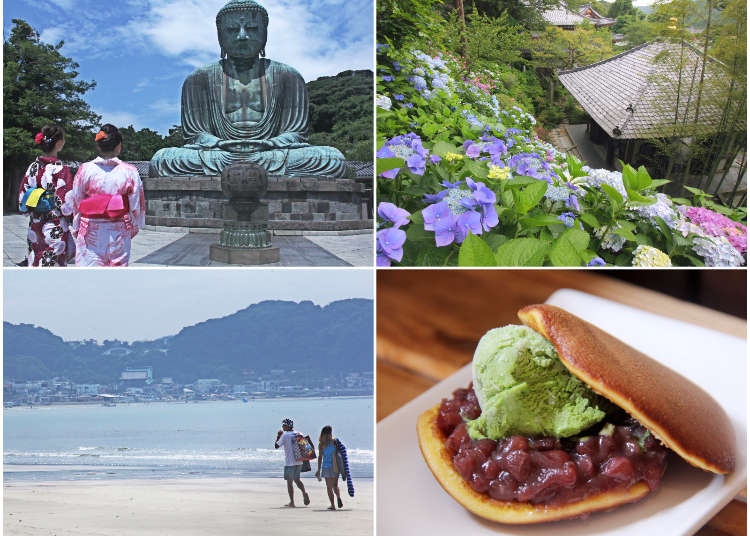 Nestled in the captivating town of Kamakura, an hour south of Tokyo, lies an enchanting area that beckons travelers seeking a glimpse into Japan's storied past. Hase Station, along the picturesque route of the Enoshima Electric Railway (Enoden), serves as a gateway to an array of awe-inspiring sights. With its rich concentration of shrines, temples, and historical landmarks, this region around Hase Station offers an immersive experience that is sure to captivate the hearts and minds of visitors.

Imposing and majestic, the Great Buddha of Kamakura stands tall as one of Japan's iconic treasures. Located just a short distance from Hase Station, this monumental bronze statue draws countless admirers from around the world. Additionally, nearby Hase-dera Temple, with its serene gardens and sacred atmosphere, offers a tranquil haven for reflection and spiritual exploration.

Join us as we embark on a journey to uncover the timeless wonders that await at Kamakura's Great Buddha and Hase-dera Temple, immersing ourselves in the rich tapestry of history and culture that defines this remarkable destination.
1. Hase-dera Temple: Ancient Japan and Seasonal Flower Scenery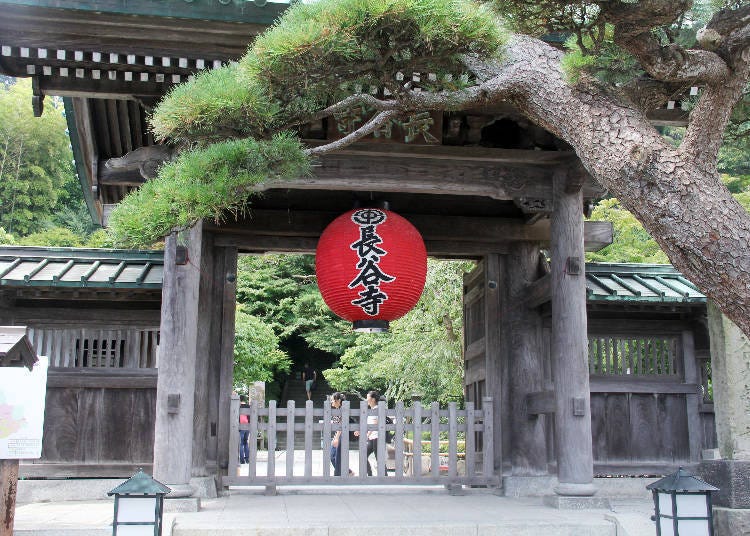 The red paper lantern of Hase-dera Temple's main gate called Sanmon.
Founded during the Nara period (710 - 794), Hase-dera Temple in Kamakura stands as a renowned Buddhist temple, housing a colossal wooden statue of the deity Kannon. Beyond its historical allure, the temple's grounds showcase the captivating beauty of around 2,500 hydrangeas, boasting 40 different species that bloom exquisitely, particularly in June.

The vast precincts of Hase-dera Temple extend from the mountain's base, encompassing both a lower and upper area. Within the lower section, enchanting sights await, including two picturesque ponds named Hojo-ike and Myouchi-ike. While summer displays magnificent floral splendor, these ponds transform into a vibrant tapestry of foliage during November, presenting a truly remarkable spectacle.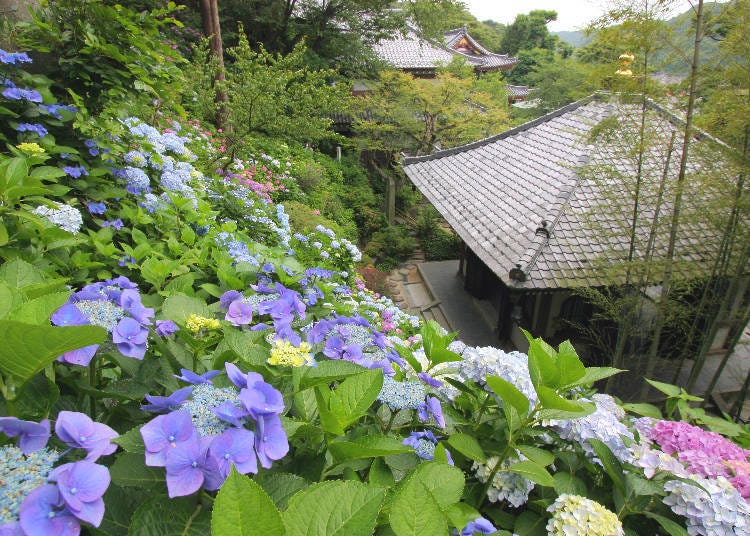 Hydrangeas blooming on the slopes behind the temple.
Ascend the stone steps leading to the Kannon-do hall, where visitors and worshippers are welcomed by the presence of the towering wooden Kannon statue. Adjacent to it stands the Amida-do hall, home to a golden statue of the deity Yakuyoke Amida Buddha, as well as the grand Shoro Belfry, housing a massive bronze bell rung at midnight every New Year's Eve.

To delve deeper into the temple's history and witness its exquisite ancient treasures, a visit to the Kannon Museum is highly recommended (admission fee of 300 yen, open from 9:00 a.m. to 4:30 p.m.).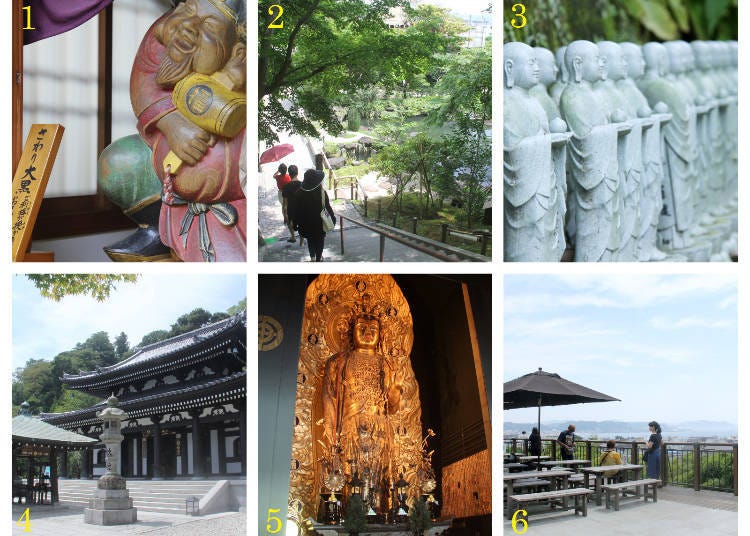 1) The wooden statue of Sawari Daikokuten, said to bless everyone who touches it 2) The stone steps leading from the ponds to the upper area 3) "Jizo" statues halfway up the stairs 4) Kannon-do hall 5) the Kannon statue 6) the observation deck
After immersing yourself in the temple's sacred precincts, take a moment to rejuvenate your body and soul at the observation deck in front of the main buildings. Here, a sublime panorama of Yuigahama Beach unfolds before you, offering breathtaking views regardless of the season.

Indulge in a well-deserved break at the renowned nearby restaurant, Kaikoan, known for its delightful offerings such as "Temple Curry" and "Temple Pasta," all while enjoying the serene beach scenery. Allow yourself to unwind fully, leaving all your worries behind.
Address

3-11-2, Hase, Kamakura-shi, Kanagawa, 248-0016
View Map

Nearest Station

Hase Station (Enoshima Electric Railway Line)
5 minutes on foot


Phone Number

0467-22-6300
2. Kotoku-in Temple and The Great Buddha of Kamakura: Admire the Ancient Bronze Statue
The Great Buddha peacefully sits in the center of Kotoku-in Temple's grounds
The renowned Kotoku-in Temple houses the iconic Great Buddha, making it one of Japan's most celebrated Buddha statues, second only to the Great Buddha of Nara. Standing impressively at a height of 11.3 meters and weighing 121 tons, this national treasure epitomizes the Buddhist artistry of the Kamakura period.

Kotoku-in Temple is devoted to the majestic bronze statue known as the Kamakura Daibutsu. Construction is said to have commenced in 1252 during the Kamakura period, initially placing the statue within a vast hall. Unfortunately, this hall suffered repeated damage from typhoons until it was ultimately destroyed by a powerful earthquake around 1498.

Since then, the bronze statue sits out in the open, as tranquil and peaceful as ever. Seated on a pedestal, the Great Buddha can actually be entered, and its structure further admired from the inside! Admission for this adventure is a mere 20 yen and is possible between 8:00 a.m. and 4:20 p.m.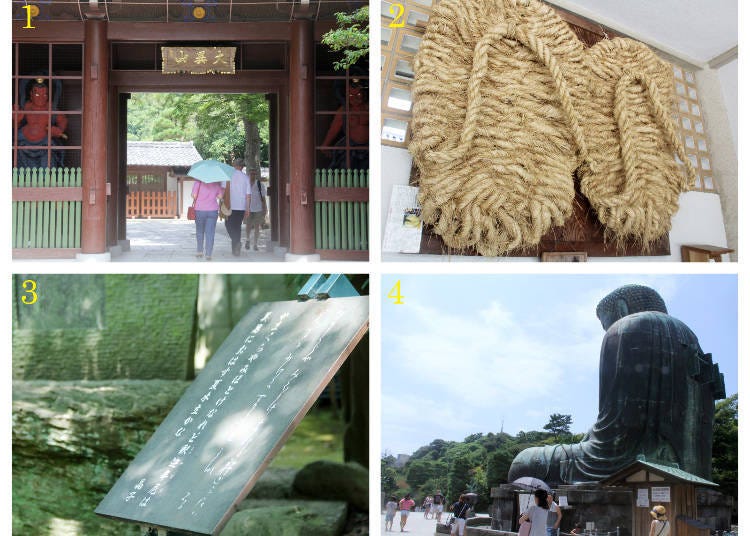 1) The entrance to Kotoku-in called Niomon 2) giant straw sandals of 1.8m height and 45kg weight 3) a tanka (poem) inscription of Akiko Yosano, one of Japan's most influential female authors, poets, and feminists 4) the Kamakura Daibutsu's small entrance at his hip
Address

4-2-28, Hase, Kamakura-shi, Kanagawa, 248-0016
View Map

Nearest Station

Hase Station (Enoshima Electric Railway Line)
7 minutes on foot


Phone Number

0467-22-0703
3. Kamakura Surugaya: Freshly Baked Dorayaki Gives You a Taste of Old Japan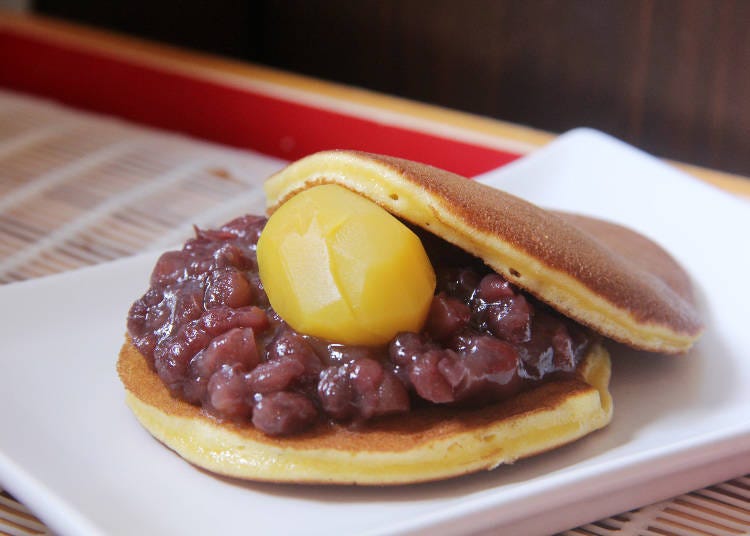 Dorayaki filled with candied chestnuts: 1 piece for 280 yen
After a day of exploring, you're bound to crave a delicious snack to replenish your energy. Let's make our way to Surugaya, an esteemed Japanese confectionery store with a remarkable 80-year history. Situated near Hase Station, this particular Surugaya store specializes in dorayaki, a beloved traditional Japanese treat consisting of red-bean pancakes.

Among their offerings, we highly recommend the Dainagon Dorayaki, generously filled with large, sweet azuki beans, priced at 180 yen. Additionally, the Matcha Dorayaki, made with premium Uji green tea, is a delightful choice for the same price. If you're feeling adventurous, Surugaya also presents an array of unique and creative dorayaki options.

Don't miss the Navel Orange Dorayaki, featuring succulent orange pieces and a generous amount of white azuki bean paste, available for 250 yen. Keep an eye out for seasonal variations as well. During the summer, you'll find moist pancakes filled with soft serve, offering a delightful beach snack experience!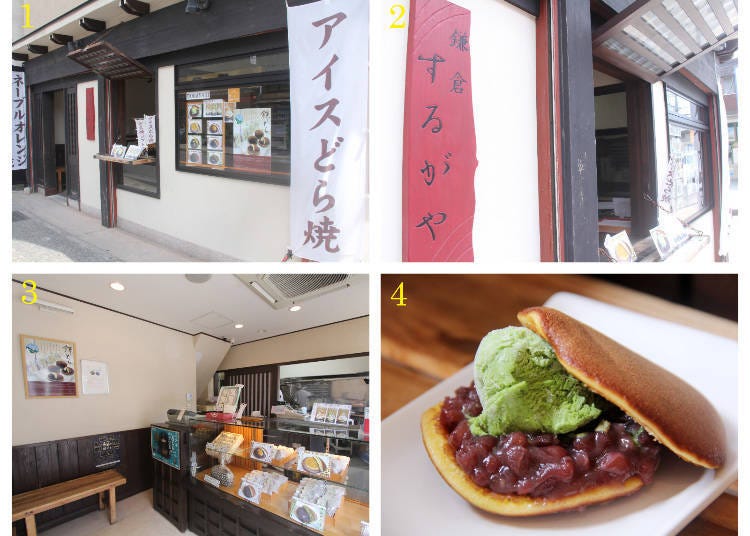 1) Surugaya at Hase Station 2) the shop's specialty is dorayaki 3) six different varieties of dorayaki are on offer 4) the Matcha Ice Cream Dorayaki for 350 yen
鎌倉するがや 長谷駅前店

Address

2-14-11 Hase, Kamakura, Kanagawa Prefecture, 248-0016

Nearest Station

Hase Station (Enoden), right in front of the station


Hours: 11:00 a.m. – 5:00 p.m.
Closed: Wednesdays
Sightseeing Route Part 1: Hase Station → Hase-dera Temple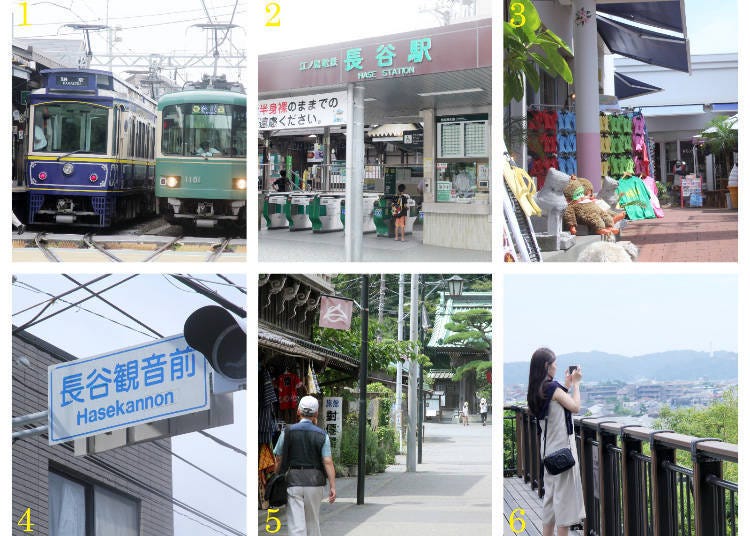 1) Enoden trains at Hase Station 2) Hase Station 3) restaurants and shops along the street 4) the intersection in front of Hase-dera Temple 5) the temple approach of Hase-dera Temple 6) the observation deck that overlooks Kamakura and Yuigahama Beach
Directions
Take the Enoden Line from Kamakura Station to Hase Station.
Upon exiting the station's ticket gate, turn left.
Continue straight, passing Surugaya.
At the intersection with a sign saying "Hasekannon," turn left.
Cross the traffic light.
Follow the alley until you reach the Sanmon Gate of Hase-dera Temple.
Take your time to explore the beautiful premises of Hase-dera Temple and discover its many secrets.
Sightseeing Route Part 2: Hase-dera Temple → Kotoku-in Temple and the Great Buddha of Kamakura → Hase Station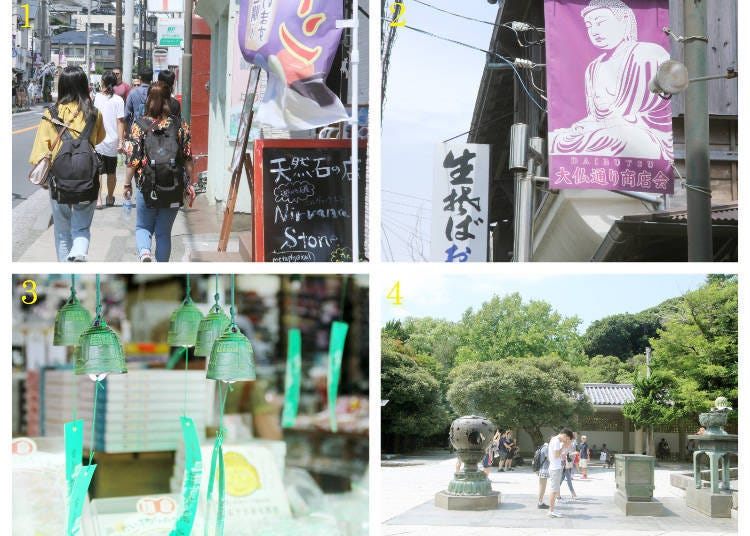 1) and 2) The road leading from Hase-dera Temple to Kotoku-in Temple 3) a souvenir store selling furin (wind chimes) 4) the temple grounds of Kotoku-in
Directions
After exploring the enchanting Hase-dera Temple, head back to the "Hasekannon" intersection.
Turn left, walking in the opposite direction of Hase Station.
Stroll along the lively street adorned with shops and restaurants.
After approximately 5 minutes of walking, you'll reach Kotoku-in Temple.
Marvel at the majestic Great Buddha of Kamakura (Daibutsu) towering over the temple grounds, exuding a serene ambiance. This renowned national treasure is one of Japan's most iconic attractions. Take your time to fully appreciate Kotoku-in Temple and consider the opportunity to see the Great Buddha from its interior.
When you're ready, make your way back to Hase Station to continue your journey.
*This information is from the time of this article's publication.
*Prices and options mentioned are subject to change.
*Unless stated otherwise, all prices include tax.
Limited time offer: 10% discount coupons available now!