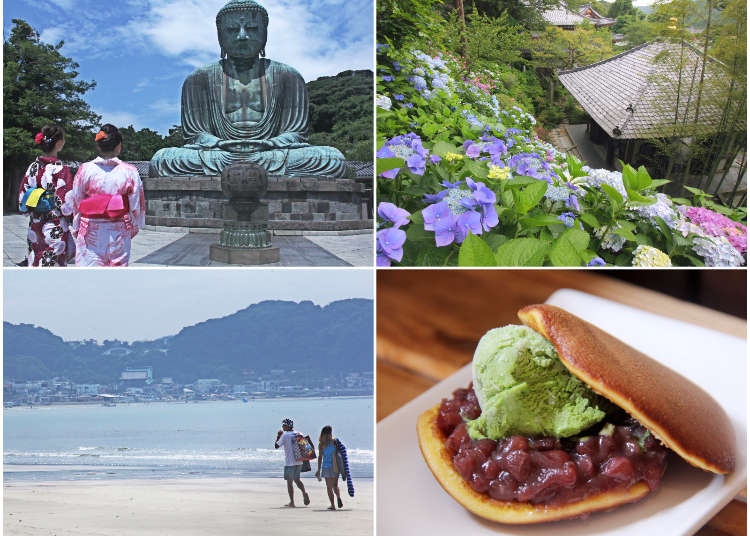 Kamakura is an ancient, scenic town about an hour south of Tokyo. Its closeness to the capital makes it a popular and well-beloved day trip destination for Tokyoites and tourists alike. In ancient times, Kamakura was once the capital of Japan itself and much of the old, distinguished atmosphere is still strongly palpable, offering an authentic glimpse into the country's rich history and culture.

From Kamakura Station runs an adorable little train called the Enoshima Electric Railway - affectionately abbreviated to Enoden. Its scenic route runs through the gorgeous Kamakura and Shonan area for about 10 kilometers. The cute retro train of 2 to 4 cars takes you along the beautiful coast, through historic townscapes, and along magnificent temples and shrines – indeed, the Kamakura area is so charming, it has been a set for many a movie and drama.

One of Enoden's stops is Hase Station, close to two of Kamakura's prime sights: the Great Buddha of Kamakura and Hase-dera Temple. The entire area around the little station is dotted with shrines, temples, and other historic sights, making exploring the town especially exciting.
1) Hase-dera Temple: a Scenery of Ancient Japan and Seasonal Flowers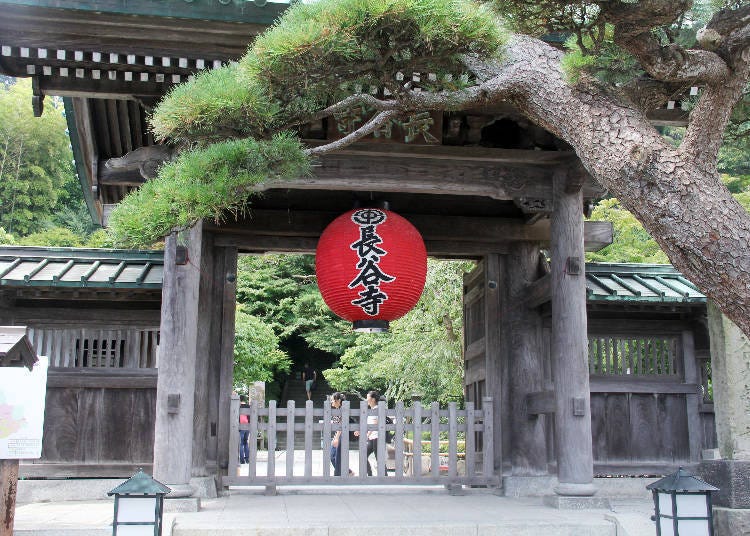 The red paper lantern of Hase-dera Temple's main gate called Sanmon.
The famous Hase-dera Temple in Kamakura was founded in the Nara period (710 – 794) as a Buddhist temple housing a massive wooden statue of the deity Kannon. Next to its historic charms, the site is also home to about 2,500 hydrangeas of 40 species that bloom beautifully especially during June.

Hase-dera Temple's vast precincts spread from the foot of the mountain and are divided into a lower and an upper area. In the lower part, you'll find two ponds called Hojo-ike and Myouchi-ike. While the flowers are magnificent in summer, these two ponds are surrounded by vivid foliage during November, making them a special sight to behold.

Follow the stone steps leading up the mountain and straight to the Kannon-do hall, where the giant wooden statue of Kannon greets visitors and worshipers. Next to it is the Amida-do hall, housing a golden statue of a deity called Yakuyoke Amida Buddha, as well as the Shoro Belfry, a massive bronze bell that is rung at midnight on New Year's Eve every year. Head to the Kannon Museum (admission is 300 yen, open from 9:00 a.m. to 4:00 p.m.) to learn more about the temple and its buildings and to see some of the temple's beautiful, ancient treasures.

If you want to take a break after exploring Hase-dera Temple's precincts, why not relax body and mind at the observation deck in front of the main buildings? A sublime view on Yuigahama Beach sprawls out in front of you that is breathtaking no matter the season. The nearby restaurant Kaikoan is famous for serving "Temple Curry" and "Temple Pasta" before the scenery of the beach, so feel free to stay for a while to leave all your cares behind.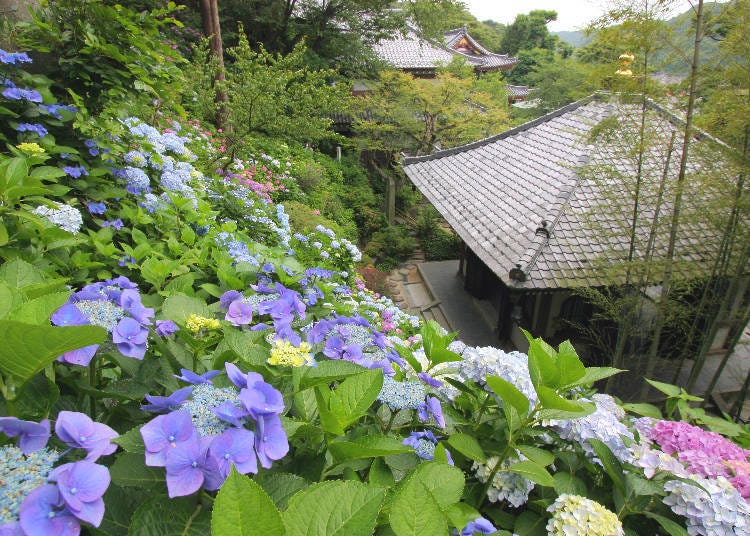 Hydrangeas blooming on the slopes behind the temple.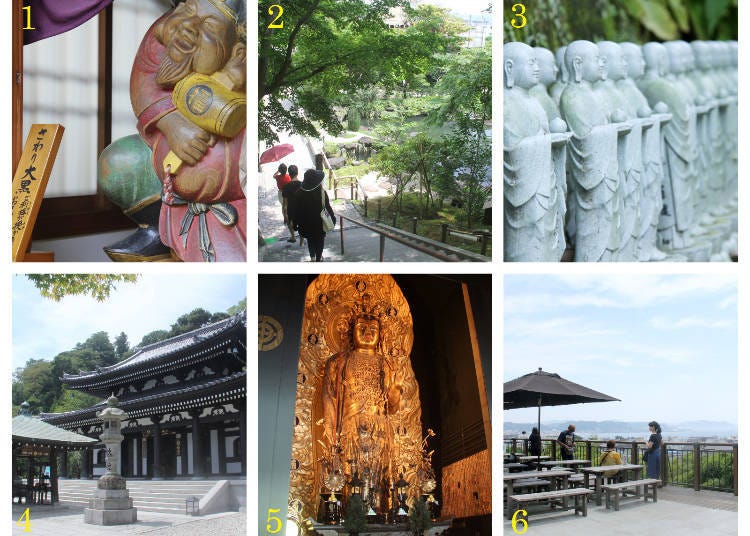 1) The wooden statue of Sawari Daikokuten, said to bless everyone who touches it 2) The stone steps leading from the ponds to the upper area 3) "Jizo" statues halfway up the stairs 4) Kannon-do hall 5) the Kannon statue 6) the observation deck
Admission 300 yen (museum only, everything else on the precincts is free)
Hours: 8:00 a.m. – 5:30 p.m.
Open until 5:00 p.m. from October to February. (last admission is 30 minutes before closing time)
Closed: always open
Access: Hase Station (Enoden), 5 minutes on foot
Address

3-11-2, Hase, Kamakura-shi, Kanagawa, 248-0016
View Map

Nearest Station

Hase Station (Enoshima Electric Railway Line)
5 minutes on foot


Phone Number

0467-22-6300
2) Kotoku-in Temple and The Great Buddha of Kamakura: Admiring the Ancient Bronze Statue from the Outside and the Inside
The Great Buddha peacefully sits in the center of Kotoku-in Temple's grounds
The Great Buddha at the temple called Kotoku-in is one of Japan's most famous Buddha statues, second only to the Great Buddha of Nara. With a height of 11.3 meters and a weight of 121 tons, it is designated as a national treasure representative of the Buddhist artworks of the Kamakura period.

Kotoku-in is dedicated to the Great Buddha bronze statue, also known as the Kamakura Daibutsu. It is said that construction began in 1252 during Japan's Kamakura period and originally, the statue was inside a large hall. This hall, however, fell victim to typhoons repeatedly until around 1498, when a large earthquake destroyed the hall once more.

Since then, the bronze statue sits out in the open, as tranquil and peaceful as ever. Seated on a pedestal, the Great Buddha can actually be entered, and its structure further admired from the inside! Admission for this adventure is a mere 20 yen and is possible between 8:00 a.m. and 4:20 p.m.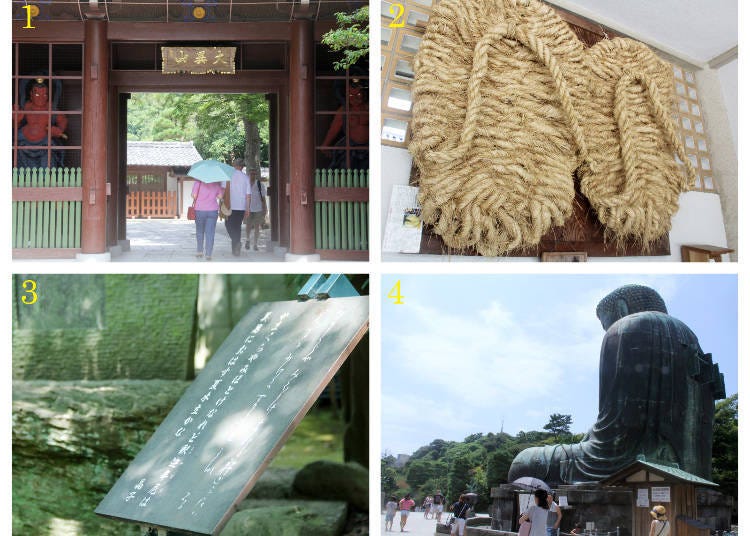 1) The entrance to Kotoku-in called Niomon 2) giant straw sandals of 1.8m height and 45kg weight 3) a tanka (poem) inscription of Akiko Yosano, one of Japan's most influential female authors, poets, and feminists 4) the Kamakura Daibutsu's small entrance at his hip
Admission: 200 yen
Hours: 8:00 a.m. – 5:30 p.m.
Open until 5:00 p.m. from October to March (last admission is 15 minutes before closing time)
Closed: always open
Access: Hase Station (Enoden), 7 minutes on foot
Address

4-2-28, Hase, Kamakura-shi, Kanagawa, 248-0016
View Map

Nearest Station

Hase Station (Enoshima Electric Railway Line)
7 minutes on foot


Phone Number

0467-22-0703
3) Kamakura Surugaya: Freshly Baked Dorayaki Gives You a Taste of Old Japan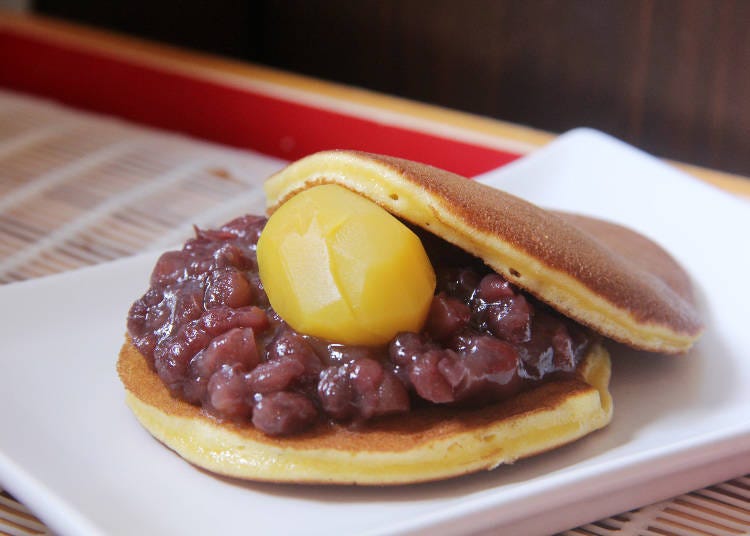 夾著糖漬栗子的栗子銅鑼燒 1個280日圓
After all this sightseeing, you'll find yourself craving for a snack to recharge your energies. Let's head over to Surugaya, a Japanese confectionery specialty store with a history of over 80 years. The Surugaya store in front of Hase Station opened as a dorayaki specialty store, entirely devoted to Japan's traditional red-bean pancake delight.

We recommend the Dainagon Dorayaki, plentifully filled with large-grained, sweet azuki beans for 180 yen, as well as the Matcha Dorayaki made with high-grade Uji green tea for 180 yen. If you want to try something different, Surugaya also offers a fun selection of unique and creative dorayaki varieties, such as the Navel Orange Dorayaki with juicy orange pieces and plenty of white azuki bean paste for 250 yen. Also look out for seasonal varieties – especially in summer, the moist pancakes are filled with soft serve and make a wonderful beach snack!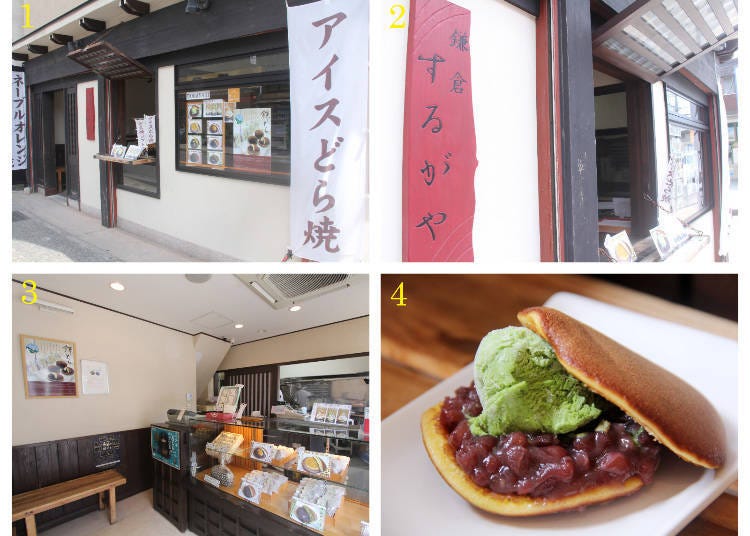 1) Surugaya at Hase Station 2) the shop's specialty is dorayaki 3) six different varieties of dorayaki are on offer 4) the Matcha Ice Cream Dorayaki for 350 yen
Hours: 11:00 a.m. – 5:00 p.m.
Closed: Wednesdays
Access: Hase Station (Enoden), right in front of the station
Kamakura Surugaya Hase ekimae ten

鎌倉するがや 長谷駅前店

Address

2-14-11 Hase,Kamakura, Kanagawa Prefecture, 248-0016
The Sightseeing Route Part 1: Hase Station → Hase-dera Temple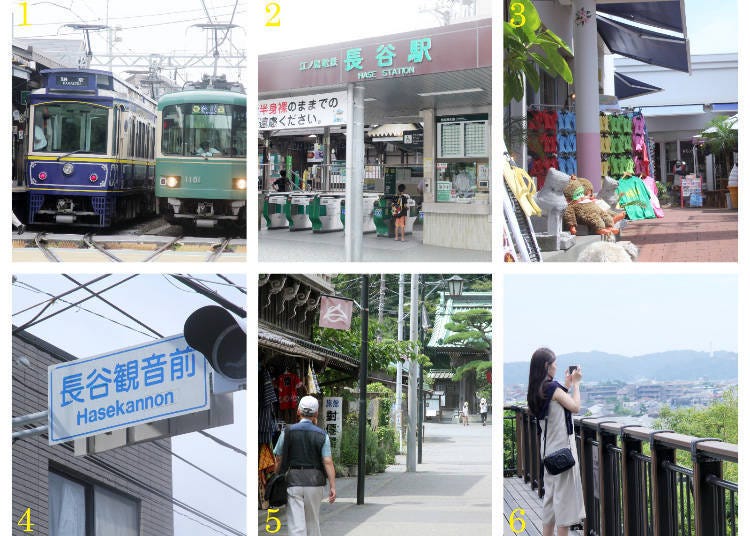 1) Enoden trains at Hase Station 2) Hase Station 3) restaurants and shops along the street 4) the intersection in front of Hase-dera Temple 5) the temple approach of Hase-dera Temple 6) the observation deck that overlooks Kamakura and Yuigahama Beach
Take the Enoden Line from Kamakura Station to Hase Station. Our sightseeing tour takes us to the famous Hase-dera Temple first, famous for its giant wooden statue of Kannon and its numerous flowers. To get there, turn left after passing through the station's ticket gate, pass Surugaya and continue straight. You'll arrive at an intersection with a sign saying "Hasekannon" – turn left here, cross the traffic light, and follow the alley until you arrive at the temple's Sanmon Gate. Take your time exploring the beautiful premises of Hase-dera Temple and its many secrets!
The Sightseeing Route Part 2: Hase-dera Temple → Kotoku-in Temple and the Great Buddha of Kamakura → Hase Station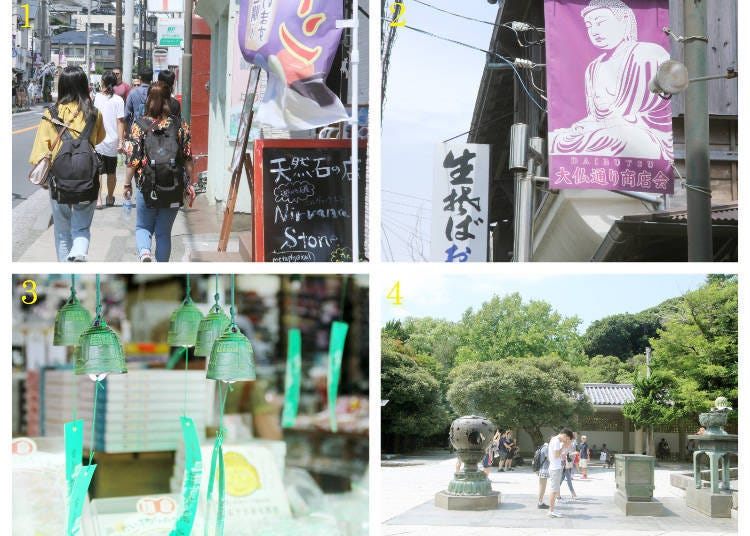 1) and 2) The road leading from Hase-dera Temple to Kotoku-in Temple 3) a souvenir store selling furin (wind chimes) 4) the temple grounds of Kotoku-in
After experiencing the beauty of Hase-dera Temple, return to the "Hasekannon" intersection and turn to the left, the opposite direction of Hase Station. The lively street is lined with shops and restaurants and you'll arrive at Kotoku-in Temple after about 5 minutes of walking. The Great Buddha of Kamakura, also called Daibutsu, towers over the temple grounds, emitting a tranquil atmosphere. The national treasure is one of Japan's most famous sights, so take your time at Kotoku-in and don't hesitate to use the chance and see the Great Buddha from inside. Once you're ready, return to Hase Station.
*This information is from the time of this article's publication.
*Prices and options mentioned are subject to change.
*Unless stated otherwise, all prices include tax.