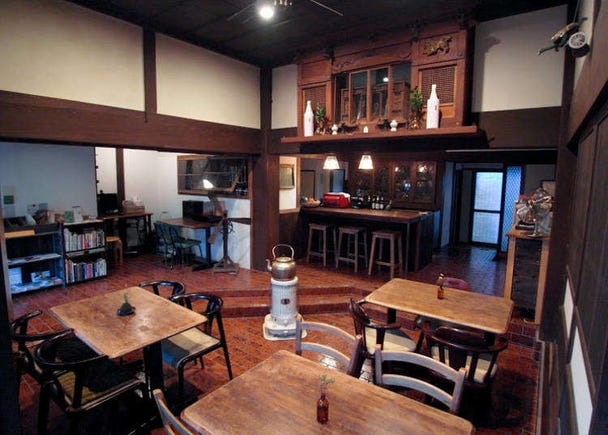 The seaside city of Kamakura, with its Giant Buddha and scenic traditional townscape, is a popular sightseeing spot with convenient, quick access from Tokyo.

It makes for an excellent day trip, but if you really want to discover everything that Kamakura has to offer, you'll have to stay the night. What might put a lot of people off as unnecessarily expensive at first can actually be a reasonable, fun way to enhance your trip!

Here we'll introduce you to three of the best Kamakura guest houses that are fit for every budget.
1. Guest House Kamejikan: Enjoying Kamakura Slowly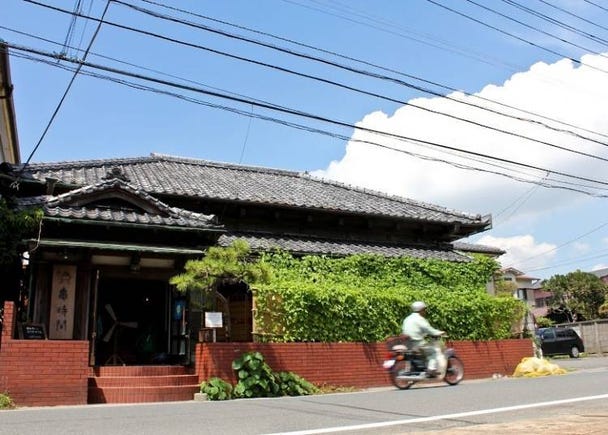 Guest House Kamejikan is the perfect choice for everyone who wants to experience traditional Japan in a warm, laid-back atmosphere. Situated in a renovated private house with a history of over 90 years, this charming guest house operates under the motto of "enjoying Kamakura's daily life as slowly as a turtle," roughly translated.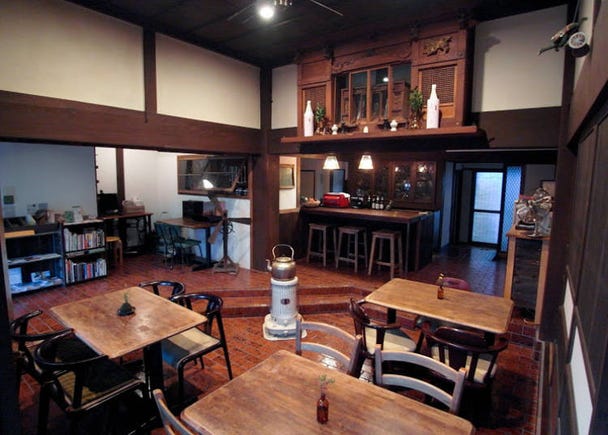 Kamejikan's main hall and its warm, wooden interior emit a cool, airy coziness that'll make you want to grab a beer and just kick back for a while.

The lounge for guests invites you to have a casual chat with friends or other guests while enjoying a tasty brew from the free-to-use coffee mill. Don't hesitate to ask for tips and personal favorites when it comes to Kamakura's sightseeing spots!

Both Komyo-ji Temple and Zaimokuza Beach are just a 3-minute walk away from Kamejikan. No matter at which time you step outside, you'll be greeted with breathtaking scenery that is especially beautiful during sunset and sunrise.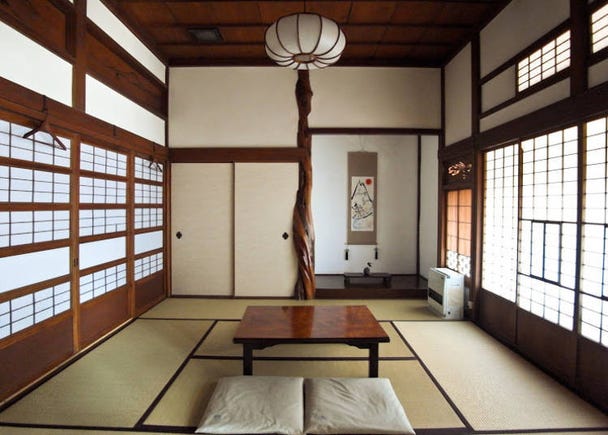 This cute Kamkura guest house offers a mixed dormitory from 3,200 yen per night, a room for two (9,000 yen room price), as well as a room for four (16,000 yen room price).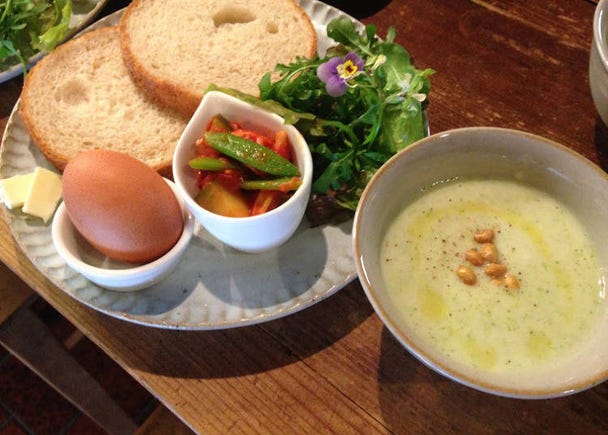 For an extra 500 yen, Kamejikan offers a breakfast made from locally grown vegetables that can be requested at the time of booking.

Nearest train stations: Wadazuka Station, Yuigahama Station, Kamakura Station
*It's a 10-minute bus ride from Kamakura Station.
亀時間

Address

3-17-21, Zaimokuza, Kamakura-shi, Kanagawa, 248-0013

Phone Number

046-725-1166

Vacancy search, reservation

from

9,000JPY

1room, 2adults

Check with our partner site as the latest rates, rate details, and guest room requirements may vary.
2. Kamakura Guesthouse: Getting a Nostalgic Taste of Japan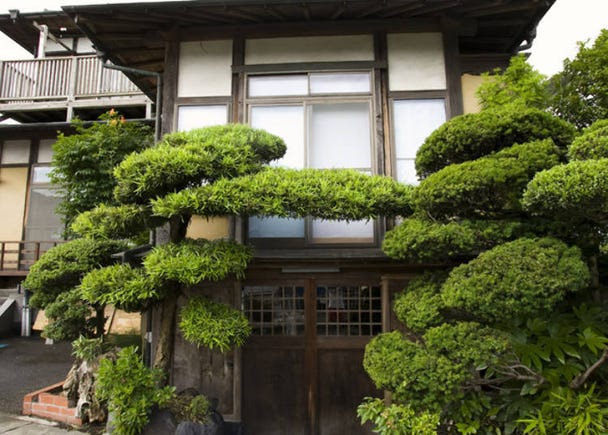 Kamakura Guesthouse will make you feel like you're staying over at the kind and fun Japanese grandma that you never had. Traditional Japan can be felt in every nook and cranny of the lodging, from the faint, pleasant smell of the tatami to the indigo-dyed futon.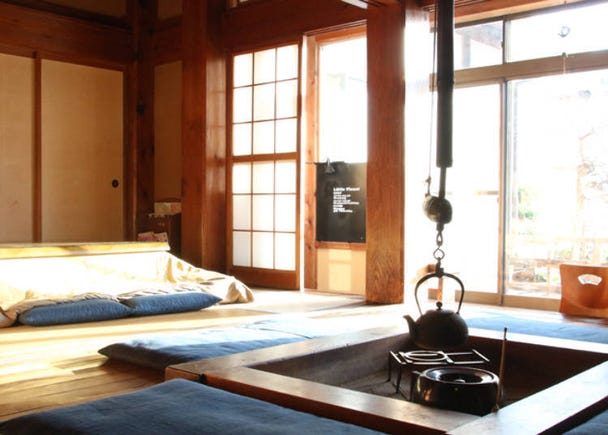 The warm heart of the house is the large hearth in the common space. Even when the flames aren't lit – and they only are in winter, obviously – the room has a very special atmosphere and feel to it, inviting you to relax and let your mind wander. Also, make sure to snap a photo in front of the characteristic hearth!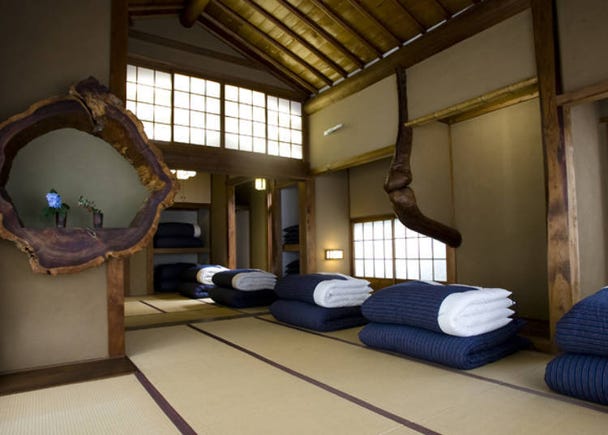 All rooms are laid out with tatami and you can look forward to sleeping comfortably in a fluffy futon, aired out every single day (dormitory for 3,500 yen per night). Amenities like yukata or towels aren't prepared, however, so make sure to bring your own!

Kamakura Guesthouse also offers private rooms for 15,000 yen per room, usable for up to four people. This is an especially nice deal for groups of friends or couples! Make an experience that you'd never make by simply staying at a hotel and enjoy Kamakura Guesthouse's uniquely authentic Japanese spirit.

Why not rent a bicycle for 500 yen per day? If the weather is good, exploring Kamakura's shrines, temples, and the beach will be so much more fun on a bike! The Great Buddha is just 10 minutes away, Kamakura Station and Yuigahama just 15.

Nearest Station: Shonan-Fukasawa Station
鎌倉ゲストハウス

Address

273-3, Tokiwa, Kamakura-shi, Kanagawa, 248-0022

Phone Number

046-767-6078

Vacancy search, reservation

Please enquire directly about rates.

Check with our partner site as the latest rates, rate details, and guest room requirements may vary.
3. IZA Kamakura: A Chic, Reasonable Choice for Surfers and Explorers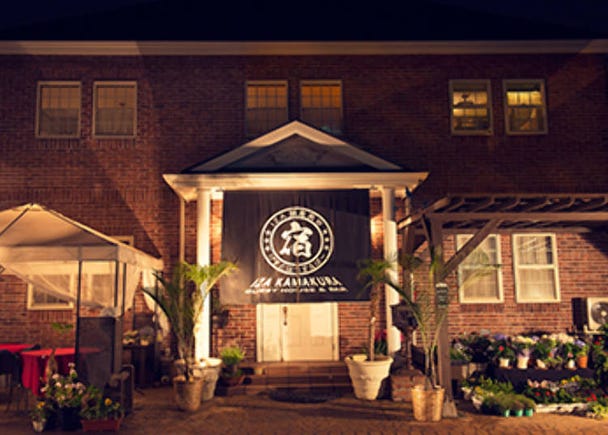 IZA Kamakura is just 2 minutes away from Hase Station and thus the best choice for everyone who values convenient access. Numerous sightseeing spots, such as the Great Buddha and Hase-dera Temple, are within walking distance of this Kamakura guest house.

It's also just 60 meters to Yuigahama Beach, so if you're visiting Kamakura mainly for surfing and other water sports, IZA Kamakura is your best bet. You can also rent bicycles from 8:00 a.m. to 10:00 p.m. for 1,00 yen (plus 300 yen as insurance fee).

Both the outside and the interior of the stylish brick building evoke an arty, European image. Everything seems modern and fancy, without losing the comfort and warmth of a guest house.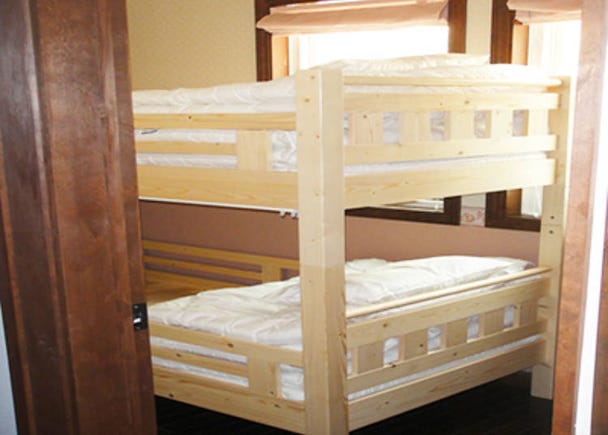 IZA Kamakura offers five different types of both dormitories and private rooms, including a female-only dormitory (from 3,500 yen). Thus, it's also a perfect choice for people who have never stayed at a guest house before or are hesitant to do so.

Another point that IZA Kamakura can score with is the breakfast – everyone who stays at the guest house gets one! For an extra 500 yen, you can even upgrade to be served a dinner as well! (Ask for details at the time of reservation).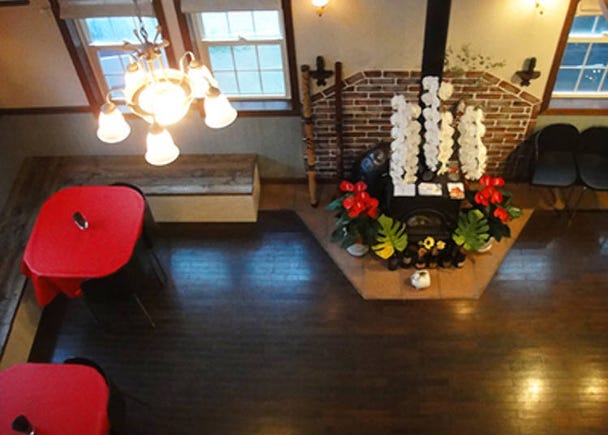 If you're looking to socialize, hit the lounge and its bar to grab a drink and chat with other guests. Regular events are held here as well, such as takoyaki parties on Saturdays, so don't hesitate to come by and enjoy yourself!

Nearest Station: Hase Station
IZA Kamakura Guest House and Bar

IZA鎌倉 ゲストハウス&バー

Address

11-7, Sakanoshita, Kamakura-shi, Kanagawa, 248-0021

Phone Number

0467-33-5118
No matter what your budget is and what your journey to and in Japan looks like, we're sure that you'll find the Kamakura guest houses that fit you the most! Stay in a dormitory and make new friends or book a private room with a bigger group – the charms and secrets of Kamakura wait to be explored!

Writer: Chiaki Ishibe
*This information is from the time of this article's publication.
*Prices and options mentioned are subject to change.
*Unless stated otherwise, all prices include tax.