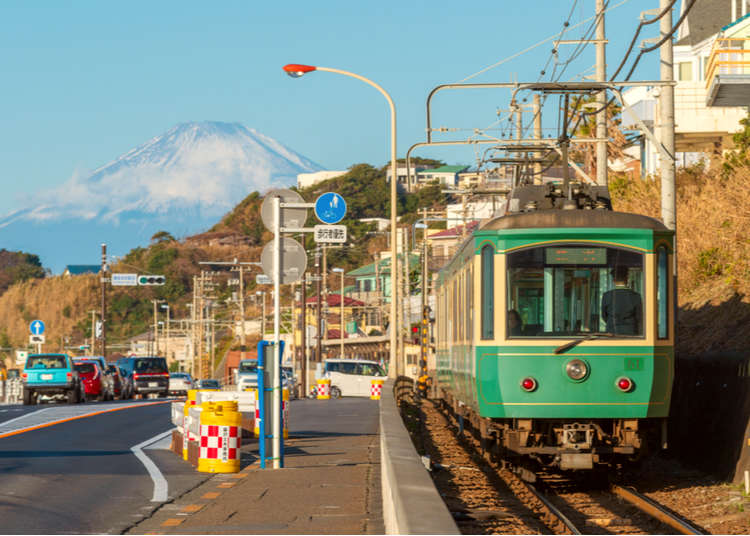 Kamakura is an ancient, scenic town south of Tokyo. It's just a 1-hour train ride away from the Japanese capital and thus a popular and well-beloved day trip destination for Tokyoites and tourists alike. In ancient times, Kamakura was once the capital of Japan itself and much of the old, distinguished atmosphere is still strongly palpable, offering an authentic glimpse into the country's rich history and culture.

From Kamakura Station runs a special little train called the Enoshima Electric Railway, affectionately called Enoden in short. Its scenic, about 10-kilometer long route runs through the beautiful Kamakura and Shonan area for about 10 kilometers. The adorable retro train of 2 to 4 cars take you along the beautiful coast, through historic townscapes, and along magnificent temples and shrines – indeed, the Kamakura area is so charming, it has been a set for many a movie and drama.

One of Enoden's stops is Hase Station, close to two of Kamakura's prime sights: the Great Buddha of Kamakura and Hase-dera Temple. The other side of the station, however, is just as interesting. Explore narrow alleys dotted with atmospheric cafés, shops, and confectionery stores, and various much smaller shrines and temples. It's a charming, almost rural side of Japan that you probably haven't seen before. To make the most out of this, let's take a walk to the nearby Gokurakuji Station instead of hopping on the Enoden Line!
1) Goryo Shrine: A Tranquil Place Honoring a Brave Samurai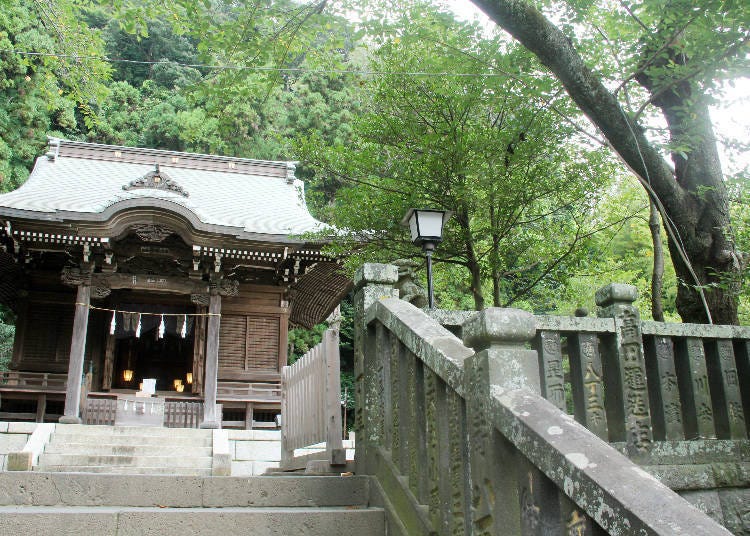 Goryo Shrine's main hall.
Goryo Shrine is a tranquil Shinto shrine that offers an entirely different experience than the big temples of Hase-dera and Kotoku-in. The shrine is dedicated to Kagemasa Gongoro Kamakura, a samurai of the Heian period (794 – 1185) who is known for his strength and bravery. While the Enoden train tracks run right in front of its torii, or entrance gate, you will find the place peacefully quiet and with far, far fewer people.

The shrine is valued among locals for this tranquility and the peaceful atmosphere is just right for cleansing heart and mind, rituals of utmost importance in the Shinto belief. As such, Goryo Shrine offers a very spiritual lens on Japan and its old traditions. Various sub-shrines can be found on the lush precincts, one dedicated to Fukurokuji, one of Kamakura's Seven Deities of Good Fortune. Another highlight of the shrine is one that can't be identified as one at first glance – it's a mere tree stump. However, this stump was once a mighty pine tree and it is said that Kagemasa Gongoro Kamakura once leaned his bow against it. As such, it is protected and valued even today.
Calm your heart and mind and enjoy the rich, spiritual atmosphere of Goryo Shrine to the fullest!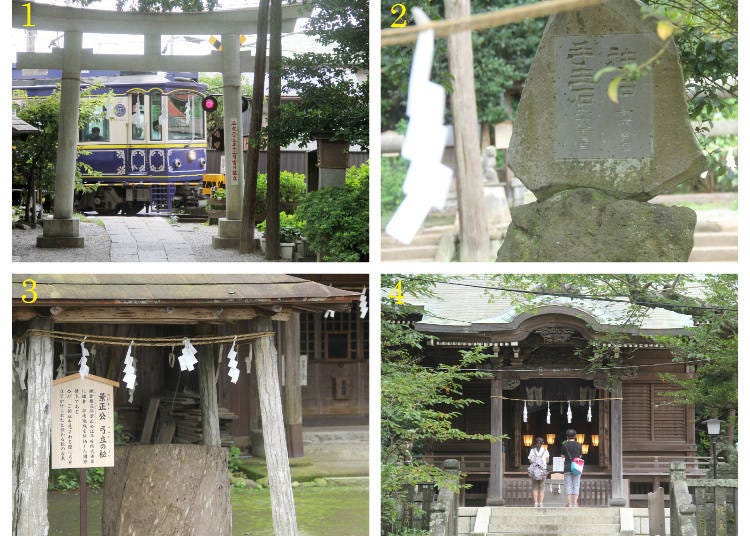 1) The Enoden train passing along the torii gate of Goryo Shrine 2) the pair of stones called "sleeve stone" and "stone in one's hand" 3) the tree stump of legends 4) praying at the peaceful shrine
御霊神社

Address

4-9 Sakanoshita, Kamakura, Kanagawa Prefecture,248-0021

Admission: worship is free
Closed: always open
Access: Hase Station (Enoden Line), 5 minutes on foot
2) Chikaramochiya: Rice Cakes so Soft and Sweet, You Won't be Able to Stop Eating!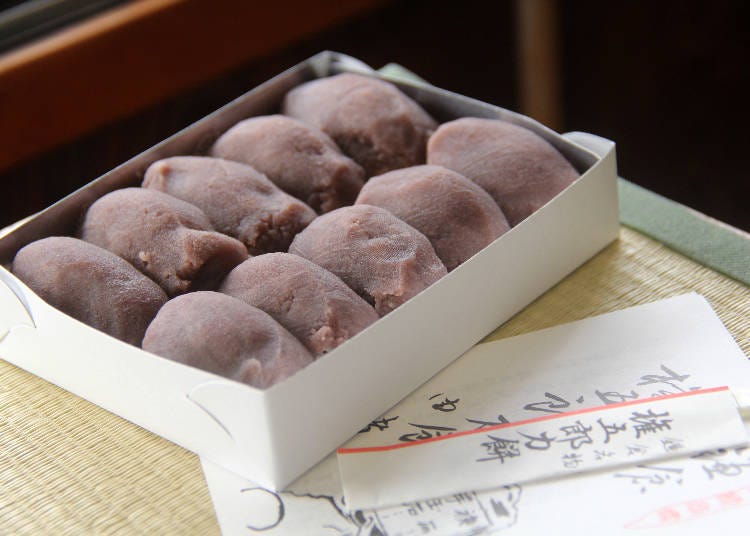 Gongoro Chikara Mochi, box of 10 for 670 yen
This traditional mochi (rice cake) specialty store was established in 1690, making it the oldest confectionery shop in Kamakura. Chikaramochiya's most famous creation is the Gongoro Chikara Mochi, named after the above-named samurai of Kamakura. The freshly made mochi are wrapped in a mellow paste of sweet red beans and they taste simply heavenly. Because the shop still uses the traditional recipe it has always used, no additives can be found in the rice cakes – this also means that they have a fairly short shelf life and unfortunately can't be used as souvenirs. Unless it's a souvenir for yourself, of course, and you enjoy them on the very same day!

There's one delicacy that you can safely take home: gyuhi. This Japanese confectionery is similar to Turkish delight and Chikaramochiya's version comes with a sweet bean filling. Get a box of 9 for 930 yen! Another recommendation is Fukumen Manjuu, a castella sweet shaped like an ancient mask! One can be enjoyed for 170 yen.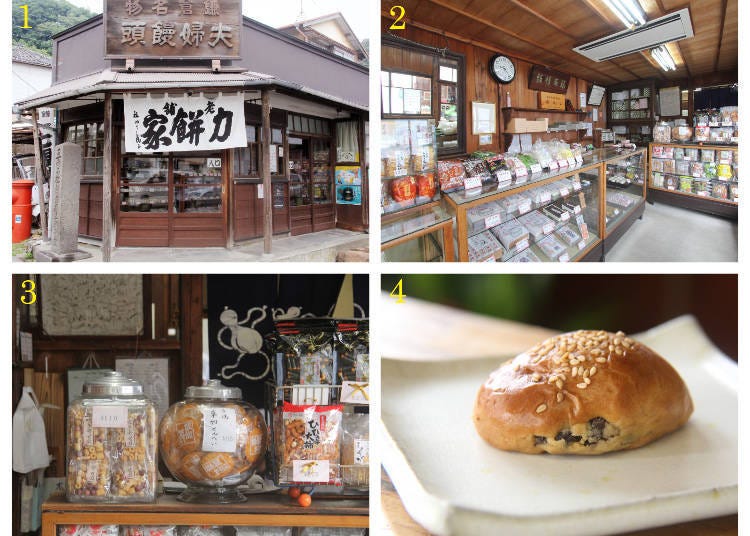 1) The shop can be found at the entrance of Goryo Shrine 2) it boasts a charming retro atmosphere 3) rice crackers and other nostalgic candies are lines up at the counter 4) a baked dumpling with sesame
力餅屋

Address

18-18 Sakanoshita, Kamakura, Kanagawa Prefecture, 248-0021

Hours: 9:00 a.m. – 6:00 p.m.
Closed: Wednesdays, every 3rd Tuesday of the month
Access: Hase Station (Enoden Line), 6 minutes on foot
3) Café Sakanoshita: Heavenly Pancakes at a Long-Established Shop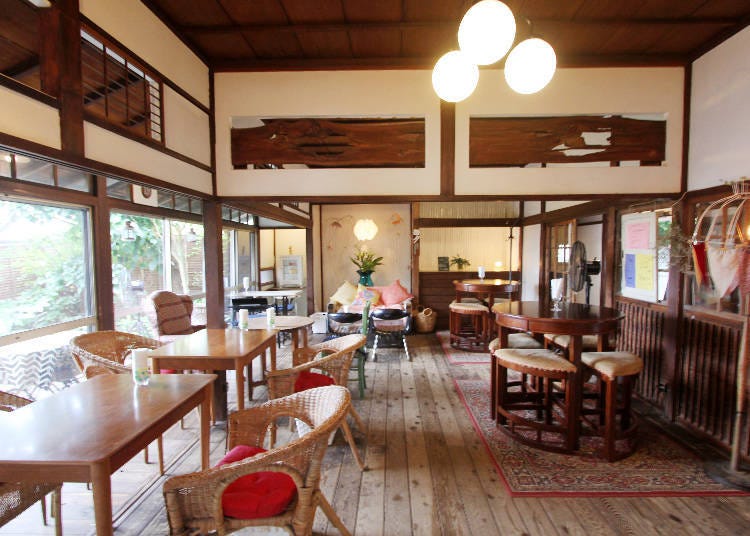 The café is in a renovated house with a history of over 90 years.
The famous Café Sakanoshita is situated in an old building so atmospheric, it has even served as a location in the popular drama "Saigo Kara Nibanme no Koi." The must-eat at this café is the pancakes, created to reproduce the unique flavor and texture of the pancakes the owner used to eat as a child. The nostalgic pancakes are 1.5cm thick, piled up in three moist, fluffy layers that will melt on your tongue. This yummy pancake dish comes in five flavors: plain, matcha, banana caramel, berry sauce, and cheese. Every taste comes with plenty of whipped cream, except for cheese. Why not order some vanilla ice cream as topping as well?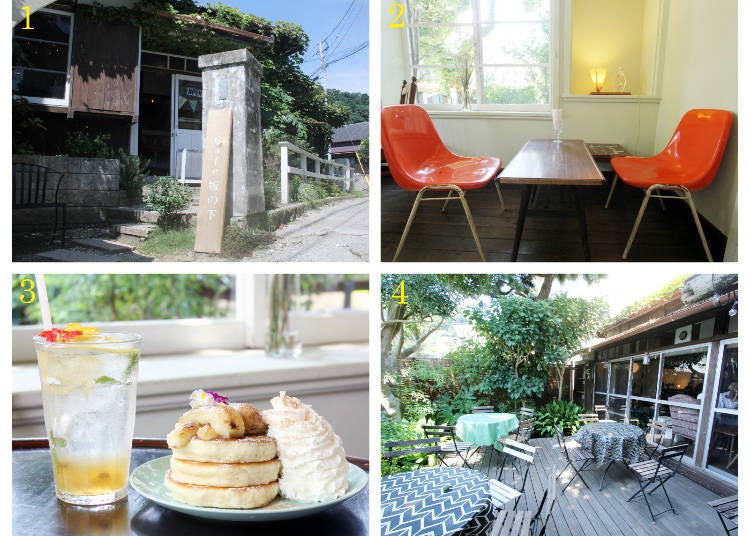 1) The café is located in a narrow alley at the coastal street 2) its retro but modern atmosphere boasts many fans 3) the famous banana caramel pancakes for 1,100 yen (vanilla ice cream can be ordered separately) and honey lemonade for 680 yen 4) the terrace, surrounded by trees
Café 坂の下

Address

21-15 Sakanoshita, Kamakura, Kanagawa Prefecture,248-0021

Hours: 10:00 a.m. – 5:00 p.m. (last order at 4:00 p.m.)
Open until 6:00 p.m. on Saturdays and Sundays (last order at 5:00 p.m.)
Closed: Mondays, irregularly
Access: Hase Station (Enoden Line), 7 minutes on foot
4) Venus Café: Take a Break from Japanese Food and Enjoy a Proper Burger!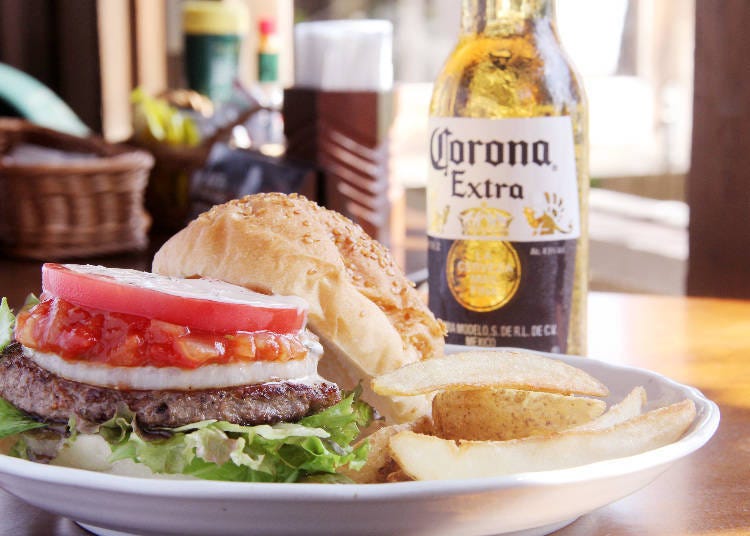 The classic burger for 1,190 yen (or 1,430 yen in a set with potatoes and a drink), Corona beer for 650 yen.
This old-school café located by the sea serves you wonderfully rustic Tex-Mex cuisine and is the perfect place to go if you need a break from Japanese food. We especially recommend the window seats that let you gaze out over Kamakura's ocean as you sip on a cold Corona. The chef who originally studied French cuisine will tickle your taste buds with nine different kinds of burgers, such as egg or shrimp. In a set with potatoes and a drink, they cost between 1,430 and 1,530 yen. Especially tasty is the "Geisha Burger" for 1,290 yen (without set) with avocado and tartar sauce, enhanced with a pinch of wasabi. Next to burgers, choose from a variety of classic Tex-Mex dishes, including tacos, nachos, and pizza.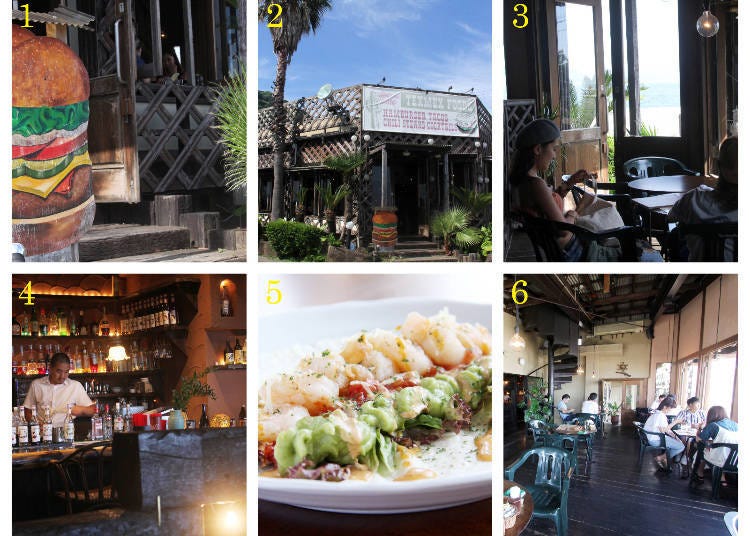 1) The characteristic burger billboard 2) the café can be found along Route 134 3) the beautiful ocean view 4) a bar counter in the back of the shop 5) the shrimp taco 6) a relaxed atmosphere with typically South American interior
ヴィーナスカフェ

Address

34-1 Sakanoshita, Kamakura, Kanagawa Prefecture, 248-0021

Hours: 11:30 a.m. – 1:00 a.m. (last order at midnight)
Open until 2:00 a.m. on Fridays, Saturdays, and before national holidays (last order at 1:00 a.m.)
Access: Hase Station (Enoden Line), 15 minutes on foot
5) Jojuin Temple: A Secret Spot Steeped in Mysteries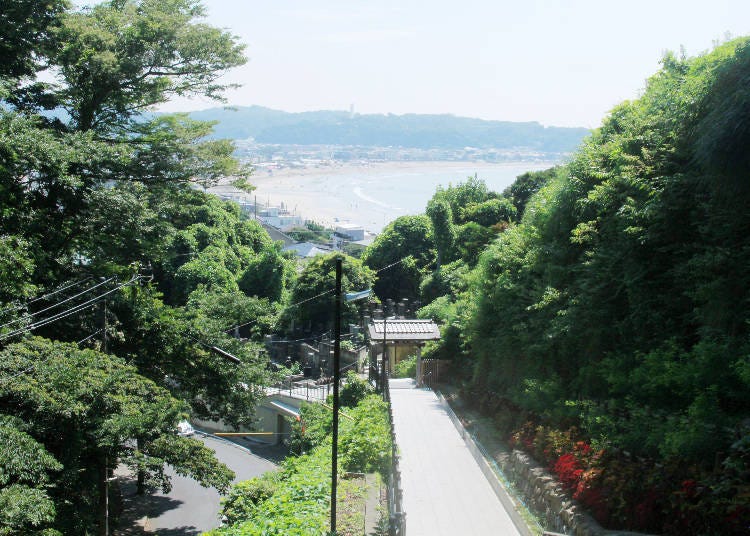 Yuigahama Beach, seen from the approach to Jojuin Temple
Halfway up the Gokurakuji-zaka Slope that connects Hase Station's Sakanoshita area with Gokurakuji Station sits Jojuin Temple. You have to climb 108 steps to reach the temple of the Buddhist Shingon sect, but that climb is well worth what awaits on top.

Founded in 1219 by the third Shogun of the Kamakura Shogunate, Hojo Yasutoki, it is dedicated to the deity called Fudo Myo-o, also known as Acala. The temple is known to be a "power spot" for marriage and quite a few mysteries entwine the place and its Buddhist statues, being rumored to have greatly influenced one of Japan's most famous sculptors, Rokuzan Ogiwara. In spring, primarily around March and April, the temple is known for its beautiful hydrangeas that blossom along the approach. The view on Yuigahama Beach is stunning in every season, so definitely stop by!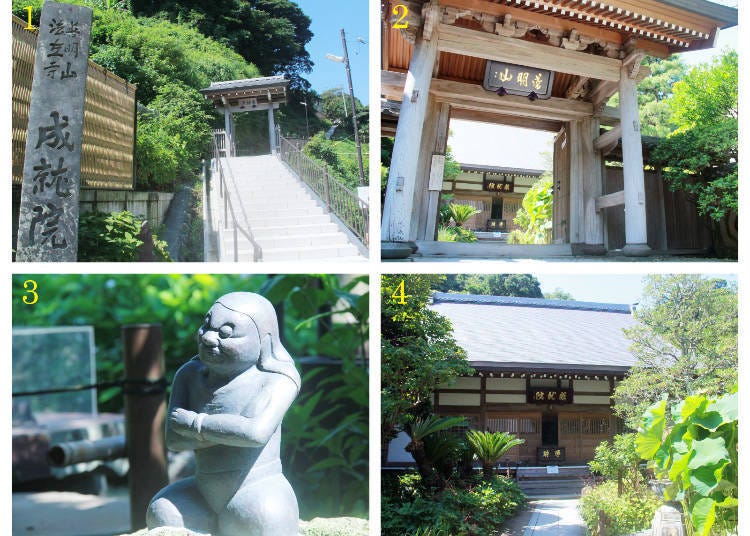 1) The entrance to the temple as you climb Gokurakuji-zaka Slope 2) the Yamamon Gate 3) one of the temple's famous statues 4) the main hall of the temple with Fudo Myo-o inside
成就院

Address

1-1-5 Gokurakuji, Kamakura, Kanagawa, 248-0021

Admission: none
Hours: 8:00 a.m. – 5:00 p.m.
Open until 4:30 p.m. between November 1 and March 1
Closed: always open
Access: Hase Station (Enoden Line), 3 minutes on foot
The Sightseeing Route Part 1: Hase Station → Sakanoshita Area → Beach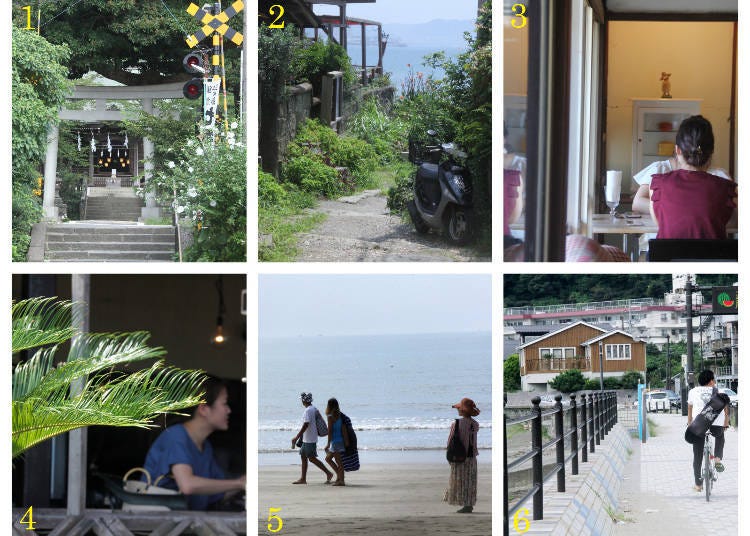 1) Goryo Shrine as seen from the outside 2) the narrow road leading to the ocean, in front of Café Sakanoshita 3) the window seats at Café Sakanoshita 4) Venus Café right by the sea 5) Yuigahama Beach 6) the sidewalk of Route 136, continuing along the beach
Pass Hase Station's ticket gates and cross the railway crossing of the Enoden line. Enter a narrow street that follows the train tracks and continue straight ahead. Pass by a residential area and keep your eyes peeled for a torii gate on the right-hand side – that is Goryo Shrine. Towards the ocean is Sakanoshita, an area dotted with atmospheric little retro cafés and shops, including Chikaramochi and Café Sakanoshita. Follow Route 134 along the beach to get to Café Venus. If you have time to spare, don't hesitate to stroll along the ocean and get your feet wet.
The Sightseeing Route Part 2: Sakanoshita Area →Jojuin Temple → Gokurakuji Station
1) From the Sakanoshita area towards Gokurakuji-zaka Slope 2) a stone monument at Gokurakuji-zaka Slope 3) the view from the approach to Jojuin Temple 4) a tunnel on the Enoden Line called Gokurakudo 5) Gokurakuji Station 6) the Enoden Line
Head up the slope from Sakanoshita towards Gokurakuji Station. It's called Gokurakuji-zaka Slope and halfway up, you'll find Jujoin Temple and its magnificent view of Yuigahama Beach. After exploring the temple and its precincts, leave via the Yamamon gate and go down the slope to the left until you reach the road. Follow the traffic on your side and you'll arrive at Gokurakuji Station
The trip from Hase station to Gokurakuji Station takes you along a scenic tour with mystical, tranquil shrines and temples that are completely different from the main tourist spots, to retro-style cafés and eateries to relax in and get a nostalgic taste of Japan. It's a side of Kamakura that many tourists don't even think about exploring, so be prepared for a quiet, local feeling and numerous little adventures and discoveries!

For a proper beach stroll, join us on Enoden Tour Part IV: Shichirigahama Station and Kamakurakokomae Station!

Main image credit: Hit1912 / Shutterstock.com
*This information is from the time of this article's publication.
*Prices and options mentioned are subject to change.
*Unless stated otherwise, all prices include tax.