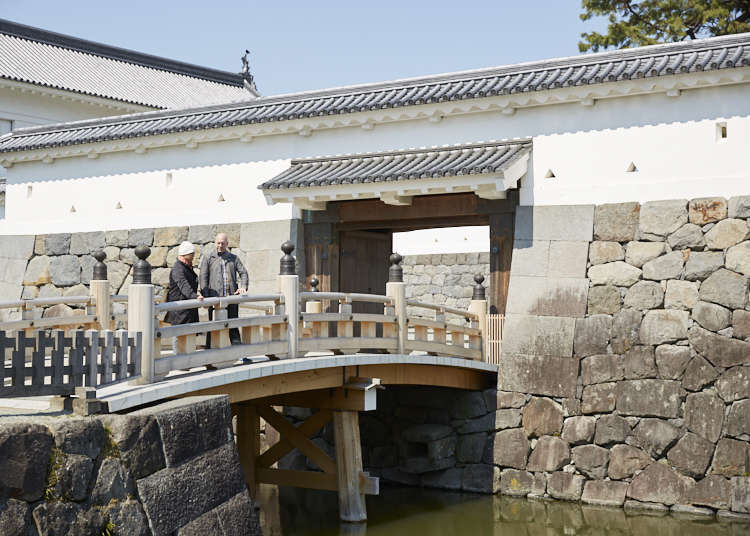 Today's day trip showcases the scenic coastal city of Odawara in Kanagawa!

Odawara is very accessible, connected to Tokyo Station via Shinkansen and Shinjuku Station via the Odakyu Limited Express Romancecar. 2018 marked the city's 500th anniversary, while 2019 marked the 500th year of Samurai Hojo Soun's death, making it one of the city's anniversaries.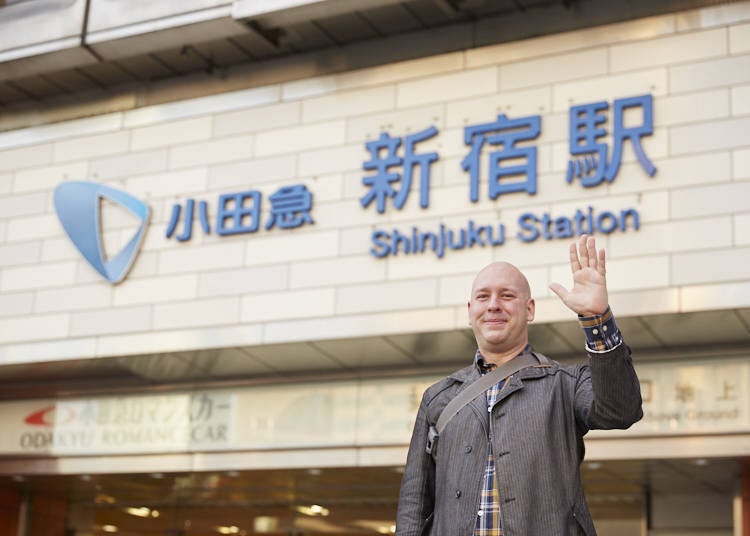 First on the agenda is meeting up with Morita at Odawara itself. For this trip, we took the Odakyu Limited Express Romancecar.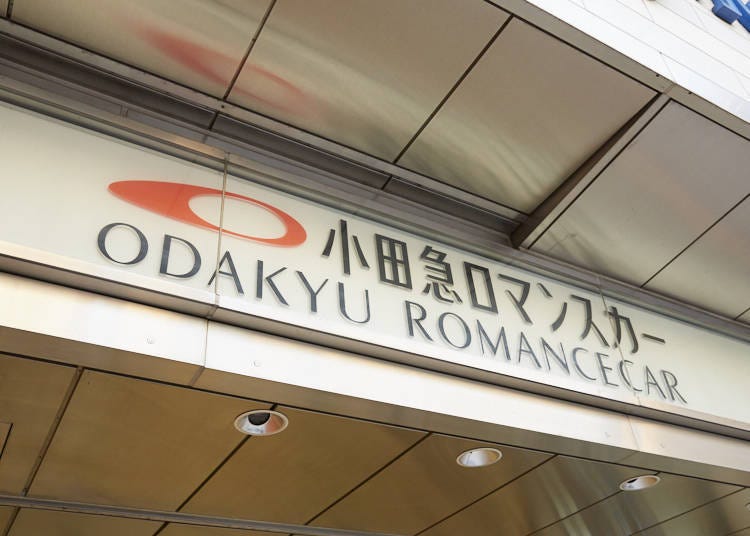 Timothy, with our editorial team, was to be Morita's trekking partner for today, and coincidentally he managed to get a seat on the new Romancecar model, the Romancecar GSE Type 70000 with all its sleek and stylish exterior.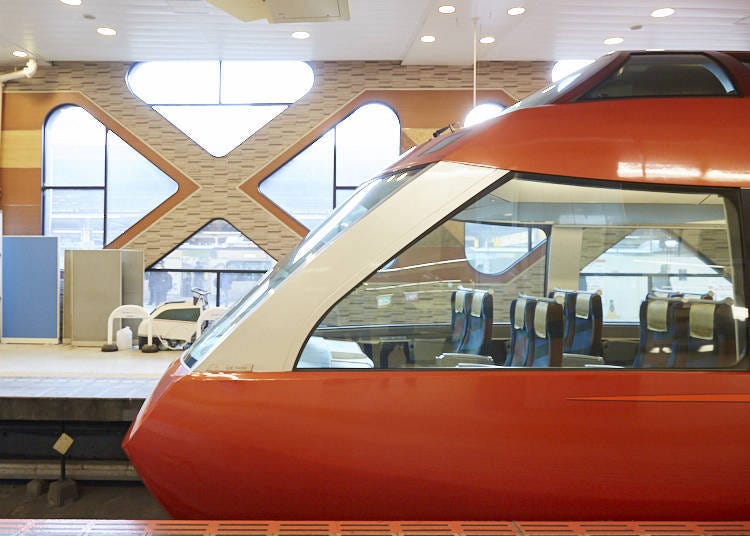 Timothy: "So actually, I'm a huge fan of Odawara – and the Romancecar is a perfect way to get there. I love these chances to get out of the city for a spell and enjoy some new sights. Morita-san always finds the unique spots. I'm looking forward to seeing a different Odawara from what I've experienced."

The Romancecar consists of entirely reserved seats, so you'll be able to get a seat and enjoy the gorgeous sights on the way to your destination in comfort. The new GSE Type 70000 mentioned above debuted in 2018, with viewing seats at the front of the car boasting a dynamic view of the scenery.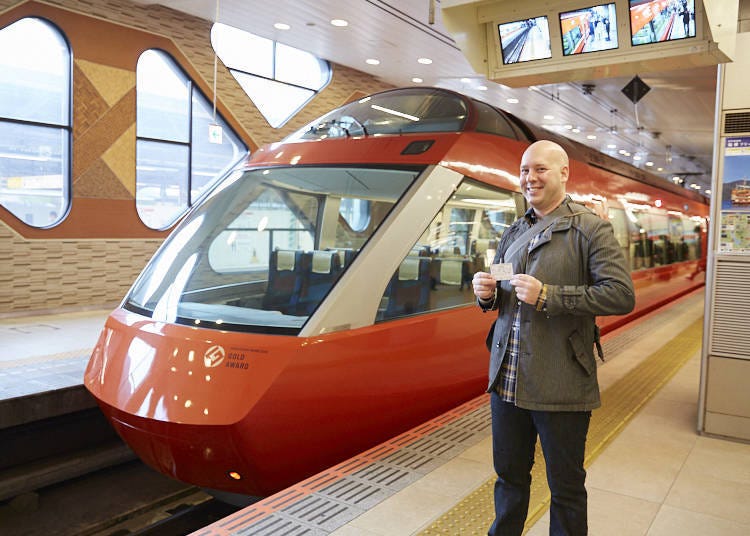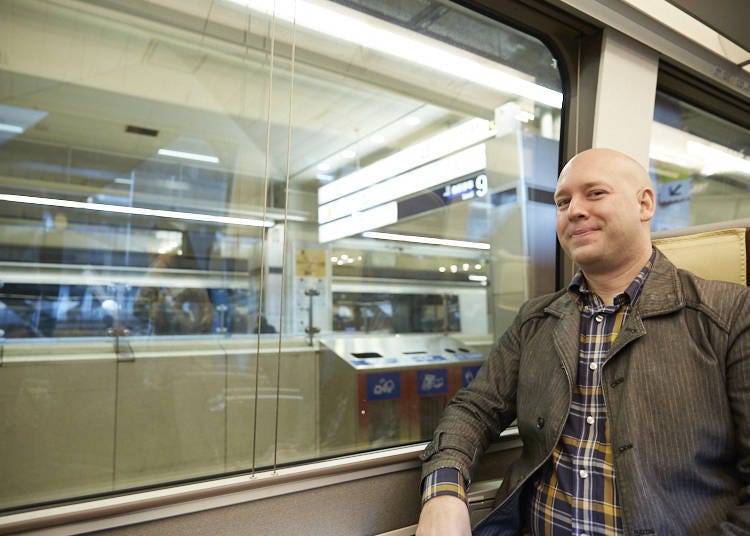 Timothy: "So one thing I've always loved about the Romancecar is that you can get a splendid view of Mt. Fuji from the window seats. I want to try the viewing seats in the front-most car next time, which offer a fully open, wrap-around view."
The Romancecar GSE Type 70000 has sockets outfitted on every seat, not to mention Wi-Fi coverage within the cars. Timothy enjoyed a rather comfortable 70 minute journey aboard the stylish vehicle.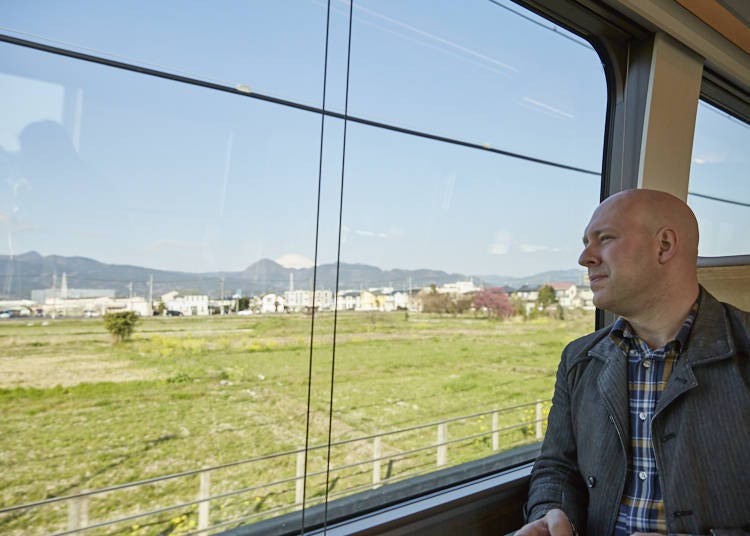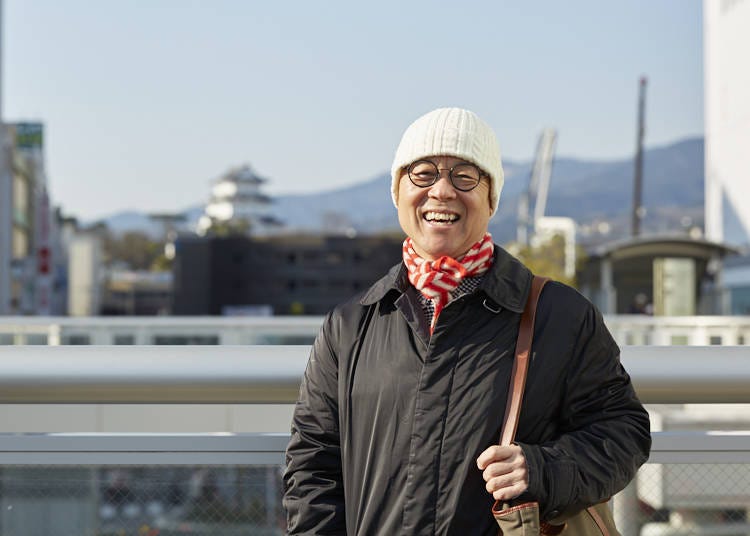 After getting off the Odakyu Romancecar, Timothy met up with Mr. Morita at Odawara Station.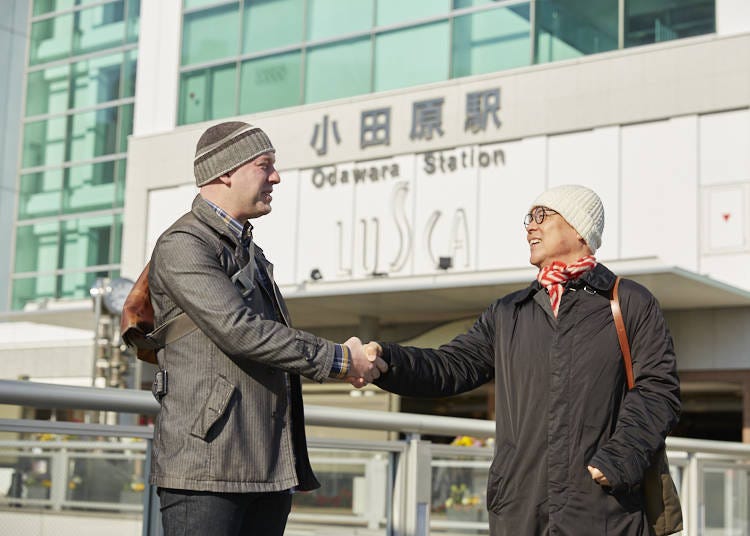 Uiro and the Uiro Museum: Traditional Japanese medicine with a 500+ year history
The first stop for the pair is the main branch of Uiro.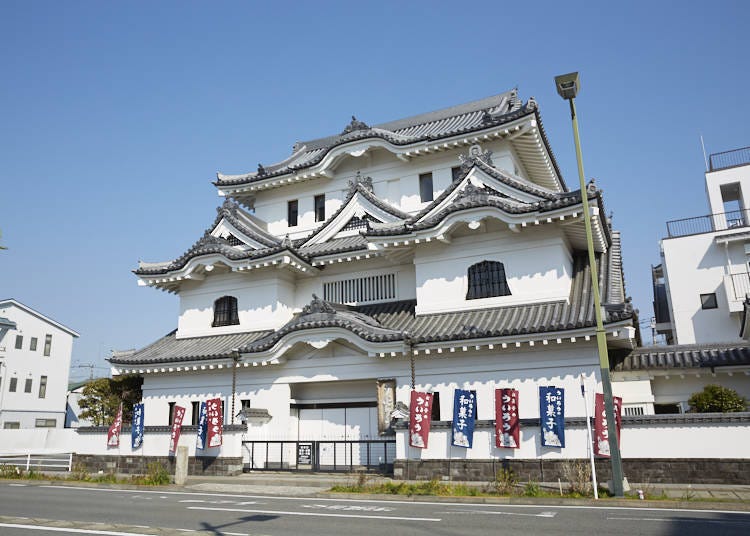 Morita: "Timothy, have you tried Uiro sweets? Actually, rather than sweets, 'Uiro' was a kind of herbal medicine compound made by the Uiro family. The family arrived in Hakata, Kyushu, from China in 1368, and the family got busy making sweets and medicine since. The current head of the Uiro family, Uiro Toemon, is the 25th head of the family."

Timothy: "I've never tried Uiro sweets before. Actually, it's my first time hearing of Uiro. I always thought this building was like a small castle or something! That's some deep history there."

Morita: "When Hojo Soun first occupied Odawara Castle, he invited the 5th head of the Uiro family to his court to serve as a diplomat. Since then, the Uiro family has continued their business operations here for 500 years and counting."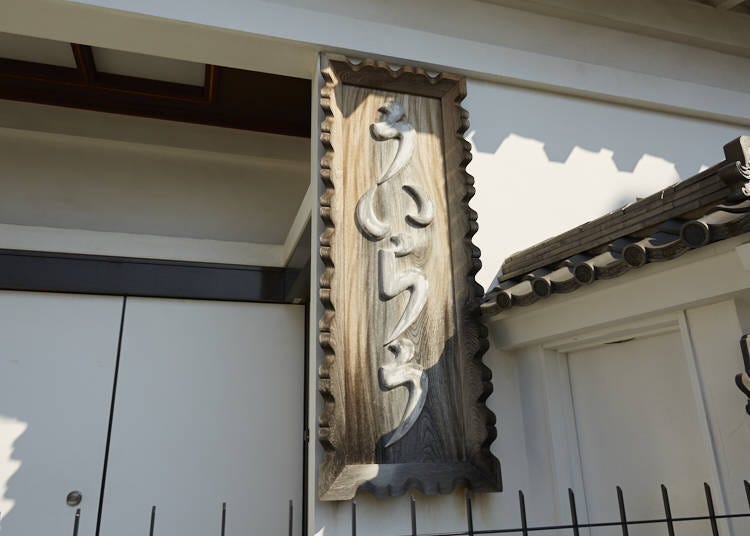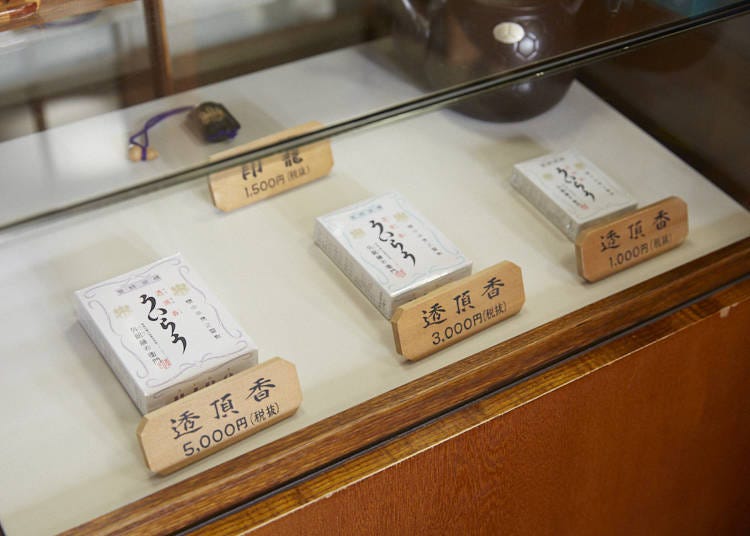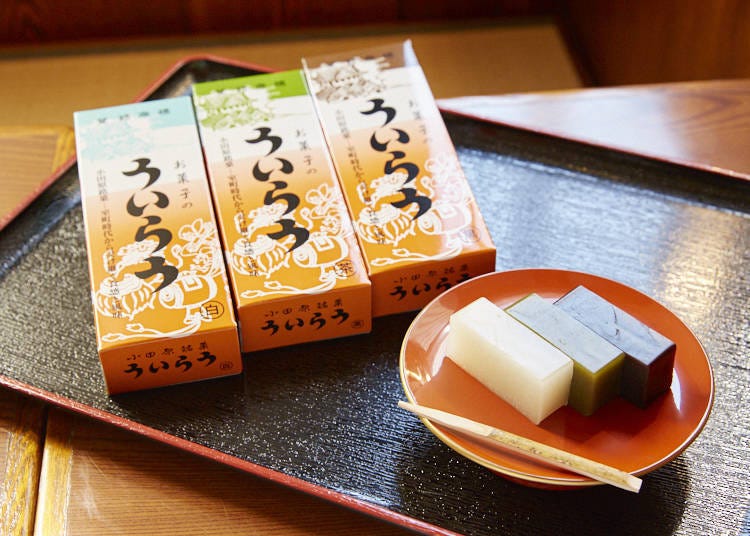 At the Uiro Main Branch, both the medicine and sweet "Uiro" are available for purchase. Further inside the establishment is the Uiro Museum, which details the creation of the abovementioned medicine and sweets, as well as the connection to one of the 18 Kabuki plays titled "The Medicine Peddler."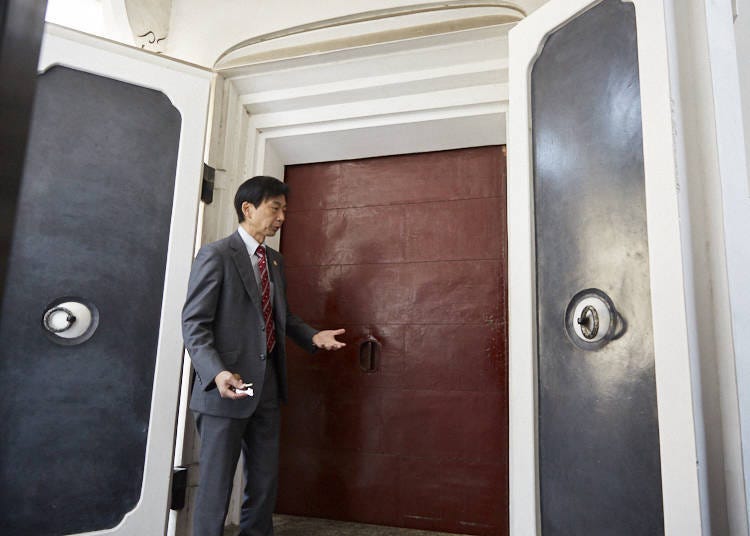 Today we had the 25th head, Mr. Uiro Toemon, guide us into the museum.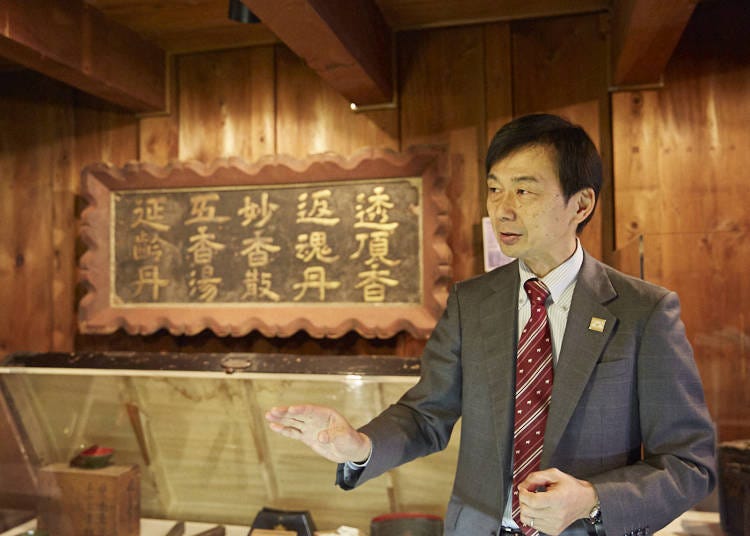 Morita: "The architecture is fantastic as well, huh."

Uiro: "The 5th head migrated to Odawara to a similar building, constructed in the traditional yatsumune-zukuri style. The Japanese Emperor actually praised it too. Since then, we've tried to retain the building's traditional appearance as much as possible."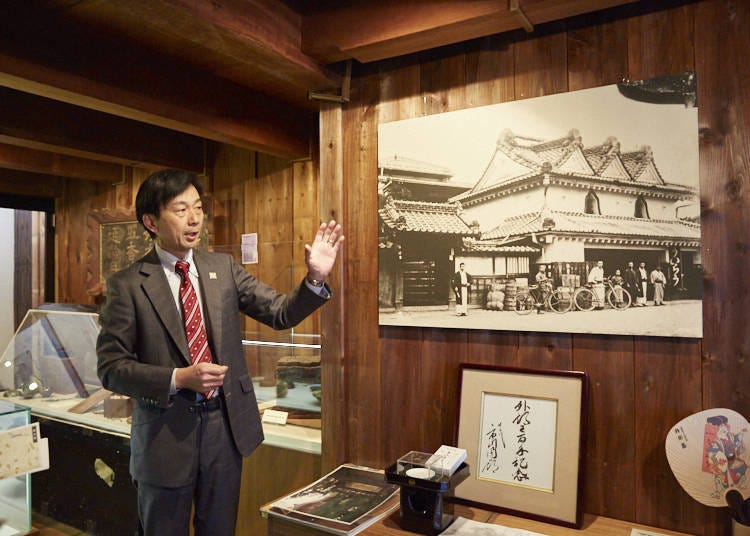 Timothy: "I see you converted this area into a museum from the shop's warehouse. Even here, you can feel how much history it has."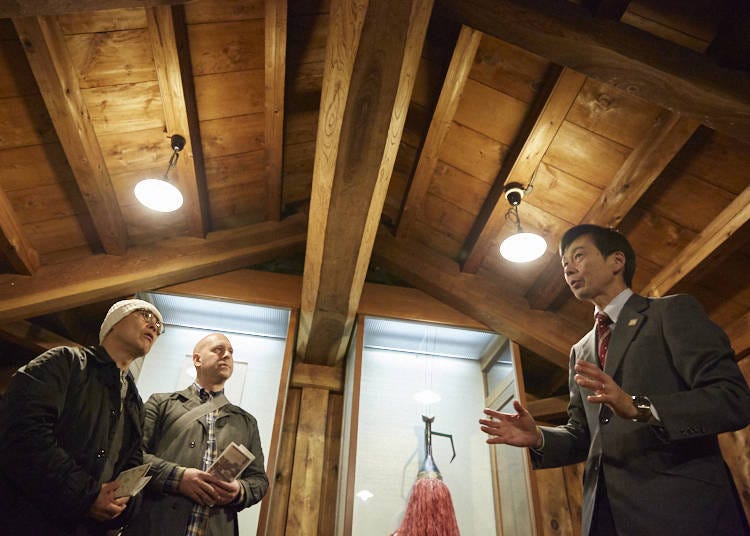 Uiro: "This warehouse was constructed over 130 years ago during the 18th Meiji year. It was razed in the Great Kanto Fire in 1923, though."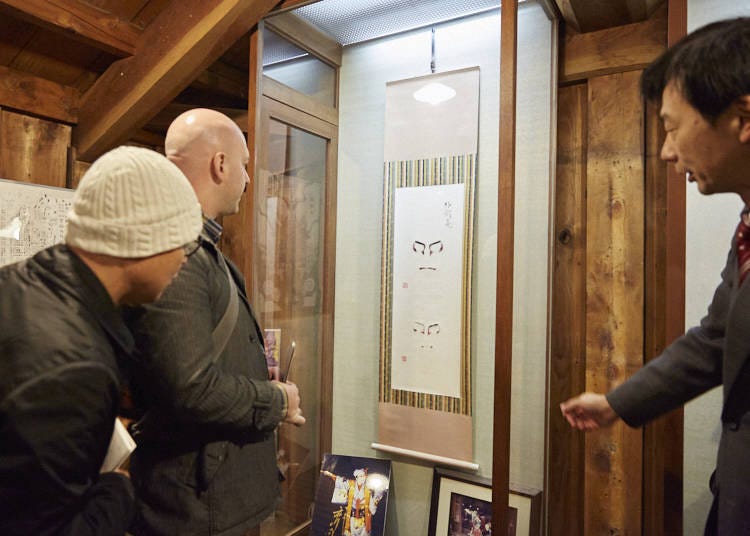 Morita: "The name Uiro from the Kabuki play 'The Medicine Peddler' comes from this one, right?"

Uiro: "800 years ago, Ichikawa Danjuro the second suffered from chronic coughs and phlegm, but the medicine from Uiro cured him of it completely. As a show of gratitude, he wrote this play based on them. While the Uiro family initially declined this, after the man insisted for the 3rd time, they relented."

Timothy: "Why did they decline it at first?"

Uiro: "'Medicine is only meant to keep the neighborhood healthy' was the belief of the First, and to abide by his words as much as possible, we take time and effort to make our medicines by hand. We're unable to make them in huge batches, so we try not to advertise too much. Our motto is to make everything with care, one at a time. Even now, our business practices remain the same as when we first started."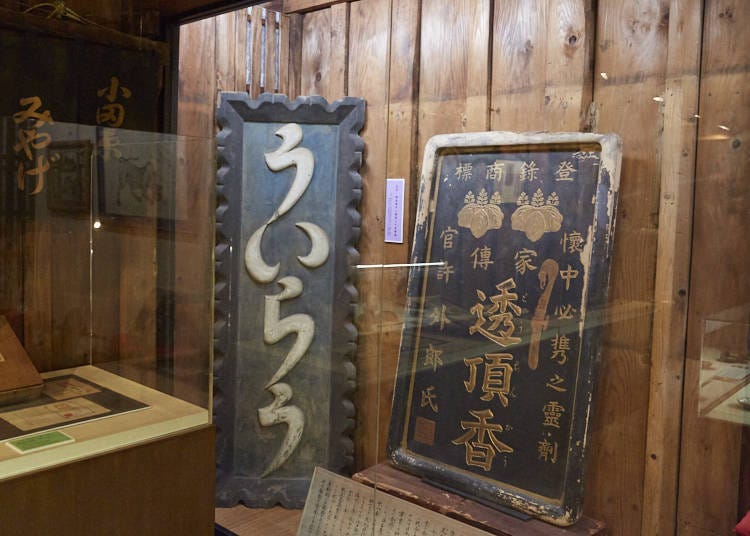 After browsing through some precious resources, the duo received some Uiro sweets at the cafe space (usually, regular wagashi is served instead of Uiro sweets).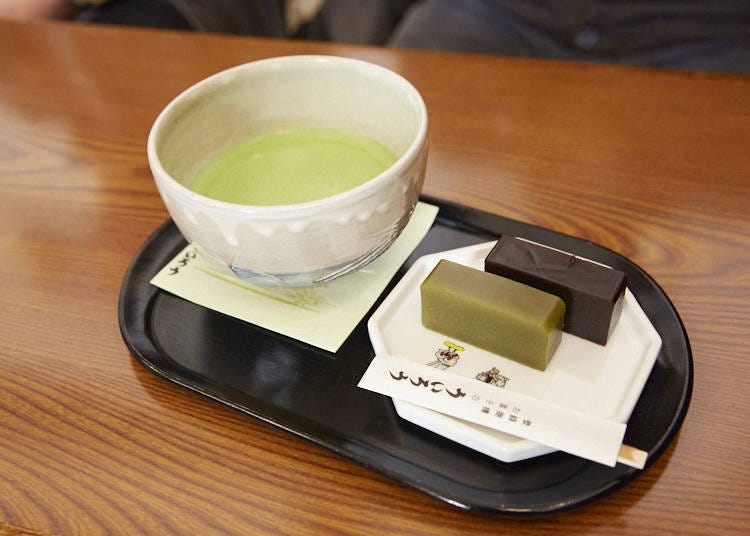 Morita: "So, what did you think about Uiro?"

Timothy: "It was fascinating! I was quite surprised to hear that they've maintained the same business practices for over 600 years. I could feel how deep the history here was. The Uiro sweets are really good too! I'm buying some home for sure."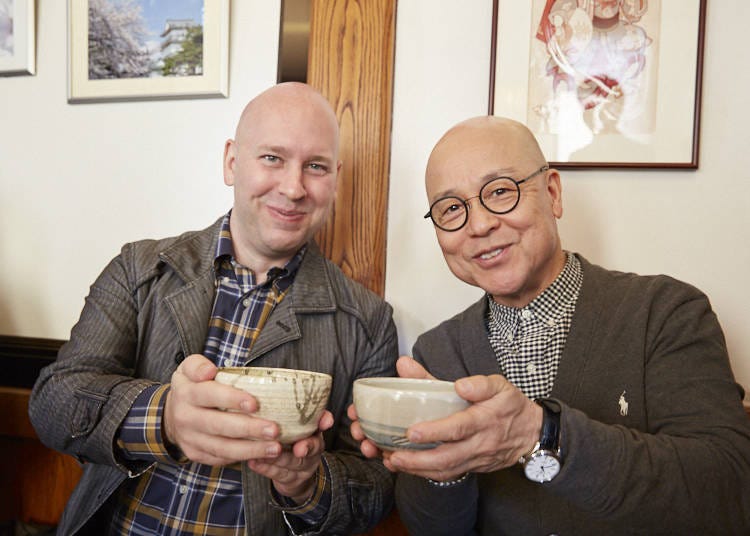 ういろう

Address

1 Chome-13-17 Honcho, Odawara, Kanagawa 250-0012

Phone Number

0465-24-0560

Closed On Wednesdays and every 3rd Thursday of the month (Including New Year's Eve and New Year's)
Odawara Castle: The Symbol of Odawara Revived - After its Demolition in 1960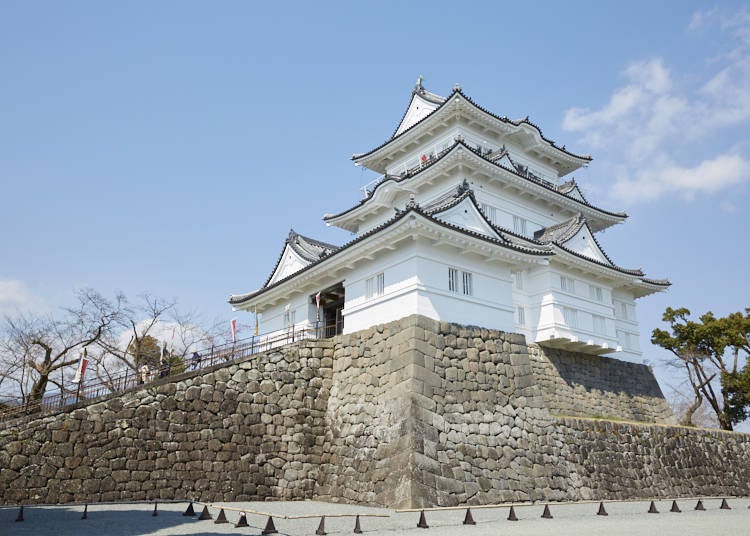 After learning about the history of Uiro, the duo proceeded to Odawara Castle Park. Constructed in the mid-15th century, Odawara Castle was the home to a daimyo of the Warring States period, the Odawara Hojo. It was a critical defensive point in the Kanto region's defense, but it was eventually abandoned in 1870 and subsequently demolished.

The current Odawara Castle is a reconstructed replica from 1960, towering 38.7 meters over ground level and 1822 square meters of total floor space.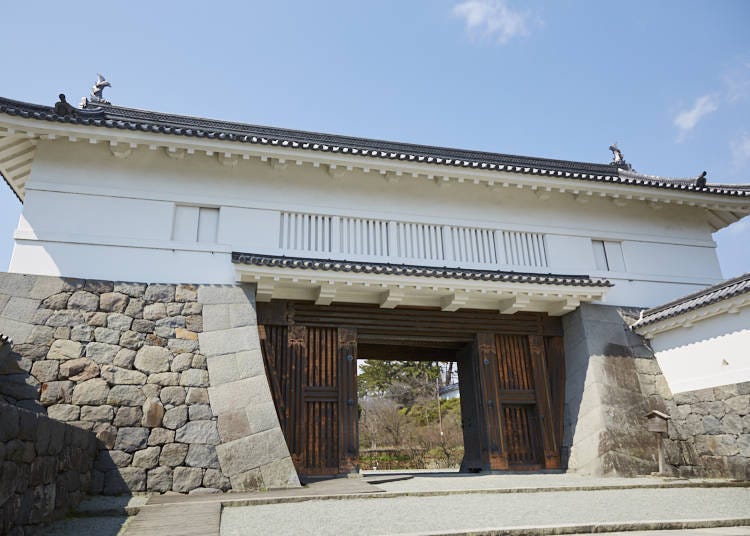 Although Timothy seemed excited about Odawara Castle, it seemed like Mr. Morita had something to say about it.

Morita: "To tell you the truth, I think there's a fundamental problem with reproducing Japanese castles in the modern era."

Timothy: "You're talking about how the castles are misconstrued with modern techniques instead of being faithful to the era's construction techniques, right?"

Morita: "Yeah, it's even more of an issue when you consider the importance of accuracy when it comes to detailing historical facts to foreign tourists."

Timothy: "I couldn't agree more. After the Edo shogunate resigned and the Meiji Emperor took the throne, most lords decided to voluntarily demolition their castles as a show of fealty to the central government."

Morita: "Exactly. World War II happened right after that, and as a symbol of Japan's revival, they tried to rebuild all the castles. However, as castles were essentially military installations, there weren't many blueprints to be found, and with how rare monochrome photography was back then, the best they could do was rebuild the castle based on drawings and pictures of that time."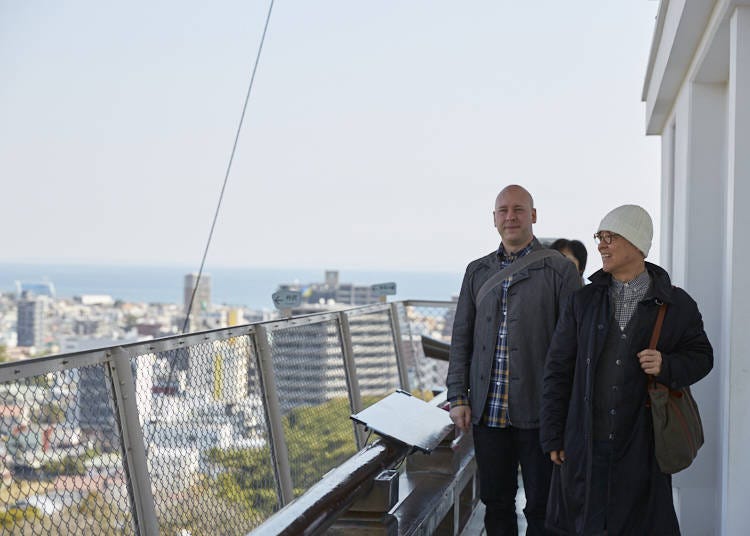 Timothy: "That all being said, I think these kinds of castles are fun. Sure they might not be 'authentic' in the truest sense, but people can still come and enjoy and get this view too – which is amazing, huh. It truly emphasizes the fact that we're in Japan."

Morita: "From an architectural perspective, the Odawara Castle boasts quite the view, after all."

Timothy: "Definitely something you can't find outside Japan."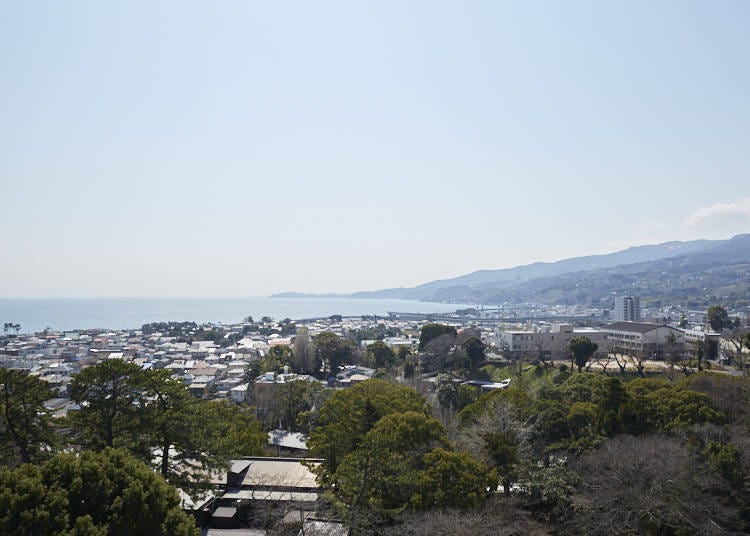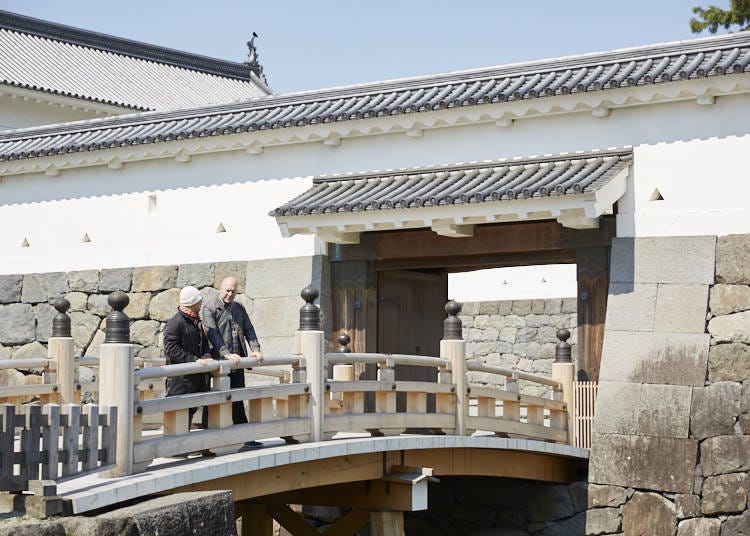 Morita: "Now, the Sumiyoshi Bridge was recently built here, and it's a bit of a different story. While the materials are, of course, wood from the current age, the woodwork, and construction, even the tools used, were faithfully imitated from its original construction many years ago. It's something special that I wanted to show you for today."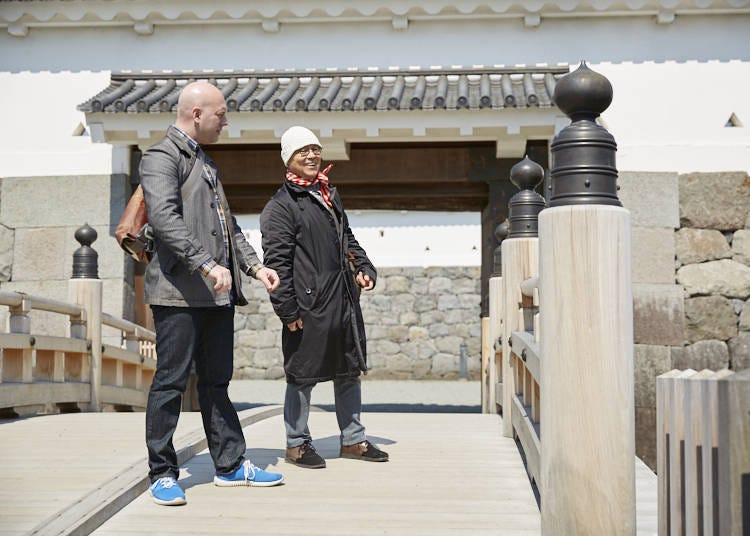 Address

6-1, Jonai, Odawara-shi, Kanagawa, 250-0014
View Map

Nearest Station

Odawara Station (Tokaido Shinkansen Line / JR Tokaido Main Line / JR Shonan Shinjuku Line / JR Ueno Tokyo Line / Odakyu Odawara Line / Hakone Tozan Railway / Izuhakone Railway Daiyuzan Line)
10 minutes on foot


Phone Number

0465-23-1373
Strolling around Odawara, from Kamaboko-dori to the seaside, the path to the Sendo Koji Ryugu Shrine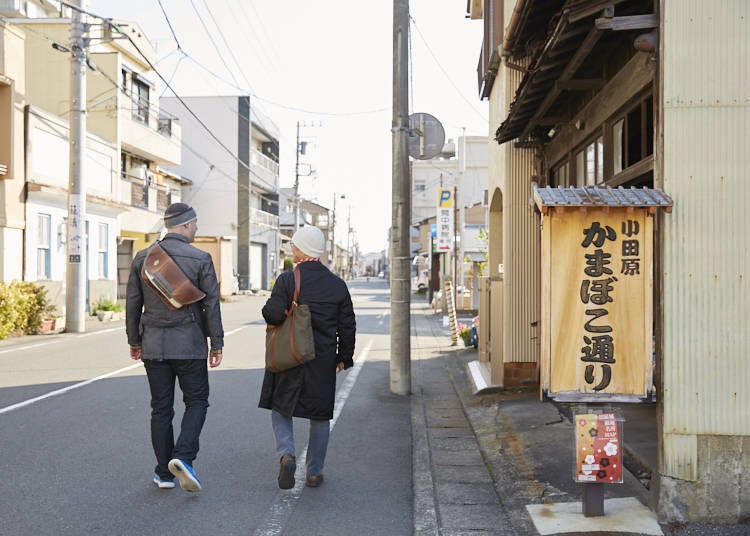 After their passionate discussion about modern castles, the pair proceeded to the seashore for a little walk.
From the side of the castle moat passing through Gyokinohama-dori, then down Kamaboko-dori towards the seaside. Passing through the extremely Instagrammable tunnel below the west river bypass and you'll be greeted by a wide view of Sagami Bay.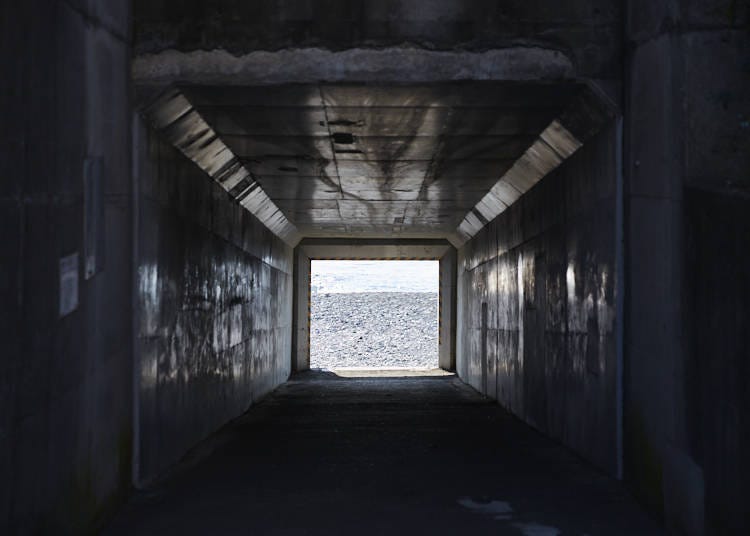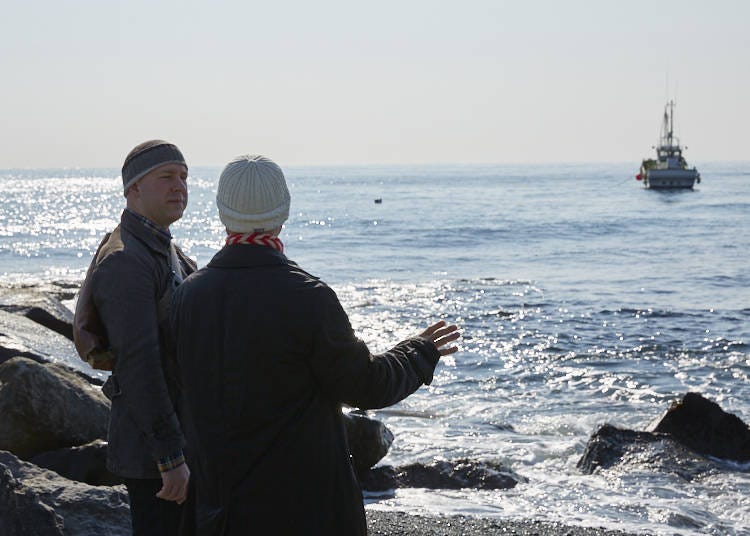 Morita: "Right here is Sagami Bay. Those boats you see around there are fishing boats."

Timothy: "Man, it feels great here. If they had a cafe, I wouldn't mind spending the entire day here."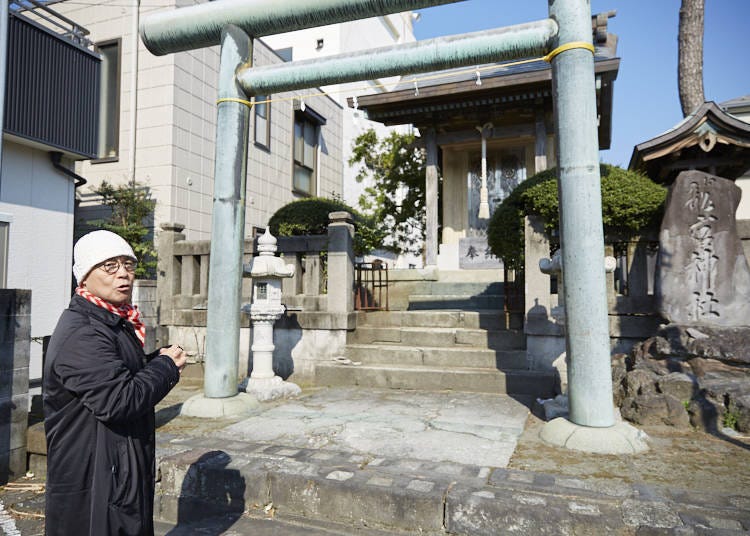 After getting their fill of the scenic Sagami Bay, the two take their time making their way to the Sendo Koji Ryugu Shrine.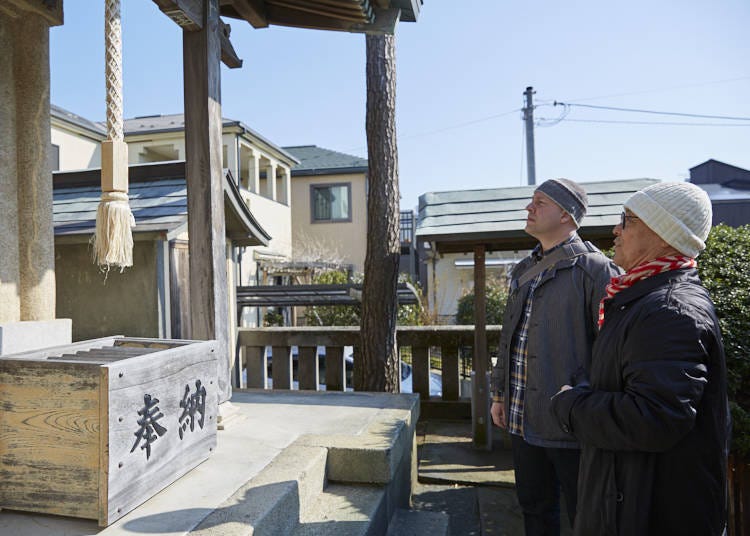 Morita: "At the end of the 16th century, the navy from Kyushu got shipwrecked off this coast here. The spirit of the sunken ships was retrieved from their masts and worshipped here at the Koshinjuku Ryugu Shrine just a little further down Sakawa River. The descendants of those very sailors settled here and have been helping the local fishermen make their kamaboko. The divine dragon of the Sendo Koji Ryugu Shrine here has always been safeguarding the local fishing activities as well."

Timothy: "The path we took to get here was also teeming with kamaboko shops. So the trend started all the back then, huh."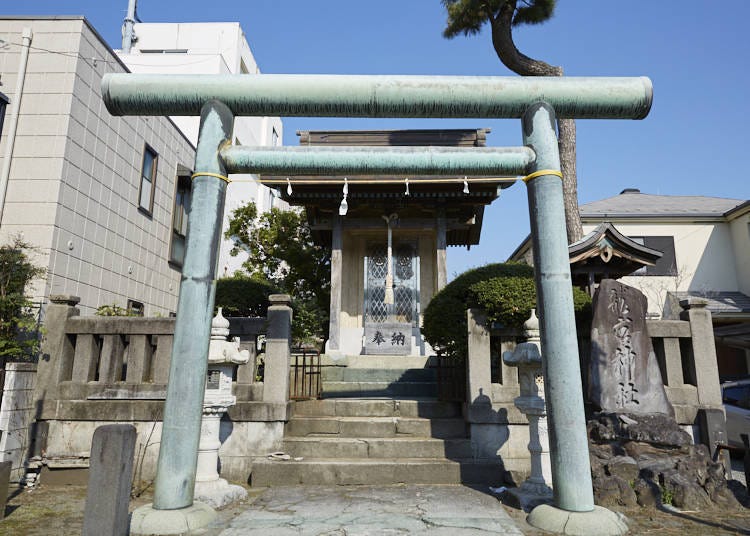 Hinode Ryokan: Experience authentic Japanese lifestyle at this old-styled inn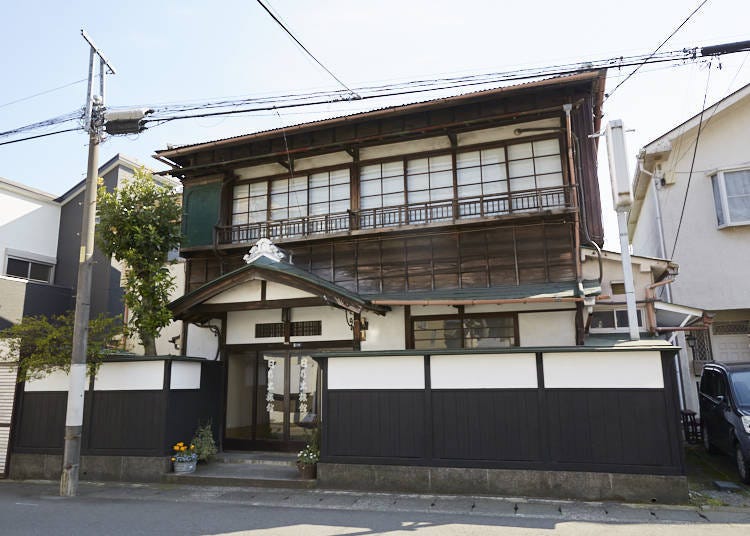 After their stroll along the beach, the duo arrived at the Hinode Ryokan. With a homely, relaxed atmosphere that makes you feel like you're simply visiting a relative's place, the old establishment has a humble air to it.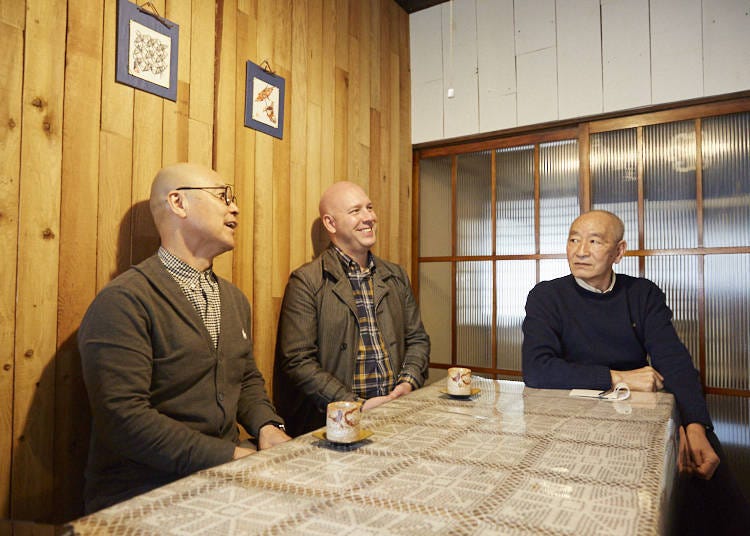 Morita: "Certainly feels like a traditional Japanese home. Here, you can experience what it was like back then by sleeping in a futon on top of the tatami mats."

Timothy: "This is amazing. It's the perfect way to enjoy a stay in Japan."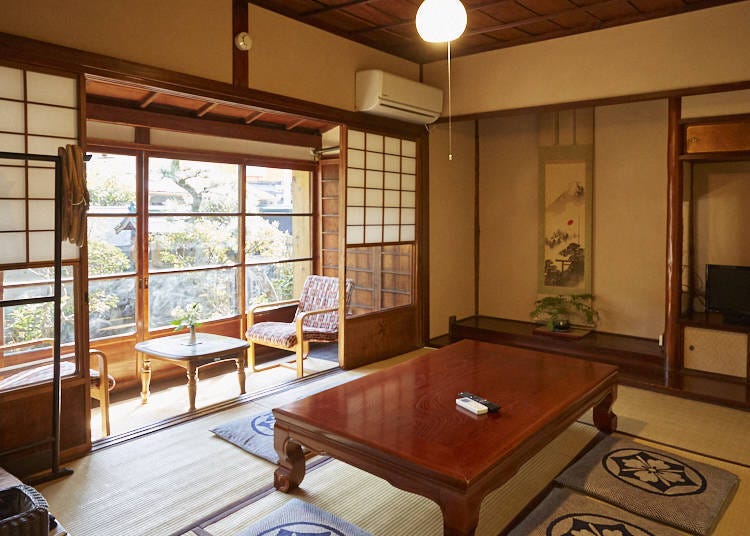 Morita: "The private rooms in old ryokans in weren't outfitted with locks, and the toilets and baths were all communal to boot."

Timothy: "Living here would be similar to what Isabella Bird and Ernest Mason Satow went through in their visit here, huh."

Morita: "What better way to enjoy a holiday, right?"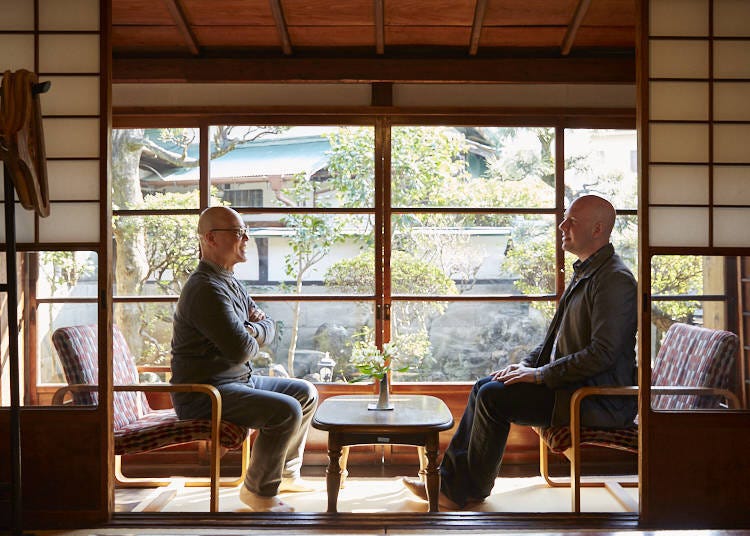 Morita: "Odawara is also really close to Tokyo, so planning a two-day-one-night stay over the weekends for a break is feasible as well. For the foreign tourist looking to stay somewhere just a little bit away from Tokyo, I can't think of a better option."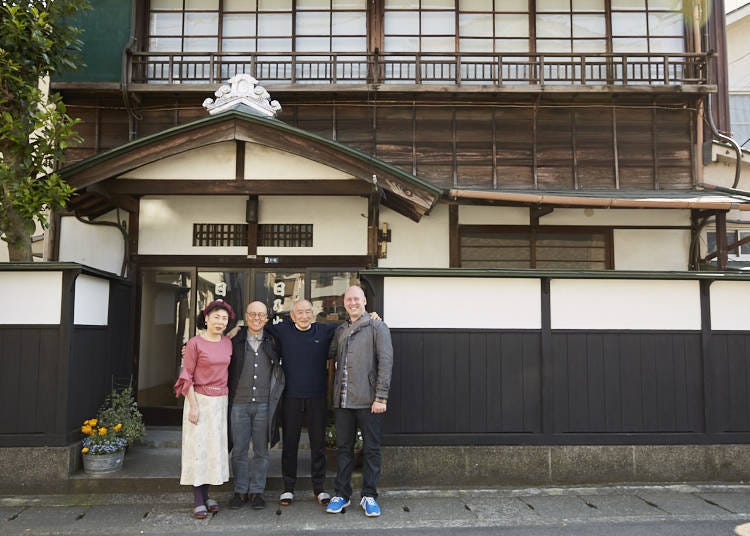 日乃出旅館

Address

3 Chome-1-5 Sakaecho, Odawara, Kanagawa 250-0011

Phone Number

0467-40-5244
Restaurant L'ecailler: Authentic Belgian and French Cuisine in a casual setting
By now, the pair had gotten rather hungry, and so they decided to pay a visit to Restaurant L'ecailler down the road. This French eatery is run by chefs who used to work at the Japanese Embassy in Greece and Belgium. With French cuisine as the base, you can enjoy Belgian dishes and beer.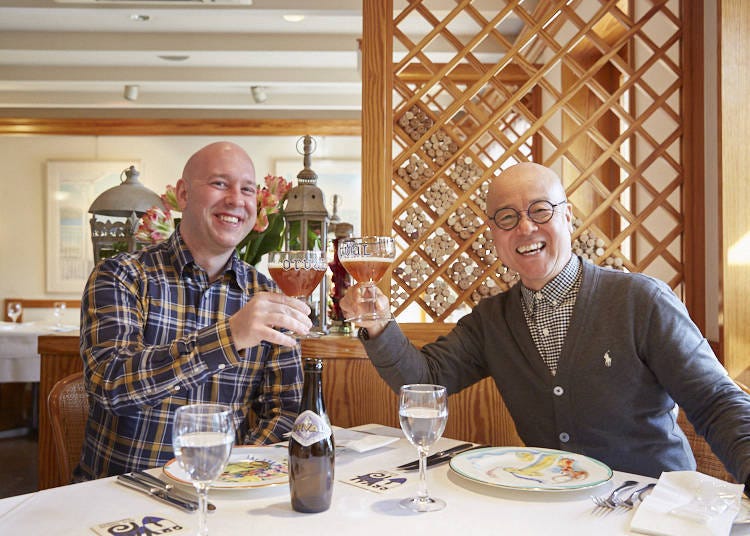 From the lunch course, Timothy picked tomato farcies for hors d'oeuvres, while Morita picked the terrine.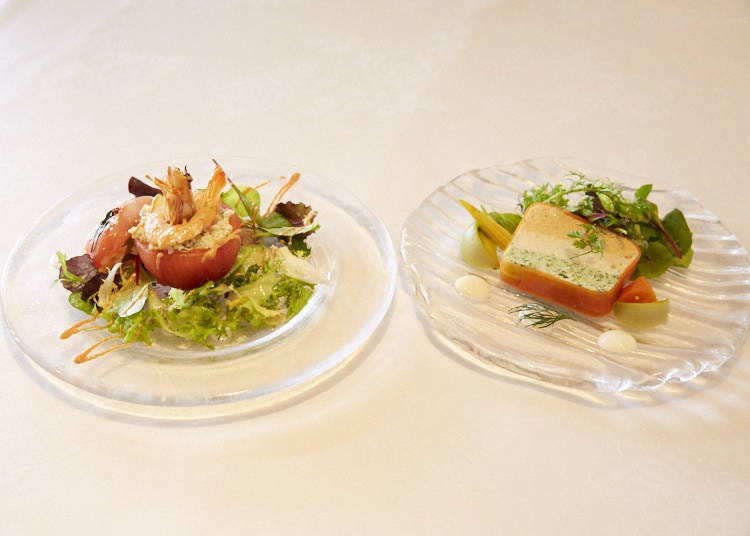 Timothy: "These stuffed tomatoes are great. You can taste how fresh they are, especially since they were picked fresh this morning."

Morita: "The terrine is soft and pleasant on the tongue too, with a deep flavor. While this time around they used seafood, depending on the season they even serve a meat version as well."

For their main dish, the two had Carbonade jus de boeuf, beef stew made with black beer.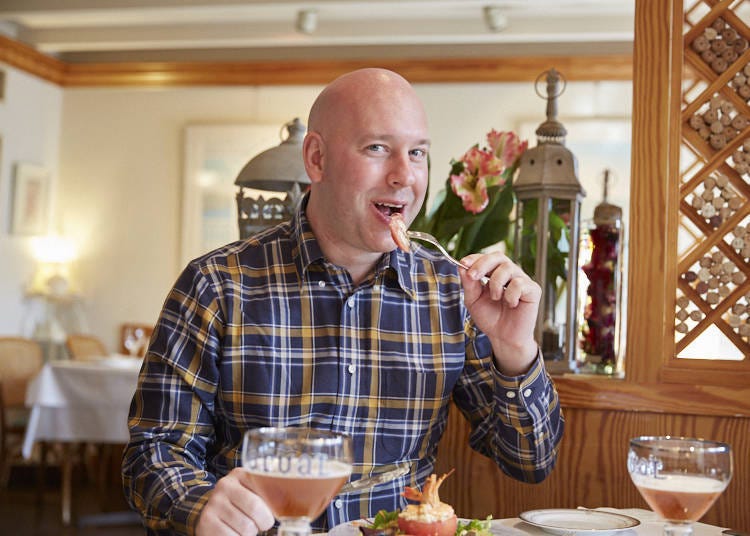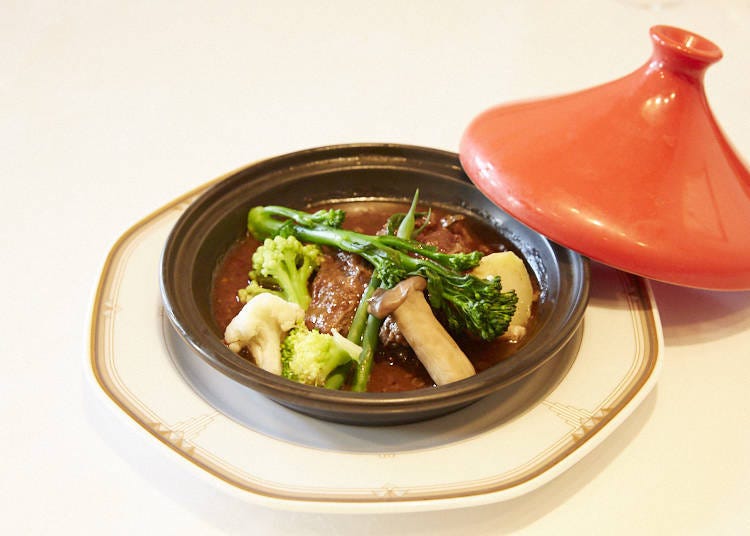 Timothy: "This is a staple Belgium dish right? Japanese cuisine is great and all, but it's also nice to try something Western once in a while. This will be perfect for foreign tourists who miss some of their more familiar flavors."

Morita: "They employ a senior sommelier here as well, so you can enjoy a fine cup of wine along with your dinner. If it's here, I'm sure even foreign tourists will find the flavor here authentically French."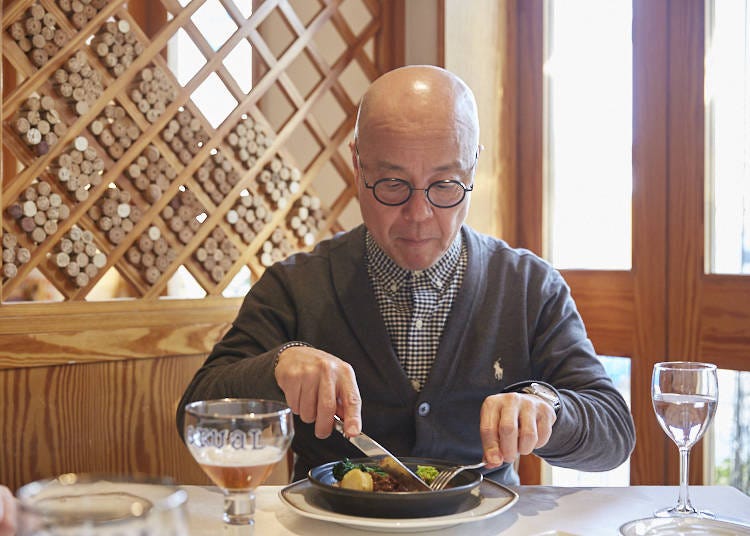 Timothy: "Having dinner here before heading back to the Hinode Ryokan for the night sounds like a great plan as well. A perfect one day Odawara course."

Morita: "That DOES sound tempting."
レストラン&カフェレカイエ

Address

1 Chome-6-1 Shiroyama, Odawara, Kanagawa 250-0045
Sontoku Ninomiya, patron of the Hotoku Ninomiya Shrine: Learn the ways of Shinto through a foreign guide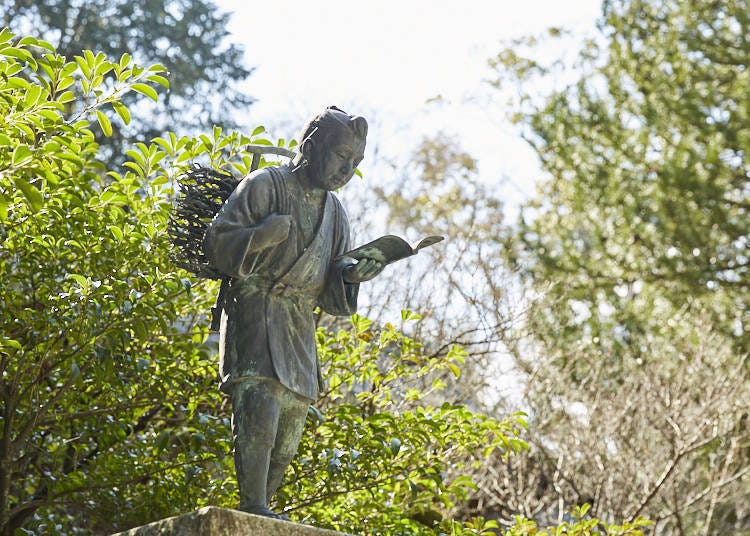 After filling their bellies, they returned to the Odawara Castle Park. Next up their itinerary was the Hotoku Ninomiya Shrine. After his death in 1856, the scholar's disciples built this shrine in remembrance in 1894.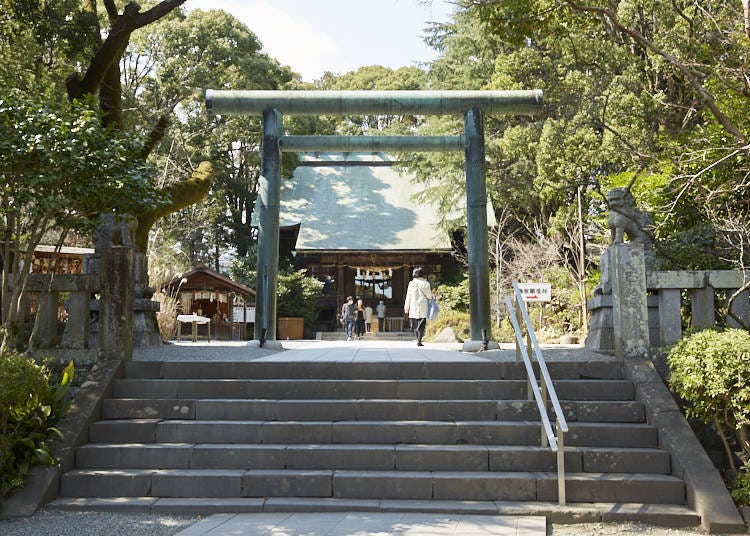 Morita: "Sontoku Ninomiya was actually born here in Odawara. Upon his death, he was worshipped as a deity here in this Shinto shrine."

On arrival, a guide specializing in bringing around Caucasian tourists greeted them, Ms. Judith Lenherr Sasaki from Switzerland.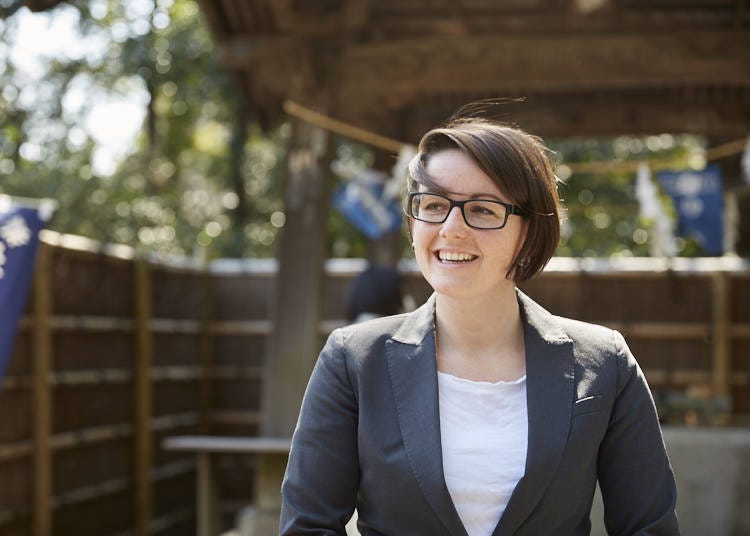 Lenherr: "Nice to meet you. I'm in charge of showing foreign guests around the shrine."

Timothy: "That sounds wonderful."

Morita: "So I'm curious, but as you know this area is a Shinto shrine. How would you translate the word 'kami' in Shinto?"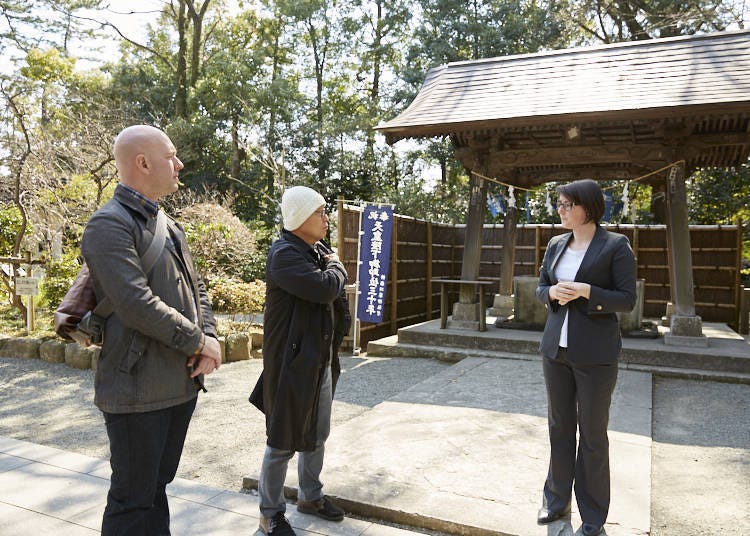 Lenherr: "We don't translate it as anything else other than 'kami'. It's a totally different concept from the Western 'God' after all."

Morita: "Makes sense, seeing as the deities in shinto are all born from nature. Be it mountains or waterfalls, to even the rocks and trees. In this case, however, the deification of Ninomiya Sontoku is a rather hard concept to explain, is it not?"

Lenherr: "We see it as mankind itself being a part of nature. Whenever I meet tourists, I first get a feel of how religious they are, then I tune my explanation to best fit the situation."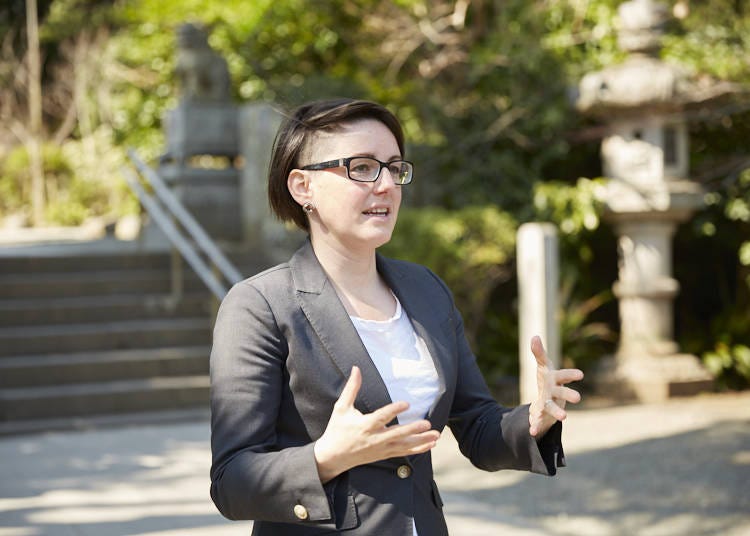 Timothy: "I essentially come from a mixed Catholic/Protestant background. As you know, in the US, there are many passionate followers of Christianity as well, so I find it interesting that these people seem to naturally gravitate toward places like this. Perhaps it's easiest to take a neutral stance on things and not worry too much about interpretation."

Lenherr: "I couldn't agree more. I do my best to avoid a serious debate about beliefs. It's just hard to explain other religions to others (laughs)."
報徳二宮神社

Address

8-10 Jonai, Odawara, Kanagawa 250-0014
The Hotoku Museum: Passing on Ninomiya Sontoku's "Teachings of Hotoku"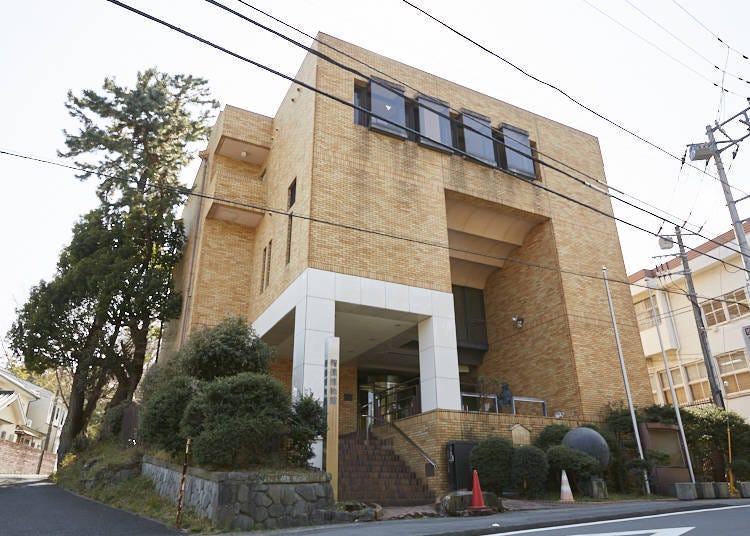 After their chat about religion at the Hotoku Ninomiya Shrine, they proceeded to the Hotoku Museum, sandwiched between two roads. Here, they were introduced to Ninomiya Sontoku's teachings and achievements. The curator, Mr. Imori, was there to talk to them as well.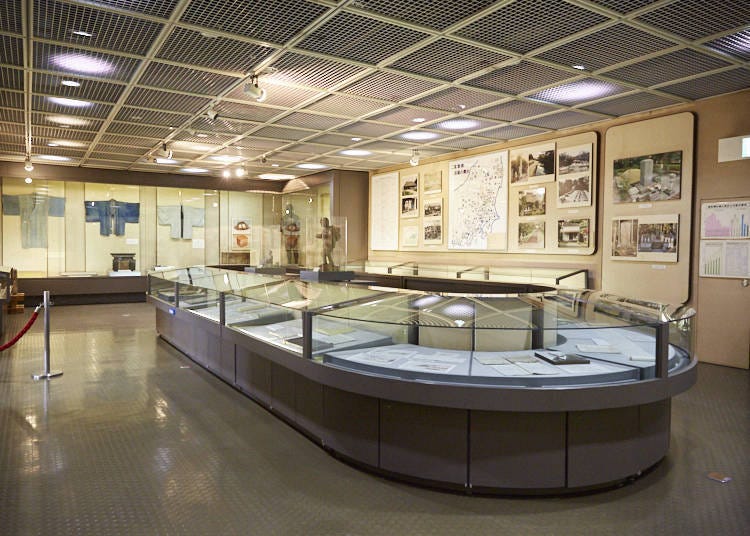 Timothy: "Sontoku Ninomiya was quite the large person, it seems."

Morita: "He measured 180 cm in height as well as 90 kg in weight. In the Edo period, he definitely would have stood out."
Timothy: "What kind of a person was he?"

Imori: "After rising from poverty as a peasant, he guided impoverished farmers and restructured several villages to make their lives more comfortable. He then served as a retainer to the Edo shogunate."

Timothy: "How did he even provide relief to that many villages?"

Morita: "First, he tried to get an understanding of their troubles. Then, he set concrete realistic goals for the entire community to overcome together. After that he set milestones at periodic intervals for everyone to work towards to. No matter the job and the person, he made sure to acknowledge their work and give thanks. In this way he raised the morale of both the individual and the group, eventually reviving the local infrastructure and economy."

Timothy: "That sounds useful even in today's context."

Morita: "One of his teachings is 'Morals without business is a farce, whereas business without morals is a sin', and it really is applicable to management today."
報徳博物館

Address

1 Chome-5-72 Minamicho, Odawara, Kanagawa 250-0013
From the Uiro family business unchanged since 500 years ago, to the strategically vital defense point of Odawara Castle, this walk was filled with many locations brimming with historical value. The history of Odawara alongside the working lives of the people that lived here like Sontoku Ninomiya, this route is one experience that you won't find anywhere else.
*This information is from the time of this article's publication.
*Prices and options mentioned are subject to change.
*Unless stated otherwise, all prices include tax.
Search for International flights