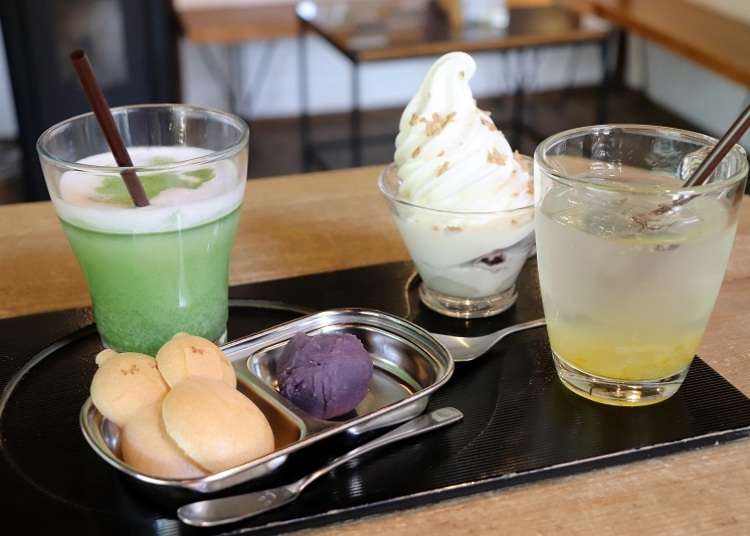 The Hakone region has been a long time favorite for Japanese going on tours within Japan. With places like the Hakone-Yumoto station, an hour's trip away from central Tokyo by train, as well as Gora and Lake Ashi, the area is abundant in nature and hot springs, which further cements its reputation as a tourist spot. For many visiting, the mountain-chartered trains and buses are popular choices for going around the Hakone region.

And what better way to take a breather from your journey than by visiting some cafes? Today, we'll be introducing our top 5 picks out of Hakone's numerous cafes and sweet places for the wayward soul in need of a bonfire to rest.
Naraya Cafe: A foot spa while eating sweets!?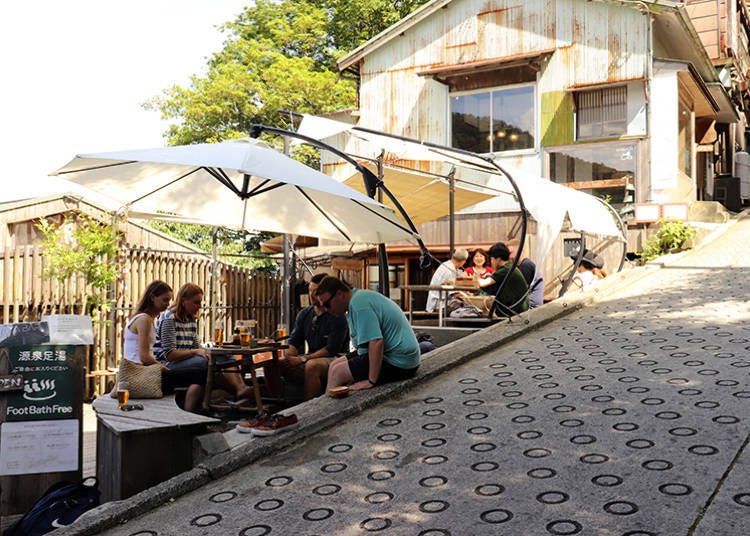 For our first recommendation, the Naraya Cafe in Miyanoshita strikes a bold first impression with its outdoor foot spas. The establishment also has a cafe, gallery and shop to go with their spas, and all of them are located within renovated 50-year-old buildings, which really enhances the experience of visiting a place with such deep history and culture to pass the time.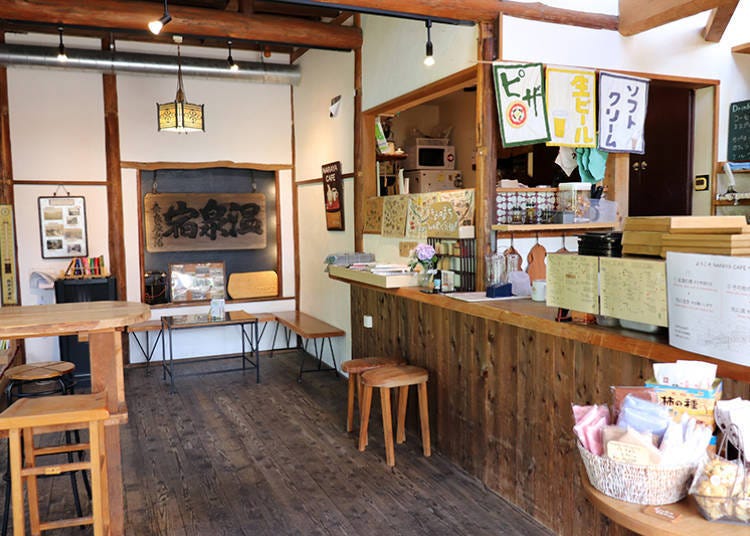 The interior of the cafe is made of wood, which adds to the warm atmosphere. Make your order first before heading over to the foot spa to rest your tired feet. From light meals like hotdogs and oven-baked pizza, to sweets like soft serves, and even alcohol such as beer, the menu is wide and varied.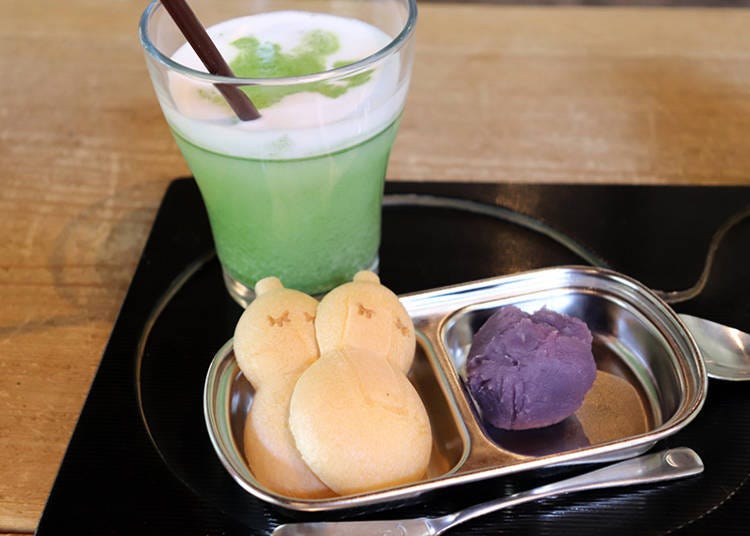 Their prided Naraya Set costs 750-yen (tax inclusive), which comes with a glass of matcha latte paired with monakas, Japanese wafer biscuits, in the shape of the store's mascot, Narayan. You can choose from four flavors of red bean jam that change depending on the season, and you're free to spread it however you like onto the biscuits.

The paste featured in the picture above is the murasaki-imo paste. The pairing of the crisp biscuit and the moderate sweetness of the paste have commendable synergy, their textures in harmony. The discreet bitterness of the matcha latte also goes extremely well with the sweetness of the paste.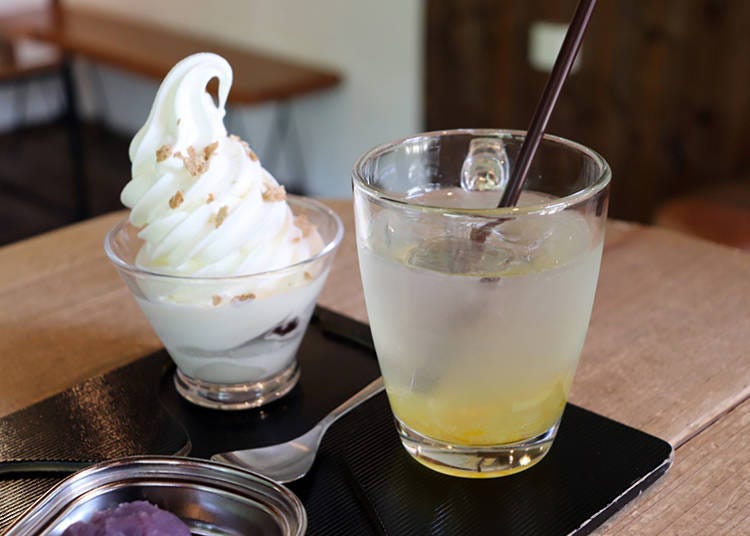 The ones featured above here are the Naraya Parfait and the Yuzu Squash at 550-yen and 450-yen respectively (tax inclusive). The parfait uses the same style as the Narayan Monaka, with 4 types of bean paste to choose from. The parfait consists of shiratama, bean paste, and creamy soft serve ice. The Yuzu Squash is a refreshing carbonated drink that makes full use of the sweet aroma of yuzu jam. This is our recommendation for a hot day to quench your dry throat.

Resting your fatigued legs in a foot spa as you enjoy scrumptious sweets - doesn't the Naraya Cafe just sound like the perfect resting spot?
NARAYA CAFE

Address

Kanagawa-ken Ashigarashimo-gun Hakone-machi Miyanoshita 404-13

Phone Number

0460-82-1259

Operating Hours: 10:30 - 18:00
Closed on Wednesdays and every 4th Thursday
Amasake-chaya Tea House: Wash your fatigue away with Amazake all the way from the Edo period!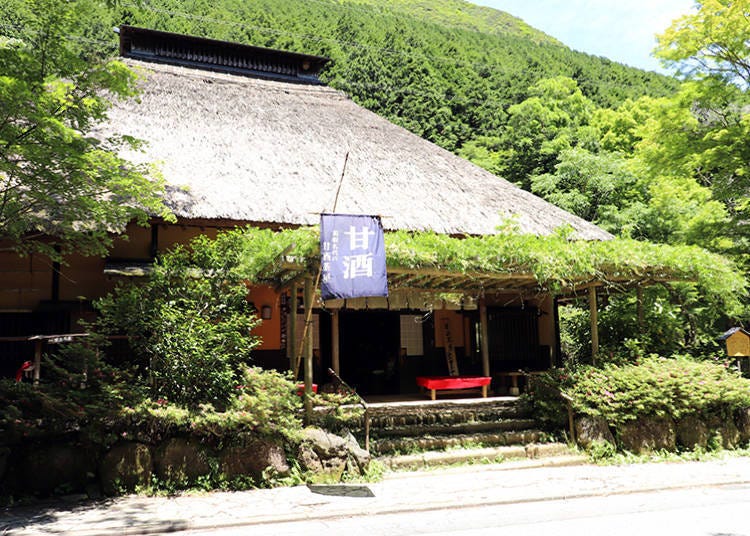 Next up is the "Amasake-chaya" teahouse. If you're taking the mountain bus, it'll be right by the bus stop along the old Tokaido road. For those visiting Lake Ashi, this teahouse is our top recommendation.

Ever since the establishment of a checkpoint in the Hakone area during the Edo period, those visiting the capital would have to pass through here. After worrying whether they'd be able to pass the checkpoint or not, they would soothe their troubles by drinking tea here at the Amazake-chaya Teahouse. Taking a seat, they'd heave a sigh of relief: "I made it! Just a little more to Edo!" This shop has been giving travelers reprieve for over 400 years.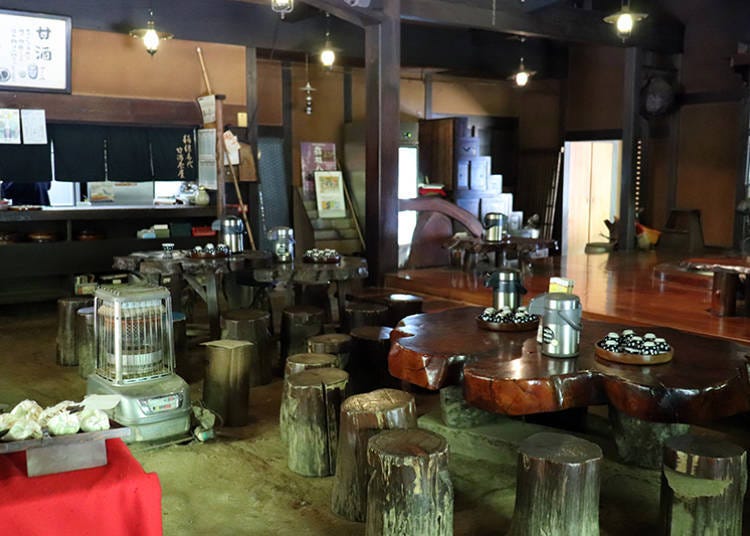 The establishment is a Japanese style house, with the faint lamps giving regal air, its rich history making any visitor think "THIS is Hakone". While English-speaking staff and menus written in English are available, it would be a waste not to take this opportunity to challenge yourself to speak in Japanese and experience what it was like for travelers during the Edo period.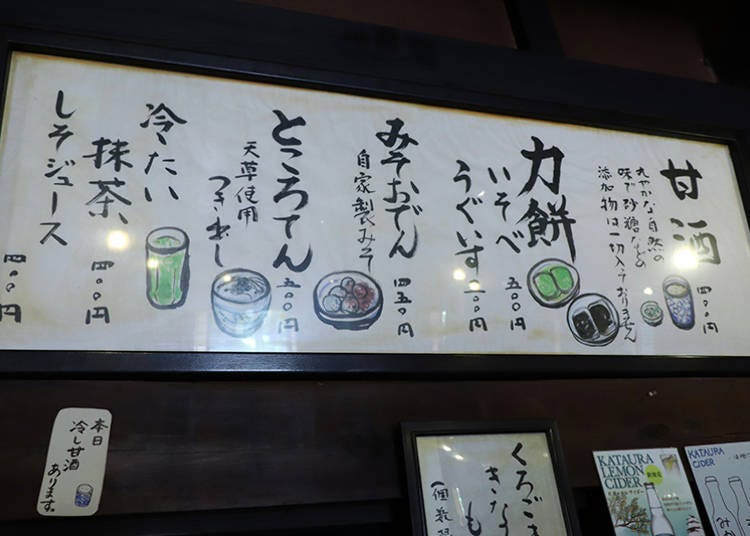 The menu has also been unchanged since the Edo period, with their signature amazake (sweet rice wine), as well as rice cakes and jelly, dishes whose simplicity belies their deep history. On our visit, we tried their famed amazake and their "chikara mochi".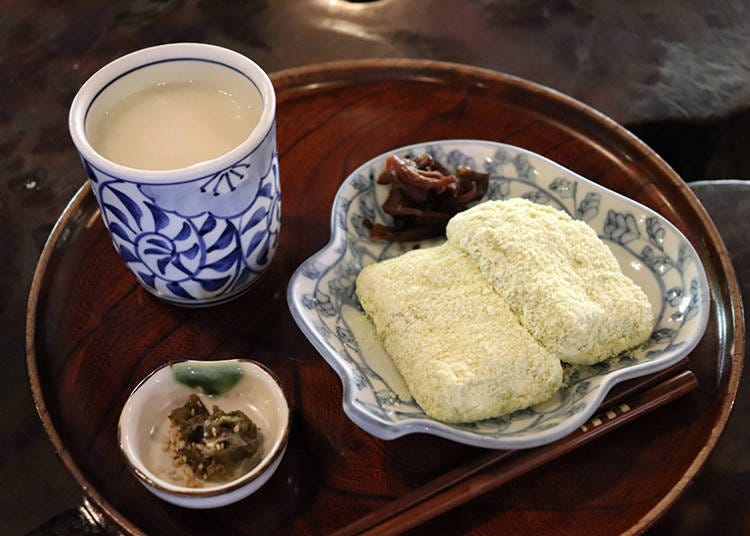 The amazake costs 400-yen (tax inclusive) and is available both hot and cold. With a recipe unchanged since their establishment, not a single drop of sugar or alcohol is added to their mix, which makes it suitable for children and people weak to alcohol. The mild yet natural sweetness is sure to warm your body.

The chikara mochi "Uguisu" is 500-yen (tax inclusive) and uses green soybeans to make their kinako flour which gives it a pretty emerald hue. Baked from the morning using high-grade charcoal from ubame oak, it's a seductively fragrant dessert.

From July onwards, they also start serving their shaved ice dessert which retains its simplicity just like its other items on the menu. Relive the journey of the old travelers of Edo as you rest and relax for a bit.
甘酒茶屋

Address

Kanagawa-ken Ashigarashimo-gun Hakone-machi Futagoyama 395-1

Phone Number

0460-83-6418

Operating Hours: 7:00 - 17:30
Open Daily
Ninja Cafe Fuma: Ninja sweets and ninja goods! Be one with the shadows...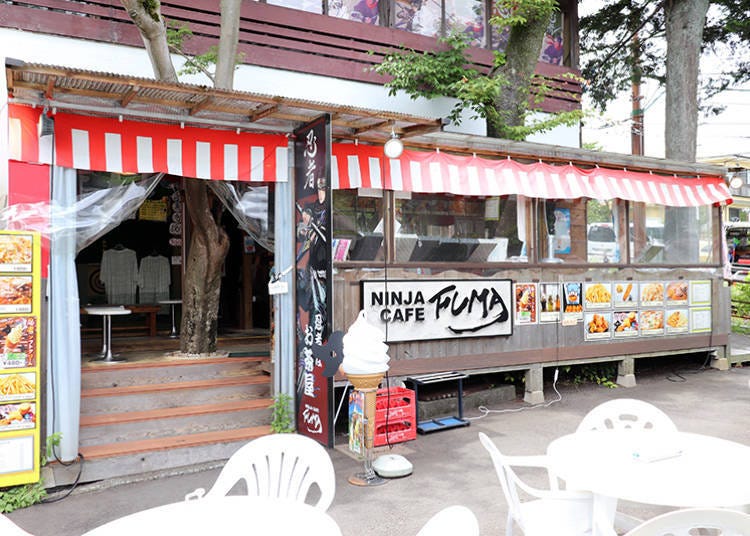 Next on our line-up is "Ninja Cafe Fuma", located in the center of the Gara area, 2 minutes away from Hakone's Gora station. Hakone and Odagawa were originally the homes of the Fuma ninjas that served the Hojo clan from over 400 years ago. The owner of the cafe, a huge fan of ninjas, wanted to start a shop that would show the world the appeal of ninjas, and so opened this cafe 3 years ago.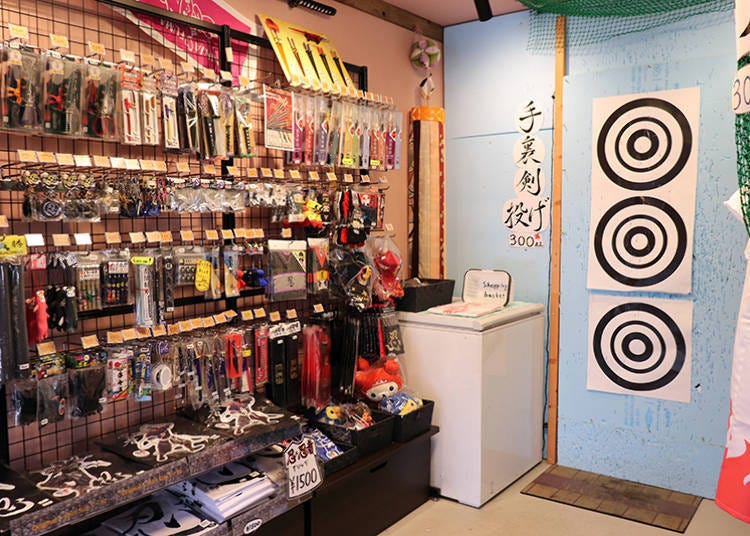 As you enter the shop, you're immediately greeted by ninja goods from all around Japan, as well as a shuriken throwing corner. It costs 300 yen (tax inclusive) for 6 tries. Hit the bullseye at least once and you're rewarded with a commemorative trinket.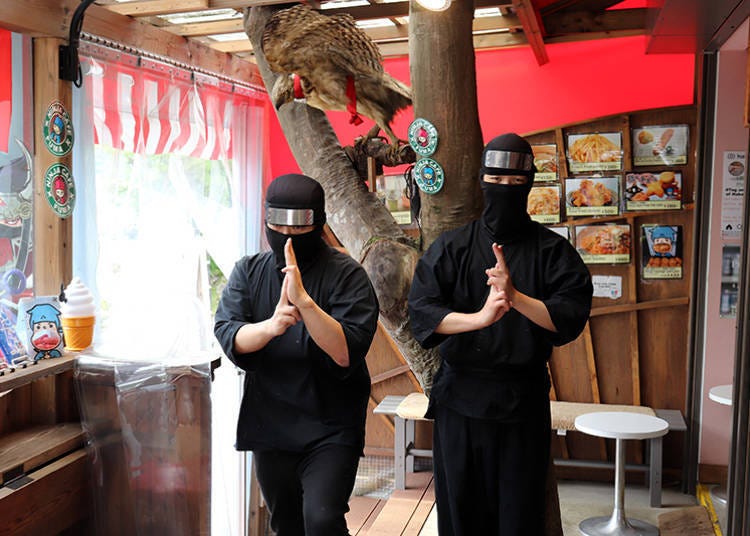 The owner is also garbed in ninja robes. The stuffed hawk sitting atop the tree inside the shop makes for a perfect photo to remember your experience here. The shop actually houses two types of trees, one maple, the other mountain cherry, which really reflect the changing of the seasons.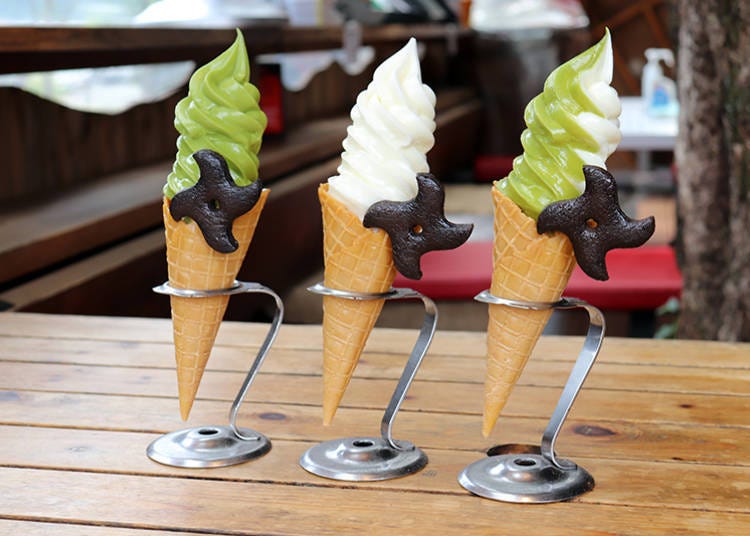 Here, those tired of eating washoku can enjoy some hot snacks from abroad. However, their most popular item is, as expected, their ninja sweets. The "Ninja Soft Cream" depicted above is 480-yen (tax inclusive) and has a shuriken cookie attached to it, made with no additional flavorings and black cocoa, a dessert with a dark side. It also comes in 3 different flavors: Milk, Matcha, and Mix.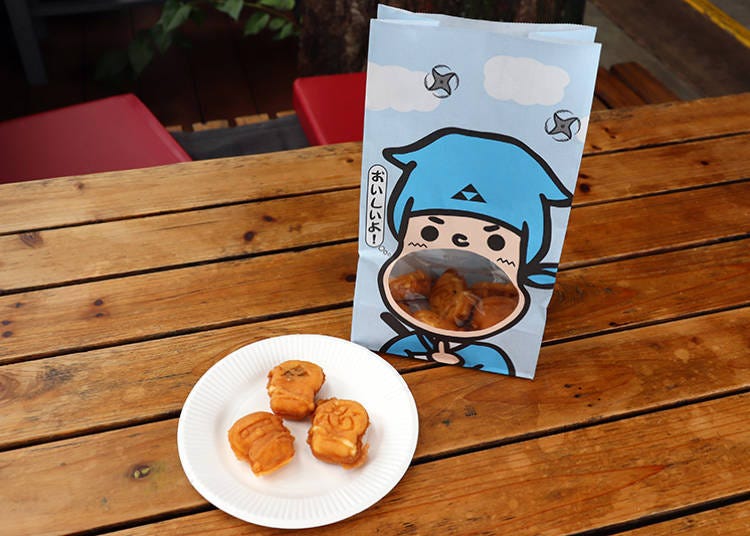 Customers looking for souvenirs are also common, and as such their "Ninja Castella" biscuits which cost 430-yen (tax inclusive) are popular. While they're all baked in the shape of a ninja, there lies a surprise chocolate-flavored "Happy Ninja" castella. The feeling of drawing lots while you dig out a snack makes this a sweet that adds an element of fun, its savory sweetness notwithstanding.

The eatery is only 2 minutes away from the station, but its location is a little out of the way. For a ninja shop, it's surprisingly fitting for it to be located so discreetly.
NINJA CAFE FUMA

Address

Kanagawa-ken Ashigarashimo-gun Hakone-machi Gora 1300-39

Phone Number

080-2388-2392

Operating Hours: 10:00 - 17:00
Open Daily
*Wi-Fi and English Menu Available
Plaisir de l'oeuf: Located right in the middle of an art gallery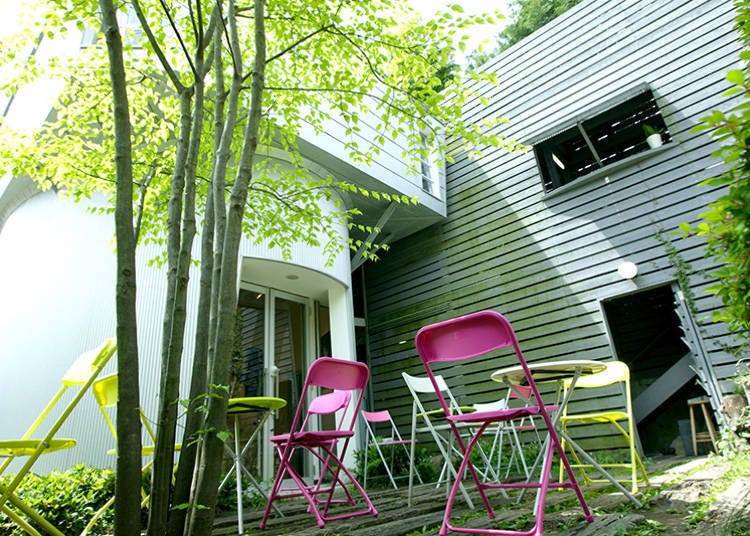 4th on our list is the Plaisir de l'oeuf, a cafe nearby Gora Station located within the Hakone Museum of Photography. With the concept of "Revival of the 5 Senses", the cafe boasts not only a delicious menu and good environment, but the pleasure of the rustling winds as well as the chirping of the birds for you to pass your time.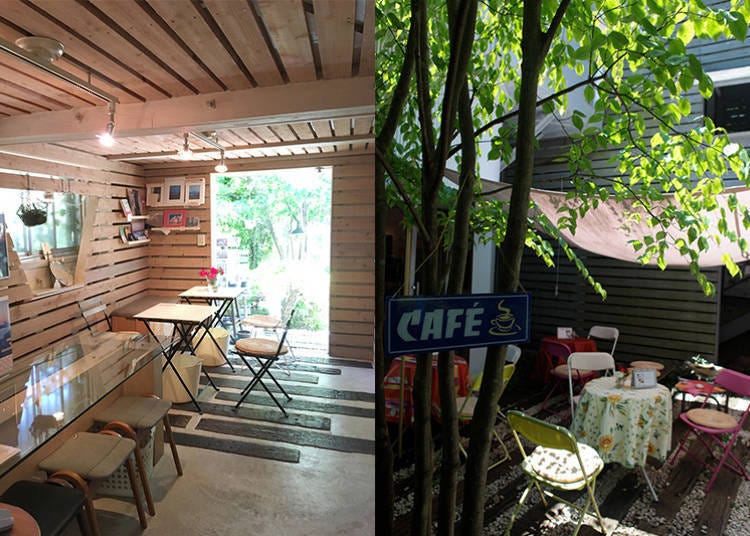 The cafe's signature pound cake is made by a patissiere who studied at the Ritz-Carlton Paris, who carefully made this cake by hand.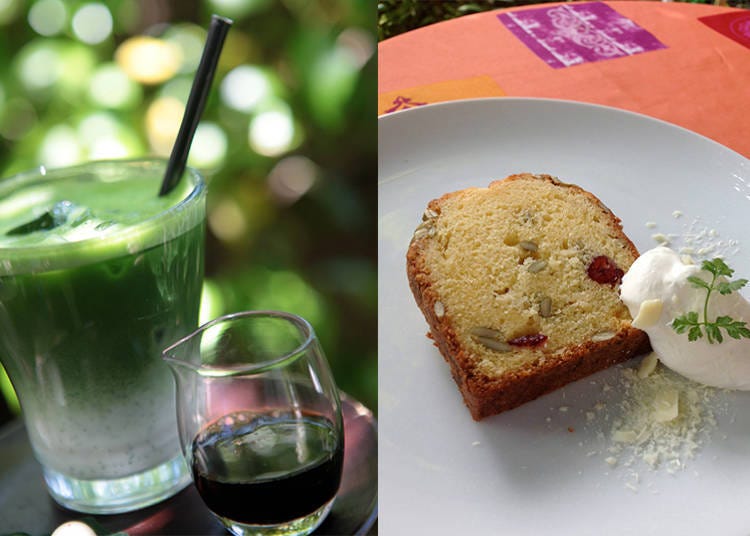 The picture on the left is their matcha au lait which costs 600-yen (tax inclusive), made with high-grade matcha, accompanied with a shot of brown sugar syrup to garnish your drink with. The cafe's popular pound cake on the right is 450 yen (tax inclusive) and depending on the season uses different ingredients. The one shown here is made of cranberry and white chocolate, as well as sprinkles of pumpkin seeds to add a touch of summer.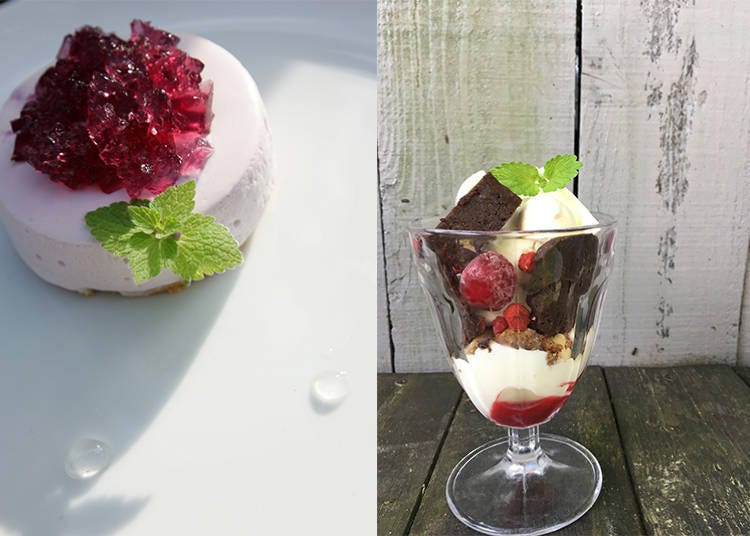 Other than the pound cake, the cafe's seasonal desserts also come in a couple of variations. On the left, their "Hydrangea Cake" is a blueberry rare cheesecake shaped like a hydrangea flower, commonly seen dotted about in the Hakone area, costing 600-yen (tax inclusive). The "Seasonal Parfait (Chocolate and Berry Parfait) on the right costs 800-yen (tax inclusive).

In autumn, the cafe serves goodies such as their "Buckwheat flour and Chestnut Cake" (600-yen tax inclusive), which uses buckwheat flour specially prepared by Kunihiro Takahashi, also known as the "god of soba". In winter they have Roast Apples (700-yen tax inclusive), not to mention light meals such as Nepalese Chicken Curry and Croque Monsieur.

If you're looking for the best cafe to experience Hakone's natural beauty, this is it.
プレジール ドゥ ルフ

Address

Kanagawa-ken Ashigarashimo-gun Hakone-machi Gora 1300-432 Hakone Museum of Photography

Phone Number

0460-82-2717

Operating Hours: 10:00 - 17:00 (Last Order)
Closed on Tuesdays and special circumstances
*Menu is available in English and French
craft & cafe ISAMIYA:Tofu Sweets made from Hakone's famed water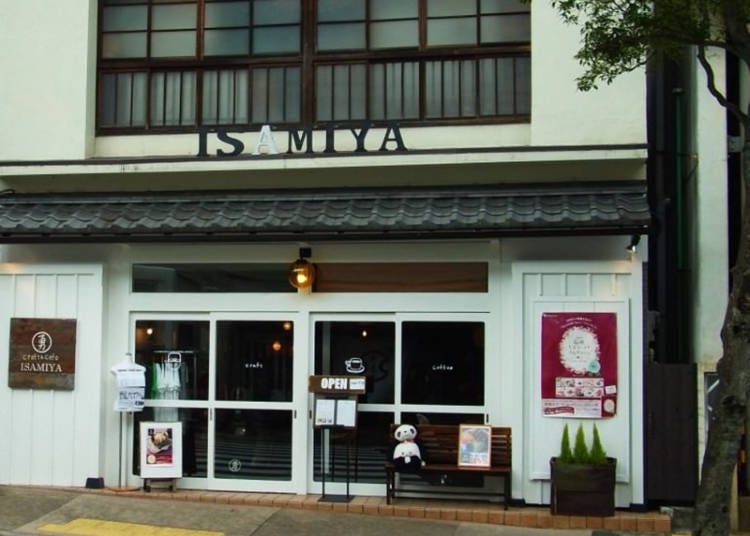 Finally, we have "craft & cafe ISAMIYA", a 4-minute walk from the Hakone Yumoto Station's Miyanoshita exit. About a hundred years back, the store's owner re-purposed the place, which used to be a carpenter's workshop, into a cafe that capitalizes on the venerable atmosphere of the buildings to produce an atmosphere like no other.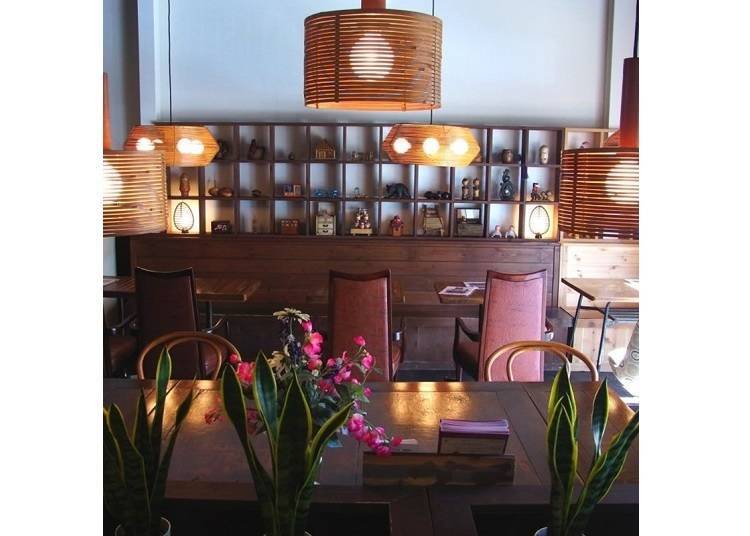 Inside the shop, the toys and puzzle boxes made those many years ago are displayed proudly, which adds to the nostalgia. While the Hakone Yumoto area has cafes aplenty, this one stands out with their sweets using tofu that is made from the natural spring water here!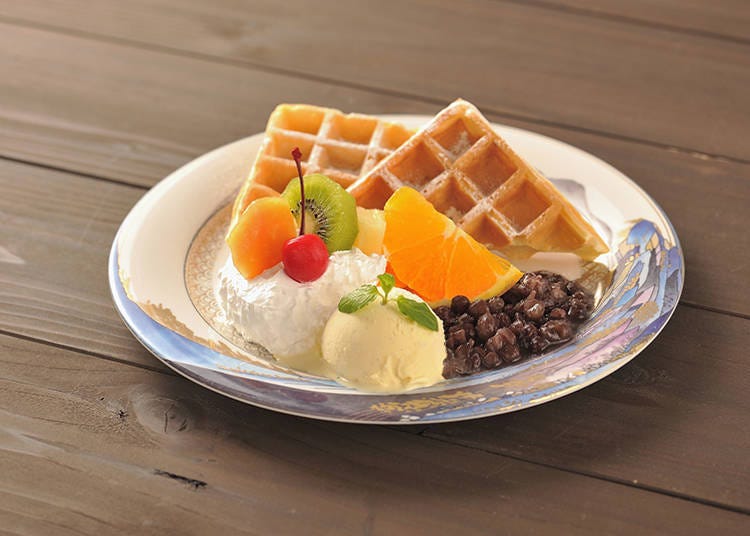 The "Tofu Waffle" (980-yen tax inclusive) is made with said tofu without any extra additives and is featured prominently on the stores' banner. The skin is crispy while the inside is fluffy, which gives full attention to the flavors of the tofu, which explains why it's one of the store's prided dishes.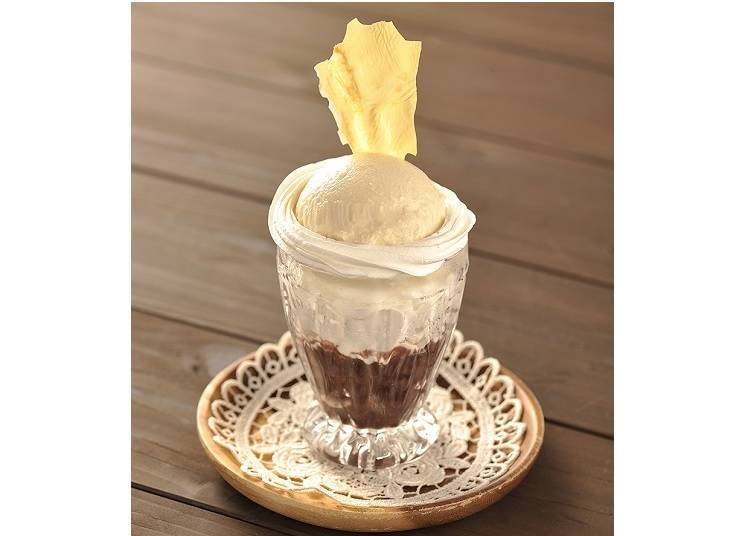 Their "Tofu Cream Sundae" (800-yen tax inclusive) also uses the same tofu. However, it's affixed atop of the parfait, a rare sight even for sweets. The freshly prepared tofu and hand-made azuki beans match surprisingly well in this rare gem of a dessert.

Other than the above, the "Tofu Straight (Hot/Cold)" and "Tofu Latte (Hot/Cold)" are also great drinks that make full use of the tofu made with pure Hakone water, costing 500-yen (tax inclusive) and 600-yen (tax inclusive) per cup respectively.

Only at this cafe can you try sweets made from Hakone's specialty tofu. What say you to a reprieve within a retro space accompanied with healthy tofu sweets?
craft&cafe ISAMIYA

Address

Kanagawa-ken Ashigarashimo-gun Hakone-machi Yumoto 729

Phone Number

0460-85-5147

Operating Hours: 10:00 - 17:00 (L.O.)
Closed on Tuesdays and Wednesdays (Subject to change)
*Menu Available in English
Within the nature-filled Hakone region, many cafes abound for resting one's tired body. Do pay a visit to take a break in one of these cafes filled with the history and culture of one of Japan's most famous tourist spots.

Written by Naho Jishikyu
*This information is from the time of this article's publication.
*Prices and options mentioned are subject to change.
*Unless stated otherwise, all prices include tax.