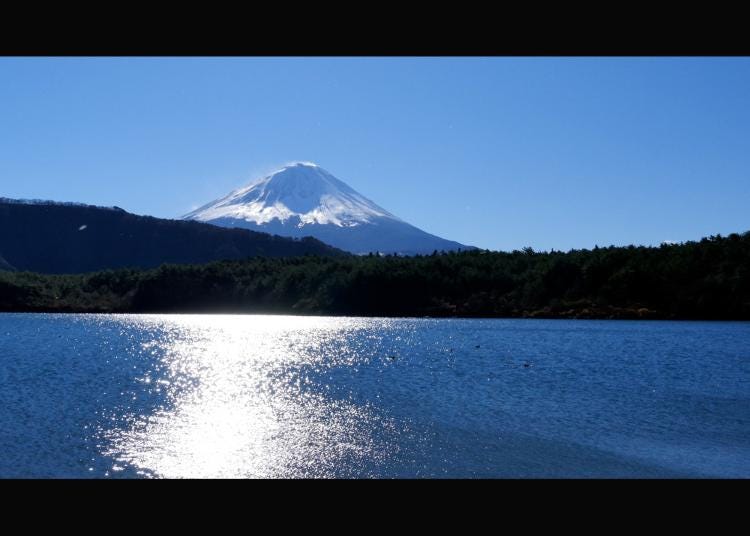 Here are the best Rivers, Lakes & Canyons near Mt. Fuji, with travel tips and more, according to LIVE JAPAN, a top-class travel website for visitors to Japan. Our ranking is based on the most popular pages viewed by foreign visitors in a given category.

For instance, Lake Motosu, Shiraito Falls, Lake Kawaguchiko and other related spots will be listed. Be sure to check them out during your visit to Mt. Fuji!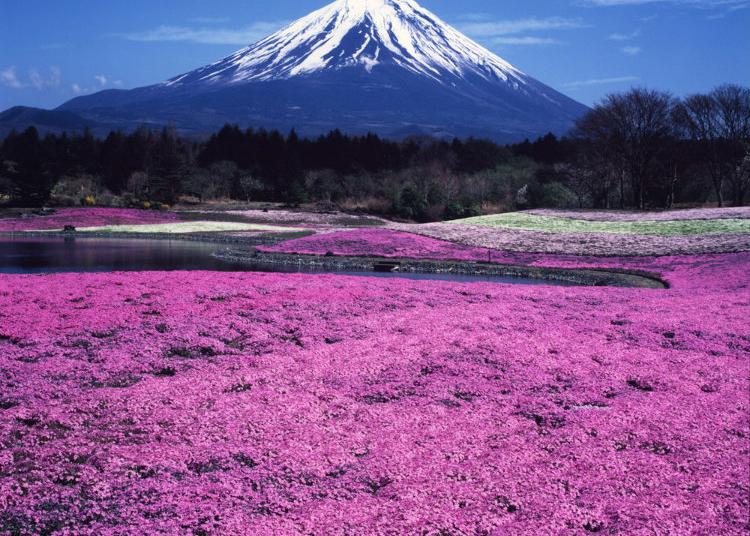 Lake Motosuko is the westernmost lake of the Fuji Five Lakes. It is 121.6 meters deep making it the deepest of the five, and it is also the clearest. The view of Mount Fuji from Lake Motosuko is especially beautiful. Many photographers visit this lake to take pictures of Diamond Fuji, which is a phenomenon where the summit and the sun overlap giving the impression of a shining diamond, and the beautiful glow of sunrise. The photo of "Sakasa-Fuji" (or "upside down Mount Fuji" meaning the reflection of Mount Fuji on the suface of the lake) by photographer Koyo Okada is a famous work of art used as one of the designs on Japanese currency. There are also various outdoor sports that you can enjoy in the vast nature. It is one of the best spots for windsurfing in the Kanto region, and also great for fishing, boating, hiking and camping. These can be enjoyed throughout the year, which is also very appealing. To get here, take a bus for 50 minutes from the Fujikyuko Line's Kawaguchiko Station.
Address

1-6-1, Marunouchi, Koufu-shi, Yamanashi, 400-0031
View Map

Nearest Station

Kawaguchiko Station (Kawaguchiko Line (Fujikyuko))
30 minutes by bus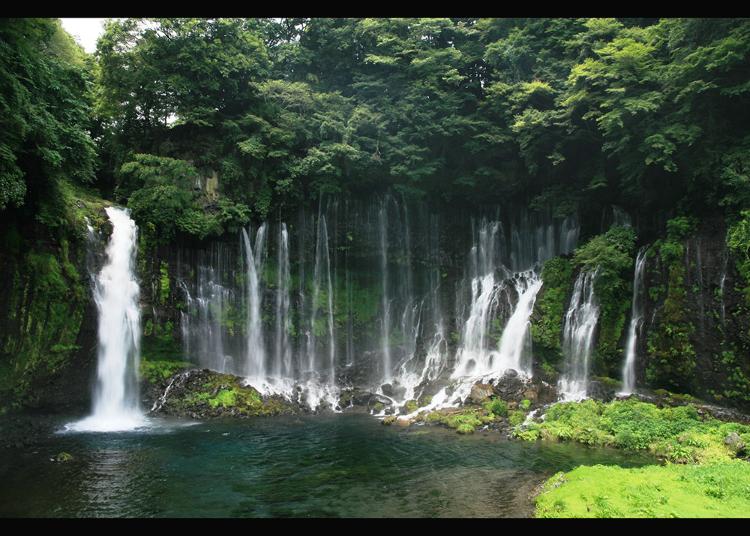 In the foothills of Mt. Fuji, there are many places worth seeing such as the five lakes of Mt. Fuji. Shiraito Falls, located on the west side of Mt. Fuji, is one of them. It was selected as one of Japan's Top 100 Waterfalls in 1990 and is also known as one of the country's a scenic spots and a Natural Treasure. Snowmelt from Mt. Fuji springs out from a cliff that acts as a border between an upper geological layer that allows water to go through and a lower layer that does not. The cliff has a height of 20 meters and a width of 150 meters, and has hundreds of big and small waterfalls flowing off of it. Its has a gentile, feminine appearance so the name, Shiraito (meaning white thread) suites it well. When you stand at the basin of the waterfalls, they look like myriads of silk threads that are hanging down. Shiraito Falls have long been known as great waterfalls, and Minamoto no Yoritomo, who founded the Kamakura Shogunate, praises their feminine beauty in a tanka (a short Japanese poem), "Above here, what kind of princess is there, I wonder, untying and flowing the strings of a ball, Shiraito Falls". There is a dynamic and vigorous waterfall, Otodome Fall, nearby that is often seen together with Shiraito Falls for their contrasting beauty. It takes about 30 minutes by bus for Shiraito Falls from JR Fujimiya Station.
Address

Kamiide, Fujinomiya-shi, Shizuoka, Hara, 418-0103
View Map

Nearest Station

Fujinomiya Station (JR Minobu Line)
30 minutes by bus


Phone Number

0544-22-1155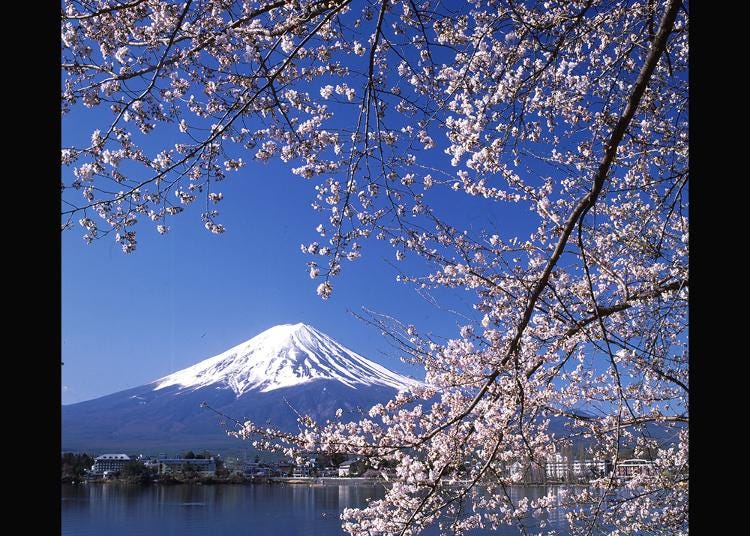 This is one of the five lakes that was formed by the volcanic eruptions of Mount Fuji, located at the center of the five lakes. The view of Mount Fuji from this lake is symmetrical and balanced making it popular for many artists and photographers for their creations. In addition to tourists who come to enjoy the stunning view of Mount Fuji, there are also those who come to enjoy leisure activities such as boating, yachting, windsurfing, cycling and fishing. There are a variety of attractions around Lake Kawaguchiko including "Fuji-Q Highland," which offers many thrill rides, as well as galleries, museums, concert halls and tennis courts. Many tourists pack the area throughout the year. Because it is accessible by car and trains, there are many sightseeing spots and hotels, so it is a hub for sightseeing around Mount Fuji. To get here, take the Fujikyuko Line to Kawaguchiko station.
Address

Fujikawaguchiko-machi, Minamitsuru-gun, Yamanashi, 401-0301
View Map

Nearest Station

Kawaguchiko Station (Kawaguchiko Line (Fujikyuko))
1 minute on foot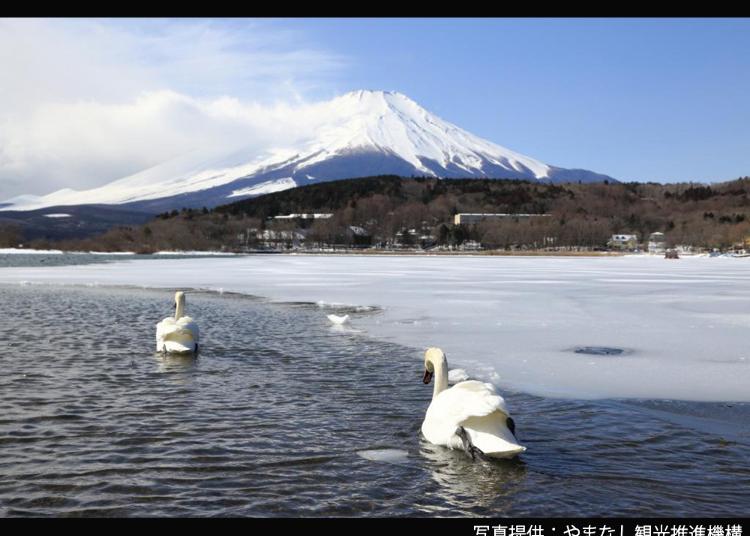 Lake Yamanakako is one of the five lakes that was formed by the volcanic eruption of Mount Fuji. It is the largest of the five lakes, and the closest one to Mount Fuji. The altitude of the lake is around 1,000 meters above sea level, making it also the highest of the Fuji Five Lakes and the third highest in all of Japan. Lake Yamanakako has abundant nature and a view that changes seasonally with Mount Fuji in the background. In the summer, the average temperature rises to 20 degrees, making it an ideal summer retreat; many tourists arrive at this time. Others enjoy yachting and windsurfing on the large lake. There are various events throughout the year including a road race, summer fireworks display, autumn leaves festival and fantastic illumination in the winter. You can get to this popular resort by driving for two hours from the city center of Tokyo. There is also a direct highway express bus.
Address

Yamanakako-mura, Minamitsuru-gun, Yamanashi, 401-0500
View Map

Nearest Station

Kawaguchiko Station (Kawaguchiko Line (Fujikyuko))


Phone Number

0555-62-3100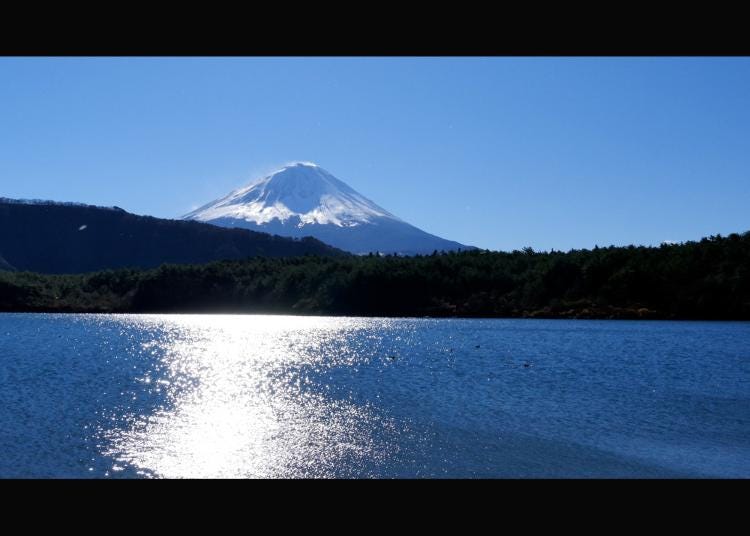 Lake Saiko is one of the lakes of the beautiful "Fuji Five Lakes." With Mount Fuji and other fabulous vistas in the background, you can enjoy all kinds of sports like windsurfing, fishing and canoeing. There is an auto camping site by the lake with plenty of facilities such as bungalows, cottages, showers and barbecue grills. You can view around 60 different species of wild birds like the white-eye and varied tits in the Aokigahara woodlands that spread out near Lake Saiko. "Saiko Yacho-no-Mori" (forest of the wild birds) is perfect for a peaceful walk through the woods and bird watching. There are also lava caves, including one stretching over 350 meters, and the "Narusawa" wind cave that is covered in ice throughout the year, where you will be able to encounter the mystery of nature. To access, take the Saiko Retro Bus from Kawaguchiko Station and get off at Saiko Station. If you take the highway express bus from Shinjuku, you can get here in just over 2 hours.
Address

Fujikawaguchiko-machi, Minamitsuru-gun, Yamanashi, 401-0332
View Map

Nearest Station

Kawaguchiko Station (Kawaguchiko Line (Fujikyuko))


Phone Number

0555-82-3131
*This information is from the time of this article's publication.
*Prices and options mentioned are subject to change.
*Unless stated otherwise, all prices include tax.