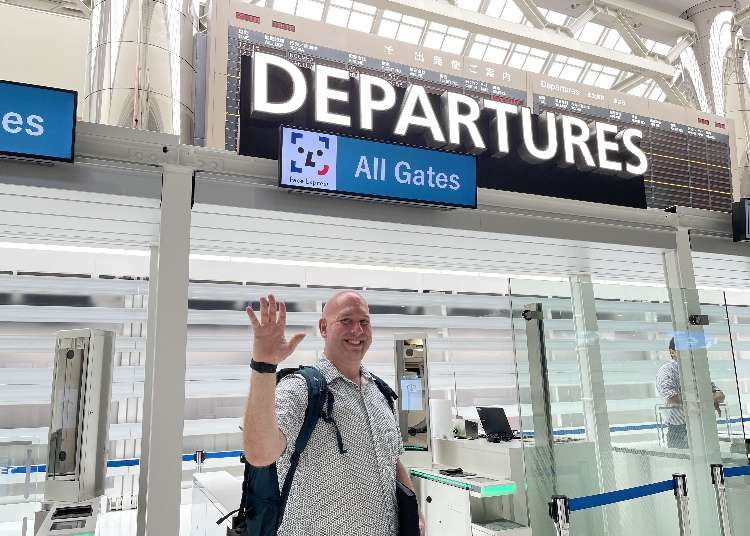 Narita International Airport, Japan's largest flight hub, serves as the nation's premier entry point, extending its hospitality to global visitors. Amidst the pandemic and ongoing global connections, Narita Airport prioritizes hygiene and safety.

This article, updated in July 2023, details the streamlined processes for arriving and departing, introduces post-arrival services, and highlights must-visit shopping and dining spots.

Whether your journey starts or concludes in Japan, Narita Airport guarantees efficiency, charm, and an authentic Japanese welcome.
Narita International Airport: Japan's Premier Aviation Hub
Situated in Narita City, Chiba Prefecture, Narita International Airport (commonly known as Narita Airport) stands as Japan's largest aviation hub and a pivotal global gateway, not only for the Tokyo metropolitan area but for the entire nation. While renowned for its extensive international flight network, Narita Airport's significance has grown beyond borders with the advent of Low-Cost Carriers (LCCs) since 2012, leading to an expansion in domestic flight options and establishing itself as an LCC hub.

Impacted by the onset of the COVID-19 pandemic in 2020, the airport witnessed a significant decline in passenger numbers. However, since April 2021, passenger figures have been on the rise, with international flight frequencies recovering to 60% of pre-pandemic levels and passenger numbers reaching 70-80% of their previous count.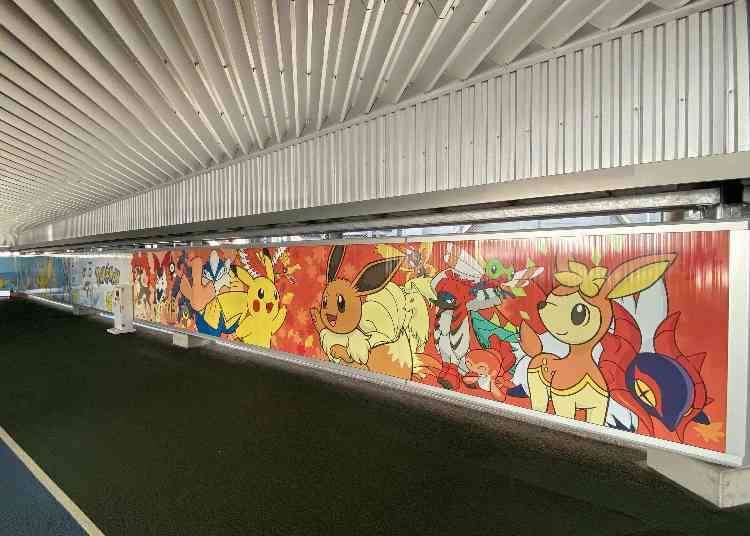 Gateway to Terminal 3: Access Passage
As a hub welcoming countless international visitors to Japan, Narita Airport boasts an array of shops offering diverse souvenirs, ranging from Made-in-Japan edibles to traditional crafts. What's more, the airport showcases Japan's globally adored anime and game characters in various displays and decorations, making it one of Narita's captivating attractions.

Currently, the "Flying Pikachu Project" is underway (scheduled until April 2025). Throughout Narita Airport's terminals, you'll have the delightful opportunity to encounter adorable Pokémon characters. Don't miss out—keep an eye out for these charming companions during your visit.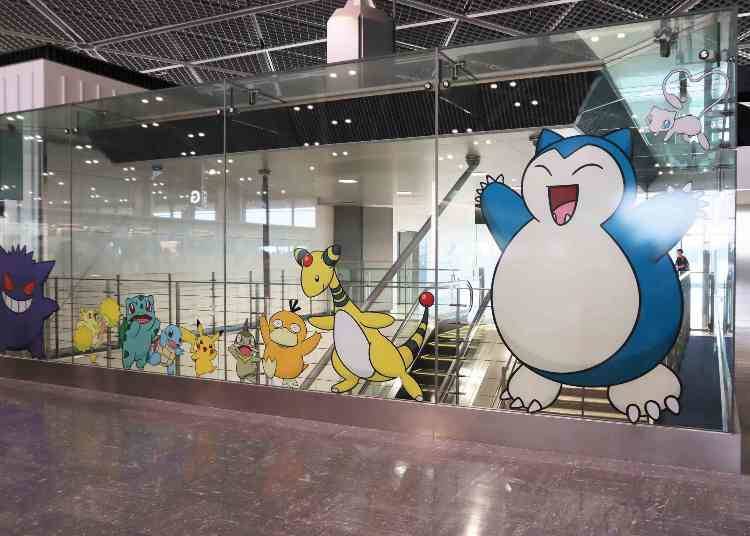 Departure Lobby on the 4th Floor of Terminal 1
Narita International Airport departure procedures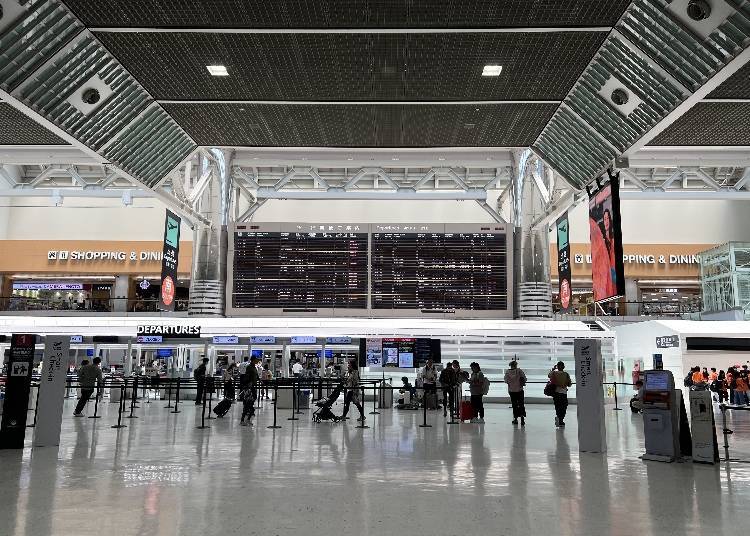 Following the conclusion of Japan's border control measures at midnight on April 29, 2023, all restrictions regarding entry to Japan have been lifted. The previous requirements, such as presenting vaccination certificates (for those who received three doses or more) and negative test certificates, are no longer necessary. Japan has returned to pre-pandemic conditions.

For more details, please refer to the Ministry of Health, Labour and Welfare's website.

While there are no longer entry restrictions, the Visit Japan Web service, launched on November 1, 2022, during the pandemic, continues to operate. This online service facilitates immigration procedures and customs declarations, including immigration inspections, entry clearance, and customs declarations. While paper-based declarations are still possible, pre-registration is recommended for a smoother process.

Visit Japan Web
Create an account and log in to Visit Japan Web, then register user information, including accompanying family members, and entry/return schedules. Proceed to register for immigration inspection (Foreign Resident Arrival Record) and customs declaration (declaration of carried/separately sent items).
URL: https://vjw-lp.digital.go.jp/
1. Step-by-Step "Arrival" Process at Narita International Airport
1. Quarantine Procedures
Upon disembarkation, follow the guidance to proceed to the quarantine counter. If you've received a questionnaire from the quarantine station during the flight, complete the necessary information and submit it at the quarantine counter.

2. Immigration Inspection
Present your passport at the immigration inspection counter. In some cases, facial recognition gates or automated gates might be used, but no stamp will be placed in your passport.

3. Baggage Collection
Retrieve your checked baggage (such as suitcases) at the baggage carousel. Confirm your baggage claim ticket and be attentive to avoid any mix-ups.

4. Plant and Animal Quarantine
If you're bringing in plants (fruits, vegetables, etc.) or animal products (meat-based items like ham, sausages), you'll need to submit the required certificates and undergo inspection at this point.

5. Customs Inspection
Submit the "Declaration of Carried/Separately Sent Items" form (paper) for examination. Alternatively, generate a QR code using Visit Japan Web and complete the process using designated machines.

6. Arrival Lobby
Proceed to the arrival lobby to officially enter the country.
2. Step-by-Step "Departure" Process at Narita International Airport
1. Check-In Procedures
Complete check-in at the airline check-in counter (or use self-service check-in machines) in the departure lobby to receive your boarding pass. For larger items like suitcases, drop them off at the counter. If using Face Express, register here as well.

2. Security Check
Undergo security screening for your carry-on items and a body check before proceeding to exit immigration.

3. Customs Procedures
If you're carrying more than 1 million yen in cash or its equivalent, declare it at customs. Additionally, if you've made duty-free purchases, you'll need to present your passport and other documentation at the customs counter.

4. Exit Immigration
Present your passport and boarding pass at the exit immigration counter to officially depart. Similar to arrival, facial recognition gates or automated gates might be available, but no stamp will be added to your passport.

5. Proceed to Departure Gate
Head to the departure gate mentioned on your boarding pass before the boarding time starts.

6. Boarding
Once boarding begins, follow the instructions of the staff to enter the aircraft.
Introducing "Face Express": Effortless Procedures with Facial Recognition at Narita Airport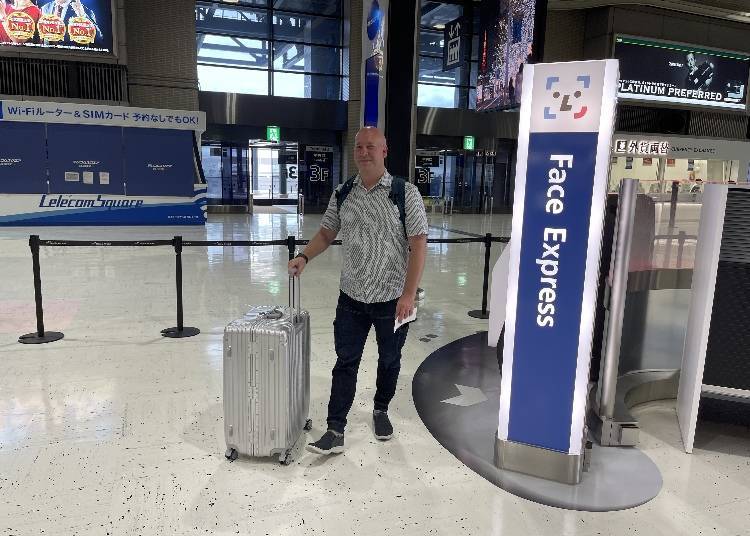 Narita International Airport has embraced a cutting-edge form of boarding procedure known as "Face Express," which harnesses facial recognition technology.

During the initial check-in process at the airport, simply registering your passport, boarding details, and facial information enables a seamless sequence of steps—ranging from baggage drop-off and security screening to boarding gate access—without the need to present your passport and boarding pass. With "Face Express," all it takes is a quick facial scan to navigate through these procedures effortlessly.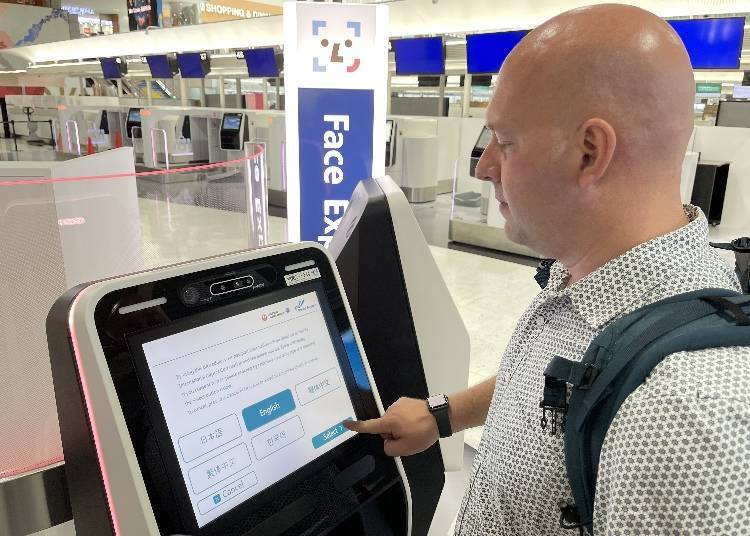 Face Express supports multiple languages, including English, Simplified Chinese, Traditional Chinese, Korean, and Japanese. By following the instructions, scan your passport and capture a facial photo. This process will seamlessly link your information together.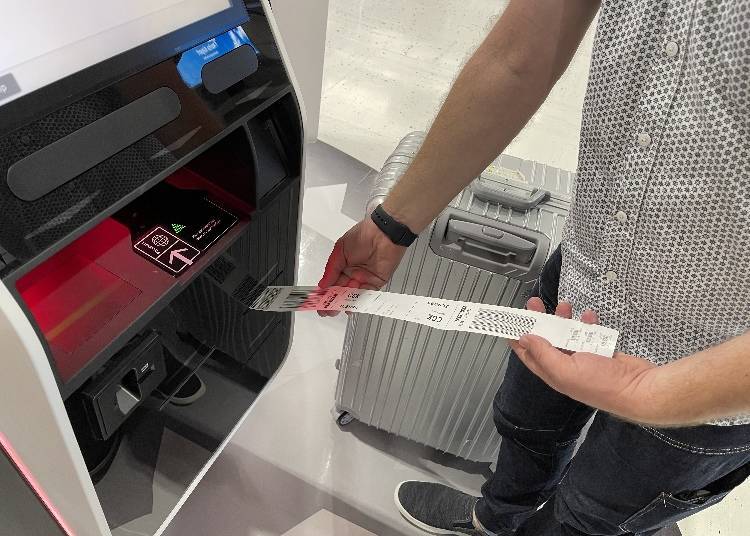 From ticket issuance to baggage tag attachment, the entire process takes just about 1 minute. No more lengthy waits in lines for procedures – with Face Express, efficiency is paramount.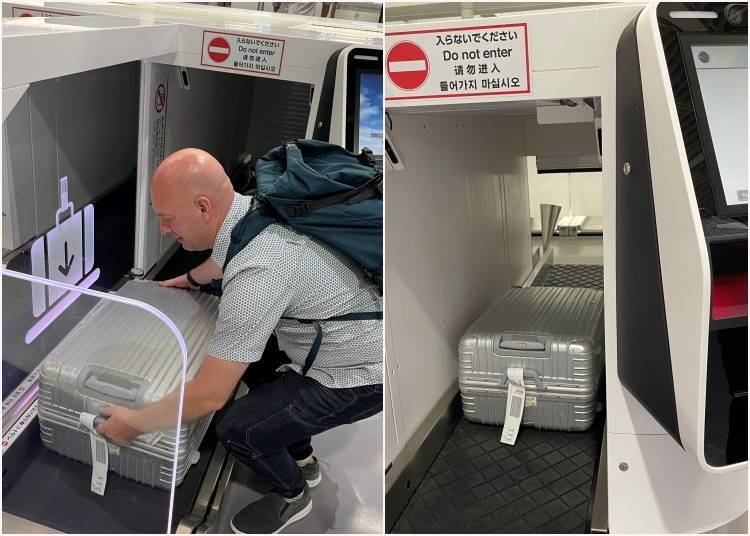 Smooth Baggage Drop-off Process: After attaching the previously issued tag to your baggage, move to the designated area and authenticate your face using Face Express. If all is well, your baggage will be automatically transported without any issues.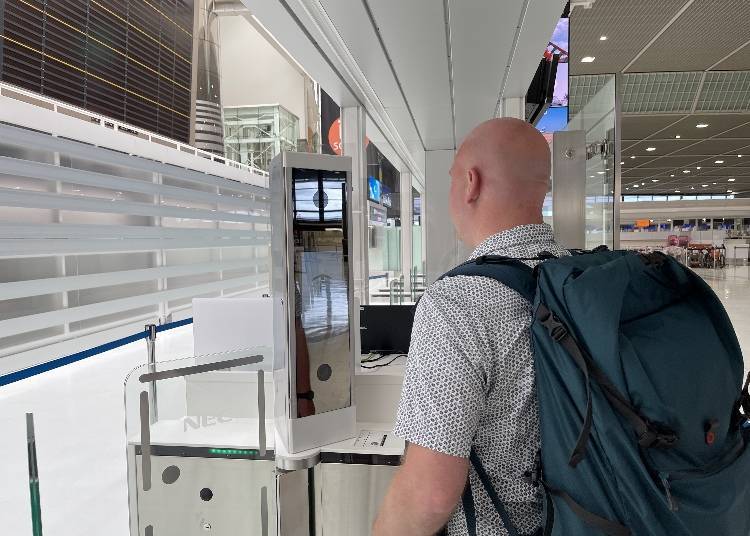 Face Express is also available at the entrance to the security screening area. If your authentication goes smoothly, you can proceed at a walking pace, much like an automated gate.

(Please note that for exit immigration procedures, a facial recognition gate operated by the Immigration Services Agency of Japan is available, but it is a separate system from Face Express.)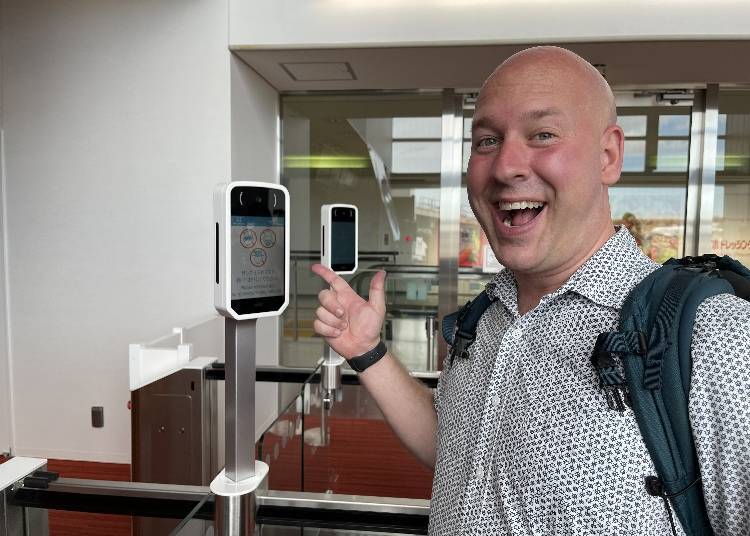 Just before boarding the aircraft, Face Express can be used for facial recognition at the boarding gate, allowing you to proceed onto the plane. The level of smoothness might even leave you pleasantly surprised!

However, be aware that there might still be instances where you're asked to present your passport and boarding pass, so do remember to keep them accessible and not buried deep within your luggage.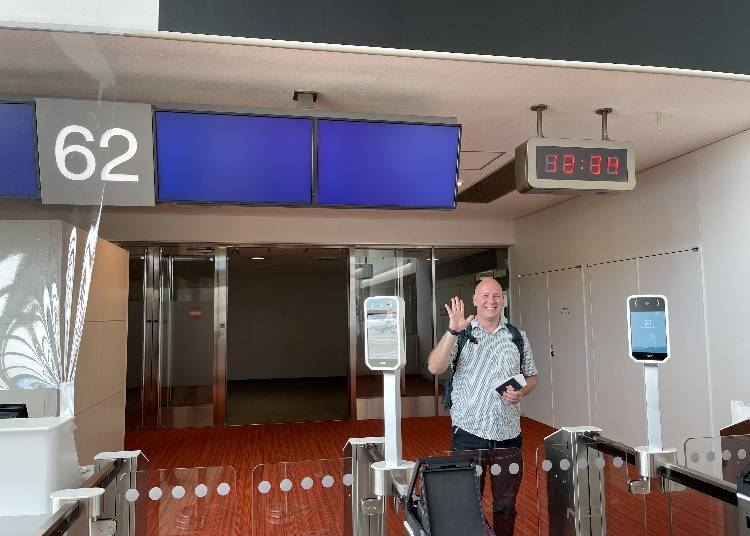 Up to this point, there's been hardly any need to interact with staff members. For those who aren't confident in their language skills, the departure procedures can sometimes evoke unnecessary tension. However, the relief of having such anxieties eliminated is indeed significant.
When You Arrive, Head Here! Convenient Airport Services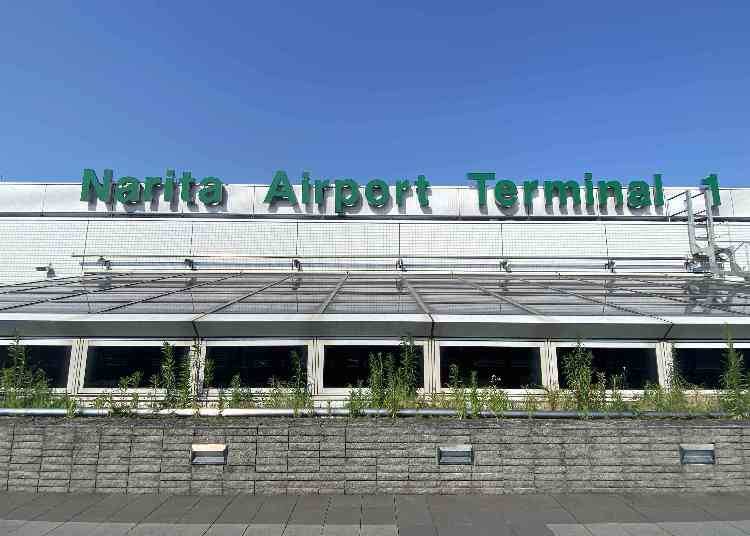 Upon arriving at Narita, you'll find a selection of useful services and facilities that foreign tourists should be aware of.
1. Luggage Delivery Service
To lighten your load and enjoy a carefree exploration, consider utilizing the airport's delivery service. All baggage delivery service counters at Narita Airport are certified for "hands-free tourism" (*), making them exceptionally convenient for visiting tourists.

English-speaking staff are available at all airport stores, ensuring accessibility for international travelers.

(* "Hands-free tourism" certification is awarded by the government to counters that meet specific criteria, allowing tourists to explore without carrying their baggage by offering same-day or next-day delivery to designated areas, along with English-speaking assistance.)

Whether you wish to utilize this service upon arrival or pre-arrange a delivery for your return journey, the option is yours. If you opt for the latter, you can retrieve your baggage at the designated store.

(For international flights departing in the early morning, if you wish to collect your baggage around 6:00 AM, it's recommended to inquire in advance.)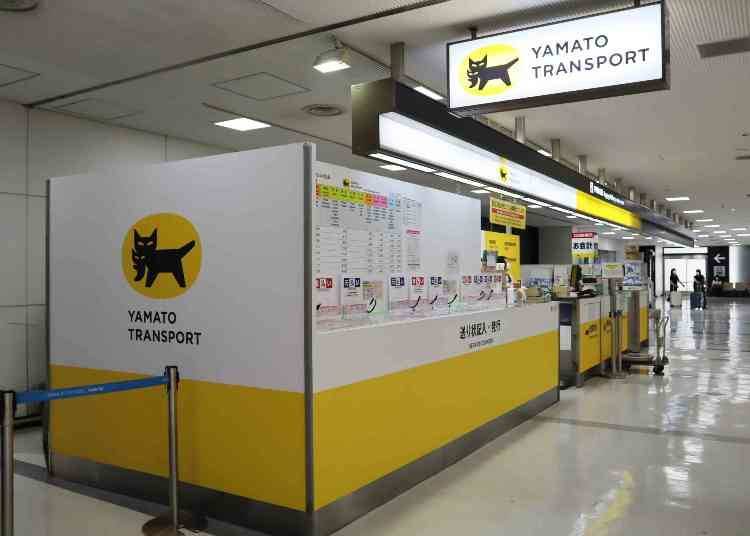 Yamato Transport Baggage Delivery Counters
Location:
Terminal 1 (4 locations):
・North 4F (Departure)
・South 4F (Departure)
・North 1F (Arrival)
・South 1F (Arrival)

Terminal 2 (2 locations):
・Main Building 3F (Departure)
・Main Building 1F (Arrival)

Terminal 3 (1 location):
・Main Building 1F (Departure / Arrival)

Operating Hours:
・From 6:30 AM until 1 hour after the arrival of the last international flight
(*Note: Operating hours may vary based on the specific counter)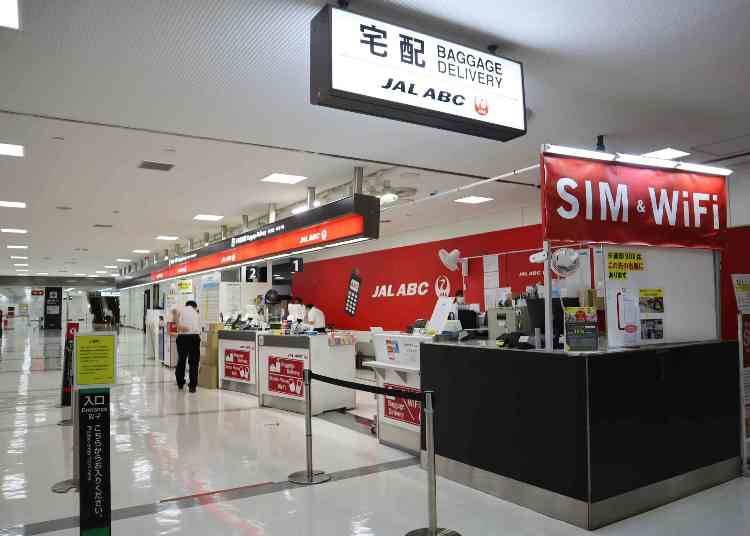 Locations (4 locations):
Terminal 1: North 4F (Departure)
・South 4F (Departure)
・North 1F (Arrival)
・South 1F (Arrival)

Terminal 2 (2 locations):
・Main Building 3F (Departure)
・Main Building 1F (Arrival)

Operating Hours:
・Departure Floor Counter: From 6:30 AM until 1 hour after the arrival of the last international flight
Arrival Floor Counter: From 7:00 AM to 9:00 PM
2. Currency Exchange Services (Vending Machines & Stores)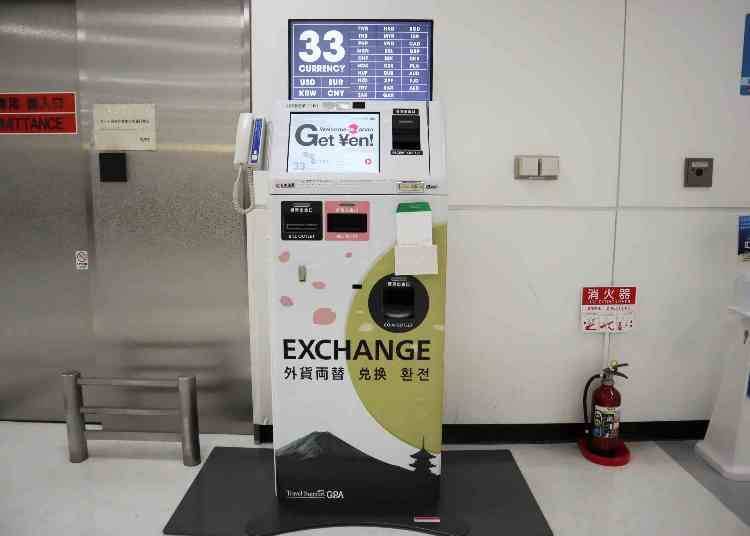 Greenport Agency (GPA)'s Self-Service Currency Exchange Machine
For a convenient and straightforward conversion to Japanese yen, opting for self-service currency exchange machines proves to be highly efficient.

The automated currency exchange machines at Greenport Agency (GPA), an establishment under the Narita Airport Group, handle a total of 33 currencies (*).

Operating at the same rates as the in-store (manned) counters, these machines are available round the clock, making currency exchange hassle-free even during early mornings or late nights.

(*Note: Some currencies might not be available due to discontinuation.)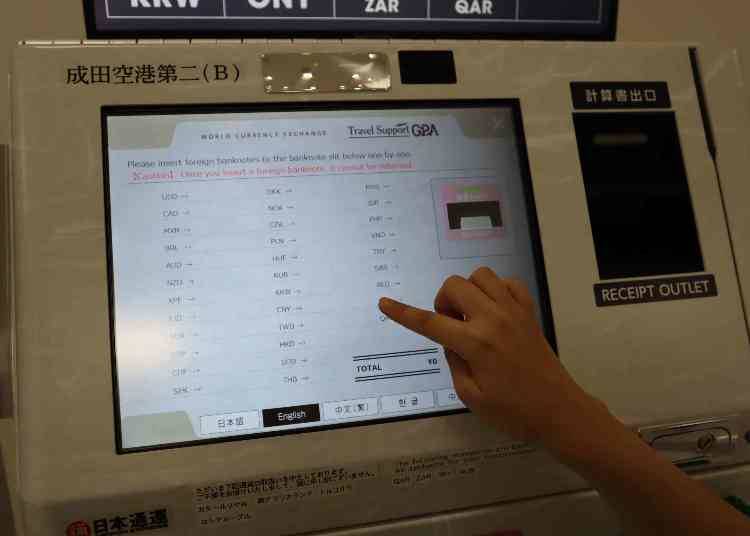 The supported languages include Japanese, English, Chinese (Traditional/Simplified), and Korean. You can choose your preferred language, touch the screen, and simply input the amount you wish to exchange—making it an incredibly straightforward process.

Location:
・Terminal 1: 2 machines available
・Terminal 2: 2 machines available

Operating Hours:
24 hours a day, 7 days a week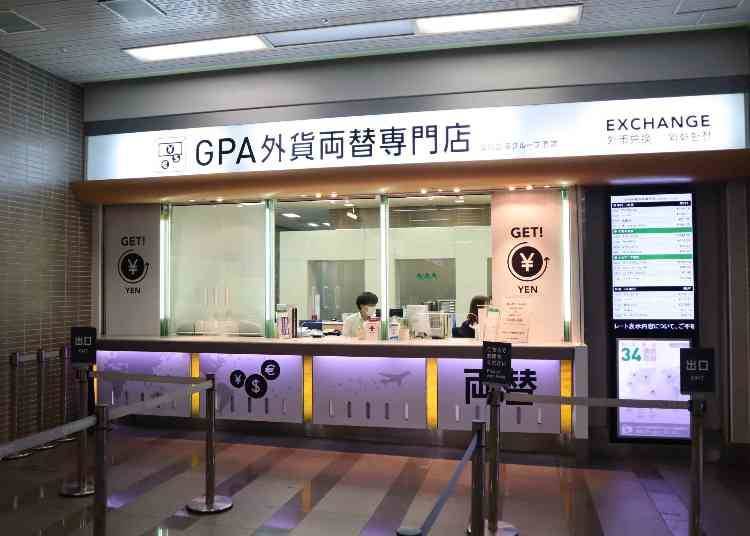 Greenport Agency (GPA) Store
Here is the manned store of Greenport Agency (GPA). This store proves to be useful when you have specific requests or questions during the exchange process.

Location:
・Terminal 1: 5 stores (including two stores in the departure area)
・Terminal 2: 2 stores
・Terminal 3: 1 store

Operating Hours:
From 6:00 AM to 10:00 PM
(*Note: Operating hours may vary based on the specific store)
3. Wi-Fi Rental & Prepaid SIM Purchase (Telecom Square / J WiFi & Mobile)
An indispensable aspect of travel is having a reliable internet connection, and starting by arranging it at the airport is the best approach. Whether it's renting a portable Wi-Fi router or purchasing a prepaid SIM, you can choose from a variety of options and plans tailored to your length of stay and needs.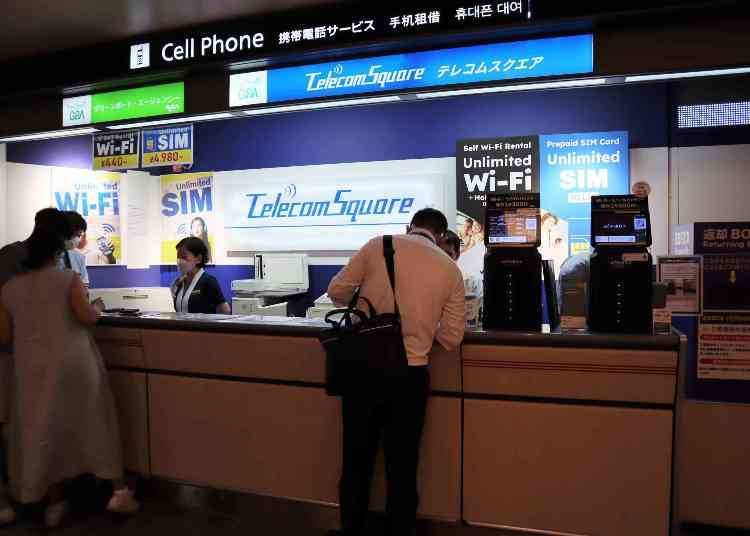 At Telecom Square, you can access not only domestic Wi-Fi rental services but also SIM card sales. When you apply at the airport, you can return the equipment easily at the airport upon your departure, saving you the hassle.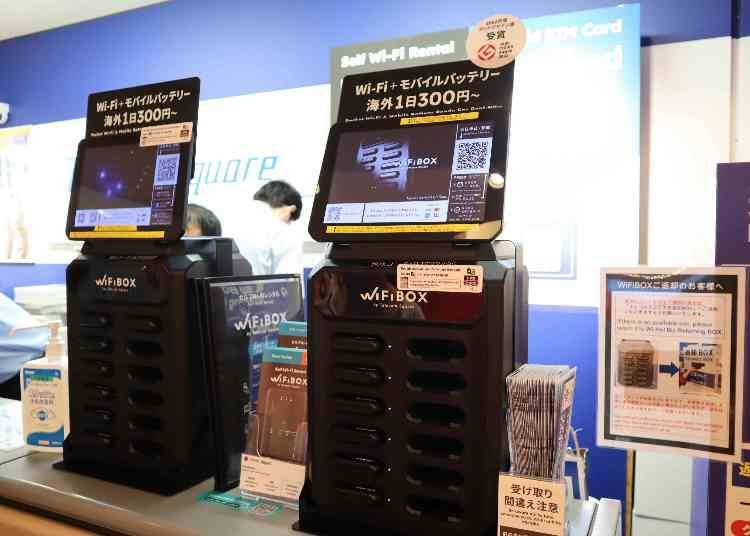 For a contactless and effortless experience, the "WiFiBOX" option is highly recommended, allowing you to seamlessly handle the process from reservation to return. You can make a reservation online in advance or, if there's available stock, apply on the spot by scanning a QR code.
Location:
・Terminal 1: 2 stores
・Terminal 2: 2 stores

Operating Hours:
Operating hours vary by store.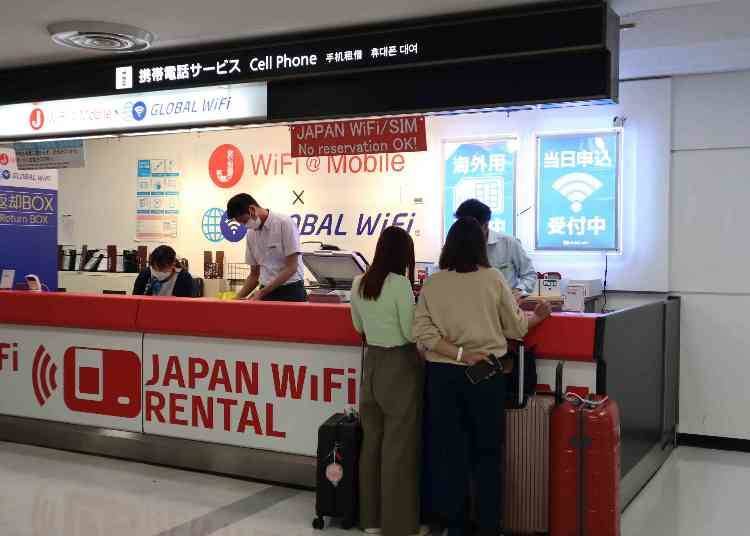 Moreover, with J WiFi & Mobile × GLOBAL WiFi, you can opt for packet flat-rate Wi-Fi rental on the same day of application. And of course, you can conveniently pick up and return the Wi-Fi at Narita Airport.
JWiFi & Mobile × GLOBAL WiFi
Sure, here's the rephrased version using the tags for bold text:

Location:
・Terminal 1: 3 stores
・Terminal 2: 2 stores
・Terminal 3: 2 stores

Operating Hours:
From 7:00 AM to 9:00 PM.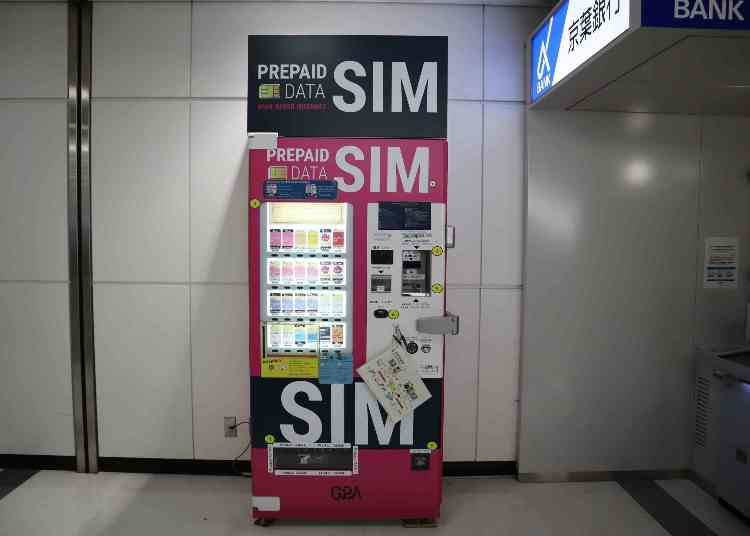 For those seeking greater convenience, the prepaid SIM card vending machines are a practical choice. These machines offer a wide selection of SIM cards tailored for data usage without voice calling. Additionally, vending machines come with user manuals in English, making them even more convenient to use.

Location:
・Terminal 1: 3 machines
・Terminal 2: 2 machines
・Terminal 3: 1 machine
A convenient amenity to consider before or after a flight is the availability of shower facilities. Located in Terminal 1, these shower facilities are situated before the departure area, allowing travelers to use them without a reservation upon arrival or departure.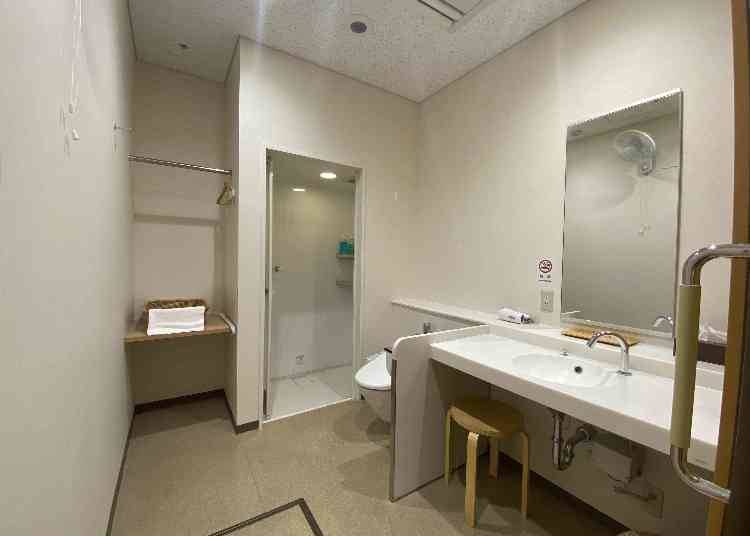 The usage fee is 1,050 yen for 30 minutes, offering ample space that accommodates even larger suitcases without any issue. Essential amenities such as shampoo, conditioner, body wash, towels, and hairdryers are provided. (Makeup remover, toner, lotion, and toothbrush are available for an additional fee.)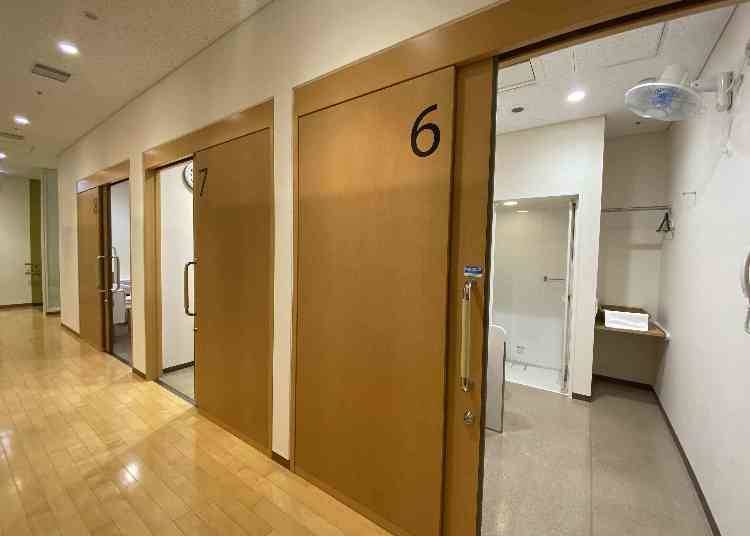 Out of the total 8 rooms, 1 room is barrier-free and can accommodate wheelchairs.

Location:
・Terminal 1, Central 2F

Operating Hours:
・From 7:00 AM to 8:00 PM (Last admission at 7:30 PM)

If you have any uncertainties or are searching for specific locations within the airport, feel free to visit the Information Center marked with a "?" symbol for assistance.

Visit the Information Center website for more information.
Authentic Japanese Souvenirs and Tax-Free Shops
Airports serve as the perfect shopping spots, offering opportunities for shopping both at the beginning after entering Japan and at the end before departing the country. They feature a wide array of items, including local specialties from various regions across Japan, airport-exclusive products, and souvenirs that showcase Japan's unique characteristics.
Located within an area accessible to everyone visiting Narita Airport, the "Fa-So-La GIFT SHOP" offers a diverse range of options. Here, you can purchase renowned souvenirs from various regions across Japan, along with a selection of distinctly Japanese gift items and foods that are particularly recommended for international tourists.
Fa-So-La GIFT SHOP (Located Before Departure Area)
Location:
Terminal 1, South Wing, 4th Floor

Operating Hours:
7:00 AM - 9:00 PM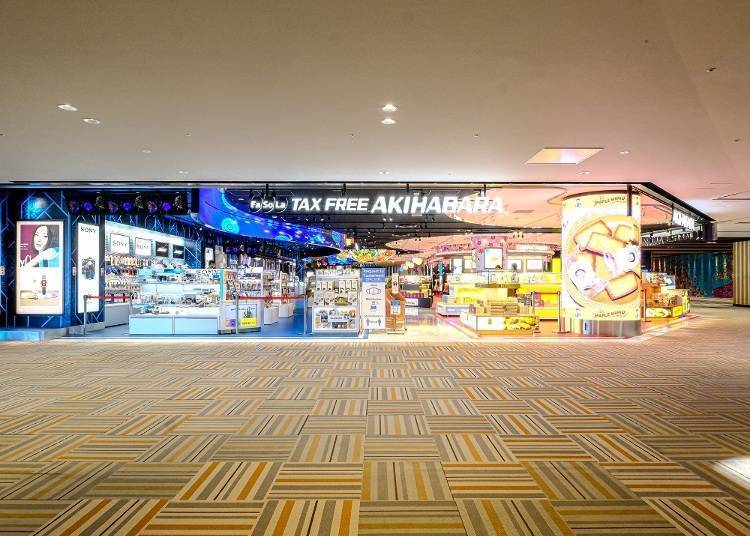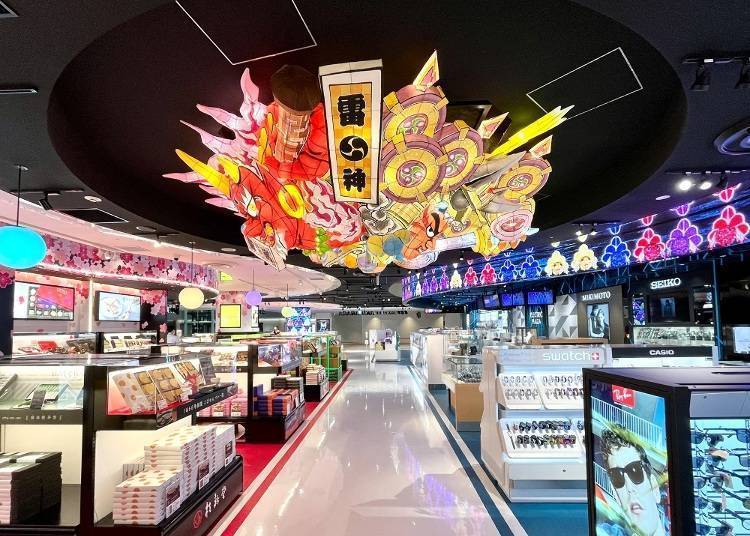 Fa-So-La AKIHABARA: A Duty-Free Shop to Visit After Departure Procedures in Terminals 1, 2, and 3
Especially in Terminal 2, the store underwent a major renovation and reopened in December 2021 as the largest shop within the airport. The product selection is even more comprehensive now. Moreover, the store features an entertaining aspect that goes beyond being just a souvenir shop. A 4-meter-wide "movable Nebuta" installed on the central ceiling rotates in sync with captivating light, sound, and visual effects. The store has transformed into an entertainment-oriented space. The pathways within the store have also been expanded, and additional registers have been set up to enhance the shopping experience for greater comfort.
Fa-So-La TAX FREE AKIHABARA (Post-Security Area)
Location
・Terminal 1 South Wing 3F
・Terminal 2 Main Building 3F

Operating Hours
・Terminal 1: 7:30 AM to 10:00 PM
・Terminal 2: 7:00 AM to 10:00 PM
Fa-So-La SOUVENIR AKIHABARA (Post-Security Area)
Location:
・Terminal 3, 3F

Operating Hours:
・5:30 AM - 10:20 PM
*Operating hours are subject to change without notice based on flight conditions.
Experience Japanese Delicacies Here! Recommended Dining Spots at Narita Airport
Narita Airport offers a plethora of quintessential Japanese delicacies that you should savor upon arriving in Japan and indulge in before departing, creating a memorable culinary experience.
1. Enjoy Savory Delights at Yakisuki Yamma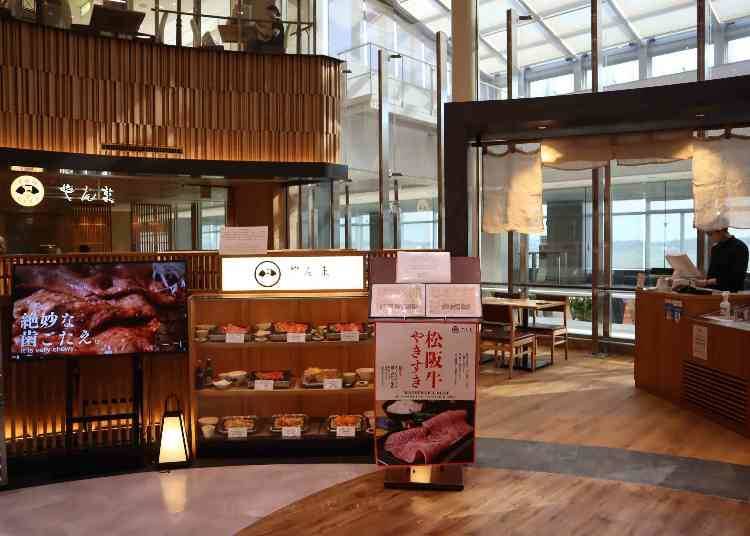 "Yamma" is a specialty restaurant that celebrates Japan's culinary heritage with a focus on meat dishes. Here, you can savor a variety of quintessential Japanese meat delicacies such as beef tongue (gyutan), pork loin cutlet (tonkatsu), and crispy fried chicken.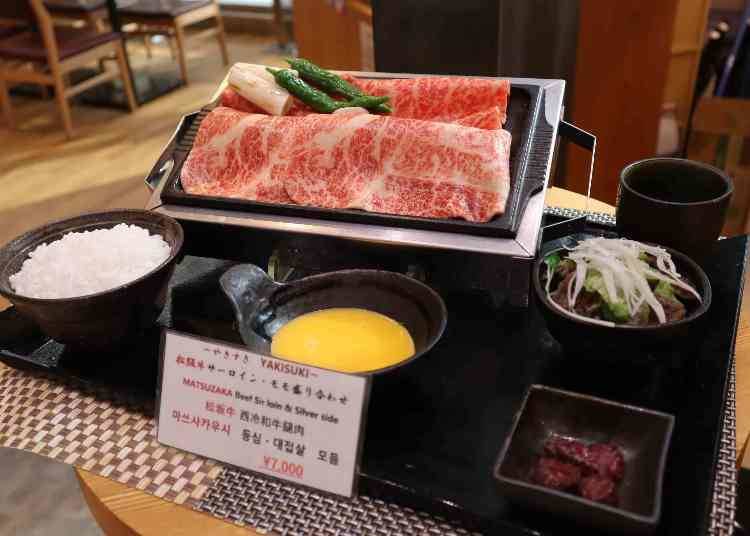 One of the standout dishes at "Yamma" is their signature "yakisuki," a unique Japanese hot pot-style dish prepared with premium Japanese wagyu beef. This exclusive flavor is an experience you can only enjoy at Narita Airport.

Location:
・Terminal 1 Central Building 4F

Operating Hours:
・10:00 AM - 7:00 PM (Last Order at 6:30 PM)
2. Savor Authentic Tonkatsu at Shinjuku Saboten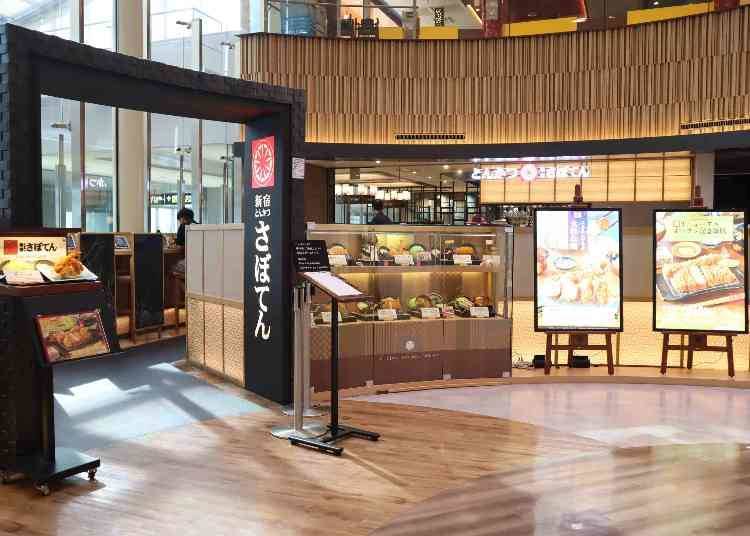 Established in 1966, Shinjuku Saboten is a renowned and iconic tonkatsu (breaded and fried pork cutlet) restaurant that needs no introduction to those familiar with Japan's culinary scene. With its signature "Kenbimae" brand pork and an array of unique original dishes, this establishment has solidified its reputation over the years.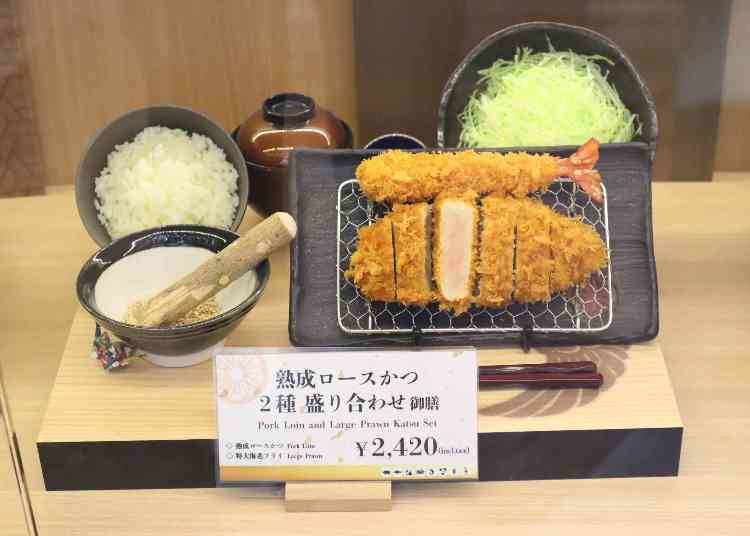 Tonkatsu, a globally beloved Japanese gourmet dish, is a must-try delicacy that you'll definitely want to savor at least once.

Location:
・Terminal 1, Central Building, 4th Floor

Operating Hours:
・10:00 AM - 8:00 PM (Last Order)
3. Shinshu Soba Restaurant Sojibo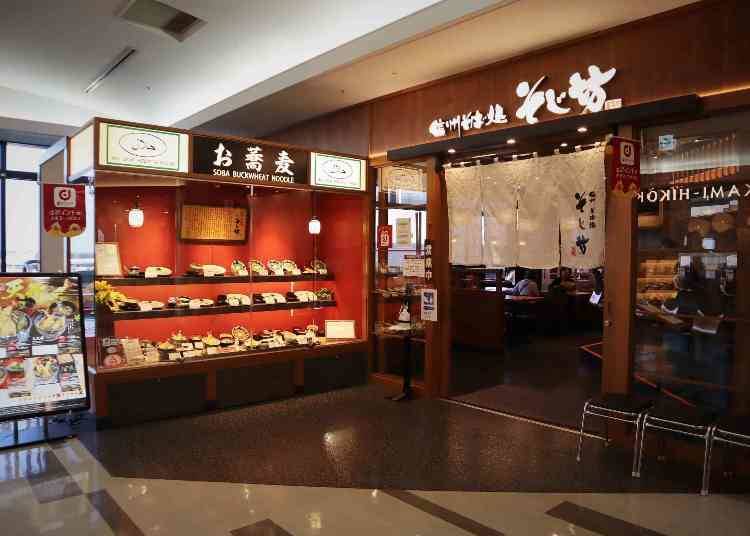 "Soba" is a classic and healthy Japanese dish with low calories. "Shinshu Soba Restaurant Sojibo" is a soba specialty shop where you can truly savor the taste of soba with their carefully crafted homemade noodles. It's one of the few places where you can grate your own fresh wasabi and enjoy a unique and precious experience that's distinctively Japanese.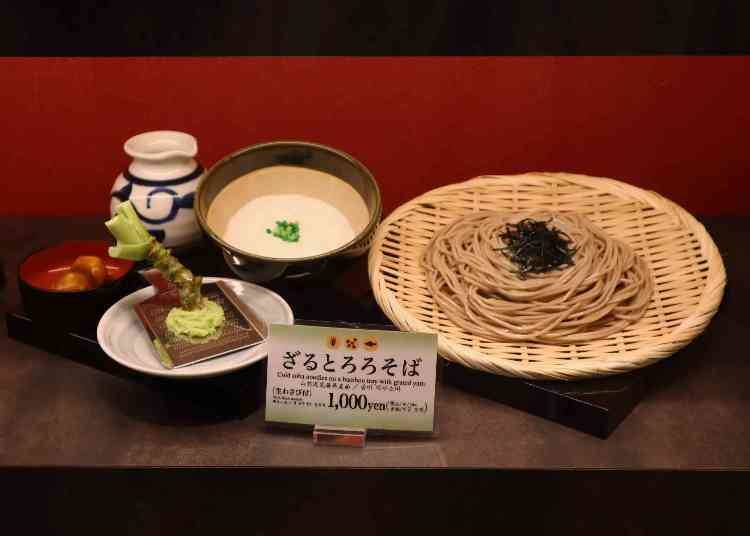 With its Halal certification, Shinshu Soba Restaurant Sojibo ensures that Muslim visitors can enjoy their meals with peace of mind. Additionally, its early opening hours make it convenient and a noteworthy feature.

Location:
・Terminal 2, Main Building 4th Floor

Operating Hours:
・7:00 AM - 9:00 PM (Last Order: 8:30 PM)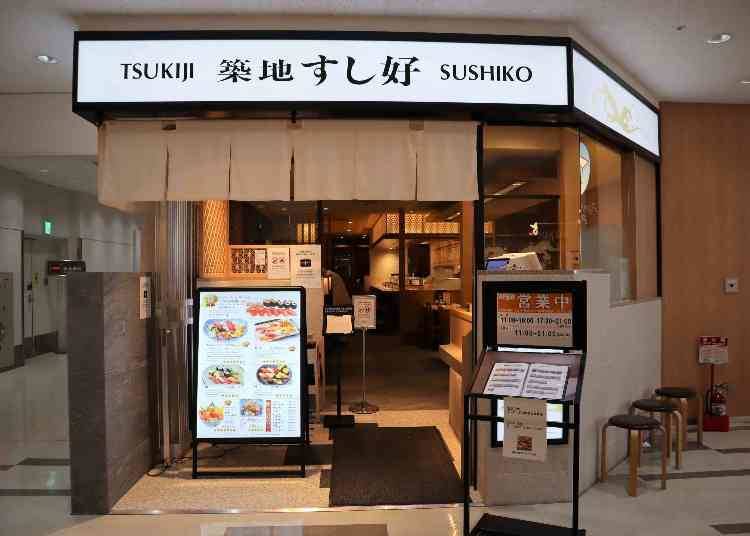 When foreigners come to Japan, one must-try gourmet dish that tops the list is sushi. At Tsukiji Sushikou, you can enjoy authentic Edo-style sushi made by skilled artisans using fresh fish sourced daily from the Tokyo Central Wholesale Market, all at an affordable price.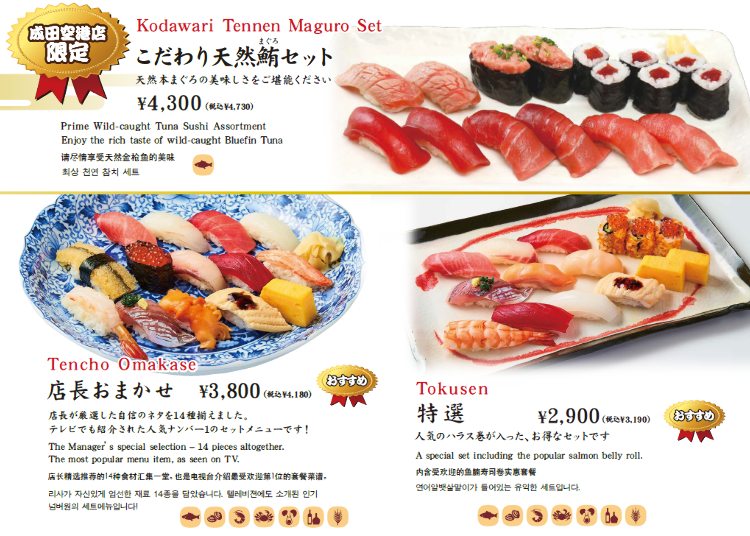 A highly recommended choice is the "Special Tuna Set" available exclusively at the Narita Airport store. This set features a variety of tuna dishes, showcasing the excellence of Japanese culinary skills using fresh ingredients. It's a luxurious and authentic sushi experience that appeals not only to foreigners but also to Japanese locals.

Location:
・Terminal 2, Main Building 4th Floor

Operating Hours:
・Mon-Fri: 11:00 AM - 8:30 PM (Last order) (Closed 3:30 PM - 5:30 PM)
・Sat-Sun: 11:00 AM - 8:30 PM (Last order)

In addition to the above, each terminal offers a diverse selection of restaurants spanning various cuisines.
Putting Spare Change to Use! Enjoy Capsule Toys Before Departure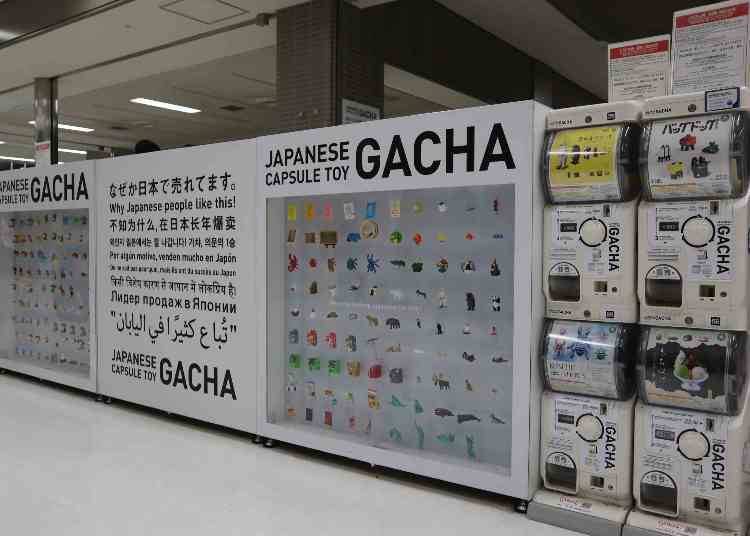 Terminal 2
With a wide variety and popularity for their high quality, Japanese capsule toys are a hit. Many foreigners opt to use their spare change before departing, making it a popular spot at Narita Airport.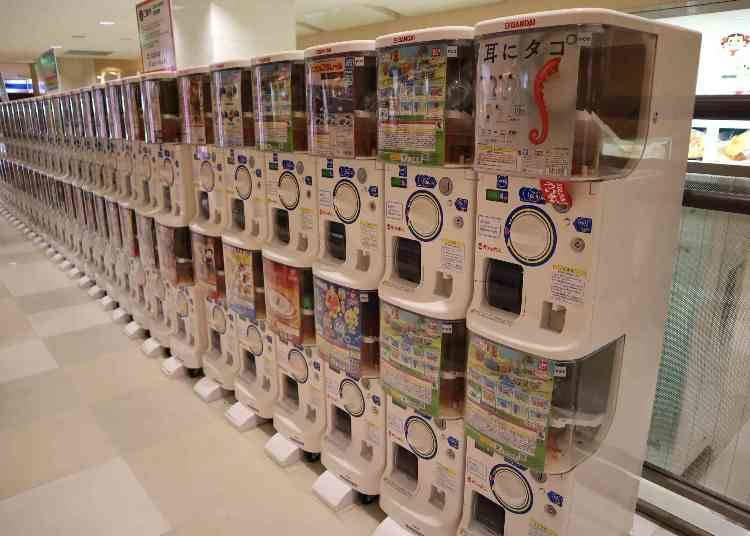 Terminal 1
In each terminal, you'll find a diverse range of capsule toy machines with a substantial number, so you're likely to discover what you're looking for or even come across some unique items.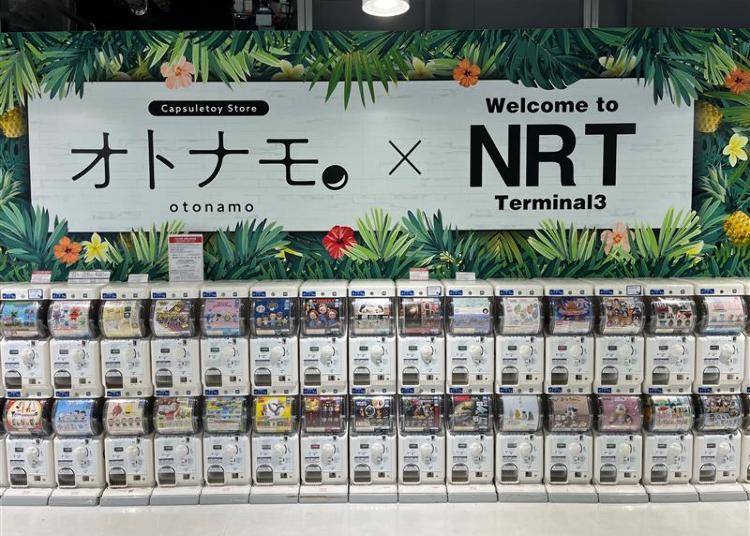 Terminal 3
They are installed in each of Terminals 1 to 3.
There are also many popular anime and character-themed capsule toys available in Japan
The prices are also affordable, starting at just 100 yen per capsule, making them perfect for small and unique Japanese souvenirs.
Getting to Tokyo: Transportation Options from Narita Airport
Getting from Narita Airport to various parts of Tokyo is made possible through the options of buses, taxis, and trains.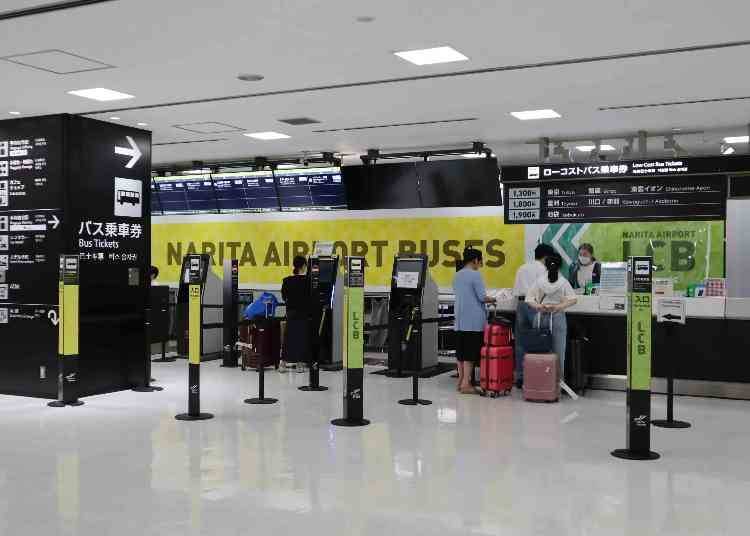 Ticket Counters at Terminal 2
To embark on your journey, you can purchase bus tickets at the ticket counters within the terminals and then proceed to the designated bus boarding areas.

Ticket Counters Locations:
・Terminal 1: In front of the international arrival gates at both the South Wing and North Wing
・Terminal 2: At the international arrival lobby, both South Exit and North Exit
・Terminal 3: In the international and domestic arrival lobbies

Whether you're headed to popular tourist spots in Tokyo like Tokyo, Shinjuku, Ikebukuro, and Asakusa, or exploring other areas like Chiba's Disneyland, Yokohama in Kanagawa, Saitama, Ibaraki, and Tochigi, there are various routes available to cater to your travel needs.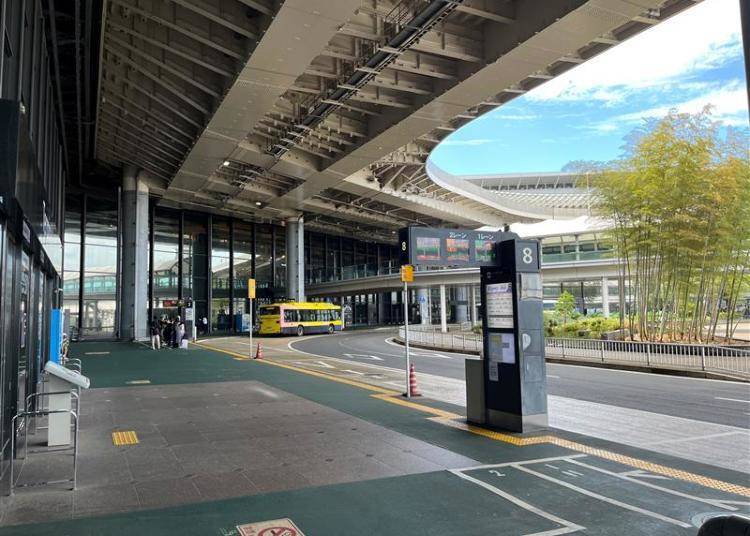 Bus stop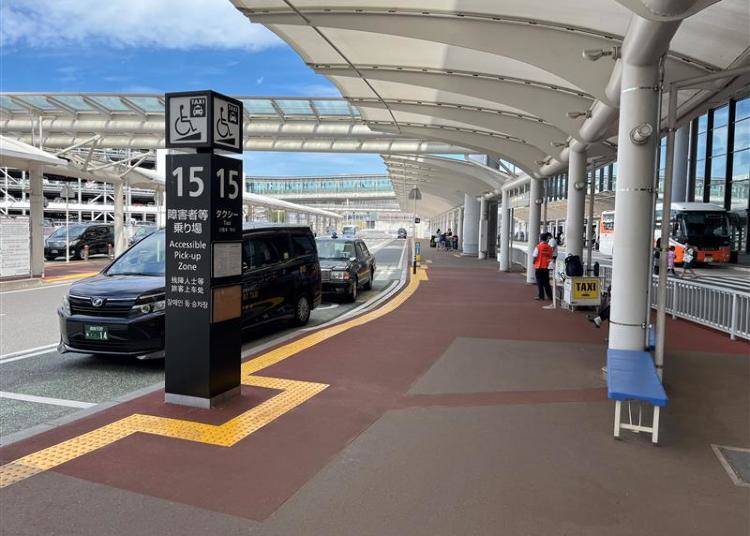 Taxi Stand (Terminal 1)
Taxis are available for shorter trips around the airport vicinity as well as for longer distances to downtown areas and beyond. Reservations are not required; you can simply communicate your destination to the staff or the driver upon boarding.

Additionally, at Narita Airport, aside from regular taxis, there's an option for a fixed-rate "Flat-rate Taxi" that serves destinations within a set zone towards Tokyo.

Taxi Stands:
・Terminal 1: South Wing, International Arrival Lobby, South Exit S2, Stand No. 15
・Terminal 2: International Arrival Lobby, South Exit, Stands No. 30 & 31-A
・Terminal 3: At the end of the Pedestrian Deck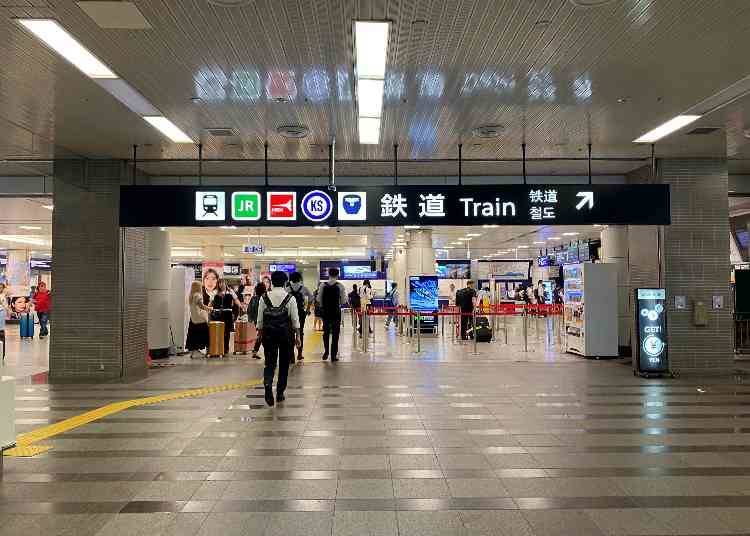 Narita Airport Terminal 2 Station (Terminal 2, B1F)
For train travel, you can use the Keisei Line and JR Line. The stations for each line are adjacent, but they have separate ticket gates. Make sure to pay attention to which train you're using so you don't get confused. You can purchase your train tickets at the ticket counters located before the gates for each line (Terminal 1 and Terminal 2, B1F).

Locations:
・Terminal 1: Narita Airport Station, B1F
・Terminal 2 & 3: Airport Terminal 2 Station, B1F
(For Terminal 3, you can access it via a 300m walkway from Airport Terminal 2 Station.)
Accommodation Options Near Narita Airport
There are numerous conveniently located accommodation options around Narita Airport, making it easy to access. Staying near the airport is a convenient choice, especially for early morning or late-night flights. We have carefully selected and will introduce some recommended hotels for your consideration.
Embark on an Enriching Journey in Japan at Narita International Airport!
After navigating through the challenges posed by the pandemic, Narita International Airport, Japan's largest airport, has taken thorough precautions to ensure a secure environment for travelers arriving from various countries and regions.

These efforts aim to provide a sense of safety and a touch of Japan's essence throughout the airport. Ingenious details have been incorporated to let visitors experience the unique charm of Japan at every turn.

With an expanding array of services and shops, Narita International Airport has become increasingly convenient, making for a comfortable journey. Beyond its functional aspects, the airport has evolved into a destination in itself, offering a range of experiences for travelers to enjoy.

Contributor: Narita International Airport
*Information in this article is accurate as of July 2023. For the latest updates, please refer to the official website and other reliable sources.
Address

Narita Airport, Narita-shi, Chiba, 282-0004
View Map

Nearest Station

Narita Airport Station (JR Narita Line / Keisei Main Line / Narita SKY ACCESS Line)

*This information is from the time of this article's publication.
*Prices and options mentioned are subject to change.
*Unless stated otherwise, all prices include tax.
Limited time offer: 10% discount coupons available now!