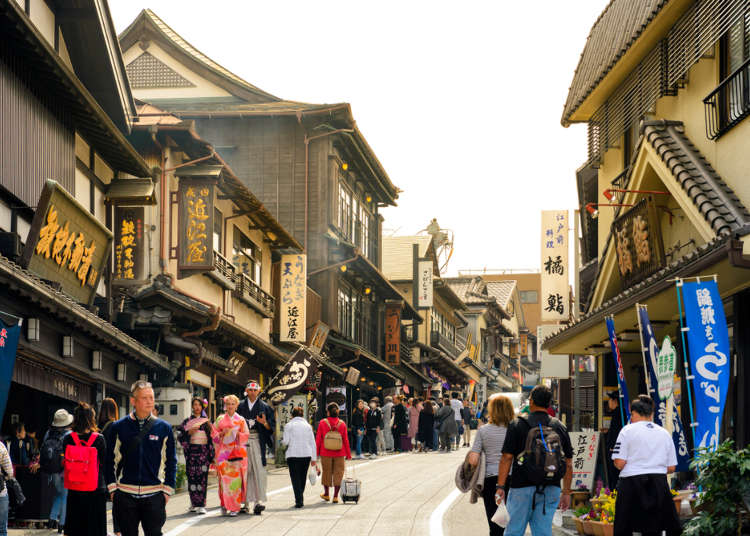 Narita Airport is the aerial gateway to Japan that is used by a mind-boggling number of travelers to the island nation every day. To that end, the airport is so well-connected to the Tokyo metropolitan area, you can reach the capital within about 40 minutes at the earliest by hopping onto one of the many trains along the Narita Sky Access Line, Keisei Main Line, or JR Lines!

If you're thinking, "Since it's so easy to access Tokyo from Narita Airport, wouldn't it make a lot of sense for me to shop around the airport area before heading to my accommodations in Tokyo?", we hear you!

That's why we're going to put you in touch with a few fun spots near Narita Airport you can hang out in for a good three to four hours. And if you use the airport baggage delivery service at Narita Airport to send your luggage ahead of you to your lodgings, you'll be able to start your Japan trip light and worry-free too!
■Make full use of Narita Airport's ultra-convenient Baggage Delivery Service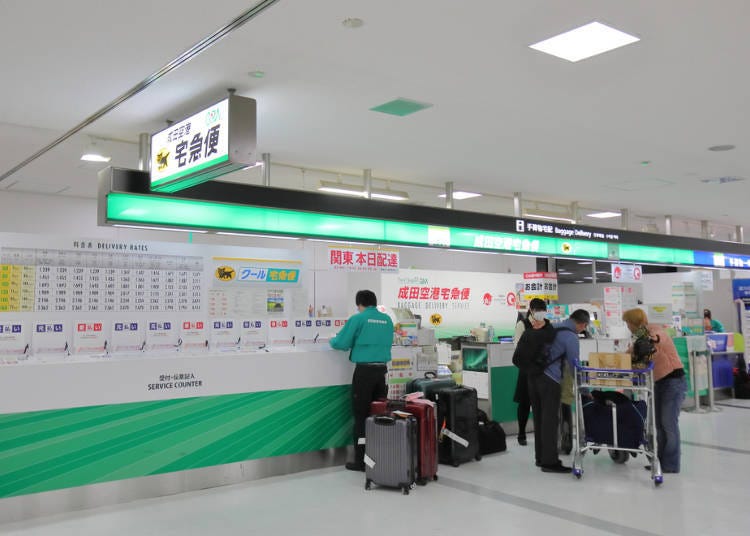 TK Kurikawa / Shutterstock.com
It's hardly practical to lug your suitcases around while you're sightseeing, so we highly recommend using Narita Airport's Baggage Delivery Service to lighten your load and save your energy for more exciting things!

For a certain fee, this service will send your heavy luggage ahead of you to your accommodations, where you can collect it when you check into the hotel later that day. It's especially appealing to those who wish to maximize their vacation time in Japan!

Counters accepting luggage for delivery can be found in the international arrival floors in Terminals 1 and 2. If your flight will land at Terminal 3 instead, use the counter at the international arrival floor (first floor) of Terminal 2.

The delivery fee will vary depending on the size and weight of your luggage along with the area you're sending it to. As a rough gauge, delivery to the Kanto region, which includes Tokyo, will cost about 2,000 yen for one suitcase.
■Don't forget the coin lockers in Narita Station on both the JR and Keisei Lines!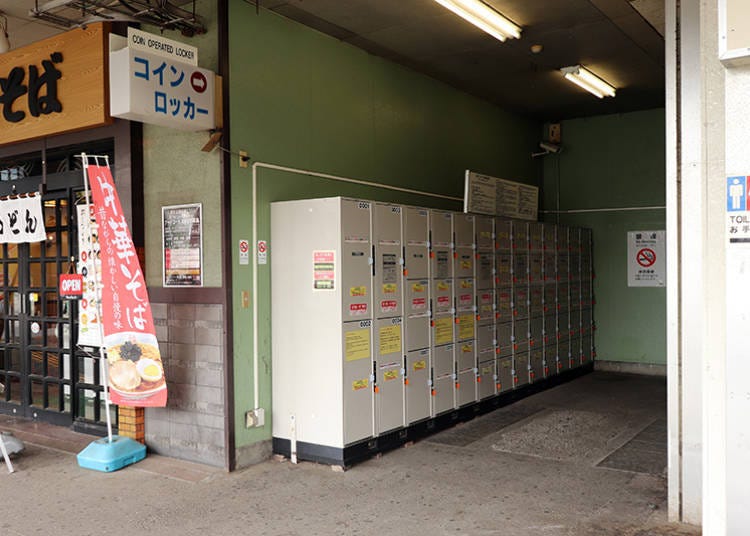 Narita Station is about a 11 to 15 minute train ride from Airport Terminal 2 Station or Narita Airport Terminal 1 Station. The coin lockers in the photograph here are located at the east exit of Narita Station on the JR Lines. There are three types of lockers that cater to all sorts of luggage sizes, and depending on the type you choose to use, will cost either 300 yen, 500 yen, or 700 yen.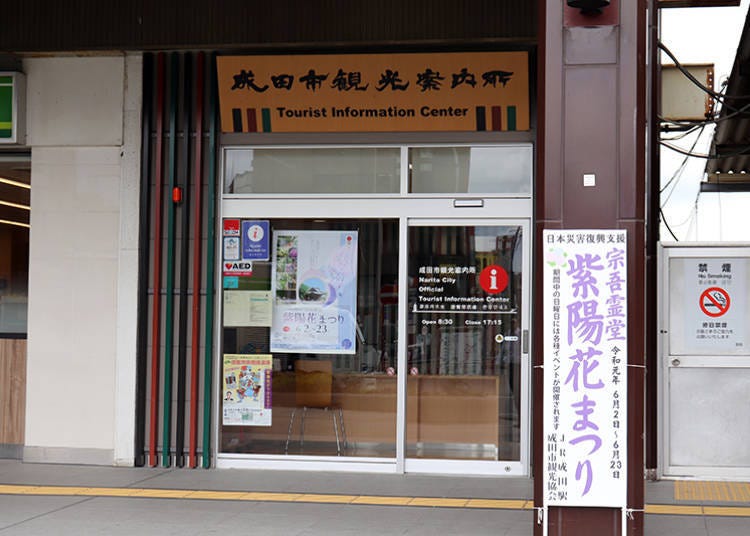 Right next to the coin lockers at the east exit of Narita Station on the JR Lines is the Naritashi Information Center. We dropped in and asked what was the best way to spend three to four hours in the Narita area, and unsurprisingly, visiting the well-known Naritasan Shinshoji Temple nearby was their top recommendation. That's definitely one of the places we'll be going to, then!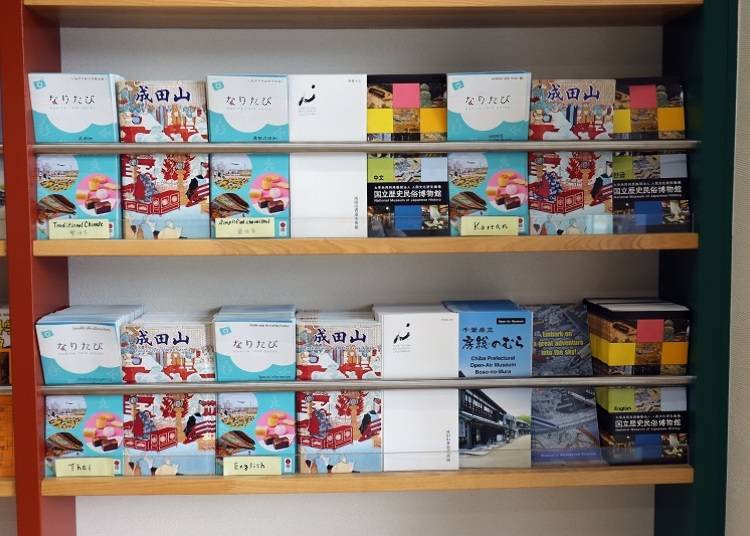 The center also has plenty of multilingual pamphlets with more information about must-visit sightseeing spots in Narita. Don't be shy to take a few for reference!

About three minutes by foot from Narita Station on the JR Lines is Narita Station on the Keisei Line, which also has lockers located on the left side of its central exit as you're walking out from the platform. Feel free to leave your baggage in one of the lockers to make way for a more comfortable trip around town!
■Food and souvenir hunting at Naritasan Omotesando Street
It'll take you about 15 minutes to reach Naritasan Shinshoji Temple on foot from Narita Station on either the JR or Keisei Lines, and the road that connects you to the temple is jam-packed with all sorts of shops selling good food and interesting souvenirs. Doing food and souvenir hunting while on your way to the next sightseeing point is definitely a great way to make the best use of your travel time!
Souvenir Shop Shibaraku is where you can find overseas souvenirs as well as merchandise for Narita Town's mascot character Unari-kun. Of course, they also sell Hello Kitty goods and other staple Japanese souvenirs.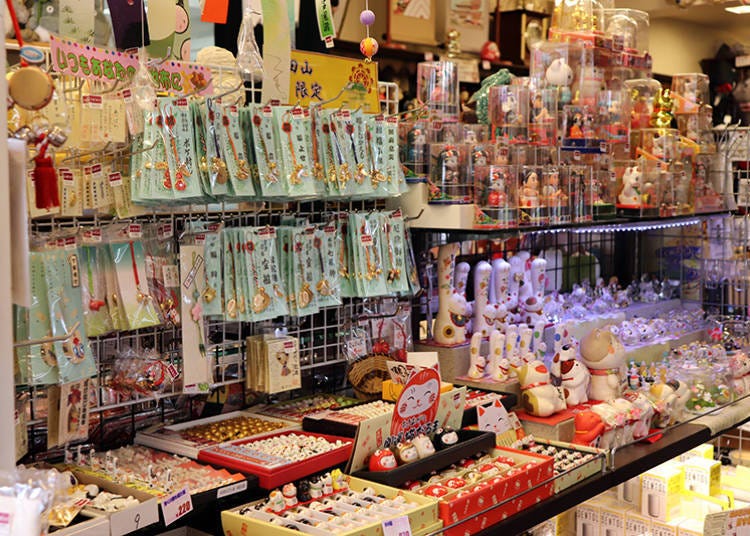 Step inside and you'll see shelves upon shelves of uniquely Japanese items such as the red Daruma Doll and beckoning Maneki Cat. Even if you don't end up getting anything, it's still an interesting shop to browse as you walk!
おみやげ処 しばらく

Address

531-10, Hanazaki-cho, Narita-shi, Chiba-ken

Phone Number

0476-22-0557

Hours: 9:00 a.m. – 6:00 p.m.
Closed: Open daily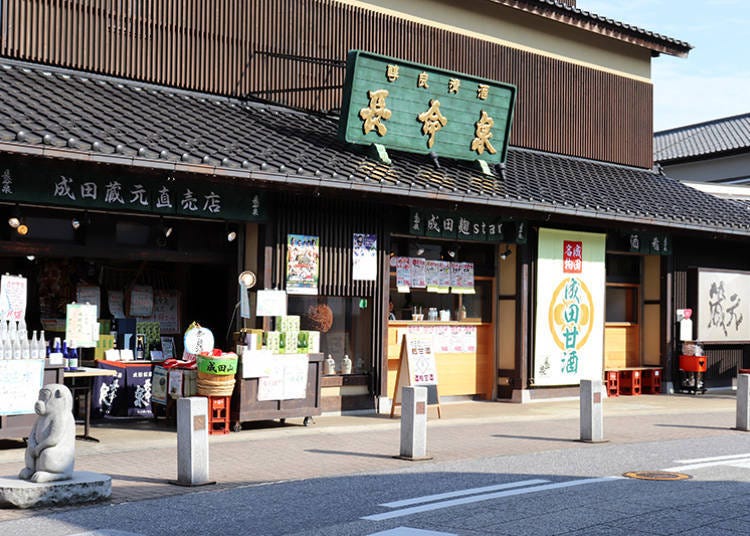 Choumeisen over here is the only sake (Japanese rice wine) brewery along Naritsan Omotesando Street. The well water used by the shop to produce their sake is known to be of a high quality and unbelievably tasty. Many visitors stop by this popular shop for a look-see as they're on their way to the temple.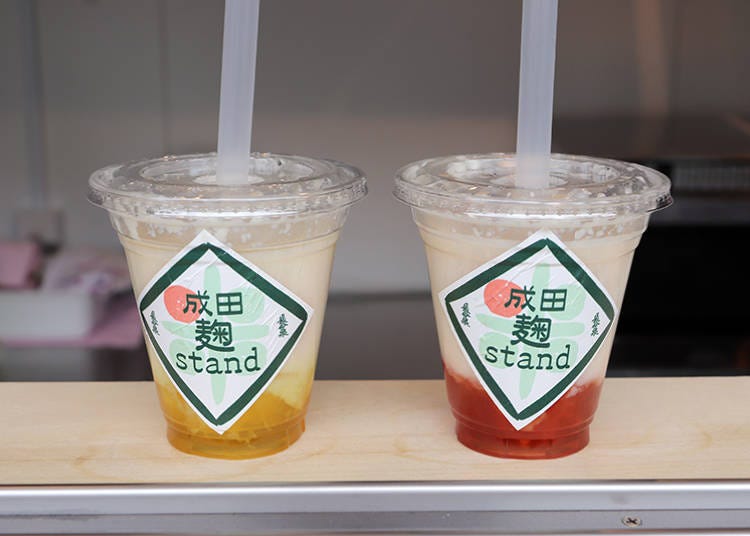 Malted amazake (sweet rice wine) is also available at a booth that's jointly operated by distributors of local sake. This drink, made from malt with no other additives, comes in plain, ginger, yuzu, cocoa, matcha, and other flavors. The drink on the left of the photograph is the "Malted Amazake Lemon" flavor, whereas the one on the right is the "Malted Amazake Strawberry" flavor, each going for 500 yen including tax.

This alcohol-free amazake will be a tasty treat for children and those who don't usually find alcohol beverages appealing!
長命泉

Address

540 Kami-cho, Narita-shi, Chiba-ken

Phone Number

050-5592-7822

Hours: Weekdays and Saturdays 10:00 a.m. – 7:00 p.m.; Sundays 9:00 a.m. – 6:00 p.m.
Closed: Open daily
Let's move on! This is Panchaya, a bakery and tea house located around the halfway point of Naritasan Omotesando Street known for its fresh and delicious pastries, such as the special "Bunny Bread" and the fresh "Stuffed Bread" which is only stuffed with your filling of choice on-the-spot after you order. An ideal place to swing by for a quick energy refill as you're strolling along the street!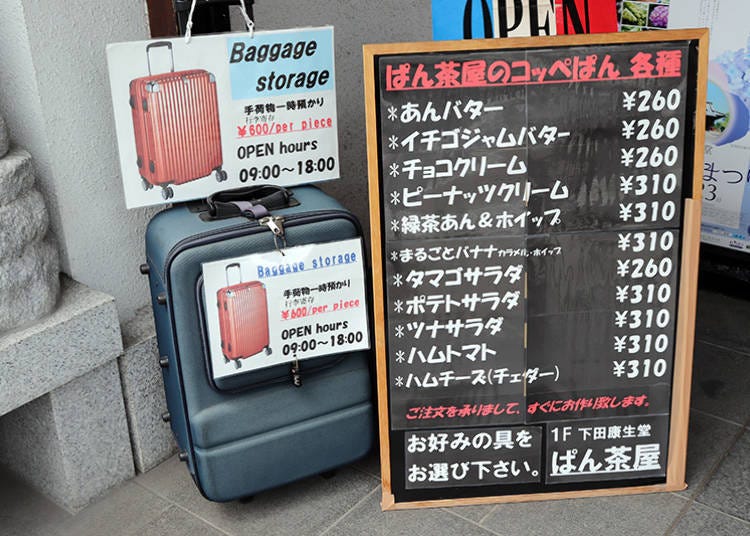 Interestingly, Panchaya also offers a baggage storage service for 600 yen per piece. This is especially helpful for travelers who chose not to use the baggage delivery service at the airport or couldn't find an available locker to leave their belongings in.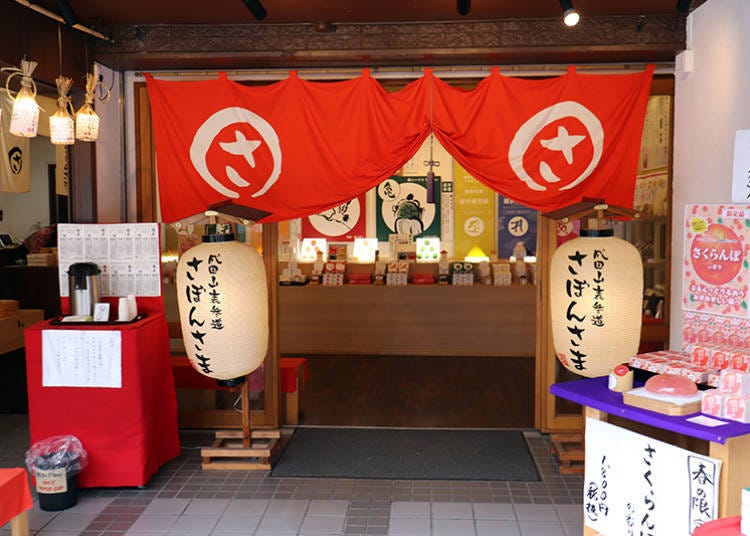 Naritasan Omotesando Street Sabon-Sama is yet another popular store, and it has certainly received a lot of media attention. The reason? It's the only shop in Japan that sells "Sabon-Sama", a purification soap. Shinshoji is known as a temple that fulfills wishes through homa, or fire rituals, and the purification soap is said to contain the essence of the fervent prayers for these wishes.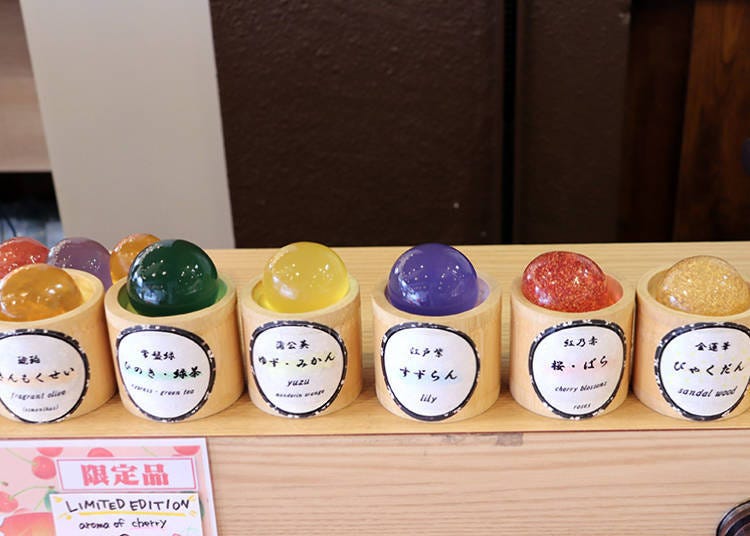 Since these soft and jelly-like soap bars are said to contain heartfelt wishes, they've been shaped to look like Cintamani wish-fulfilling orbs. Each colored soap gives off a different fragrance and are suitable for use as a daily soap. Of course, they would make excellent souvenirs as well!
Naritasan Omotesando Street Sabonsama

成田山表参道 さぼんさま

Address

387 Nakamachi, Narita-shi, Chiba-ken

Phone Number

0476-29-4447

Hours: 10:00 – 5:00 p.m.
Closed: Open daily
■Visiting Naritasan Shinshoji Temple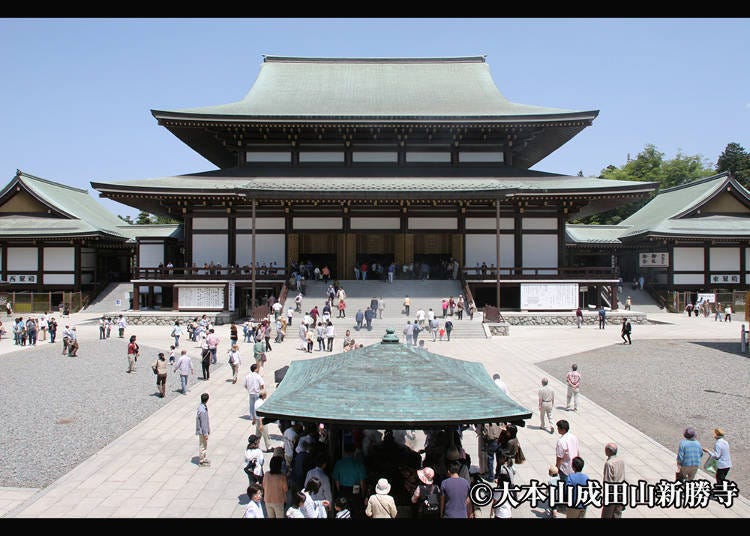 In 940 CE, Naritasan Shinshoji Temple was built to pray for peace after the rebellion caused by the samurai Taira no Masakado was quashed. The deity enshrined here is Fudō Myō-ō, a savior of people despite his intensely fierce facial expressions who has been worshipped throughout history by many great and influential figures in Japan.

Belief in Fudō Myō-ō spread during the Edo era (1603 to 1868 CE), due in part to the popularity of the kabuki stage play by actor Ichikawa Danjūrō that used the deity as a subject. Even now many worshippers still flock to the temple every year to pay their respects. No matter what the purpose of your visit may be, everyone is welcome to enter the central building hall, an important place of prayer and veneration.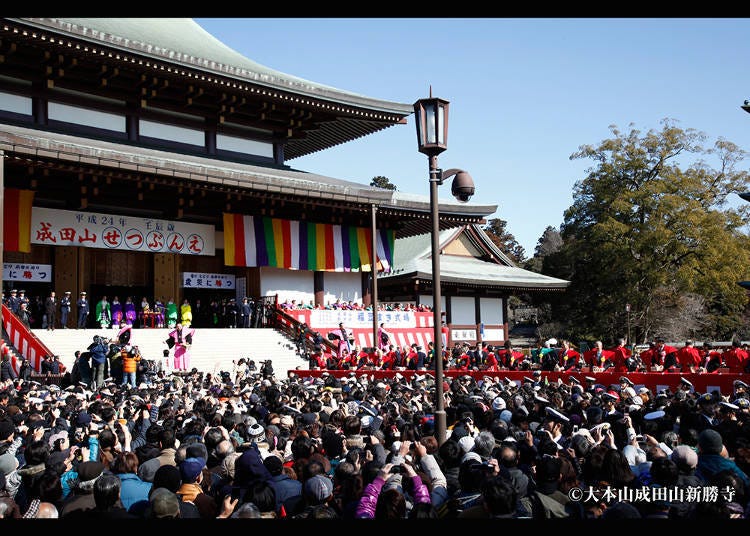 Important buildings in the complex include the temple's 58 meters (about 190 feet) tall Great Pagoda of peace, a National Important Cultural Property that is covered with messages of peace for heads of states around the world; a three-storey tower surrounded by beautiful sculptures; and many other historical structures. The large garden within temple grounds contain waterfalls and lakes and is an ideal spot to indulge in a little bit of relaxation.
Address

1, Narita, Narita-shi, Chiba, 286-0023
View Map

Nearest Station

Narita Station (JR Narita Line)
10 minutes on foot


Phone Number

0476-22-2111
■Shopping at Aeon Mall Narita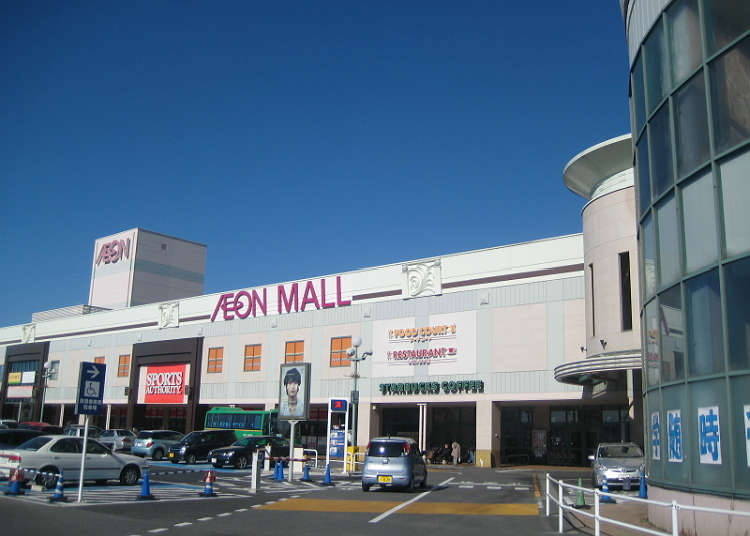 Finally, Aeon Mall Narita is a shopping complex containing a total of 174 shops, including a supermarket, fashion shops, general life stores, and more. The mall's retail spaces cover almost every aspect of food, clothing, life, and entertainment, and is known as "the shopping center where you can buy anything under the sun"!

A few areas within the mall are designated as event spaces. On some days, you'll see pop-up shops here selling special local food from all over Japan. On other days, the very same space may be holding a lively musical concert! The mall's food court contains 12 food stores offering a wide variety of local and international cuisine, from Western to Chinese, set meals to dessert. Travelers with family will be happy to know that there are baby rooms and a kid's corner for children to play in as well.

The mall can be reached by direct bus from the Keisei Narita Station in about 10 minutes. This direct bus departs at an interval of 15 minutes. Adult tickets are 210 yen one-way, and children tickets are 110 yen one-way. Buses that cycle around Narita Airport and the surrounding hotels are also accessible here - the perfect complement to helping you spend your time productively around the Narita Airport area!
Address

24, Wing Tsuchiya, Narita-shi, Chiba, 286-0029
View Map

Nearest Station

Narita Station (JR Narita Line)


Phone Number

0476-23-8282
Written by: Naho Jishikyu. English translation by: Huimin Pan.
*This information is from the time of this article's publication.
*Prices and options mentioned are subject to change.
*Unless stated otherwise, all prices include tax.